Driven: 2021 Jeep Wrangler Rubicon Unlimited 392
jeep | jeep wrangler | reviews | suvs | v8
After driving Jeep's plug-in-hybrid Wrangler 4xe, we spent a week with a high-torque Wrangler of a very different flavor. The 392 model packs a 6.4L HEMI V8 that makes 470 hp and can accelerate from 0 to 60 mph in 4.5 seconds. The Rubicon Unlimited trim means it's fully kitted out for off-roading. It's got an awesome exhaust note too.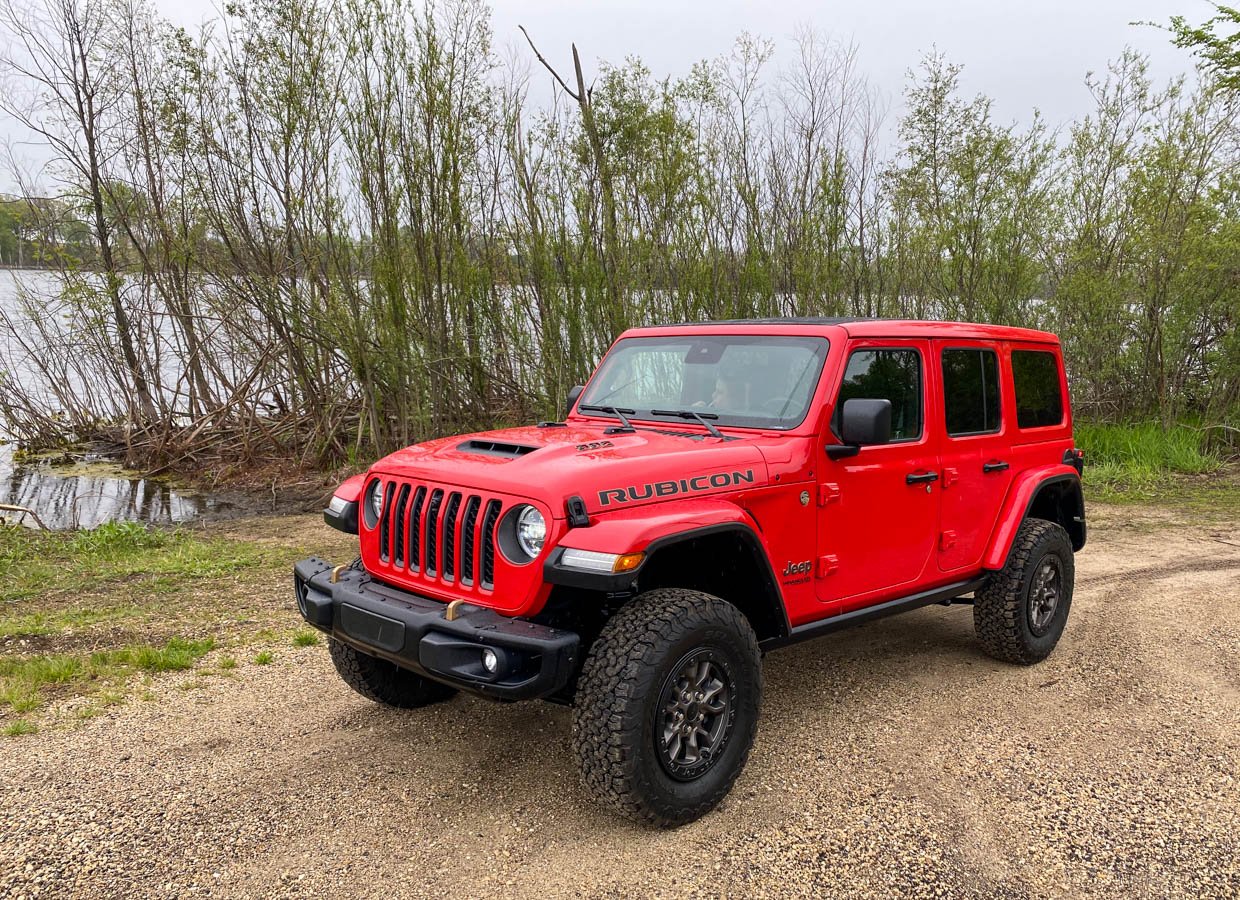 That 392 HEMI engine likes lots of air, so there's a functional hood scoop in the center of the Wrangler's hood. We got several shoutouts and thumbs-ups from other Jeep owners when they saw us pass by with that 392 badge on the hood scoop.
The engine cranks out an impressive amount of power for a factory Jeep, resulting in quick acceleration and awesome passing power on the highway. Like other Stellantis vehicles with this big V8, it's got a smooth and quick ZF 8-speed automatic transmission to do the shifting work. Unfortunately, there's no manual gearbox option for those who prefer to row their own gears.
Working in concert with Jeep's full-time 4WD system, the Wrangler 392 can handle all kinds of terrain with ease, and 470 lb-ft. of torque can help dig you out of some tricky situations. The 33" BFGoodrich All-Terrain T/A tires do their part in providing traction and the 17" beadlock capable wheels provide a nice wide sidewall to limit punctures when off-roading.
Like other Wrangler Rubicons, it's got front and rear lockers for tackling steep and slippery surfaces, along with an electronically-disconnecting sway bar, which dramatically improves wheel articulation on uneven terrain.
The 392 has the best exhaust note of any factory Wrangler we've heard, piping its roar through a hefty sports-tuned muffler and quad exhaust ports. It makes a deep, throaty rumble that will be familiar to fans of the naturally-aspirated HEMI found in cars like the Challenger and Charger Scat Pack.

The 2" FOX off-road performance shocks provide great wheel travel on rugged roads, and a surprising amount of comfort in daily driving. We felt like the suspension was tuned a bit more stiffly in the 392 Rubicon than in the 4xe Rubicon, resulting in a more sporty and predictable ride on the highway.
The optional off-road camera is helpful for seeing the trail ahead, and gives you a lower angle view than from the driver's seat. This could prove very useful when coming to the top of a blind hill, or in situations when you don't have a spotter outside the Jeep. The yellow guides on the screen help with proper wheel placement, and you can even see the forward tow hooks on the screen.
The interior of the Wrangler 392 is pretty much the same as other premium Wranglers, with the main differentiators being paddle shifters, black-trimmed leather seats and Rubicon 392 stitching on the seat backs. It's a rugged, utilitarian, and easy-to-clean cabin, and puts the driver in a great elevated seating position. We found the V8 hood scoop has little impact on forward visibility compared to the V6 Wrangler's hood.
One thing that we really loved about this Wrangler was the optional Sky One-Touch power top. This $2,000 add-on brings sunlight and fresh air into the cabin without having to get out and mess with the Wrangler's manual soft top. It also opens and closes in seconds, which came in handy when an unexpected downpour popped up in the middle of our ride. It's the next best thing to having a convertible. Even better, it's a feature that can be equipped on other Wranglers so the 392 isn't a prerequisite. Of course you can still fold the windshield down and pop the doors off if you want a truly open-air experience.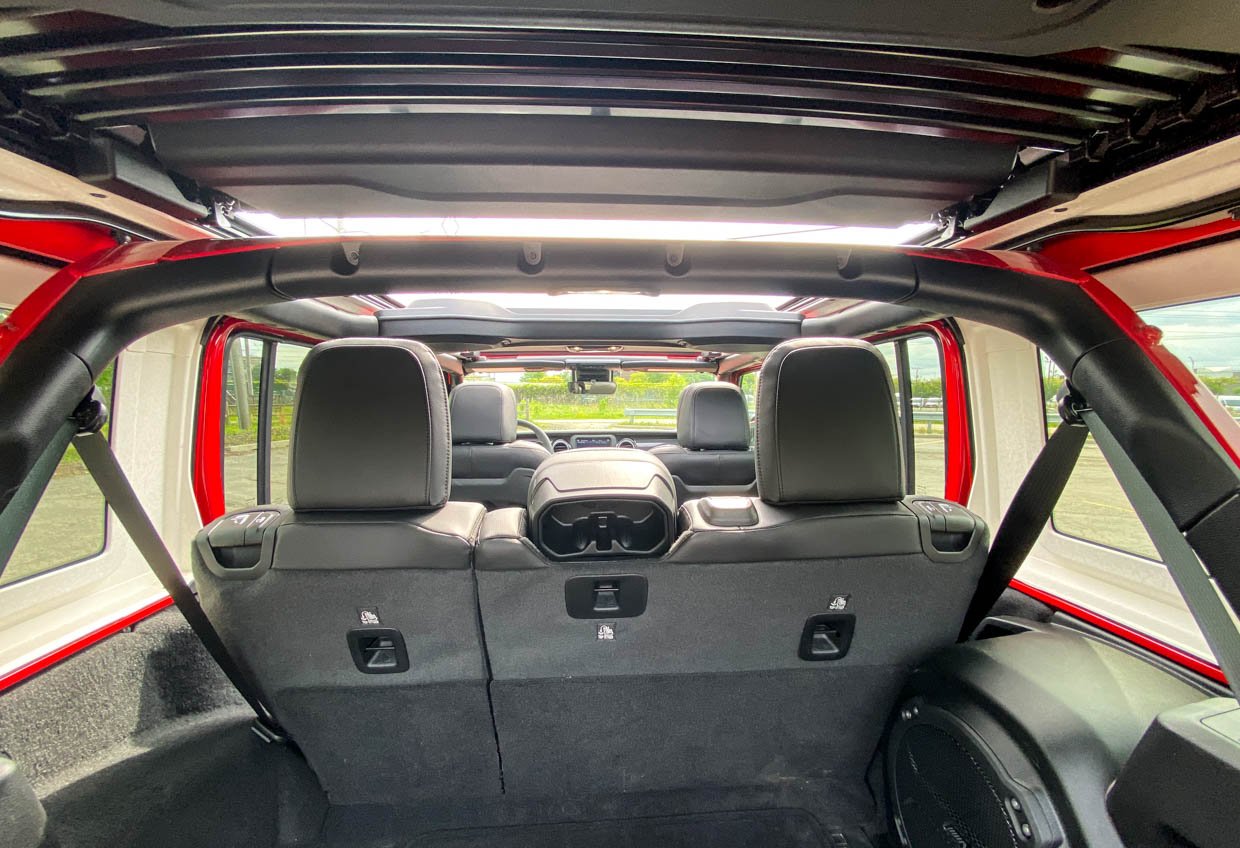 We had a fantastic time driving the Wrangler Unlimited Rubicon 392. It represents the pinnacle of Jeep performance and capability, combined into one SUV. With a base price of $73,500 (before the $1,495 destination charge), though, it's not for everyone. A similarly-equipped Wrangler Rubicon 4xe is about $20,000 less, and produces the exact same amount of torque, though about 100 fewer horsepower. For those who absolutely must have the most bad-ass factory Wrangler will prefer the brute force and roaring exhaust of the 392.