Driven: 2022 Jeep Grand Cherokee
2022 | jeep | jeep grand cherokee | reviews | suvs | November 15, 2021
Words and Images by Paul Strauss / Additional Images by Stellantis
We headed to Moab, Utah, to test out the new Jeep Grand Cherokee. The 2022 model is longer, more spacious, and has a redesigned exterior and interior with a more upscale and premium look. Improvements to the suspension, chassis, and visibility make it even better off-road while still comfortable for everyday drives.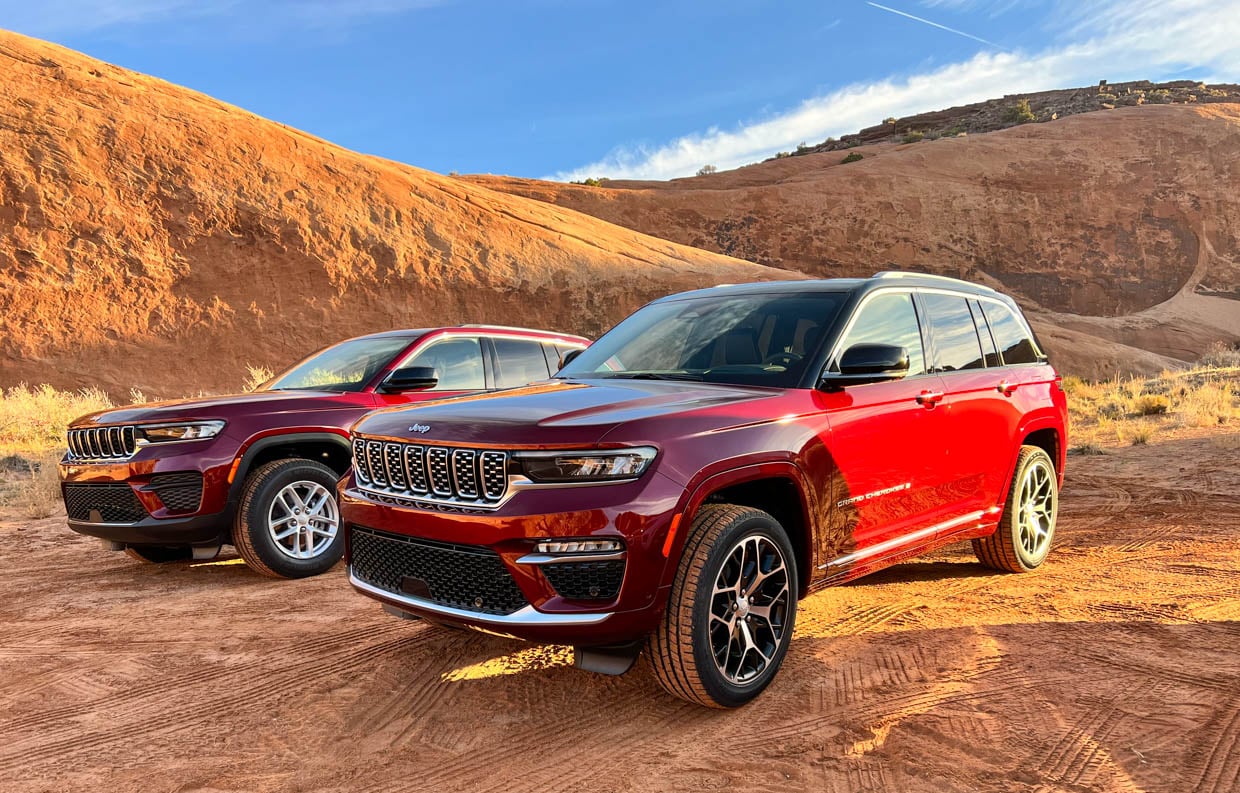 The new design is boxier and more upright than the prior generation while still picking up on classic Jeep elements like the 7-slot grille, which has a slight forward lean this time, a nod to the original 1964 Wagoneer. The Trailhawk model shown here gets a blacked-out look for its trim, usable front tow hooks in red, and 18" off-road wheels wrapped in Goodyear Wrangler Territory all-terrain tires.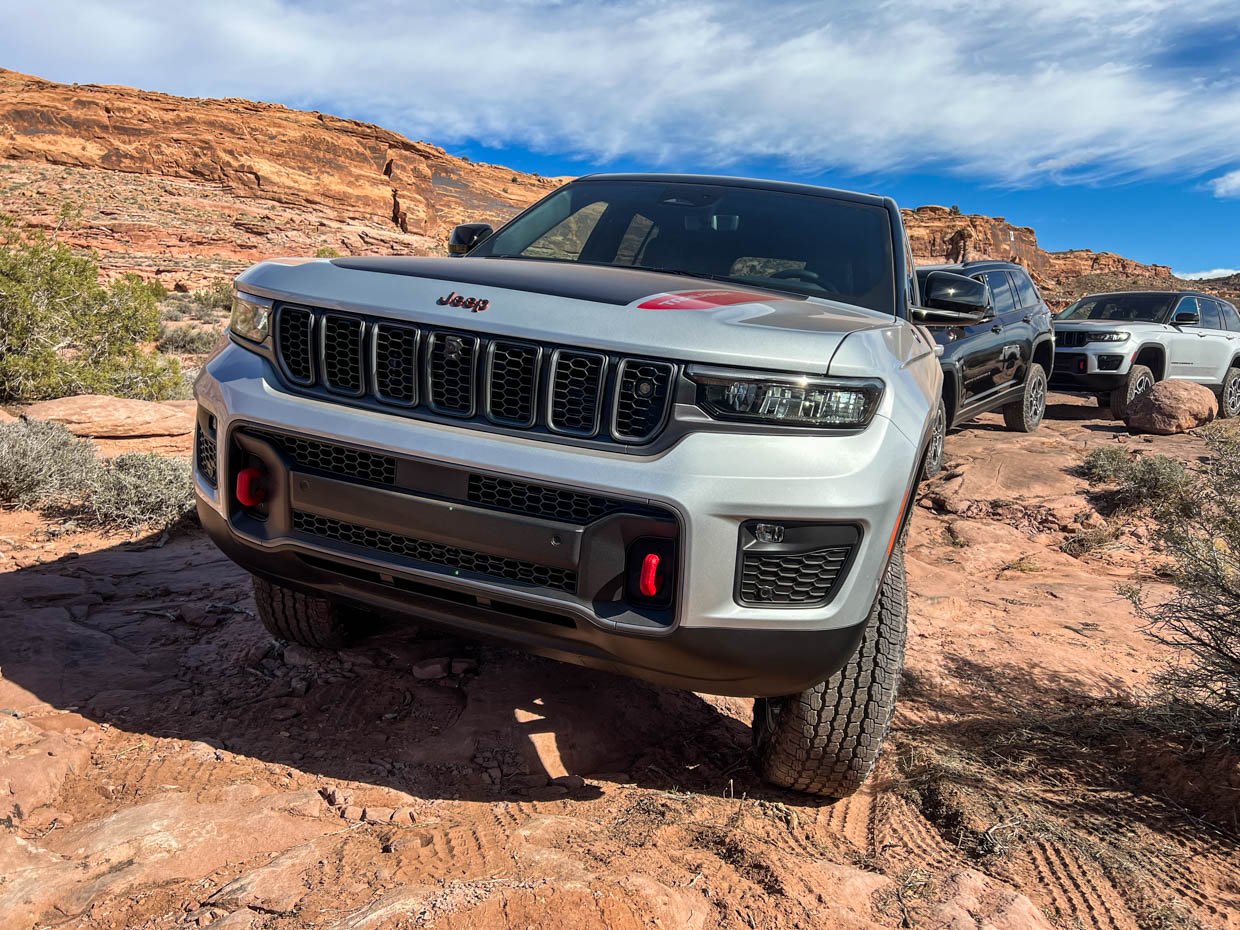 Jeep increased the overall length of the new Grand Cherokee by 3.4" and extended its wheelbase by 2". The result is more interior and cargo space, but a mid-size SUV that can still fit in your garage. Those who need even more space should consider the Grand Cherokee L, which adds a 3rd row and 11" in length. Jeep also lowered the beltline and made the pillars narrower for improved visibility from all windows.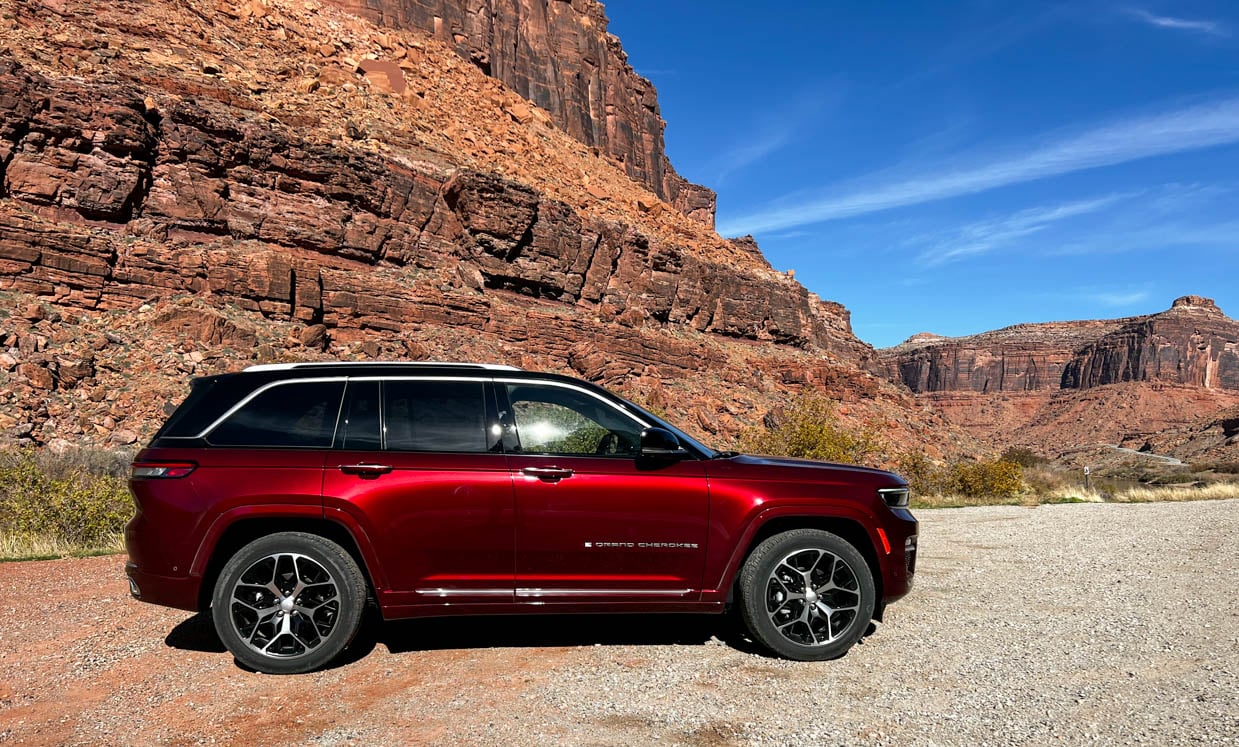 The new Grand Cherokee looks great from every angle, with its refined new rear end with slimmed-down LED taillamps connected by a horizontal bar. The Summit model shown here gets shiny chrome accents and sculpted dual exhaust tips integrated into the bumper. Our Summit was done up in a rich Velvet Red paint with a fantastic pearlescent sheen, topped off with a black roof.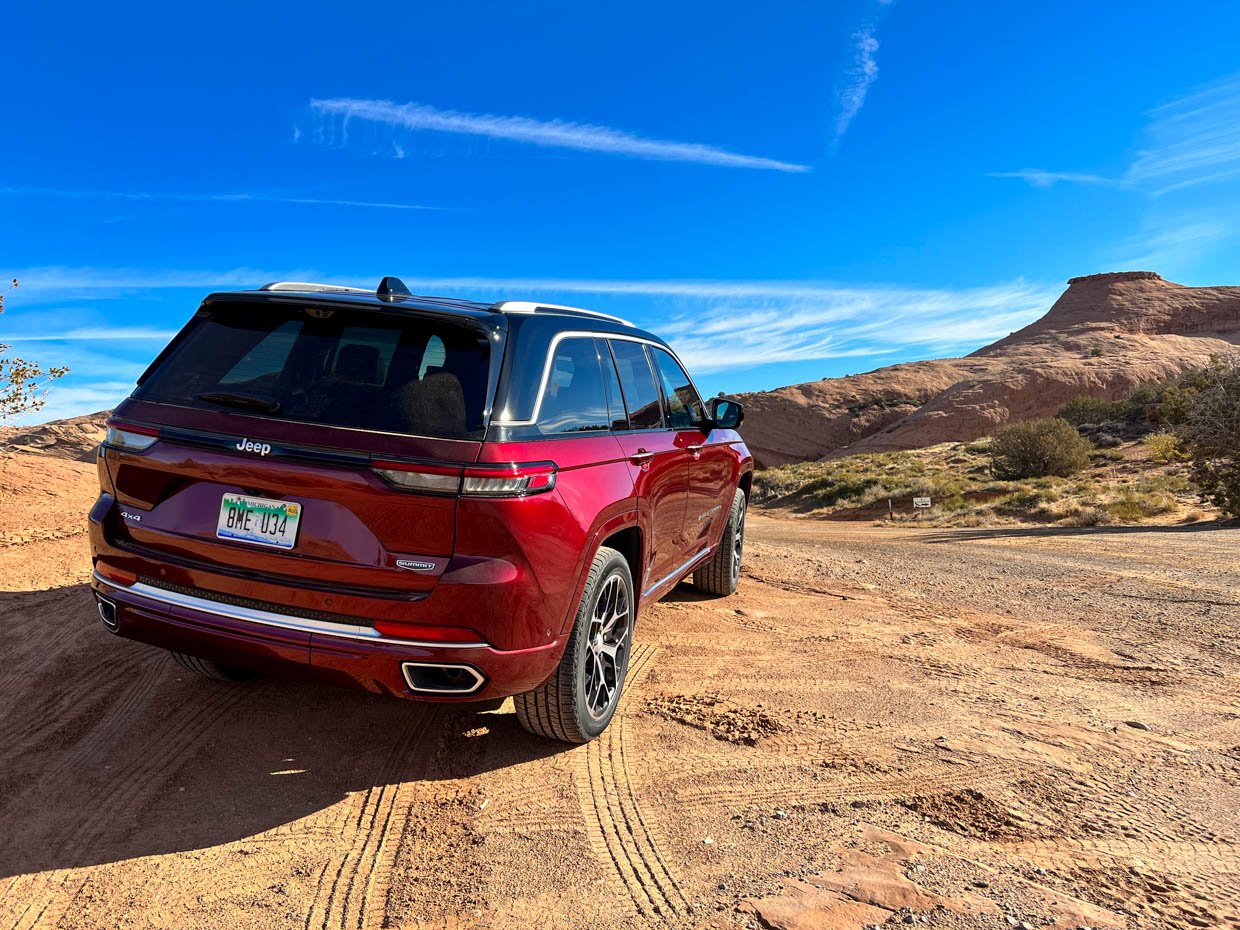 For the 2022 model year, the Grand Cherokee comes in seven trims - in order of price and features: Laredo, Altitude, Limited, Trailhawk, Overland, Summit, and Summit Reserve. We spent our time exclusively in the Trailhawk and Summit, the SUV's rugged and luxury configurations, so we got a pretty good sense of their different personalities. As you move up through the models, wheels increase from 17" to 21", you'll find more chrome accents, and the interior goes from cloth to varying grades of leather, among other things. Higher-level trims also get upgrades like a power liftgate, full LED headlamps, fog lamps, and much more. A plug-in hybrid electric model, the Grand Cherokee 4xe is due in 2022 as well.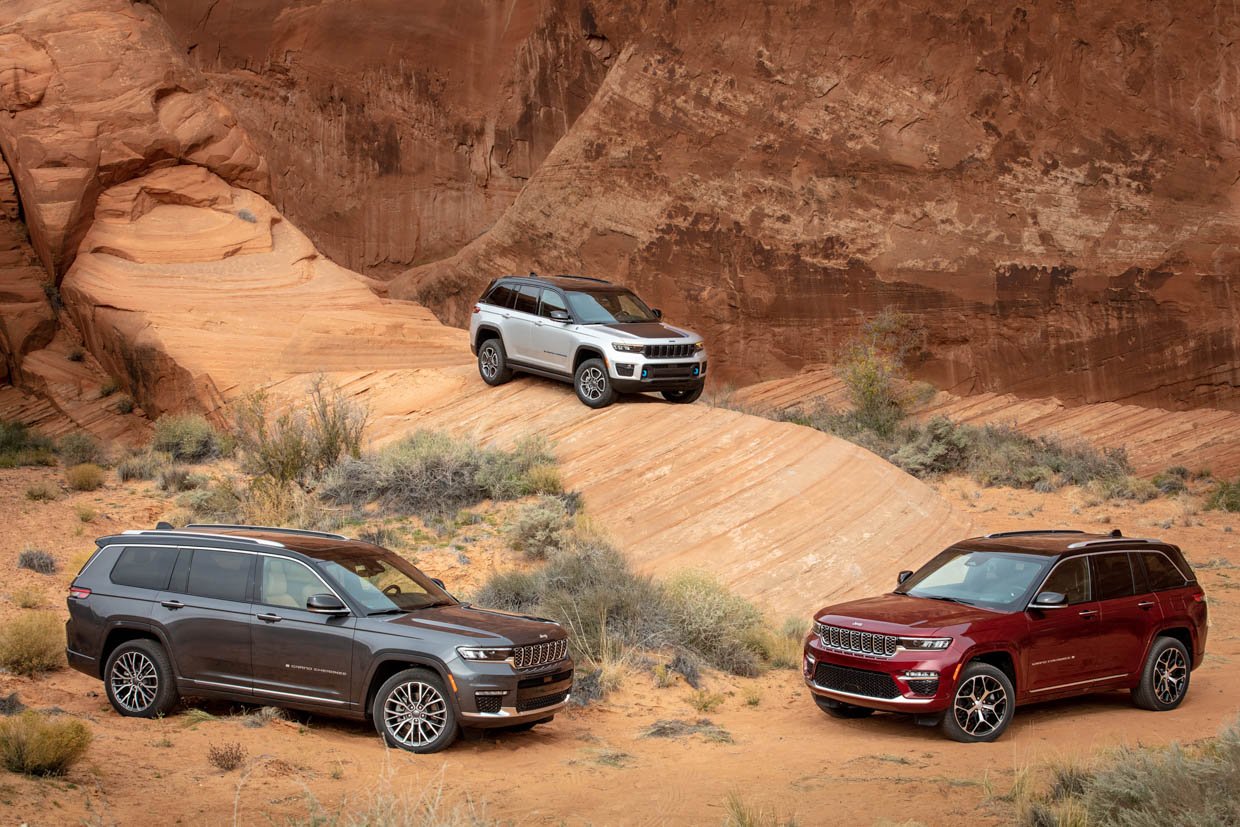 The standard engine is Jeep's well-worn 3.6-liter Pentastar V6, which makes 293 horsepower and 260 lb-ft. of torque. There's also a 5.7-liter V8 that cranks out 357 horsepower and 390 lb-ft. of torque. Both engines work with a ZF 8-speed automatic transmission which offers smooth and predictable shifts. The V8 is available as an option only on the Trailhawk, Overland, and Summit 4x4 models. The upcoming 4xe hybrid will have a 2.0-liter turbocharged I4 engine and electric motor that combine to make 270 horsepower and 295 lb-ft. of torque. All of the vehicles we tested had the V6, which we found to be more than sufficient both on- and off-road, with the added incentive of better fuel economy than the V8. If you plan on towing, though, the V8 will pull up to 7,200 pounds, 1,000 more than the V6 can, and 1,200 more than the 4xe.
The first thing we noticed during our on-road drive was how quietly and smoothly the Grand Cherokee rides. The stiff, unibody frame and the tweaked suspension absorb shocks and handle really well, making it drive more like a sedan or station wagon than a tall, 4200+ pound SUV. Weight distribution is very good, too, with the tricked-out 3.6L Summit splitting its heft 52% in front to 48% in the rear for a balanced and predictable ride.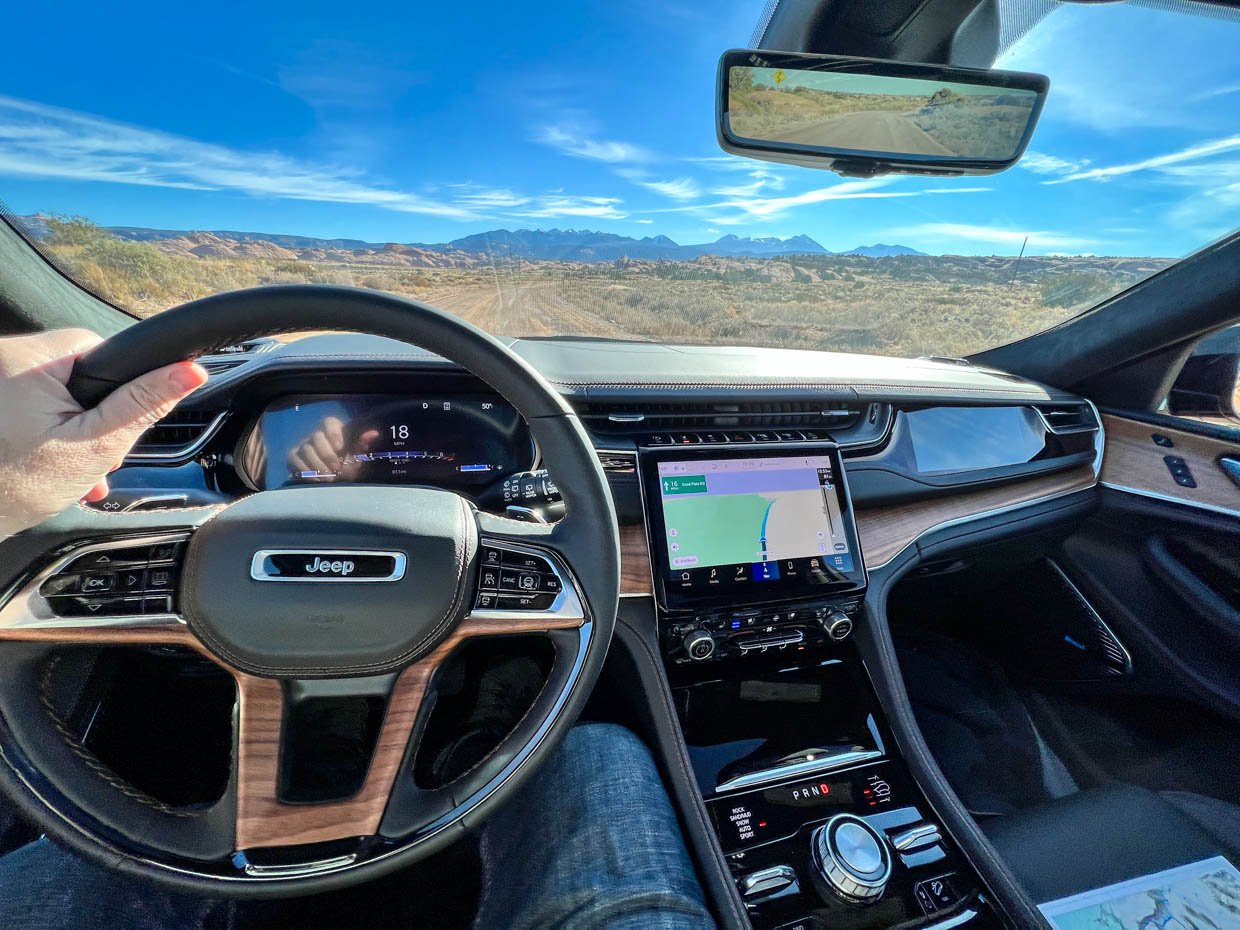 After several hours of paved and relatively tame dirt roads, Jeep sent us on a rugged off-road course overlooking Moab. The trail was primarily comprised of craggy boulders and loose rock with significant uphill and downhill grades, tight twisty turns, and sketchy drop-offs that rolled off towards the town below.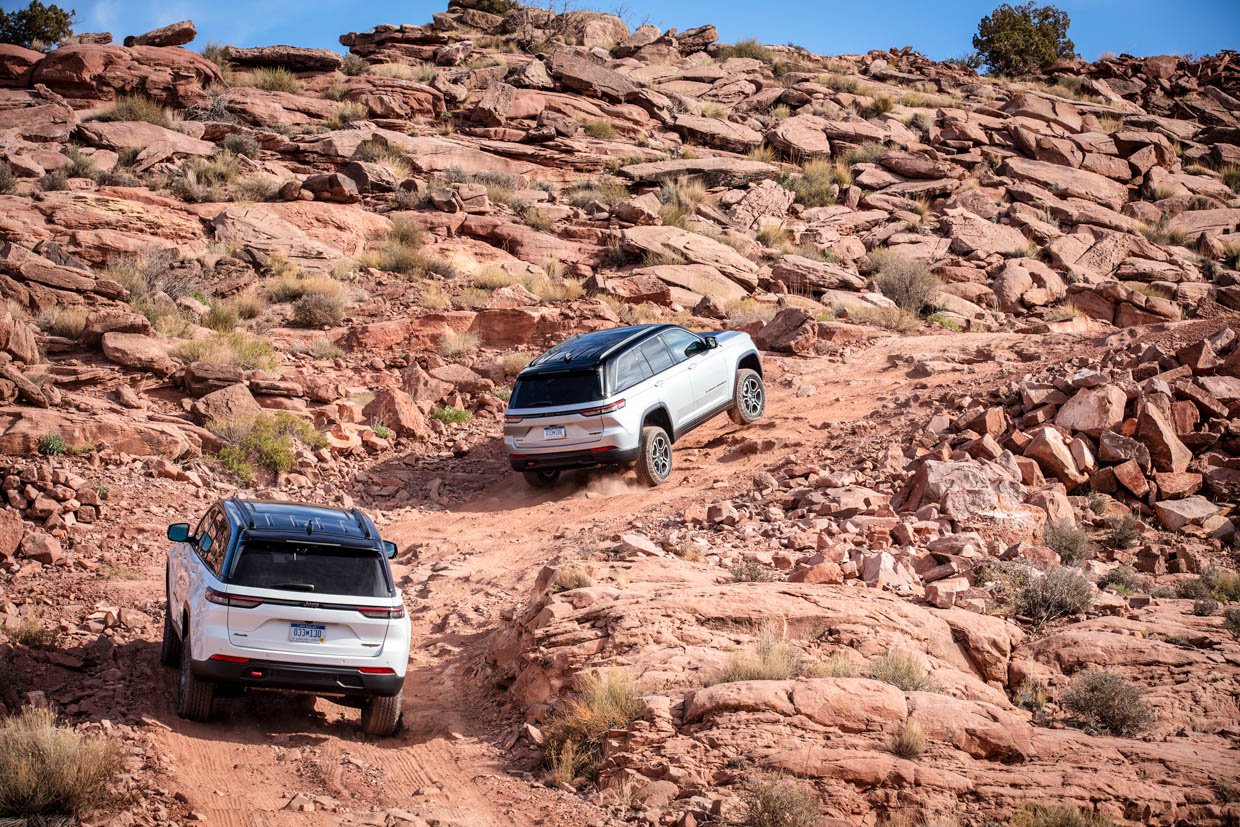 Once we put our Trailhawk's 2-speed transfer case into 4WD Lo mode and disconnected the electronically-locking sway bars, it handled every inch of the trail without flinching. Unlike some other SUVs, which only look ready for adventure, the Grand Cherokee Trailhawk is truly capable of traversing challenging terrain like this.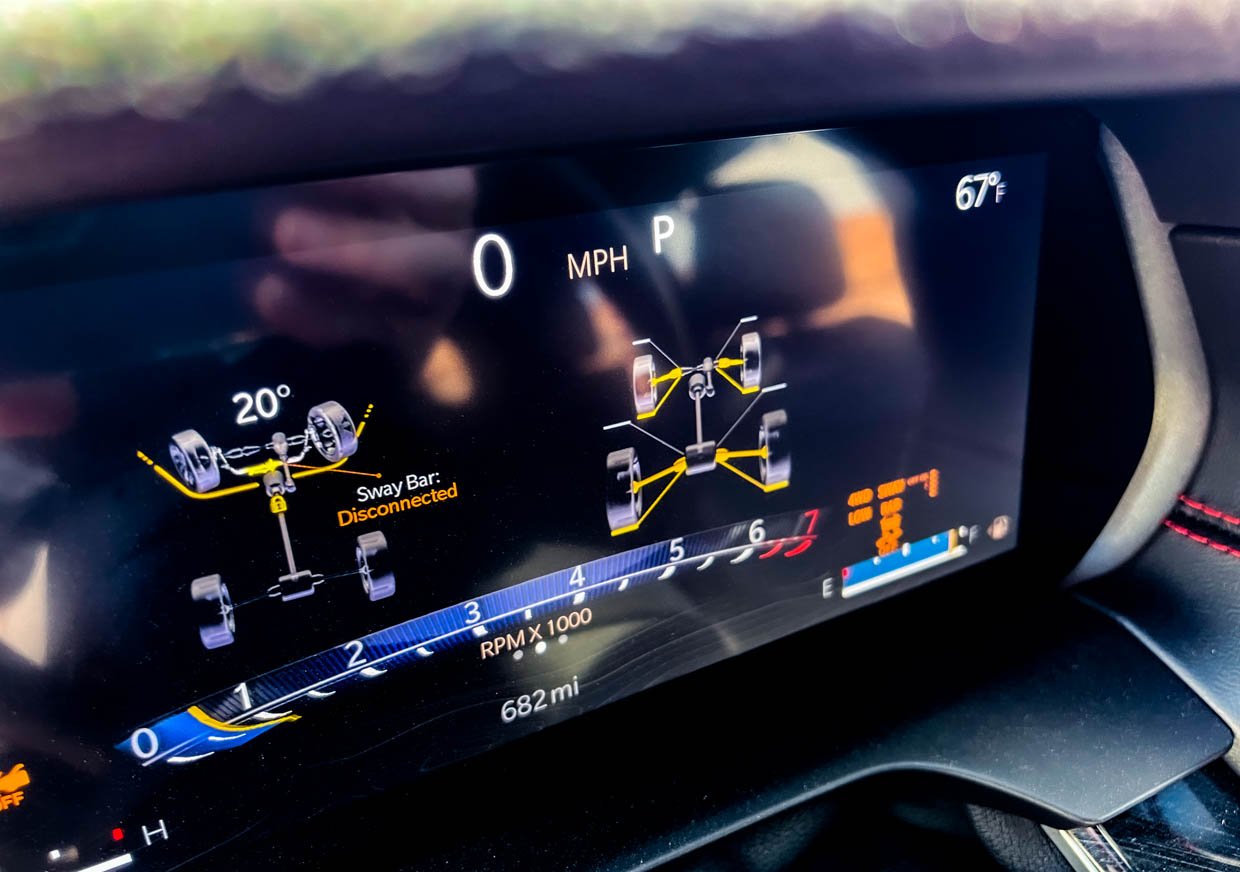 Stopping for a scenic view at the top of the off-road course, we were thankful for the Trailhawk's now-standard air suspension, which provides up to 11.3" of ground clearance, along with its impressive 36-degree approach and 30-degree departure angles. Heck, the skid plates didn't even get a workout. While we didn't find any rivers to cross, it's nice to know that the Grand Cherokee can ford up to 24" of water too.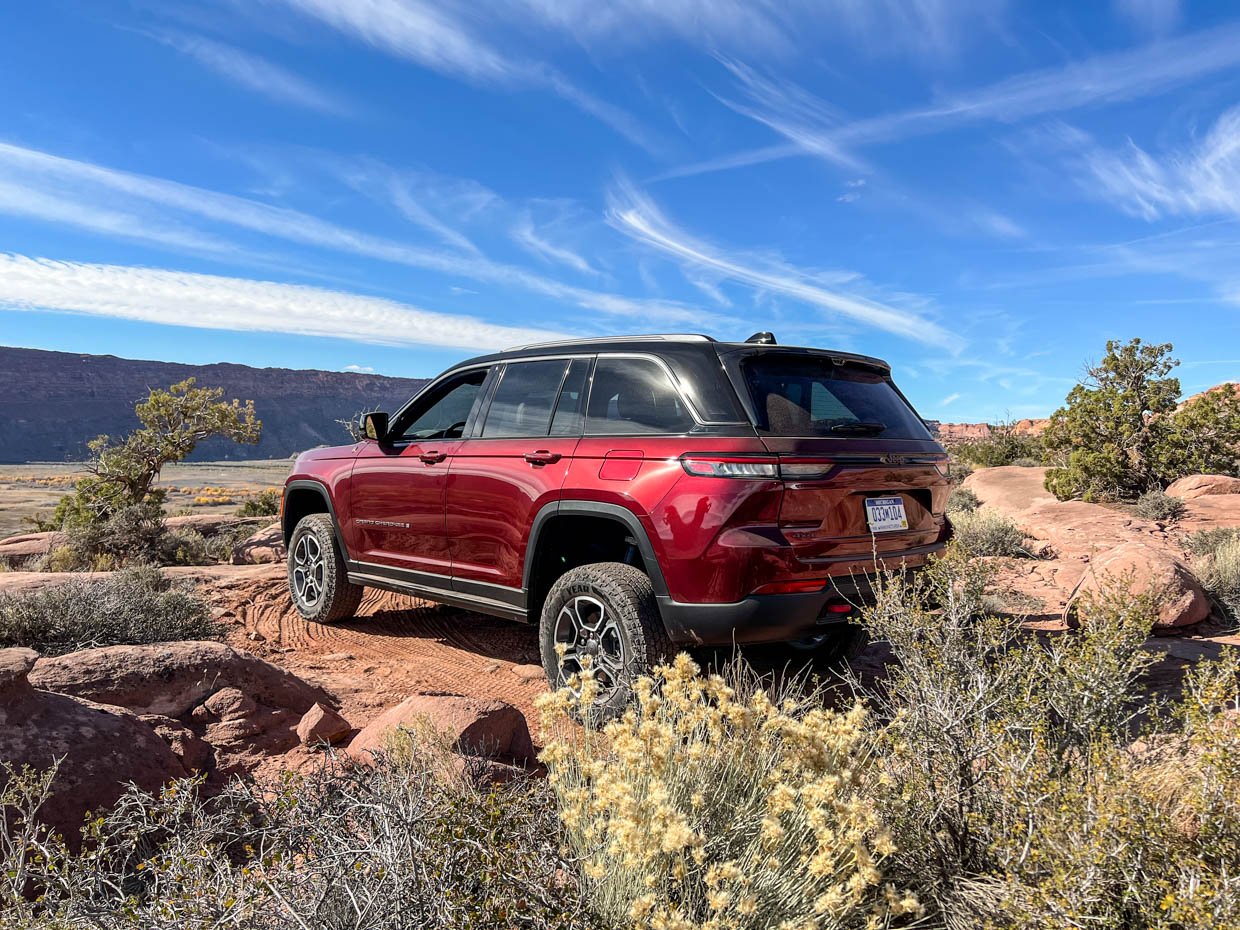 One thing that we love about modern off-road vehicles is the camera systems. In addition to a 360º surround view for parking and maneuvering in tight spaces, the forward view camera is great for previewing the trail ahead, avoiding obstacles, and providing visibility when approaching the top of steep hills. Tire tread overlays help you line up your wheels for the best line across rocky and rutted terrain.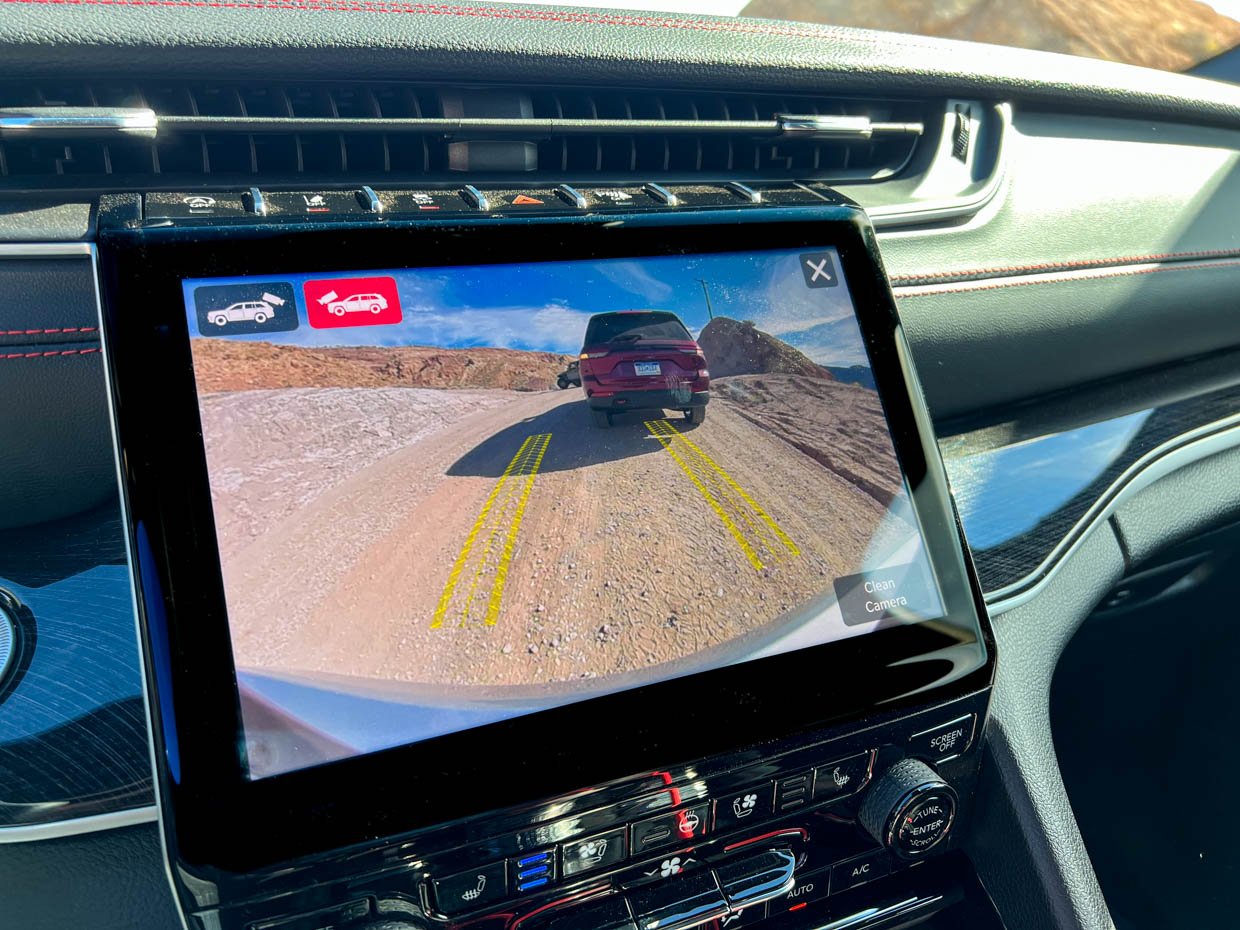 As we crawled downhill, we engaged the Jeep's Selec-Speed Control, which acts as an off-road cruise control system, regulating the drivetrain to a pre-set speed. We locked in our desired speed and let the SUV operate the gas and brake while we focused on steering. The system worked flawlessly and was a welcome companion during some of the white knuckle sections of the trail.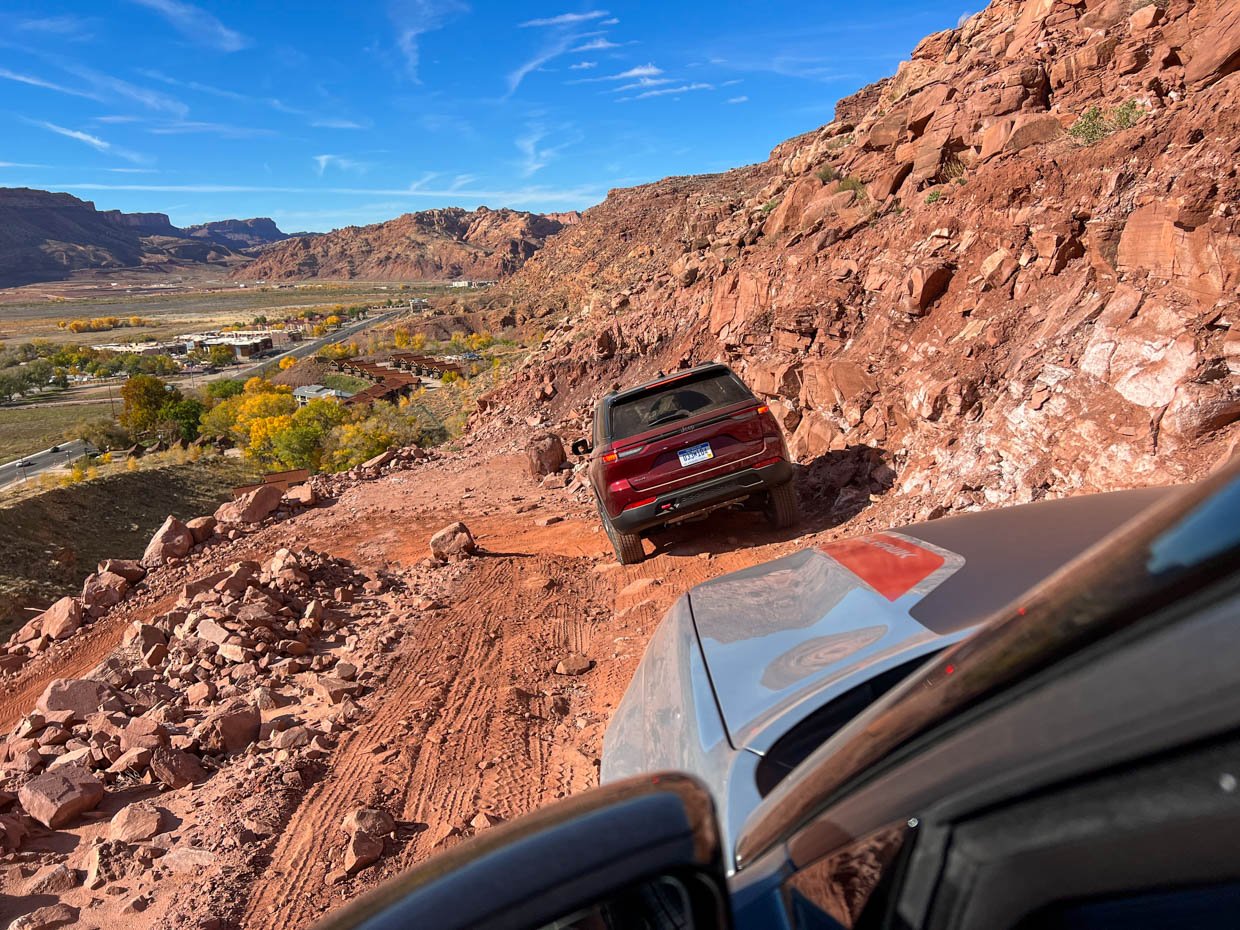 In contrast to the rugged styling of the Trailhawk, the Grand Cherokee Summit and Summit Reserve are all about luxury and grandeur. The interiors of these high-end models are exquisite, with Nappa or Palermo leather, real wood trim in oak or waxed walnut, and a modern and sophisticated new dashboard design that's more linear and high-tech than the outgoing models.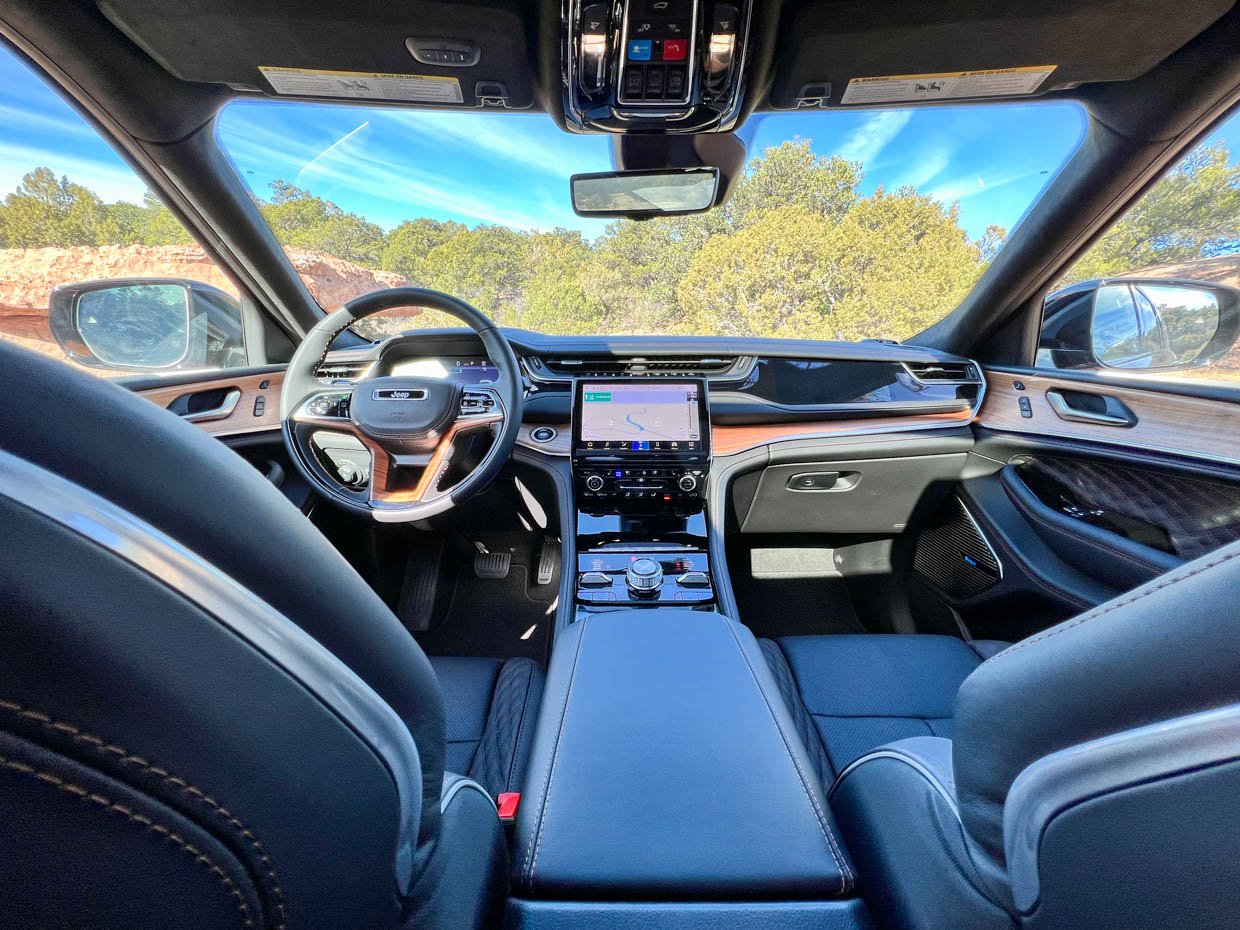 A big highlight in the cabin is the top-of-the-line sound system - a McIntosh audio system with an incredible 19 speakers, a 17-channel, 950-watt amplifier, and a 10" subwoofer. It cranks out incredibly clean and enveloping sound and is among the best sounding car audio systems we've heard. A bonus: an app that displays the iconic McIntosh analog VU meters on the center touchscreen.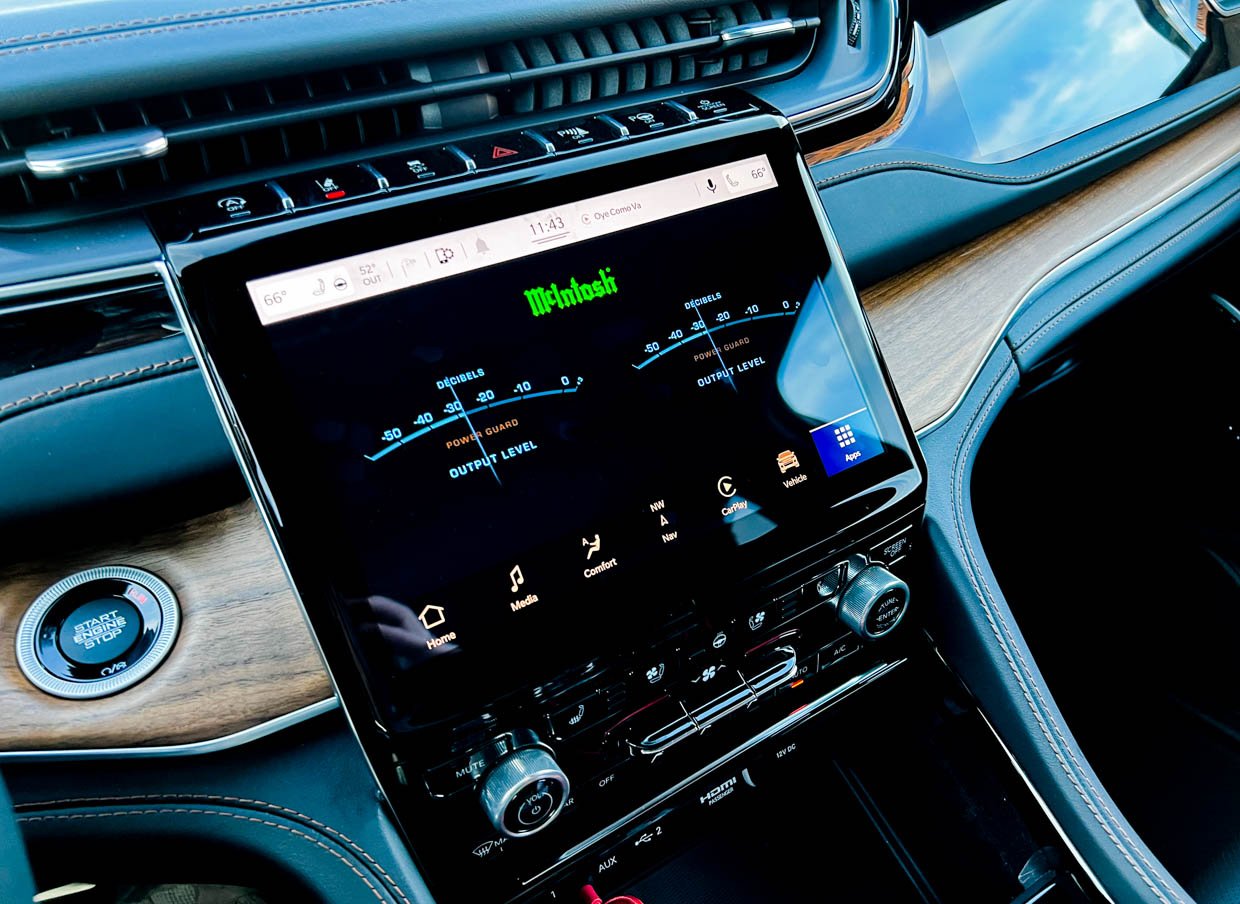 The seats in our Summit were extraordinarily comfortable and look great with those quilted leather details which carry over onto the doors. There's also heat, ventilation, and a seatback massage feature for the front row. The second row has heated seats with the option for ventilation with the Summit Reserve package.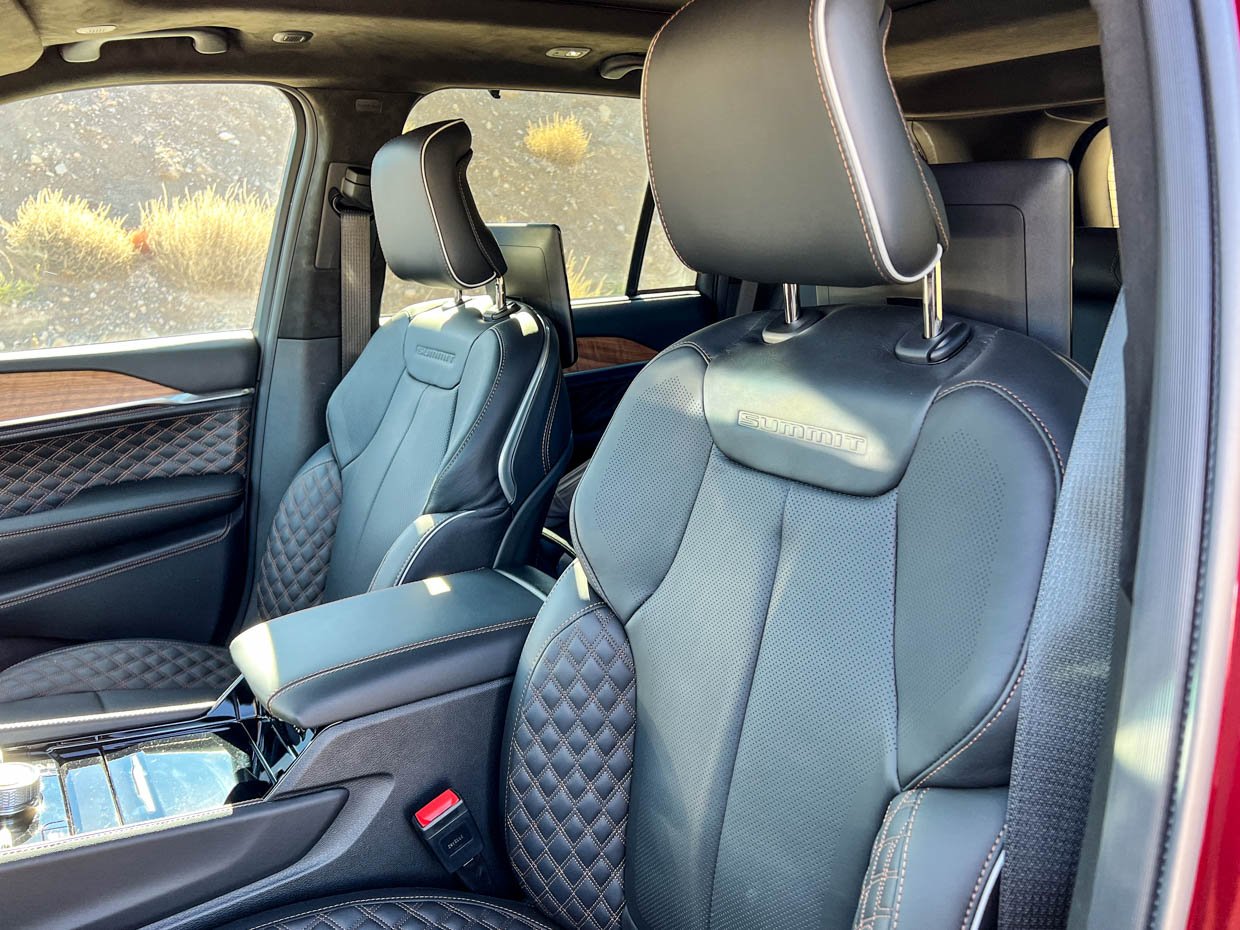 Jeep significantly upgraded its technology offerings for 2022. The new UConnect 5 infotainment system is faster than ever, supports over-the-air updates and wireless Apple CarPlay and Android Auto. Fully equipped, there's a 10.25" digital instrument panel, a 10.1" infotainment touchscreen, a 10" heads-up display, an optional 10.25" touchscreen for the front seat passenger, and a pair of 10.1" rear-seat entertainment touchscreens. Instead of playing DVDs like older systems, these can stream digital content via Amazon Fire TV. They also have HDMI inputs and headphone jacks for privacy. You'll also find plenty of outlets with a total of six USB A and USB C ports, 12-volt outlets in the front console and cargo area, and an optional 115-volt AC outlet.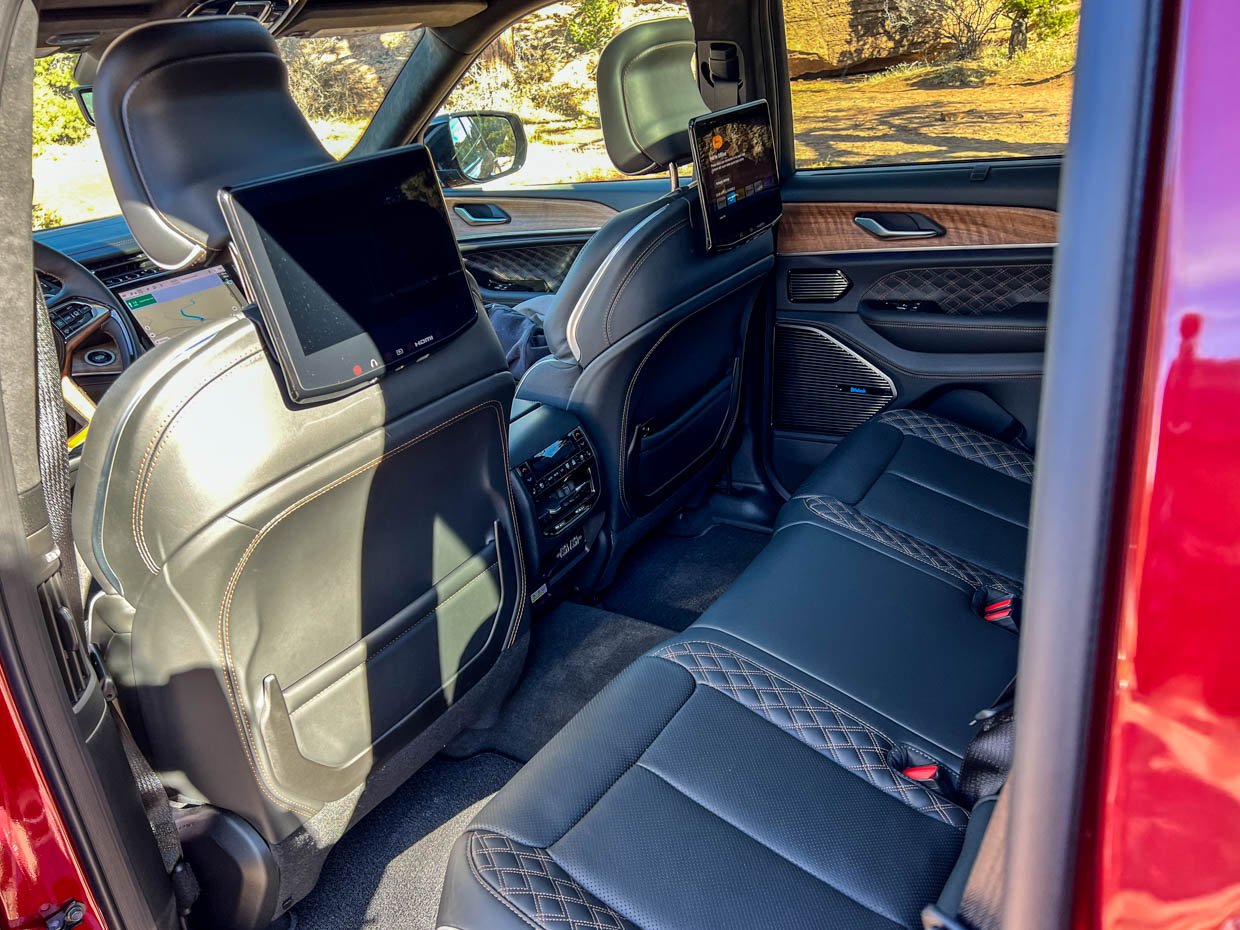 And if just can't get enough screens, the digital rearview mirror is great for seeing around passengers' heads and cargo and provides a crystal clear, wide-angle view behind the vehicle.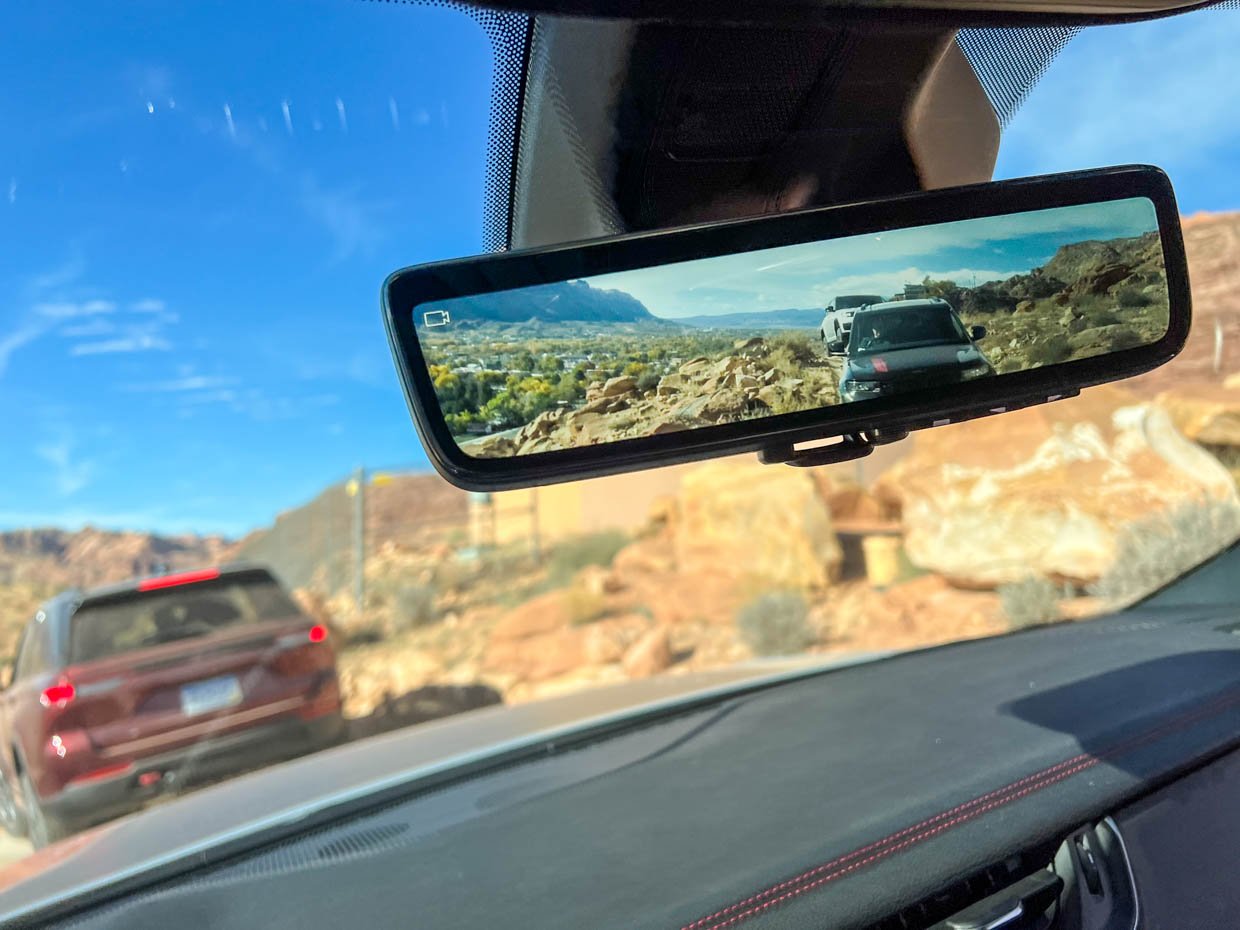 There's no shortage of cargo space here either. Even with the second row in use, there's 37.7 cubic feet of space - enough room for a 70-liter cooler, two full sets of golf clubs, and two roller suitcases. With the seats down, cargo capacity jumps to 70.8 cubic feet.
The Grand Cherokee has been a staple of Jeep's SUV lineup for 30 years. For the 2022 model year, it's got more space, loads of new technology, increased ride comfort, and great new looks inside and out. Whether on the pavement or adventuring on rugged terrain, it impresses. With seven trim levels ranging in price from $37,390 to $66,660, there's a model for a wide variety of tastes and budgets. The new Grand Cherokee starts to arrive in dealerships this month, with the 4xe model appearing in early 2022.