Driven: 2023 Cadillac Escalade-V
cadillac | cadillac escalade | fast cars | reviews | supercharged | suvs | v8 | January 3, 2023
Words and Images by Paul Strauss
Loaded with luxury, the Cadillac Escalade is one extravagant SUV. But the Escalade-V is on a different level entirely, adding a powerful supercharged V8, a sport-tuned adaptive suspension, performance brakes, and much more. We spent a week living with Caddy's powerful full-size SUV and couldn't get enough of its many pleasures.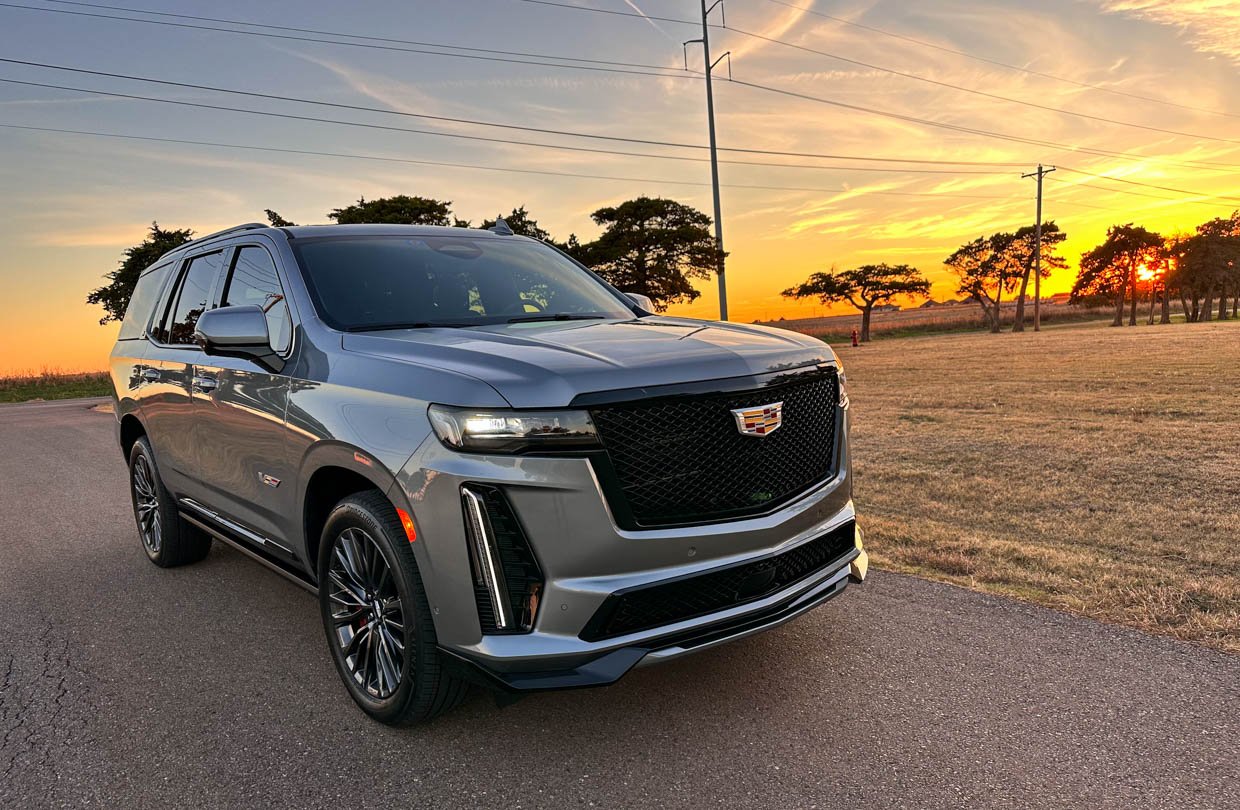 With shiny black body trim and rolling on ginormous 22" wheels, the Escalade-V has imposing looks from every angle. The big SUV sits on the same body-on-frame architecture that underpins the Chevy Suburban, Tahoe, and GMC Yukon. But the Cadillac is the most luxurious and technically capable of the bunch. Powered side steps greet you, and the air suspension lowers as you enter the cabin. In the evening, Cadillac puddle lights and perimeter lighting guide you safely inside.
But it's what's under the hood that sets the V-Series Escalade apart from its brethren. Growling beneath its massive hood is a handbuilt 6.2-liter, supercharged V8 engine that cranks out 682 horsepower and 653 lb-ft. of torque. That power heads to all four wheels via a 10-speed automatic transmission that offers crazy-quick shifts. Power comes on quickly, launching the 6200-pound behemoth from 0-to-60 mph in under 4.4 seconds. Push your foot down, and this thing GOES like a greyhound that's been waiting impatiently behind the racing gate to chase down a mechanical bunny rabbit. We were startled by its immense pulling power and rocket-like launch the first time we floored it - the front end angling slightly upwards as if we were heading for the moon.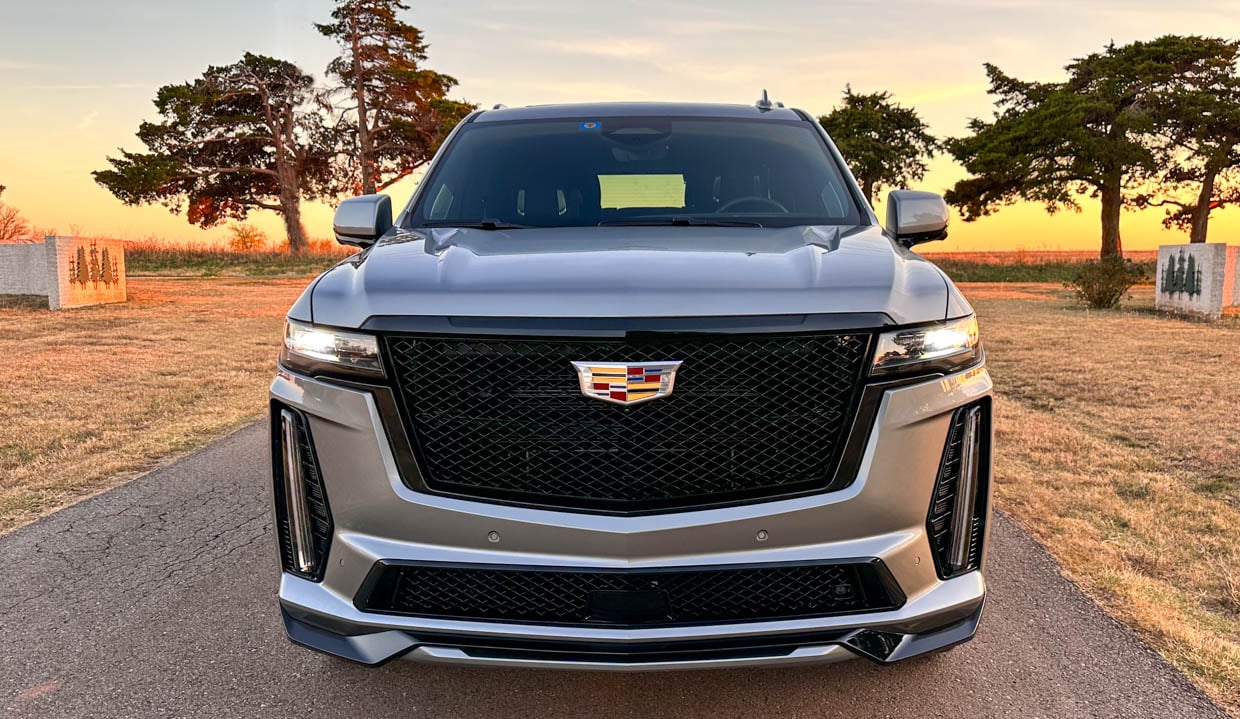 The Escalade-V's quad exhaust system offers up some wonderful noise candy as well, with the kind of growly baritone you can only get with a V8 engine. The engine's 2.7-liter supercharger offers a satisfying whine as it spools up. One thing you won't enjoy in the Escalade-V is your gasoline bill. The sticker says it averages 11 mpg in the city, 16 mpg on the highway, and 13 mpg combined fuel economy. But chances are if you're buying one, cash isn't a concern.
This wouldn't be a real Cadillac if it didn't have a comfortable ride. The standard Magnetic Ride Control 4.0 and Air Ride adaptive suspension do an exceptional job smoothing out bumpy roads while offering good feedback when you're more aggressive with your driving. Given the Escalade's high profile, it's not the kind of vehicle you'd take really fast into the corners. Still, in its lowered position, the specially-tuned V-Series suspension handled more like a sports car than we expected. The vented Brembo performance brakes in front and Duralife rotors offer outstanding stopping power, though we didn't get to see how they wear in a track environment.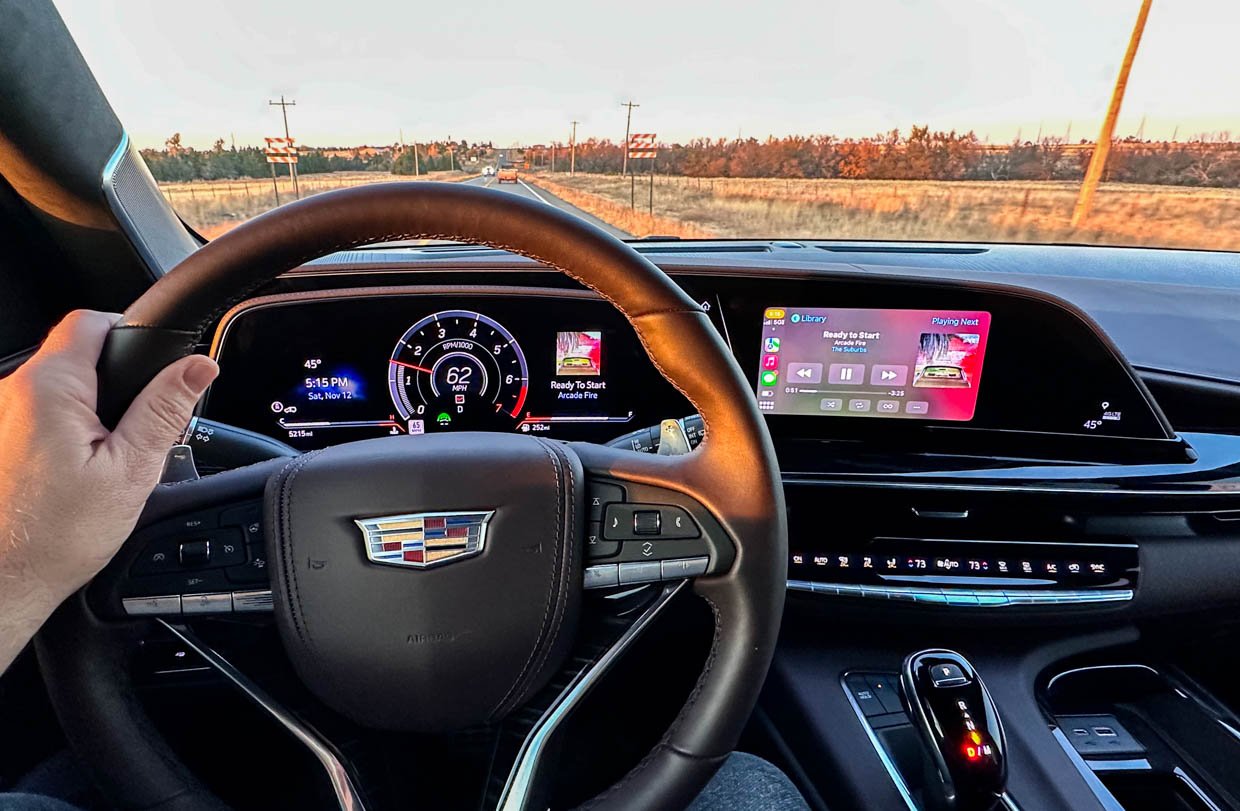 The Escalade-V offers six drive modes: Tour, Sport, Snow/Ice, Tow/Haul, My Mode, and V-Mode. The latter provides the most performance-oriented ride, while Tour offers a softer and quieter experience for days when you feel like cruising. V-Mode lets you dial in steering weight, suspension firmness, throttle mapping, brake feel, whether power is distributed evenly between the front and rear wheels or biased to the rear, as well as the engine sound. So if you want to go fast and stealthily, you can do that too.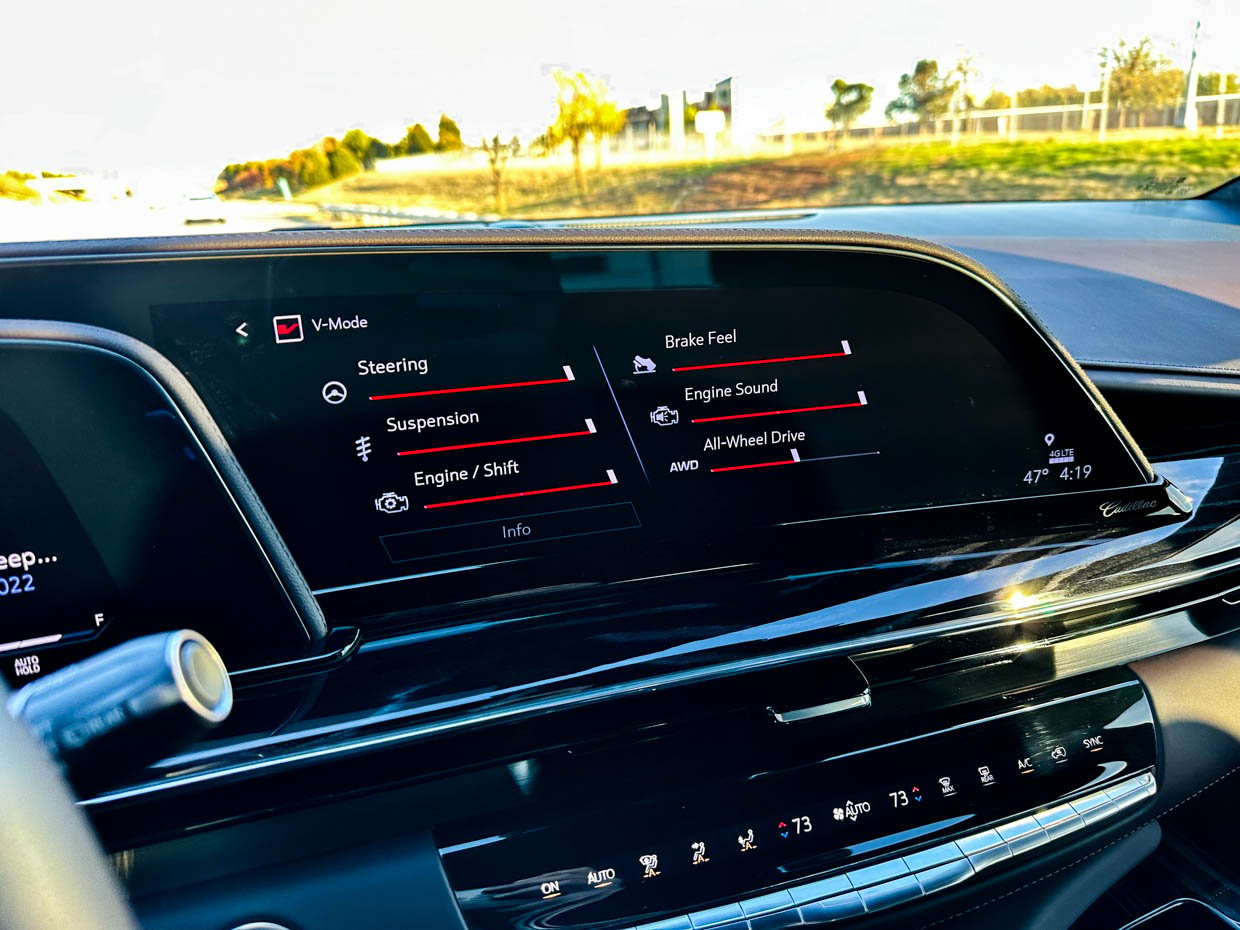 The interior is as upscale as you'd expect from a six-figure Cadillac. The seats in all three rows are wrapped in semi-aniline leather with a rectangular quilt pattern. The combination of Dark Auburn leather with black accents is sophisticated and rich without being obnoxious, and the real metal trim throughout the cabin on the pedals adds to the premium look. The center console and dash are appointed in a rich and gloss-finished zebra wood that's a serious step up from the piano black plastics found in many other vehicles. The front seats are supremely comfortable, with Cadillac shying away from the tight and confining side bolstering so often installed in performance models. In addition to heat and cooling, they also have a massage feature with four back-soothing programs available. The 36-speaker (yes, 36-speaker) AKG audio system sounds terrific, pumping crisp and clean surround sound to every seat in the vehicle.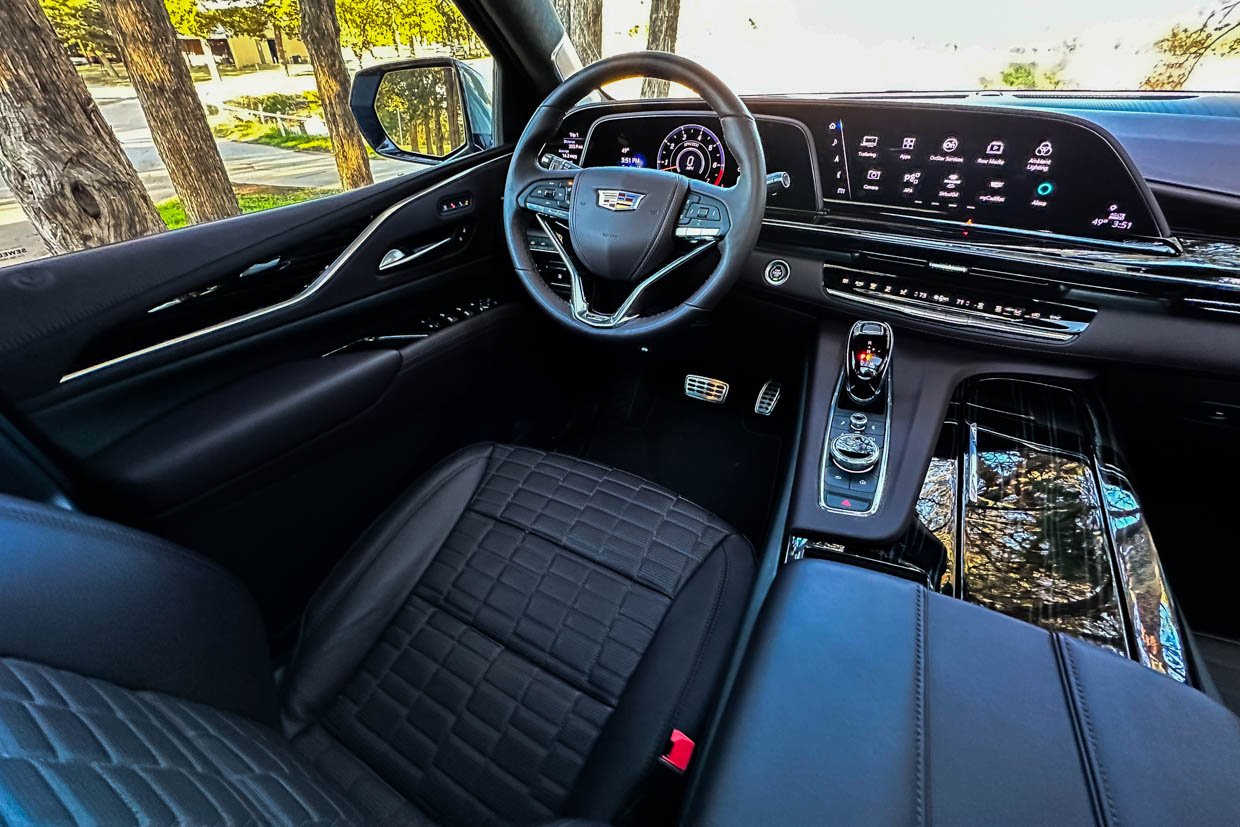 Rear-seat passengers will enjoy the comfy, heated captain's chairs with excellent legroom and headroom, independent climate controls, USB charging ports, and seatback entertainment screens. Those seats fold down and forward to provide access to the third row. Adults can ride in the third row without too much trouble, though you have to crawl around a bit to get back behind the captains' chairs.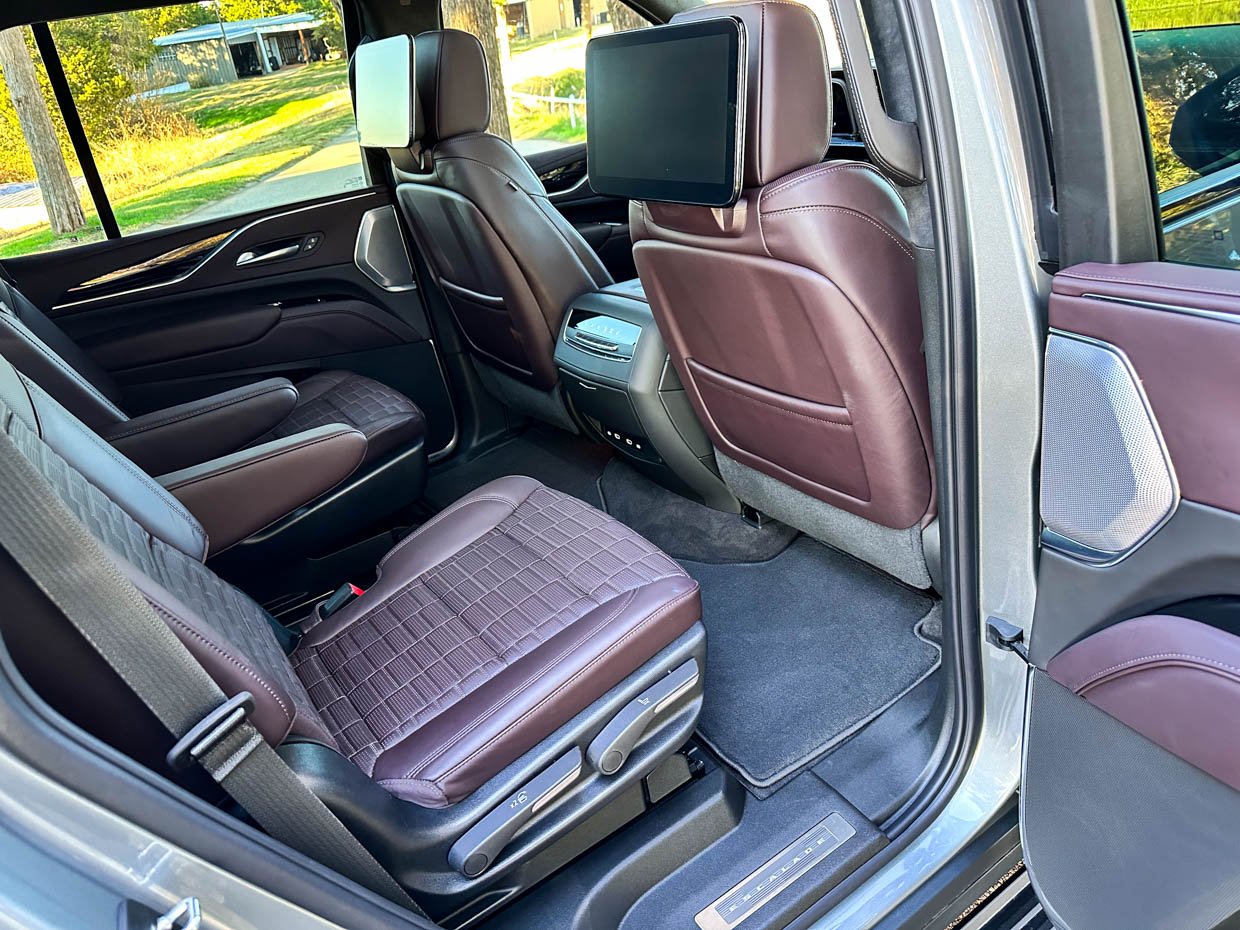 A massive curved OLED display spans the dashboard, wrapping around the instrument panel and providing quick and intuitive access to audio, climate, navigation, and vehicle settings. The display is the crispest and highest contrast screen we've ever experienced in any vehicle. Convenience and safety technology features are abundant, including a digital rearview mirror, night vision mode, razor-sharp surround view cameras, and an augmented reality navigation mode that superimposes images of turns on live front-camera footage. Cadillac offers the Escalade-V with its exceptional SuperCruise hands-free highway driving assistance feature as an option, though our test vehicle came with the standard adaptive cruise control.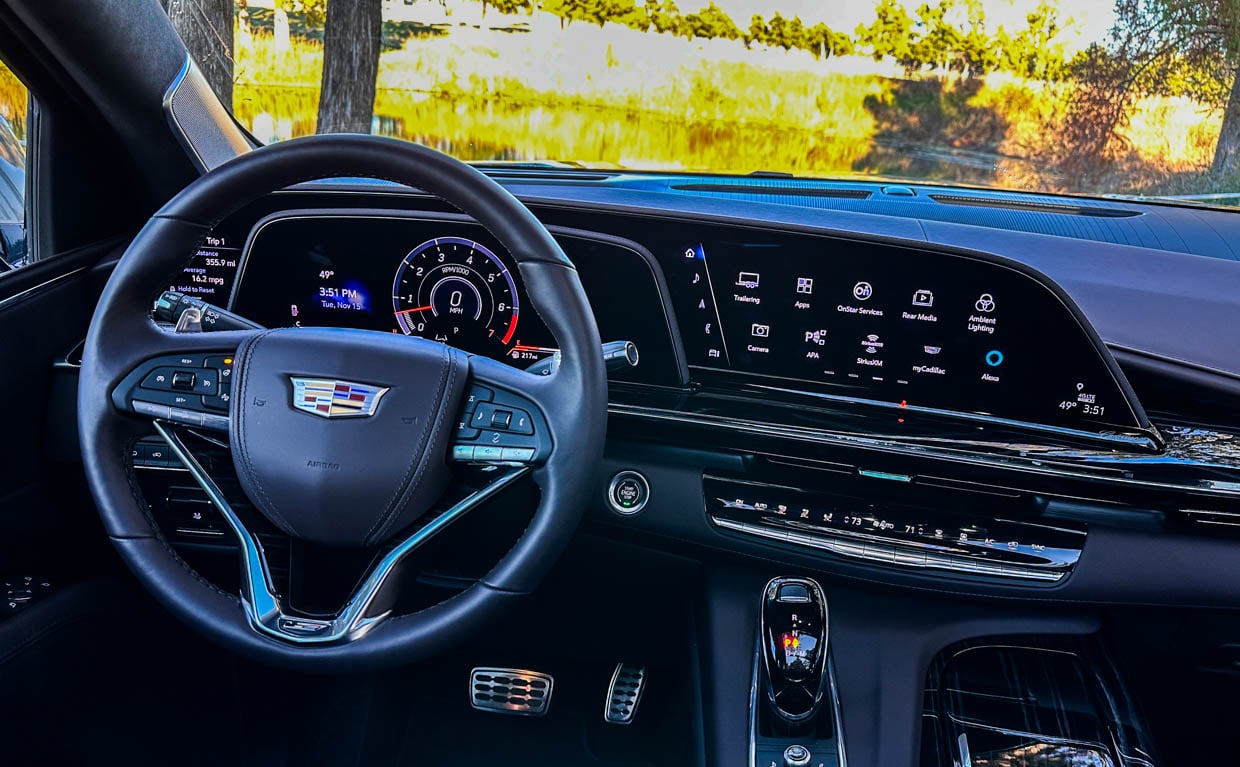 As you'd expect from a full-size SUV, there's plenty of cargo space in the Escalade-V. You rarely come across a vehicle that can do the 1/4-mile in 12.74 seconds and haul up to 121 cubic feet of cargo. Opt for the long wheelbase Escalade-V ESV, and that increases to a cavernous 142.8 cubic feet, providing enough room to carry luggage for all seven passengers. The third row offers a power-folding function for both the seatbacks and headrests, and you'll also find a 110-volt outlet back there.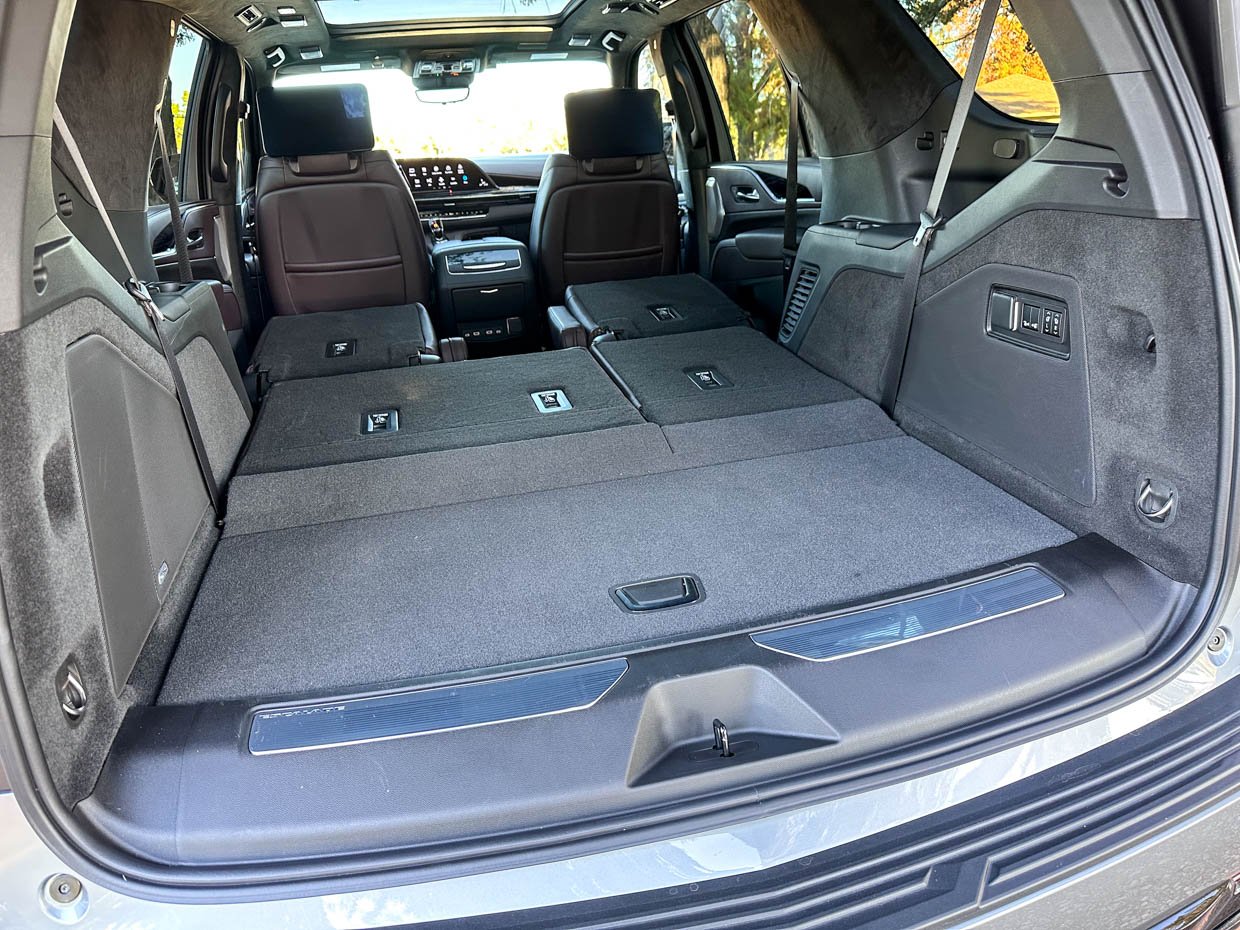 The 2023 Cadillac Escalade-V is an extraordinary ride designed for a narrow audience... but it's a genuinely awesome vehicle. The seven-seater is opulent, spacious, loaded with the latest technology, has a concert-quality sound system, and it also drives like a bat out of hell. It won't win you any awards for humility or environmental consciousness, but life is meant to be enjoyed, right? If you want one in your garage, be prepared to open up your wallet wide. The base price for the Escalade-V is $148,195. As tested, our vehicle came to $150,565.