Driven: 2021 Jeep Wrangler 4xe Rubicon
electric | hybrid | jeep | jeep wrangler | off-road | May 9, 2021
Words and Images by Paul Strauss
Jeep's most capable off-road SUV now comes in a plug-in hybrid. We spent a day driving the Wrangler 4xe on and off-roads around Austin, Texas, putting its powerful drivetrain to the test. Not only does the 4xe have 375hp and 470 lb-ft. of torque, it can drive up to 21 miles on pure electric power and does 0-to-60 in 6 seconds.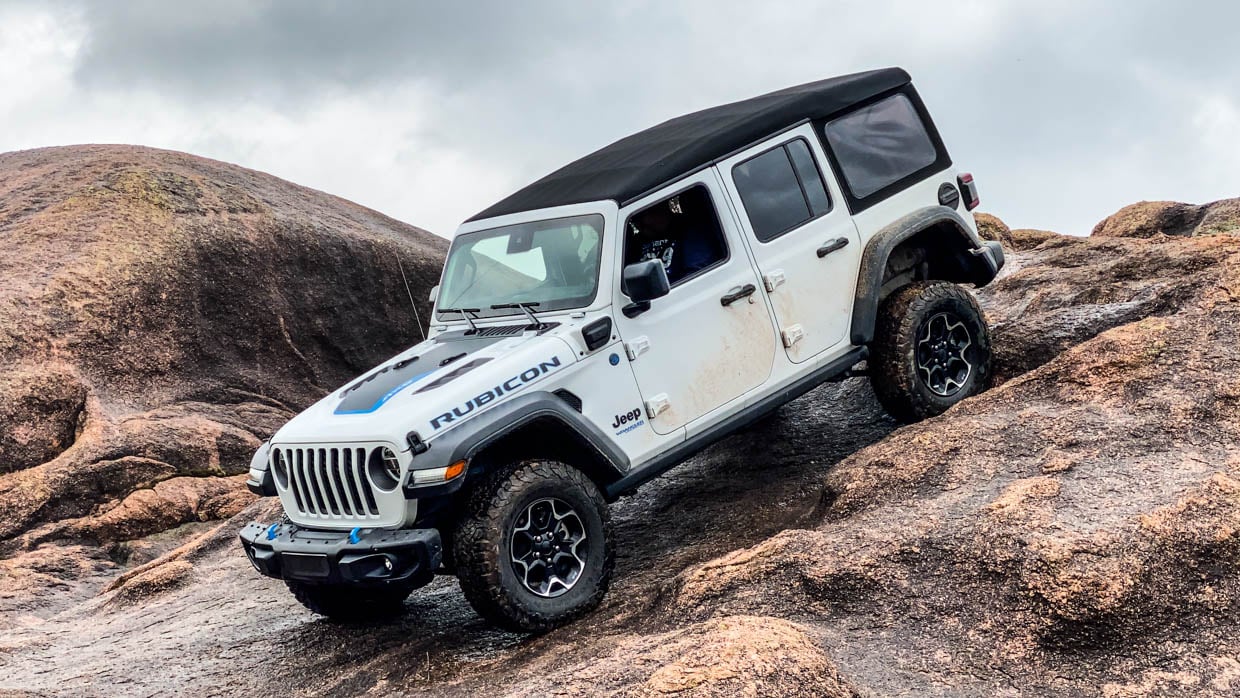 For all intents and purposes, the Jeep Wrangler 4xe (pronounced "four-by-e") is just as capable, rugged, and versatile as a gas- or diesel-powered Wrangler. Still, it has the added ability to run on electric power or in a hybrid-electric mode. It's also the fastest Wrangler we've driven so far, zooming from 0-to-60 mph in just 6 seconds flat. The only speedier factory Wrangler you can buy is the V8-powered Rubicon 392, and that's about $20,000 more and certainly not as fuel-efficient.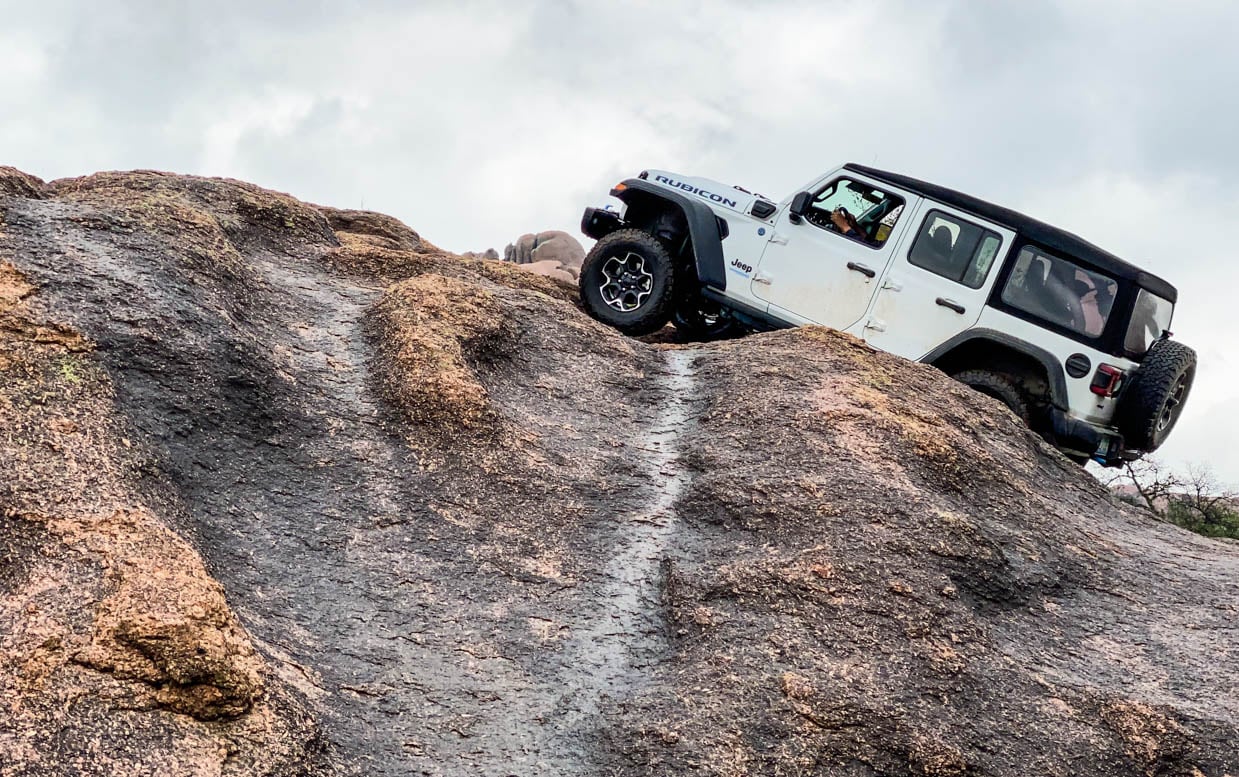 In addition to its 2.0-liter turbocharged gas engine, the 4xe has two motors - one which replaces the starter and alternator and a larger traction-drive motor that sits behind the transmission and serves as part of the Jeep's full-time 4-wheel-drive system. The result is a seamless transition between gas, hybrid, and pure electric driving modes, while still retaining off-road features like a two-speed transfer case.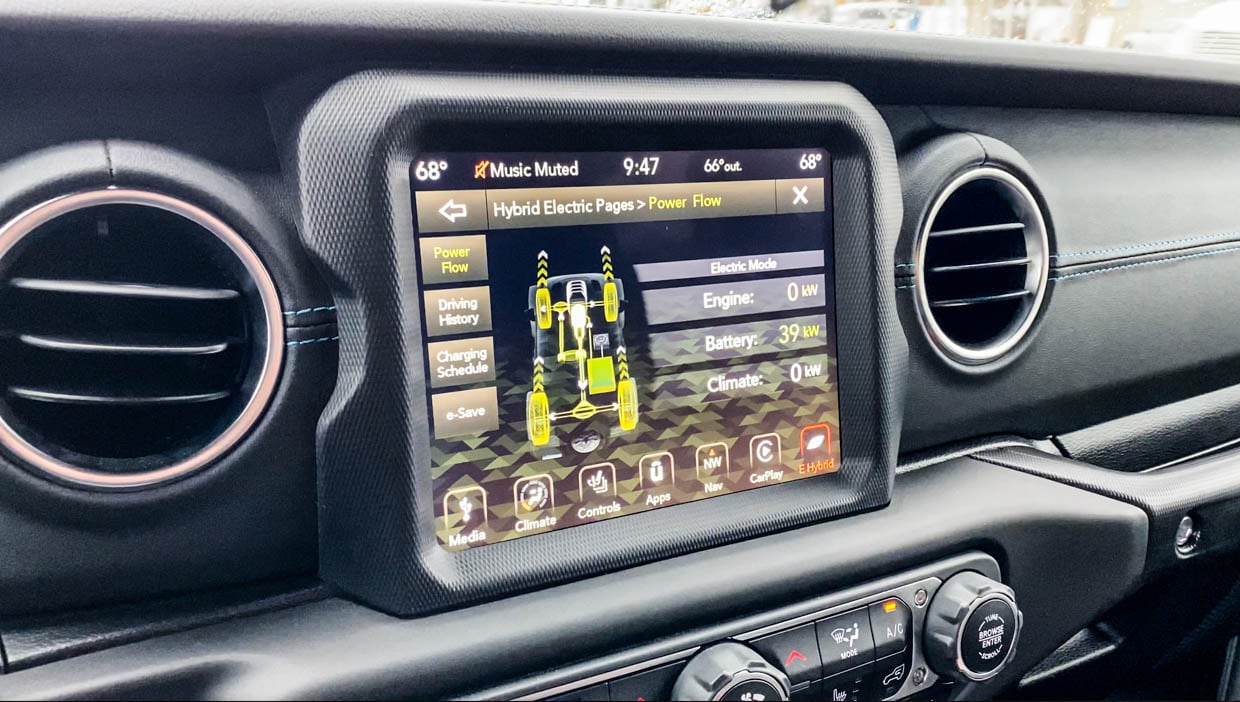 Plug the Wrangler 4xe into a 240-volt Level II charger, and it'll recharge fully in about 2.5 hours. A regular household 110 outlet will do the deed overnight in about 12 hours. And if you don't have time to charge up sometimes, that's okay. You can still drive it as a hybrid. The Jeep's 17.3-kilowatt battery pack is hidden smartly beneath the back seat, so there's no loss of cargo space.
Other than the power connector, Wrangler 4xe models look almost identical to their brethren and share much of the same equipment. But there are some clues. If you look closely, 4xes get Electric Blue on their tow hooks, badging, logos, and interior stitching. You can get the 4xe it in Sahara, Rubicon, and High Altitude variants, representing the Wrangler's middle-of-the-range, most capable, and most luxurious trims. Prices start at $47,995, $51,695, and $53,815, respectively. Those are roughly $6,000 to $8,000 more than similarly-equipped V6 or turbo-4 Wranglers, but there's currently a $7500 U.S. federal tax credit that pretty much negates the price difference.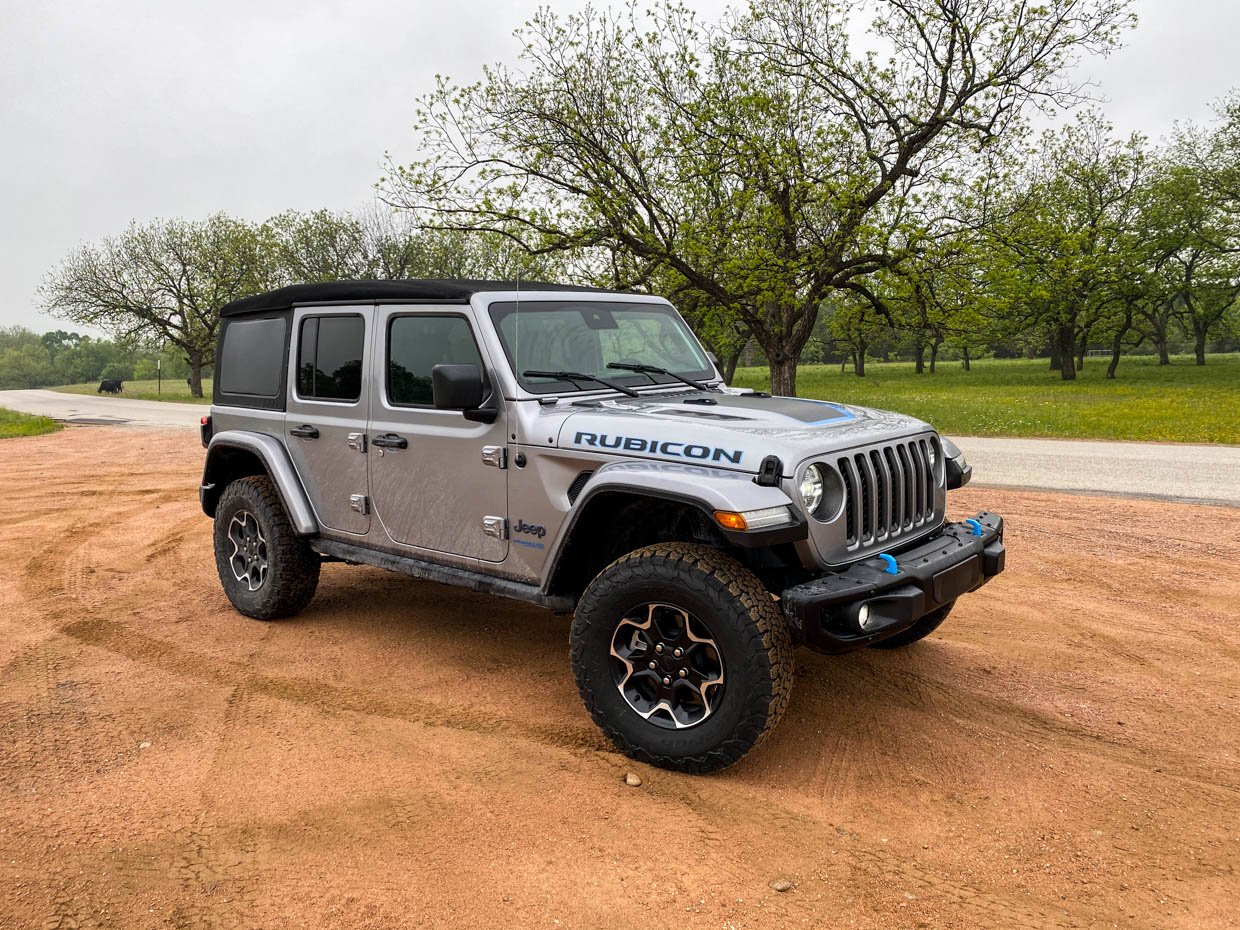 The Jeep's E-Select drive buttons let you choose between hybrid, electric, and E-Save modes. We spent most of our time in hybrid mode, which dynamically uses both the gas and electric power systems in concert, maximizing torque and launch speed. But for quick jaunts around town or slow-paced off-road trail rides, the electric mode offers guilt-free, quiet travel without using a drop of fuel. In E-Save mode, the 4xe primarily uses gas and saves battery power for later. It can even generate a small amount of energy back into the battery pack, though we found the amount of driving range it could add was minimal.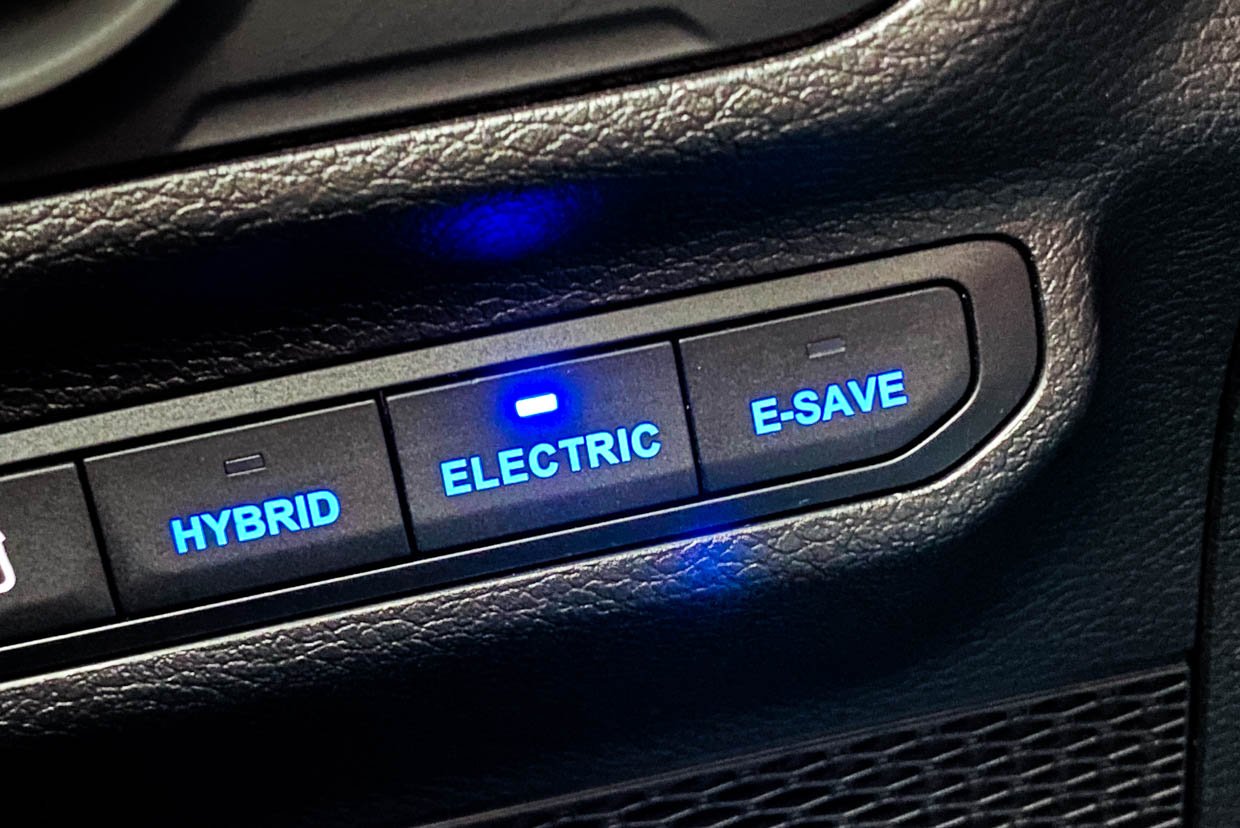 Other than the E-Select mode buttons and the blue stitching, the inside of the Wrangler 4xe is unchanged. There's a great upright seating position that provides good visibility and rugged, pragmatic styling throughout. The interior can be a little noisy in soft-top models at highway speeds, but you get the advantage of open-air driving on warm and sunny days. If you plan on spending most of your time with the roof closed or doing a lot of highway driving, a hardtop might be in order. Conversely, when you're driving at lower speeds, the 4xe is smooth and whisper-quiet - especially in electric mode.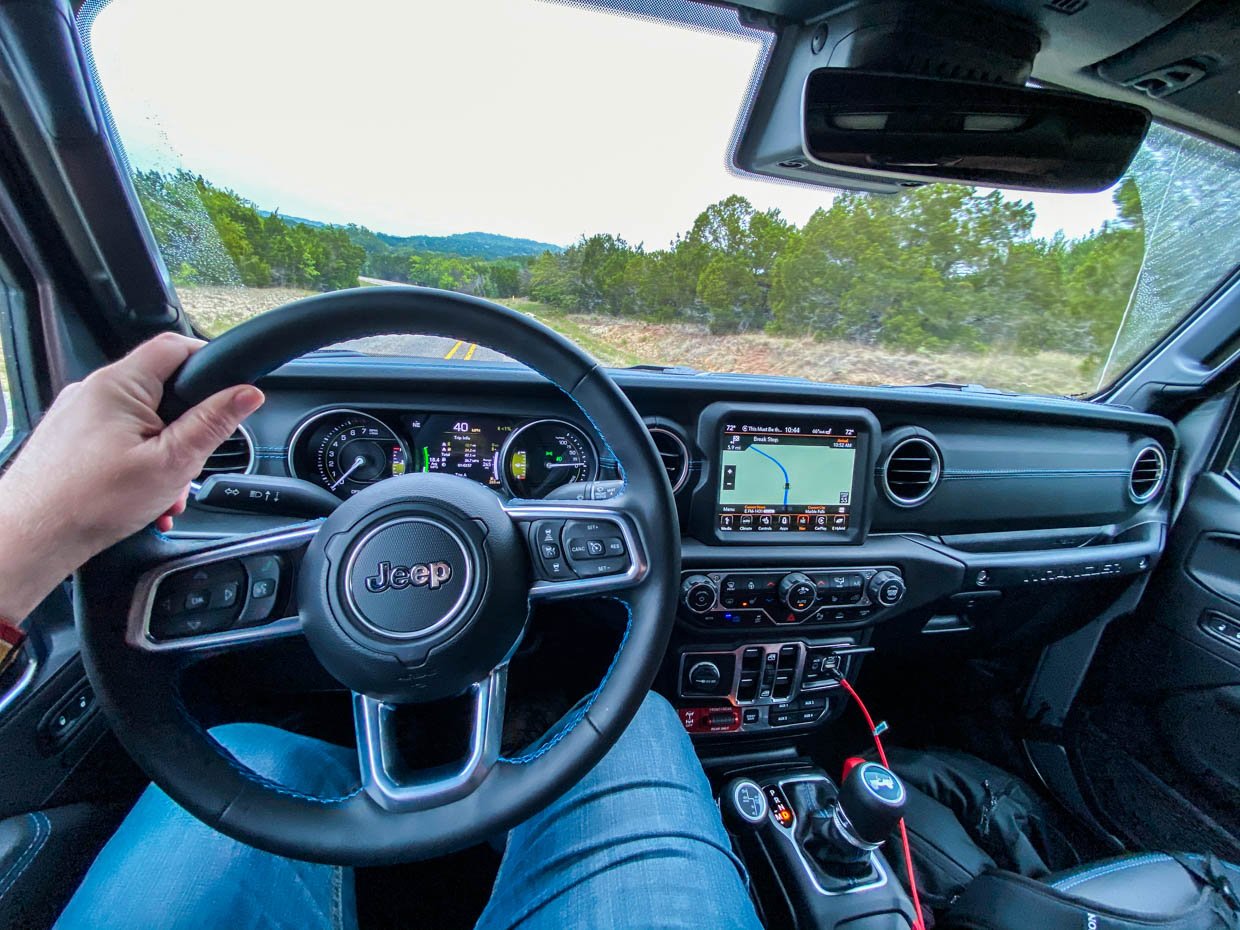 We spent some of our time driving the Rubicon 4xe over rocky granite hills about 90 minutes west of Austin. With the help of Jeep's trail experts providing instruction, the Wrangler had no problem traversing the rain-soaked rocks.
The locking front and rear differentials help provide optimal traction on steep ascents and descents and the electronically-disconnecting sway bar system maximizes wheel articulation. Underbody skid plates help protect the mechanical and electrical bits, and we were happy to have them as we scraped across some particularly off-kilter rocks.

While you might think that the primary reason for driving a plug-in hybrid would be fuel economy, you might be surprised to find out that the Wrangler 4xe gets virtually the same mileage as an equivalent gas Wrangler. That's because Jeep didn't strip down these 4x4s to offset the added weight of the battery and the electrical system. Still, they achieve a 49 MPGe EPA rating because you can drive your first 20 miles or so in electric mode. This is great for driving around town, running errands, and getting back and forth to work. When you're ready to hit the road for a more extended trip, you've got plenty of range with the hybrid system and can simply refuel at any gas station.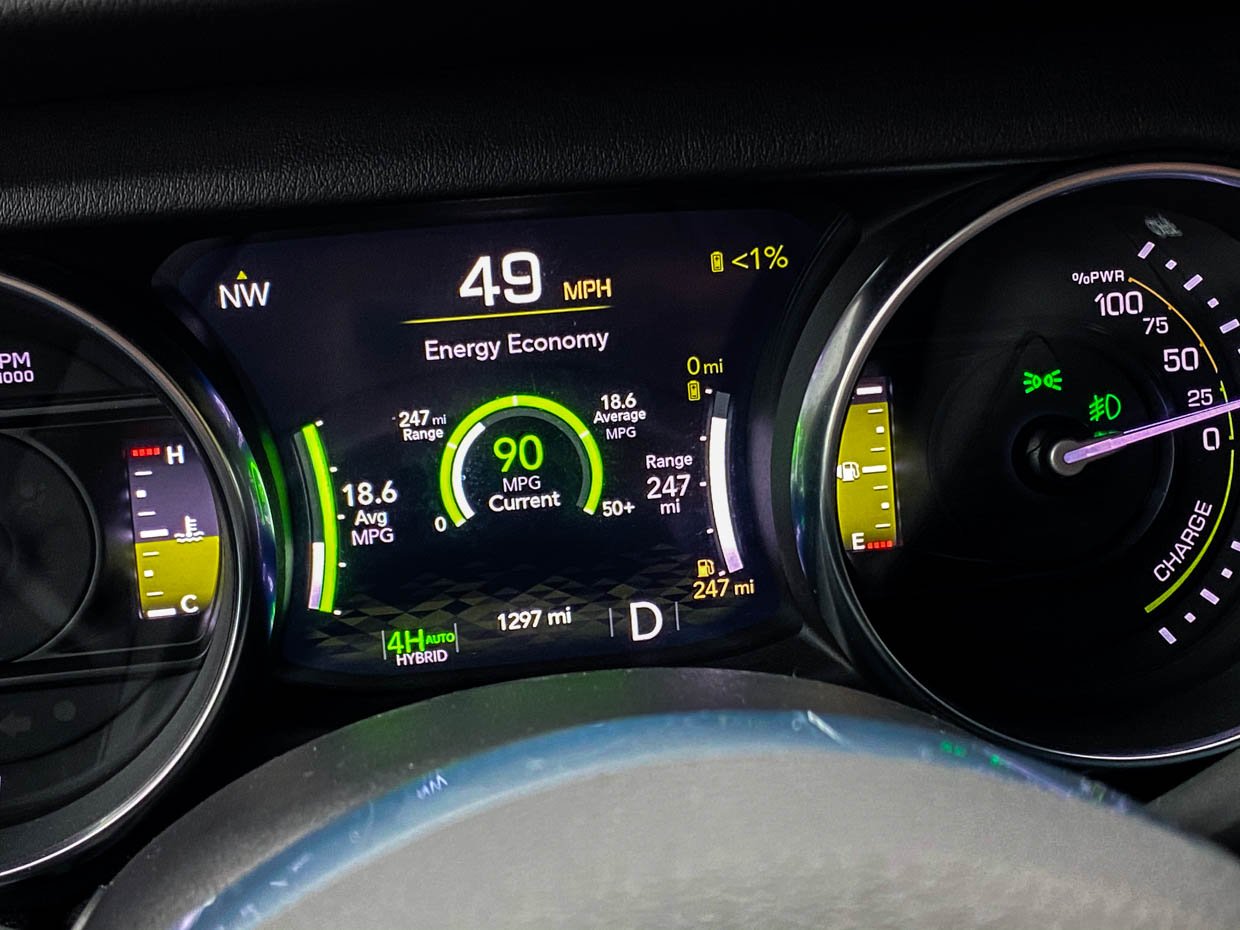 In addition to charging the Wrangler 4xe at home or standard EV charging stations, Jeep has partnered up with Electrify America to install 2-vehicle charging stations at the trailhead of about 60 Badge of Honor trailheads, letting Jeep drivers top off their batteries before hitting the trail. While we didn't get to test Jeep's claims, they say a full charge can provide 3 to 4 hours of pure-electric rock crawling.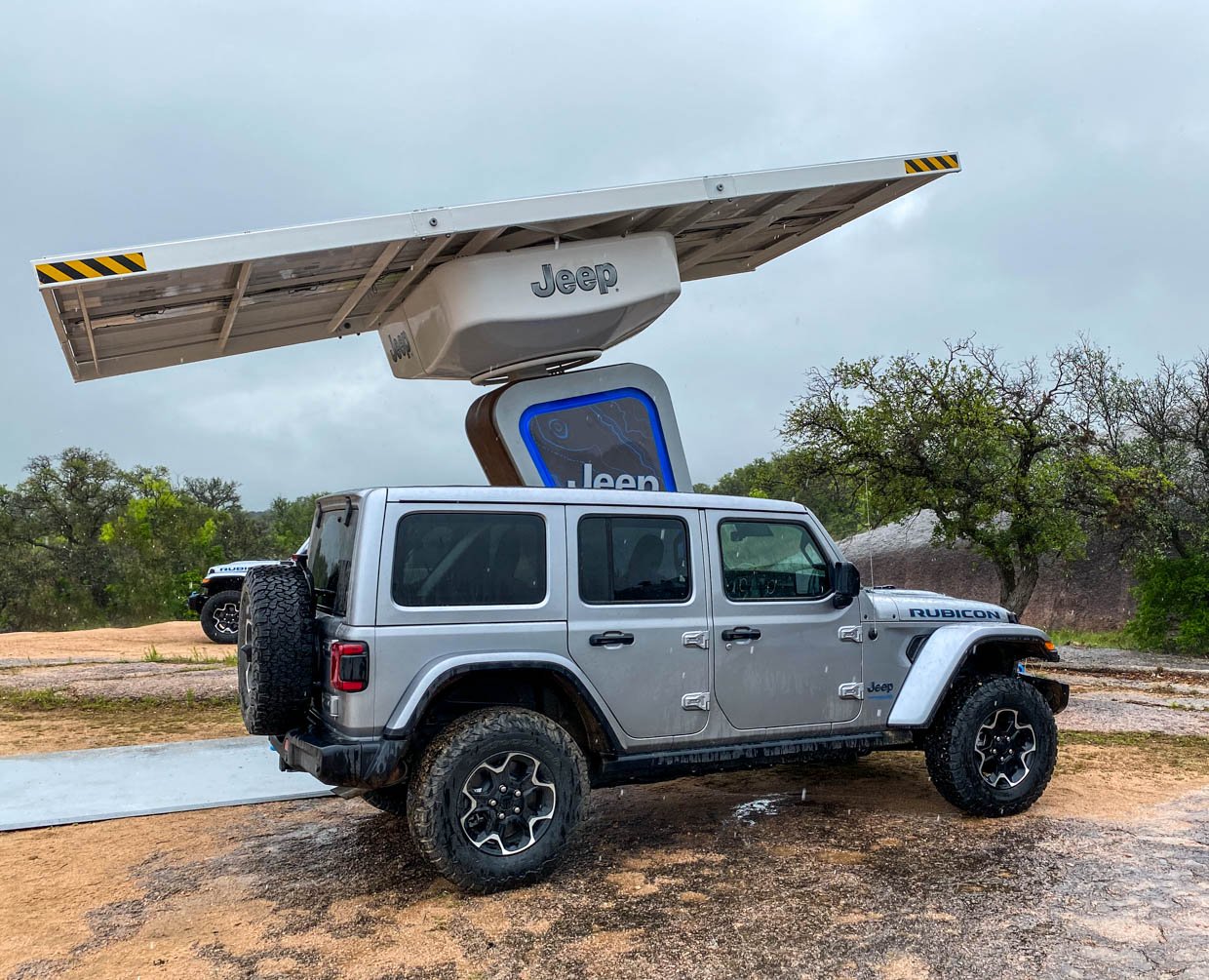 We're big fans of plug-in hybrids, and the Wrangler 4xe continues that trend. PHEVs offer the best of all worlds with gas-free EV capabilities for short hauls and none of the range anxiety of pure electrics. Their hybrid drivetrains typically produce extra torque and acceleration too. In the case of the 4xe, that's all true. You're getting all of the capability of a regular Wrangler but just adding free city driving and extra power. We saw zero difference between the agility of the 4xe Rubicon and the conventionally fueled Rubicons we've driven before. Plus, you get the bonus of crawling along scenic trails and enjoying the sounds of nature without engine noise.