Jeep and Ram at Badlands
4x4 | jeep | off-road | ram | suvs | trucks | May 26, 2019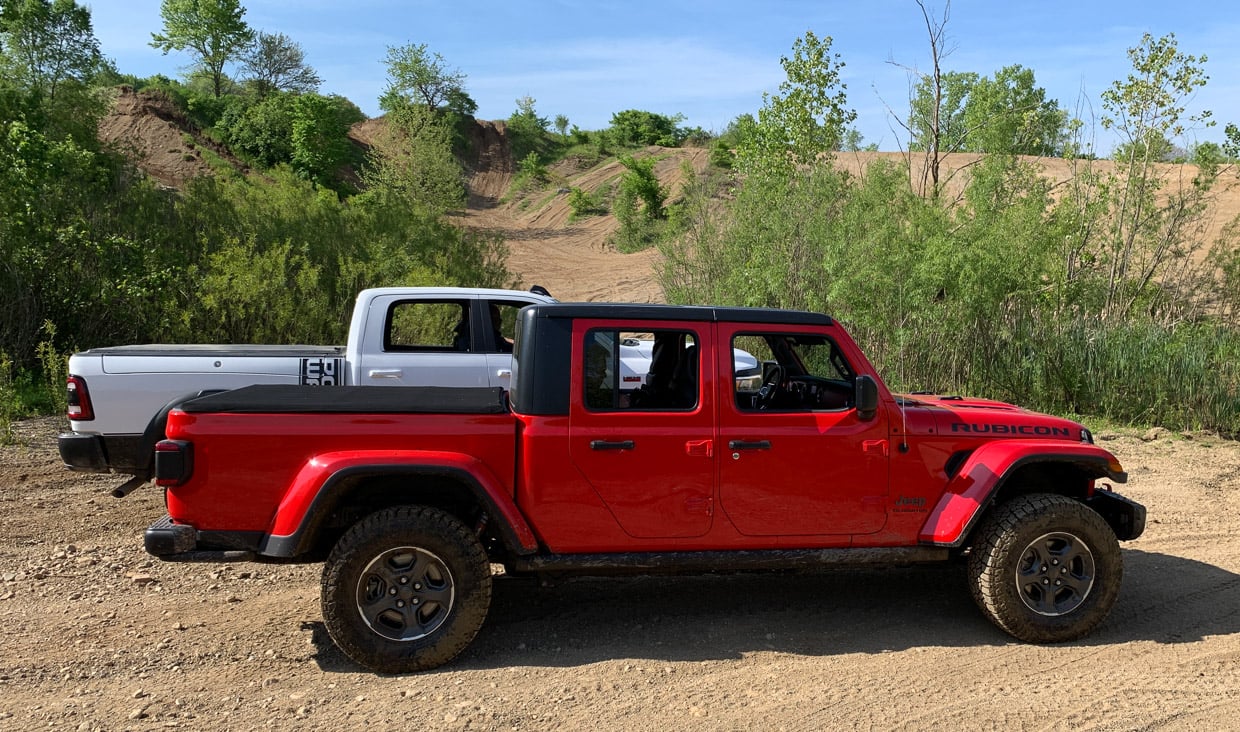 Both the Gladiator and Ram 2500 are very capable trucks, with distinctively different looks and abilities, but both able leave the paved roads behind with ease.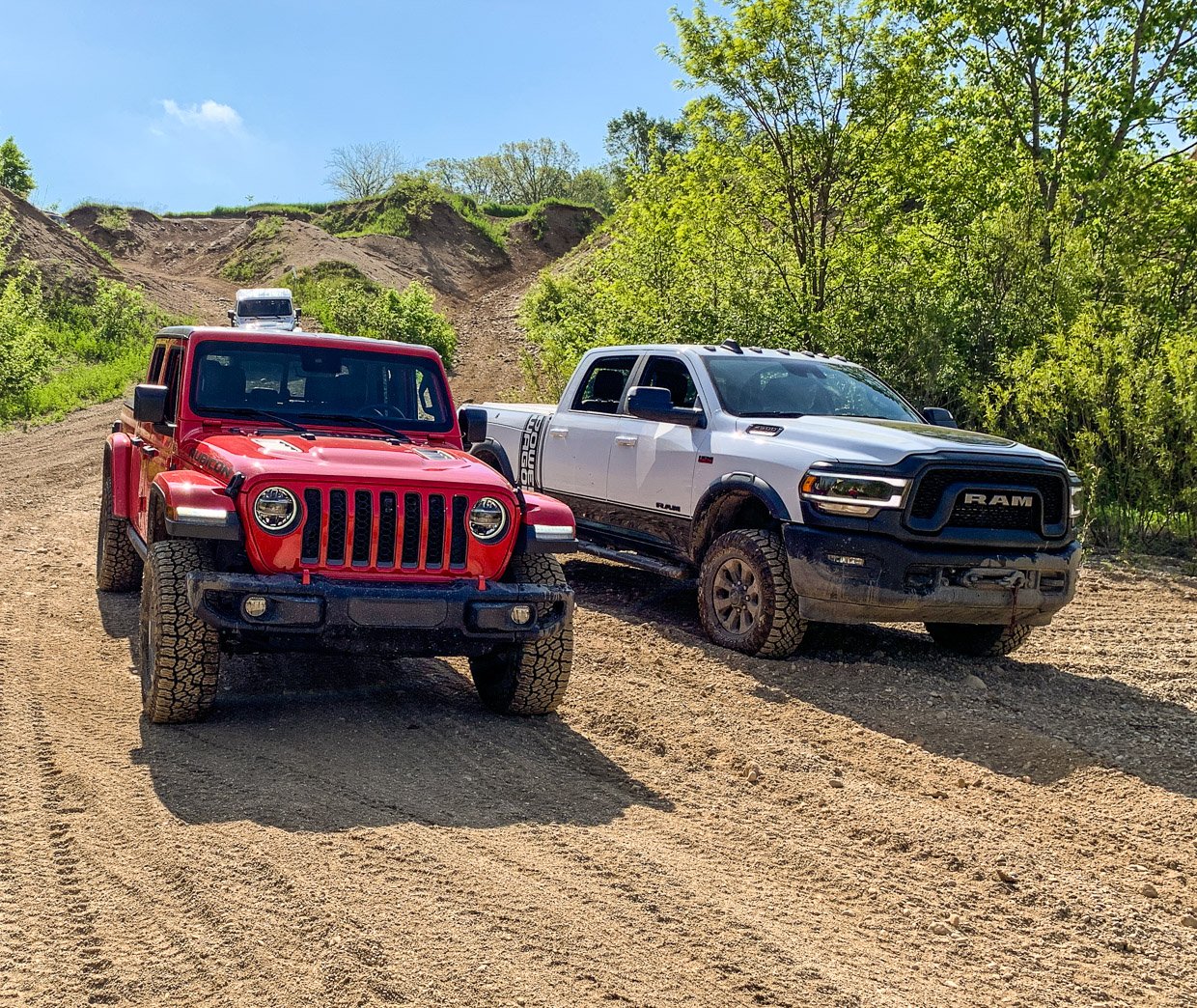 In Rubicon trim, the Gladiator is ready to take on just about anything, straight from the factory. It rides on 33" Falken all-terrain tires, with high-clearance fenders to allow for lots of wheel travel, and 11.1" of ground clearance.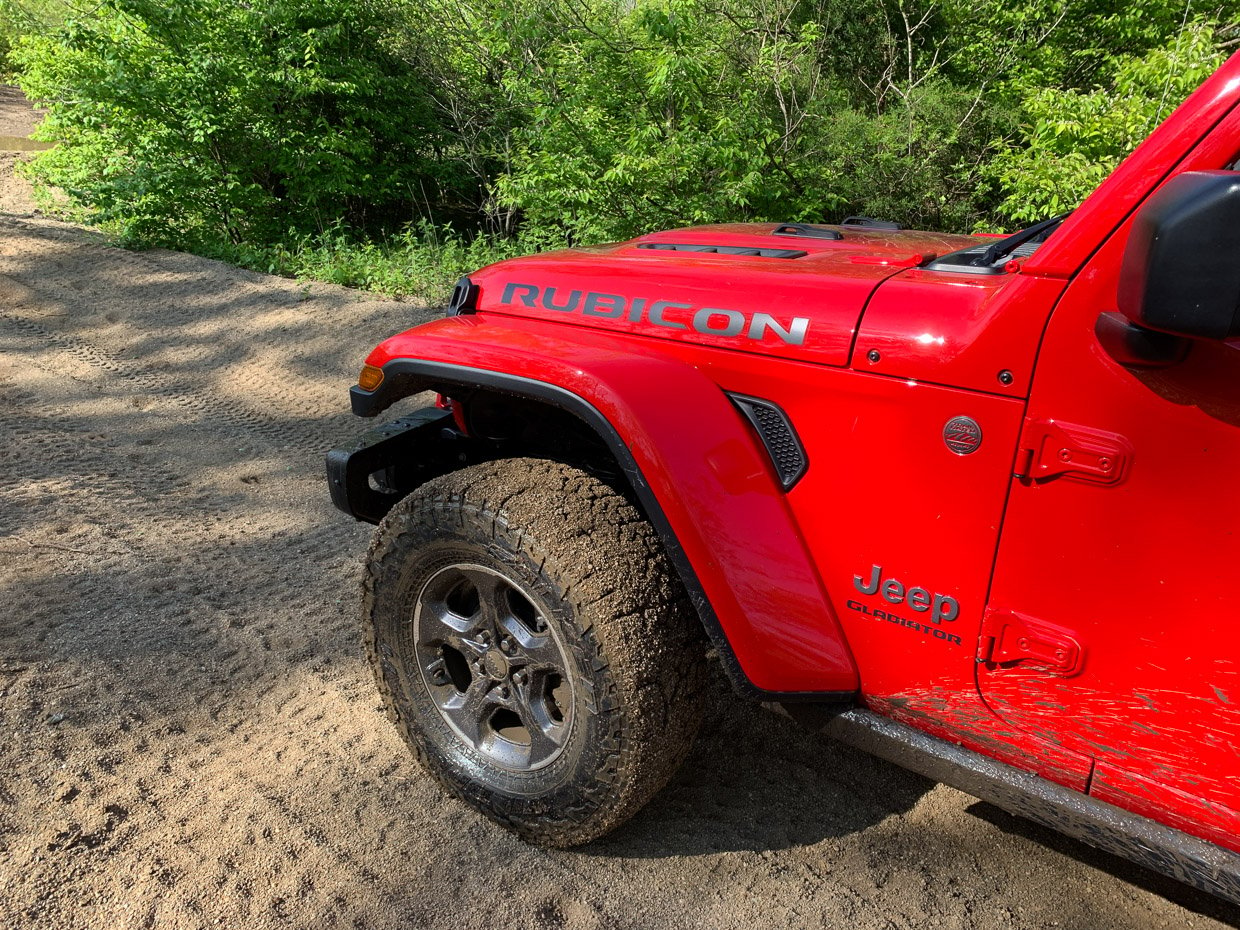 The Power Wagon comes with 33-inch Goodyear tires, and Bilstein monotube shocks for excellent handling of rough roads, as well as carrying heavy cargo loads.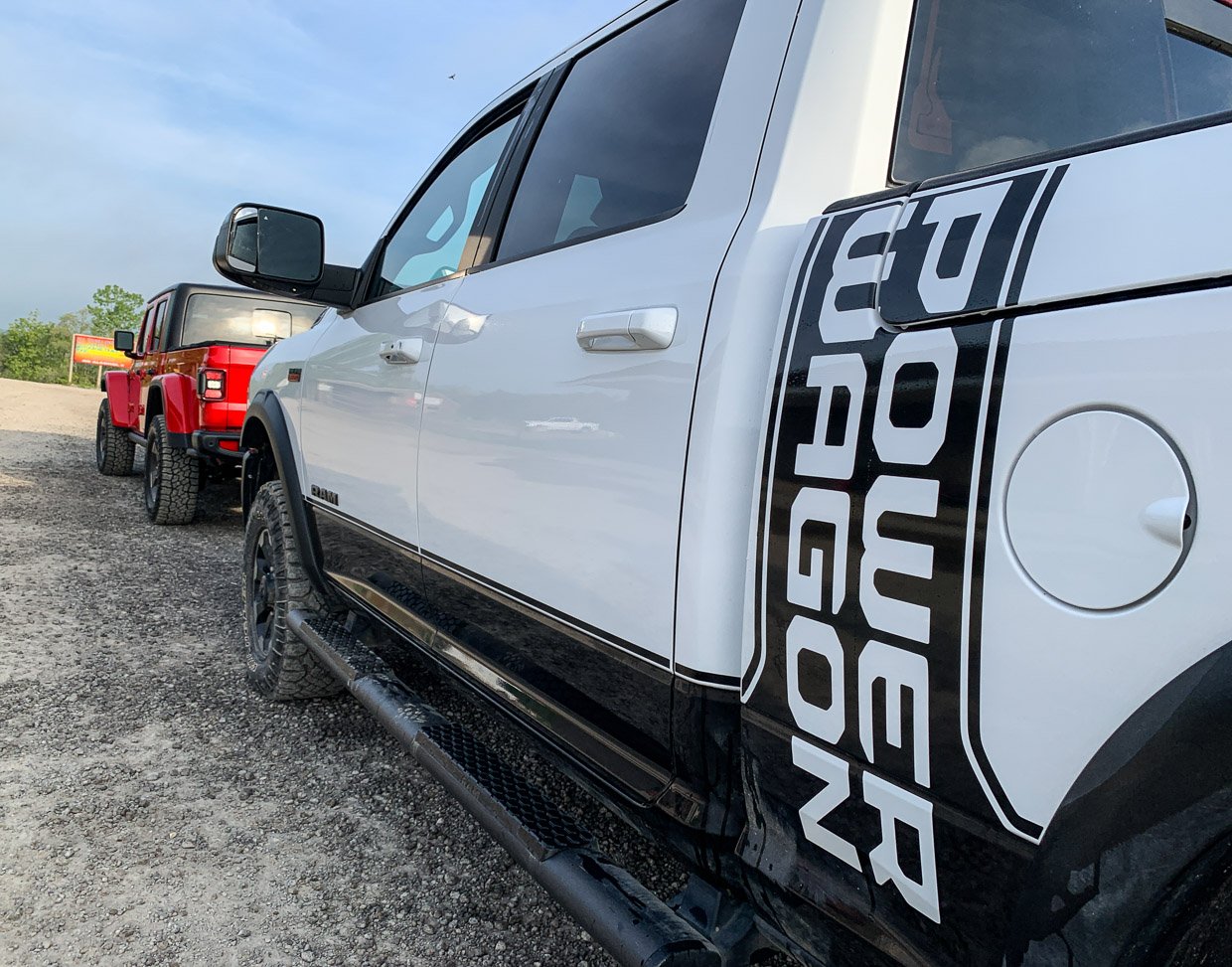 Badlands offered up an incredibly diverse selection of terrain for us to sample. The park has over 800 acres of rocky trails, sandy dunes, creeks, rock quarries, and more. Unlike some off-road parks, Badlands has trails that are friendly to SUVs, trucks, ATVs, and dirt bikes. Best of all, the park is less than a 3-hour drive from Chicago, and just over an hour from Indianapolis.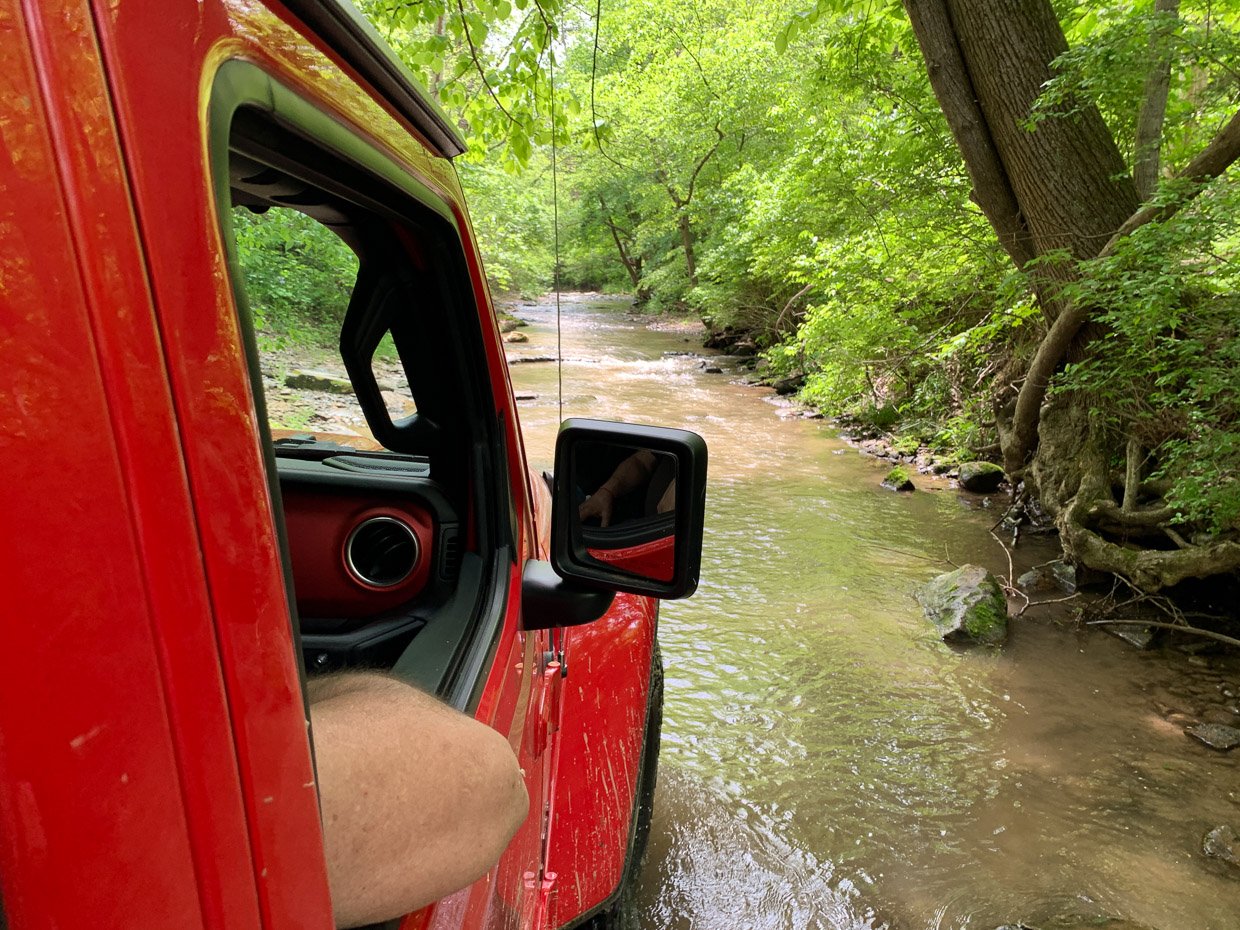 Thanks to their height and air intake placement, both the Gladiator Rubicon and Power Wagon are perfectly happy to ford water. Both trucks will swim through 30" without a problem. We had a blast wading a zig-zag path through a portion of the course that had flooded from recent rains.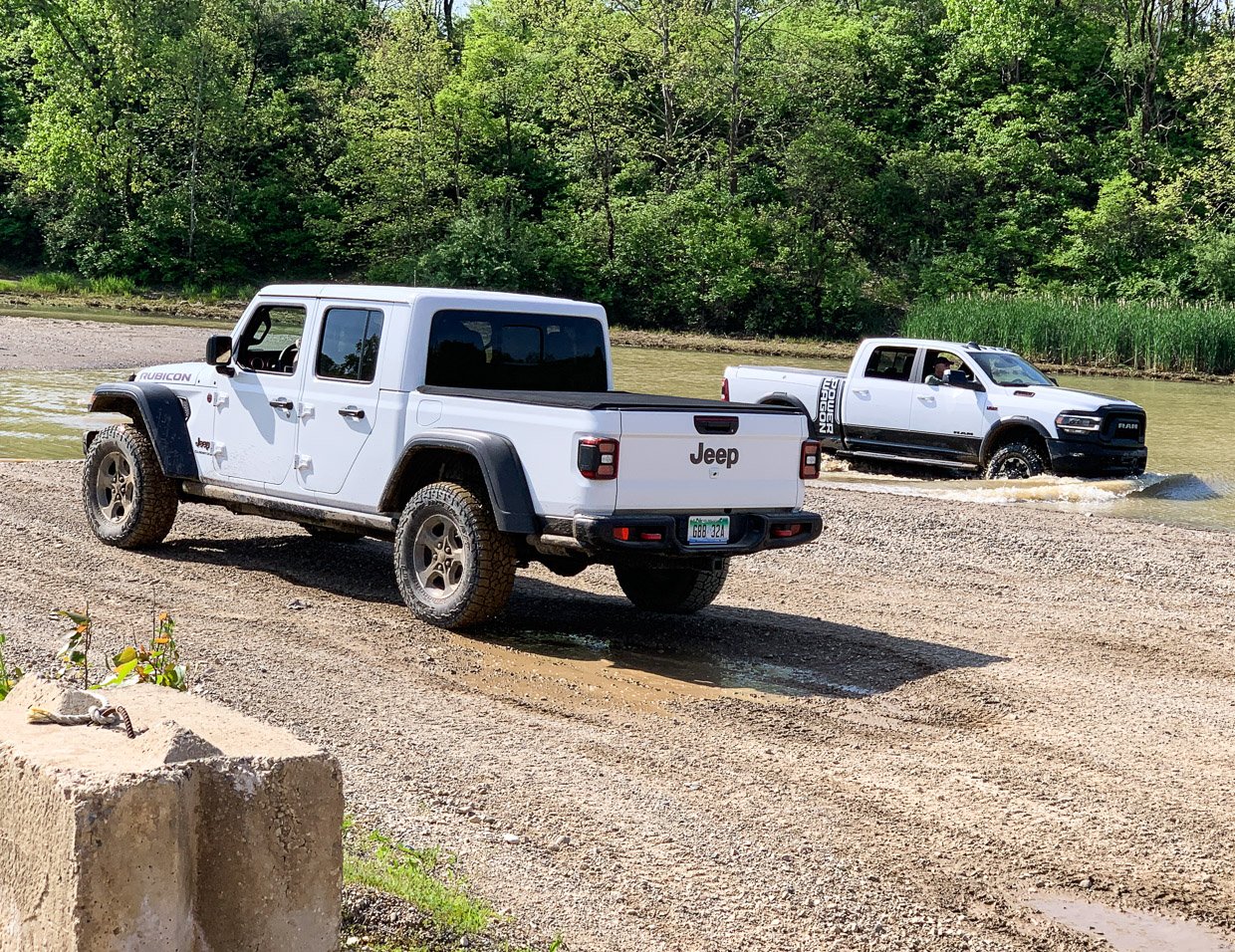 The Gladiator Rubicon is just as capable off-road as any Wrangler we've been in, and made quick work of loose dirt, gravel, and boulders in our travels. We were happy to have those rock rails and high-strength steel skid plates to keep its underside from taking any damage from the bigger rocks we encountered.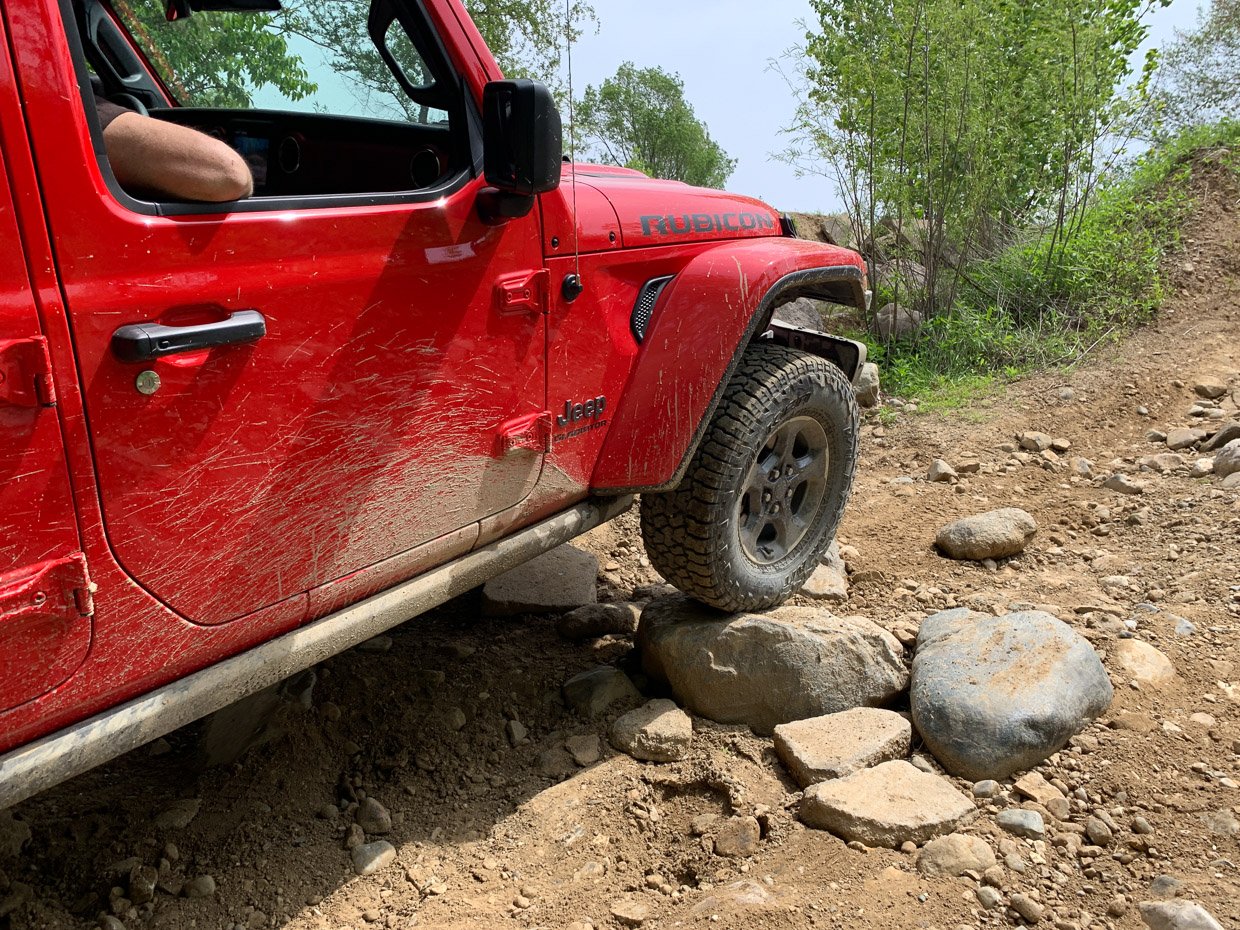 For anyone who's been inside a recent Jeep Wrangler, they'll feel right at home in the Gladiator. The cockpit features a rugged and utilitarian design, and offers comfortable seating in both its front and rear rows.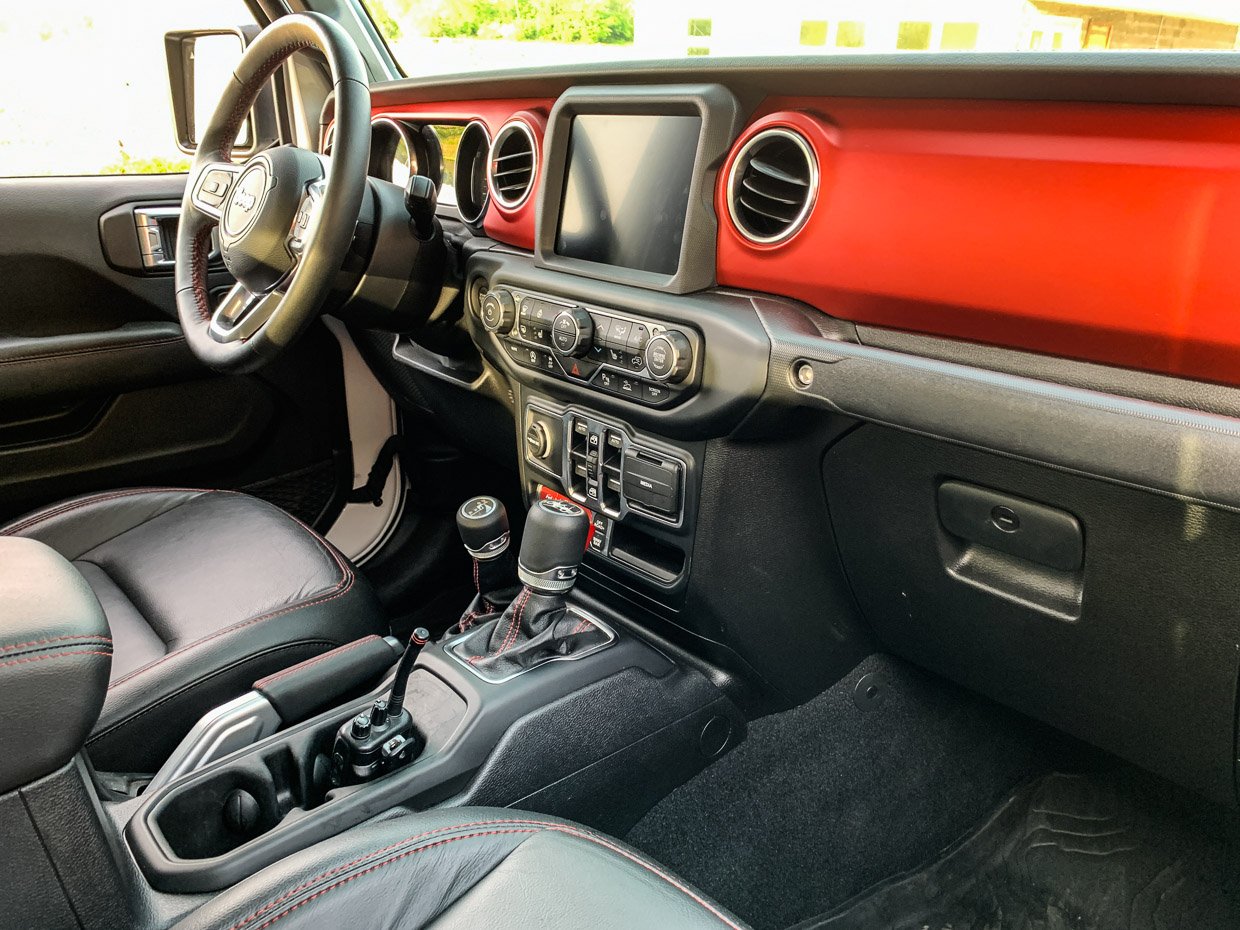 We were impressed with the off-road tech of the Gladiator Rubicon which includes digital pitch and roll gauges, as well as a nifty front-facing camera which can help you see the trail ahead and place your wheels around obstacles. It's even got a washer so you can clean it off remotely when it's covered in mud.
We had zero trouble negotiating deeply rutted paths and and uneven terrain with the help of the Gladiator's 2" diameter Fox shocks, which offer great travel and damping, making for confident handling and a comfortable ride.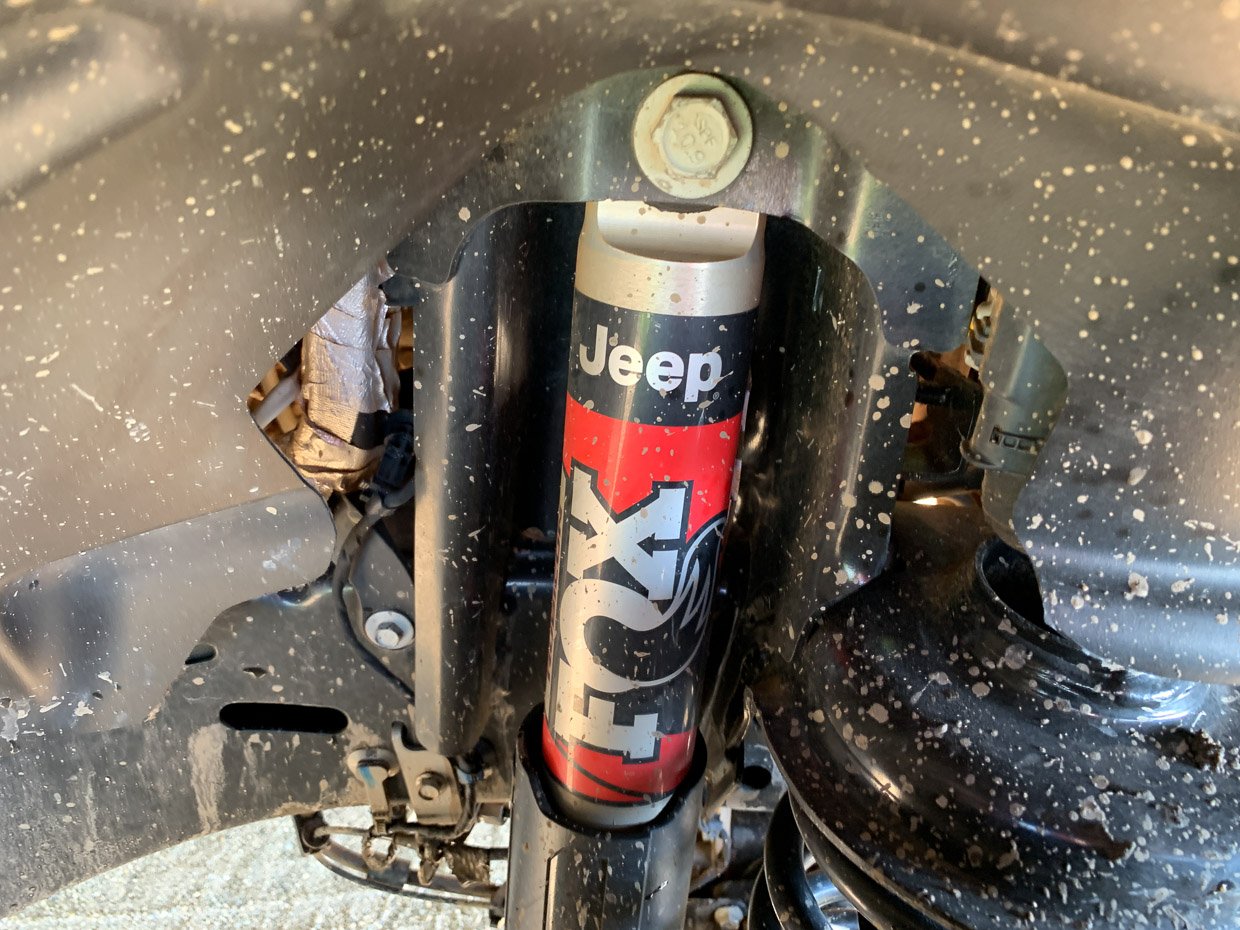 The Power Wagon handled the exact same trails as the Gladiator, though we found its ride to be softer and prone to more body roll. Being a heavy duty work truck, that softness is a must in order to handle payloads up to 3,990 pounds. In contrast, the Gladiator has a 1,200 pound payload capacity.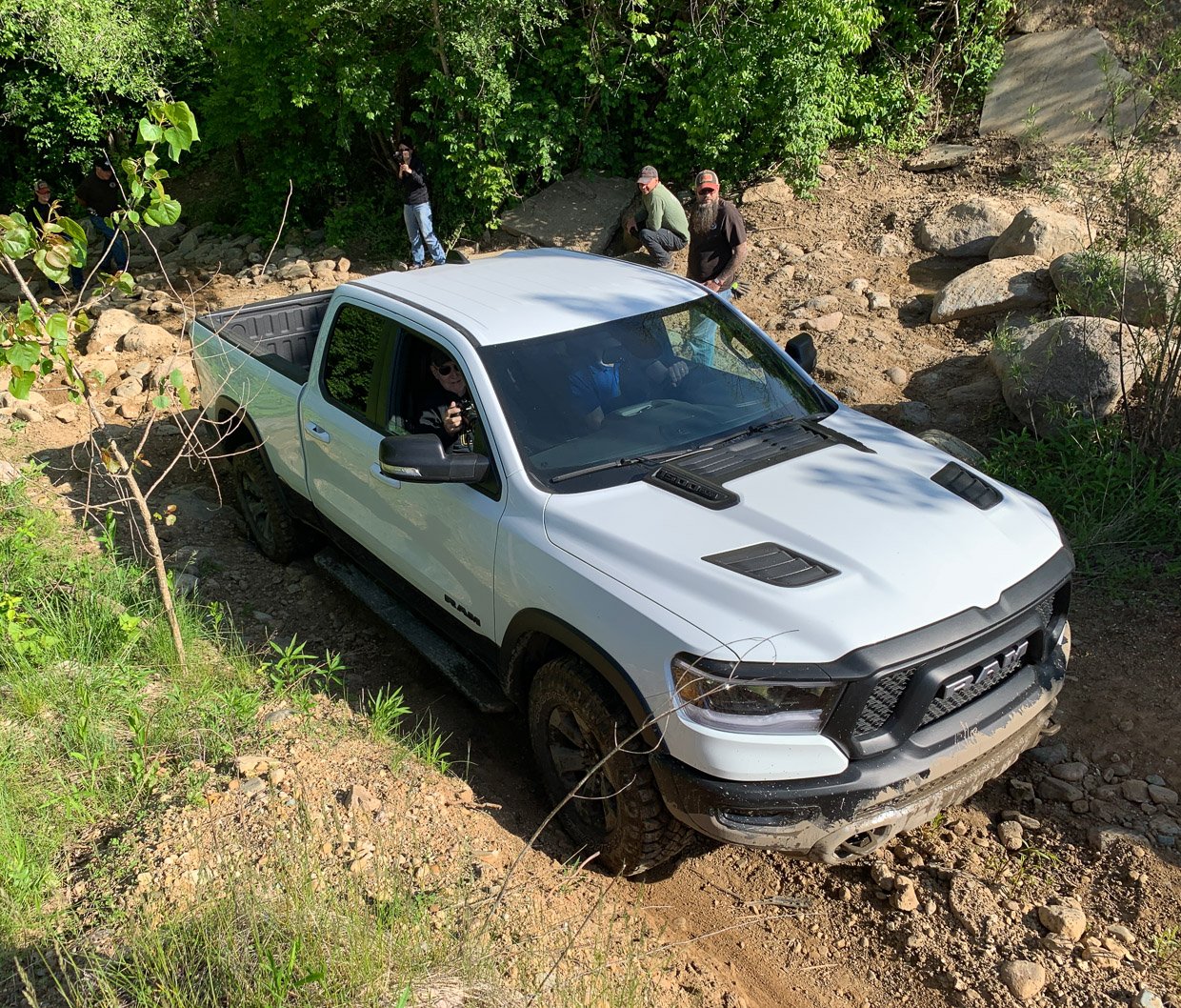 Another feature both trucks have in common is the ability to disconnect their front sway bars electronically. That means extra wheel articulation when you need it, and helps keep all four wheels on the ground even when there's an extreme difference in obstacle heights.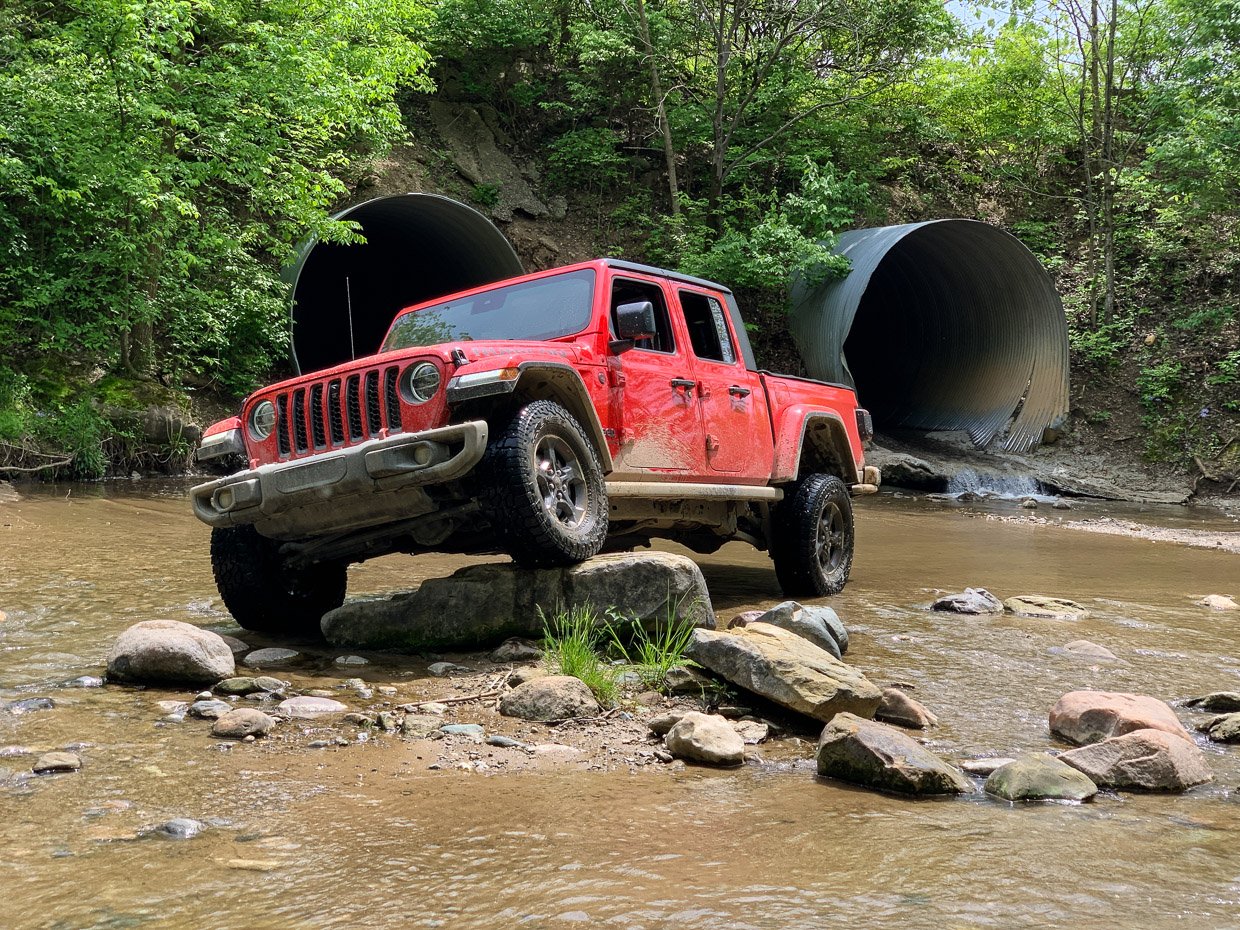 Normally, we wouldn't get excited about axles, but the heavy-duty Dana 44 axles on the Gladiator Rubicon are notable for their ability to hold up to the most challenging conditions, and are more forgiving than most when it comes to getting knocked about on harsh terrain.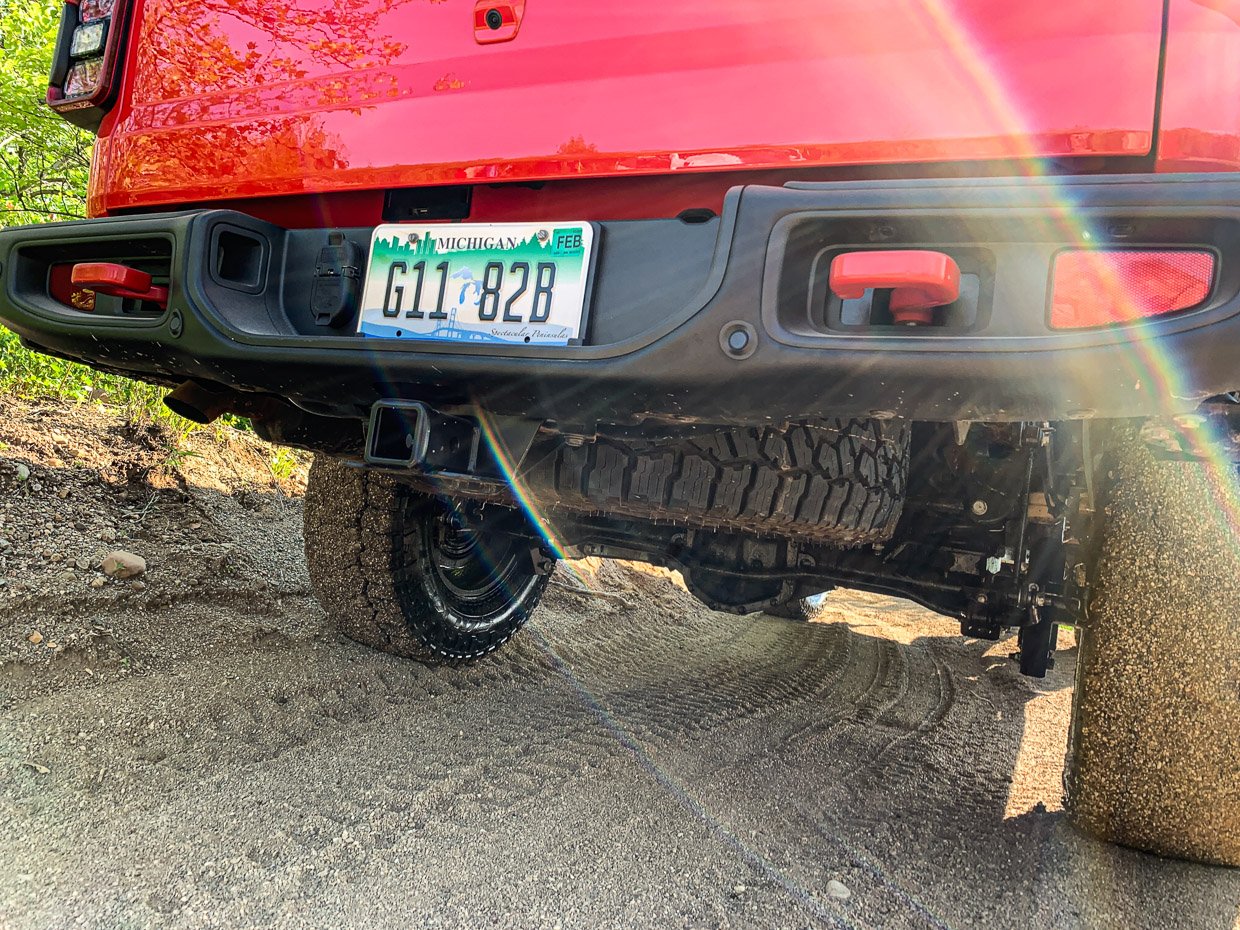 The Rubicon's 4:1 low-gear ratio and locking front and rear differentials ensure that you get the best distribution of power when you need it off road. The Power Wagon has front and rear axle lockers to help with torque distributrion.
Another great standard feature on the Power Wagon is the 12,000 lb. Warn Zeon-12 winch that comes mounted from the factory. It's perfect for extracting yourself or other vehicles from tough situations like getting stuck in deep mud or sand.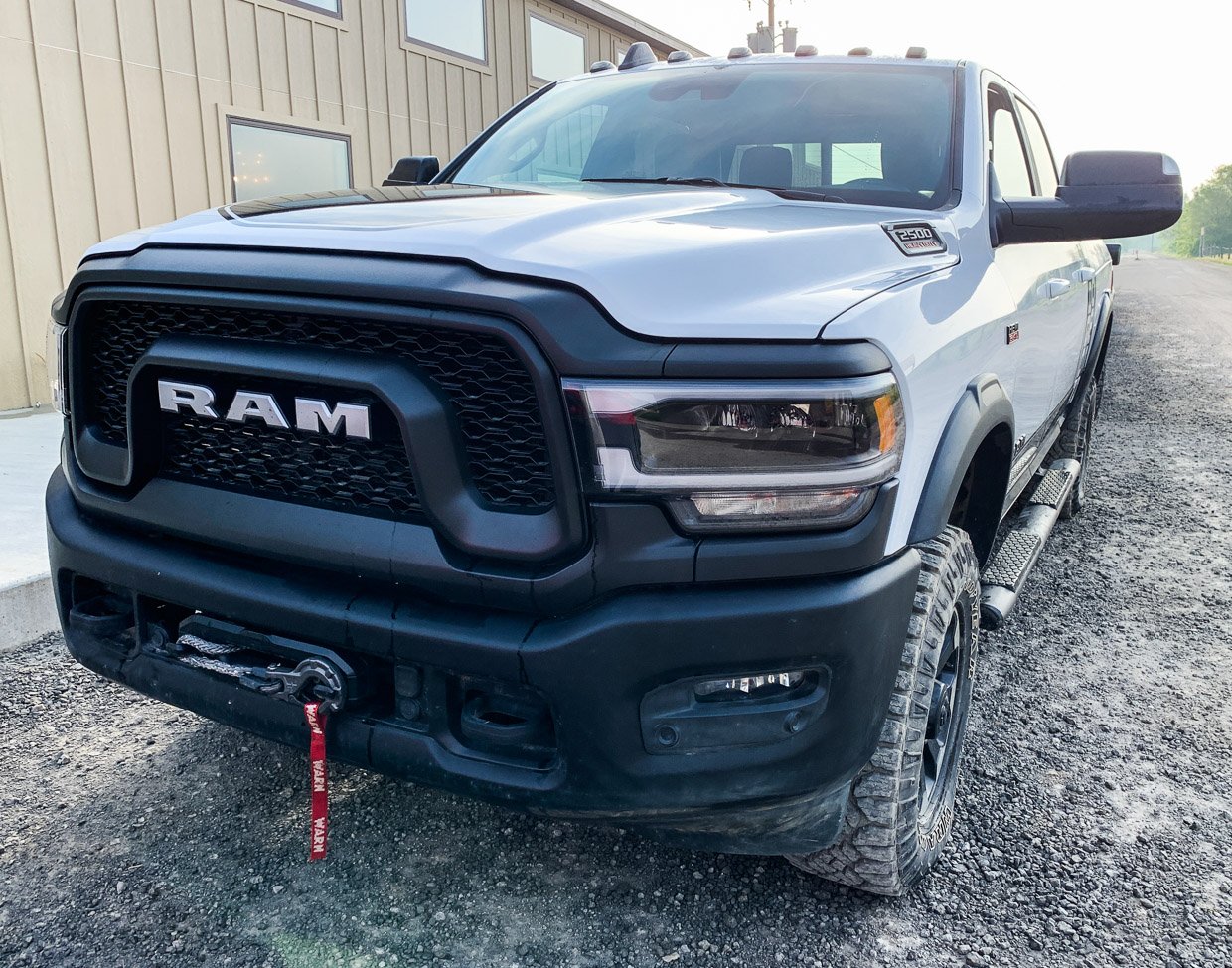 Despite its length, we found the Gladiator Rubicon handled every bit as well as the JL Wrangler does. In fact, its suspension is a bit more comfort-friendly than the Wrangler's, making it even better for the long road trip on the way to the trail. Keep in mind that it's still a 218" long pickup truck, so narrower and very steep trails could be a challenge.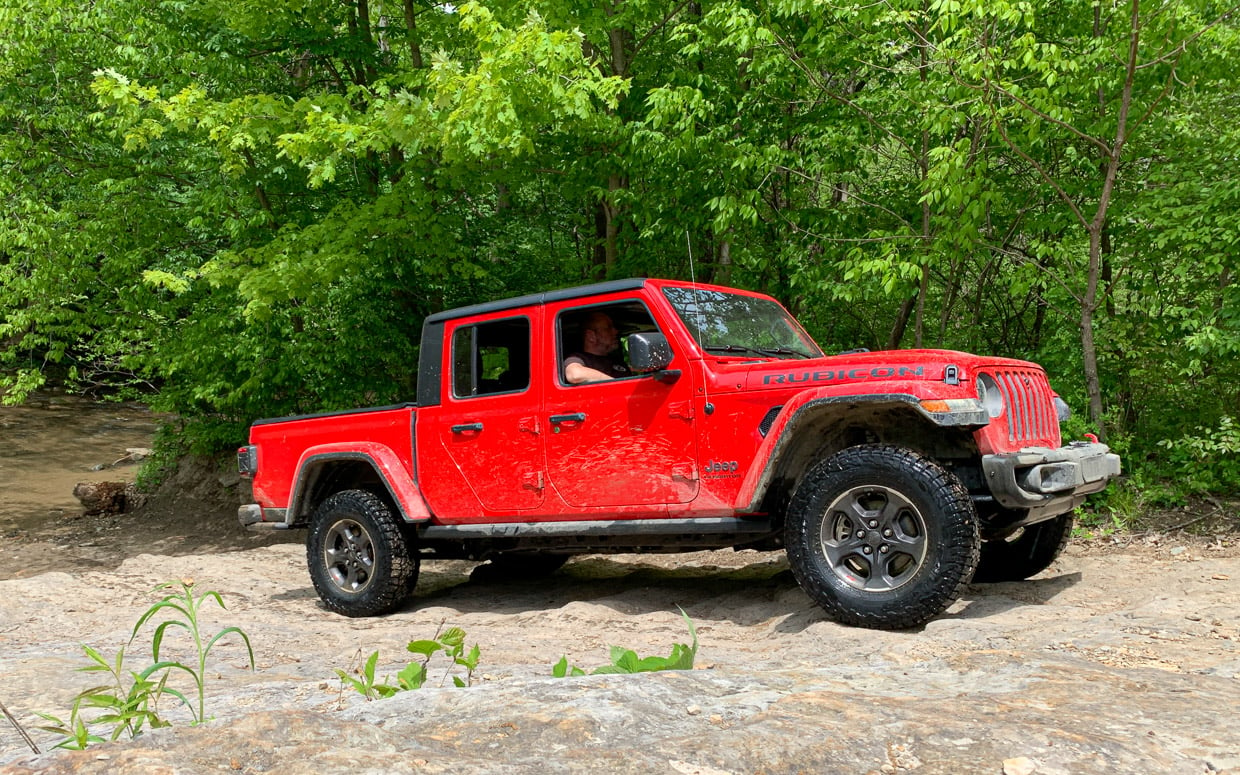 In the end, we had an awesome day on the trails with both the Gladiator Rubicon and the Power Wagon. For heavy duty off-roading, we'd pick the Gladiator, but if you want a truck that can do serious work and then play on the trails too, the Power Wagon is a great choice.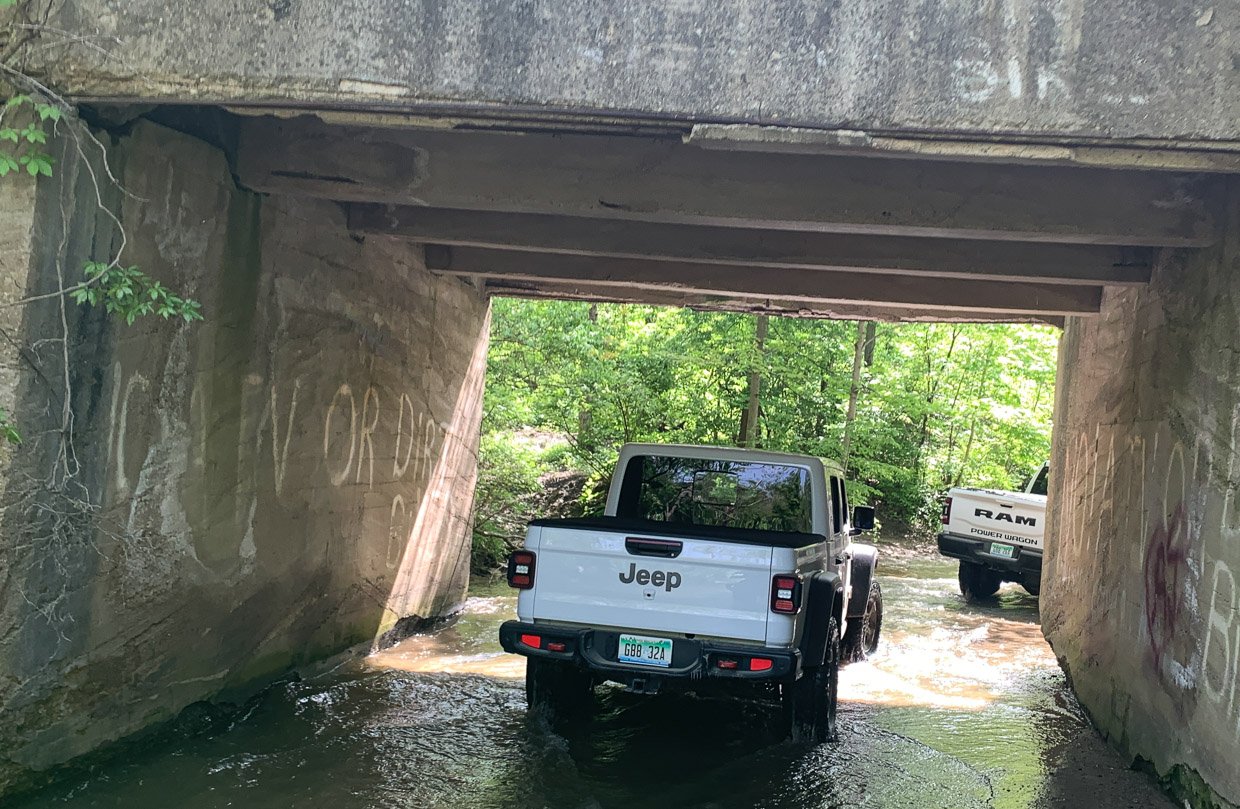 Many thanks to Jeep, Ram Trucks, Badlands Off-Road Park, and G. Schmitz & Associates for the opportunity to put these vehicles to the test at such a great facility.