Rolling in the Ram 1500 TRX
off-road | ram | ram trx | sports | trucks | April 17, 2023
Words and Images by Paul Strauss
We previously enjoyed a few snowy days driving the Ram 1500 TRX. After another week of living with this bonkers truck in warmer and drier surroundings, we're convinced no production pickup's more fun-to-drive or off-road capable. This one looks incredible, bathed in pearl-coat Hydro Blue paint with black accents.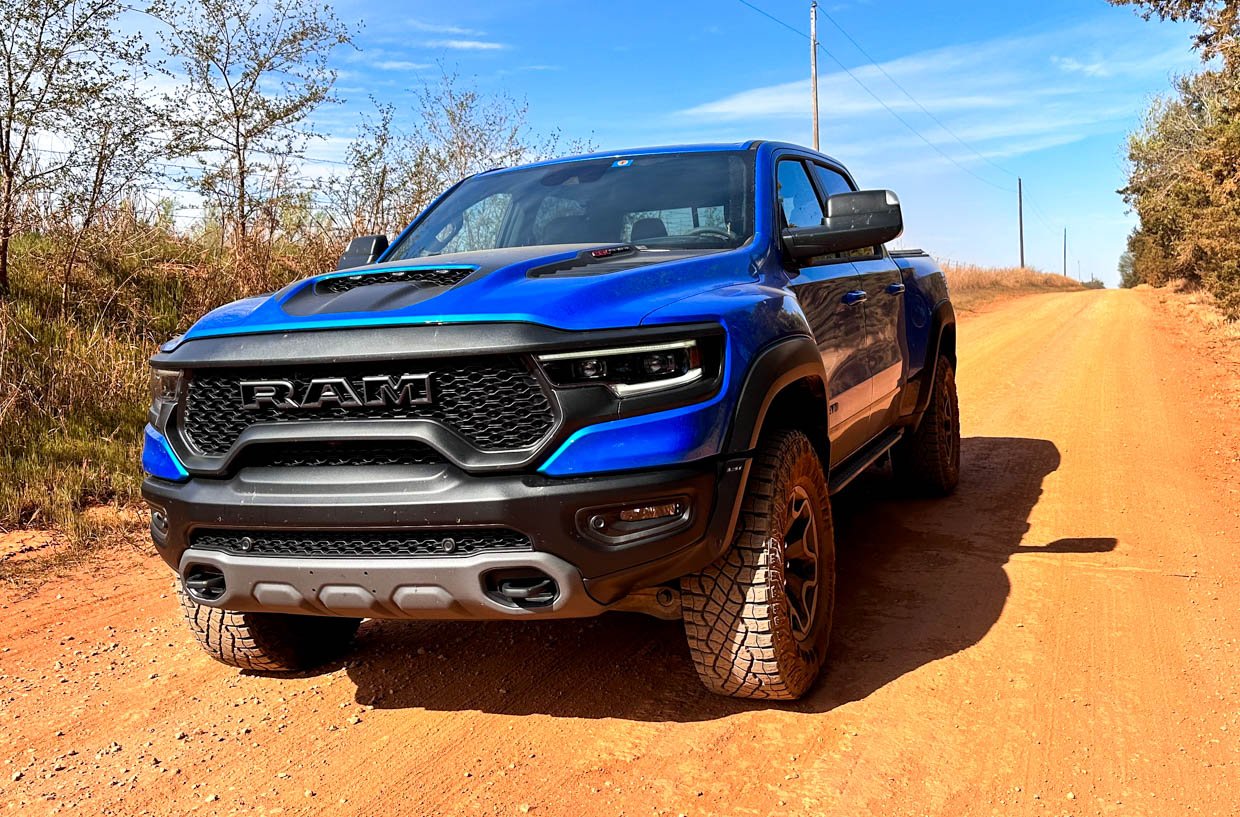 To refresh your memory, the TRX packs a 6.2-liter supercharged Hemi V8 under its enormous hood. For all practical purposes, it's the same engine found in a Dodge Charger or Challenger Hellcat, cranking out a supercar-like 702 horsepower and 650 lb-ft. of torque. Working in concert with a smooth-shifting ZF 8HP95 transmission, the RAM is crazy quick from a dead stop. Apply a heavy foot to the accelerator, and this hefty truck zooms from 0 to 60 mph in about 4 seconds on smooth pavement. But don't expect this thing to sip fuel. It averages just 10 mpg in the city and 14 mpg on the highway and demands you feed it 91-octane or better fuel.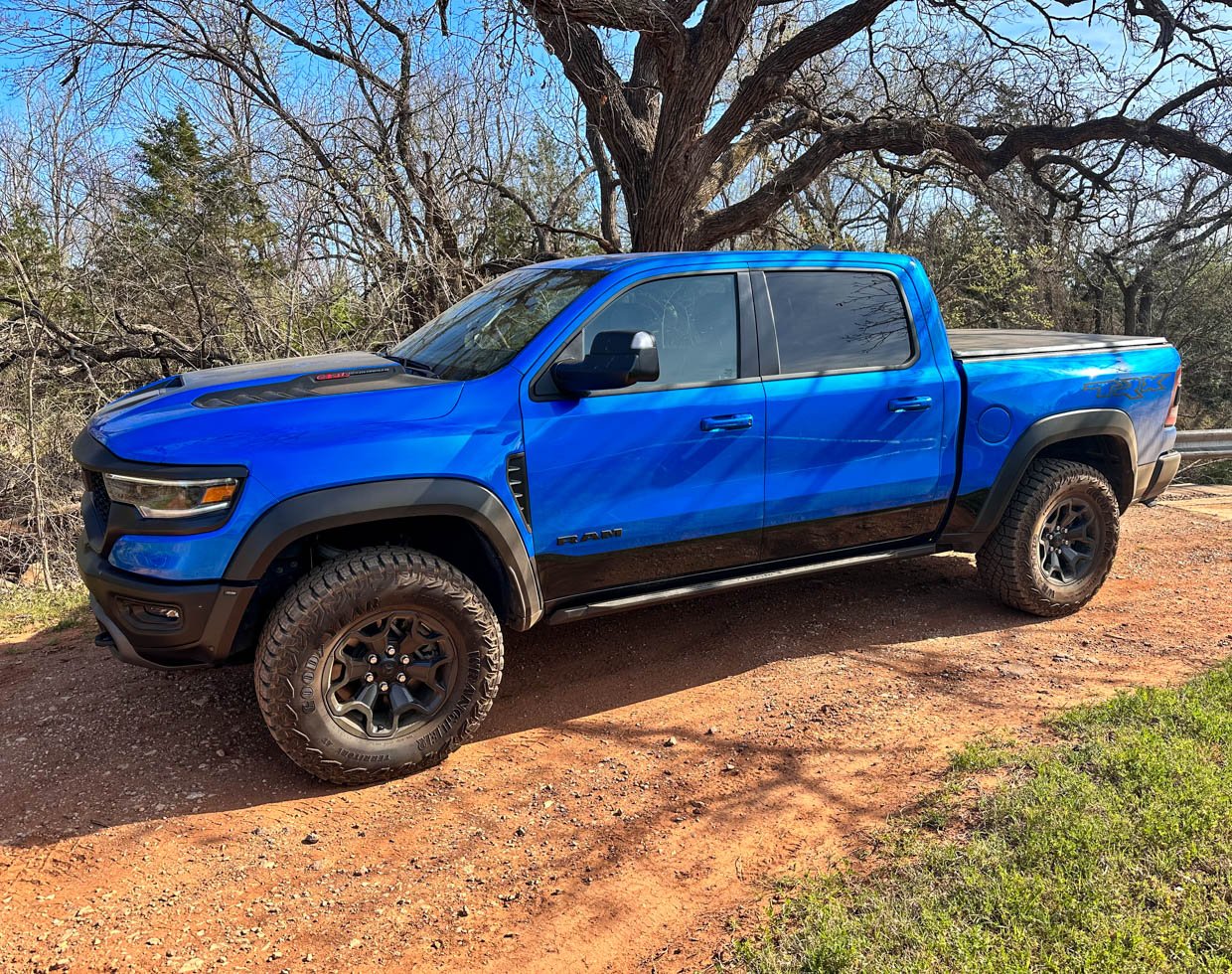 With performance specs like that, you'd think this truck would be best suited to a dragstrip, but the TRX is even happier in the dirt than it is on the pavement. Its 35" Goodyear Wrangler all-terrain tires love dirt, mud, gravel, and rocks. Bilstein active shocks absorb bumps with the aplomb of a dune buggy and offer an incredibly cushioned ride no matter where life takes you. And with heaping helpings of underbody protection and 11.8" of ground clearance, there's little worry about rocks damaging the underbelly of this truck. While we didn't get to cross any rivers with our test vehicle, Ram says the TRX will ford up to 32" of water.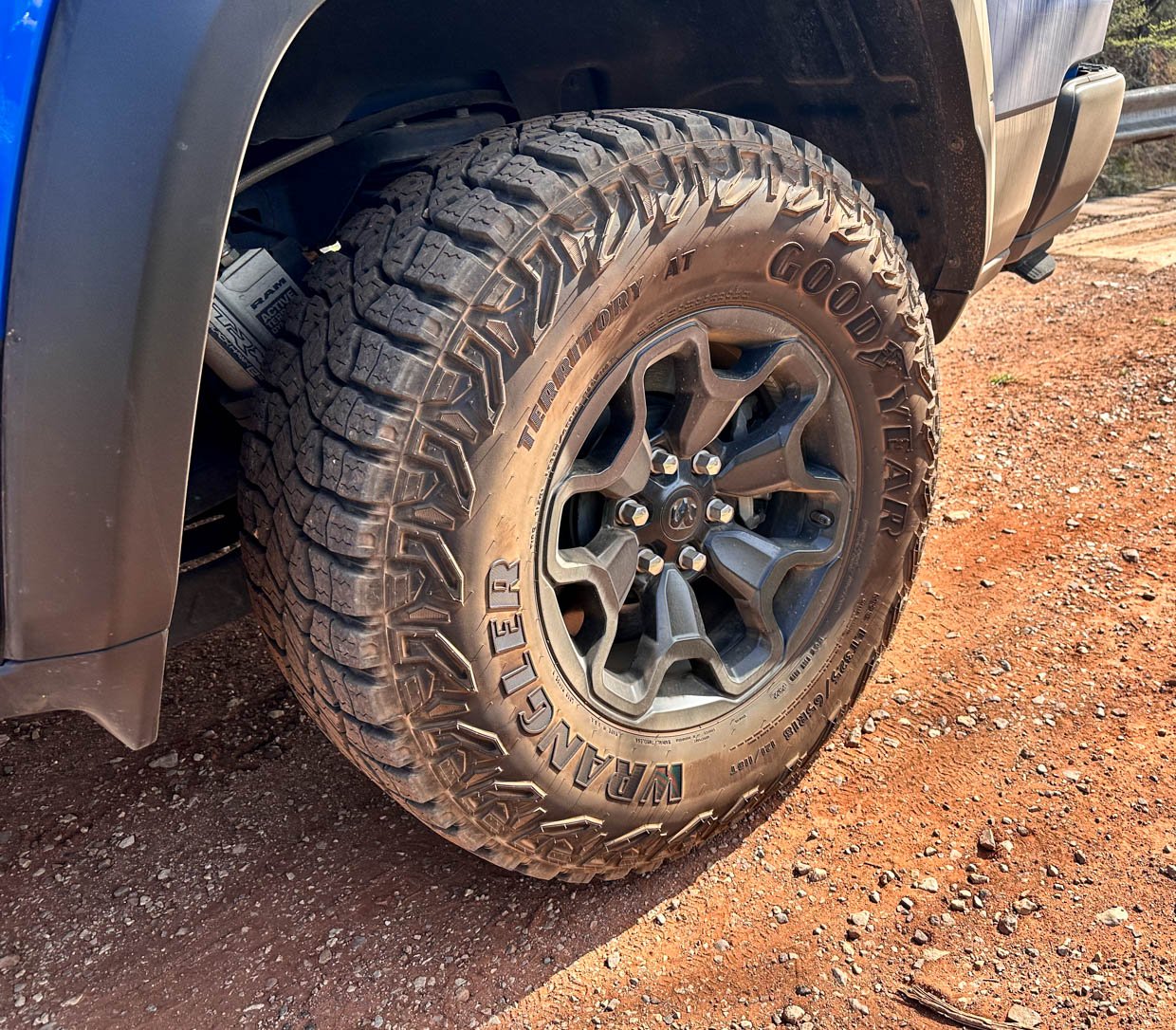 One thing we wouldn't do in most off-road vehicles is push the accelerator all the way down on a dirt trail. Not so with the Ram 1500 TRX. Sure, it can slow-crawl through the woods with the best of them, but it can also handle quick, Baja-style runs without flinching. There's nothing quite like zooming down an empty dirt road and leaving a cloud of dust in your wake while enjoying the sounds of a supercharger gulping heaping helpings of oxygen. Hit the right hill, and you might even catch some sweet air.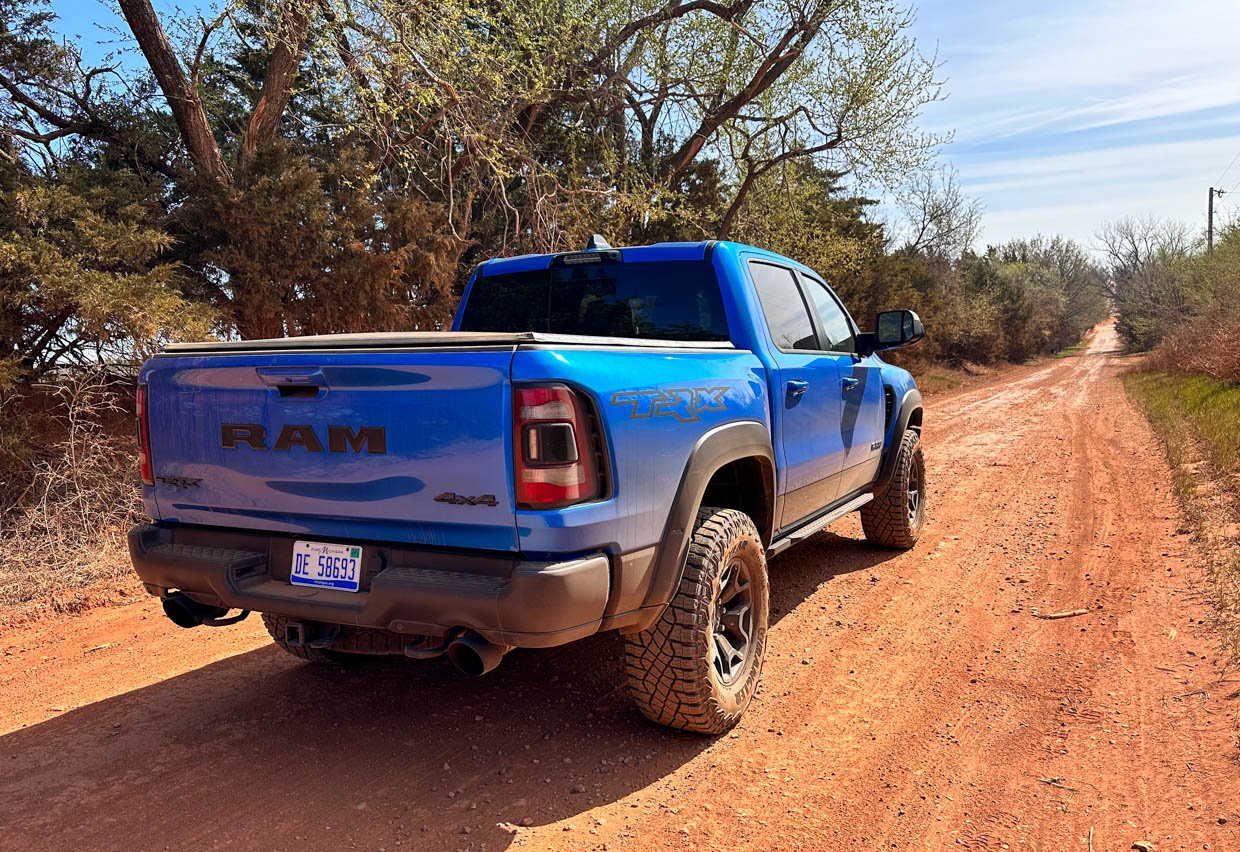 One thing that makes the current-generation RAM 1500 so good is its interior design and the TRX benefits from that brilliance. The materials selections have a feeling of substance and quality, accompanied by world-class fit and finish. Stitched leather, Alcantara suede, and genuine carbon fiber can be found throughout the cabin. Ram's large center stack display is easy to use, quick, and immediately familiar to anyone who uses an iPad. One neat feature for passengers is the storage shelf above the glove box that hides behind a carbon fiber door.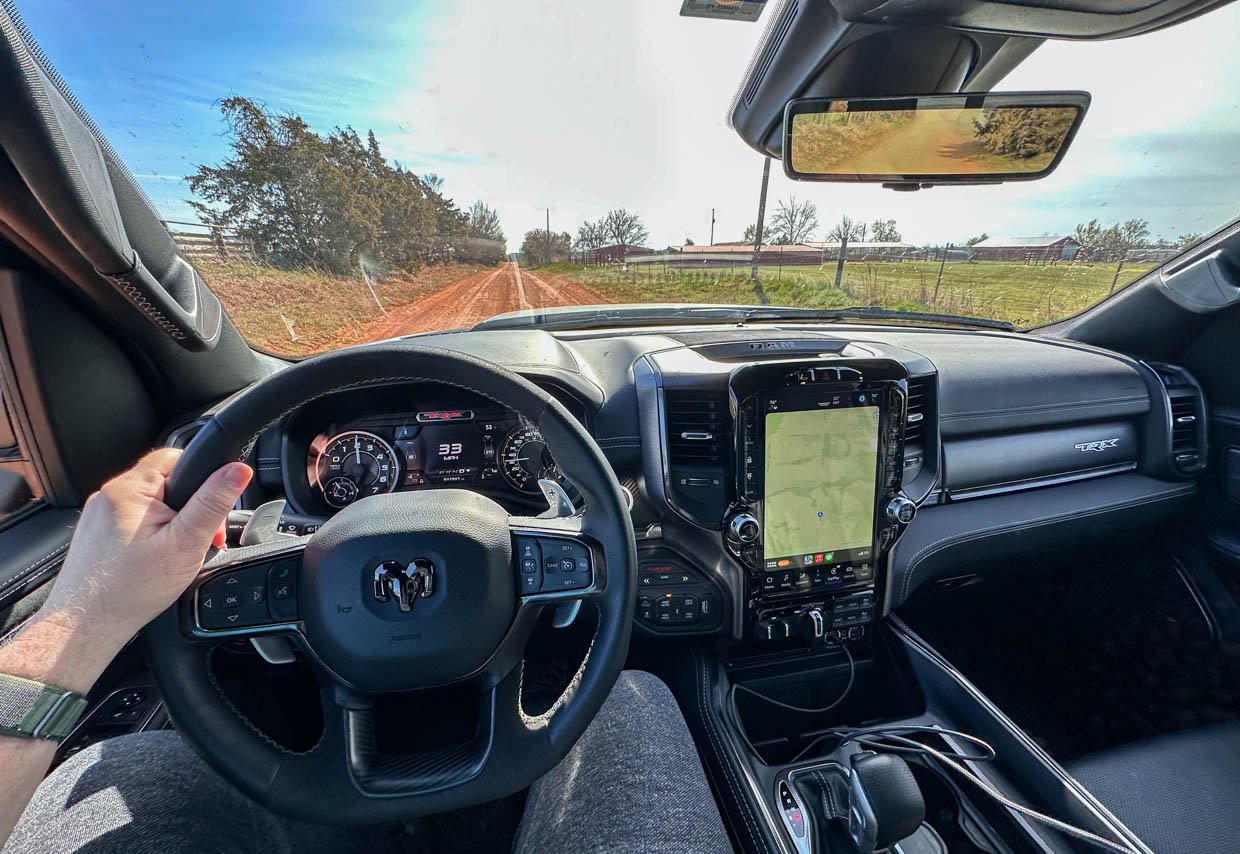 The leather-wrapped front seats are wide, highly supportive, and feature heat and cooling. Sitting between them is a wide armrest with one of the biggest center console storage bins we've ever encountered. Its suede lid is appointed with a metal plaque stamped with the TRX logo, engine and supercharger specs, and unique VIN.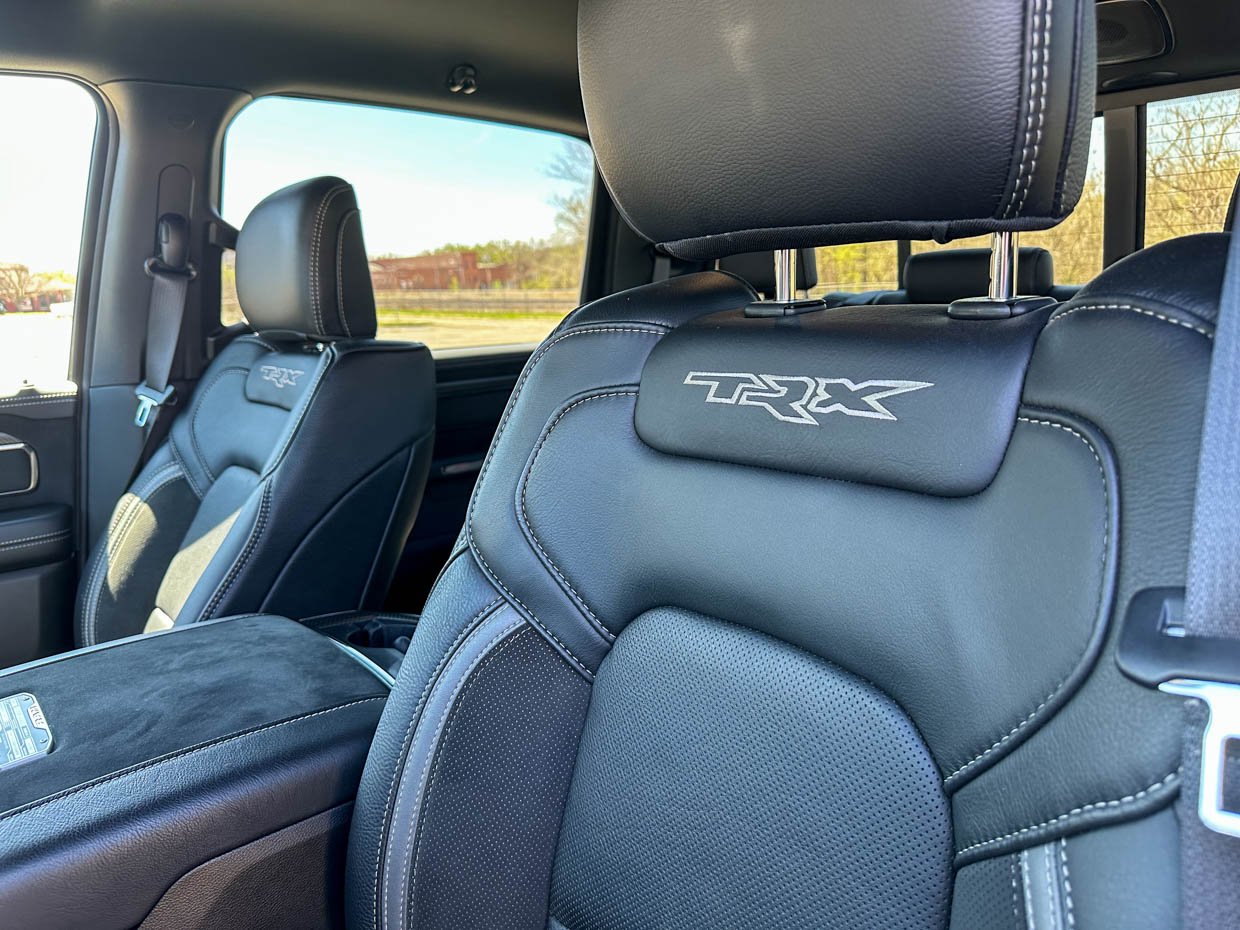 Like other Stellantis performance vehicles, the TRX gets a full complement of special pages for tracking vehicle statistics. These can display power and torque application over time, G-forces, launch times, and vehicle dynamics when off-roading. To the left of the center stack, you'll find controls for switching drive modes, engaging the two-speed transfer case, and axle lockers for navigating uneven terrain. It's also the only truck we've seen with a launch control button alongside its off-road switchgear, further reinforcing its diverse capabilities.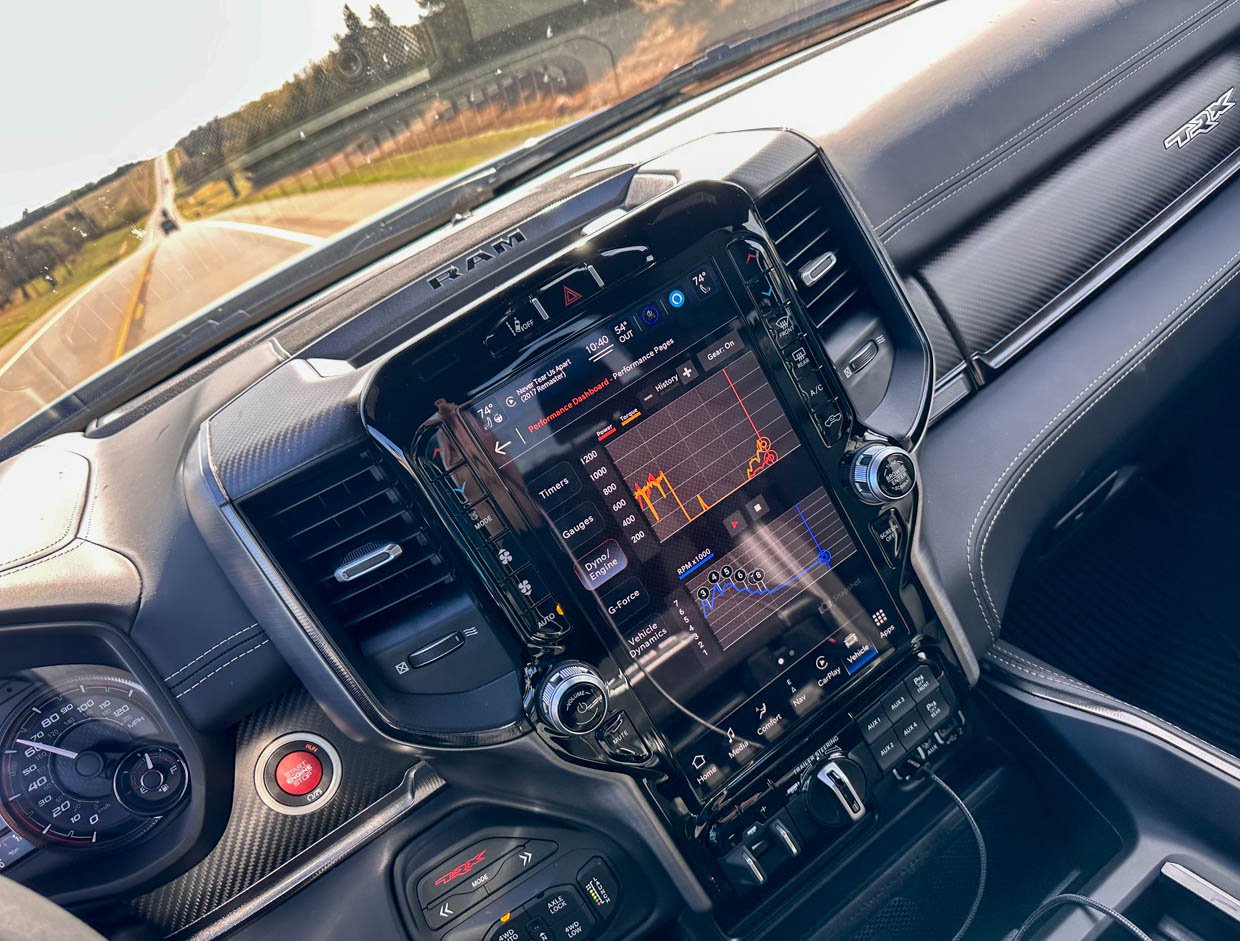 The Ram's crew cab is exceptionally comfy for backseat passengers, with massive amounts of legroom and headroom. Anyone sitting back here will be pleased to find USB-A and USB-C charging ports, cup holders, heating and cooling for the outboard seats, and a 115-volt AC inverter outlet. The seats can fold up towards to back wall for interior storage space, and there's a small hidden storage compartment beneath the floor mat on each side. Webbing on the seatbacks makes it easy to attach Molle-compatible gear.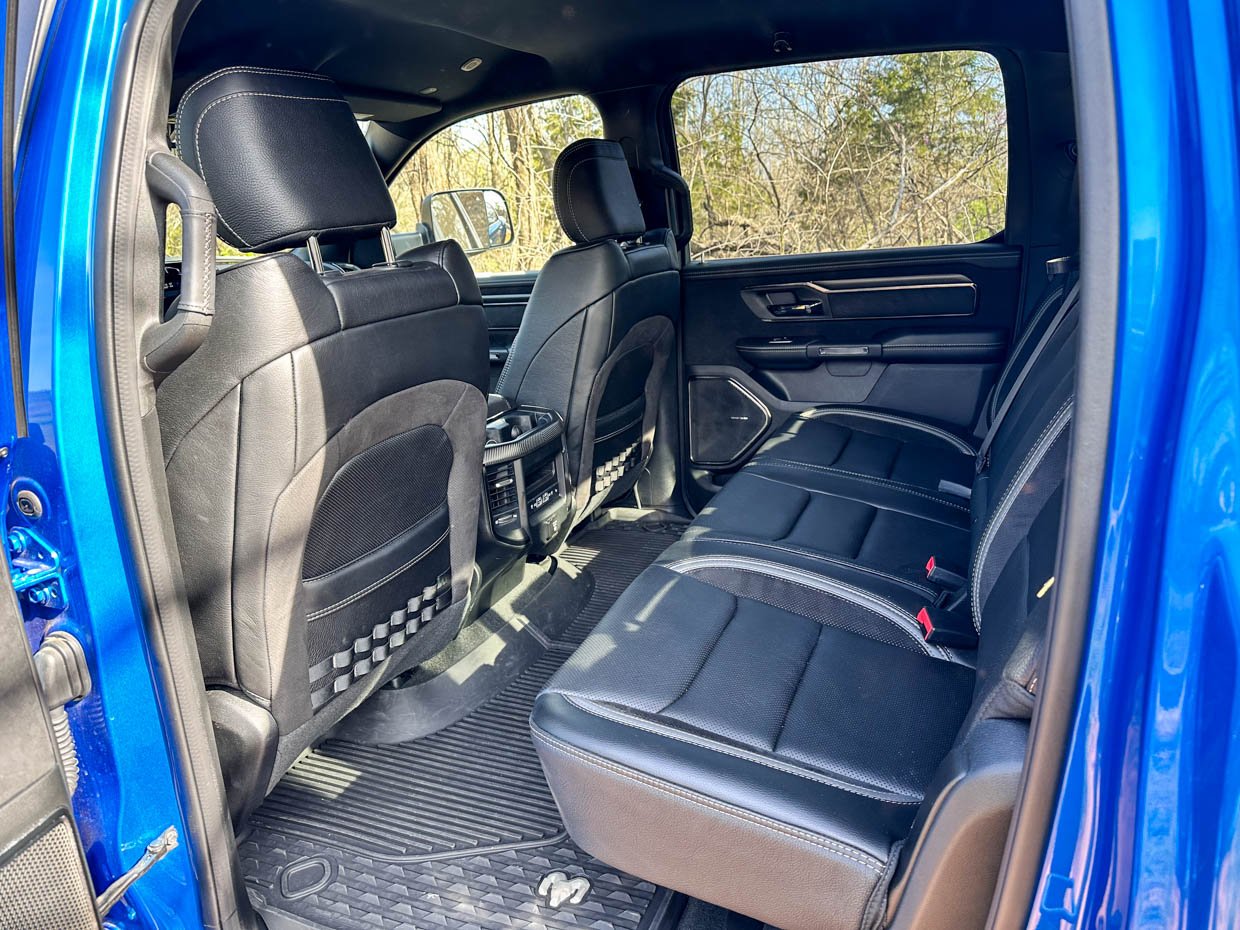 Our second drive in the Ram 1500 TRX has only served to reinforce how good it is. This half-ton truck is crazy fast, insanely capable, and still does everything a pickup truck is meant to do - haul people, cargo, and tow. It's also comfortable and looks fantastic both inside and out. Our fully-loaded truck had a sticker price of $98,780, so you'll need deep pockets and ample garage space to park it in.