Driven: 2023 Lexus RX 500H F SPORT Performance
The Lexus RX is the best-selling luxury SUV in the US. So when Lexus redesigned it for 2023, they set out to preserve what people love about it while also appealing to new buyers. There are four RX models in the works, but the powerful RX 500H F SPORT Performance was our hands-down favorite when given a chance to drive them all.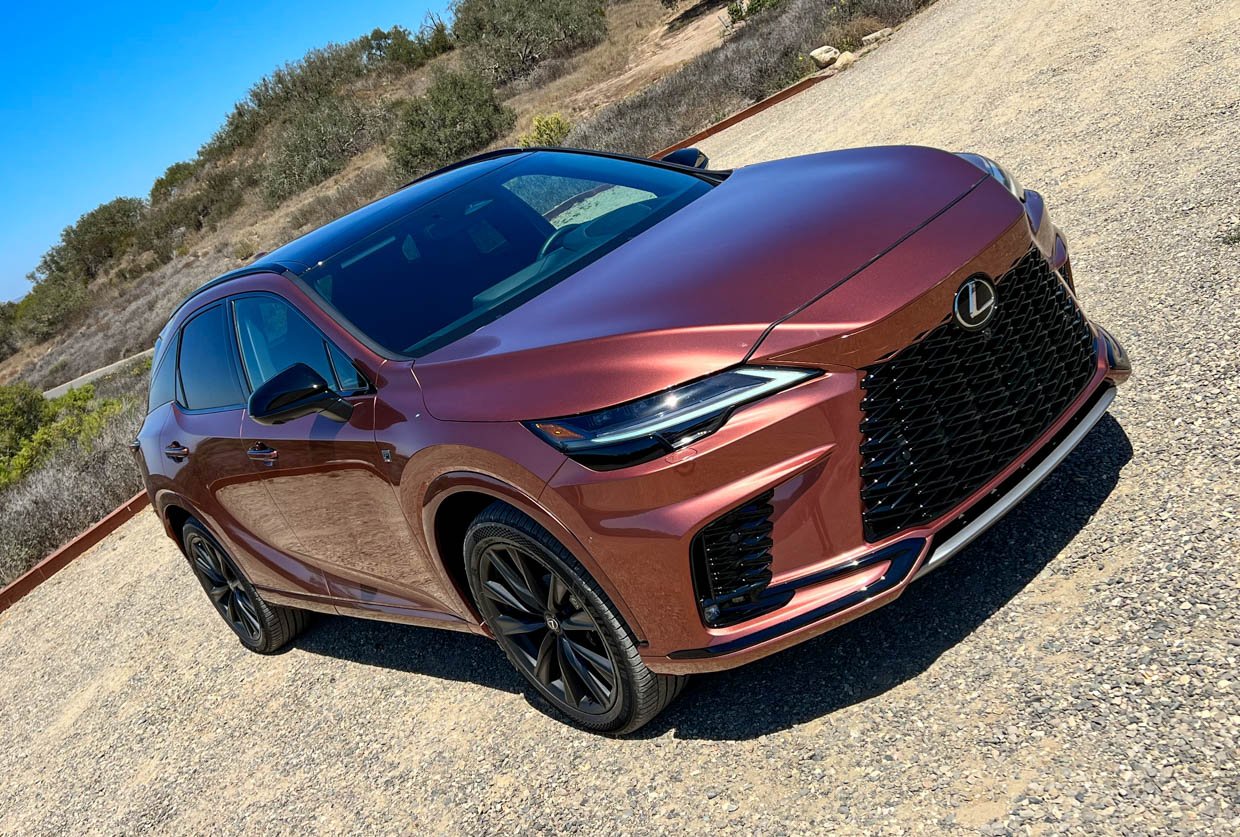 From the side, the new RX doesn't look dramatically different from its predecessor, preserving its dynamic floating roof design. But both its front and rear have received dramatic redesigns. The mesh spindle grille of yore has transitioned into a design that softens at its top with body-colored cutouts that create a gradient illusion. It's still big and bold, especially with the tall hood that gives it a bullnose look, but overall it's an improvement over the outgoing design. The backside is modern and appealing, with LED taillights that span the entire width of the liftgate, with widely-spaced "L E X U S" branding in the center.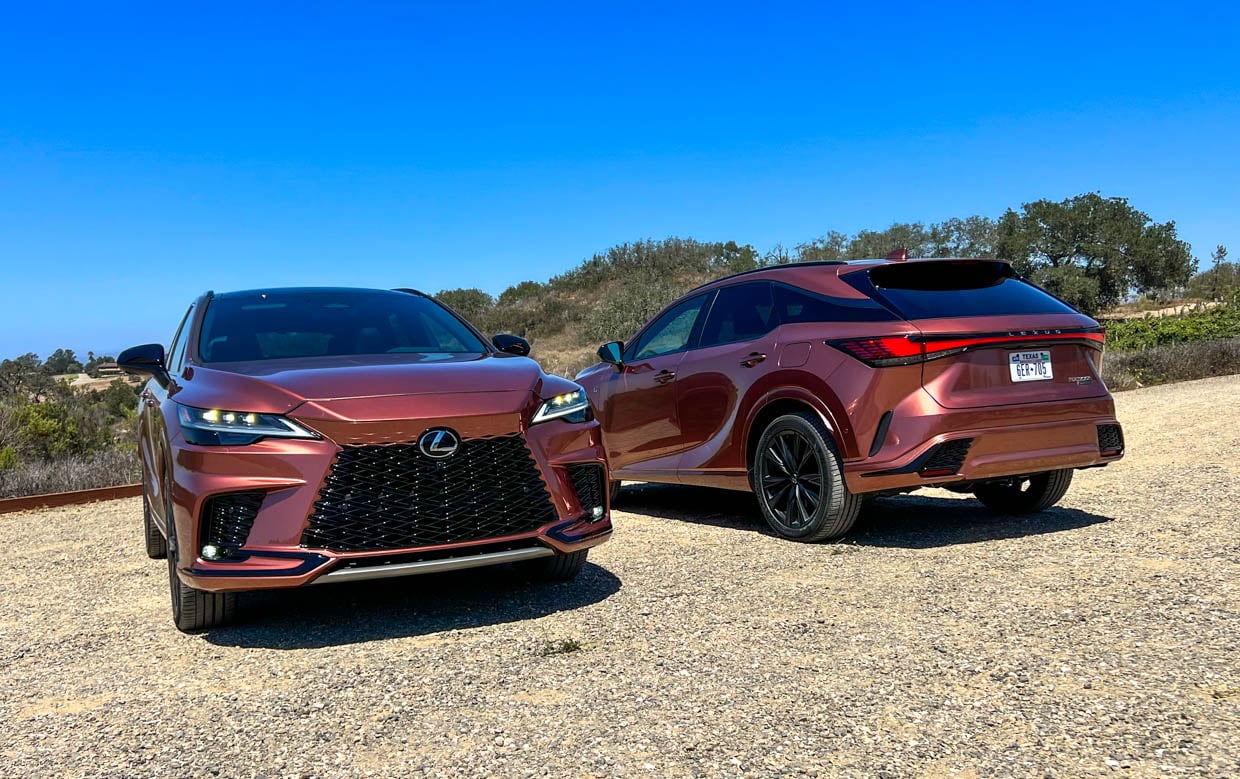 As the top-of-the-line model, the RX 500h has the most powerful of the available drivetrains - a 2.4-liter turbocharged I-4 engine paired with a responsive, shift-by-wire 6-speed automatic transmission and both front and rear electric motors. Combined, they crank out an impressive 366 horsepower and 406 lb-ft. of torque at 2000 to 3000 RPM. Despite its 4700+ lb curb weight, this RX is quick and incredibly satisfying, with a manufacturer-spec'd 0-to-60 mph time of 5.9 second. It felt faster than that when we pushed the pedal down to the floor, and we couldn't sense any turbo lag. That's likely thanks to the electric motors contributing instant low-end torque.
The new RX rolls on the TNGA-K platform, which provides a stiff and stable basis for the SUV. An adaptive variable suspension adjusts in real-time to driving conditions and drive mode and is exceptionally agile in Sport mode. Lexus did a great job tuning the steering to adapt from its easy-going Normal mode to a nice weighty feel in Sport mode. One of the big differentiators of the 500h F SPORT Performance is its dynamic rear steering system. This can turn the wheels up to 4 degrees in the opposite direction at low speeds to help its turning radius. At speed, they turn in the same direction as the front wheels, carving corners more like a sports sedan than a family-friendly luxury SUV. Body roll is well controlled as SUVs and crossovers go.
The sportiest RX rolls on big 21" wheels, wrapped in 235/50 size Michelin Pilot Sport 4 tires, which provided excellent grip as we zoomed through the twisty roads in our vehicle dynamics testing. The F-SPORT 6-piston front and single-piston rear brakes provided good stopping power under hard application. Lexus' DIRECT4 all-wheel drive system automatically distributes torque between the front and rear wheels from 100:0 to 20:80. This helps with quick launches, overall handling, traction, and fuel economy. Speaking of which, this fully-loaded, high-performance SUV turns in a respectable 27 mpg in the city and 28 mpg in highway driving.
The RX 500h is packed with the latest safety and driver assistance technology. The adaptive cruise control works well and automatically slows down when entering curves. This system uses radar and cameras to track road markings and dynamics to assist in safely cornering at highway speeds. Because we were driving out in the country, we didn't get to test the Traffic Jam Assist feature, but it's designed to manage throttle, braking, and hands-free steering when stuck in highway traffic below 25 mph. An available digital rearview mirror dramatically increases rearward visibility over the conventional mirror. A head-up information display is standard and provides feedback on the use of the touch-sensitive D-pads on the left and right sides of the steering wheel. It takes a little getting used to this interface, but once you get the hang of it, it becomes second nature.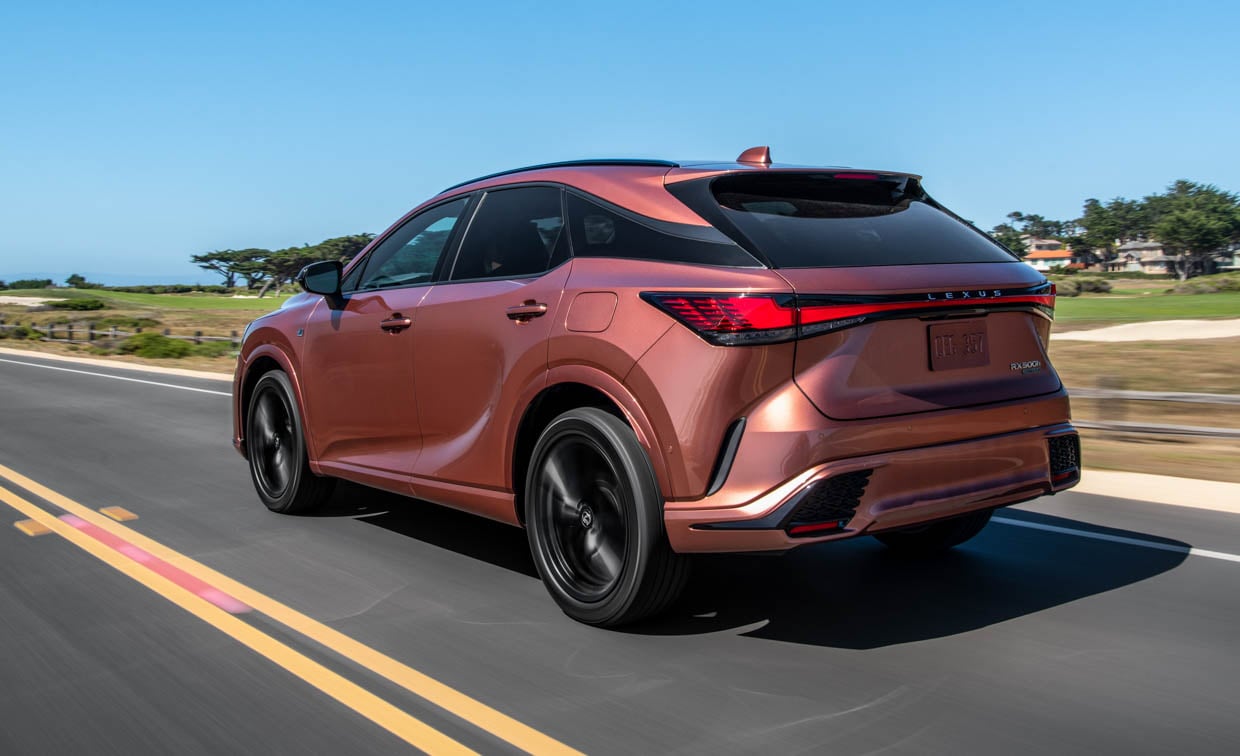 We're really pleased with the updates to the interior too. Lexus has modernized the dashboard with clean horizontal lines. The A-pillars have been pushed back, increasing forward visibility, and there's much better integration of the center screen, despite it being a large 14" diagonal unit. High-quality materials are used throughout the cabin, with genuine leather seating surfaces, a leather F SPORT steering wheel, aluminum pedals, and dark aluminum accents. The overall effect is handsome, sophisticated, and a design that should stand the test of time. We love how the Mark Levinson speakers are integrated into curvy, suede door panels. We were impressed with this premium sound system's broad dynamic range and low-end punch - though its soundstage isn't as wide and the high-end isn't crisp as the awe-inspiring Mark Levinson system in the Lexus LC 500.
The touchscreen multimedia system runs the new Lexus Interface, a much-improved, in-house developed system that's faster, more intuitive, and modern than the old Lexus system. We like how the main controls (Nav, Music, Phone, Vehicle, Settings) are always accessible on the left side of the screen and the intelligent use of physical knobs for temperature settings and audio volume. There's also support for wireless Apple CarPlay and wireless Android Auto. We're thrilled to see Lexus say goodbye to its wonky touchpad and puck controllers, as a touchscreen is far easier to navigate, especially one this big. One strange decision Lexus made for 2023 was the elimination of a drive mode dial - relegating those controls to the touchscreen. They're accessible with a single touch from the Favorites screen, but we would still prefer a physical control for this frequently-used function.
The leather-trimmed F SPORT seats offer excellent side bolstering and a touch of suede for grip. The driver's and front passenger seats have 8-way electric adjustability, heat for winter driving, and ventilation for hot summer days. In our testing, the seats were comfortable on long drives, and hold your body well when cornering hard.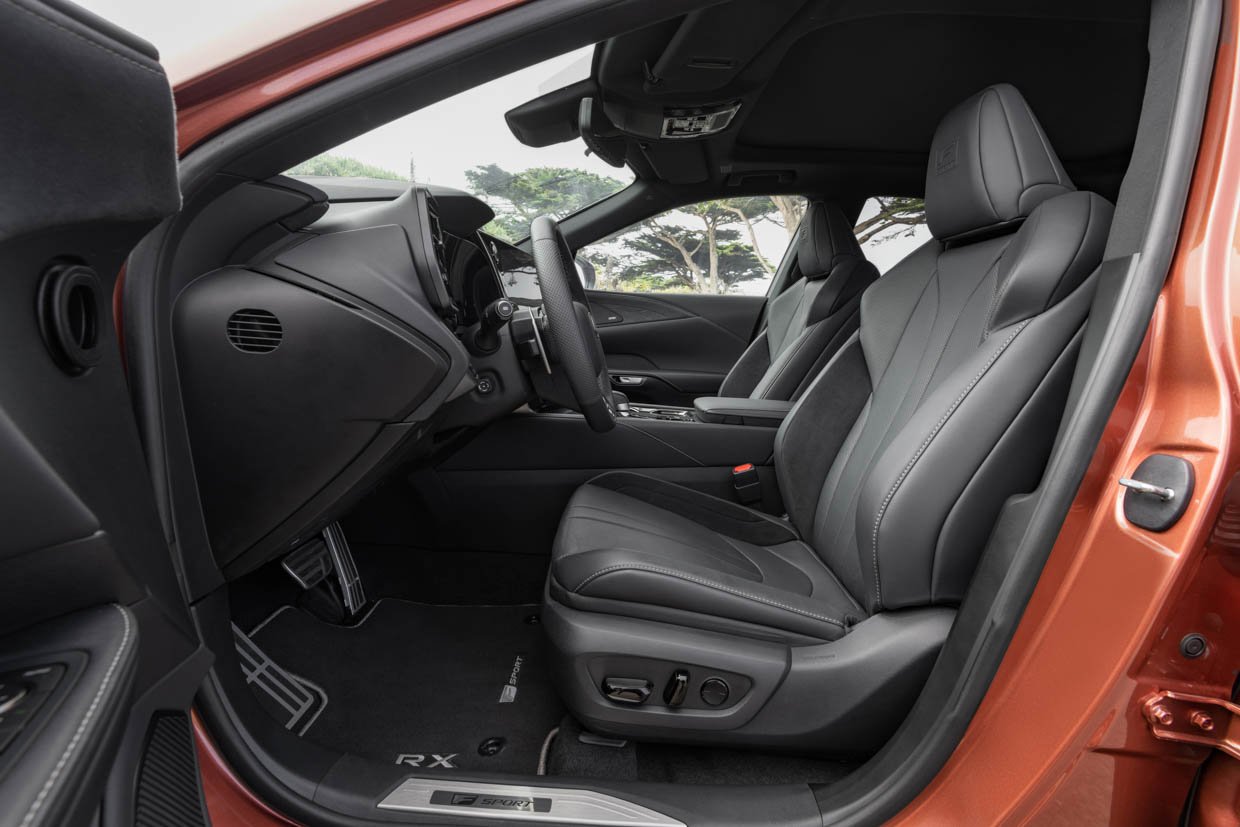 The rear seating area is comfortable and upscale as well, with outstanding legroom and headroom. If you've got one or two passengers back there, the middle seat flips down to provide a cushy armrest. The seats can be equipped with optional heat and ventilation, and there's also a power-folding option which is activated with the flip of a switch. Rear cargo space is quite good in the RX, with up to 46.19 cubic feet with the rear seats folded and 29.59 cubic feet with the seats in use.
We truly enjoyed driving the new Lexus RX 500h F SPORT Performance. It's an incredibly fun-to-drive and dynamic vehicle that's still completely practical as a family hauler. It's every bit as luxurious and quiet as we'd expect from Lexus, but it also drives like a sports car. It corners as well as any SUV we've driven, and is faster and more fuel efficient than you'd expect. Lexus has yet to announce pricing for the RX 500h, but we're confident it'll be more than the $54K base price for the 2022 RX 450h F SPORT Handling, which is the closest model from the current year. We'll post an update here when we have final pricing.