Driven: 2022 Lexus LX 600
lexus | reviews | suvs | January 21, 2022
Words by Harvey Briggs
Now in its 4th generation, Lexus LX 600 is everything the original LX was and more. More power, capability, technology, safety, comfort, and more luxury than ever. It's powered by a new 3.5L Twin-Turbo V6 engine that makes 409 hp and 479 lb-ft. of torque that's far more fuel-efficient than the outgoing V8.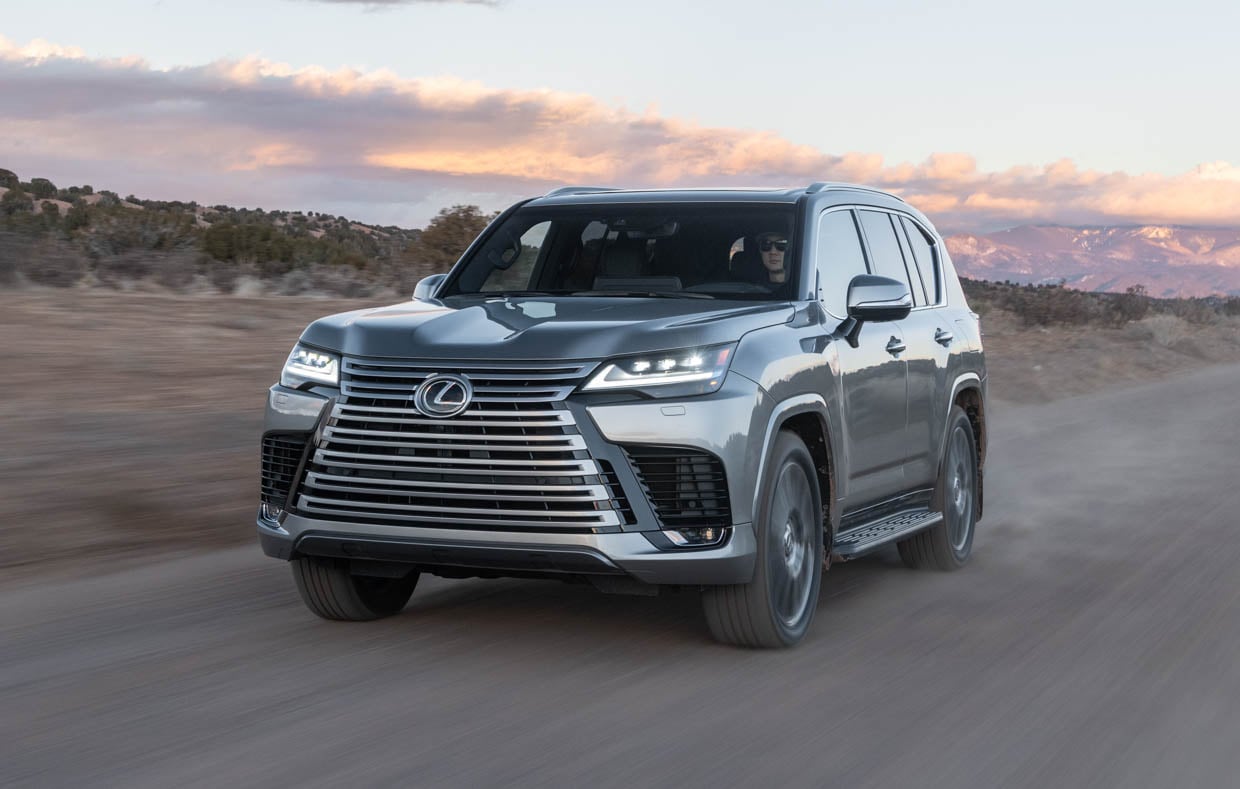 The Lexus LX has been around since 1995 when someone had the brilliant idea to take a J80 Toyota Land Cruiser and dress it up with leather, a wood steering wheel and a few other premium features to create Lexus' first luxury SUVs. The result was a vehicle owners loved.

And what was not to love? You got the legendary capability of the one of the best off-roaders in the world combined with the comfort of what was quickly becoming a top-tier luxury brand. While the formula hasn't changed over the subsequent three decades, the execution certainly has.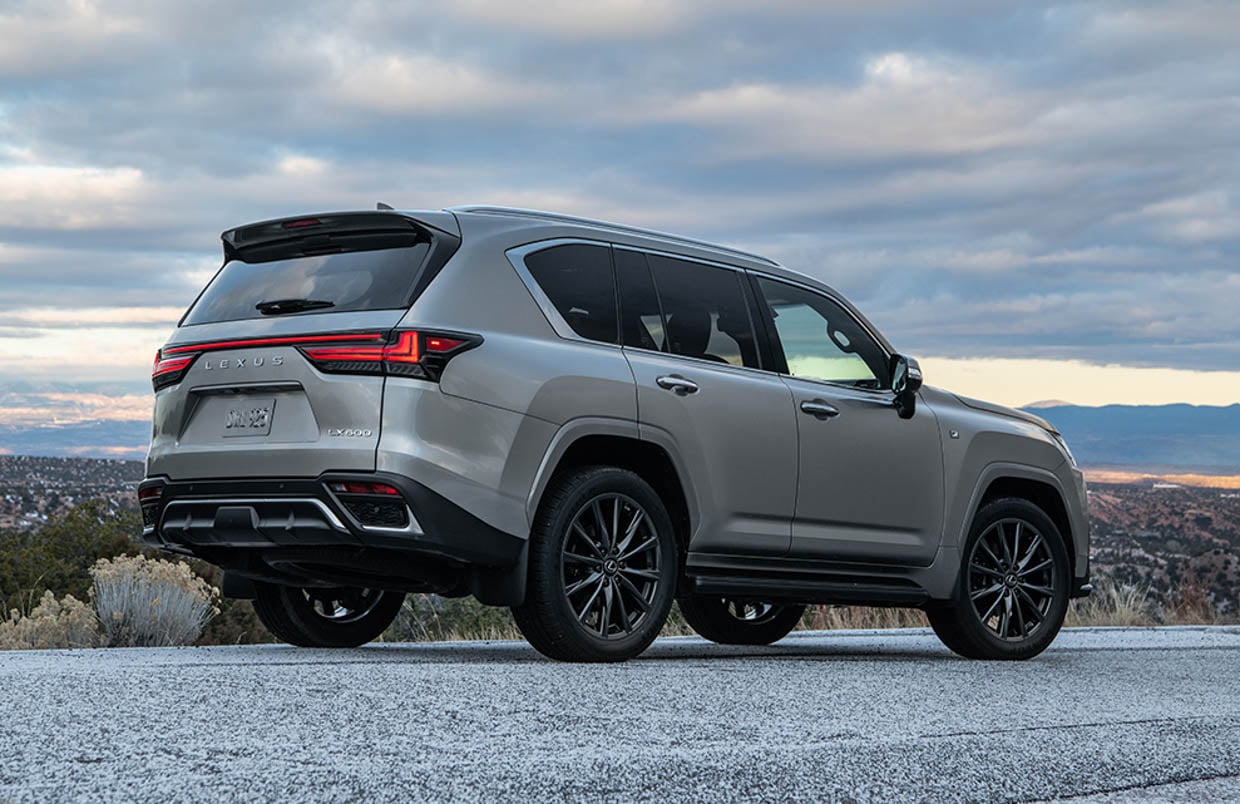 What's New
Based on the same architecture as the new Tundra and global Land Cruiser, the LX 600 is one of an elite group of three-row, luxury SUVs with a body on frame construction that includes Jeep Wagoneer, Lincoln Navigator, and Cadillac Escalade. The LX 600 is only slightly longer, wider and lower than the 14-year-old LX 570 it replaces, but the mechanical differences between the two are significant. In addition to a stiffer frame with greater torsional rigidity, you get an all-new, electronic power assist steering system, retuned suspension with the availability of 22-inch wheels, improved off-road drive modes and crawl control. Of course, the biggest change is the move from the venerable 5.7-liter naturally aspirated V8 to a purpose-tuned version of Lexus' 3.5-liter twin-turbo V6.
New Power. More Power.
There was a lot of handwringing when this change was made in Tundra, and I expect the same here. I get it, change is hard, and people love their big, heavy, inefficient V8s in large vehicles. But on every measurable dimension, the new engine is better. It has significantly more power (409 HP vs. 383), torque (479 lb.-ft. vs. 403), and towing capacity (8,000 lbs. vs. 7,000). In addition, it delivers huge gains in fuel economy (19 combined MPG versus 14). All that newfound power is delivered to the wheels via a 10-speed automatic transmission and full-time 4-wheel drive system with a locking center differential. The standard LX has three drive modes - Eco, Normal, and Sport - while the higher trim levels offer five thanks to the addition of an adaptive variable suspension - Eco, Normal, Comfort, Sport, Sport+, and Custom.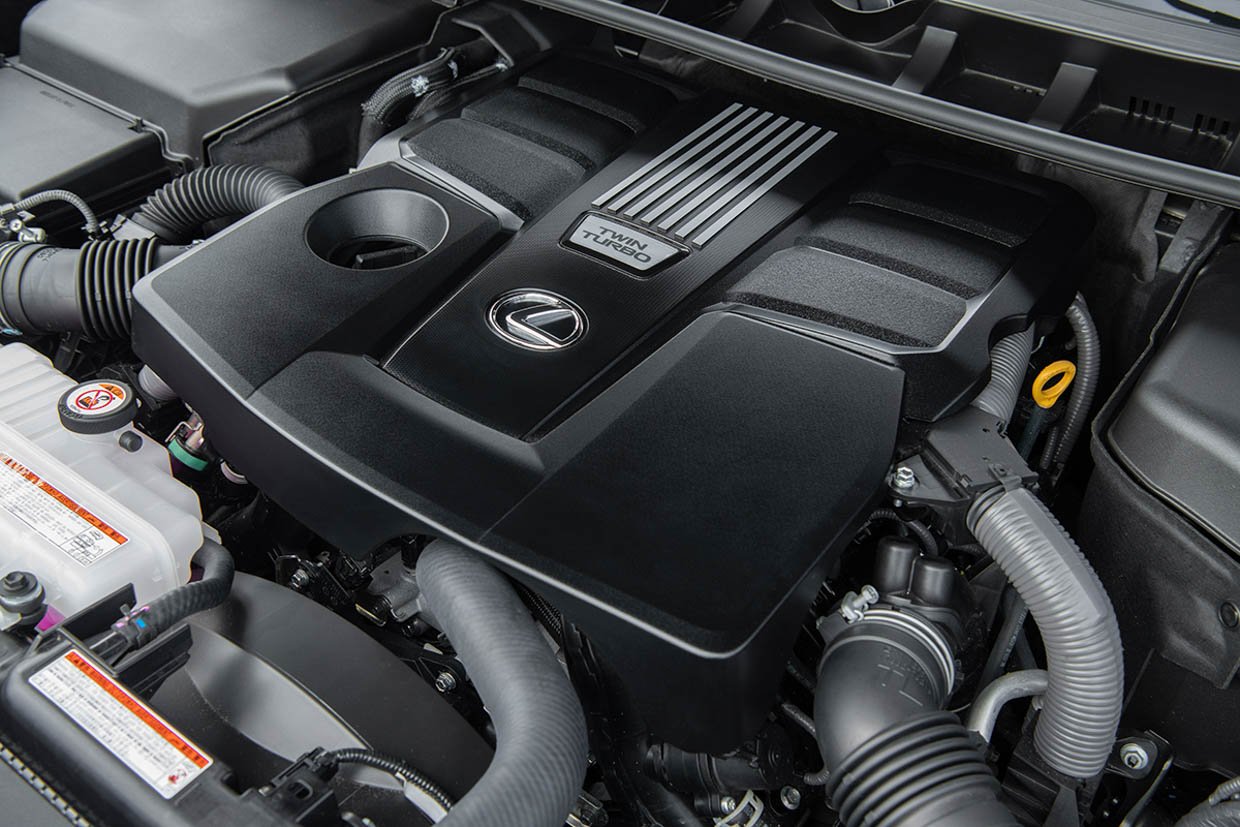 Street Smarts
On road, the LX 600 is a big improvement over the vehicle it replaces. The power comes on sooner and more aggressively thanks to peak torque appearing at about 2,000 RPM. It's no V8, but at full throttle the V6 delivers a satisfying growl yet when cruising at 80 miles per hour on the freeway, engine noise is barely perceptible. That was one of the biggest surprises for me was just how quiet the LX is now. It's well insulated from tire and road noise, and wind noise is minimal thanks to extensive wind-tunnel work along with acoustic glass all around. The LX 600 is lighter and has a lower center of gravity than the previous model thanks to aluminum body panels and a ride height that's been dropped about an inch when the active height control is in its standard setting. Front suspension stroke has been increased offering a more supple ride, but with the adaptive variable system offered on the higher trim models, you can tune it slightly depending on road surface and driving style. You won't confuse this for an LC 500, however. Even in F Sport Handling trim, this leviathan is still a nearly 6,000-pound SUV so I wouldn't recommend trying to drift it through any corners.

The new electric power assist steering system is linear and predictable with solid on-center feel. The LX tracks straight and true down the highway and turns in quickly when you add inputs to the wheel. Like most EPAS systems there is no feedback provided to the driver, but that isolation works in LX's favor since buyers in this category are really looking for comfort over control. That being said, this is still a body-on-frame SUV and lacks some of the refinement of unibody competitors like the BMW X7 and Mercedes-Benz GLS. If your intent is only to drive on-road and never tow anything, those may be more appropriate options.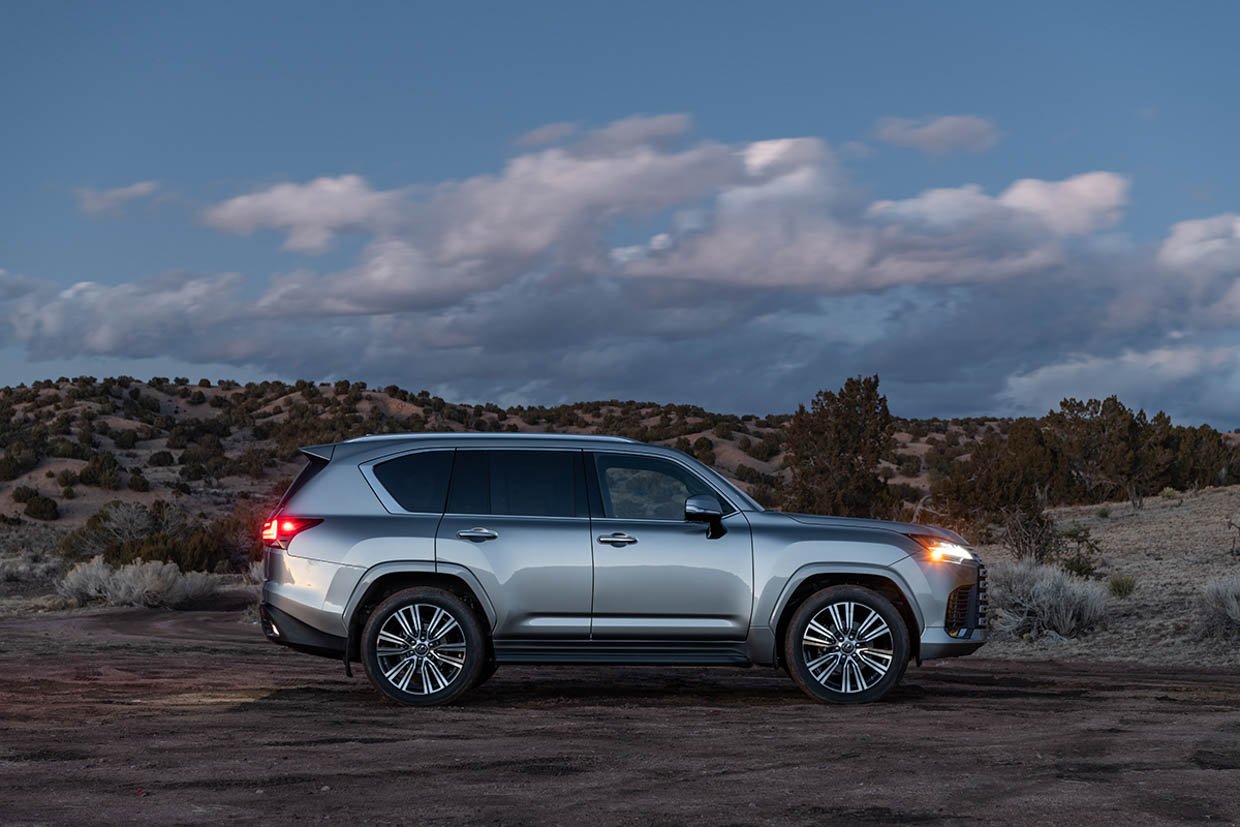 Rock Crusher
What separates the LX 600 from all other SUVs is its Land Cruiser DNA. That's never more evident than when you take to the trail. Grip is mighty and the terrain modes allow you to tune the drivetrain for the appropriate surfaces by twisting the large knob on the left of the center stack. I drove a short loop on a fairly rugged trail in the high desert outside of Santa Fe and came away impressed. The camera system includes a standard front view and an invisible mode that allows you to see wheel placement on the trail. Both are very helpful because the hood is both high and huge, completely blocking your view of the trail ahead on even slight inclines. Lexus offers a specific 18-inch wheel and tire package for those who plan on spending more time off the pavement, but no, you won't be tackling the Rubicon Trail in an LX even with all-terrain tires. Ground clearance has been reduced by an inch from 8.9 to 7.9 inches and approach angle has been reduced from 25 to 20 degrees in deference to styling and on-road manners which make sense since this is a $90,000+ luxury SUV. I'm guessing the furthest off-roading these vehicles will ever go is the unpaved parking lot at the polo club.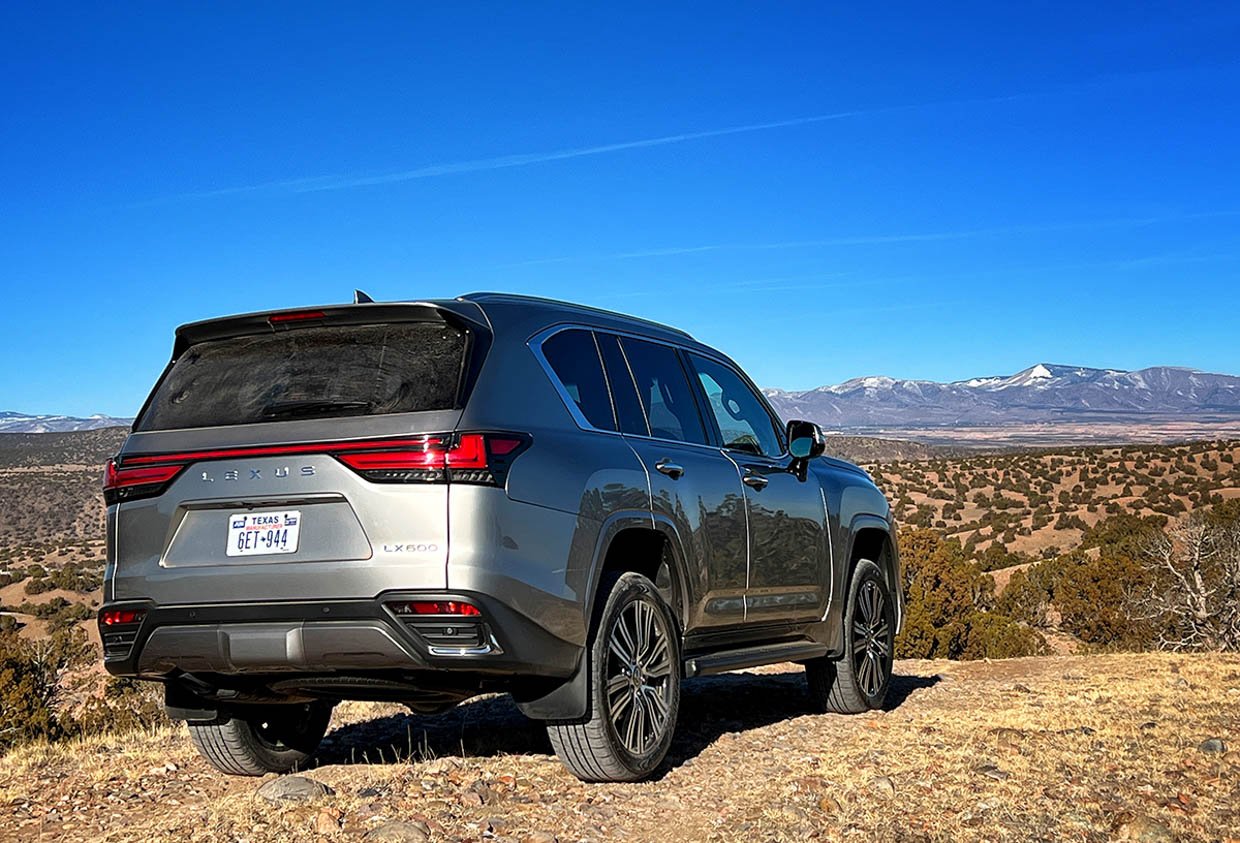 Making The Grades
In an effort to provide something for everyone who can afford a six-figure SUV, The LX 600 is available in 5 grades: Standard, Premium, F-Sport Handling, Luxury, and Ultra Luxury. The main exterior styling differences between the grades are wheels and the execution of the Lexus spindle grille. Inside, the standard trim offers 5-passenger seating, the three middle trim levels add a third row, upping seating capacity to seven. Gone are the rear jump seats replaced by a traditional fold-flat third row, which is a huge improvement for both passengers and cargo.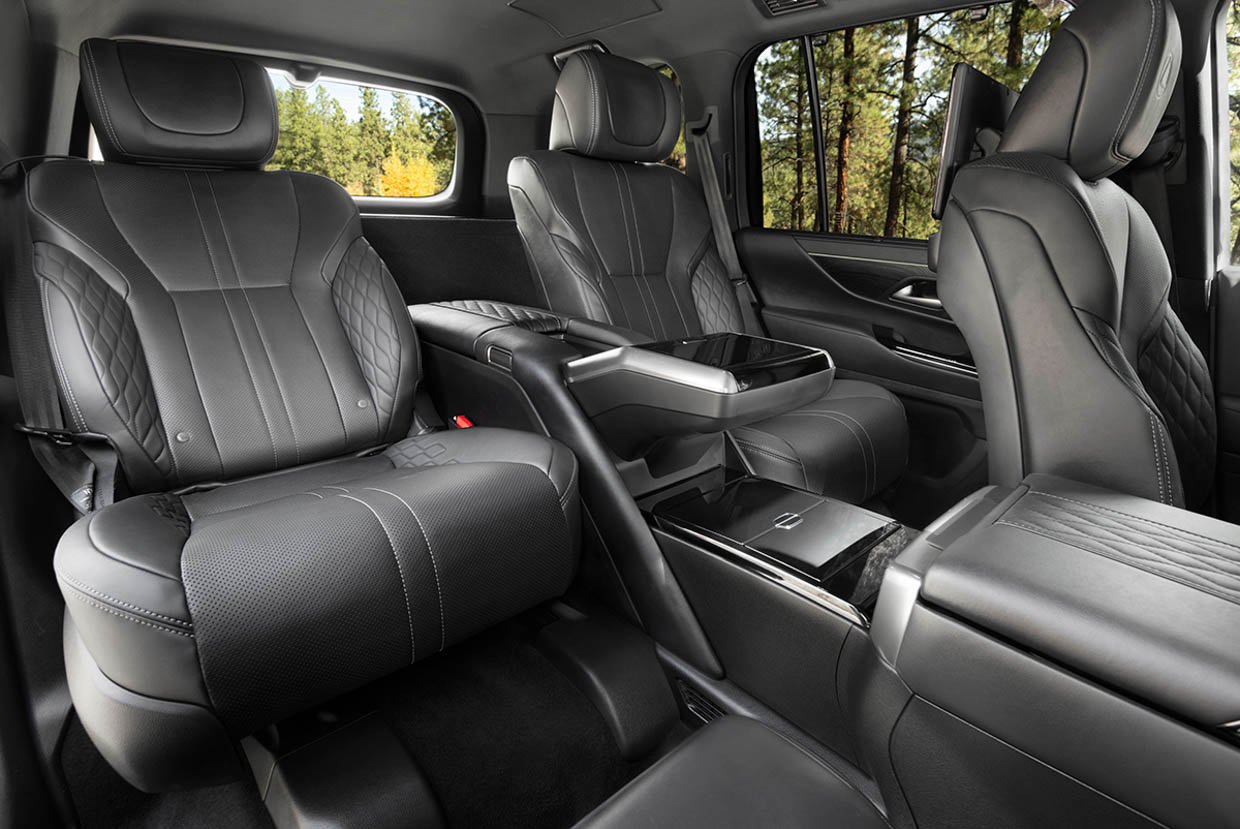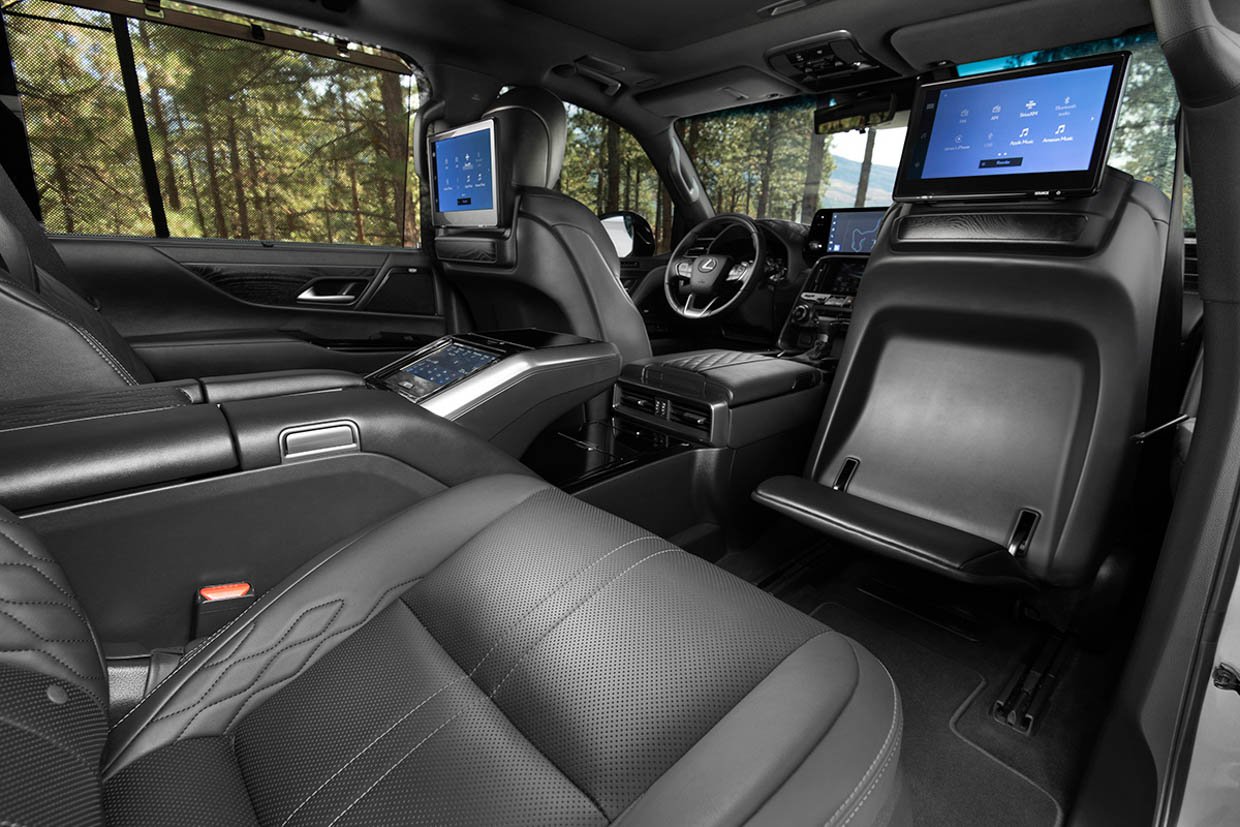 The ultra-luxury trim I spent time with is a four-passenger set up with deep reclining, heated, ventilated, and massaging captain's chairs in the second row. As you would expect from Lexus, fit, finish, and materials are all best in class. Premium, Luxury, and Ultra grades use wood trim, and the higher trims get very soft and supple semi-aniline leather. F-Sport buyers will find brushed aluminum inserts and if you're bold enough, you can add red inserts to the leather seating surfaces.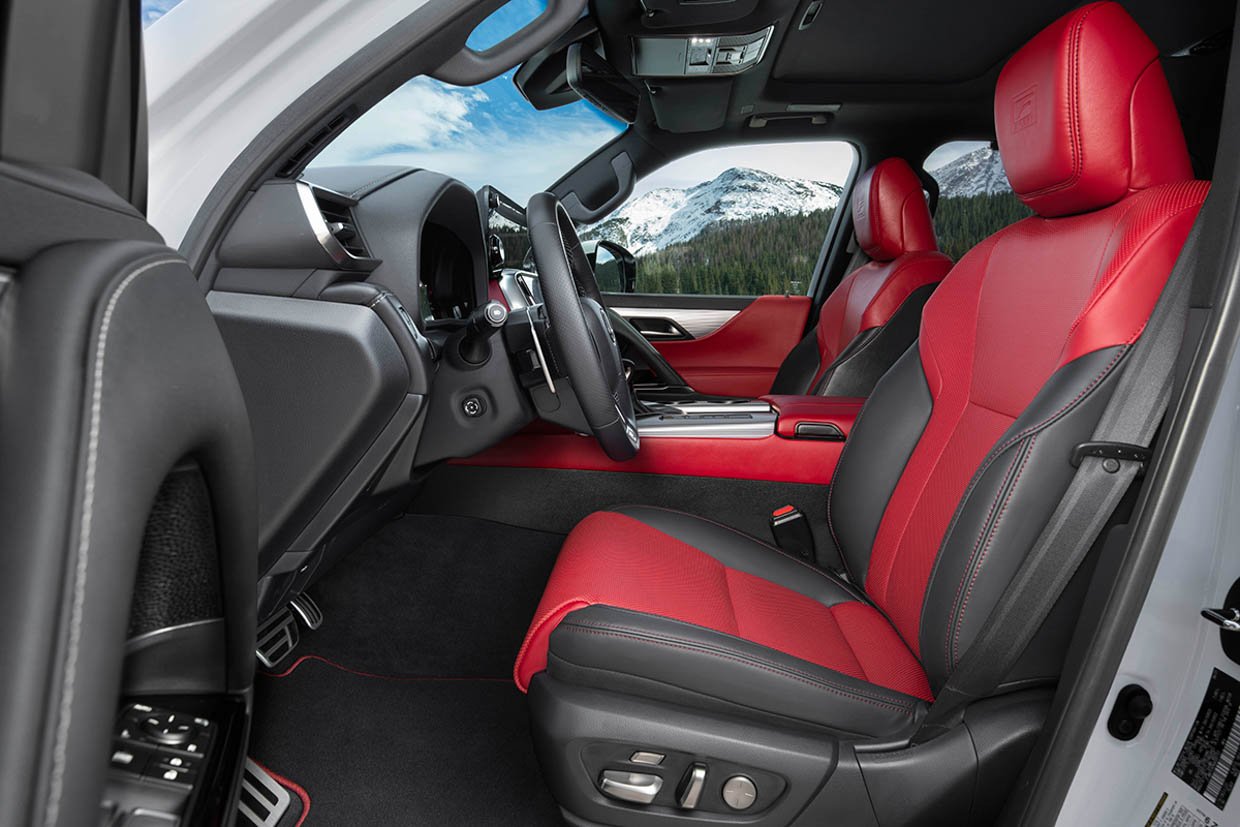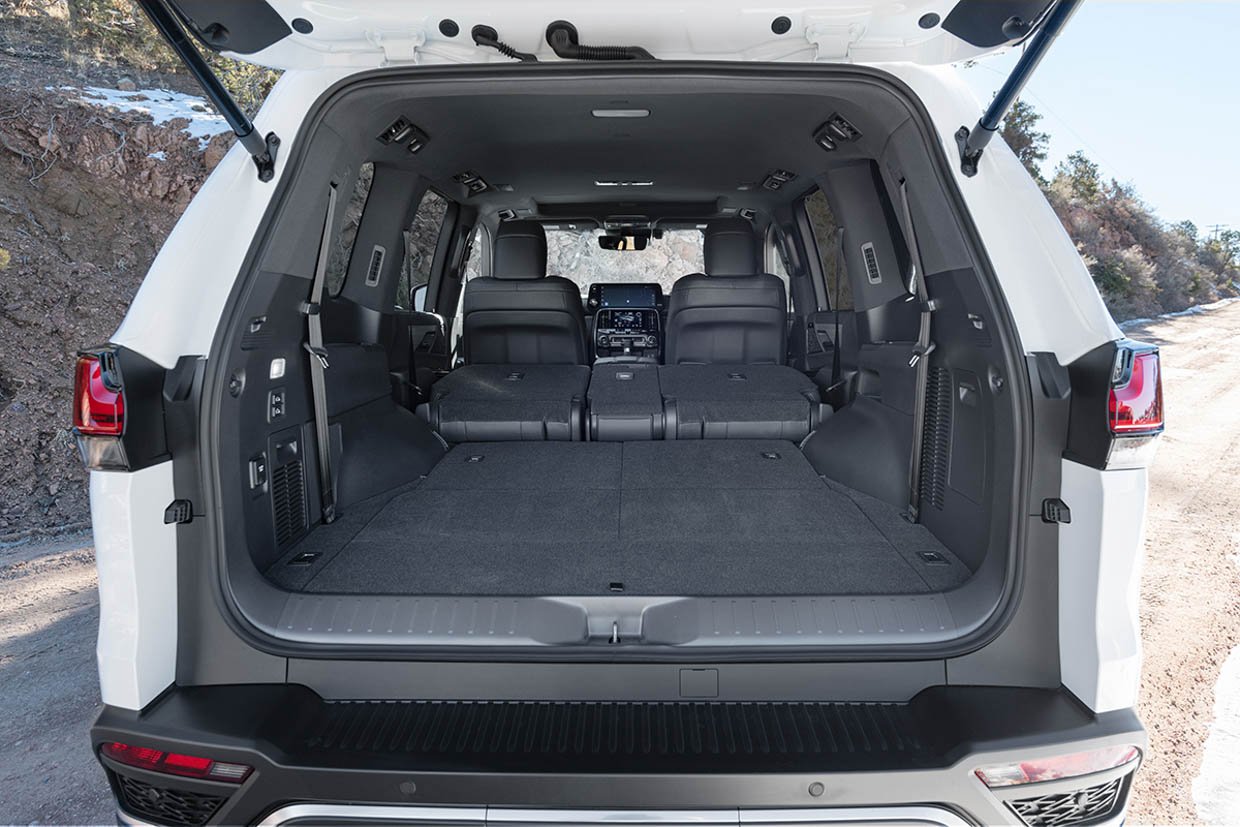 There's No Joystick In Mudville
Lexus is fixing its biggest weakness in 2022. Gone are the joystick and trackpad interfaces that were reviled by both journalists and consumers alike. In its place on the LX 600 is a clean, easy to use, dual touchscreen interface with just the right amount of physical controls. Say hallelujah! While I wouldn't go as far as calling this set up best in class, it's a huge leap forward and removes one of the biggest barriers to entry in this vehicle. In LX the top screen is used for things like audio, GPS. The bottom screen is used to display functions that include HVAC and off-road information. There's ample processing power to move between screens quickly and overall, the system is fairly intuitive.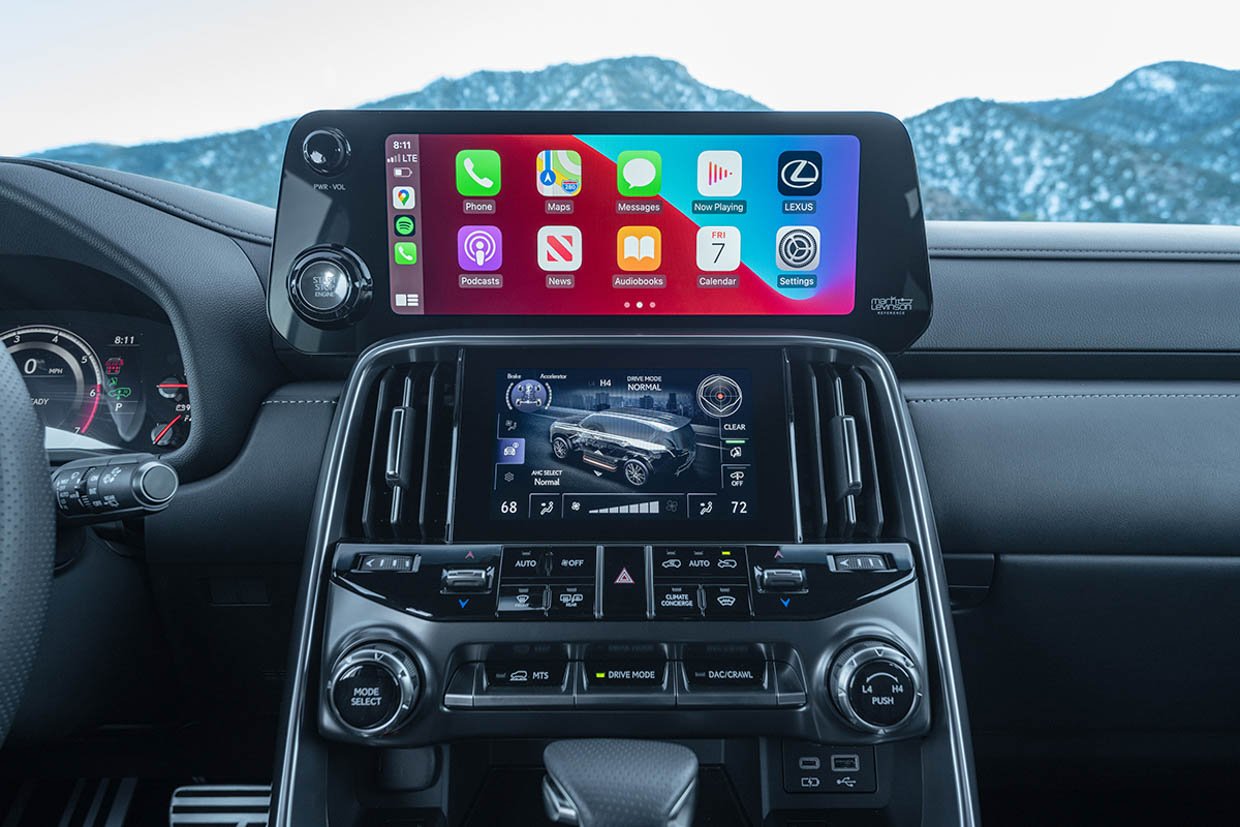 I appreciate having hard buttons for the HVAC and off-road settings. While there is a volume knob, there's no tuning knob, so changing stations requires drilling down to the appropriate menu and then scrolling - not the ideal solution. Apple CarPlay and Android Auto now operate wirelessly, and you also have a WiFi hotspot in the vehicle to connect all your devices. Qi wireless charging is standard and there's a full complement of USB A and C charge ports for those who'd prefer to plug in.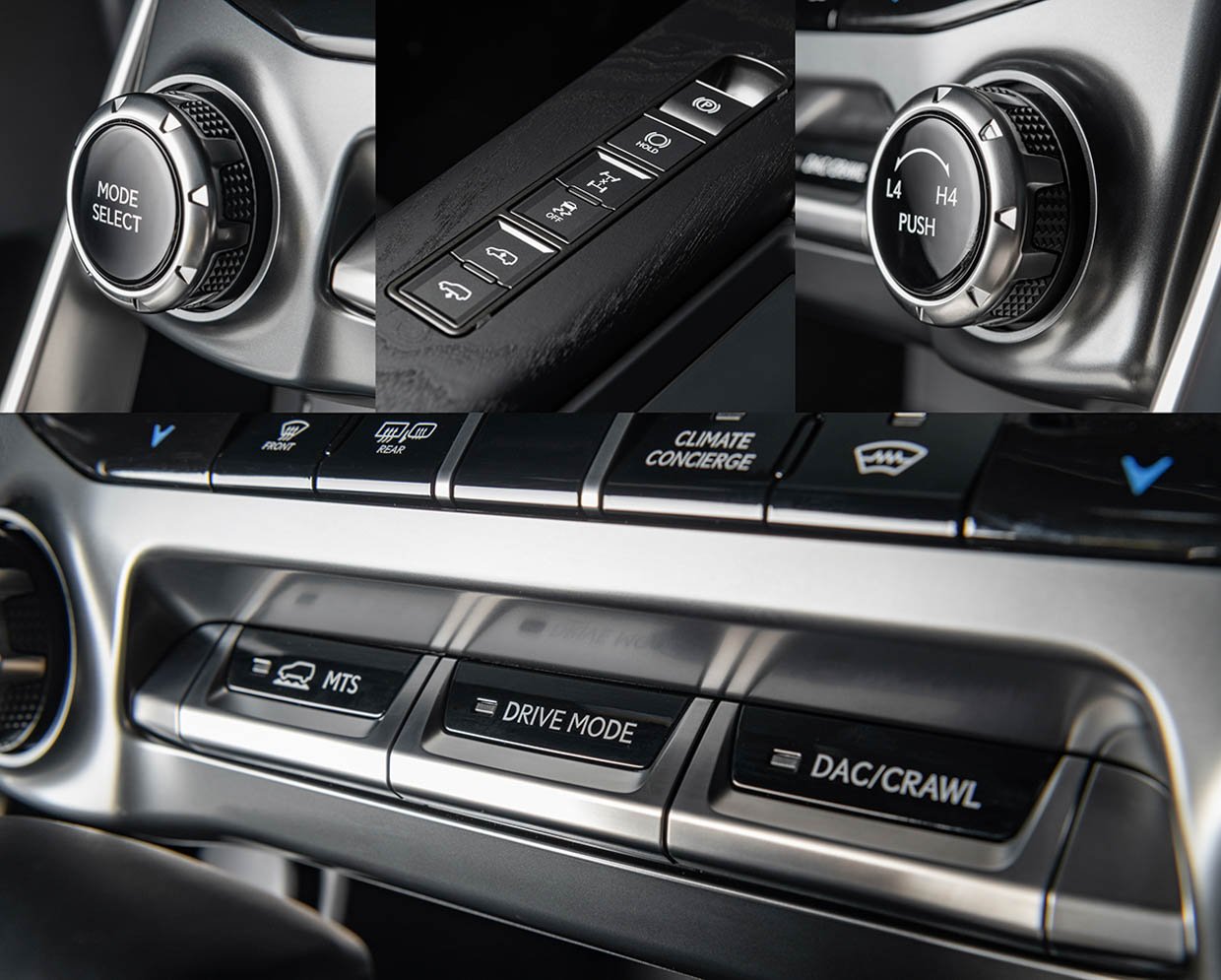 The Final Verdict
If you liked the LX 570, you'll love the LX 600. It is improved in every objective and subjective dimension and with its new grade strategy, allows you to dress it up just the way you want. The Ultra Luxury trim also provides limousine-like comfort for rear seat passengers. While there are a lot of three-row SUVs at this price point there's nothing like the LX 600. It offers a combination of luxury, comfort, and off-road prowess that's rare at any price point.