Driven: 2022 Toyota GR Supra 2.0
2022 | hatchbacks | reviews | sports cars | toyota | toyota supra | October 31, 2022
Words and images by Paul Strauss
We've driven the Toyota GR Supra a few times, and it's great fun. But we'd only driven the more powerful and expensive 3.0-liter model to date. Now, we've had the chance to spend some time with the 2.0-liter sports coupe, and we were impressed with just how great it is to drive while saving cash and sipping less fuel.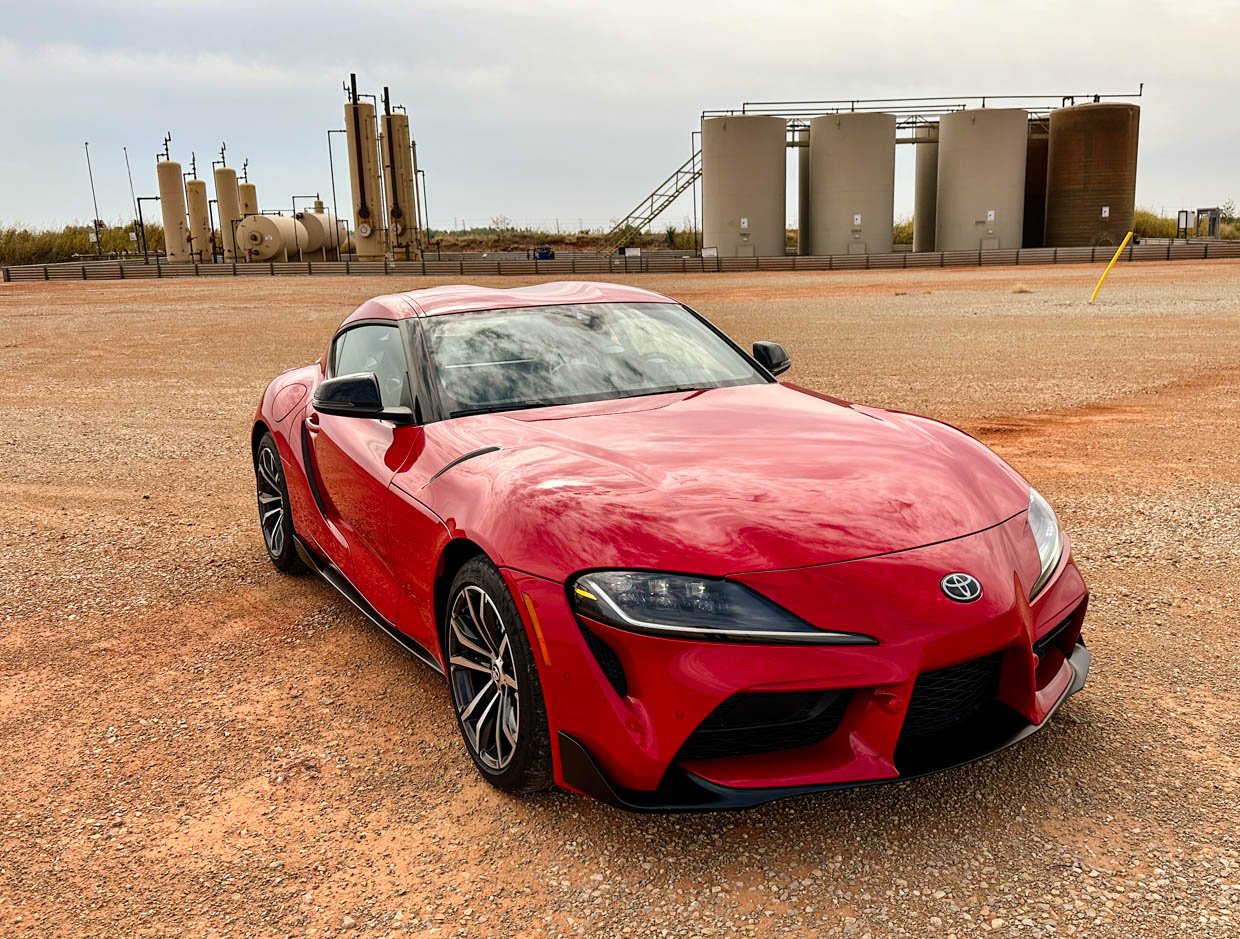 Whether you go with the 3.0-liter or 2.0-liter Supra, you get the same great styling: big, swoopy curves, functional air inlets, broad haunches, a long hood, double-bubble roof, and sharp, cat-eye headlights. The only subtle difference is that this model rides on 18" aluminum wheels instead of 19" rims and has gloss black mirror caps instead of a matte finish. Trust us when we say that nobody will think you cheaped out by buying the less expensive model here.
The big difference is what's under the hood. Instead of a 382-horsepower turbocharged 6-cylinder engine, this Supra packs a 255-horsepower inline turbo-4. However, the torque gap is much smaller than you might think, with the 4-banger making a more than ample 295 lb-ft. compared to the 6's 368 lb-ft. As a bonus, peak torque arrives a bit earlier, at 1550 RPM vs. 1800 RPM. This car is also 200 pounds lighter than the 6-cylinder and feels a bit more nimble on its toes. Fuel economy is also excellent for a sports car, with an EPA-rated 25 mpg city, 30 mpg highway, and 28 mpg combined. During the week we drove the car, we averaged 31 mpg, though we didn't spend much time in the city.
Working in concert with a performance-oriented ZF 8-speed automatic transmission, the 2.0-liter Supra is quite fast off the line, turning in a 0-to-60 time of 5 seconds flat. That's a little more than a second slower than the 3.0, but still admirable. All but the most die-hard sports car enthusiasts will be more than happy with 4-cylinder's get-up-and-go. One thing that you can't get with this model is a manual transmission; that's currently an exclusive on the 6-cylinder, starting with the 2023 model year.
Despite the lack of the adaptive variable suspension that comes standard on the 3-liter models, this car still has a great MacPherson front and multi-link independent rear suspension that offers excellent feedback from the road. And even though it's sporty, it's tuned for public roads, so it's not overly harsh. As a rear-wheel drive coupe, the Supra is playful in the corners and can definitely drift. It lacks the active rear differential of the more expensive models, so it's not quite as precise when cornering at high speeds, but it's still really good.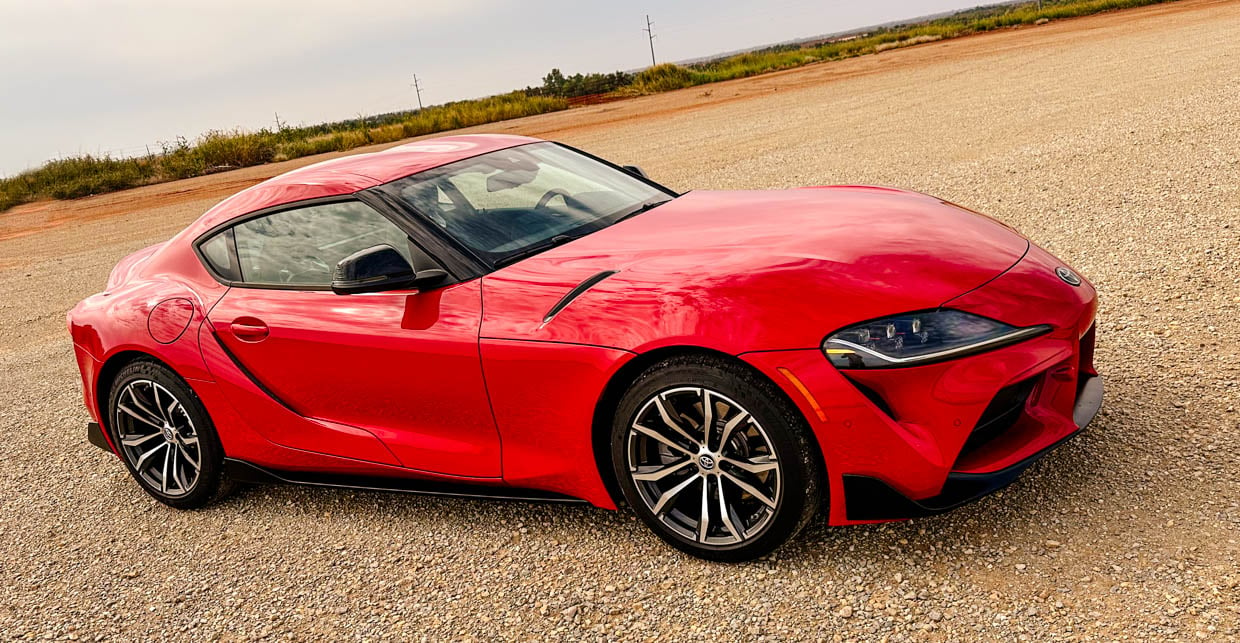 Another mechanical difference is the more basic 1-piston front brakes up front, instead of the 4-piston Brembos that come with the 3-liter. They're still clamping down on good-sized 13" ventilated discs, and stopping power felt good in our relatively spirited street driving. That said, you might consider a brake upgrade if you plan on driving this Supra on the track with any regularity.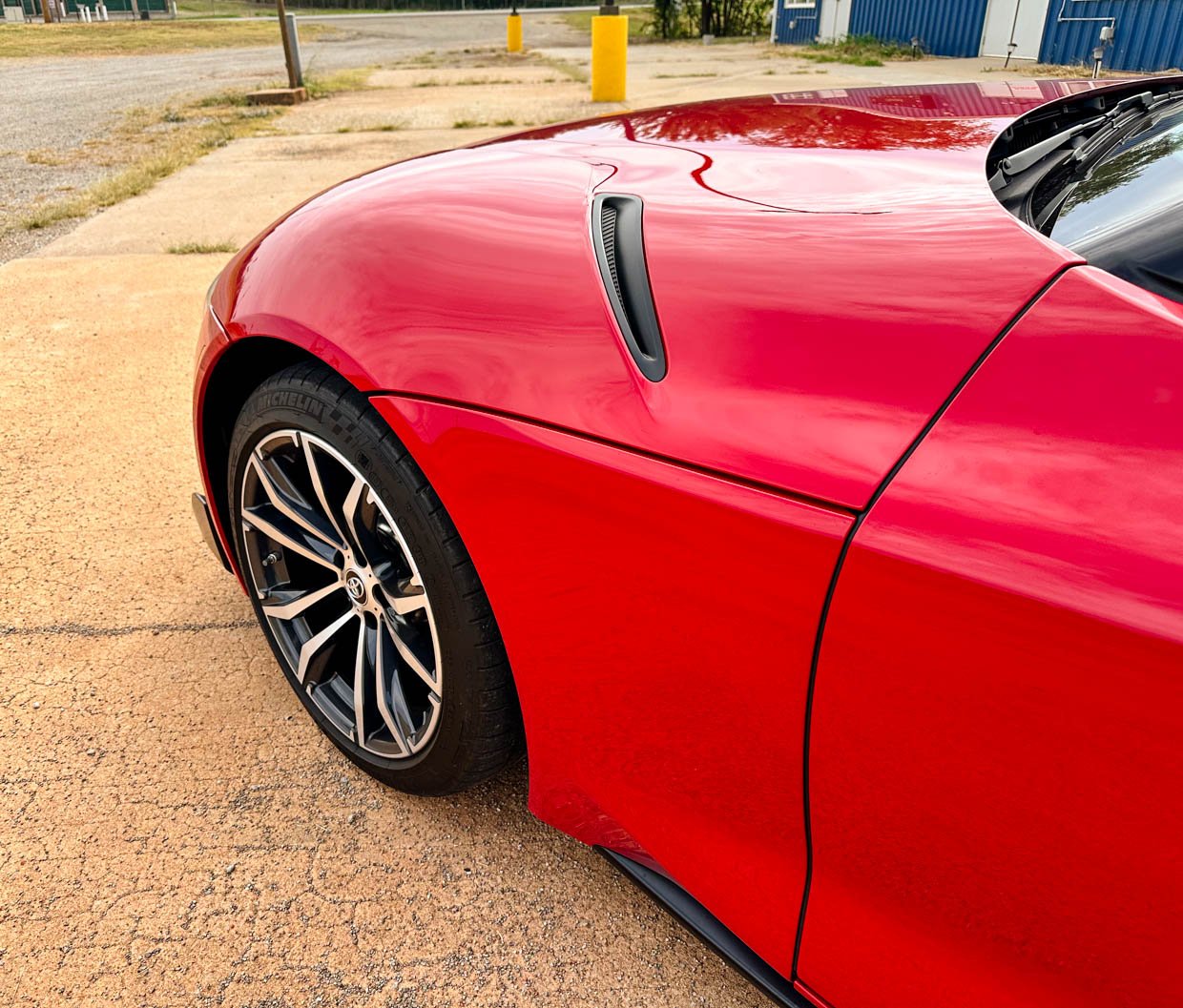 It pretty much comes down to physics that makes cars with more cylinders and a bigger displacement produce a bigger exhaust note. But Toyota did an excellent job endowing the Supra 2.0 with a satisfying dual cat-back exhaust system. It still makes a nice crackle-and-pop as you approach the redline, but It's not as beefy or baritone as the 3.0's sound, but also less likely to attract unwanted attention from neighbors or the cops.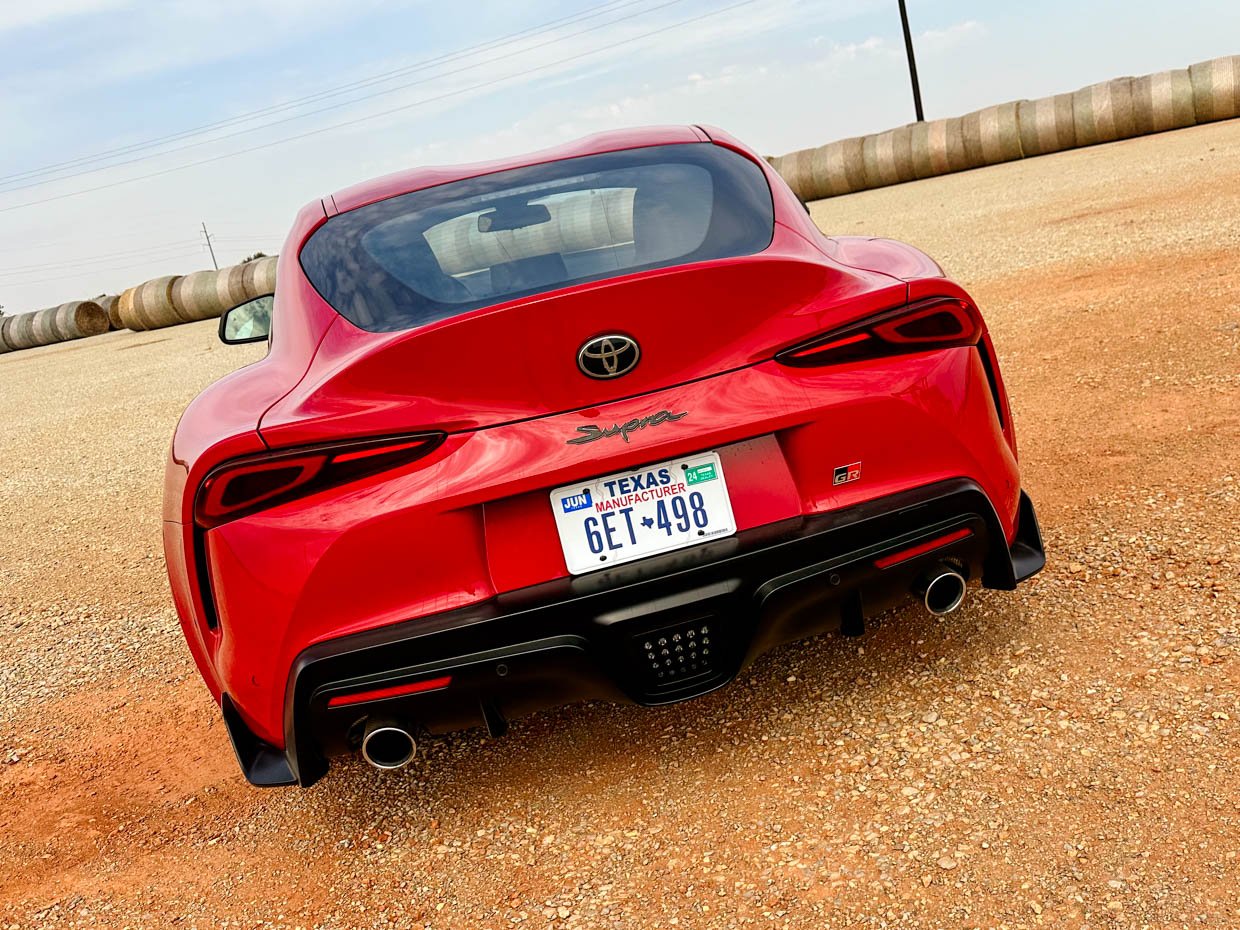 Given its shared bloodline with the BMW Z4, the interior has a different aesthetic than other Toyotas. It's got a linear, horizontal dashboard design, with fewer sharp angles than other Japanese cars. It's a purposeful, cockpit-like layout, and the large transmission tunnel isolates the driver and passenger spaces nicely. The sport bucket seats are comfortable and supportive, with excellent side bolstering and Alcantara microsuede surfaces to keep you in your seat when coming into a corner hot. The manual seats also help shave a little weight from the 3.0-liter model. Those living in colder climates might miss the heated seats, which aren't even available as an option on the 2.0. Audiophiles might not be thrilled with the standard 4-speaker sound system, but it doesn't sound bad and, again, saves some weight compared to the 10-speaker or 12-speaker audio available on the 3.0 Supras.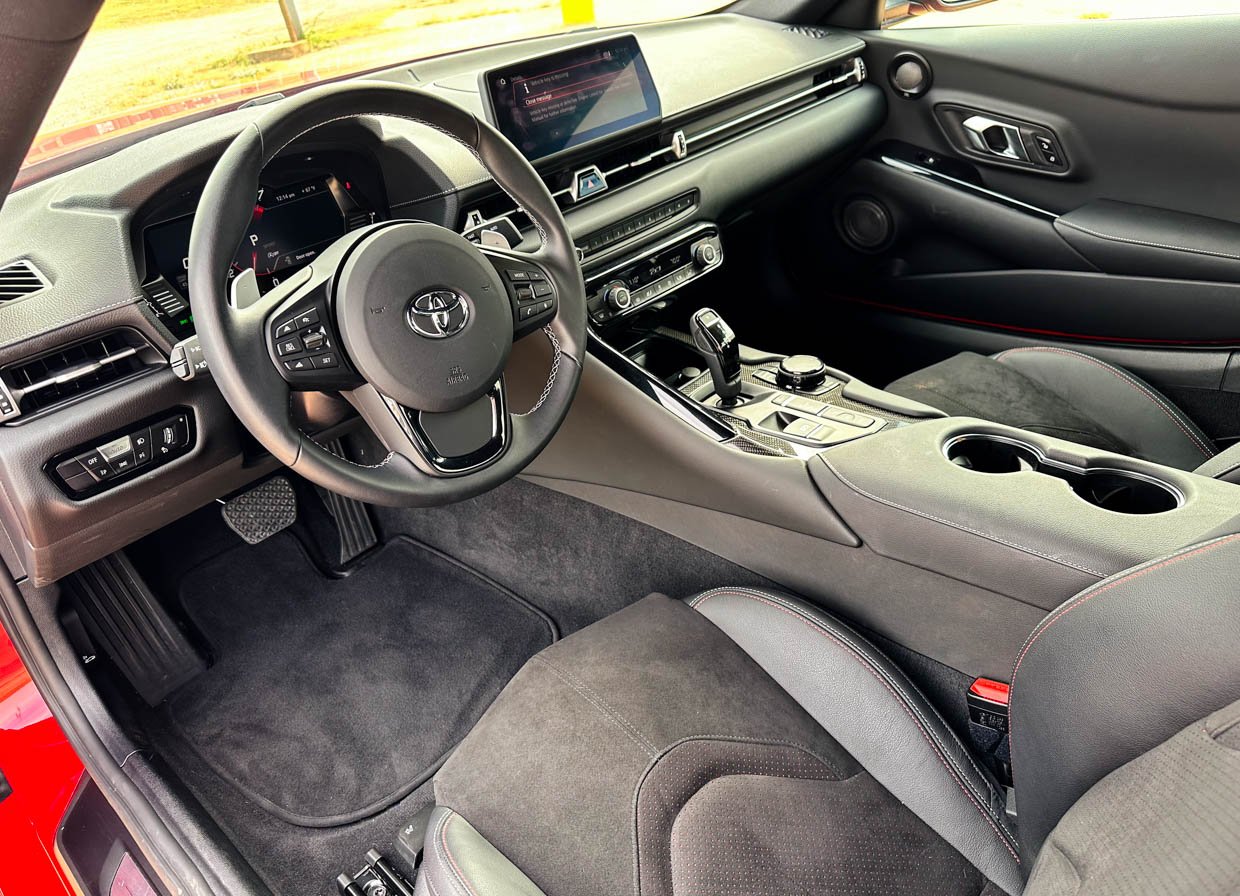 There are a few minor annoyances in the cabin design worth mentioning. Taller people will find the low roofline challenging when entering and exiting. Prepare to work on your neck flexibility, folks. Once you're inside, however, the roof indentations provide good headroom - enough to drive with a helmet on. Like other Supras we've driven, it still has the wind-buffeting flaw. If you open both windows all the way, you'll get a pretty intolerable wind buffeting, which I theorize has something to do with air flowing through the hatchback area, turning it into a giant subwoofer. Lastly, visibility behind the B pillar is poor, making turns from an angled street onto a straight one tricky and dangerous.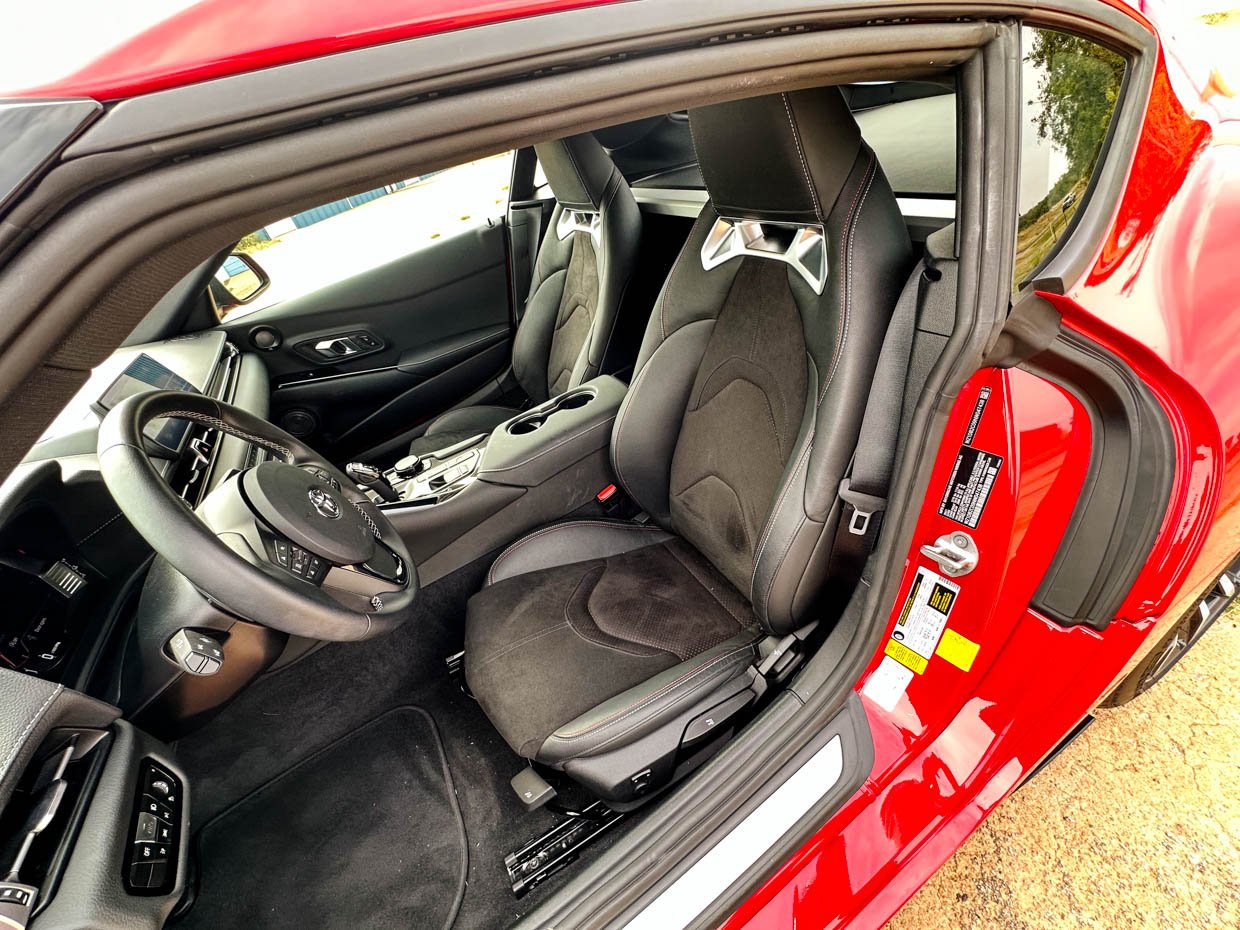 Since the Supra is a hatchback, you'll find it has more room for carrying bags and gear than other 2-seat sports cars, with a reasonable 10.2 cubic feet of cargo space. There's a pass-through behind the seats for easy access to items from the interior as well. This also happens to be our favorite view of the Supra, showing off its duckbill spoiler, curvy roofline, and wide rear fenders that meld seamlessly into the doors.
When it comes down to it, every GR Supra we've been in since its release has been a hoot to drive. If your budget doesn't allow for the more powerful model, you won't regret a 2.0 purchase. It's still a quick and agile coupe and looks virtually identical to the more expensive models. It weighs less, goes further on a tank of gas, and its base price is significantly lower than the Supra 3.0. Assuming you can find a dealer who isn't marking up the sticker, you're looking at an MSRP of $43,540 for the 2.0, compared to a base price of $51,890 for the 3.0 model - an $8,350 difference.