Driven: 2020 Toyota GR Supra
2020 | sports cars | toyota | toyota supra
We feel so lucky to have been among the first people to drive the new 2020 Toyota GR Supra. We spent a full day behind the wheel on road and on the track, and are thrilled to report that it's everything we hoped for – and more. Read on, then drop by 95octane for our full review.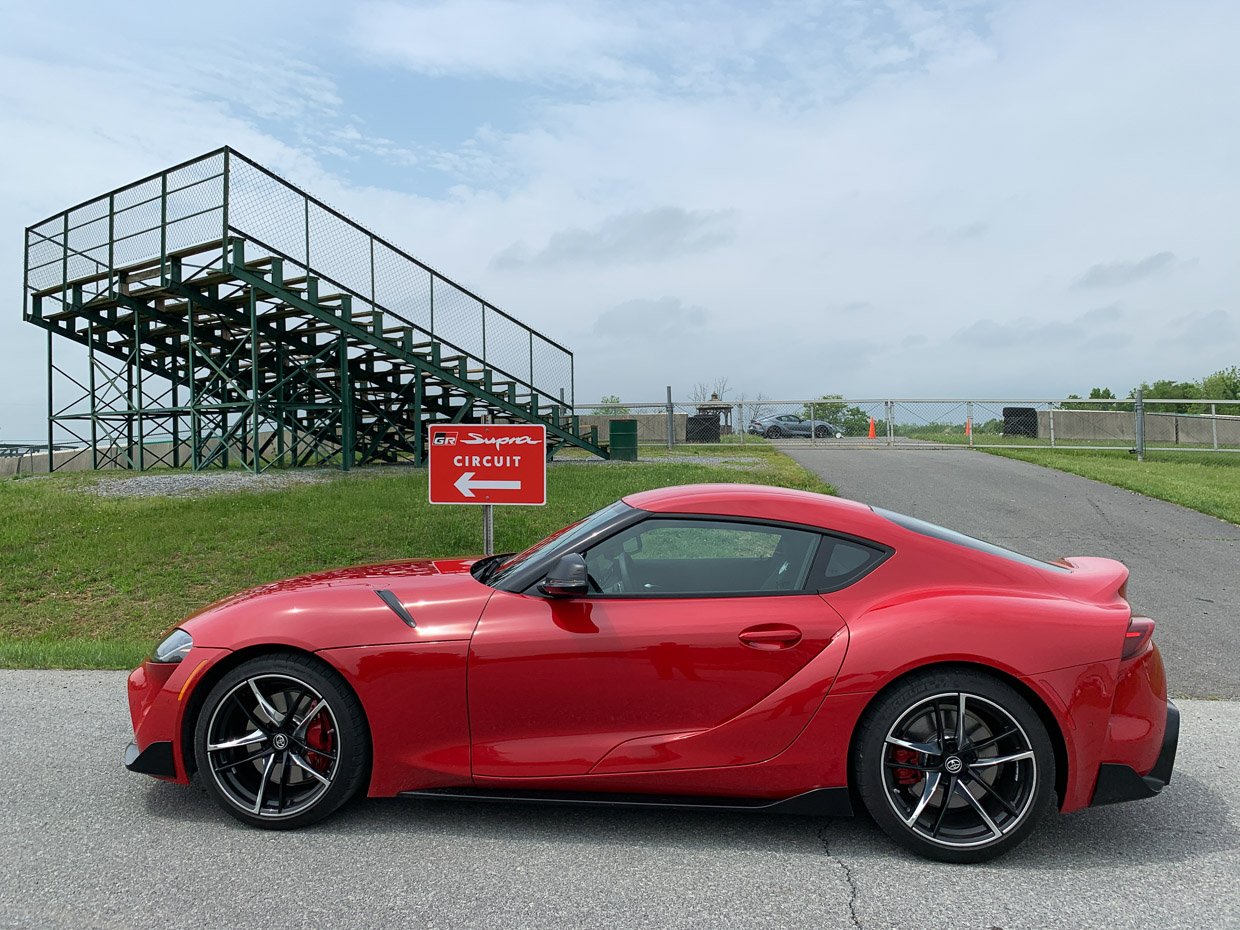 Inspired by the design of the stunning Toyota FT-1 concept, the production Supra looks especially good from the front 3/4 angle and in profile. Its double-bubble roof takes inspiration from the classic Toyota 2000 GT, and provides extra headroom for wearing helmets on track.
Our journey to the race track took us along the country roads of Virginia, a place notorious for grumpy cops and heavy speeding penalties. We had to do everything in our power not to go balls-out. It was clear the minute we got into it, the Supra just wants to go fast. However, we didn't want to spend the rest of our trip in a rural jail cell, so we exercised restraint until we reached our destination.
Any day that looks like this is a good day. We spent the better part of ours at the Summit Point Raceway, a West Virginia motorsports park with three circuits of varying degrees of complexity. Naturally, Toyota chose the most difficult of them to prove the Supra's capabilities.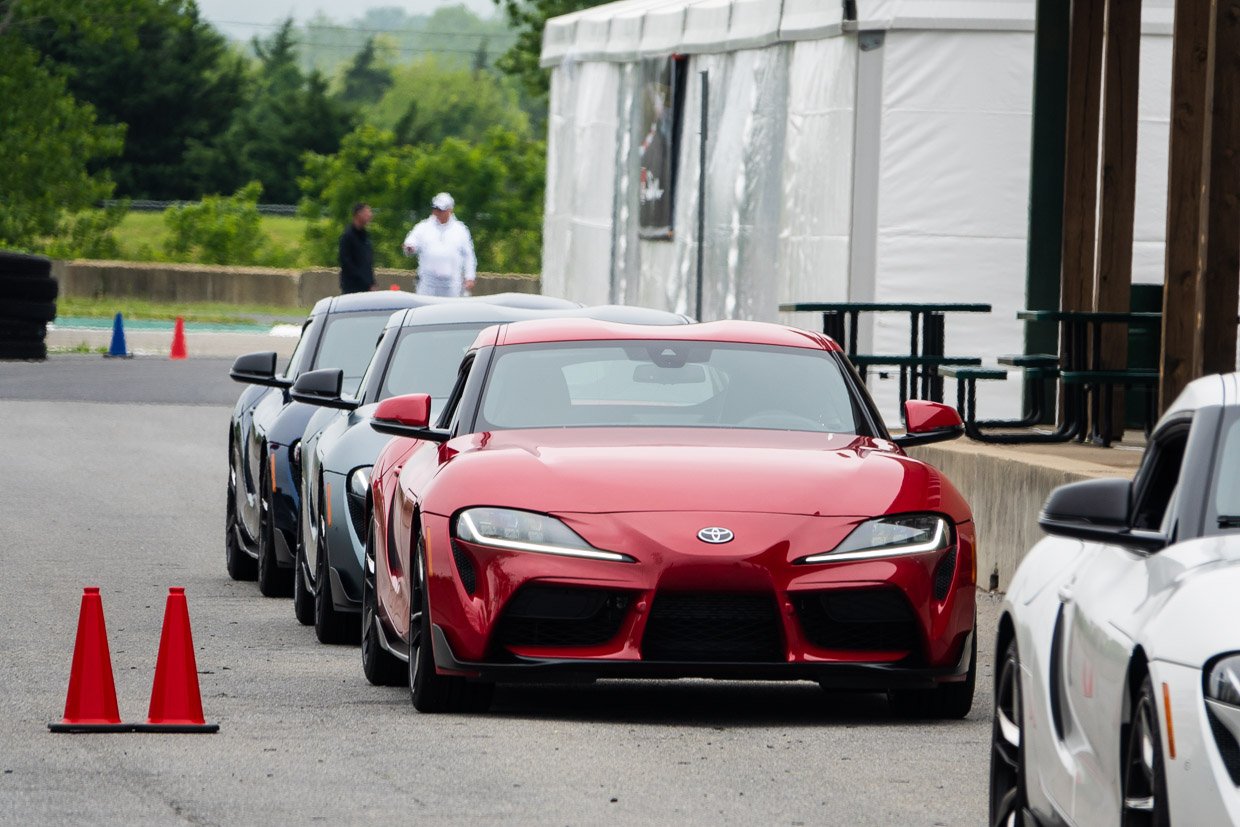 Toyota put us on the highly technical 2.2-mile Shenandoah road course, which is packed with challenging twists and turns - the perfect place to test the Supra's cornering... and drifting abilities.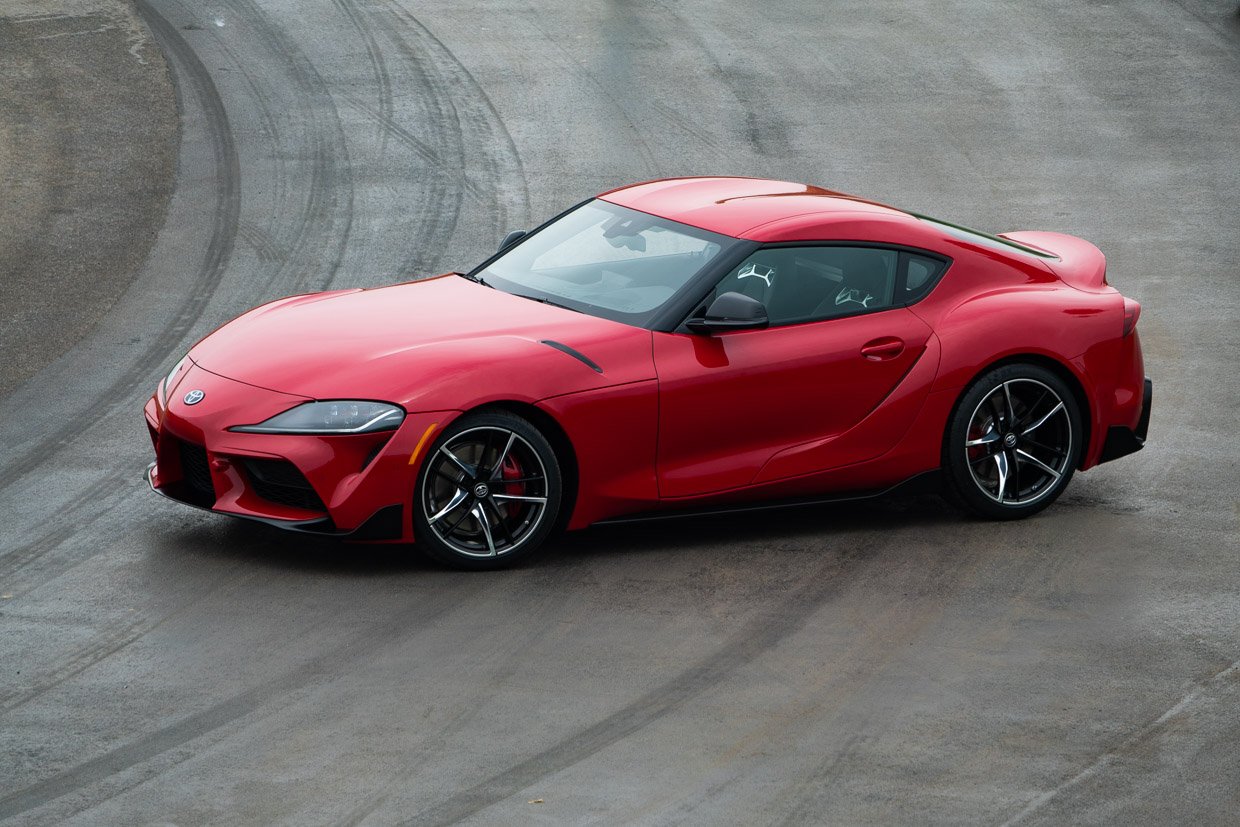 The Supra handled brilliantly on track, with predictable and direct steering into corners, while still offering the ability to throw it into a controlled drift when we felt like it. Its three traction control settings allow for varying amounts of slide for track driving, and its electronically-controlled limited-slip differential enables cornering prowess. We were especially impressed by its balance and stability, despite an incredibly short wheelbase.
As has been grist for many online discussions, the Supra was developed in partnership with BMW. While it shares a chassis, engine, and drivetrain with the Z4, the Supra is definitely its own car. Toyota's design and engineering teams worked in isolation from BMW's to give the sports coupe its own distinctive look, ride dynamics, and overall tuning from Bimmer's little roadster.
The Supra comes in eight colors including Absolute Zero White, Tungsten and Turbulence Gray, Nocturnal Black, Renaissance Red 2.0, Nitro Yellow, Downshift Blue, and a particularly sweet looking matte finish color called Phantom. It's Toyota's first matte finish production car, and it looks damned good.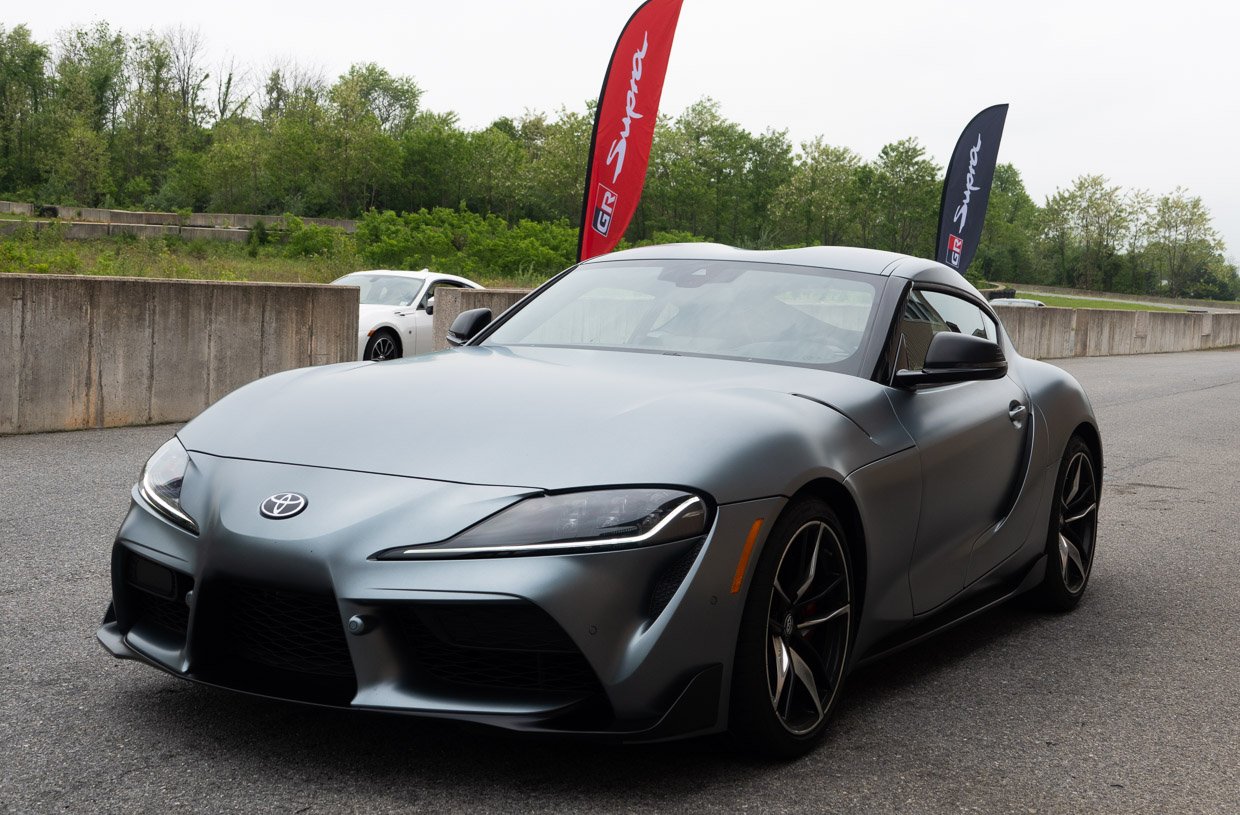 Pedal down, the Supra is damned quick - it does 0-to-60 mph in just 4.1 seconds, and offers launch control to help make sure as much of its ample 365 lb-ft. of torque gets to the ground. The quick-shifting ZF 8-speed automatic gearbox and excellent Michelin Pilot Super Sport tires help do their part too. And the Brembo performance disc brakes provided plenty of stopping power as we came into sharp corners at speeds approaching 120mph.
From day one, it was a requirement that the new Supra had an inline-6 engine like its predecessors. The BMW-sourced 3.0-liter twin-scroll turbo engine is fantastic, offering up all of its torque starting at just 1600 RPM. Turbo lag is nowhere to be found, and power comes on fast and keeps going as you put your foot down.
The Supra's exhaust sound is simply sublime too - offering up a rich and deep note, accompanied by the best mix of snaps, crackles, and pops this side of a Jaguar F-TYPE. Some sounds are are augmented in the cabin through the sound system, but as you can hear, the Supra offers plenty of ear candy outside too.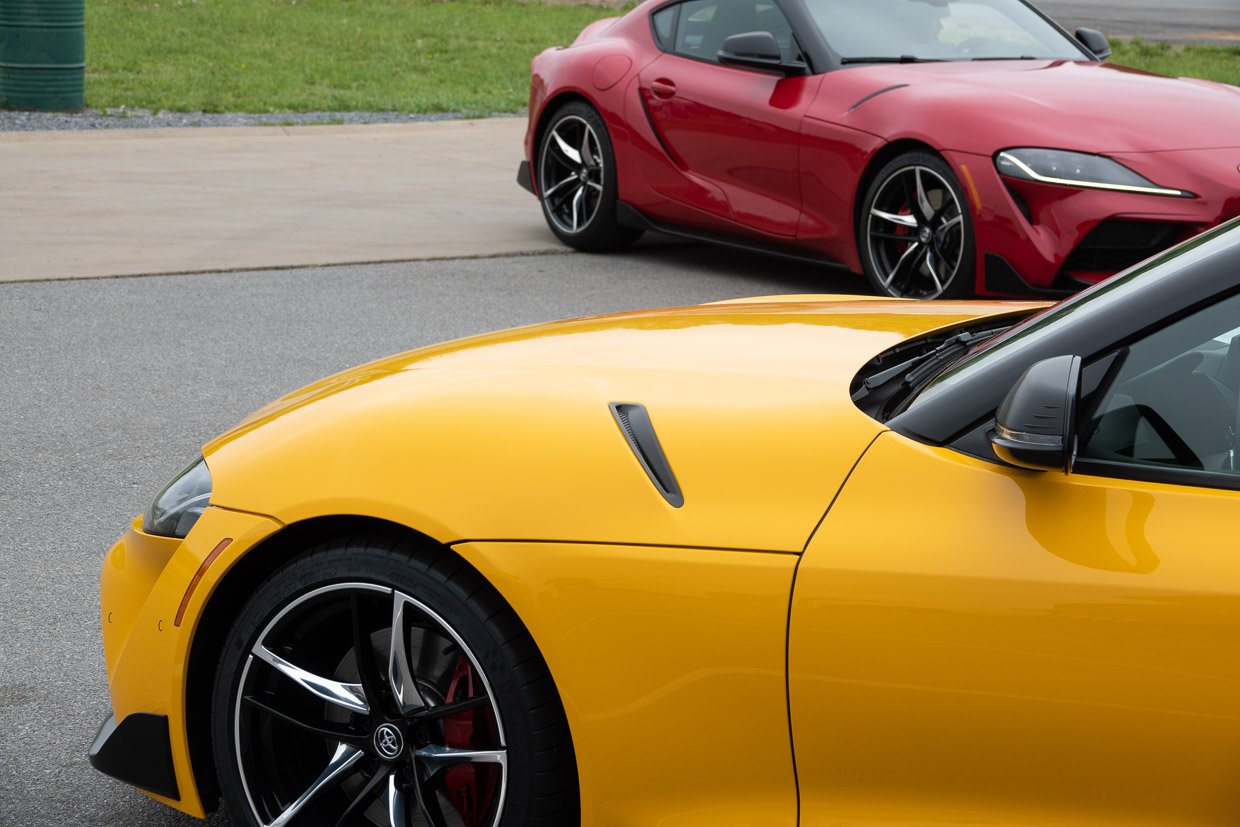 Tuner culture is a big part of the Supra's heritage, and Toyota worked very hard to preserve and embrace this with the 2020 model, also known as the A90 Supra. Clever touches like threaded mounts for reinforcement bars, space, reinforced rear wing mounts, and punch-outs for added engine and brake cooling are among the thoughtful modding opportunities that Toyota has provided for tuners. It also has dual hood latches, something that Toyota's engineers felt were a necessity for a car that might actually spend some time on track.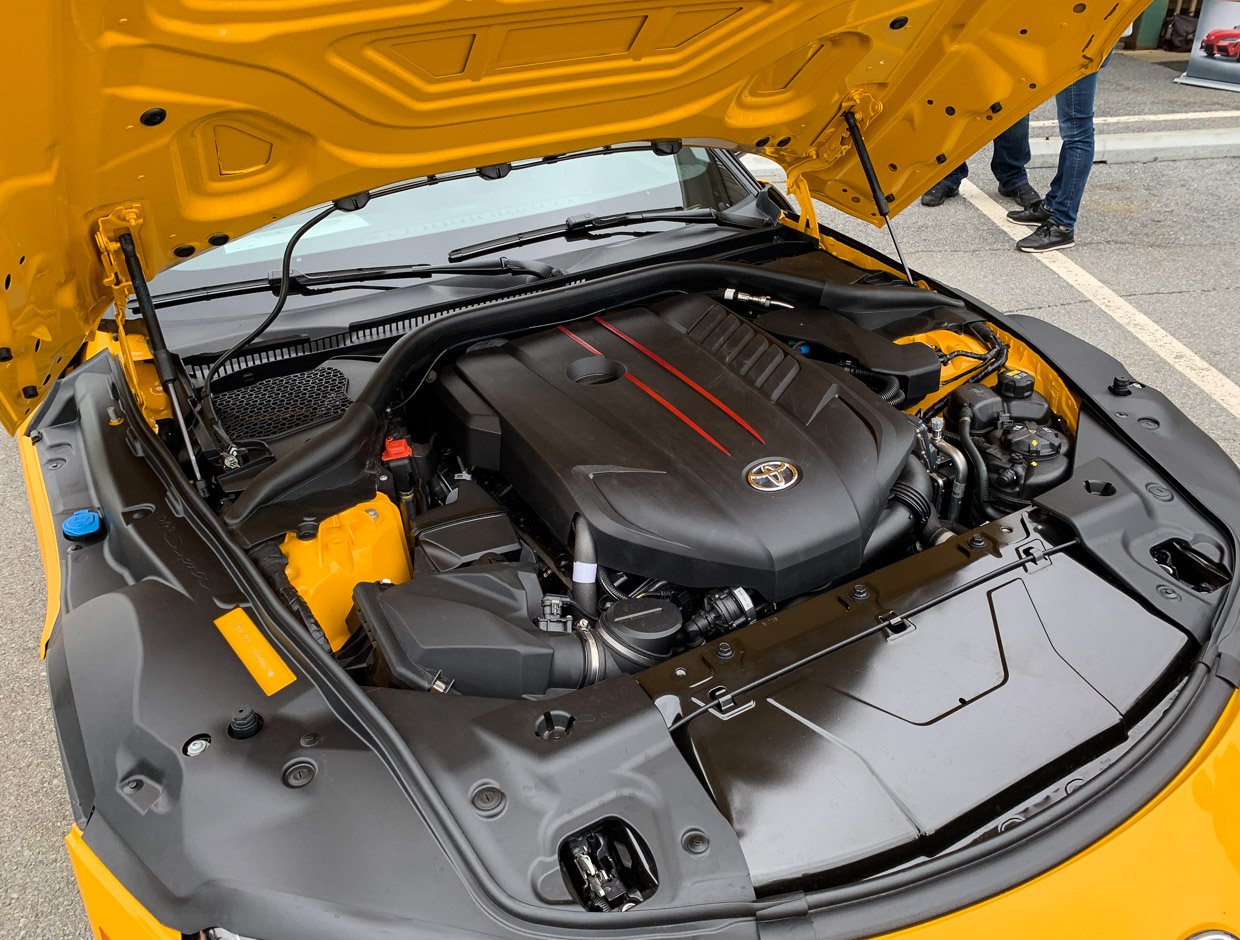 Inside, the Supra offers a modern and driver-focused cabin. There's a clean and linear feel to the dash, real carbon fiber on the center console, and a slick digital information display. We've never been huge fans of nav screens that stick out of the dash, but the design helps keeps eyes on the road ahead, and still works as a touchscreen for those of us with longer arms.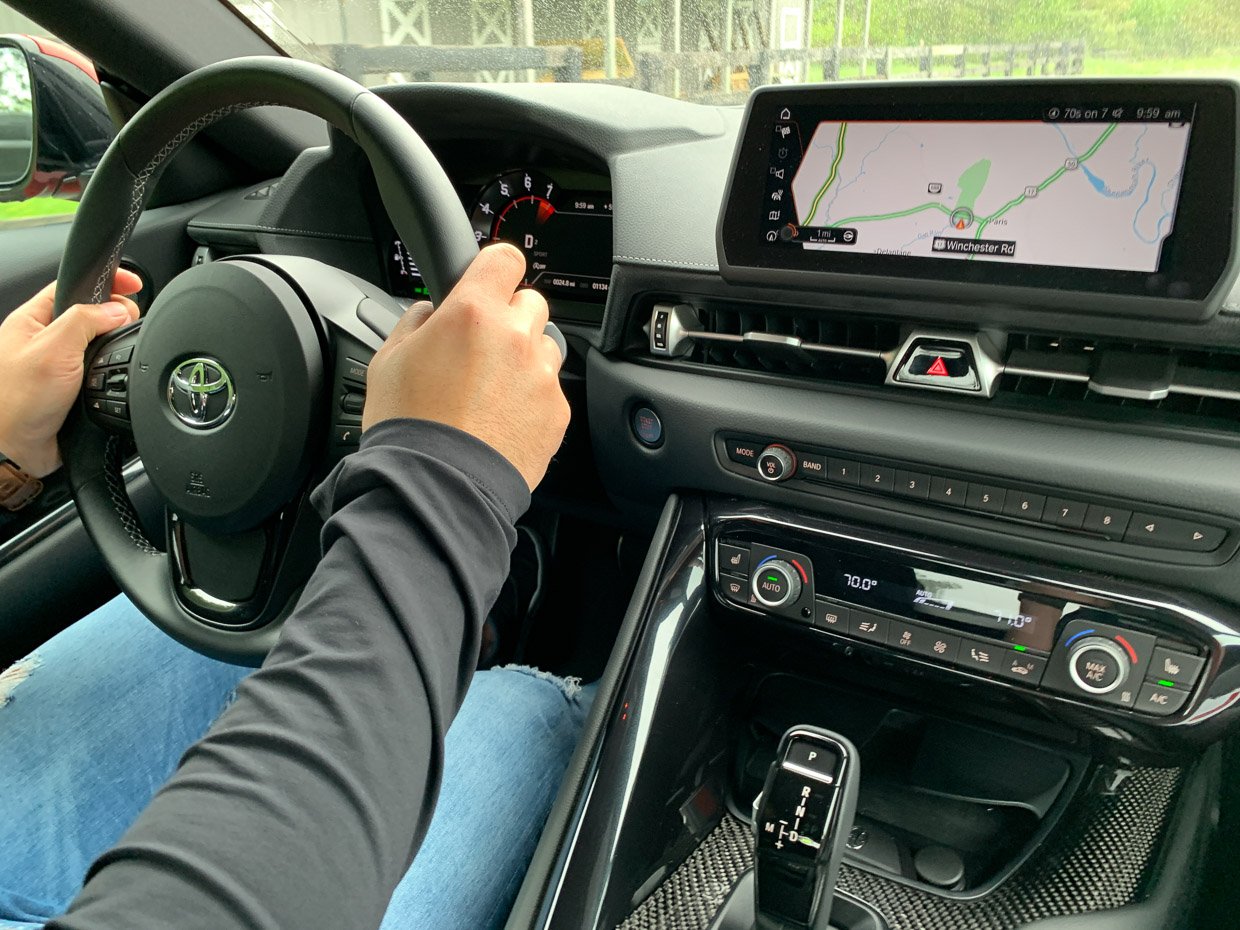 Every Supra gets sporty bucket seats with 14-way adjustments for both driver and passenger. We particularly appreciate the adjustable side bolsters which help keep you in your seat as you slide around corners, but can be loosened up for street driving. The Supra 3.0 Premium and Launch Edition get all leather surfaces, while the Supra 3.0 gets a combination of Alcantara and leather.
Fanboys might have concerns about the new Supra not being a "real Toyota," but philosophical debates aside, the Supra is a phenomenal driver's car. It offers thrillling and dynamic driving whether on the road or track, a wonderful soundtrack, and is a whole lot of car for something that starts below $50,000. It may have taken more than 20 years for the Supra to return to the US, but the 2020 Supra was well worth the wait.