2022 Toyota GR86: Things We Love
reviews | sports cars | toyota | toyota gr86 | October 6, 2022
Words and Images by Paul Strauss
Last year, we had a chance to drive the new Toyota GR86 on a racetrack. Now, we've had a full week to live with the agile and accessibly-priced sports car as our daily driver for a full week. The good news: The GR86 is nearly as much fun on the street as it is on a race circuit. Here's what we love about it.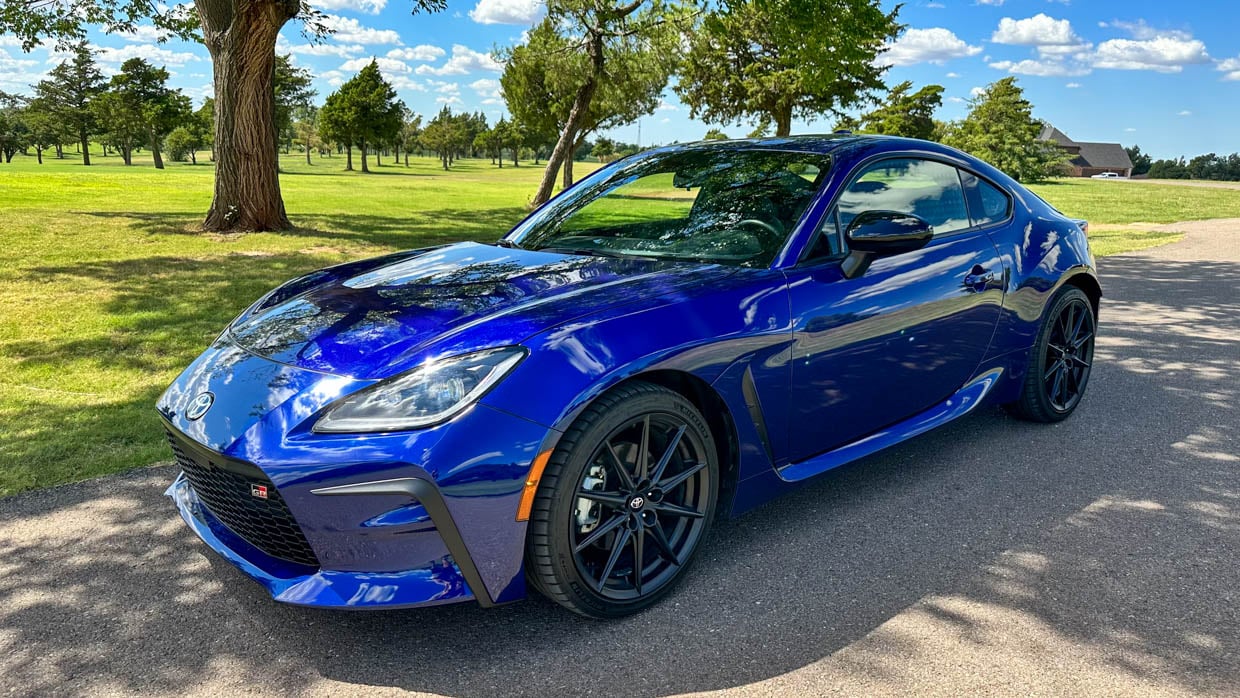 This Boxer Punches Above Its Weight
Let's start with the engine. The 2.4-liter flat-4 Boxer purrs like a kitten and is simply sublime. With so many sports cars relying on turbocharging these days, this Subaru-developed, naturally-aspirated power plant is smooth and responsive, delivering a direct connection with pedal input. With an output of 228 horsepower and 184 lb-ft. of torque, it's not going to win you any drag races, but with a curb weight of 2811 pounds, this engine is just right for an easy-to-drive purist's sports car like this.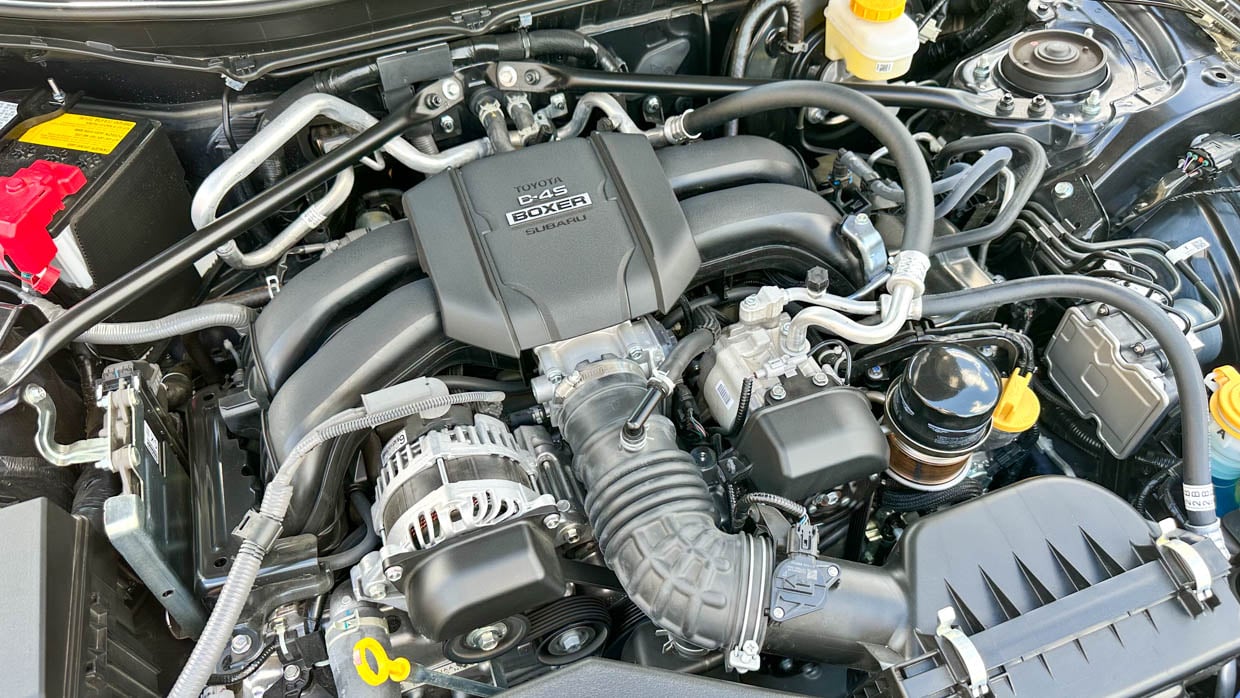 Perfect in Profile
The GR86 looks excellent from any angle but looks its best from the side, with a smooth and curvaceous profile, wide fender flares, and integrated side sills. Depending on the trim you choose, it rides on either 17" or 18" alloy rims, wrapped in excellent Michelin Pilot Sport 4 summer performance tires.
Let Me Handle This
With one of the lowest centers of gravity you can get in a production vehicle, rear-wheel drive, and a very good 53:47 front-to-rear weight balance, the GR 86 handles brilliantly. Its electric power steering is direct and weighty, and the way it connects the driver with the road is impressive. It's especially fun to drive through curves, offering a good balance between stability and the ability to pull off controlled powerslides. Its suspension features MacPherson struts up front and a multi-link rear setup. Combined with track-tuned coil springs and both front and rear stabilizer bars, it provides excellent feedback from the road but is tuned just soft enough to be a usable daily driver.
Aerodynamic Accolades
Toyota's designers and engineers did a great job incorporating aerodynamics and airflow into the GR86 that don't look like an afterthought. Its honeycomb front grille gulps in air while a pair of functional air intakes help flow cool air to the front brakes. A front splitter helps cut through the air to reduce lift, while the GR86 has a duckbill rear spoiler that provides added downforce.
Suggestive Shifting
When driving the GR 86 in track mode, its digital instrument panel switches into a great interactive tachometer which helps you know precisely when to shift. As you approach the 7,400 RPM redline, the shift indicator turns yellow and emits audible feedback to let you know you've got a fraction of a second window to hit the optimal shift point. This display works whether you select the 6-speed manual transmission or the 6-speed automatic with paddle shifters.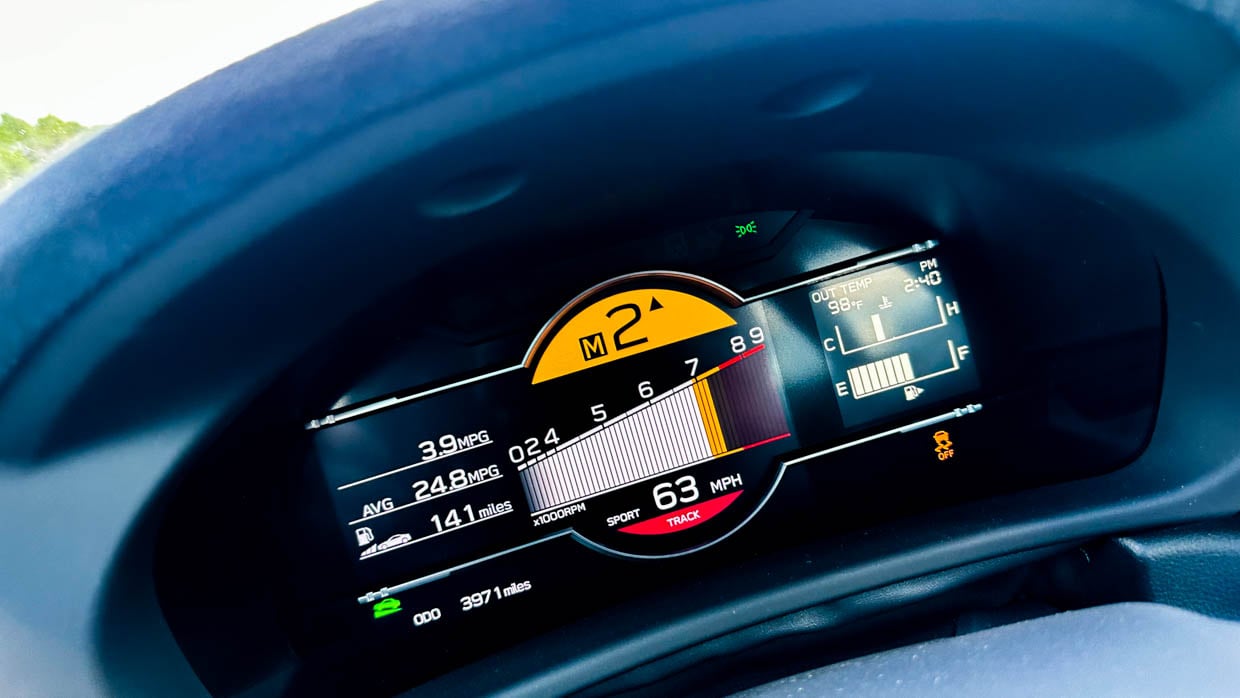 I Want My Cat-Back
While the GR86 doesn't come from the factory with an ear-rattling exhaust, its dual cat-back exhaust system does serve its purpose well. It's engineered for optimal airflow, maximizing engine performance, and looking good with those wide chrome tips.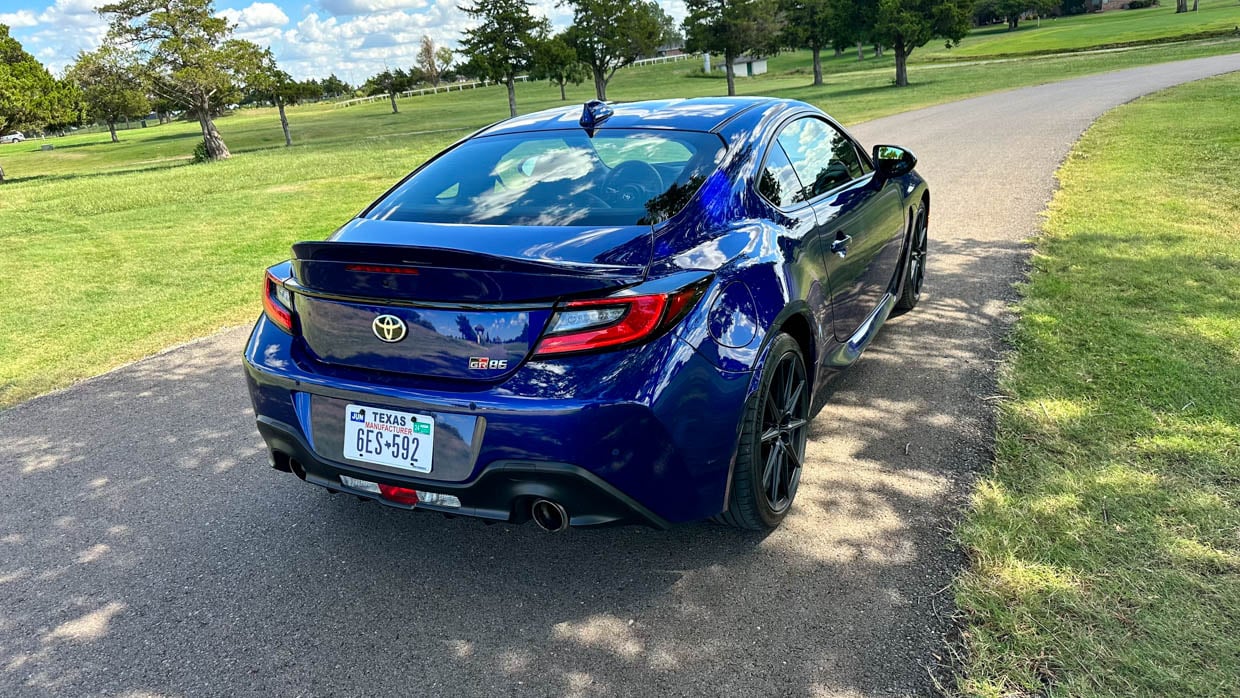 Track-ready Talents
Unlike some cars which don't let you turn off vehicle stability control at the track, you can turn those nannies off entirely on the GR86 - so you can be 100% in control of the car as you power through corners and test the grip of the tires. And for fun on the street, there's an excellent Sport mode, which tweaks the throttle mapping and steering weight to improve acceleration and driver engagement.
Interior Intentions
Inside the GR86, you'll find great, body-hugging sport seats with thick side bolsters and a microsuede surface to keep you from sliding around when cornering aggressively. The dashboard design is both purposeful and sporty, with accents like aviation-inspired round air vents, a stitched leather steering wheel, and aluminum pedals. The materials have an upscale, quality feel for a relatively inexpensive vehicle. The factory audio system sounds great, too, with impressive volume and dynamics. The only thing we'd change is to make the GR86 a 2-seater hatchback instead of a 2+2 with a trunk. While you can flip the back seat down to access the trunk, it's not a viable seating area for passengers. Plus, we've always questioned the wisdom that insurance rates are lower if your sports car has a back seat.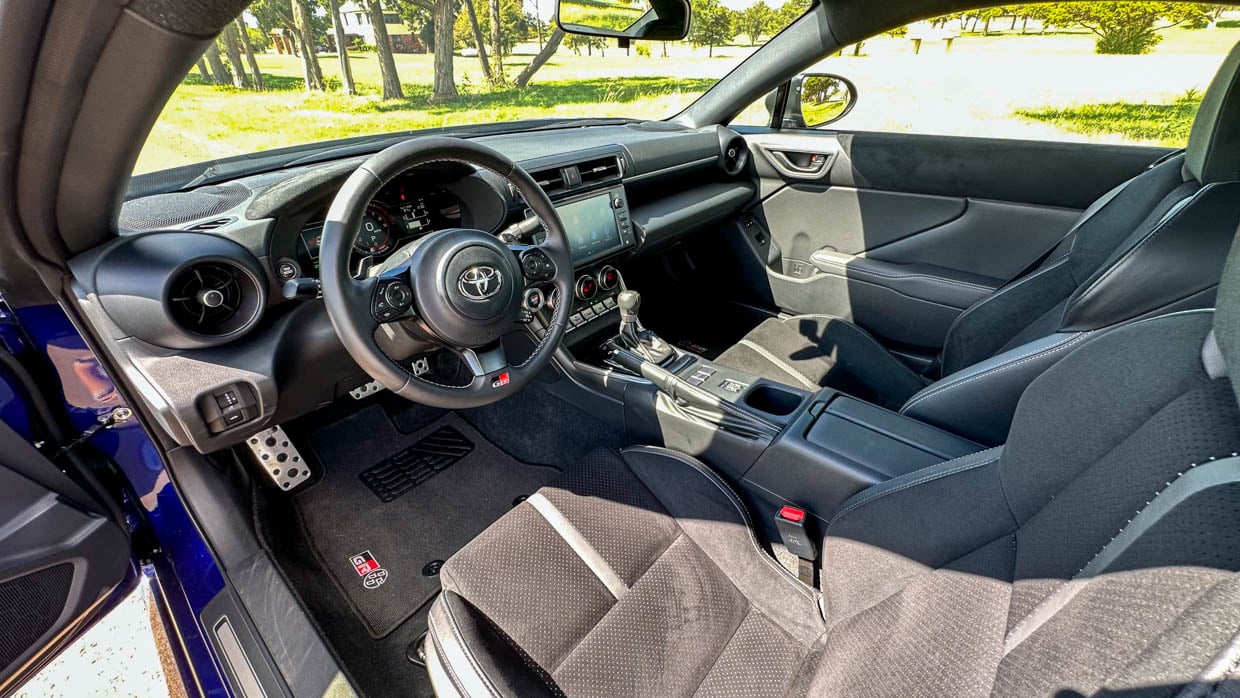 The GR86 is Simply GR8
Throughout its evolution as the Scion FR-S, the Toyota 86, and its Subaru BR-Z counterparts, we've always enjoyed the handling characteristics of this every-person's sports car. But in its latest incarnation, the GR86 is now a truly great car. Between its generous styling upgrades, dramatically better engine, and dialed-in chassis and suspension, the GR86 is the kind of car we simply love. Its price point makes sports cars accessible to a larger audience, and it's a fantastically fun car to drive even at relatively slow speeds. It's a compelling reminder that performance isn't just about engine output in these times when you can buy a Camry with 301 horsepower