Why We Love the Toyota Supra
2020 | toyota | toyota supra | May 11, 2020
We've driven the 2020 GR Supra a couple of times now, and after spending a full week with the car, we've nailed down of our favorite things about driving the 2-seater. From its potent engine, to its agile handling, to its tech, there's a whole lot to love about this modern sports coupe, born out of a collab between Toyota and BMW.
The Supra's 3.0-liter turbocharged inline-6 engine is sublime. It cranks out 335 horsepower and 365 lb-ft of torque, and the power comes on fast and furious thanks to a quick-shifting 8-speed automatic transmission that seems to be a mindreader whether accelerating from a stop at a traffic light, passing on the highway, or heading through and out of a tight corner on a racetrack. If that's not enough, 2021 Supra 3.0 buyers will get a big boost to 382 horses and 368 lb-ft. of torque. We're looking forward to testing out Toyota's 200 lb. lighter, 2.0-liter turbo 4 version as well.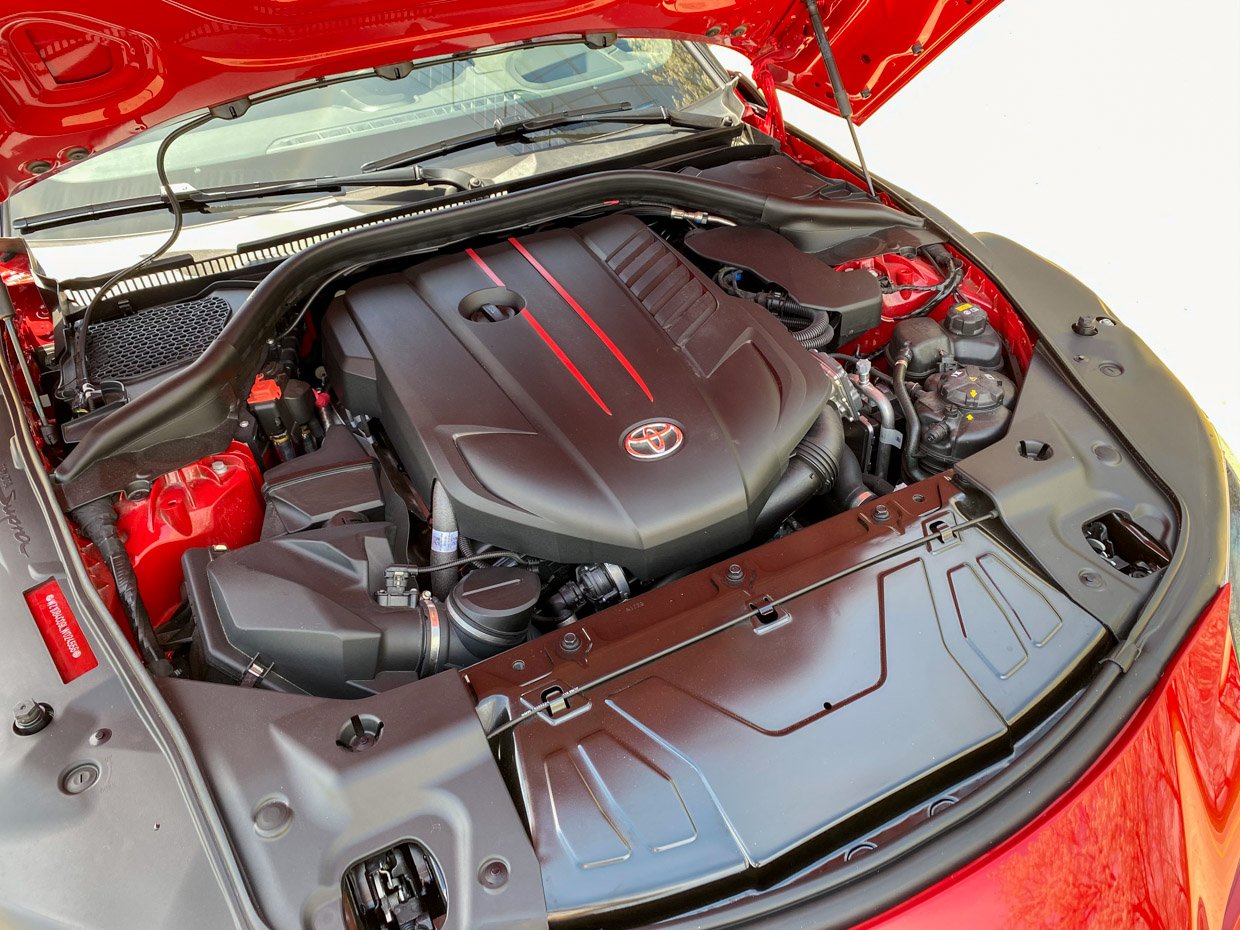 Toyota's engineers did a great job with the Supra 3.0's exhaust. Its dual, stainless-tipped exhaust offers up a great burble, with some especially satisfying snaps and snarls as you accelerate through the lower gears. Since it's an active exhaust system, it can also be quieted for everyday driving when in Normal drive mode.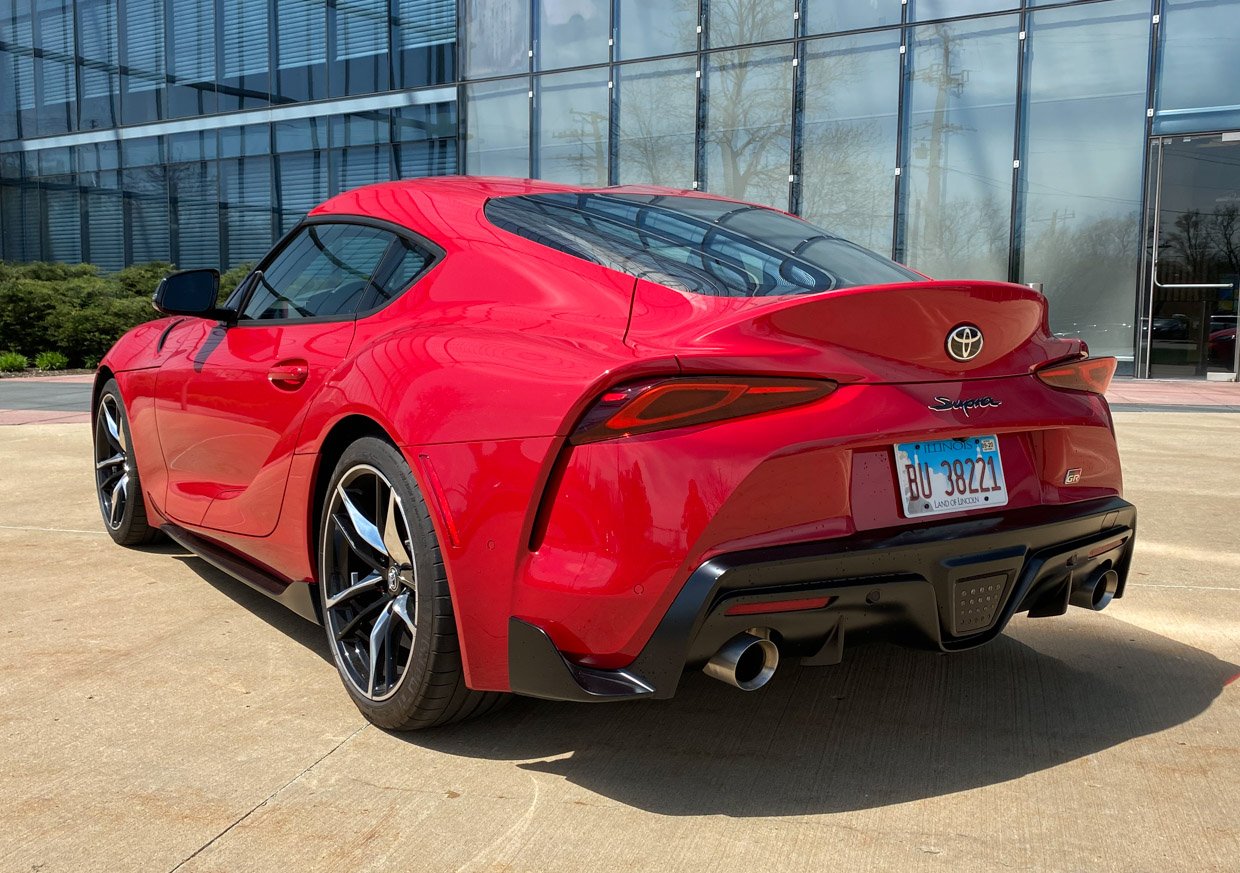 The customizable drive modes in the Supra really tighten things up when you max out the sport settings. The engine revs to the redline before shifting under hard acceleration, the adaptive dampers firm up, the already sharp steering feels even more direct, and the exhaust note, well that just sings.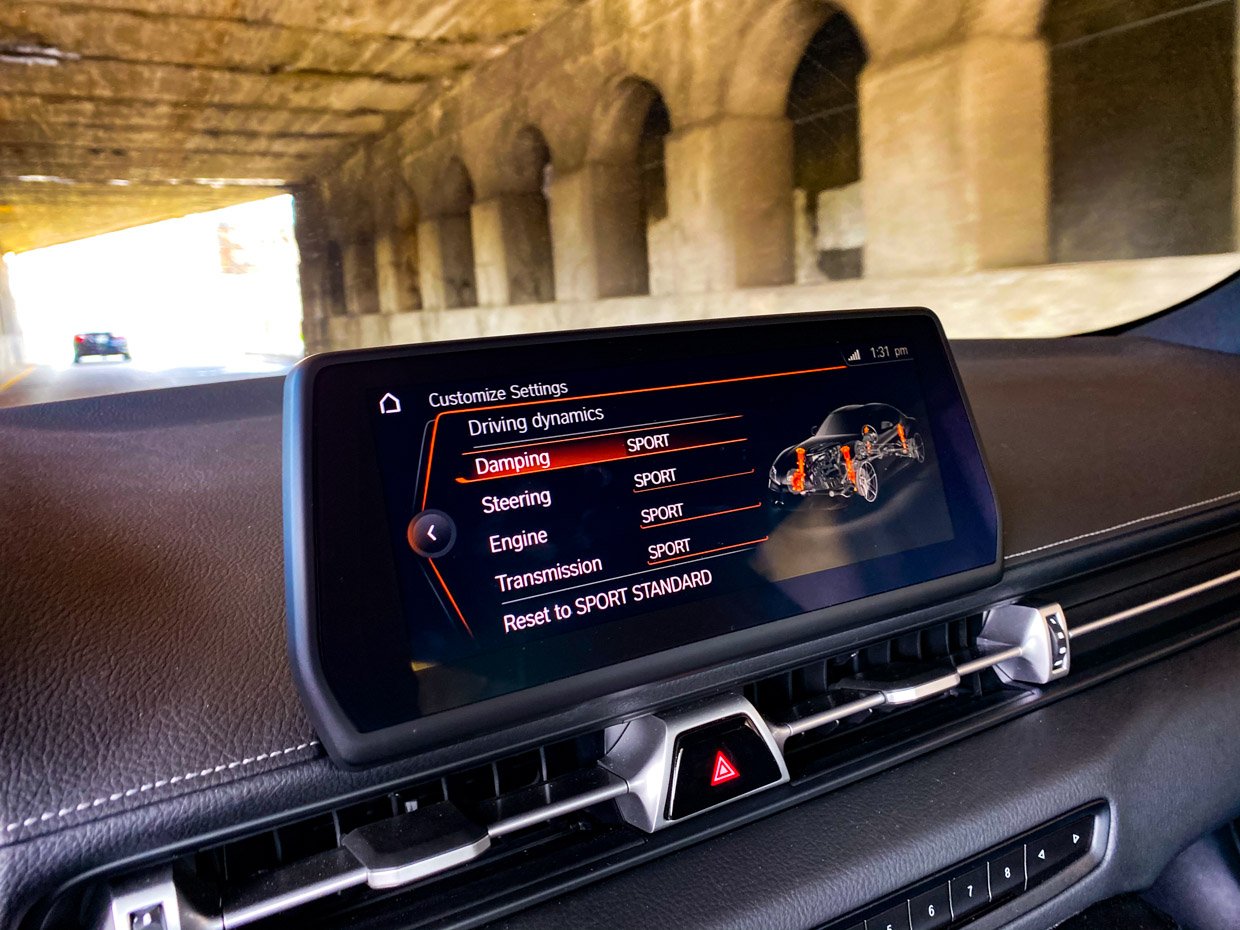 With a 0-to-60 time of 4.1 seconds, the Supra 3.0 is damn quick in a straight line, but it really shines in the corners. Thanks to its stiff chassis and performance-tuned suspension, weight transfer coming into and out of corners is predictable, so you can push the Supra harder into the bends than you might expect. Plus, its electric limited-slip differential helps distribute torque between the rear wheels for even sharper corner carving. Flip off the traction control, and the Supra will powerslide with the best of them.
The big Brembo brakes offer up excellent stopping too, with 4-piston 13.7" rotors up front, and 13" rotors in back, both of the ventilated variety for optimal cooling. In everyday driving, these brakes are reassuring without being jerky, and never faded on us in our experience when we had it on track last year.
Thanks to its BMW roots, the Supra has the distinction of being the only Toyota to offer wireless Apple CarPlay to date. Combined with a smartly-designed phone holder with wireless Qi charging, you'll never need a cable to use your iPhone in this car. The real carbon fiber in the center console is a nice touch too.
We got more thumbs ups and fanboy affirmations during our week with the Supra than with any other car in the past year. Our favorite angle is its side profile. From this perspective, the car flaunts its curves best - especially its wide rear fenders and its unconventional short-wheelbase proportions. As you move to the front or rear, its sporty drag-reducing double-bubble roof becomes evident.
We also love that Toyota is supporting the tuner community with the Supra. With thoughtful touches like pre-drilled holes for adding underhood bracing, removable punch-outs for increased cooling, reinforcements for mounting a larger rear wing, and other modding abiliites, Toyota wants owners to push the limits of their cars. When the less expensive, 2.0-liter version comes out for 2021, there will be even more room to spare under the hood, so the tuning potential could be even greater for that engine.
The GR Supra is wonderfully accessible sports car, not just in terms of price-performance ratio, but in terms of driveability. Assuming you don't have too much cargo, it's also a surprisingly comfortable daily driver. It's incredibly easy to have fun driving this car, and every time we get behind the wheel, we like the Supra even more.