Driven: 2022 Kia EV6 GT-Line
evs | kia | kia ev6 | reviews | August 15, 2022
Words and Images by Paul Strauss
We've seen the future, and it's Kia's tech-savvy electric cross-hatch, the EV6. With a head-turning design, cutting-edge drivetrain, fast charging, and good driving range, the EV6 is one of the best cars we've driven this year. We spent a week living with the sport-styled GT-Line RWD model, slathered in a sweet Steel Matte Grey paint.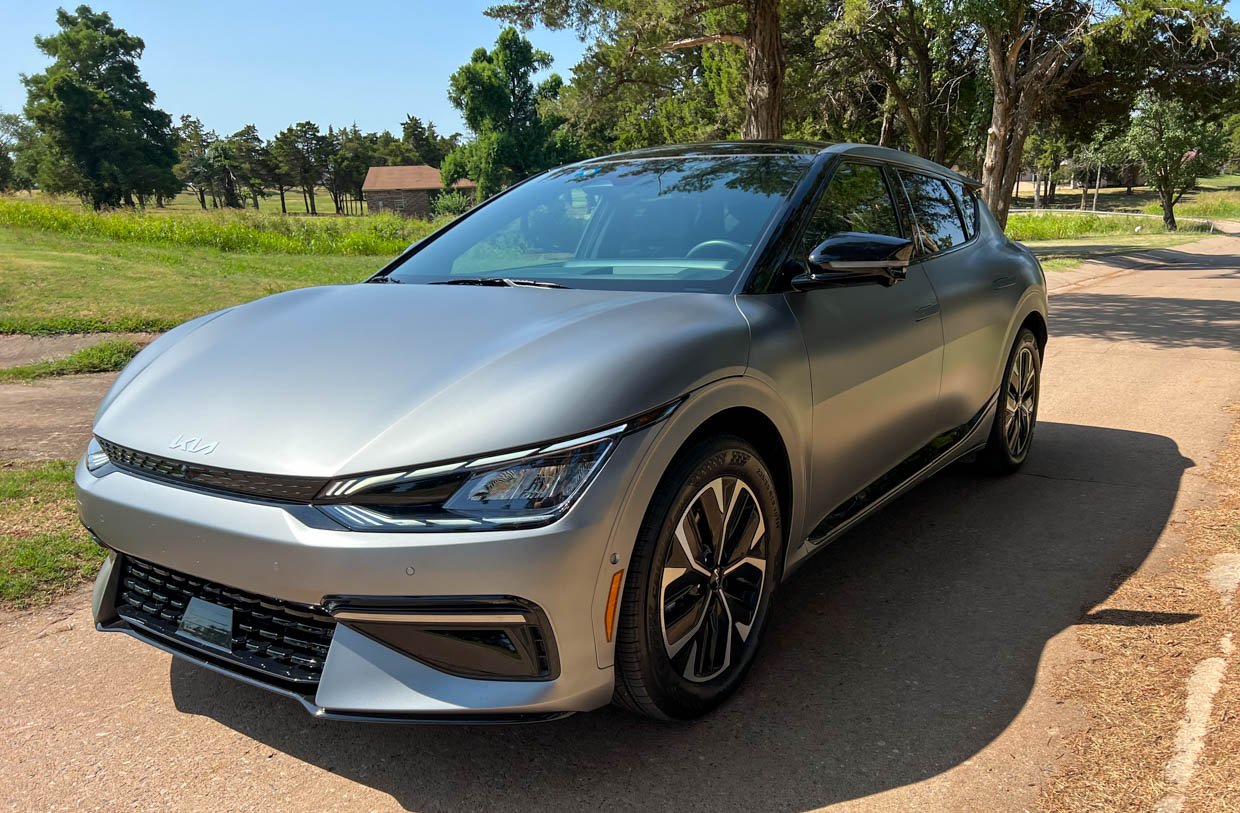 Measuring 184.8" long but just 60.8" high, the EV6 rides much lower than a crossover but can still transport five adults and a reasonable amount of cargo. Its sleek and aerodynamic body looks more like a concept car than a production vehicle. The GT-Line's large 19" alloy wheels and crisp fender flares give the EV6 an athletic look. Gloss black accents provide contrast and highlight the body's streamlined shape. Flush-folding door handles add to the futuristic flair while also improving airflow across the body.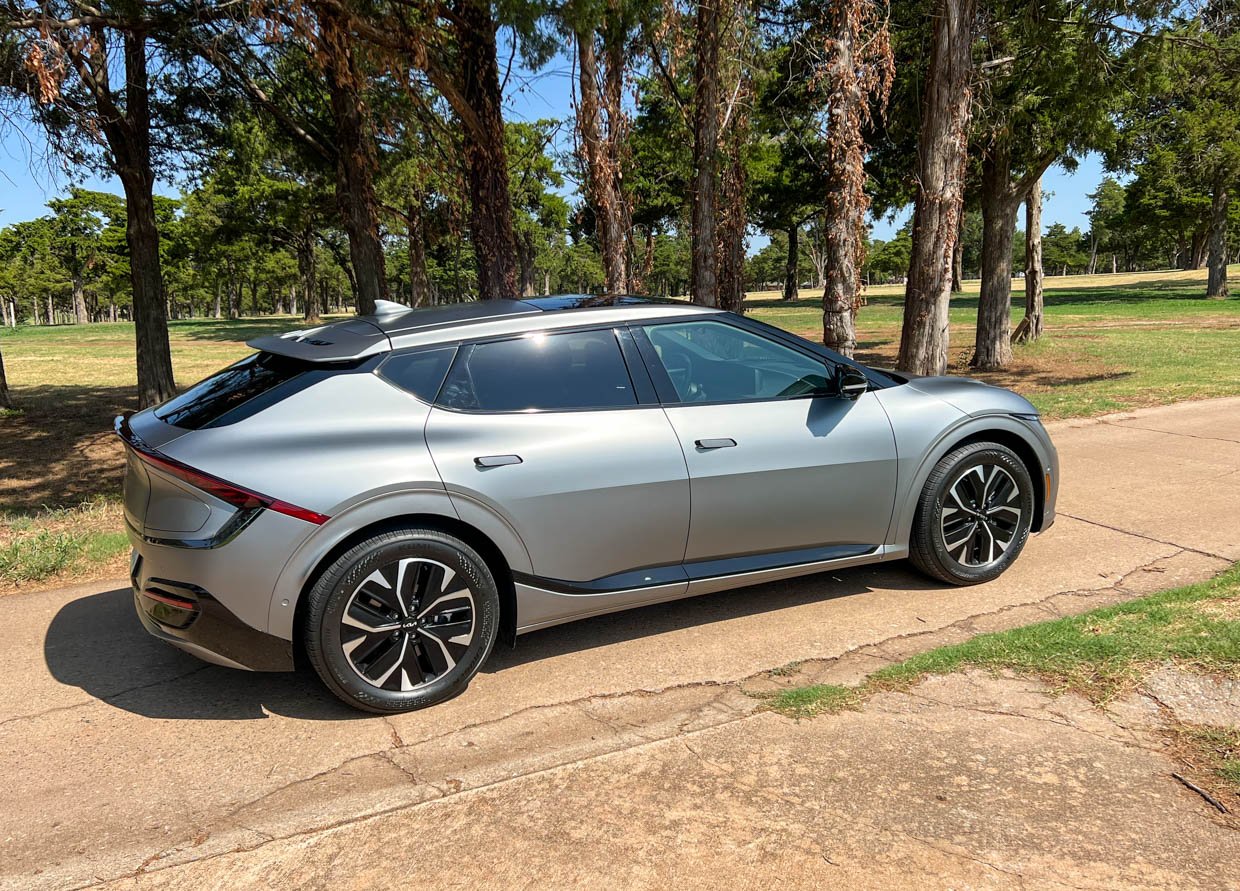 The EV6 is one of those vehicles that looks great from every angle. It's got a wide stance, and its front end has a particularly aggressive and purposeful look. Multi-reflector LED headlights are wrapped with sharp accent lights which point inward towards a skinny black strip that separates the hood from the bumper. By splitting the lower part of the grille, Kia's designers avoided the giant grille-itis common on other vehicles while still making a bold and distinctive statement. One of our favorite exterior details is the faceted reflectors on the car's rear. In the sunlight, they look like giant sparkling diamonds. Above that are LED taillights that continue across the rear deck spoiler.
The EV6 comes in five configurations: Light (RWD), Wind (RWD or AWD), and GT-Line (RWD or AWD). A high-performance EV6 GT model is also coming for the 2023 model year. Power ranges from 167 horsepower and 258 lb-ft. of torque for the Light to 320 horsepower and 445 lb-ft. of torque on the Wind and GT-Line AWD models. The GT-Line RWD we drove produces 225 horsepower and 258 lb-ft. of torque.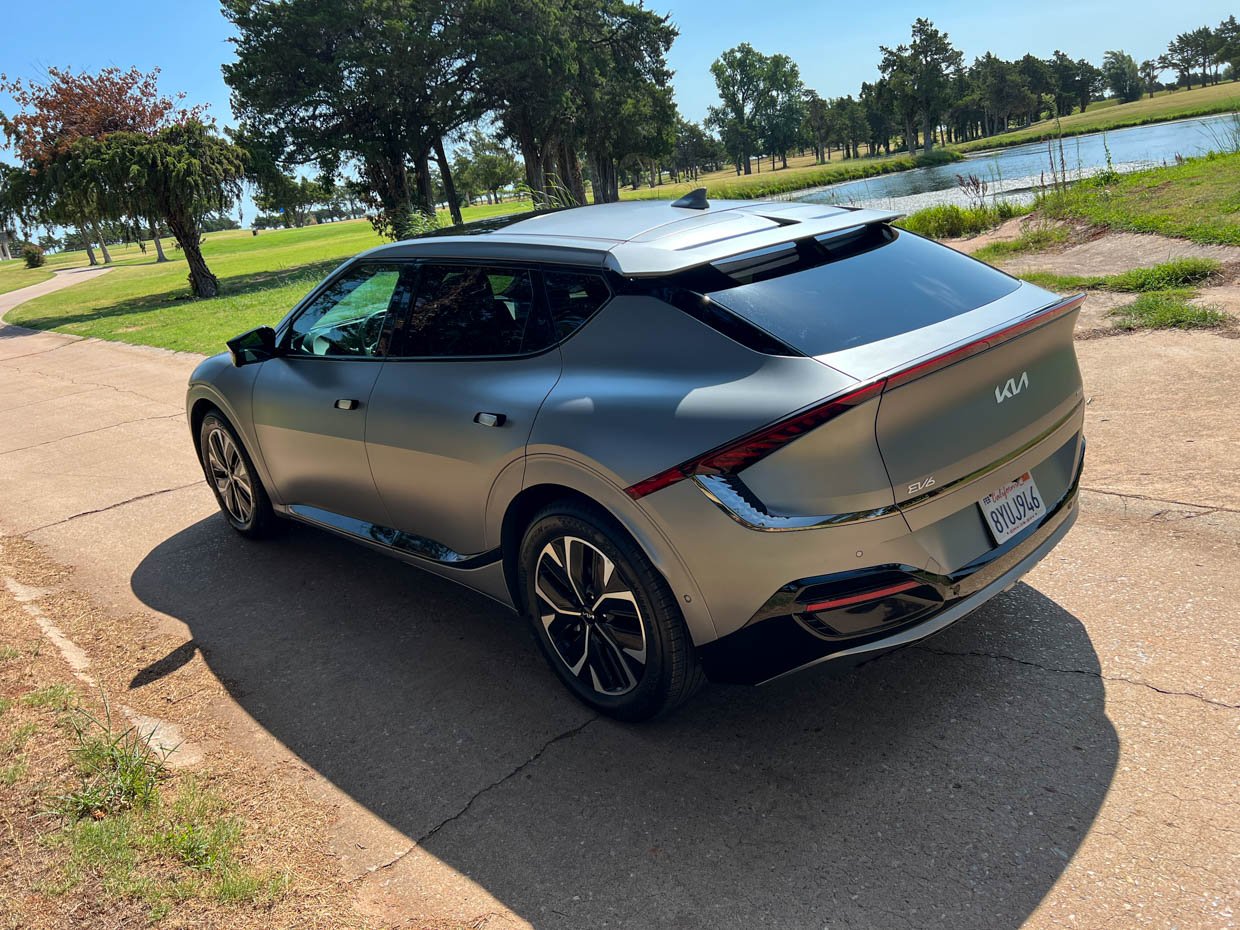 A 77.4 kWh battery pack comes standard on all models except the entry-level EV6 Light, which has a 58 kWh power cell. EPA-estimated driving range goes from 232 miles for the EV6 Light to 310 miles for the Wind and GT-Line RWD, and 274 miles for the AWD models. Unlike some EVs on the market, the EV6 does not have a front storage area (aka "frunk") and instead uses that space to house system components under a faux "engine" cover.
The EV6's charging port hides behind an electromechanical door at its right rear. The car rides on the E-GMP platform that underpins the Hyundai Ionic 5 and Genesis GV60. Its 800-volt architecture outperforms many other EVs in terms of charging performance - with a quoted charging time of just 18 minutes to go from 0% to 80% on a 350-kilowatt DC charging station. The fastest DC charging station we could find in our neck of the woods was a 100-kilowatt unit, and the EV6 gulped down about 90% of that potential as we juiced it up. We refilled from 25% to 80% in about 25 minutes with that charger, which is still quick compared to our past experience with EVs.
Since our car was the rear-wheel drive model, we didn't experience the 5.1 second 0-to-60 times of the dual-motor EV6. However, the instant and ample torque from the rear motor produces satisfying launches and good passing power. Four levels of regenerative braking are available via paddle shifters, including a single-pedal driving mode called "i-Pedal." As an EV, it's whisper quiet other than a slight whir sound, but if you prefer more feedback, an adjustable sound enhancement system can add audible feedback through the speakers. The amount of feedback is tunable, and you can choose from a couple of different sound profiles. Thanks to a low center of gravity, the EV6 handles better than a typical crossover, and its electric power steering feels reasonably weighty. MacPherson struts up front, and an independent multi-link suspension in the back work together to provide a stable and smooth ride.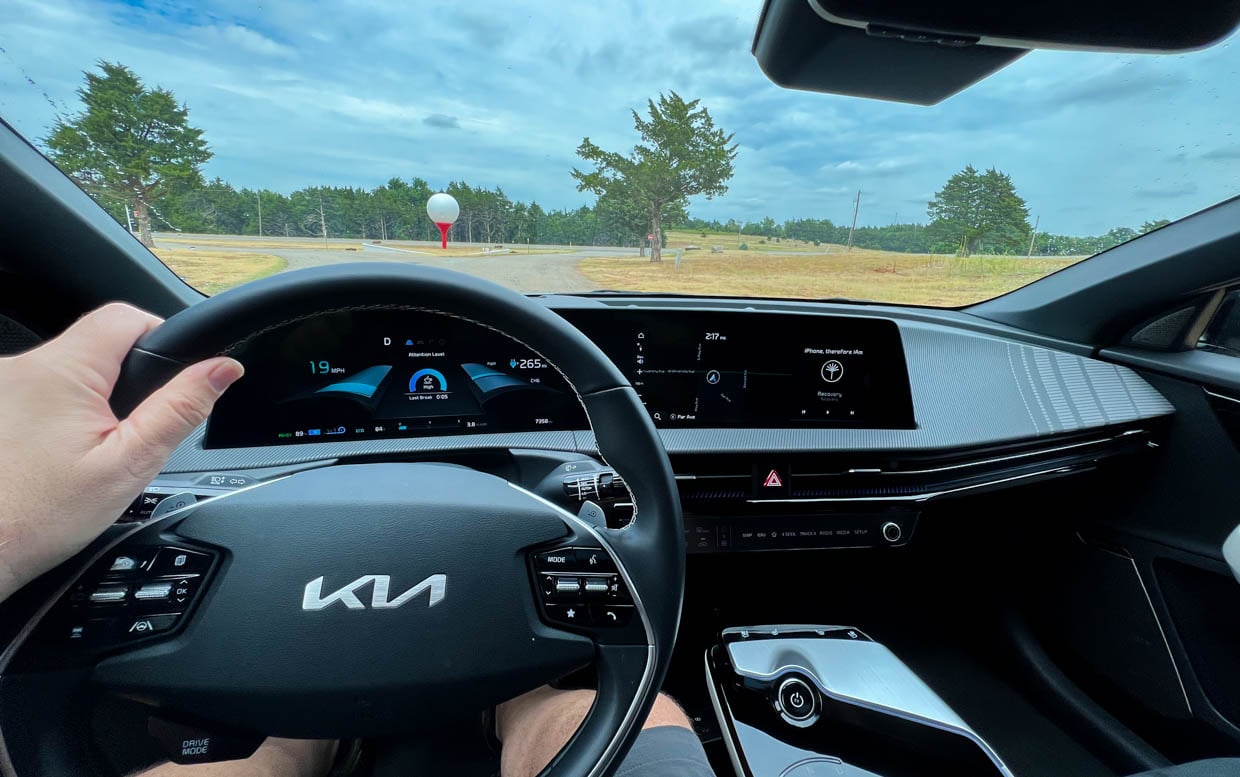 Bring the EV screen up on the center display, and you can see how much driving range you have left, the mileage and direction to the closest EV charging station, and how much further you could go if you turned off the climate system. Tapping on the listed EV charging station brings up a list of nearby stations, which can be used to launch the navigation system for directions.
The interior design of the EV6 has a clean and modern look that's not fussy or overstyled. The dashboard and center armrest are embellished with a dynamic diagonal line pattern that stands out from the crowd. We dig the flat-bottomed steering wheel, a feature generally reserved for performance vehicles. The GT-Line has premium seating materials that combine vegan leather and suede and offer body-hugging side bolsters. Both heating and ventilation keep those seats comfortable no matter the temperature. A pair of side-by-side 12.3" digital screens top off the dashboard, providing access to driving instrumentation, media, navigation, and vehicle controls. Both displays are set into a subtly-curved bezel and do a great job minimizing glare. The touchscreen also does better than most at resisting fingerprints. The 14-speaker Meridian premium audio system sounds excellent and has an enveloping surround sound capability. While there is a wireless smartphone charging dock, we were surprised to find that Android Auto and Apple CarPlay do not support wireless connections.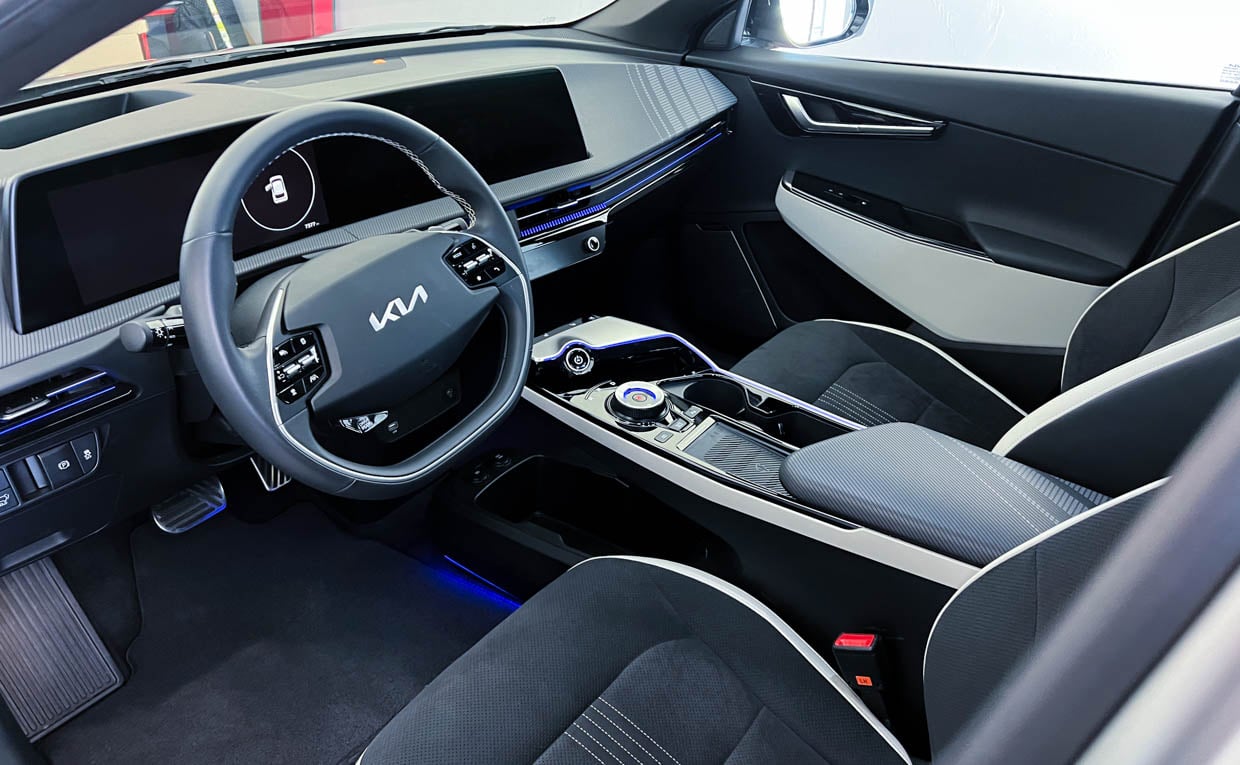 The legroom in the second row of the EV6 is quite good and comfortable enough for adults. The headroom is excellent back there. Behind the second row, you'll find 24.4 cubic feet of storage, plenty for groceries, luggage, hauling kids' athletic gear, or the like. And when you need more space, the back row folds down, providing 50.2 cubic feet of cargo volume.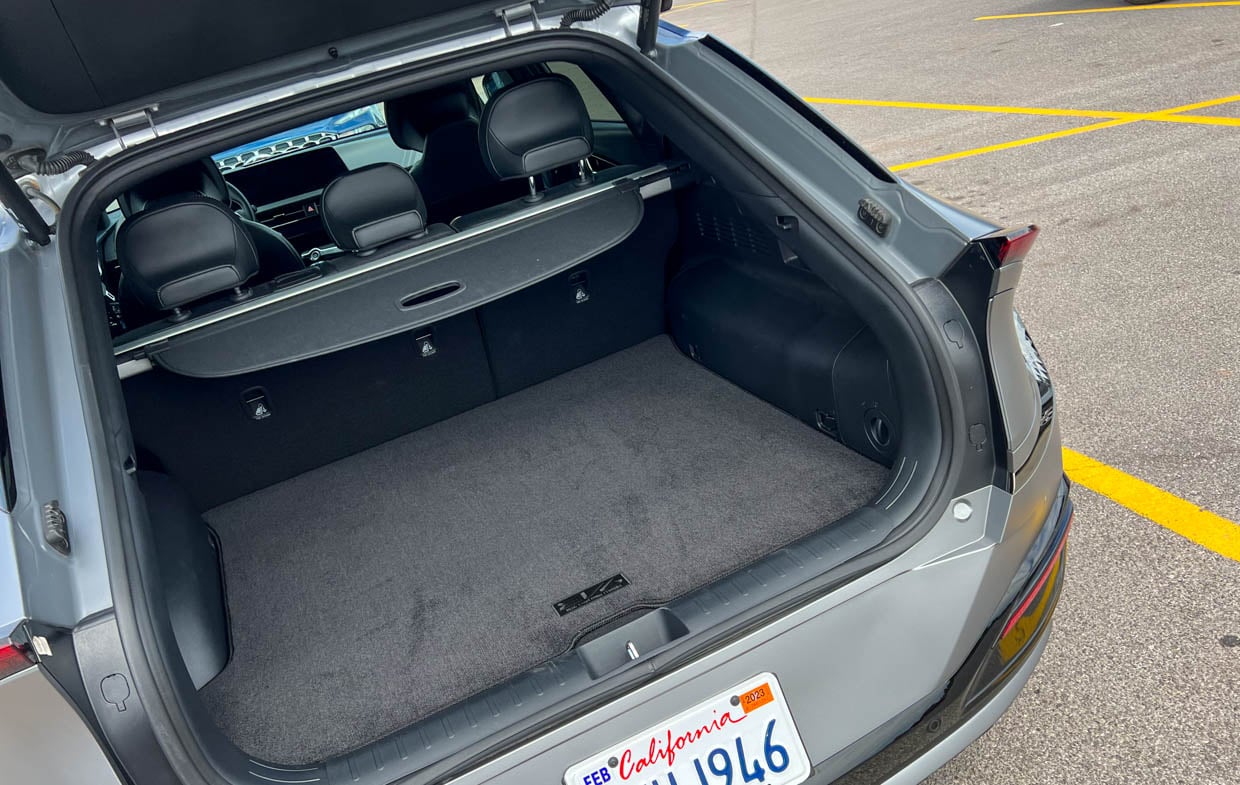 There's a laundry list of technology on exhibit here. Safety and convenience tech includes video cameras that show what's in your blind spot, a crisp surround view monitor that helps you park in tight parking spaces, and an augmented reality head-up display that floats contextual information in your field of view. There's also blind-spot detection, automatic emergency braking, rear cross-traffic alert, parking collision avoidance assist, and even a feature that alerts you and can prevent you from opening your door into traffic when parallel parked.
The EV6 takes adaptive cruise control to the next level with Highway Driving Assist 2. This system can keep your vehicle centered in the lane while maintaining a safe distance from the car in front of you. The lane centering is especially good and doesn't ping-pong between the lines like some competing technology. It's not a hands-free system but can definitely decrease driver fatigue when on a long road trip.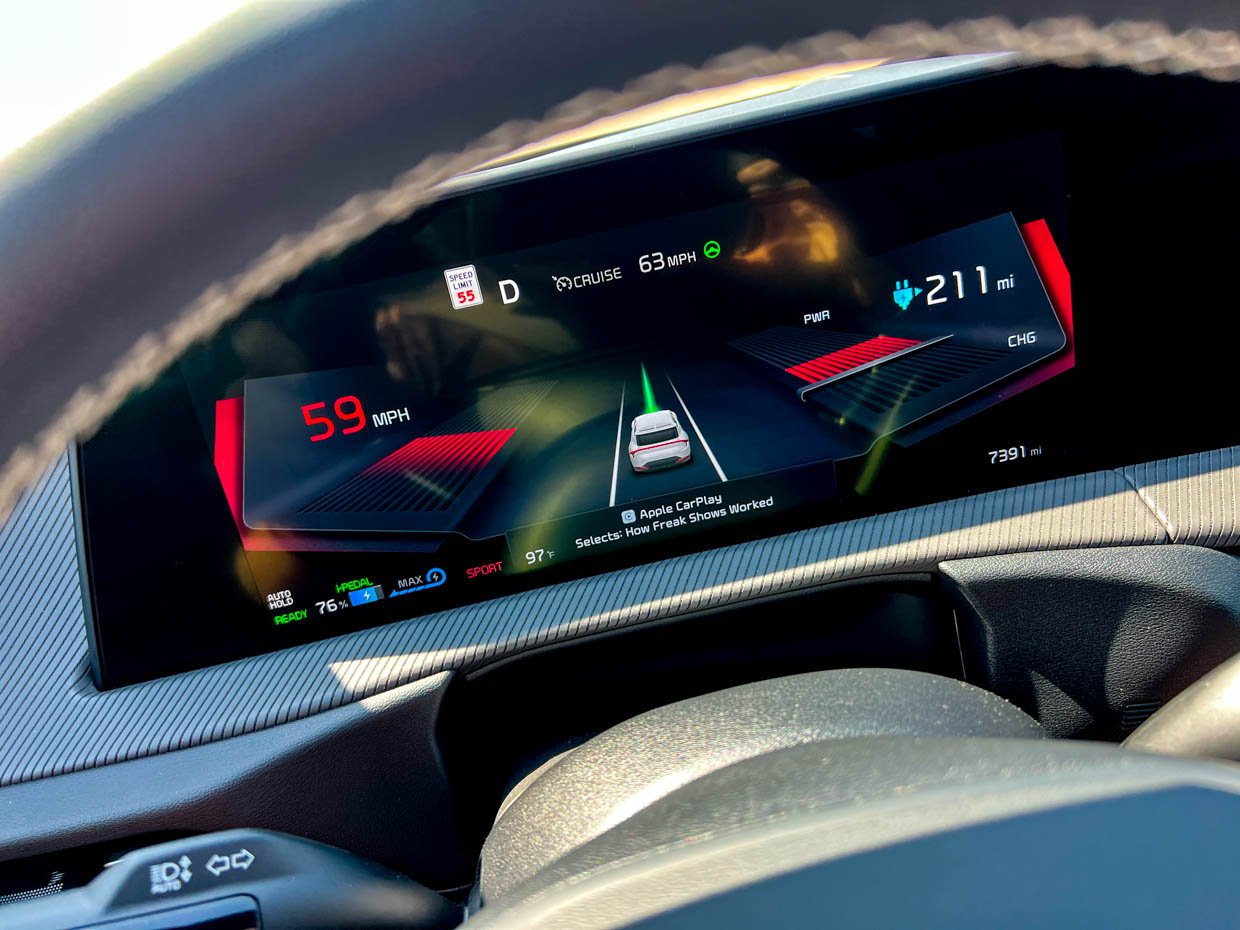 Kia knocked it out of the park with the EV6. The battery-electric vehicle has a captivating design inside and out, a class-leading electrical architecture, fast charging times, ample driving range, and heaps of modern technology. On top of all that, you get Kia's 10-year, 100,000-mile warranty on the battery and powertrain. The EV6 GT-Line starts at $51,700 for the RWD model and $56,400 for the AWD model. We would definitely consider buying an EV6 right now, though we're tempted to wait for the upcoming EV6 GT, with its 576 horsepower all-wheel drivetrain, performance suspension and brakes, and 3.5-second 0-to-60 time. Though that model is sure to cost quite a bit more money.