Driven: 2022 Grand Wagoneer Obsidian
jeep | reviews | wagoneer | February 14, 2022
Words and Images by Paul Strauss
One of the first vehicles from Jeep's luxury Wagoneer brand is impressive, and the tricked-out Obsidian trim packs even more luxury atop its substance, power, and tech. With seating for 7 or 8 adults, high-end materials, and more screens than we've seen in any vehicle, the Grand Wagoneer is basically a living room on wheels.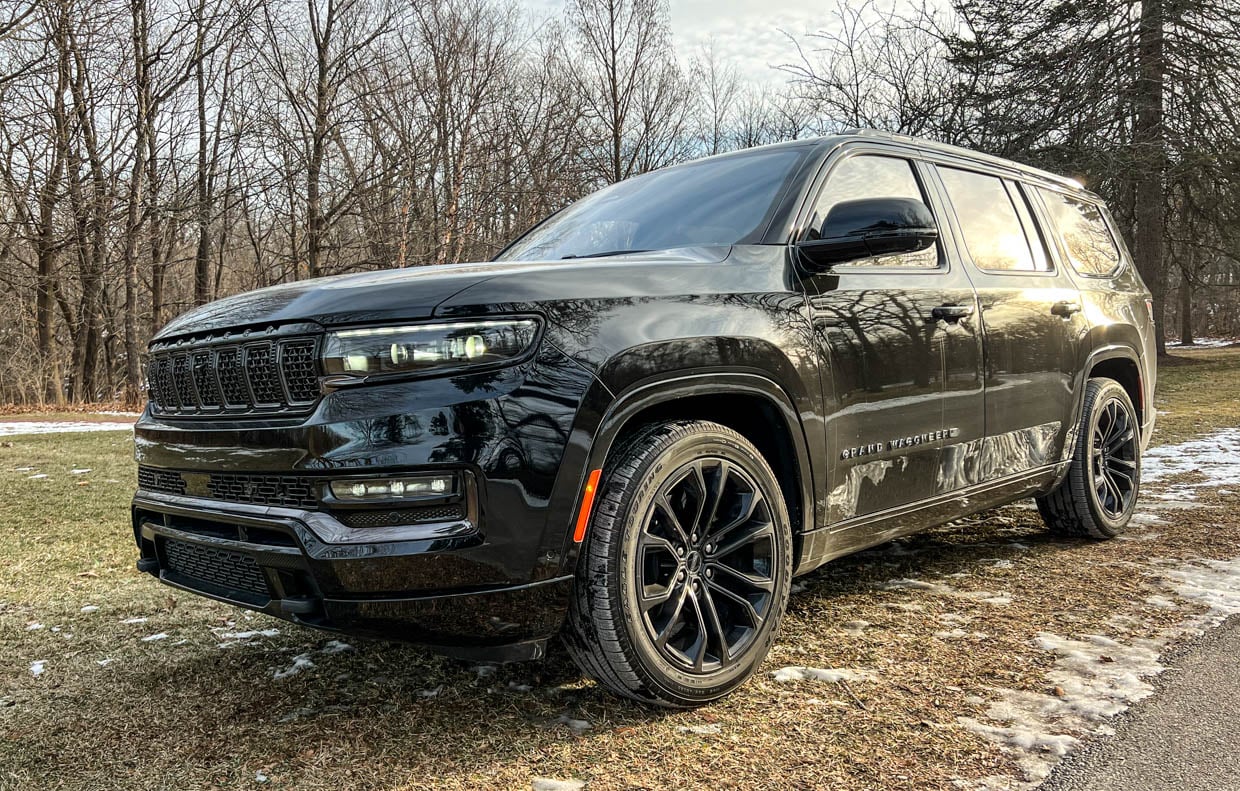 Measuring in at a garage-busting 214.7" long, 83.6" wide, and 75.6" high, the Grand Wagoneer is a full-size SUV in every sense of the word. It weighs 6400 pounds and can tow up to 9850 pounds. It's as boxy as they come and looks like some kind of Secret Service vehicle done up in Diamond Black Crystal pearlcoat paint, with all black trim and riding on enormous black 22" rims.
Under the hood is the same 6.4-liter Hemi V8 found in vehicles like the Dodge Charger and Durango, delivering a stout 471 horsepower and 455 lb-ft. of torque in this application. Mated with the consistently reliable ZF 8HP75 8-speed transmission, it shifts smoothly and predictably. As expected, fuel economy is pretty awful, with an EPA city rating of 13 mpg, an 18 mpg highway rating, and a combined rating of 15 mpg. Fortunately, it has a 26.5-gallon fuel tank, so you can still achieve about 400 miles between fill-ups. Despite the immense power plant, the Grand Wagoneer does a good job insulating the cabin from all that grunt and offers a quiet ride. Ride quality is smooth, and the suspension does a great job soaking up bumps and potholes. The steering doesn't provide much feedback from the road, but it handles better than some other full-size SUVs we've driven.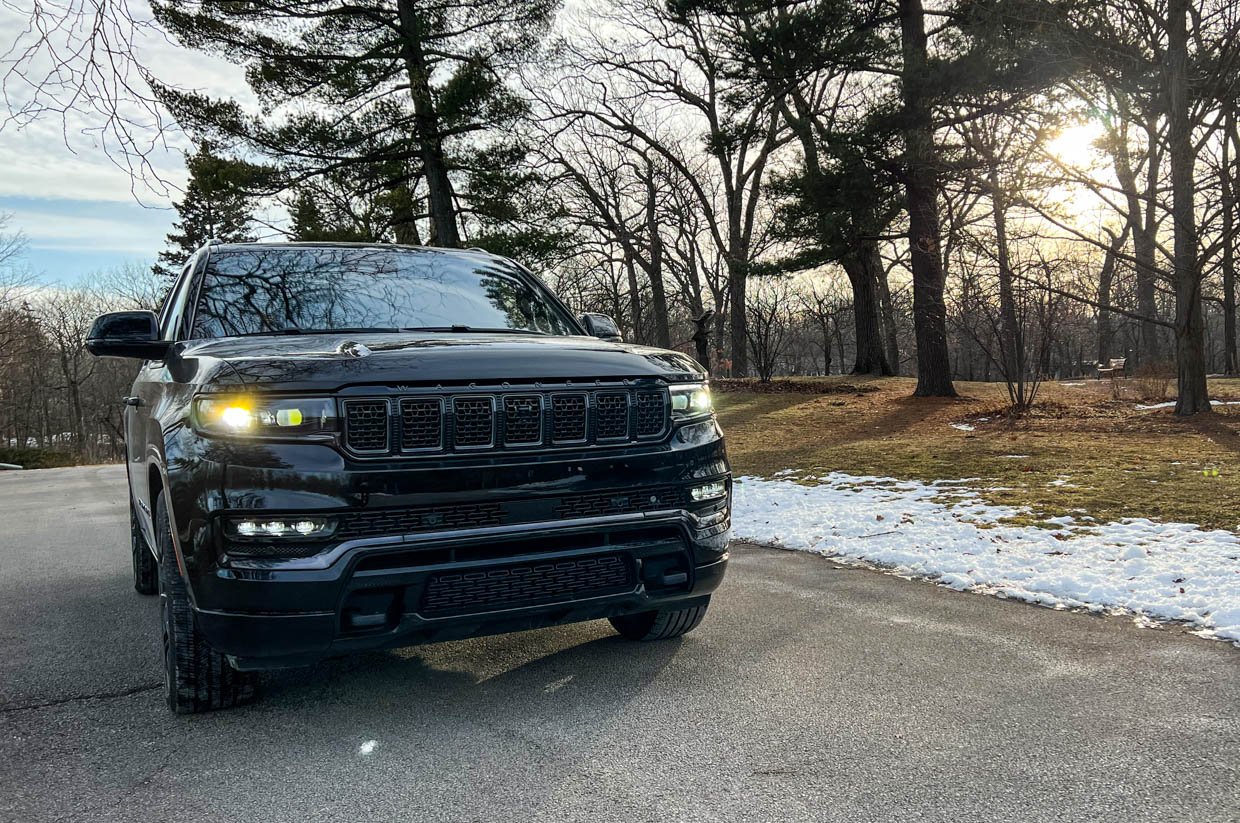 The adjustable air suspension system automatically lowers the entire cabin for entry while power side steps deploy to make the task even easier. Those cleverly conceal themselves as part of the lower body when not in use. The air suspension can also lift the Grand Wagoneer by 3.6" for up to 10" of ground clearance. While we're not likely to take something with 22" sport rims and a fancy paintjob off-roading, it's nice to know that this thing is still a Jeep 4x4. It can ford up to 24" of water, and even has drive modes for rock, sand and mud, and snow.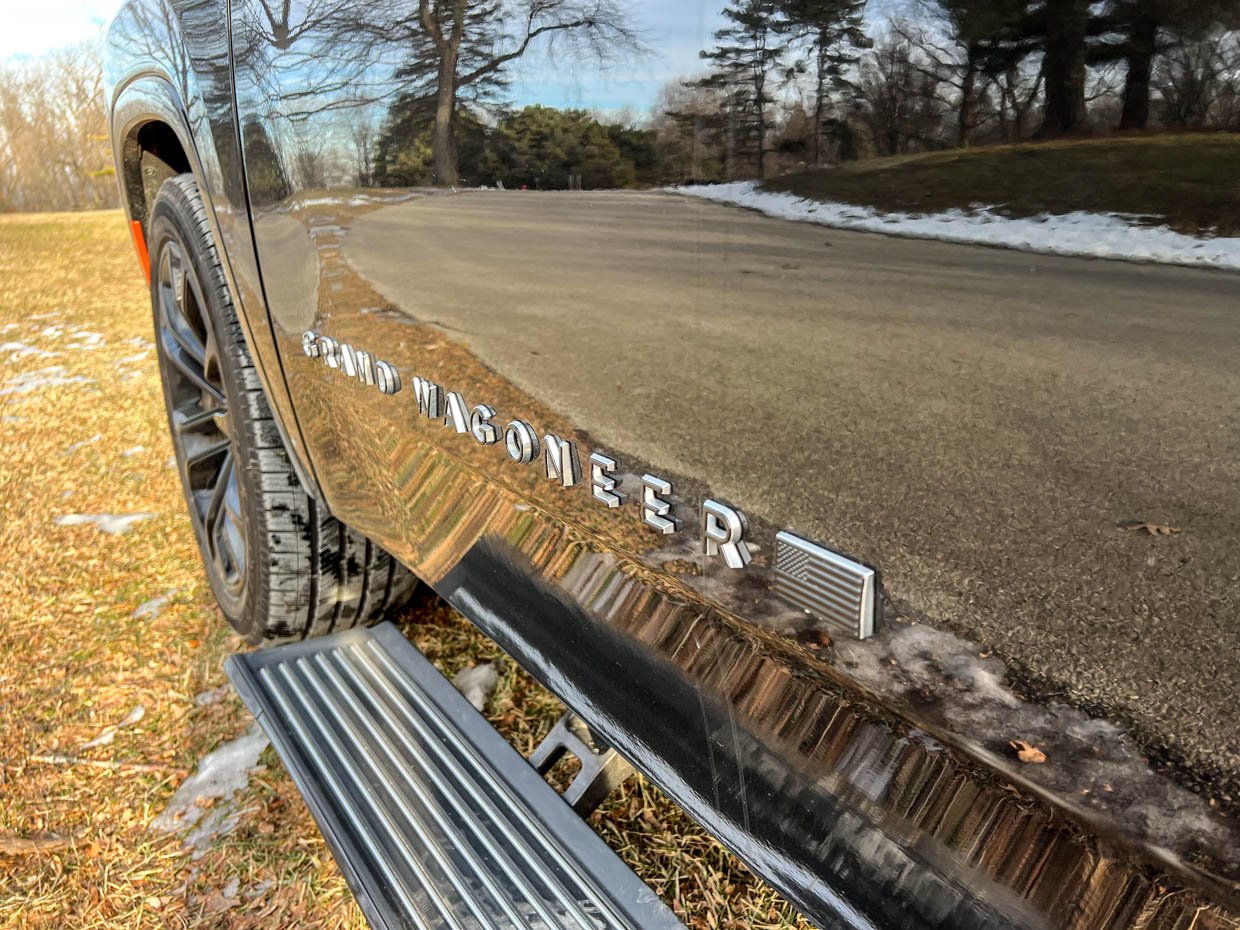 The cabin is rich and elegant throughout, with Palermo leather-trimmed seats, a smooth suede headliner, genuine metal accents, and adjustable ambient lighting. The UConnect 5 infotainment system is fast, intuitive, offers plenty of configurability, and can save individual profiles for multiple drivers. There's a total of eight screens in a fully-equipped Grand Wagoneer: a 12" digital instrument cluster, a 12" touchscreen for infotainment, a 10.25" secondary touchscreen which flips up to reveal a wireless charging pad and ports, dual 10.1" rear entertainment screens, a rear climate control display, and a digital rearview mirror. The 10.25" passenger screen can manage navigation, audio, video, rear-seat entertainment settings, and even view content. It has a polarizing filter on it so as not to distract the driver. These aren't cheap screens either - each one has a razor-sharp display with good contrast. Flip up the center armrest, and you'll find a small refrigerated compartment.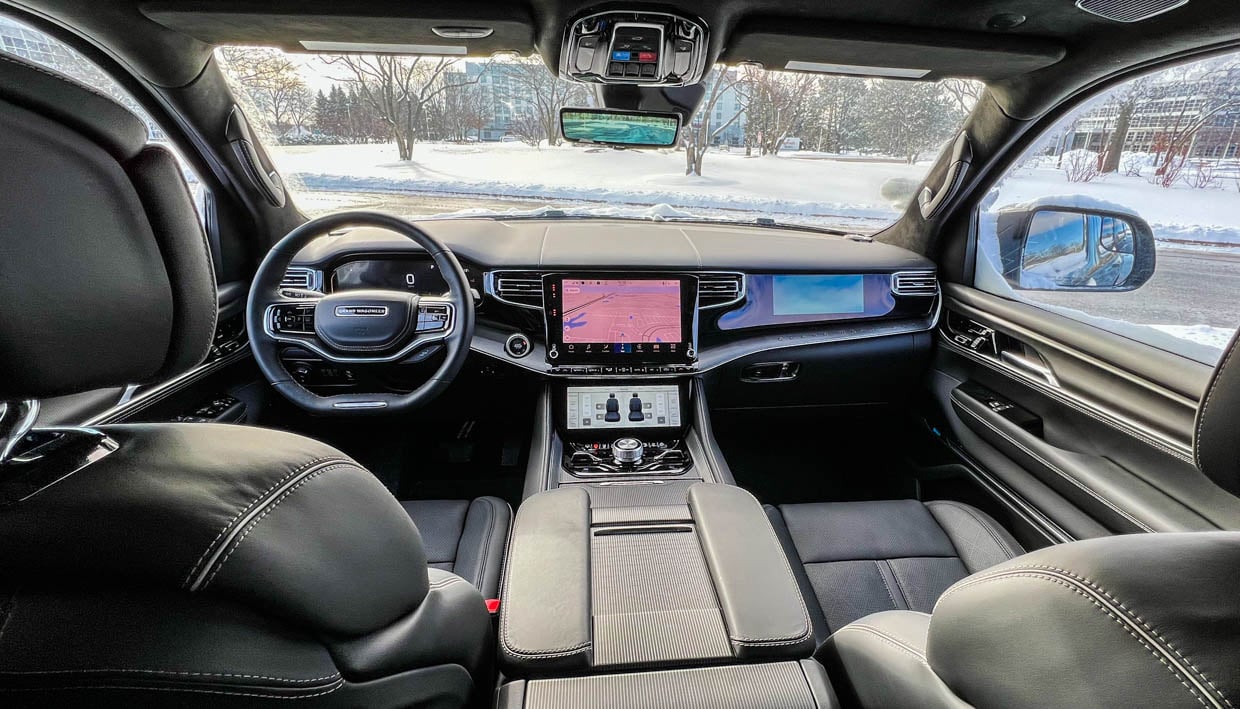 The front seats are incredibly comfortable and offer a crazy amount of settings to adjust them just perfectly for your body. And if that's not enough adjustability, the gas and brake pedals can be moved forward or backward too. Both the driver and passenger can enjoy heat and cooling in their seats, as well as a variety of massage programs for added relaxation on long road trips or while sitting in traffic.
The second-row seats are nearly as comfortable as the front seats, offering ample legroom and headroom, along with a recline feature and a power tip-and-slide feature for easy access to the third row. There's a panoramic sunroof over the first two rows, plus an extra sunroof just for the third row. A large center armrest offers an ample storage bin, cupholders, and a climate control screen. The seatback entertainment screens can each view independent content via an HDMI source or stream via Amazon Fire TV, running apps like Netflix, Prime Video, YouTube, HBO Max, and more. It can also play games from the Fire TV app store. While the third row isn't quite as spacious, it's better than most, with enough headroom for adults. Each row also has USB and USB-C charging ports.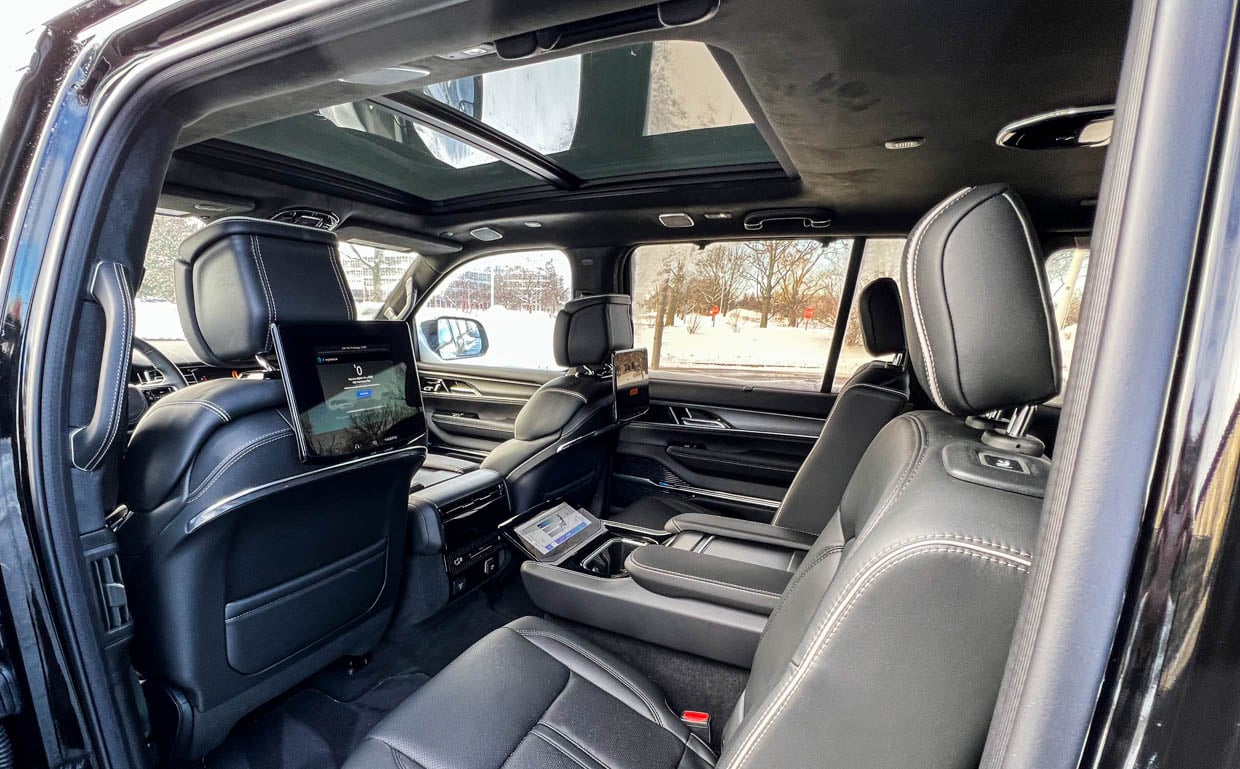 Another neat feature on display is the rear seat monitoring camera, aka "FamCam." This wide-angle overhead camera lets you see if the kids are causing problems in the second or third row and even zoom in on a specific seat by tapping on the screen. Though you still have to turn around and yell at the troublemakers. It would be perfect if they combined this with Toyota's Easy Speak driver-to-rear-seat amplifier system.
The 23-speaker McIntosh reference system offers crystal clear and voluminous sound and is right up there with the best car audio systems we've heard. It also has some really cool-looking speaker grilles, and you can even watch the iconic blue McIntosh analog VU meters dance on the infotainment screen.
There's lots of safety and convenience tech on display too. An active lane management system helps keep you centered on the highway, while the full-speed adaptive cruise control is excellent for road trips. There's also blind-spot and rear cross-traffic detection, a surround-view camera system, drowsy driver detection, forward collision warning, intersection collision assist, and side distance warning features. One of the more whiz-bang tech features is the nightvision camera which can help detect pedestrians and animals when driving on dark roads. There's also an available trailer brake control and a camera system to help you line up the hitch.
There's also cargo space for days in the Grand Wagoneer. Both the second and third rows fold completely flat via pushbutton controls, and when down, you're looking at a cavernous 94.2 cubic feet of cargo space. Even with both rows of seats in use, you get 27.5 cubic feet to carry your gear - more than the biggest car trunk your can buy today in the Volkswagen Arteon. The rear liftgate is automatic and can be activated by pushbutton or with a wag of your foot under the rear bumper.
If you have a big family or have aspirations to be a limousine driver, the Grand Wagoneer could fill the bill. It's enormous, luxurious, loaded with the latest technology, and made here in America. But with a starting price of $88,440 and a sticker of $109,025 for the loaded Obsidian model we drove, it's also quite the indulgence.