Driven: 2022 Volkswagen Jetta GLI Autobahn
2022 | cars | reviews | volkswagen | October 21, 2022
Words and Images by Paul Strauss
The 2022 Volkswagen Jetta GLI has a sharp new look compared to earlier Mk7 Jettas, but it's largely unchanged mechanically. That's not necessarily a bad thing. The GLI Autobahn combines sporty styling inside and out with a zesty turbocharged engine, premium wheels, an adaptive suspension, and other upgrades.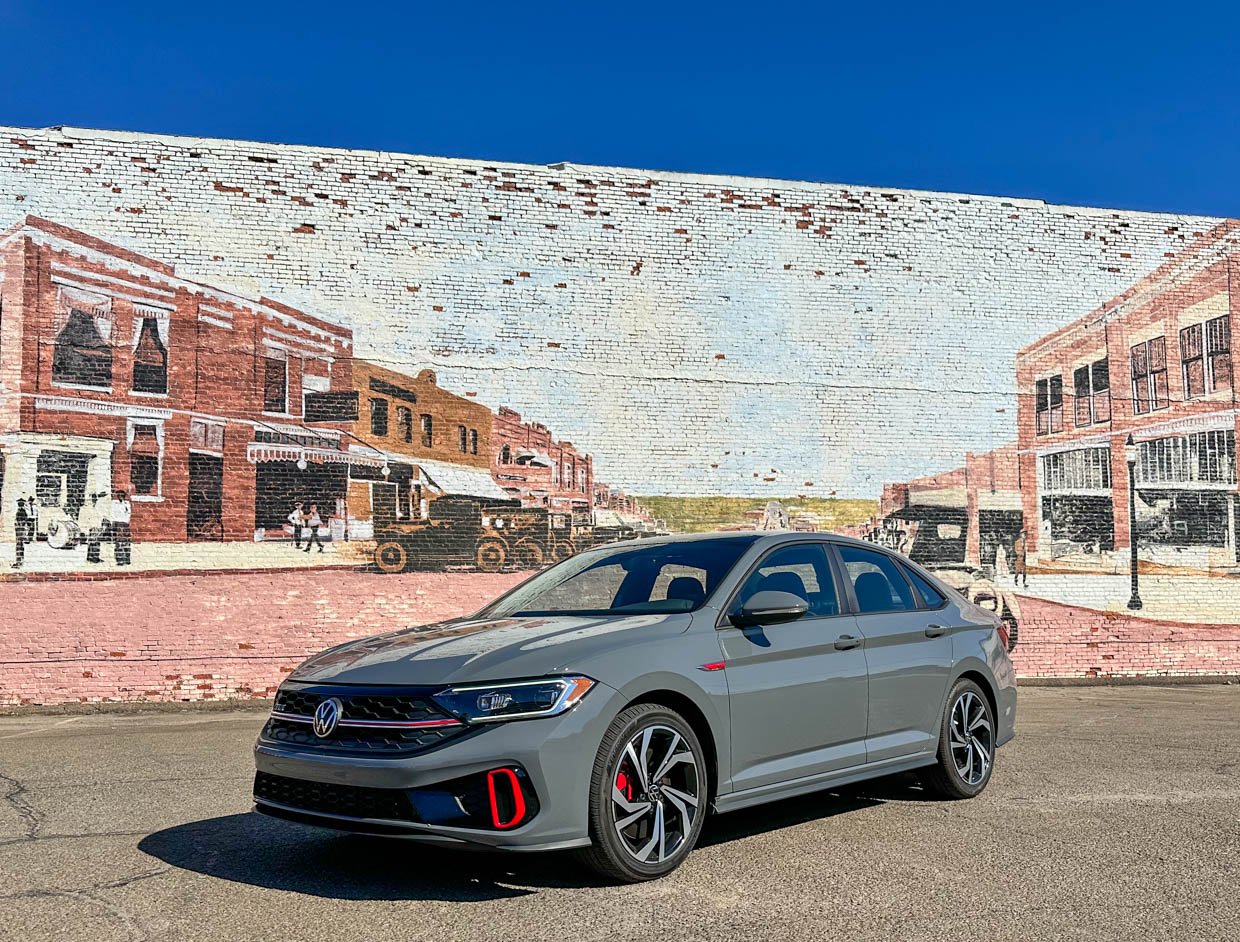 While the Jetta GLI Autobahn isn't as aggressively styled as other sports sedans, it does have a crisp, distinctively Volkswagen look. Red accents on the badges, brake calipers, front brake vents, and across the grille tell you immediately that it's more performance-oriented than a standard Jetta. It rolls on 18" alloy wheels with a bold and angular spoke design that creates a sense of motion even when standing still. They come wrapped in Hankook all-season tires, which will save you money compared to other sport-trim cars, which often come from the factory with summer performance tires that must be changed out for safe winter driving.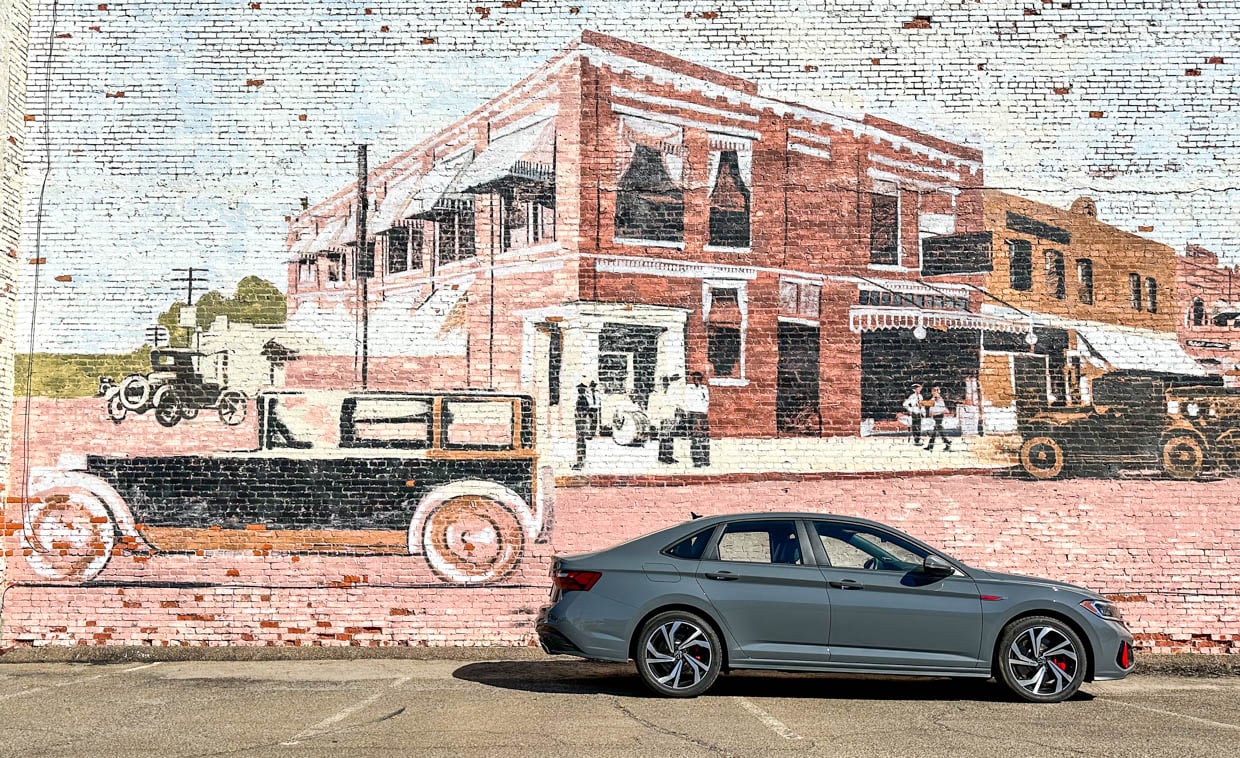 Under the hood, a 2.0-liter turbocharged TSI engine produces 228 horsepower and 258 lb-ft. of torque. It sends that power to the front wheels via either a 7-speed dual-clutch transmission or a 6-speed manual gearbox. Our car was equipped with the automatic, which we found shifted quickly and predictably. And while the car is pretty quick off the line with a 0-to-60 time of 6.1 seconds, we did detect a small amount of turbo lag under pedal-to-the-floor acceleration. The engine and exhaust note are surprisingly quiet for a sports model, which lets you be more stealthy than you could be in something like an Elantra N or a Civic Si. An aftermarket upgrade is worth considering if you prefer a louder exhaust note. Fuel economy is quite good for a sporty, naturally-aspirated engine, with the automatic rated at 26 mpg in the city, 36 mpg on the highway, and 30 mpg combined.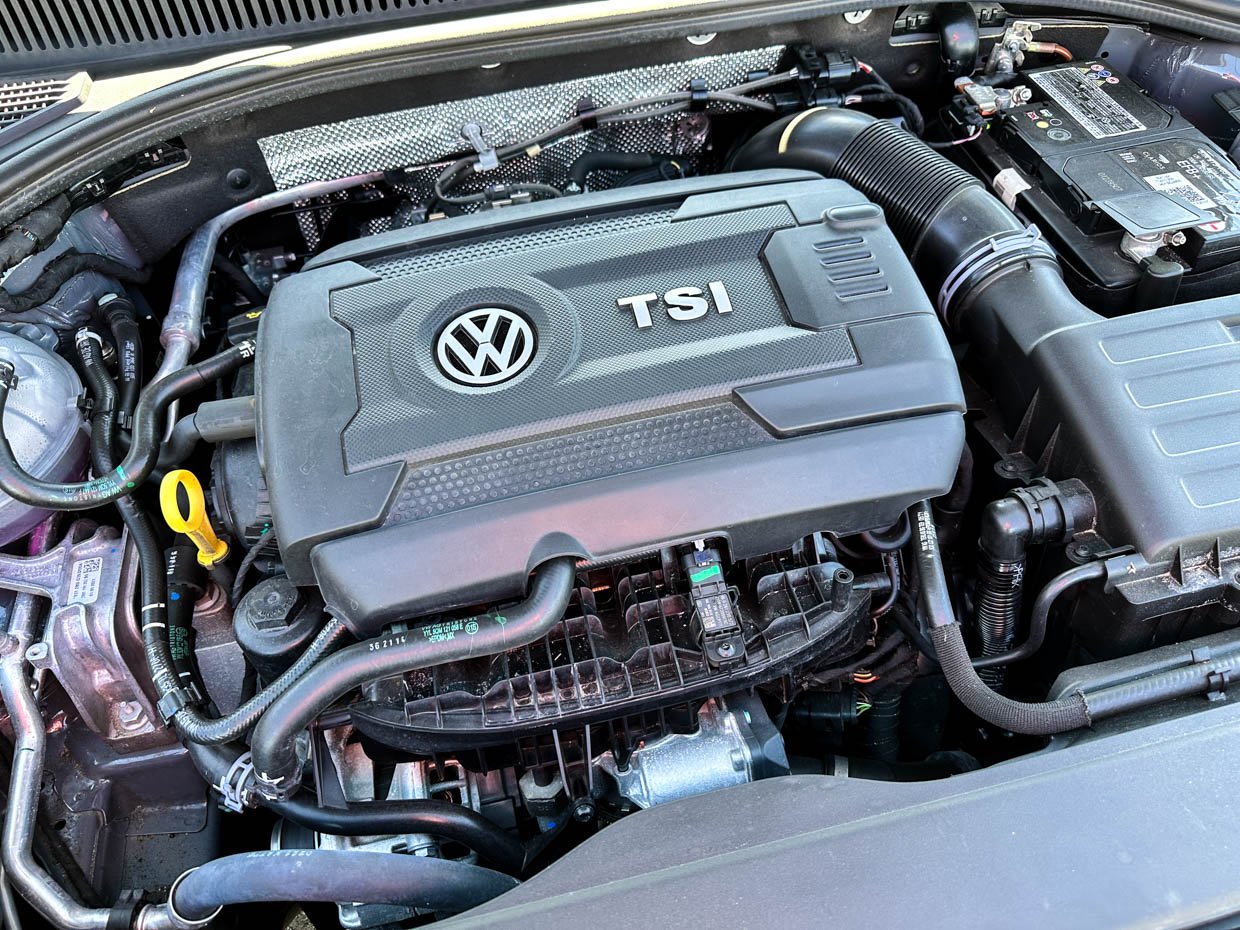 Where the Jetta GLI shines is in the handling department. It's smooth and predictable, and its adaptive suspension system helps to provide an fun driving experience, especially in Sport mode. The car also benefits from a locking front differential which helps minimize the understeer typical of front-wheel drive vehicles. We were particularly impressed with the stopping power and responsiveness of the car's beefed-up, vented disc brakes. Steering feel is neutral to light, though it gets a bit more weighty and engaging in Sport mode.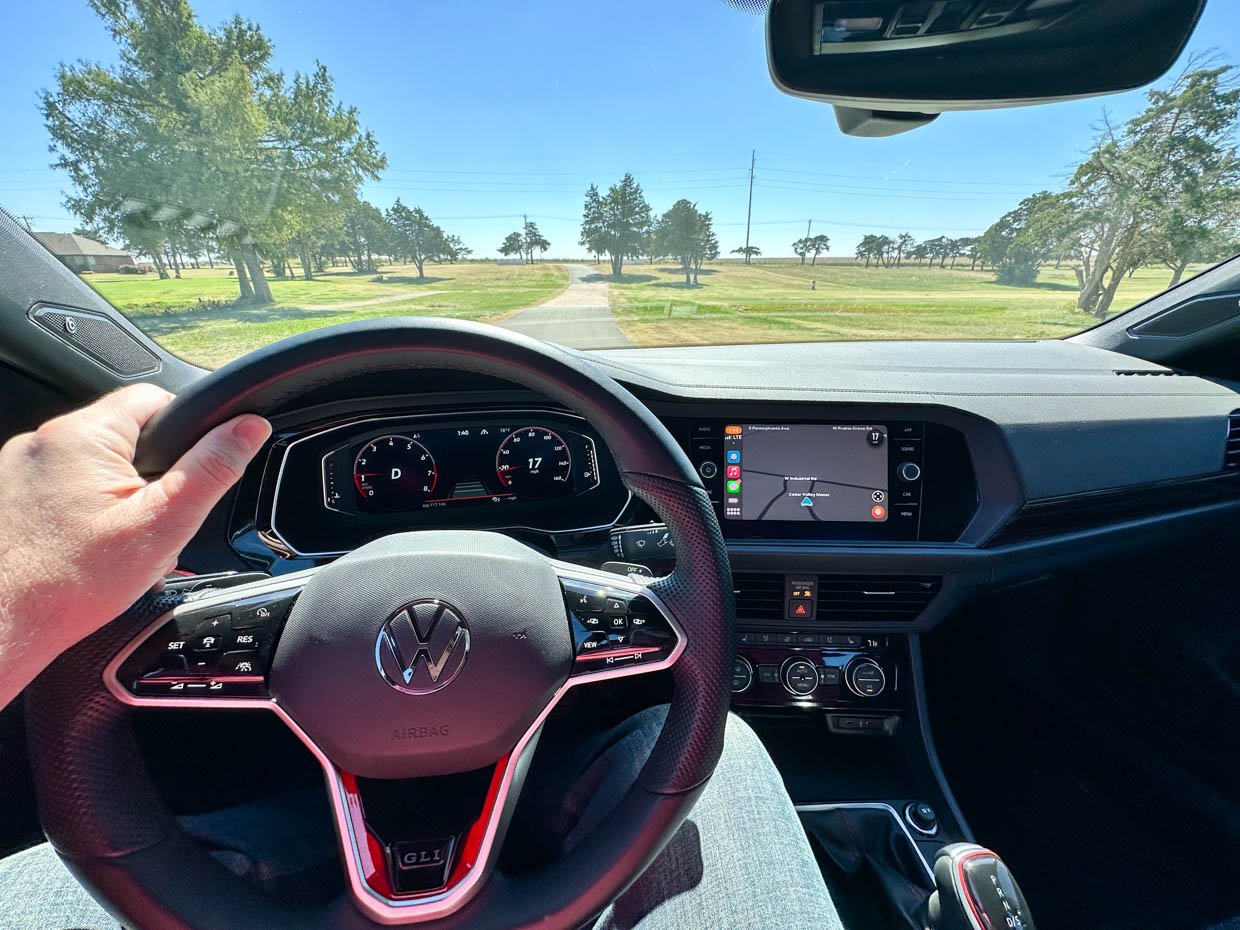 Speaking of drive modes, the Jetta GLI offers a custom setting that lets you dial in just the right combination of chassis control, steering weight, differential sensitivity, throttle mapping, engine sound, and even how the adaptive cruise control system behaves. Other than the engine sound being relatively tame in all modes, the other adjustments produced noticeable differences in driving dynamics and responsiveness.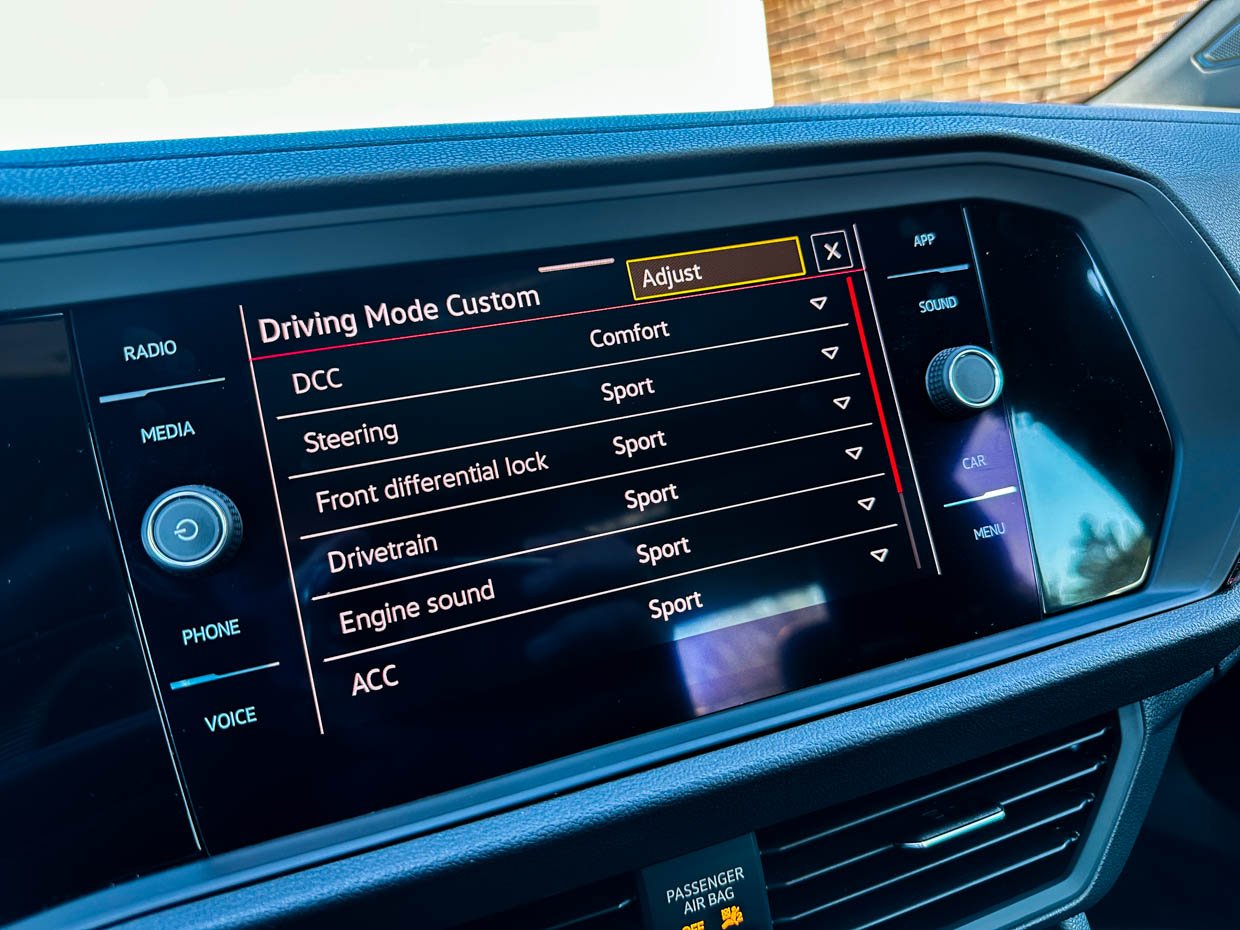 We dig the sharp lines and angles of the interior design, and the GLI's sport trim includes genuine leather seats, a GLI sport steering wheel, and aluminum pedals. We were, however, disappointed with the cheap textured plastics on the center console and dashboard. The 10.25" digital instrument panel provides crisp, easy-to-read graphics, and the 8" multimedia touchscreen UI is spartan but gets the job done. It also has support for wireless Apple CarPlay and Android Auto tech. The Beats Audio system kicks out excellent volume and has great dynamic range.
Continuing with the red theme, you'll find more cherry-colored accents on the seat and door panel stitching, the steering wheel, shift lever and shift boot, along with the ambient lighting. There's also a cool red-and-black striped plastic trim material on the dash and doors that gives the car a distinctive look.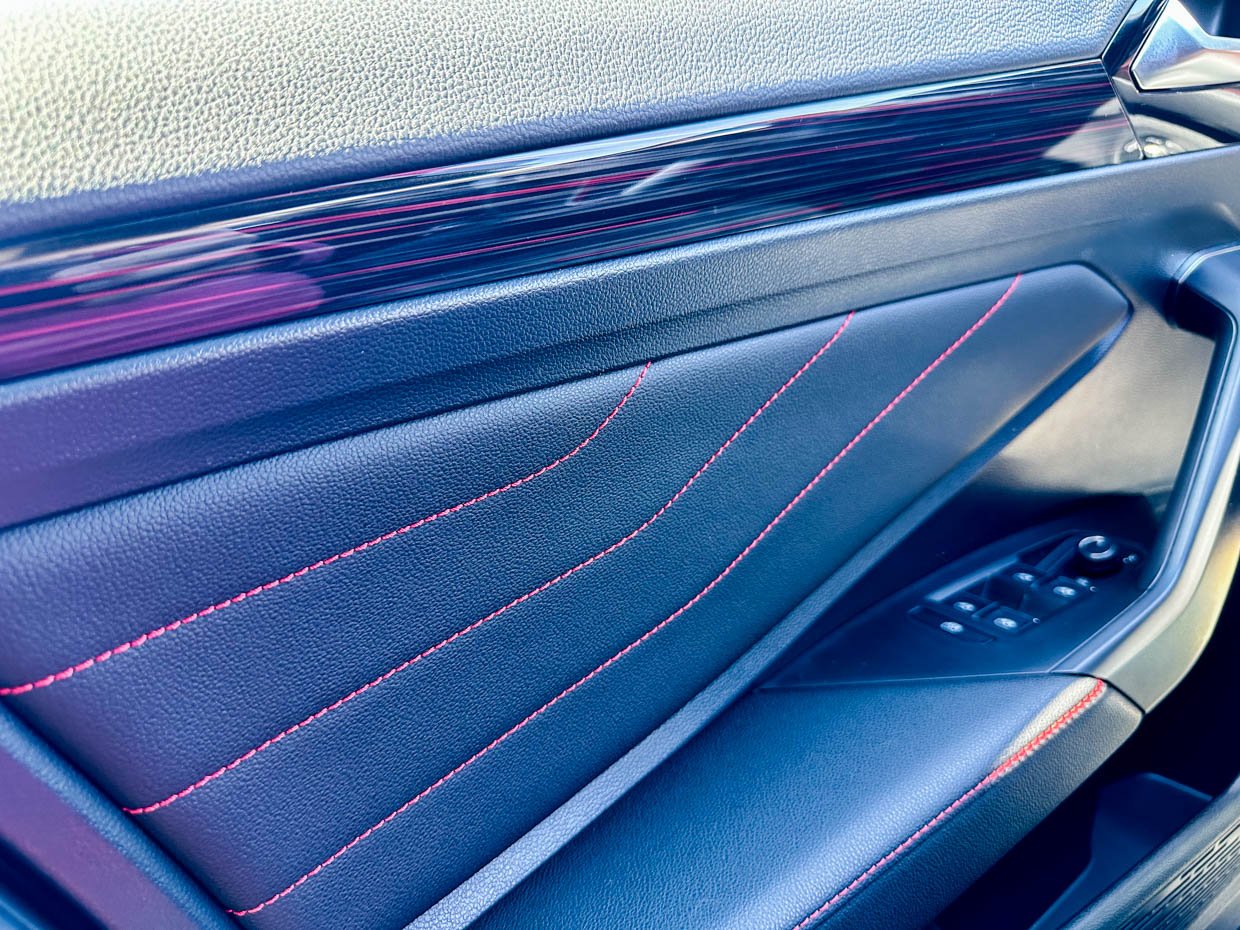 As an everyday sedan, the front seats offer good comfort, with moderate side bolstering, ample legroom and headroom, as well as heat and ventilation. However, taller passengers sitting in the second row will find the knee room cramped. Those seats can fold in a 60/40 split, providing access to the trunk, which offers an above-average 14.1 cubic feet of cargo space.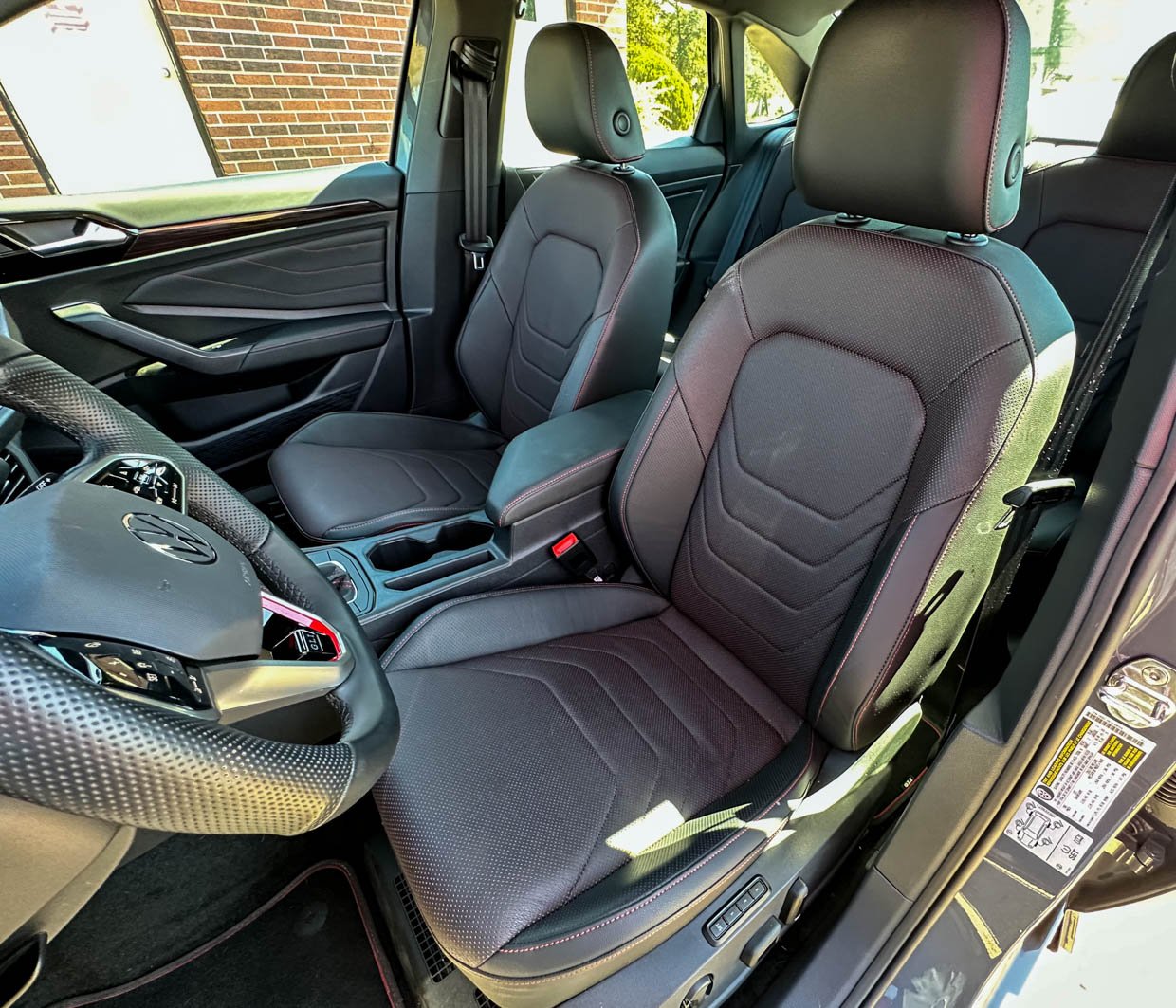 The Jetta has been a staple of the Volkswagen lineup since 1979 and has always been a good option as a small family car. When the Mk7 GLI was added in 2020, it brought a new level of performance and enjoyment to the otherwise practical daily driver. Crisp lines and sporty red accents make the latest iteration more desirable than ever, and the GLI's handling is quite good for a front-wheel drive car. With a base price of $31,795 for the DCT model we drove, it's also well-priced for what you get. Our car's only upgrade was the $395 Pure Grey paint. Combined with the destination fee, the sticker on this Jetta GLI came to $33,385.