Driven: 2023 Nissan Z Performance
2023 | nissan | nissan z | reviews | sports cars | June 20, 2022
Words and Images by Paul Strauss
The Nissan Z is back and it's simply fantastic. We spent a week living with the 2023 Z, and it's everything we hoped for. The new Z deftly balances nostalgia and modernity with its thoughtful design, performance, and technology. A powerful drivetrain and spirited handling make this the best Z car in years.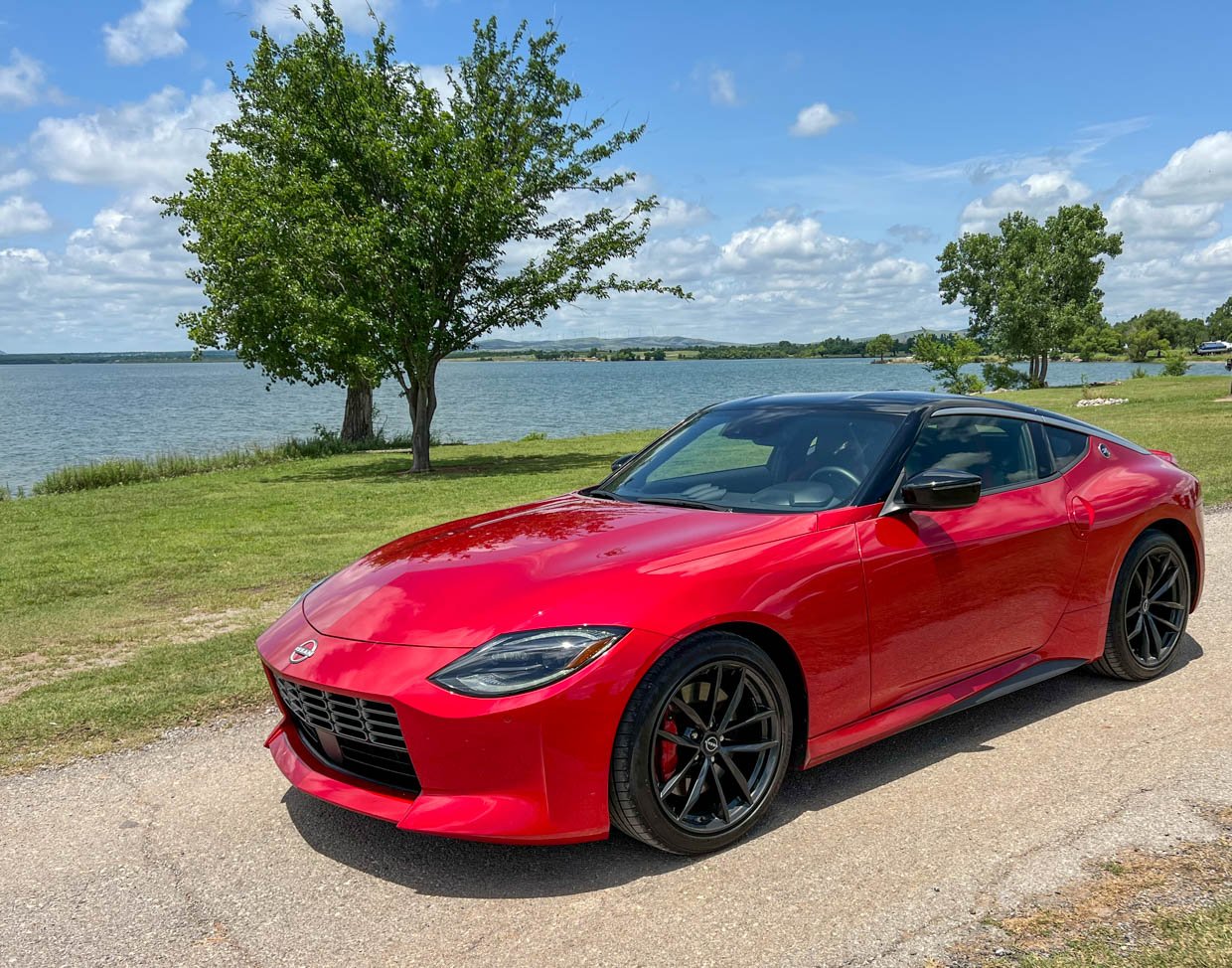 From every angle, the new Z improves on its predecessor, the 370Z. The Z Performance model we drove rides on 19" RAYS lightweight alloy wheels and has both a front chin spoiler and a rear duckbill spoiler. The Nissan performance disc brakes offer superior stopping power and have painted red caliper covers which, as all sports car enthusiasts know, makes them perform better.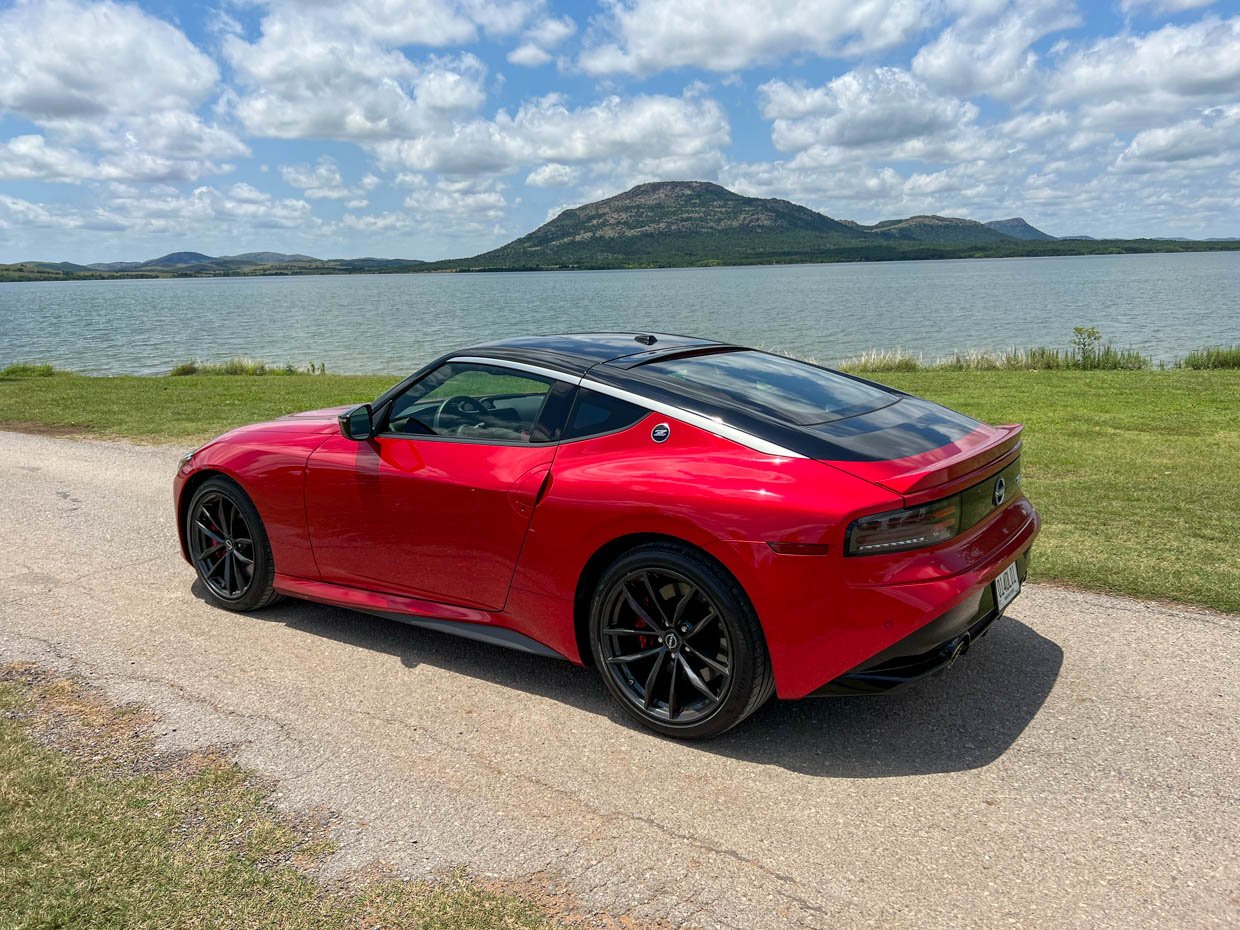 Throughout the design, there are subtle (and not-so-subtle) nods to prior Z models. Our favorites are the 300ZX-inspired taillights, the iconic Z logo on the rear quarter panel, and the oval headlights, which are reminiscent of those on the 240Z, while making some concessions for modern LED light technology.
We also love the Y-shaped crease in the hood, another 240Z throwback. Perhaps the most controversial part of the design is the grille, which doesn't quite succeed at capturing the simplicity of the classic's horizontal bars. We think the black trim at the bottom would look better if it were painted body color. But there's no question the Z is eye-catching. We had people stopping to ask about the car and strangers snapping pictures as we drove around the countryside with this Passion Red and Super Black two-seater.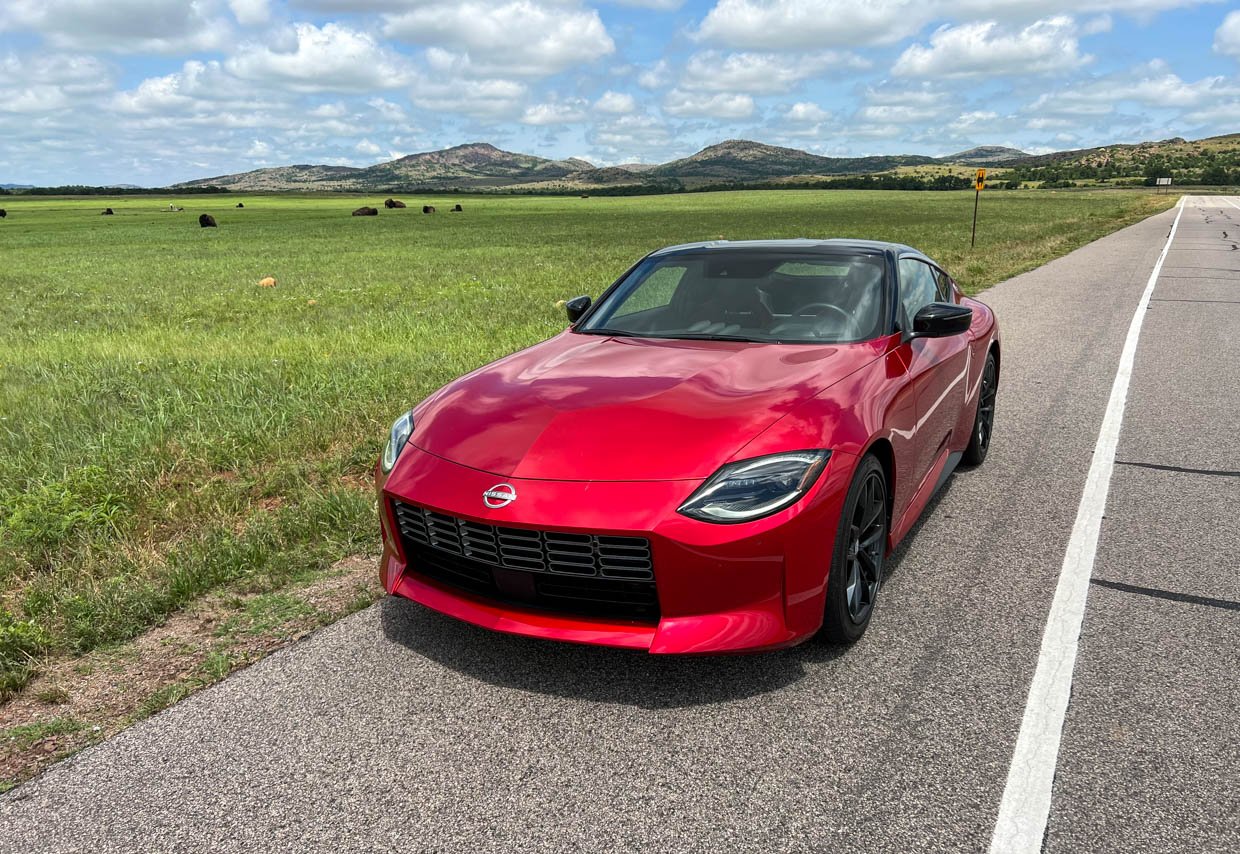 The 2023 model is the first Z car to come from the factory with 400 horsepower. Under the hood, you'll find the VR30DDTT, previously seen in the Infiniti Q50 and Q60 and the Japan-only Skyline. This 3.0-liter, twin-turbocharged V6 beast outputs a satisfying 350 lb-ft. of torque, and sends that power to the rear wheels via a 6-speed manual transmission or a new 9-speed automatic. The Z accelerates quickly and without lag, hitting 60 mph in about 3.9 seconds. The exhaust note is more reserved than we expected, but that can always be fixed with aftermarket parts. We're not often impressed by fuel economy in a sports car, but we consistently got about 27 mpg, which is worth mentioning with gas prices skyrocketing these days.
Given its 3,600+ pound curb weight, we were concerned that the Z might feel heavy, but it doesn't. Refinements to the car's chassis and suspension have resulted in a very engaging and connected feel. The steering rack has a nice amount of weight and responds well to driver input. The Performance model's mechanical limited-slip differential helps provide traction on launch and coming out of corners. Staggered Bridgestone Potenza S007 summer performance tires offer excellent grip on warm and dry days. But this is a high torque, rear-wheel drive sports car, so it likes to oversteer and drift through corners. It can be pretty tail-happy, so keep the traction control engaged unless you're on a track.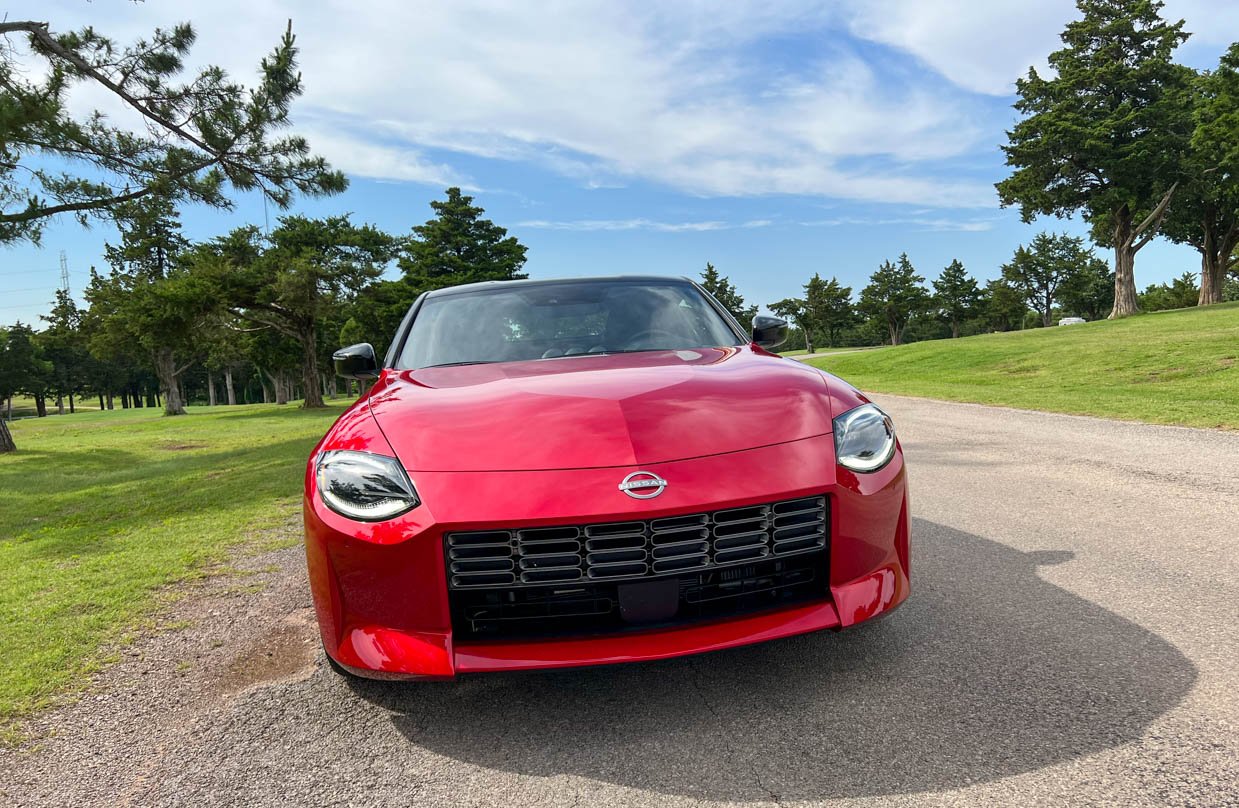 We didn't get to test the 6-speed manual, which we've heard from our peers is wonderfully fun, but the 9-speed automatic offers up quicker shifts and did a great job holding revs under hard acceleration and cornering. Paddle shifters come standard with the automatic if you're craving added engagement. It should be noted that the 6-speed manual also has a rev-matching feature you can activate, which helps produce perfect downshifts for those of us who aren't heel-toe experts.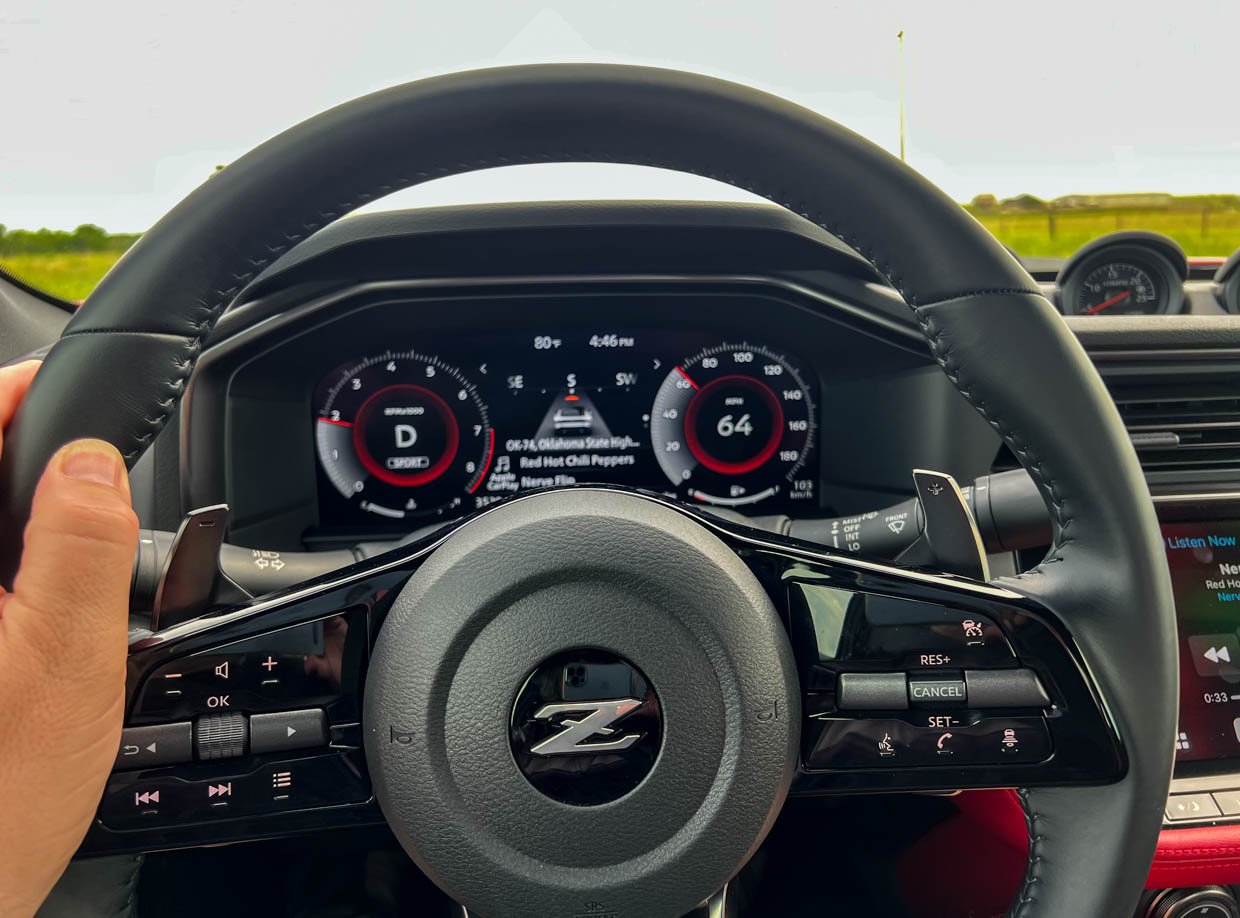 The Z has a fresh new interior. The two-tone faux suede and leather-trimmed seats in the Performance model offer an outstanding balance between support and comfort, and the bolsters aren't nearly as punishing as those in some sports cars. The cabin is also well insulated from unwanted road and wind noise, making this a great touring car. The old analog instrument panel has been replaced with an all-digital one. The low-profile automatic shift lever makes the center console less crowded, and there's still a mechanical emergency brake, a rarity these days, but a must for drifting.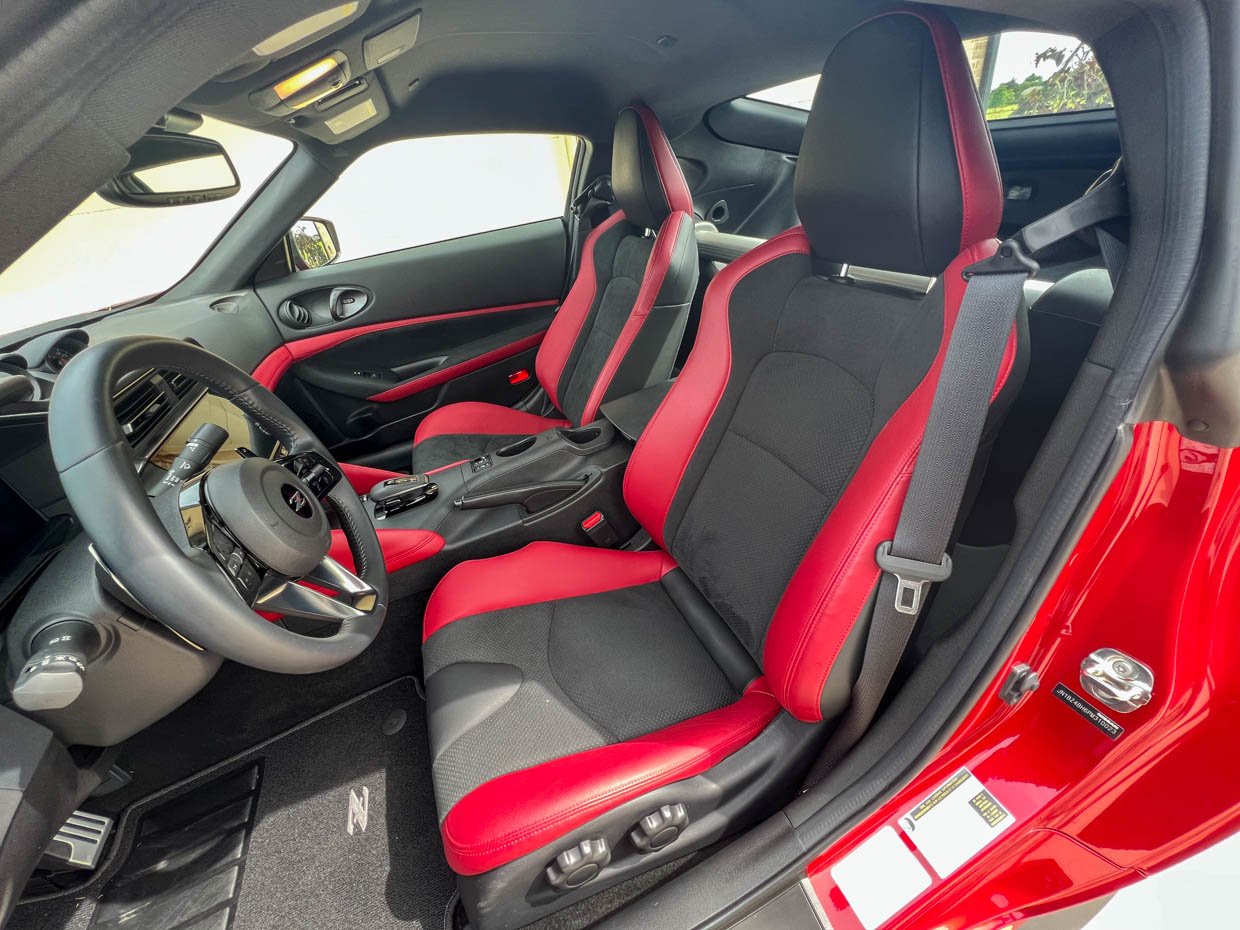 The two-tone look continues across the dashboard and onto the door panels. Our loaner was done up in red and black, but if you're looking to really stand out, the blue interior option is something special. Gone is the puny 6.5" display of the 370Z, replaced with a much more useful 9" display. This updated infotainment system offers a clean new interface and both Android Auto and Apple CarPlay support - the latter being wireless. There's also both USB-A and USB-C charging ports and a tray that's big enough to hold a large smartphone. One small, but thoughtful update is there are now two cupholders instead of one, so both driver and passenger can enjoy beverages.
Look to the top of the dashboard, and you'll see a trio of analog gauges, a staple in Z cars for years. They offer at-a-glance readings on turbo boost pressure, turbo speed, and battery voltage. While these aren't necessarily things you need to know all the time, they look cool and are another thoughtful tribute to Nissan Z heritage.
Like every Z before it, the 2023 Z is a hatchback, and it has minimal cargo space. With just 6.9 cubic feet of storage, the rear deck is big enough for a weekend's worth of luggage for two people, and that's about it. During our travels, we also used the small storage trays, which sit conveniently behind both seats. Because of the steeply-sloped rear window, you can expect diminished visibility if you're carrying cargo. But damn, this thing looks good from the backside, so does it really matter?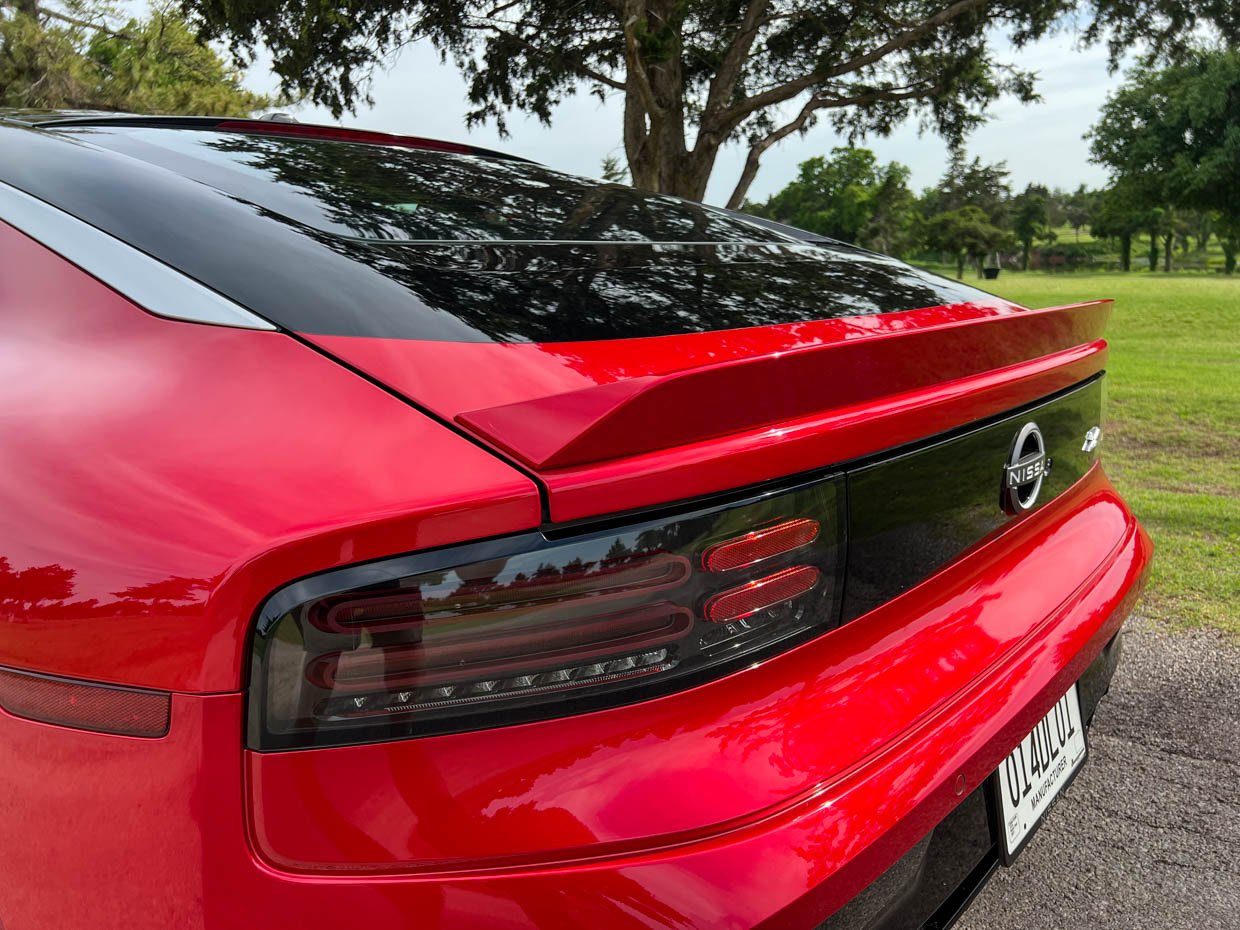 We've driven a number of Nissan Z models over the years, from the 300ZX to the 350Z to the 370Z, and we'd jump at the chance to drive a 240Z or 280Z. The latest Z can hold its head up high in that line of great cars. It's still an attainable purist's sports car and doesn't try to be things it's not. The latest engine and transmission are excellent, and the improvements in handling are notable. Outside, it's the best-looking Z since the 300ZX, and inside it's the best ever, with stylish contemporary looks, comfortable seating, and modern conveniences while keeping the focus on driving.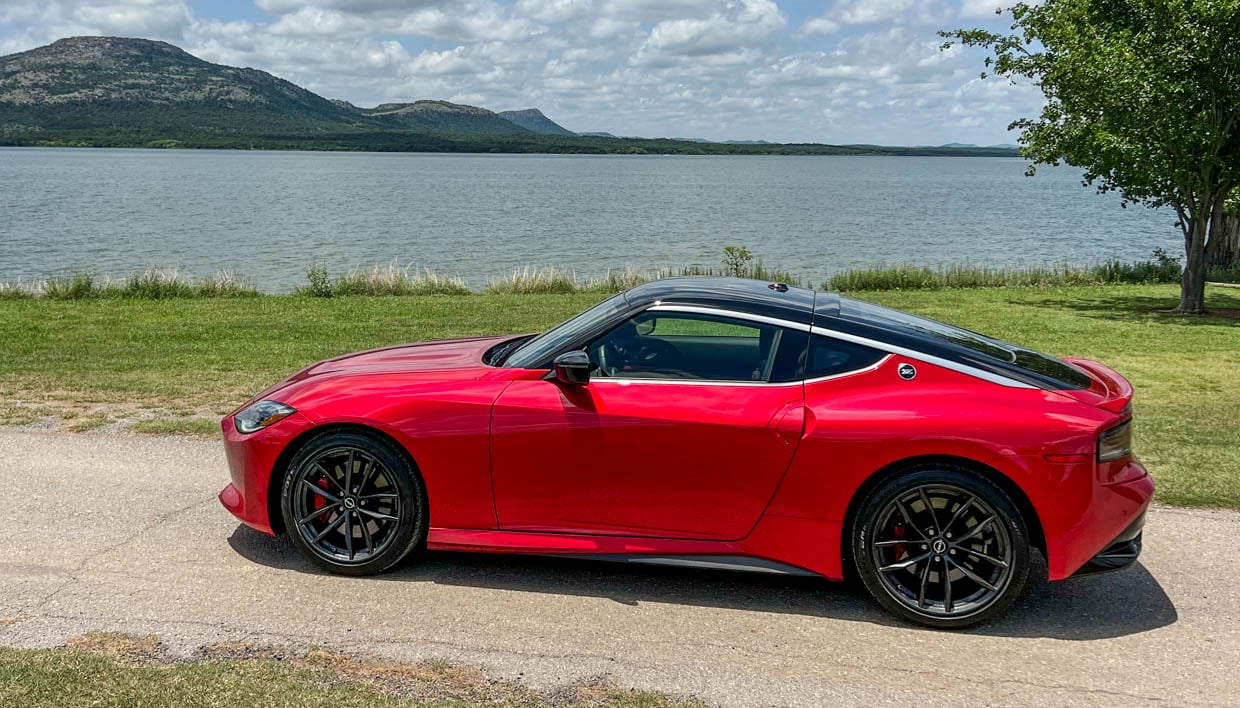 Kudos to Nissan's designers and engineers for honoring the Z's heritage while delivering an up-to-date, enjoyable, and head-turning car. The base price for the 2023 Nissan Z Performance is $49,900. Our car was stickered at $53,610, including the destination and handling fee.