Driven: 2024 Subaru Crosstrek Premium
2024 | reviews | subaru | April 30, 2023
Words and Images by Paul Strauss
Subaru is known for making everyday cars that can handle rough driving conditions. The 2024 Subaru Crosstrek deftly blends daily driver utility with rugged looks and all-terrain capabilities. This perfectly-sized crossover is packed with safety technology, a smooth all-wheel drivetrain, and above-average cargo handling capability.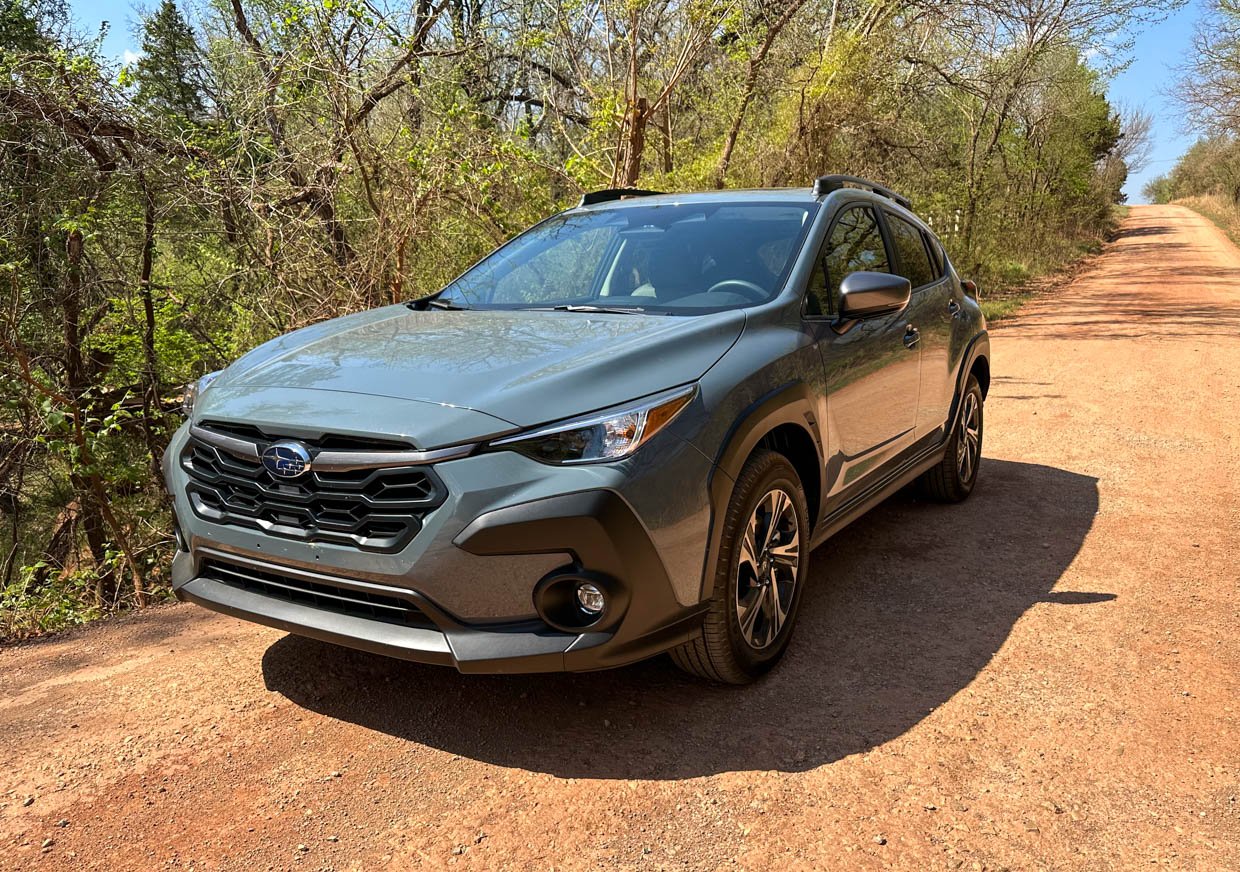 The most notable design change between the 2023 and 2024 model years is the Crosstrek's new front end. Its frameless hexagonal grille is more prominent and bolder, with a metal-finish horizontal bar that connects with its cat-eye headlights. At the same time, its lower trim pieces have a more chiseled and muscular look this time around. Premium and higher trim levels get LED fog lights up front too.
While there's little difference from the side, the rear of the 2024 model has redesigned taillights with a sharper look and a less fussy application of the Subaru logo. The lower body trim has a more rugged look and draws more attention to the rear bumper diffuser. Overall, it's not a dramatic change from prior model years, but the Crosstrek was already an appealing vehicle with a large following, so Subaru was wise to play it safe with design changes.
The Crosstrek comes with one of two engines: a 2.0-liter Boxer 4-cylinder that makes 152 horsepower and 145 lb-ft. of torque, or a 2.5-liter Boxer that produces 182 horsepower and 178 lb-ft. of torque. The Base and Premium model reviewed here come with a smaller engine, while the Sport and Limited trims get the more powerful unit. We found the 2.0-liter offered sufficient motivation, though it offers the most satisfying acceleration when Sport mode is engaged. Power heads to all four wheels via a Lineartronic continuously-variable transmission, which is quite good as CVTs go. It's smooth and predictable and does offer eight artificial shift points, which can be controlled with paddle shifters if you're into that sort of thing. Driving head-on into winds, the Crosstrek is reasonably quiet, but the cabin gets quite noisy in crosswinds, so it seems like side insulation might be lacking.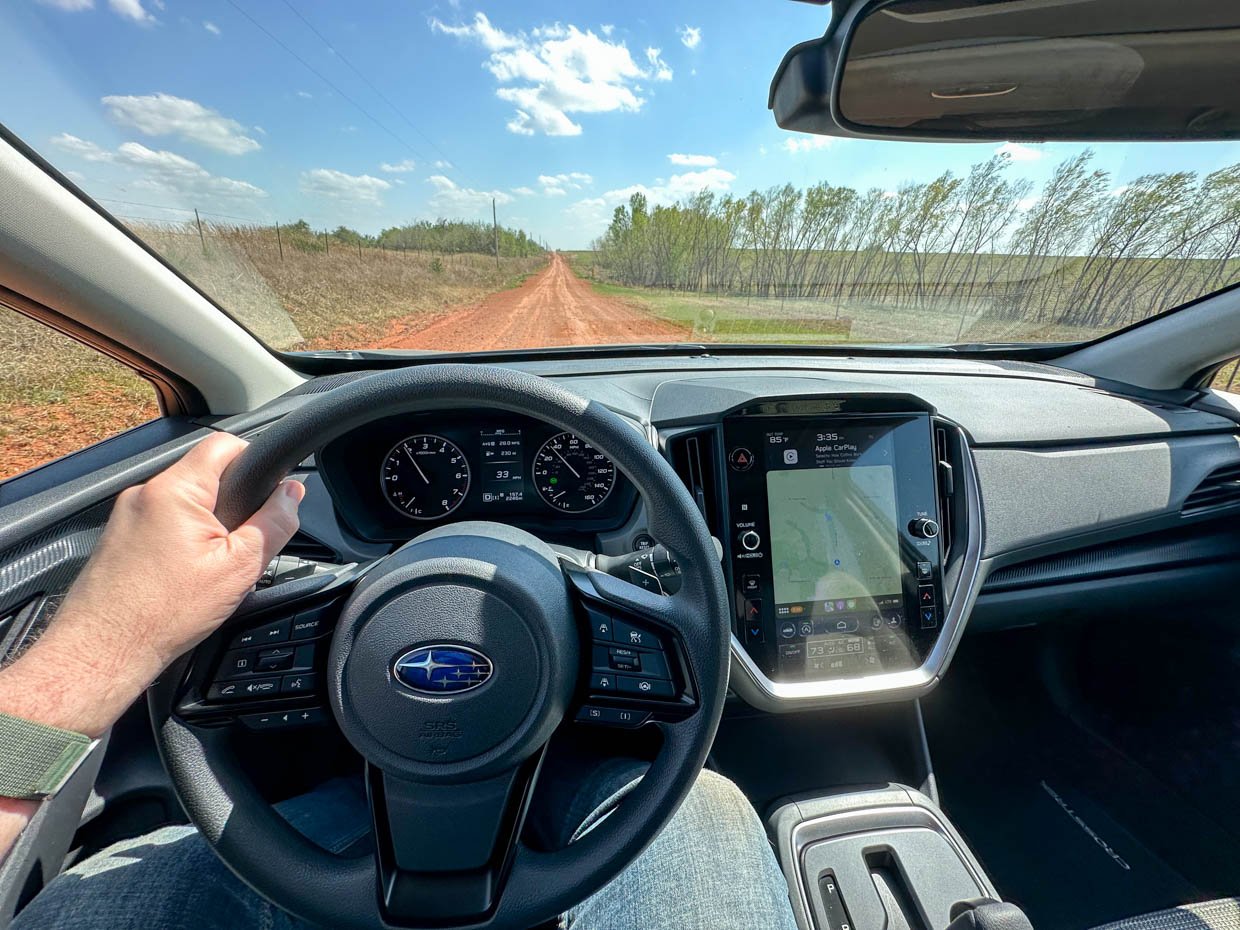 The Crosstrek's steering offers a good connection with the road, and its suspension is tuned nicely to absorb rough roads and dirt trails without being too mushy on paved roads. Standing 62.8 inches tall, the Crosstrek is an inch or two shorter than most crossovers, giving more of a station wagon look than most, and that's something we dig. Despite that, it offers 8.7 inches of ground clearance, the same as a Jeep Renegade Trailhawk. Subaru also has a Crosstrek Wilderness in the works for 2024, which ups its ground clearance to 9.3 inches, and adds skid plates and extra body cladding. We took the Crosstrek on some rough and rocky terrain, and its symmetrical all-wheel drive system kept us moving without wheel slip. For extreme conditions, X-Mode can be activated at speeds below 25 MPH. This feature dynamically adjusts throttle mapping and torque distribution and keeps you in a lower gear to help handle slippery surfaces, especially on hills.
Inside, the Crosstrek features clean and sporty styling, though its materials are primarily plastics. We're not huge fans of faux carbon fiber, but those trim elements add a little personality to the cabin. It's clear that Subaru selected the materials for everyday durability and not luxury. One big difference for 2024 is the availability of Subaru's 11.6" multimedia touchscreen. This system offers access to music, climate, and vehicle controls and has wireless Apple CarPlay and Android Auto. We had some issues with CarPlay spontaneously disconnecting, but it immediately reconnected. Hopefully, this can be fixed with a software update. Safety features include the latest version of Subaru's EyeSight driver assistance system, comprising well-implemented adaptive cruise control and lane-centering capabilities, emergency braking, lane departure, lane-keeping, and emergency steering features.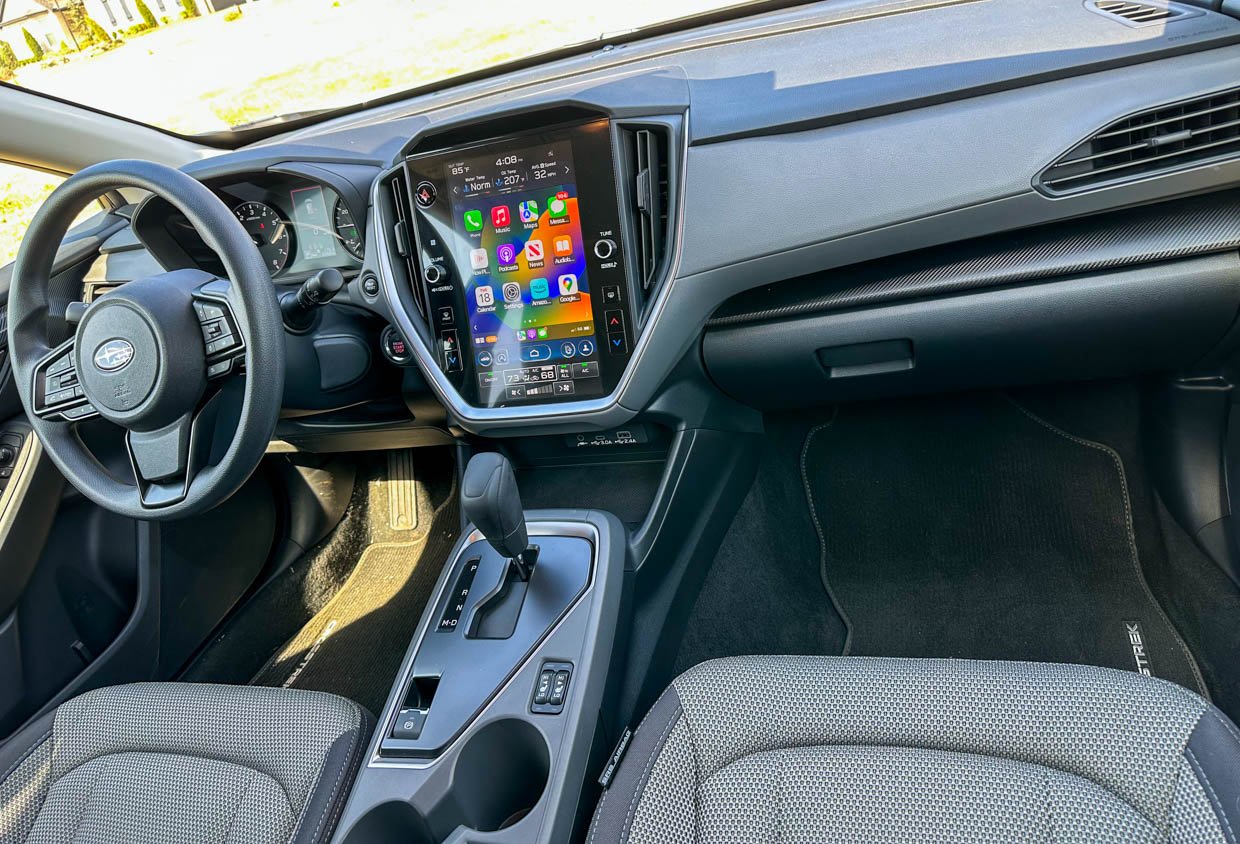 Our Crosstrek Premium had stylish two-tone cloth seats, which offer good back and neck support and a moderate amount of side bolstering. If you prefer leather to cloth, the top-of-the-line Crosstrek Limited gets leather-trimmed upholstery with orange stitching and a 10-way power-adjustable driver's seat. An all-weather package adds nicely heated seats, heated side mirrors, and a windshield washer fluid de-icer. If you take this Subaru into colder climates, you'll definitely want to take this option.
We were pleased to find the rear seat of the Crosstrek offers ample legroom, kneeroom, and headroom for a vehicle of its size. Even passengers with longer legs should be comfortable back here. There's a fold-down center armrest with two built-in cupholders and USB-A and USB-C charging ports for second-row seat passengers to keep their gadgets charged.
The back seats fold in a 60/40 split configuration for flexibility, and there's a total of 54.7 cubic feet of cargo capacity with no rear seat occupants. Put passengers back there, and you'll still get 19.9 cubic feet - more than enough for four rollaboard suitcases. Cutouts behind the wheel wells mean there's enough width for golf bags. Beneath the all-weather mat, you'll find a storage compartment that holds a skinny temporary spare tire. While a full-size spare would be nice, it's better than some cars that only include an inflation and repair kit.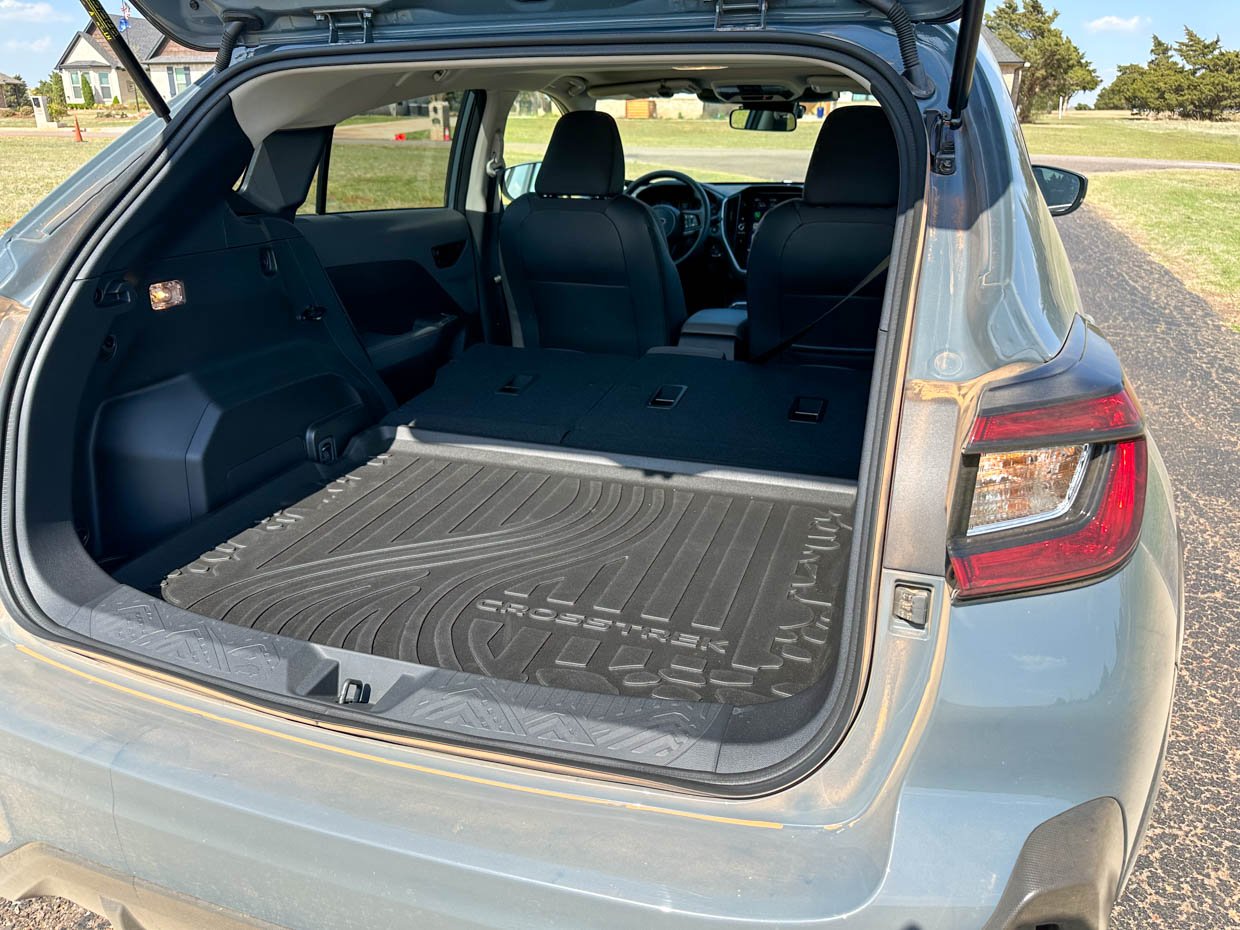 We enjoyed our week with the 2024 Subaru Crosstrek. In a world filled with too-big SUVs, this crossover offers versatility and an adventurous personality without emptying your bank account. You can get into a Base '24 Crosstrek for as little as $24,995, while the Premium model shown here was $29,685, including options and the $1,295 destination and delivery charge. If you're interested in a more powerful engine and material upgrades, the Crosstrek Sport starts at $28,995, the Limited is $30,895, and the new Crosstrek Wilderness is $31,995.