Driven: 2021 Ram 1500 TRX
ram | reviews | trucks | January 15, 2021
Words and Images by Paul Strauss
We were fortunate to spend several days dashing through the snow in Ram's 702 horsepower sleigh. This beast of a truck does everything that the already great Ram 1500 does, just faster and with more brawn. It's basically a muscle car with an off-road suspension – and a rich kids' plaything like nothing else.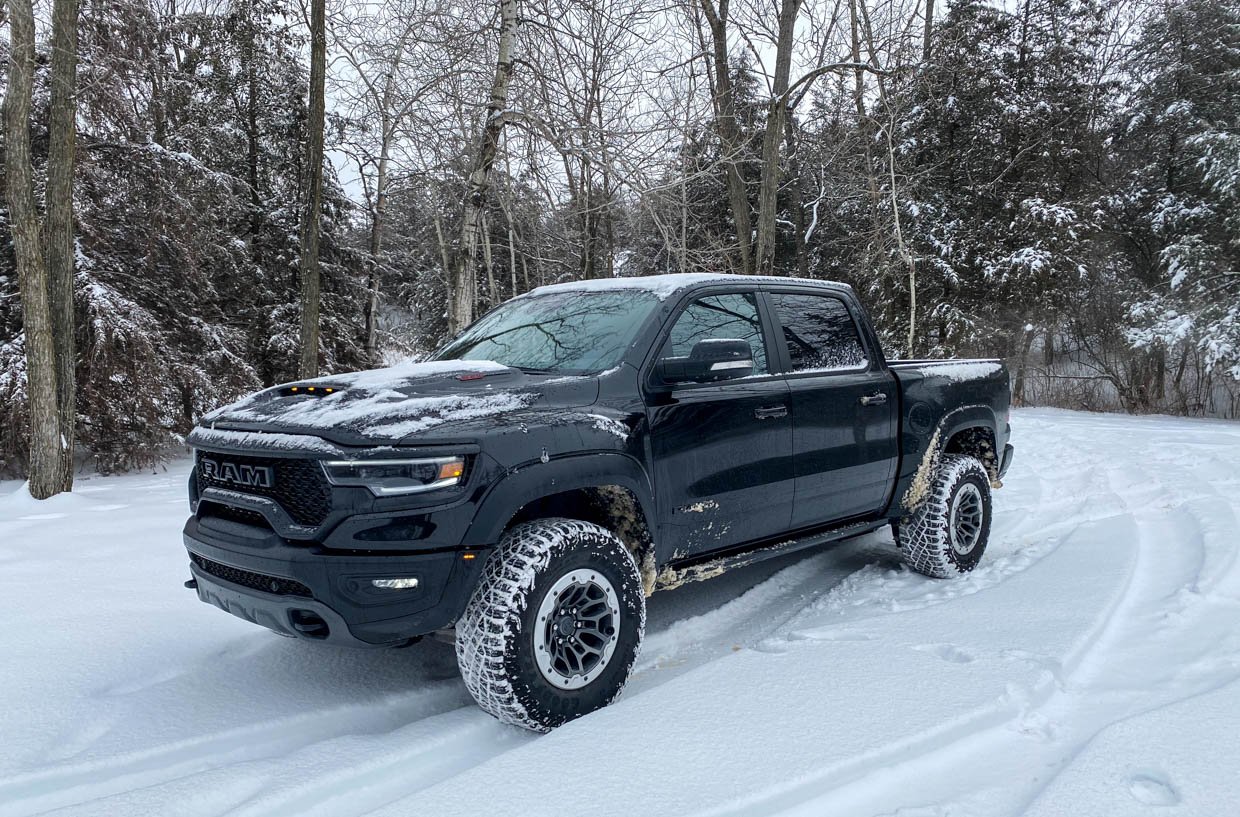 The most obvious thing that distinguishes the TRX from other Ram 1500 models like the Rebel is the 6.2-liter Hellcat engine that growls beneath its hood. As we've come to know in other Hellcat-powered vehicles, this supercharged Hemi V8 is at the top of its game. Working in concert with ZF's high-torque 8HP95 8-speed transmission, it launches this 6,350 pound pickup from 0-to-60 mph in just 4.5 seconds, and it'll do the quarter-mile in 12.9 seconds. Put your foot down, and this behemoth goes like no other truck we've driven.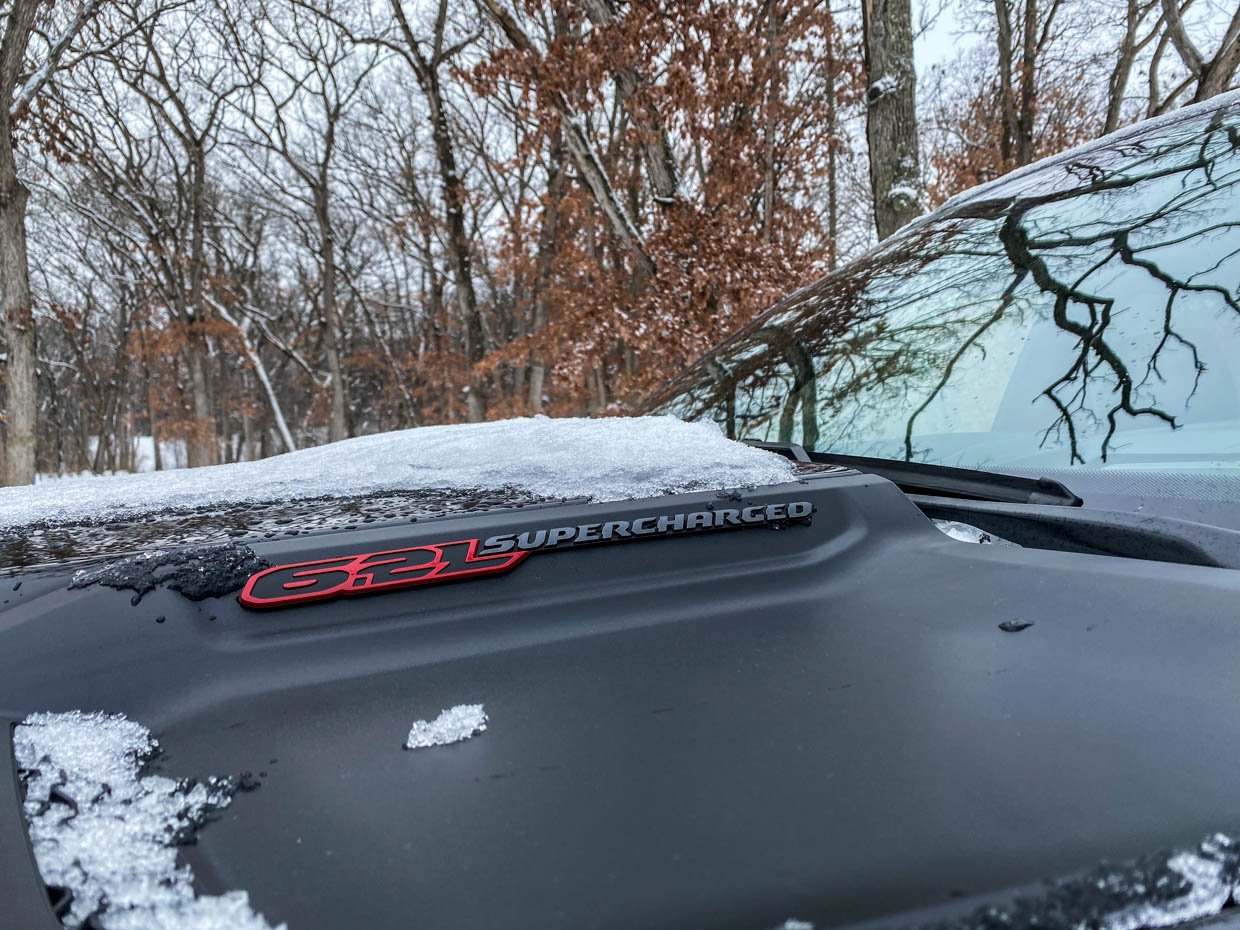 A huge hood scoop works to bring air into the engine, which produces a fantastic mix of sounds including a jet-like supercharger whine as it revs up, and a roaring exhaust note that will definitely wake the neighbors. The amber LED accent lighting inside the hood scoop is a really cool touch too.
TRX worked with Bilstein to create an active damping suspension which not only can handle slow crawls through rocky terrain, but can take the brutal punishment of high-speed off-roading. While we didn't get to take the truck to Baja, we were impressed with the soft and cushioned ride we experienced on potholed city streets, highways, and unpaved country roads. With more than 13" of wheel travel and skid plates to protect its important hardware, this truck is ready to tackle any terrain you can throw at it. A variety of structural reinforcements to its steel frame add to its weight but make it far more likely to survive the torturous conditions of desert racing.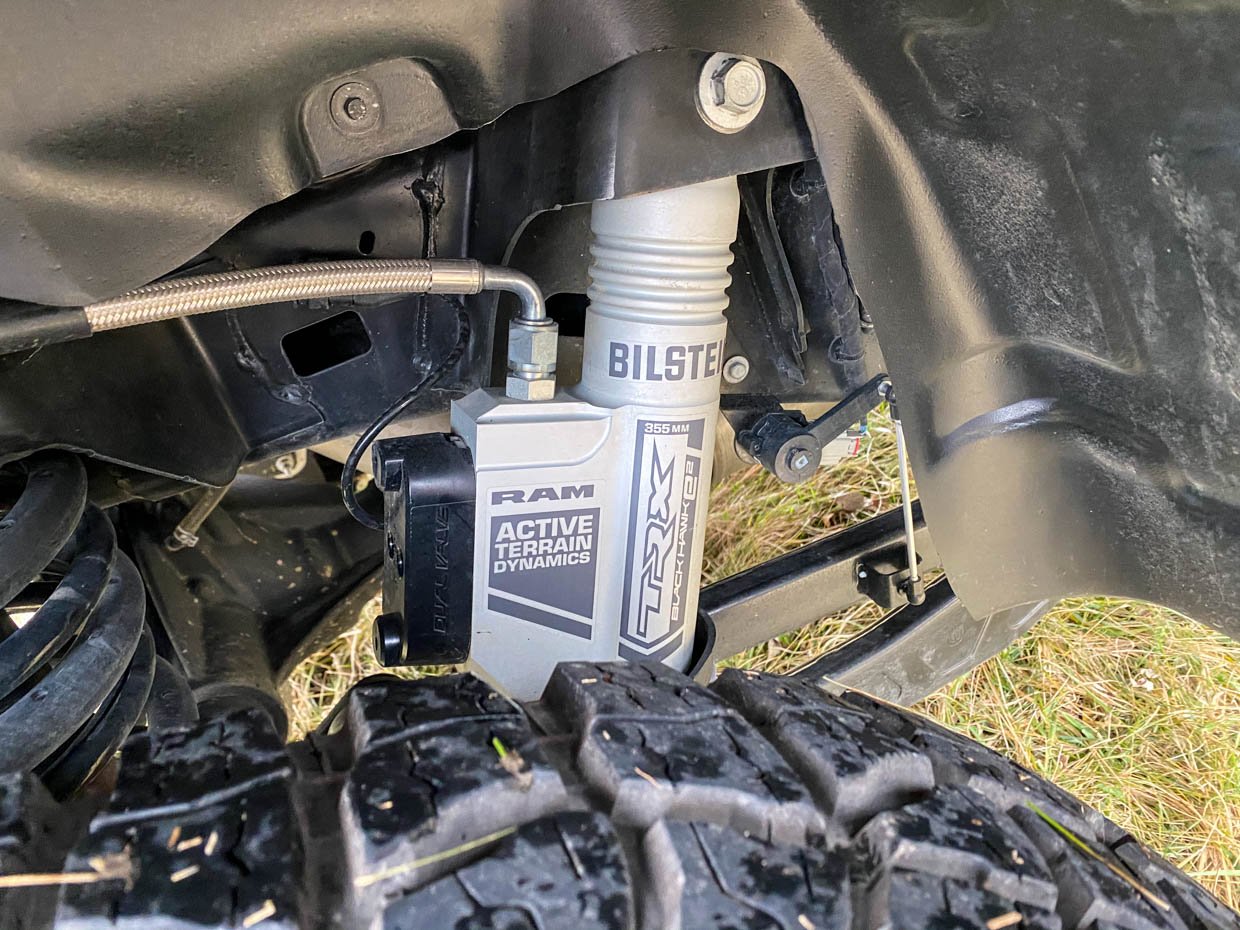 We spent much of our time driving the TRX on packed snow, slush, and the occasional powder, and found the truck to be extremely capable and confidence-instilling even in inclement weather. Our truck's Diamond Black Crystal pearlcoat paint served as the perfect contrast to the white stuff around us.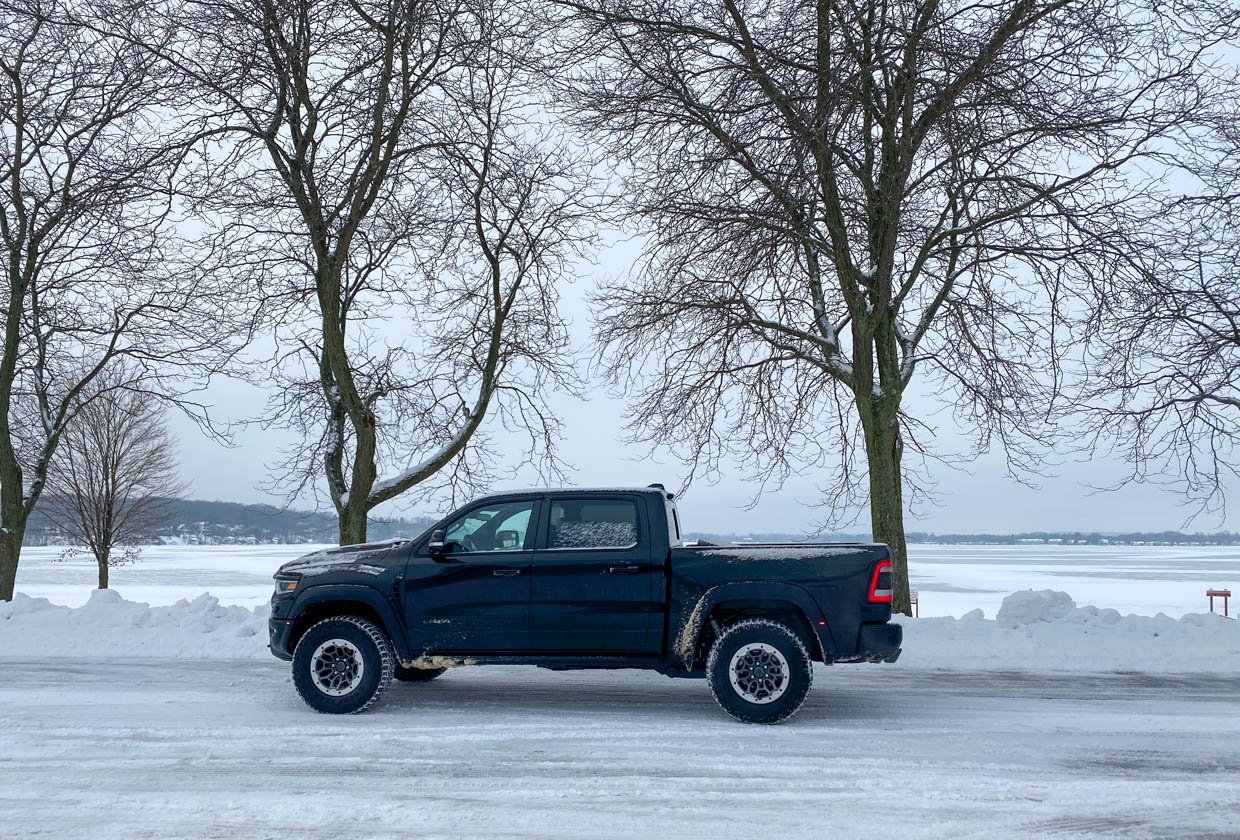 The Ram's various drive modes dynamically adjust its drivetrain, torque mapping, steering, and suspension to match conditions, and include settings for mud/sand, rock crawling, baja racing, sport, snow, towing, and automatic, which works quite well for everyday driving.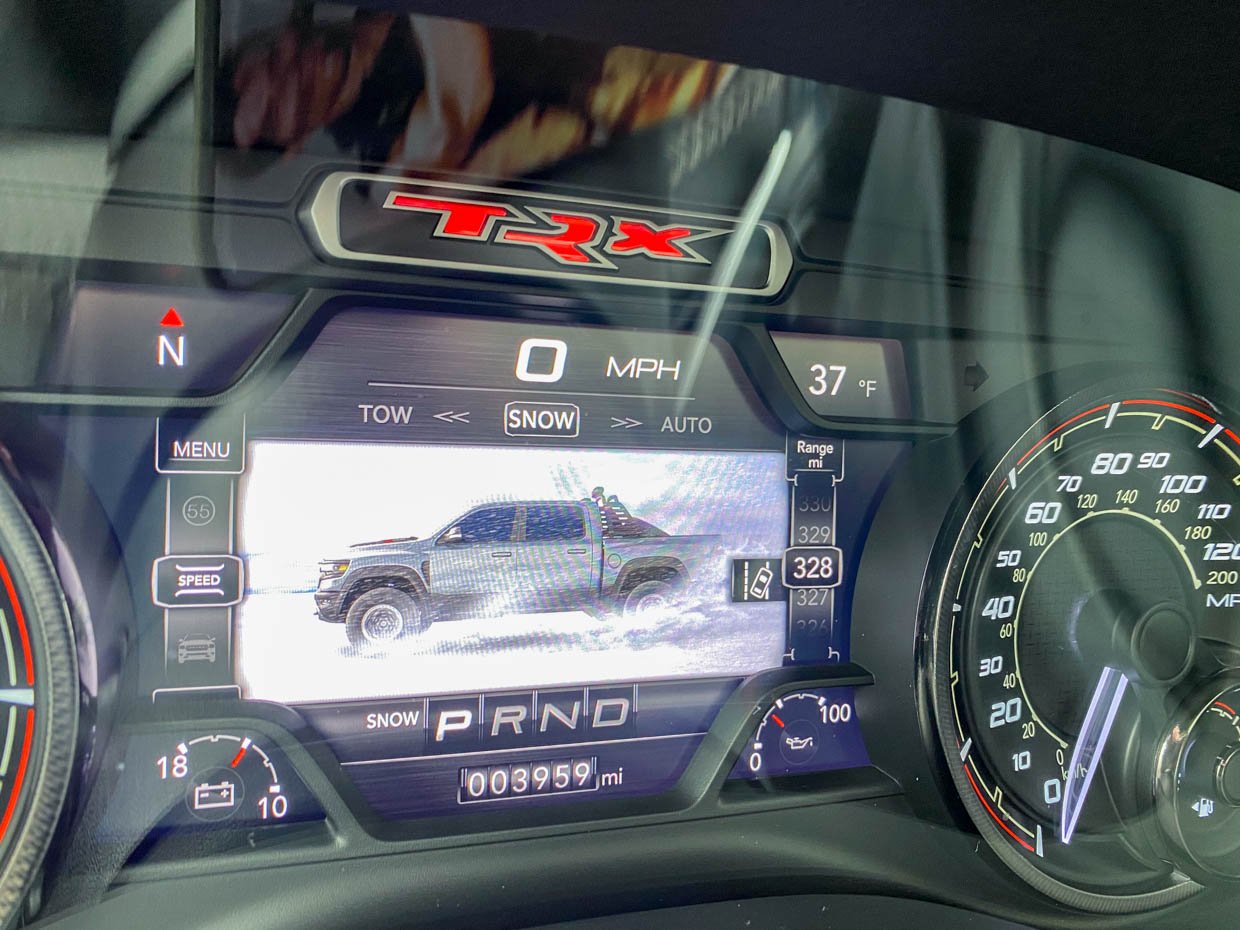 You can also create your own custom drive mode on the enormous 12" vertical touchscreen that sits in the center of the dashboard. Like FCA's other performance-oriented vehicles, there are screens where you can check out various real-time vehicle data like G-forces, horsepower and torque, engine temperature, and 0-to-60 timers, along with other useful information.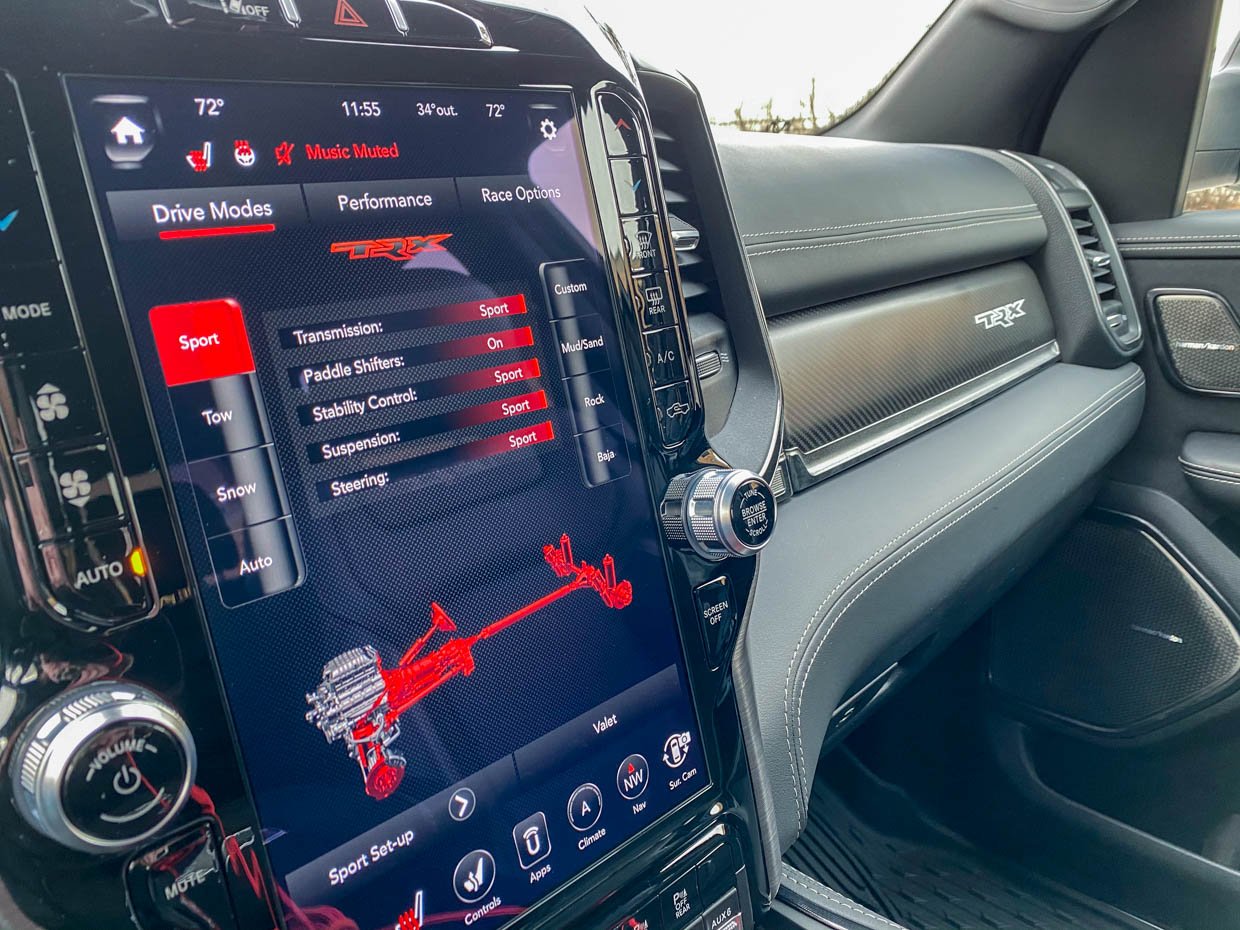 Its 4-wheel-drivetrain has a two-speed transfer case for fast or slow driving over challenging terrain. You can also just leave the truck in 4WD auto mode, and it's transfer case will do all the hard work for you. There's also an electronic locking rear differential for increased traction, and a Dana 60 rear axle with an axle-hop damper that helps to keep the rear end stable. This is also the only truck we've driven with a launch control mode, which is both a novelty and comes in handy if you're trying to turn in the quickest time off the line.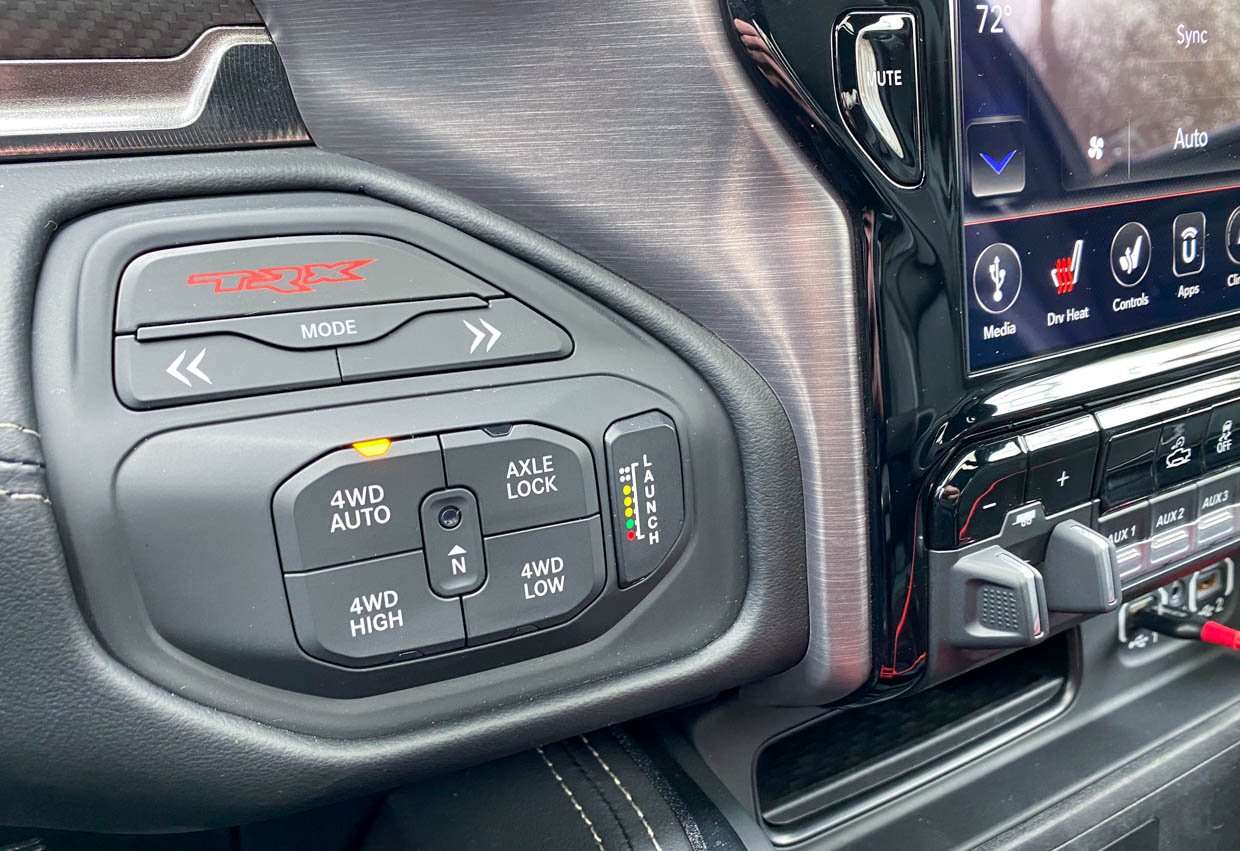 While the TRX is quick, it's by no means fuel-efficient. During our week with the truck, we averaged under 10 mpg. Much of the time, we saw numbers in the 8 to 9 mpg range. Fortunatelty, the truck's massive 33 gallon gas tank means you can still go more than 300 miles between refills.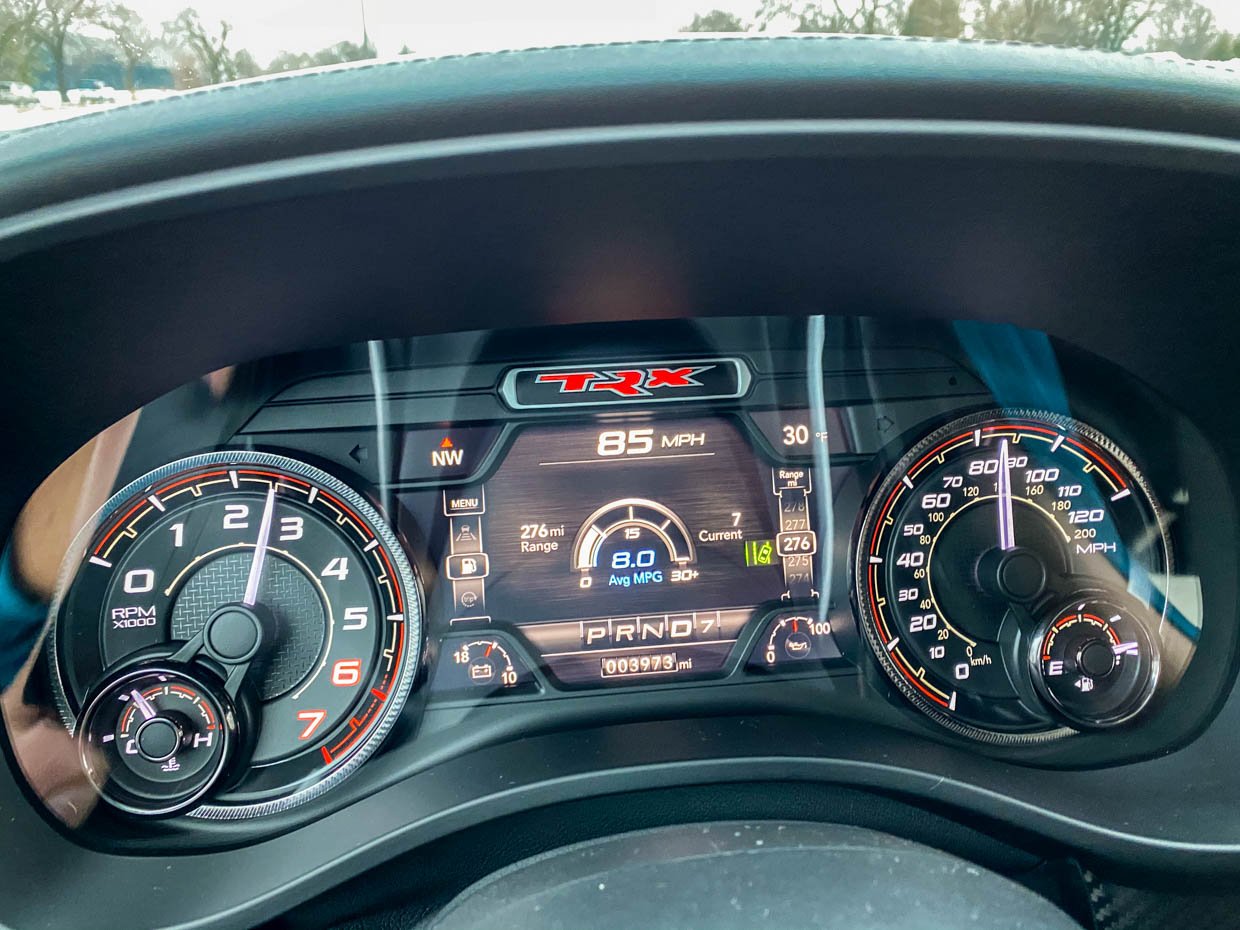 Riding on ginormous 35" Good Year Wrangler Territory ATs on 18" beadlock-capable wheels, there's plenty of tire meat to protect from rough and rocky terrain. To complement the truck's powerful launches with equally impressive stopping, you'll find enormous 15" performance disc brakes hiding behind those rims.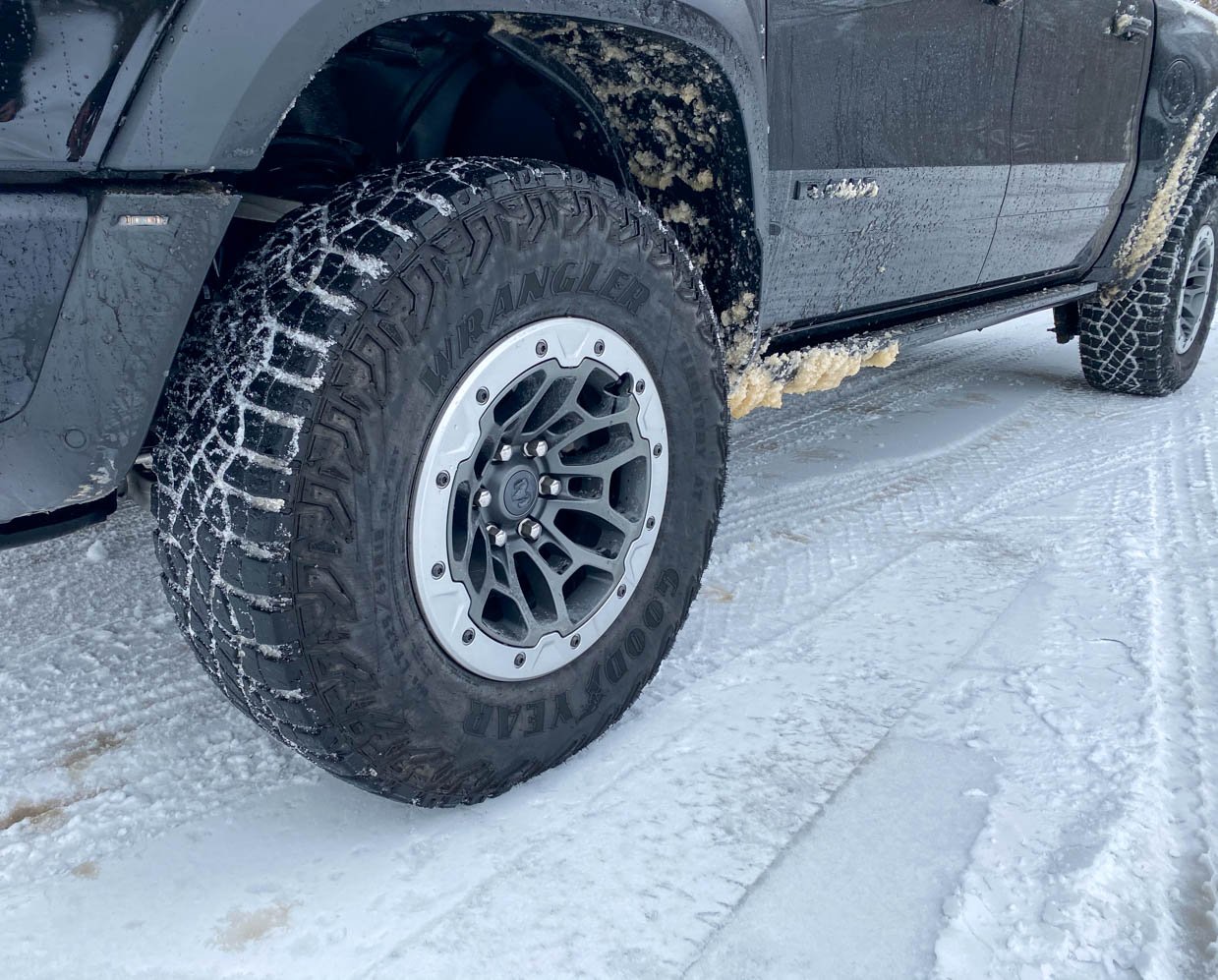 The interior of the TRX benefits from the same creature comforts and smart layout as other recent Ram 1500s, with the addition of TRX badging, carbon fiber accents, a flat-bottomed steering wheel, and luxurious leather and suede when fully-tricked out. There's tons of storage space in the center console box, a smartly-designed wireless phone charging dock, and both USB and USB-C ports for connecting and charging devices too.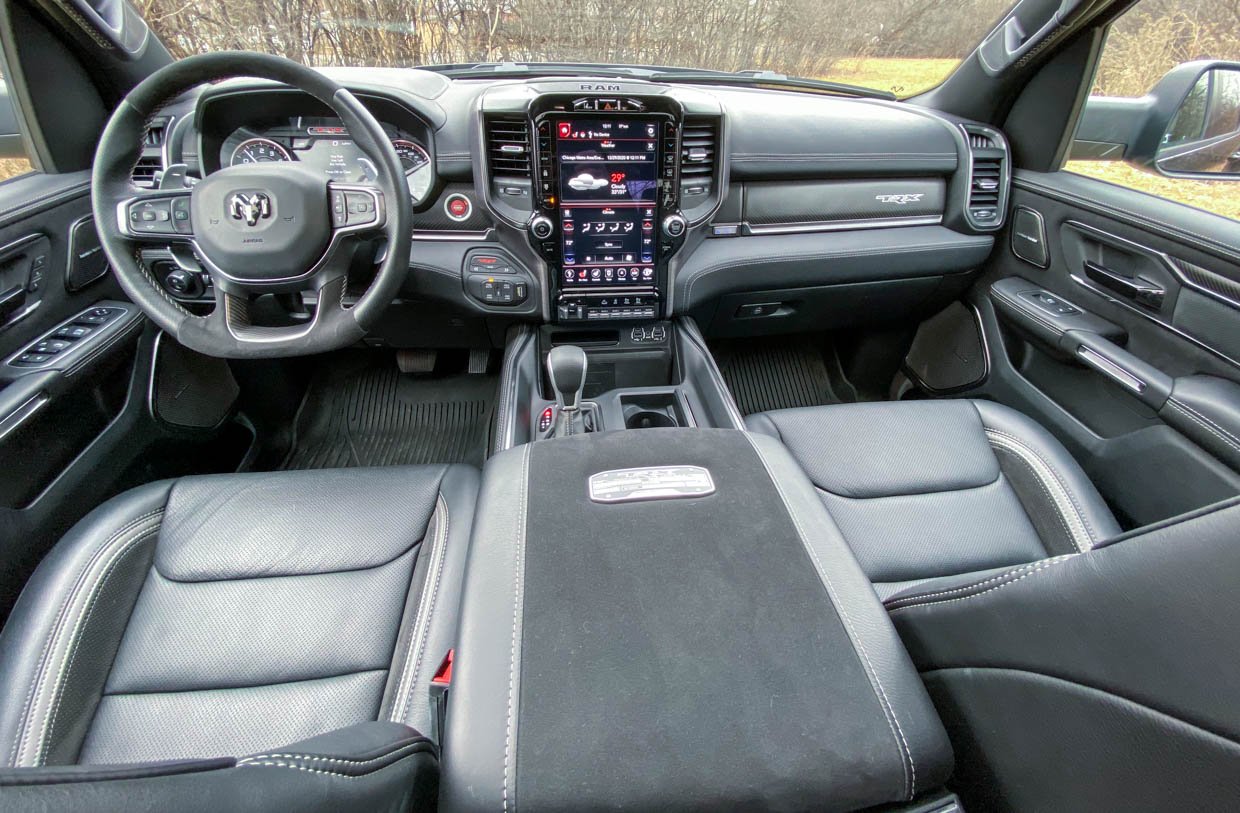 The heated seats and heated steering wheel really came in handy as the temperatures dipped into the teens. Those same seats will cool your backside in the desert heat. Despite their sporty side bolsters, we found the front seats to be extremely comfortable on long road trips.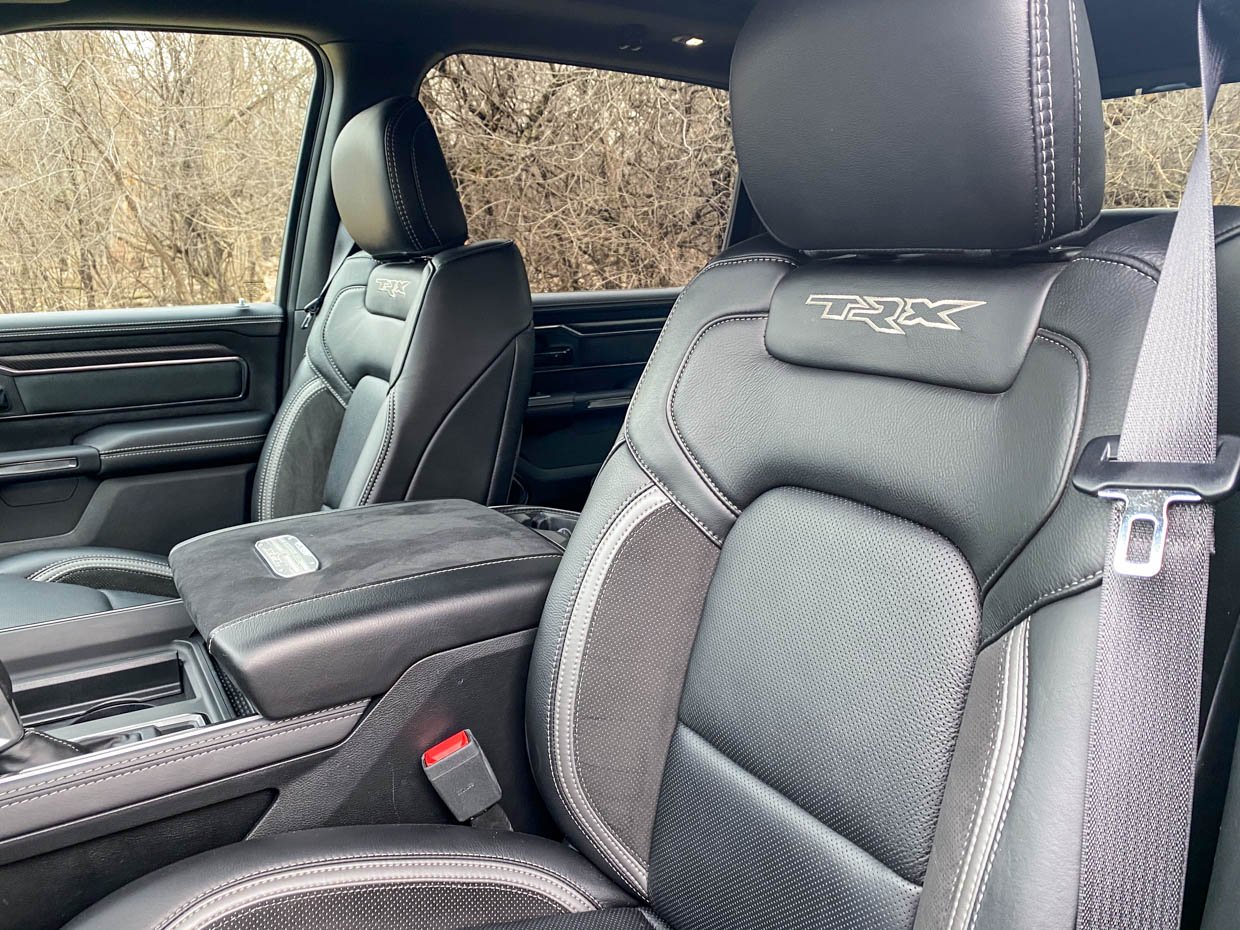 A pair of 3" straight exhaust pipes produce auditory delights, while a full-size spare hangs out under the truck's bed. Serious off-roaders will benefit from the optional bed-mounted tire carrier for a second spare, but if you plan on hauling lots of gear, you might want to skip that add-on. Throw on a tow hitch, and this thing will pull up to 8,100 pounds too.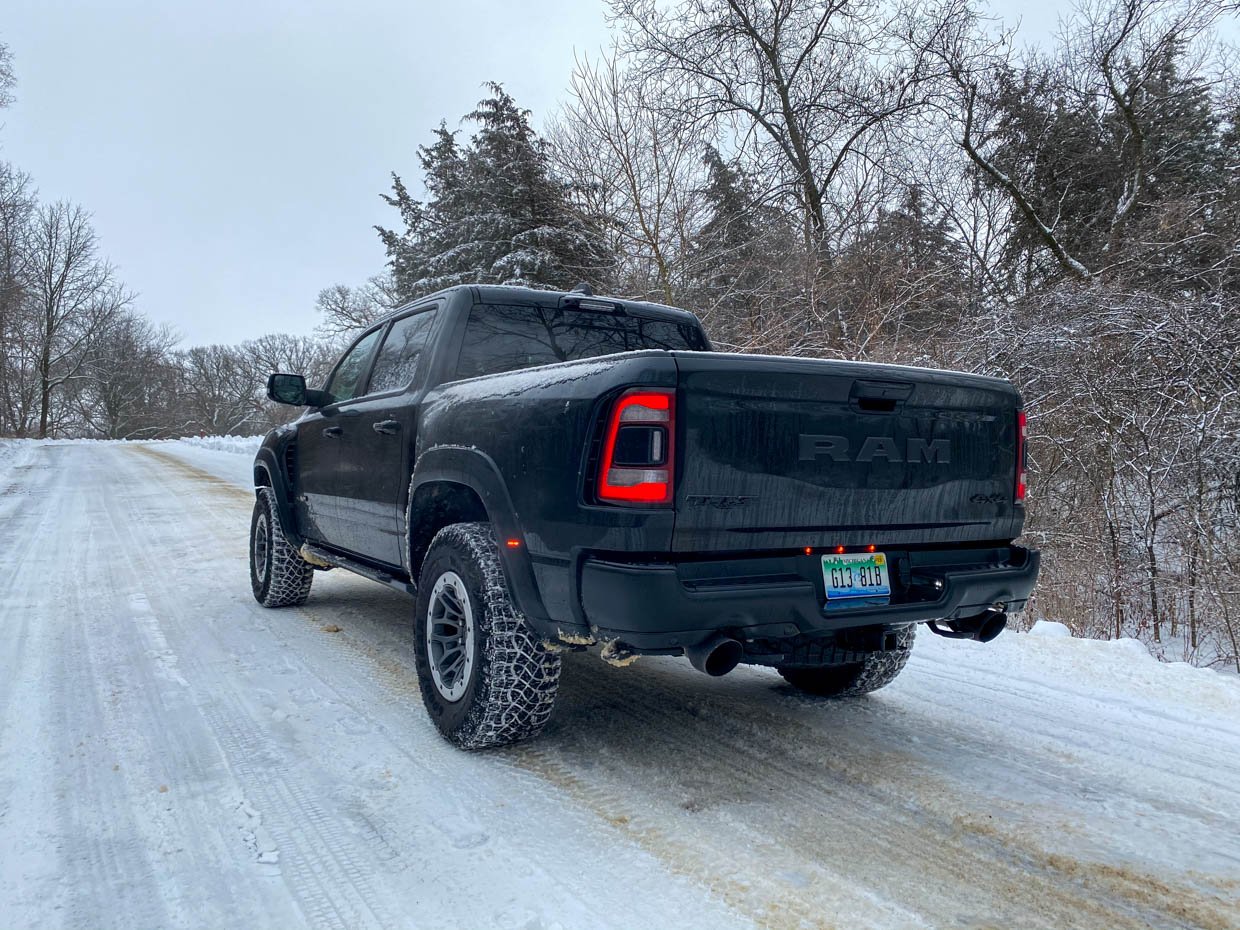 With a price starting at $69,995, and our fully kitted-out loaner breaking the bank at a whopping $91,205, the TRX is the most expensive Ram 1500 you can buy. On the other hand, it's insanely fast, off-road capable, comfortable, and makes quite the statement coming down the road. If you're torn between buying an off-road truck and a muscle car, this beast will satisfy all of your vehicular cravings in one.