Driven: 2020 RAM 1500 Rebel Diesel
When it comes to half-ton pickup trucks, the best you can buy today is a RAM 1500. And if you want to take one off-road, the RAM 1500 Rebel is the most capable of the bunch. We spent a week with the new EcoDiesel Rebel both on and off the pavement, and found a whole lot to love about this rugged yet modern truck.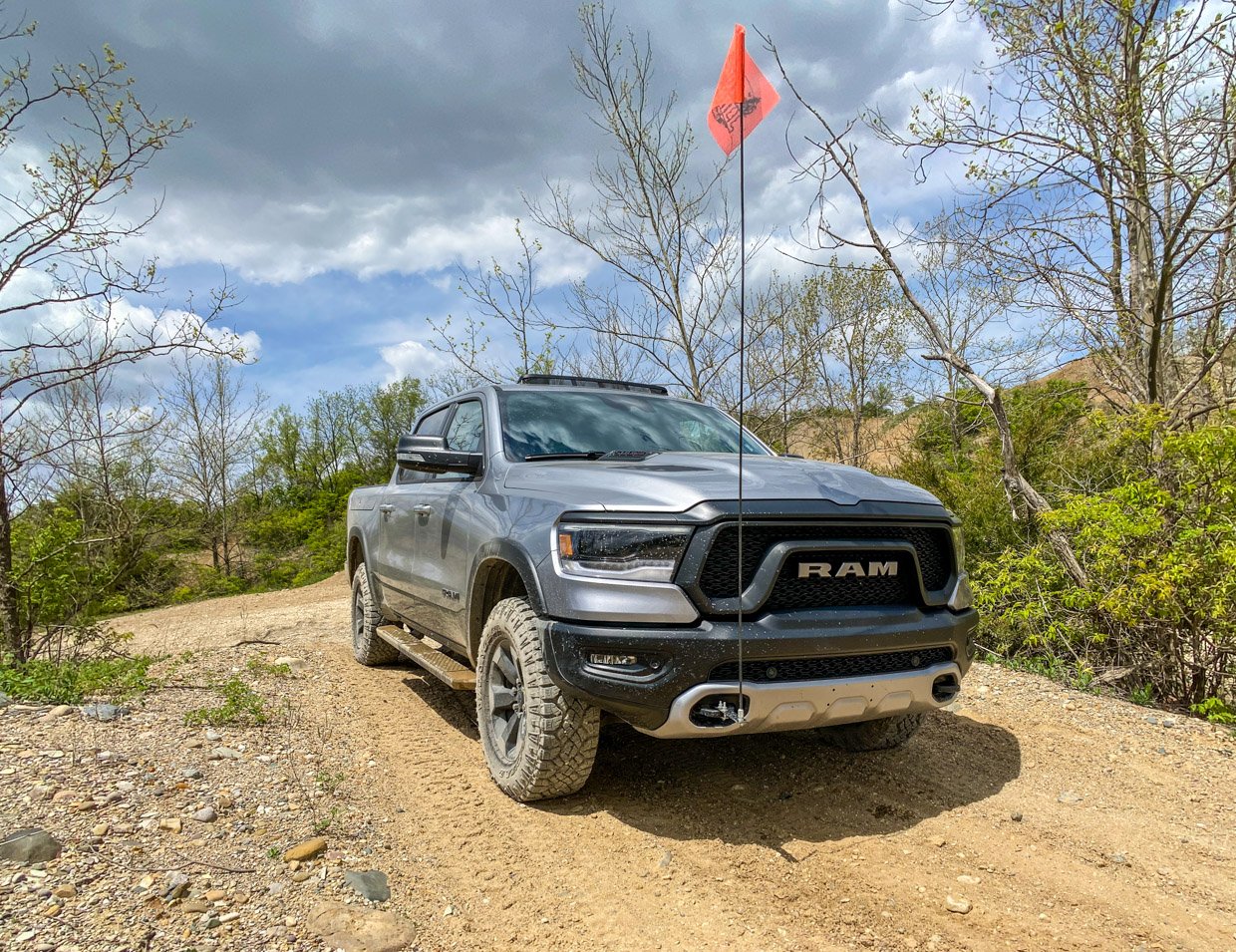 As we set off on the road in our trusty steel steed, it quickly sank in that the RAM is the most comfortable pickup truck we've ever driven, offering up an impressively smooth ride, and plenty of power to go with. Driving the Rebel down the highway is a delight, and requires surprisingly little effort for something this big. Set the adaptive cruise control, crank up the 19-speaker Harman Kardon audio system, and highway driving is even more of a breeze.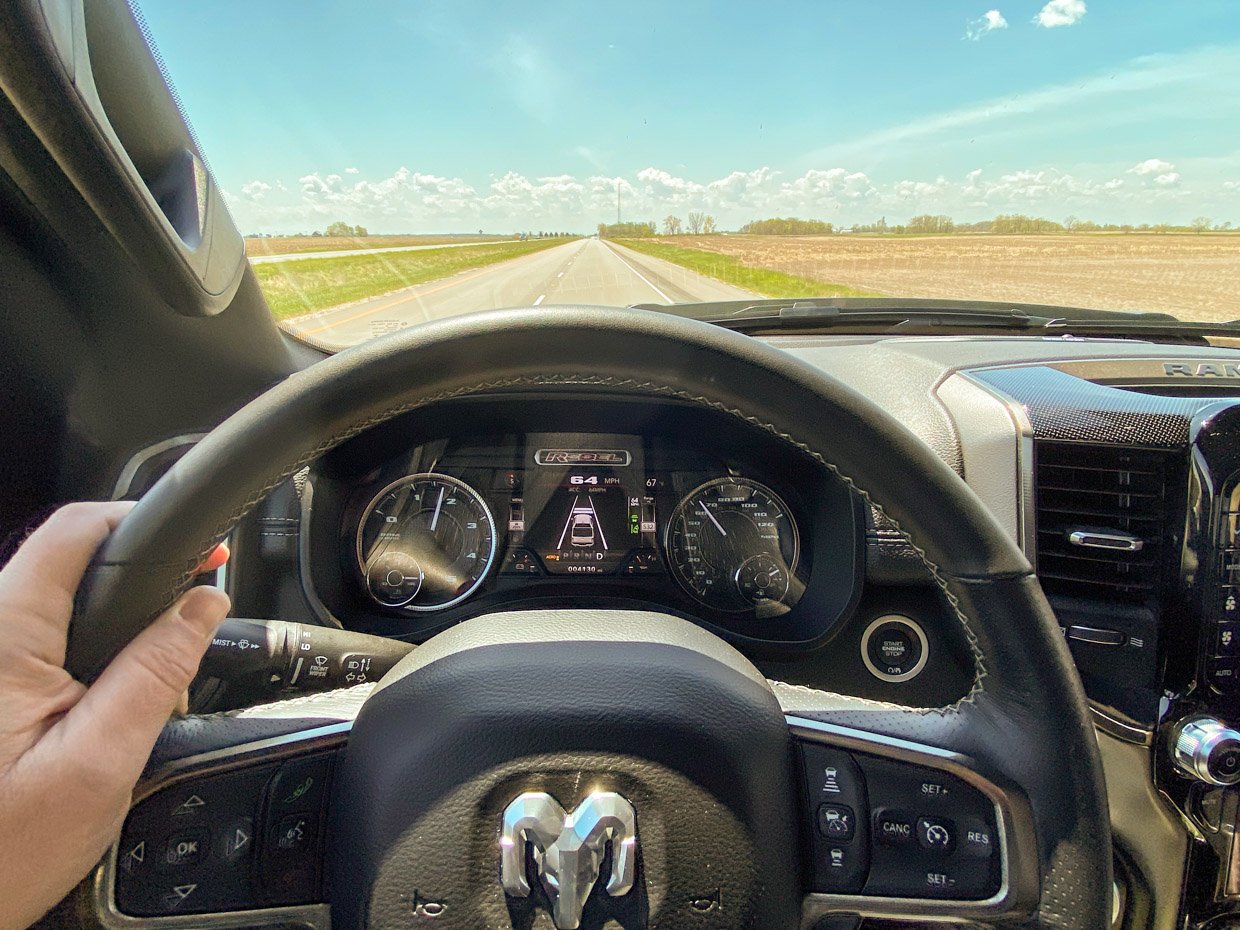 The RAM 1500 can be outfitted with a 3.6-liter V6 gas engine, a 5.7-liter HEMI V8, or a 3.0-liter EcoDiesel V6. Our truck was equipped with the powerful 3rd-gen turbodiesel, which not only offers outstanding fuel economy (we got right around 29 mpg on the highway), but cranks out massive amounts of torque - 480 lb-ft., which is 70 more than even the big V8 can muster. The ZF 8-speed automatic transmission is still one of the best and most reliable on the market, offering smooth, predictable shifts that happen almost as quickly as a dual-clutch gearbox. Combined with the optional 33-gallon fuel tank, this RAM will travel more than 950 highway miles on a tank.
The RAM 1500 Rebel comes kitted out for off-road handling - riding on knobby 33" tires, wrapped around 17" rims for maximizing sidewall coverage. There are skid plates located under the front suspension, transfer case, and fuel tank to protect the bottom of the truck from rocks and debris, and of course you must go with the 4-wheel drive version if you plan on hitting the trails. We had a blast as we zoomed around in loose dirt and rocks in 4WD High mode, then dropped into 4WD Low for some of the trickier trails with muddy ruts and steep grades. The truck also has an electronic locking rear differential, so you can ensure that power goes equally to all wheels when you need it.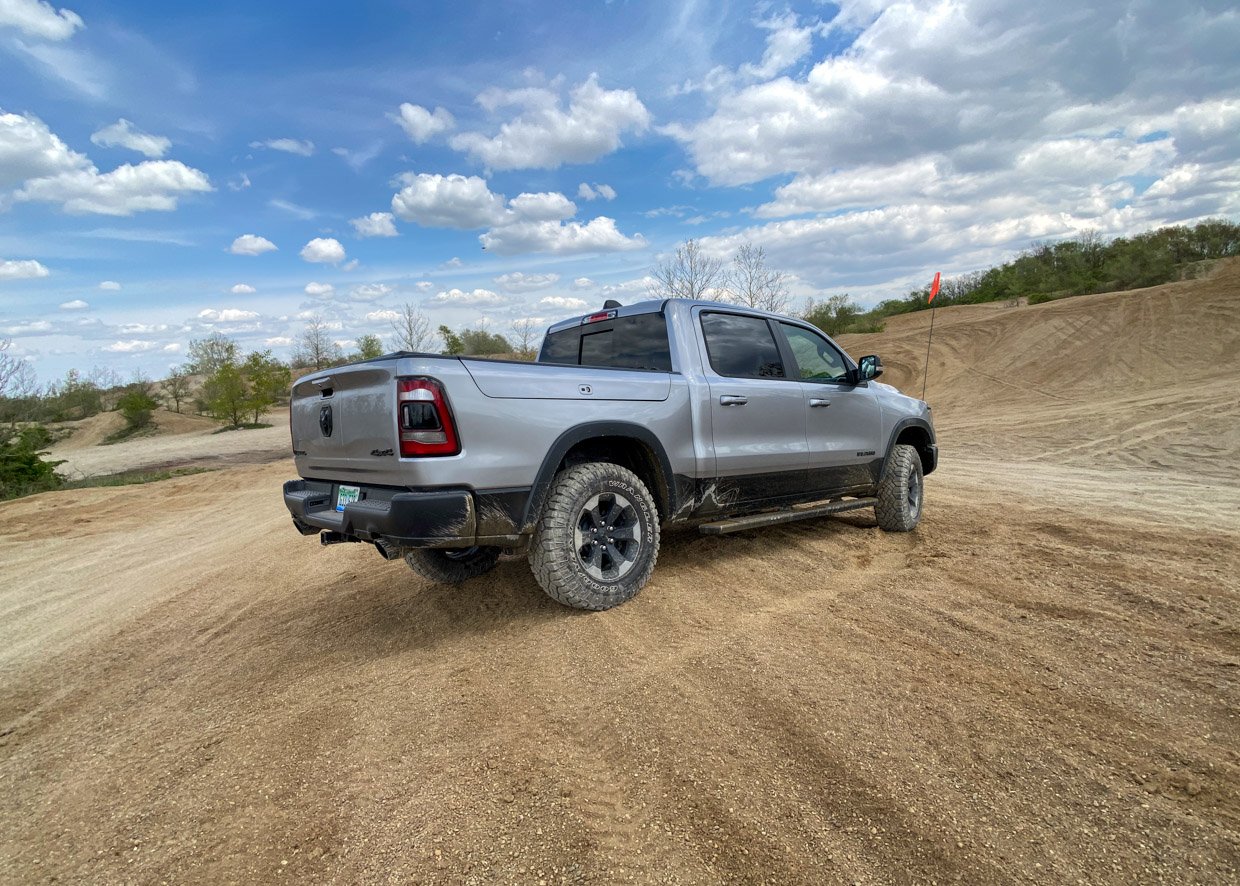 On top of the smooth-riding 5-link rear suspension is an optional, but highly-recommended 4-corner air suspension. This offers several useful features in addition to smoothing out the ride even further than the standard coil springs. The air suspension can lift the truck up to 2" over the normal ride height, increasing ground clearance up to 10.2" as well as improving approach, departure, and ramp breakover angles, which all means more off-road agility. The air suspension helps ride quality with or without a payload, and can also lower the truck by about 2" for easier entry and exit.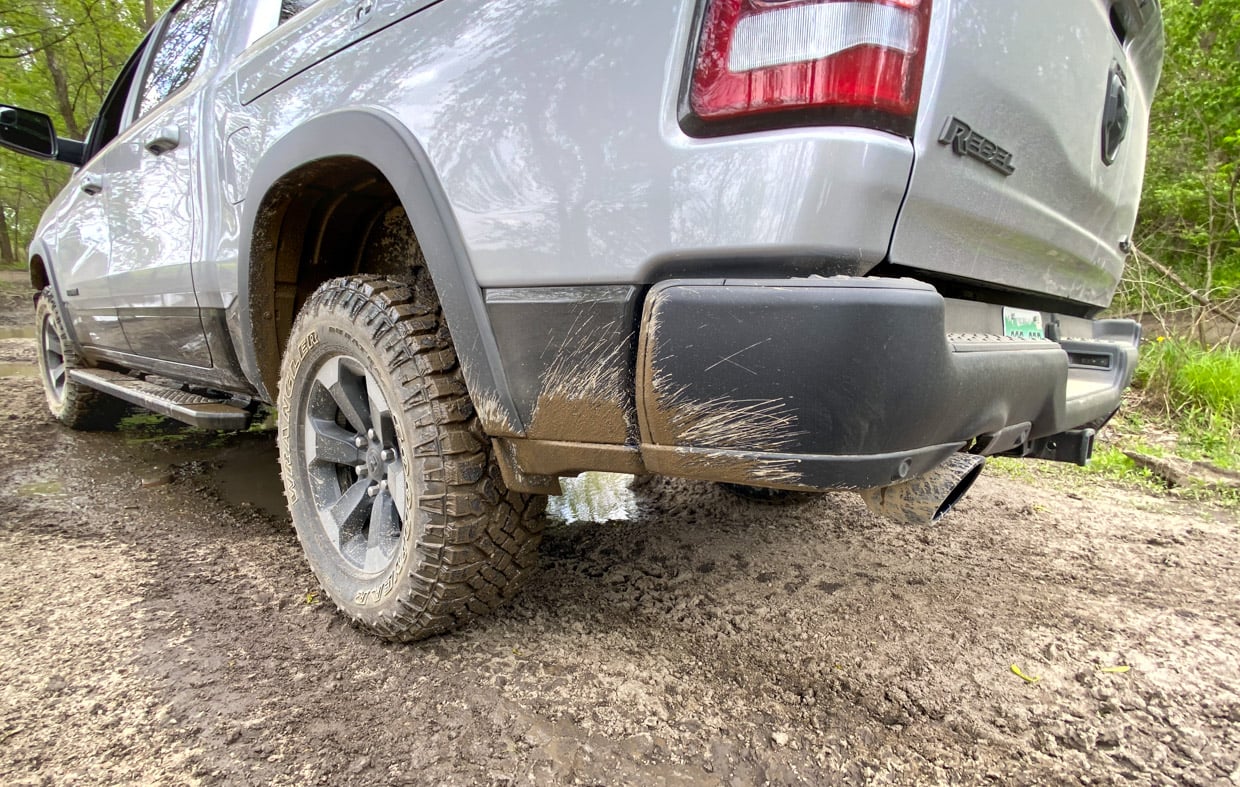 We love the black lower body cladding and trim elements on the Rebel as well. These give the pickup a tough and powerful stance, while also protecting the bottom edge of the truck from scratches and dings. The side steps are useful for getting in and out, though we'd rather have rock rails for heavy duty off-roading.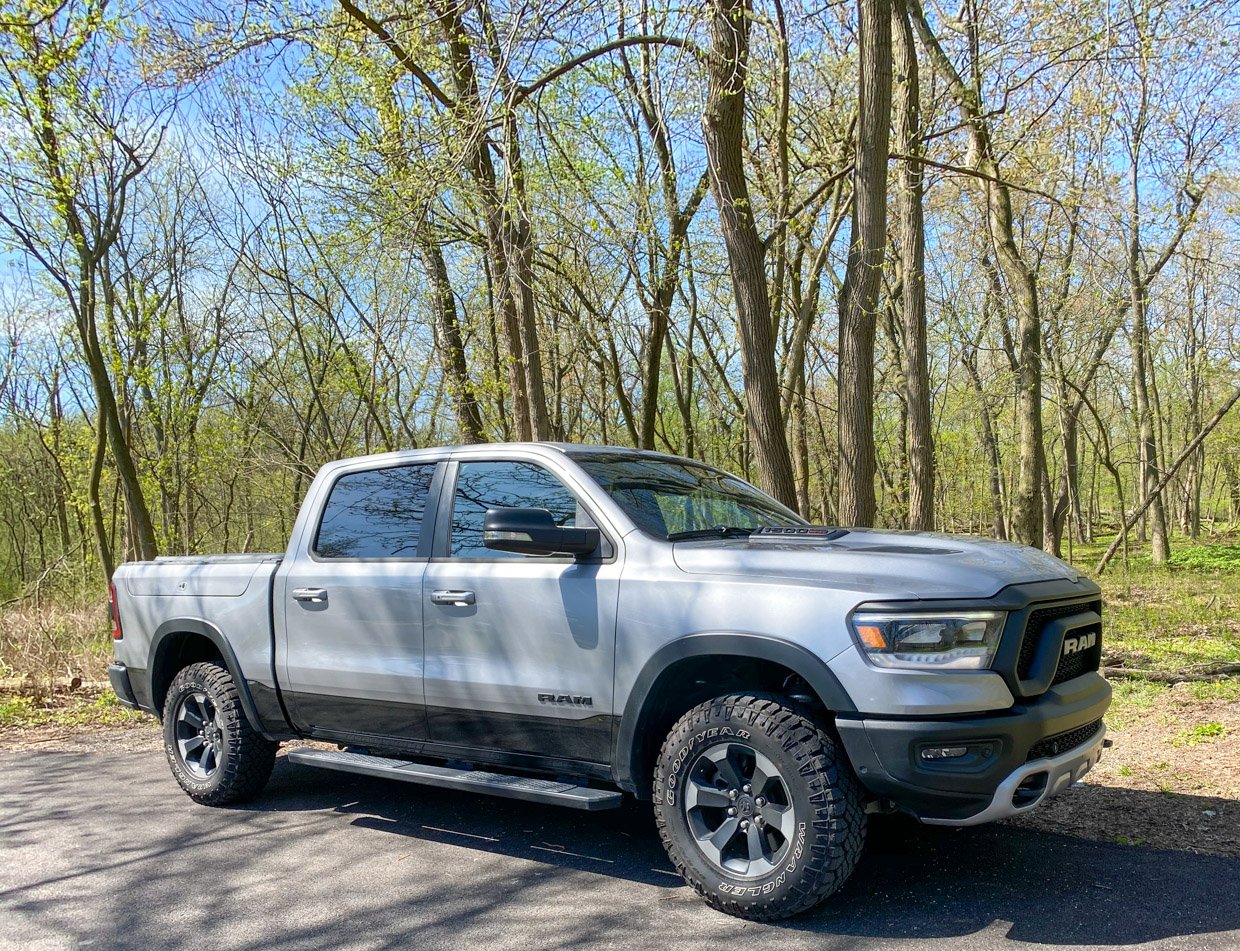 The interior of RAM trucks are arguably the best in the business, and the Rebel is no exception, with comfy and supportive leather seats, a leather-wrapped steering wheel, leather trim on the dashboard and doors, and Rebel and RAM's head detailing throughout. There's also a plethora of thoughtful storage in here, including a capacious center console with a sliding double-decker tray, and jumbo sized door pockets. The gigantic 12" touchscreen at center stage is like having an iPad built into your dashboard, and has Apple CarPlay and Android Auto integration.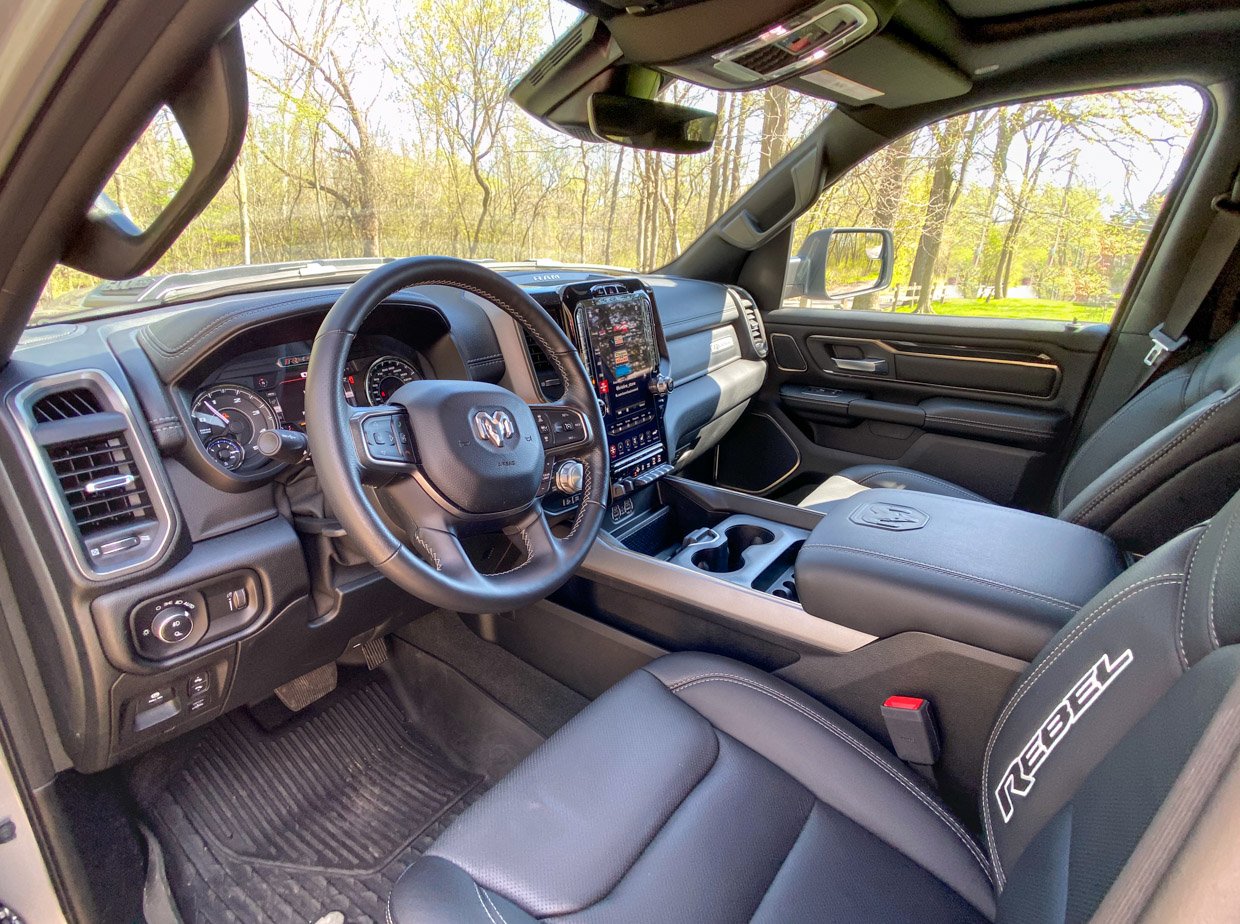 When you go for the Crew Cab, you get a second row with enough space for three tall adults, along with plenty of room to spread out. There's storage space everywhere too. The seats fold up towards the back wall, providing a good amount of interior cargo space on the load floor, and there's an available 40-liter storage space under the rear seats. The hidden storage bins under the floor mat are also great for carrying small items like emergency tools or a trailer hitch ball.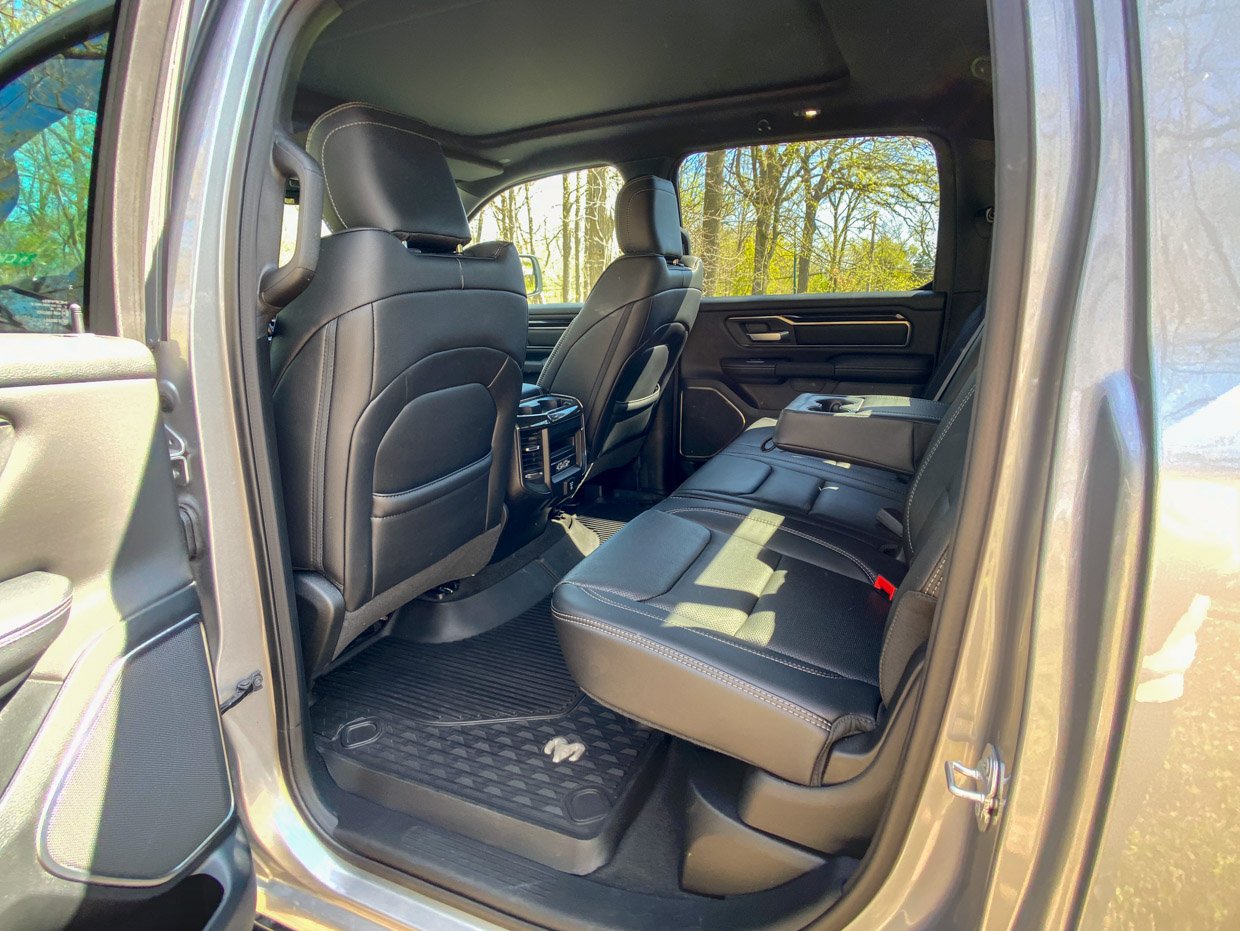 Our truck came with the slick multi-function tailgate too. Its unique design can both fold like a regular tailgate, and swing outward in a 60/40 configuration. This makes it easier to load long items, as well as to carry cargo with different lengths - so you could have items secured behind one side of the lift gate, while you could carry longer items like 2x4s sticking out of the other side. You can also equip the bed with a lock-in cargo box expander, which allow you to safely carry items which are lying atop the tailgate while opened flat.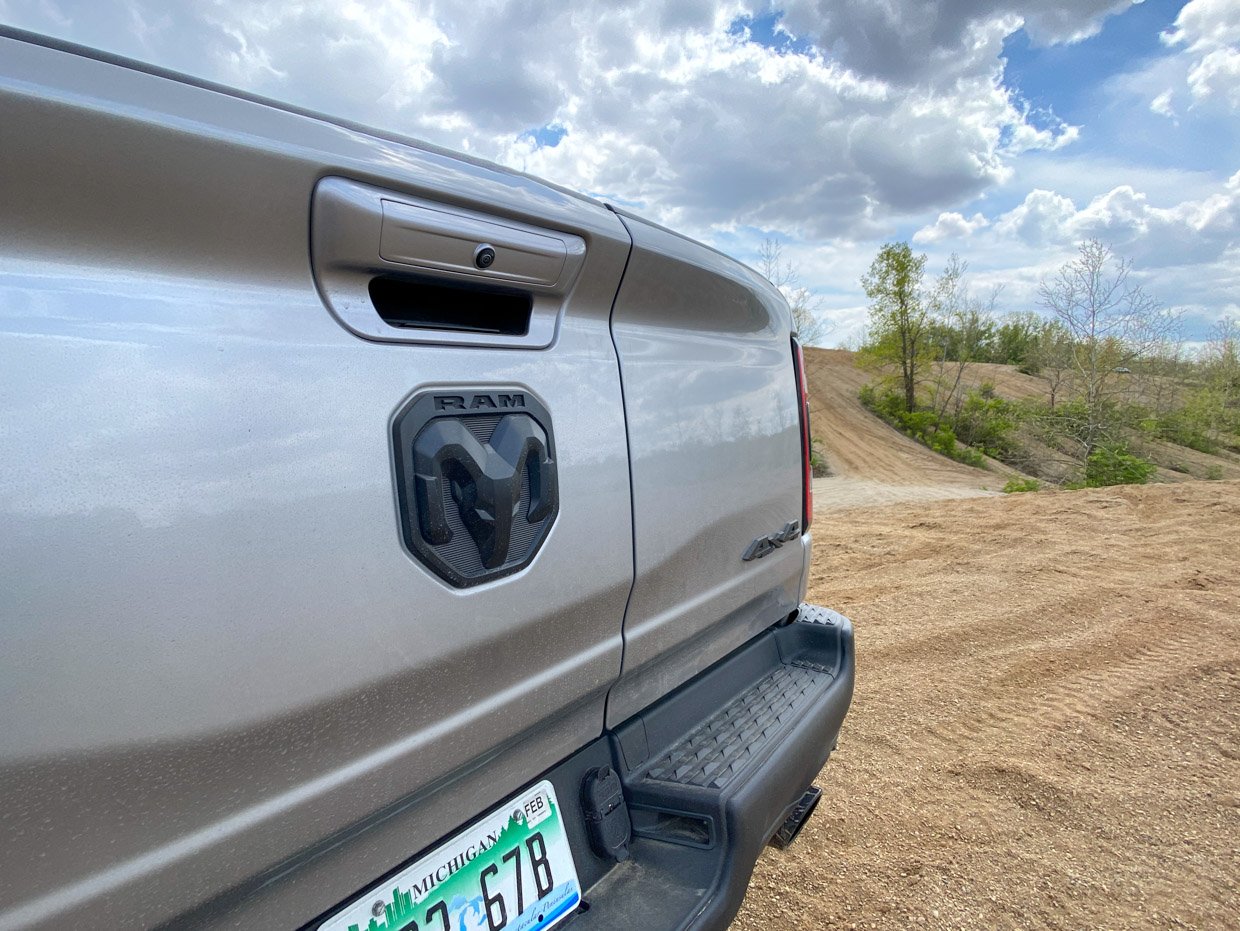 But wait, there's more! On each side of our truck's bed is a RAMBox, providing a bunch of additional storage space for tools, hunting and fishing gear, ice and cold drinks, or anything else you want to carry and keep out of the elements. The boxes are watertight, and lockable, and have enough capacity to carry up to 140 canned drinks on each side.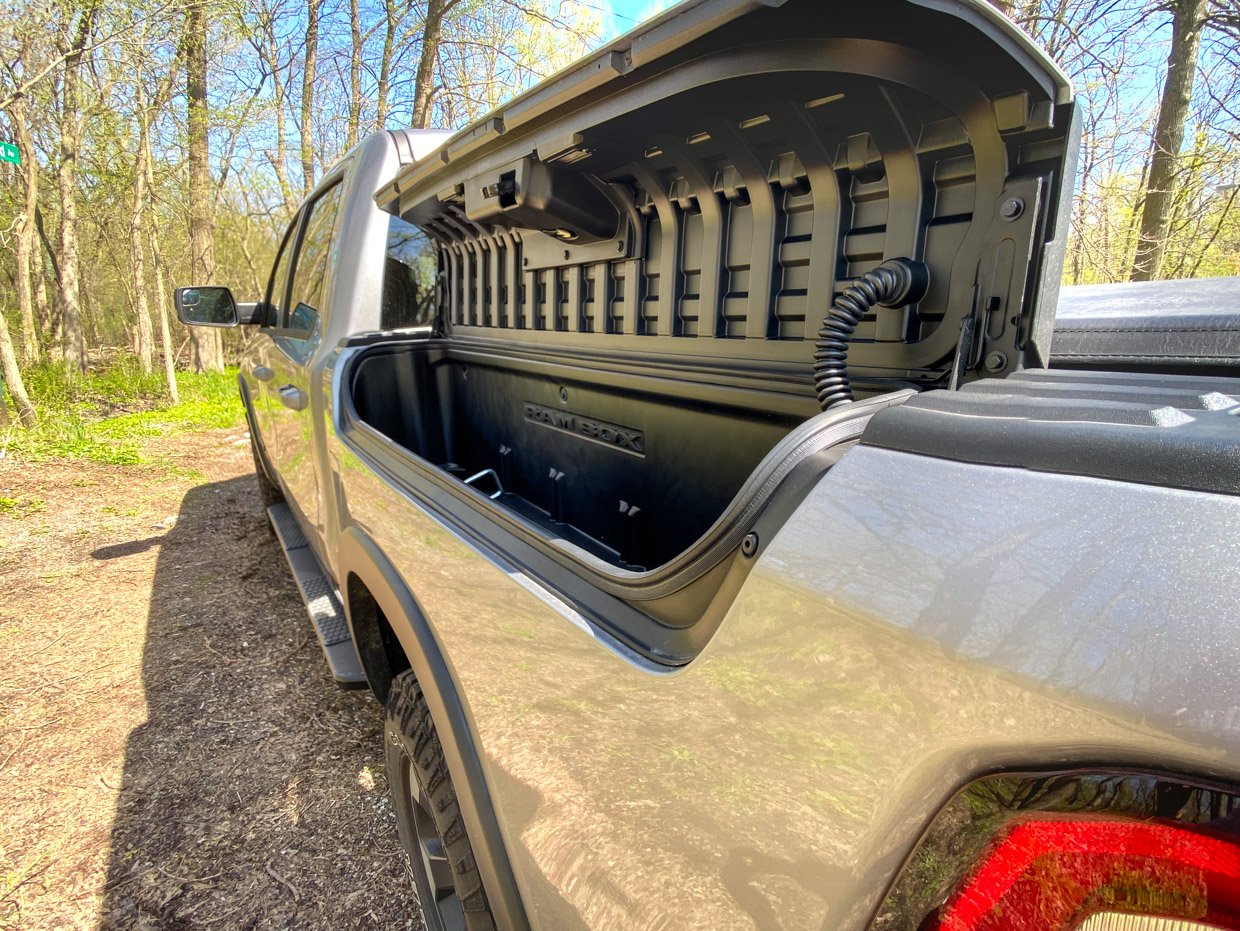 There's a ton we love about the Ram 1500 Rebel. It's a capable, premium-grade truck for everyday living, offering a supremely comfortable cabin, smooth ride, along with incredible amounts of space for passengers and cargo. The EcoDiesel engine truly shines, with ample torque and excellent fuel economy, and the combination of 4WD, rugged tires, and air suspension make the Rebel an exceptional off-road performer.