How Tennessee Whisky Is Made
tennessee | travel | whiskey | whiskeys | June 13, 2016
We recently had the privilege of visiting George Dickel Tennessee Whisky's famous Cascade Hollow Distillery, and went behind the scenes to see how grains, water, and yeast are transformed into wonderful whiskies for us to enjoy. Here, we share our tour in photos.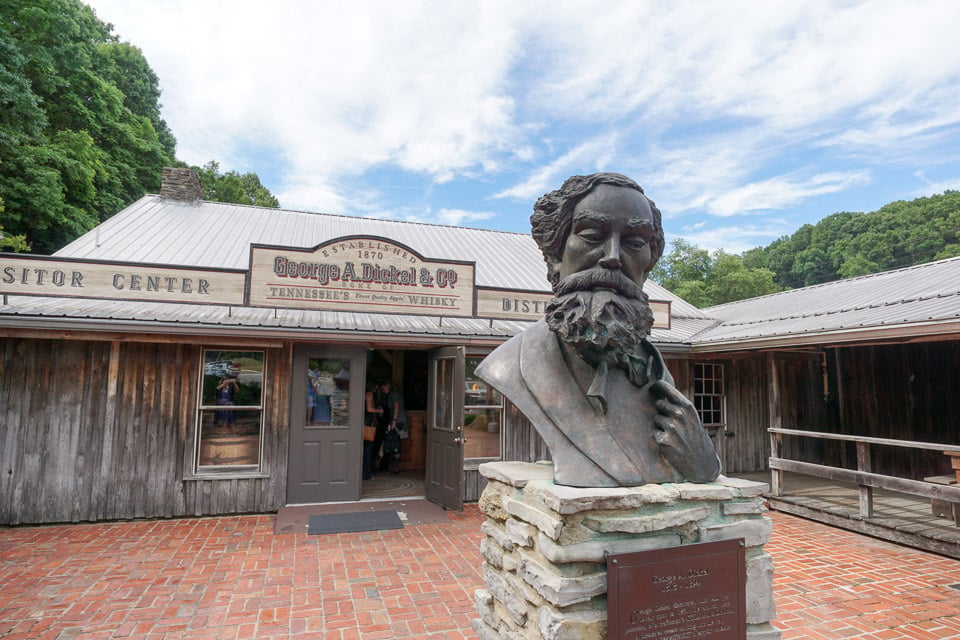 Local wood is gathered, cut, and dried, then burned to create charcoal, which will later be used for filtration.
Water used in the production process comes from the same clean spring source used since the 1800s.
Located in Tullahoma, Tennessee, the Cascade Hollow Distillery is home to the George Dickel's handmade whiskies. The company was founded in 1871, though had to cease production in the 1920s due to prohibition. Production resumed in the 1950s at this location.
Yes, lighting a flame in a factory filled with alcohol vapors and grains would be a bad idea, so this sign is a good idea.
Dickel uses a mash bill of 84% corn, 8% barley malt, and 8% rye. Wetting the barley makes it start to germinate and produces an enzyme which helps convert starch to sugar.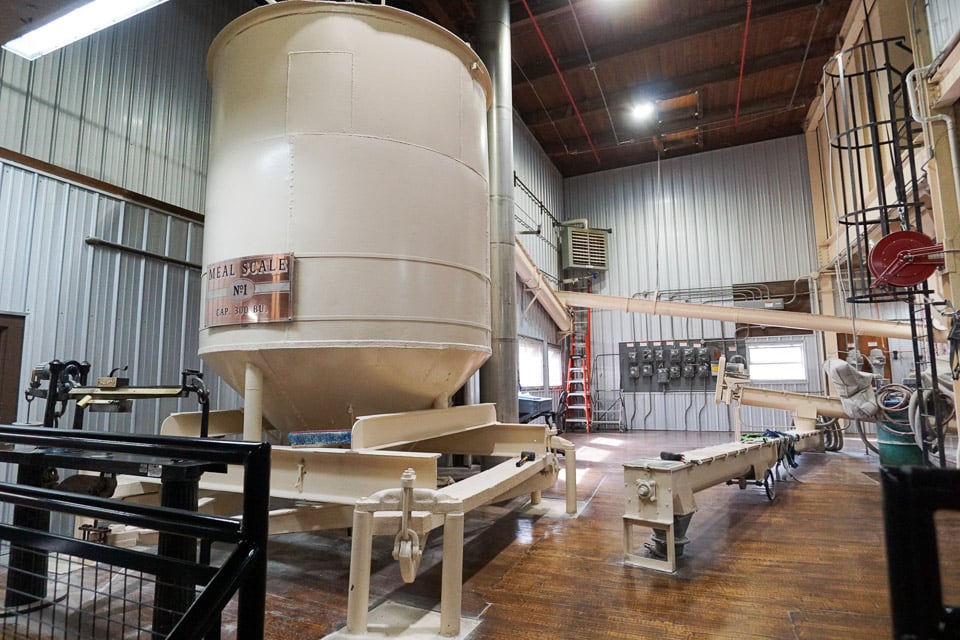 Grain and fresh water are mixed in mash tubs to create the initial mash. Dickel's sour mash process uses a small amount of leftovers from the previous batch to help inhibit bacteria growth.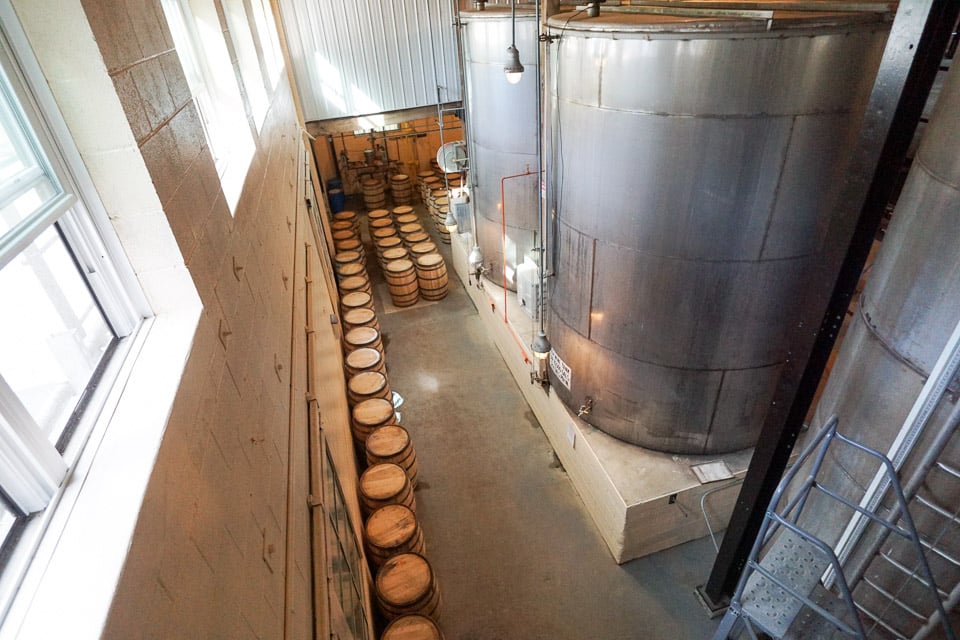 Yeast is added to the mash and it then ferments in open tubs for about 3 days.
The fermentation process produces millions of bubbles and releases a strong aroma.
The fermented liquid is then transferred to the beer well, where it is stirred for consistency before heading to the still.
Distillation takes place in this 3 story-tall vintage copper column still. Alcohol vapors rise to the top and solids fall to the bottom. Those leftovers serve as cattle feed for local farmers.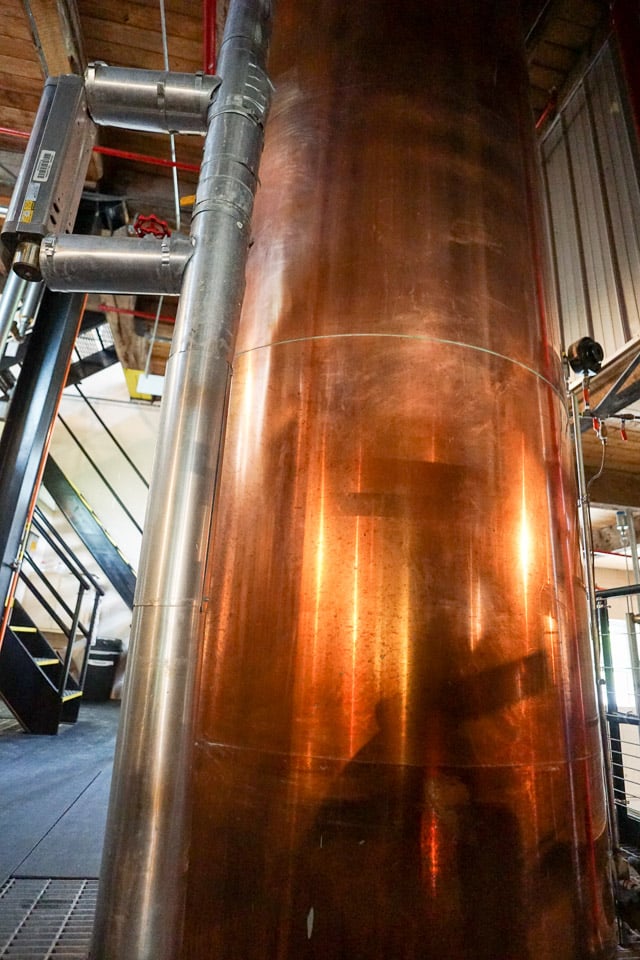 Alcohol vapors are condensed into a liquid, and then passed through a doubler for a second distillation without grains. The result of this process is white whisky.
Whisky is chilled to 40ºF to increase viscosity, then poured through a charcoal filtration process that takes 7 to 10 days and removes remaining impurities.
Once mellowed, whiskey is transferred to new charred oak barrels. Each barrel is made without glue or nails and weighs about 500 pounds when full.
The Cascade Hollow distillery has a dozen warehouses. 11 traditional warehouses hold 13,000 to 15,000 barrels, while the newest warehouse uses pallets to hold a whopping 52,000 barrels.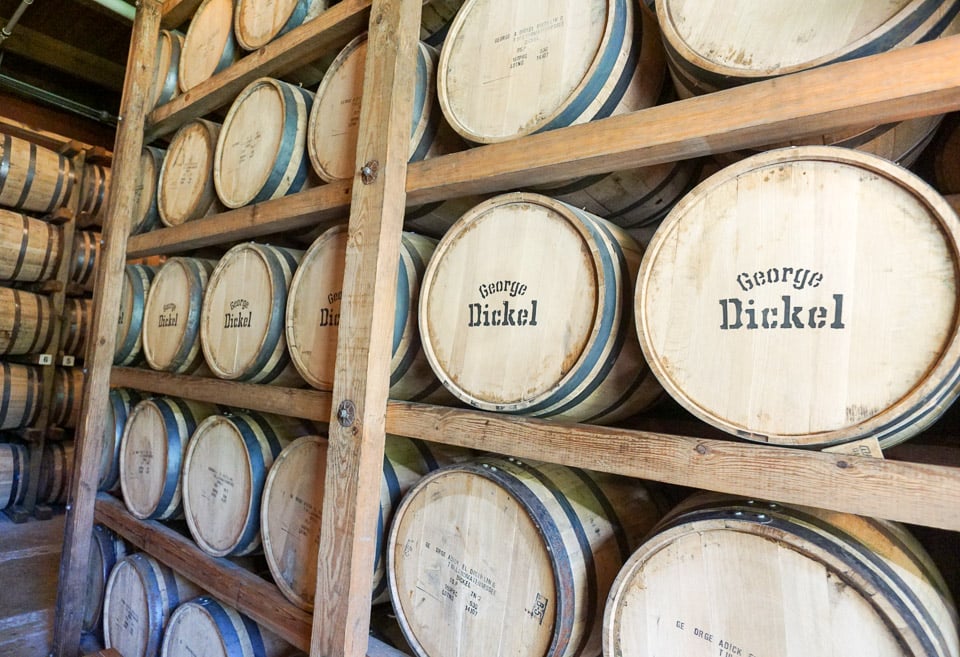 Whisky is typically aged in the barrels for 8 to 12 years for optimal flavor, though a small batch of a delicious 17 year was recently released.