Driven: 2021 Ford Mustang Mach-E
crossovers | electric | ev | ford | ford mustang | ford mustang mach-e | February 5, 2021
Words and Images by Paul Strauss
Ford shook things up when they revealed they were making an electric crossover and calling it a Mustang. While it's not a muscle car, the Mustang Mach-E is a most definitely a performance vehicle. We spent a week with the Premium AWD variant and were duly impressed with its power, handling, technology, and comfort.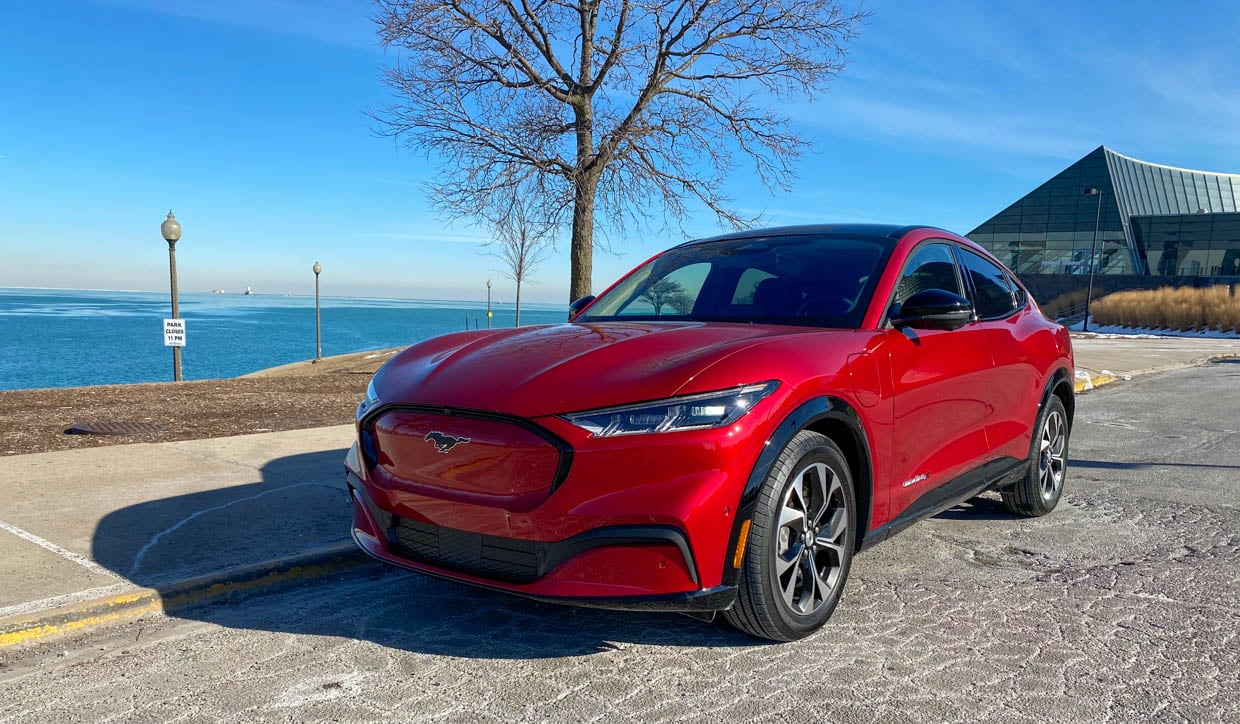 The Mach-E is one good looking car, combining heritage elements like triple taillights and galloping horse graphics with sleek, modern design and an aerodynamic profile. Driving around Chicago in this metallic-tinted Rapid Red model, we attracted plenty of attention. The upgrade 19" aluminum rims and black body trim help with the car's sporty styling.
The Mach-E comes in several battery and motor configurations, ranging from the 266 hp standard-range RWD to the 346 hp extended-range AWD model which we drove. There's also a Mach-E GT coming later in 2021 that's expected to make 480 hp. Of course, when you're dealing with electric motors, torque is your friend, and it's quite ample here, with the extended-range Premium AWD delivering an impressive 428 lb-ft. Acceleration is direct and immediate, and while we didn't clock our exact 0-to-60 times, it sure felt faster than the spec sheet's 4.8 seconds. One of the nifty things about the Mach-E is ability to be operated in a "one-pedal driving" mode. In this mode, braking is rarely needed. The accelerator starts applying brakes as you lift your foot, maximizing regenerative energy capture, while providing a sportier feel. You still need to use the brake pedal when you come to a complete stop, but the Auto Hold feature means you spend very little time hitting the brakes.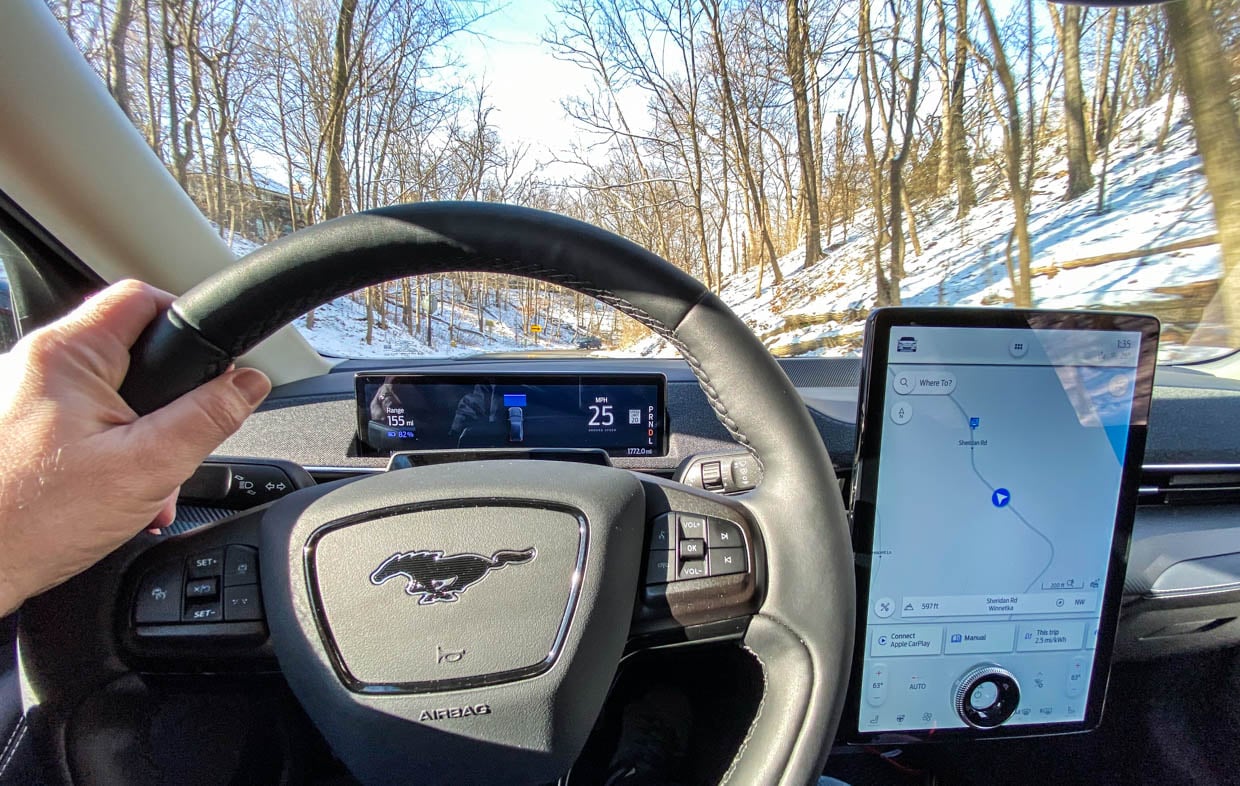 Thanks to its low center of gravity and lack of an engine in front, the Mach-E handles great. It's got a perfect 50/50 weight balance, and the heavy battery pack that runs along the bottom of the car helps keep it planted. It's quite a treat to drive a crossover with this little body roll. This thing handles like a well-behaved sports sedan, not a family utility vehicle. The suspension isn't tuned as firmly as most sports cars though, and errs on the side of everyday comfort. Thanks to its electric drivetrain, it's also whisper quiet, with the exception of a bit of wind noise at speeds over 70 mph. You can activate a synthetic propulsion sound if the electric motor whirr isn't enough for you, and there are three drive modes: "Engage," "Whisper," and "Unbridled," each of which influences torque application and steering weight.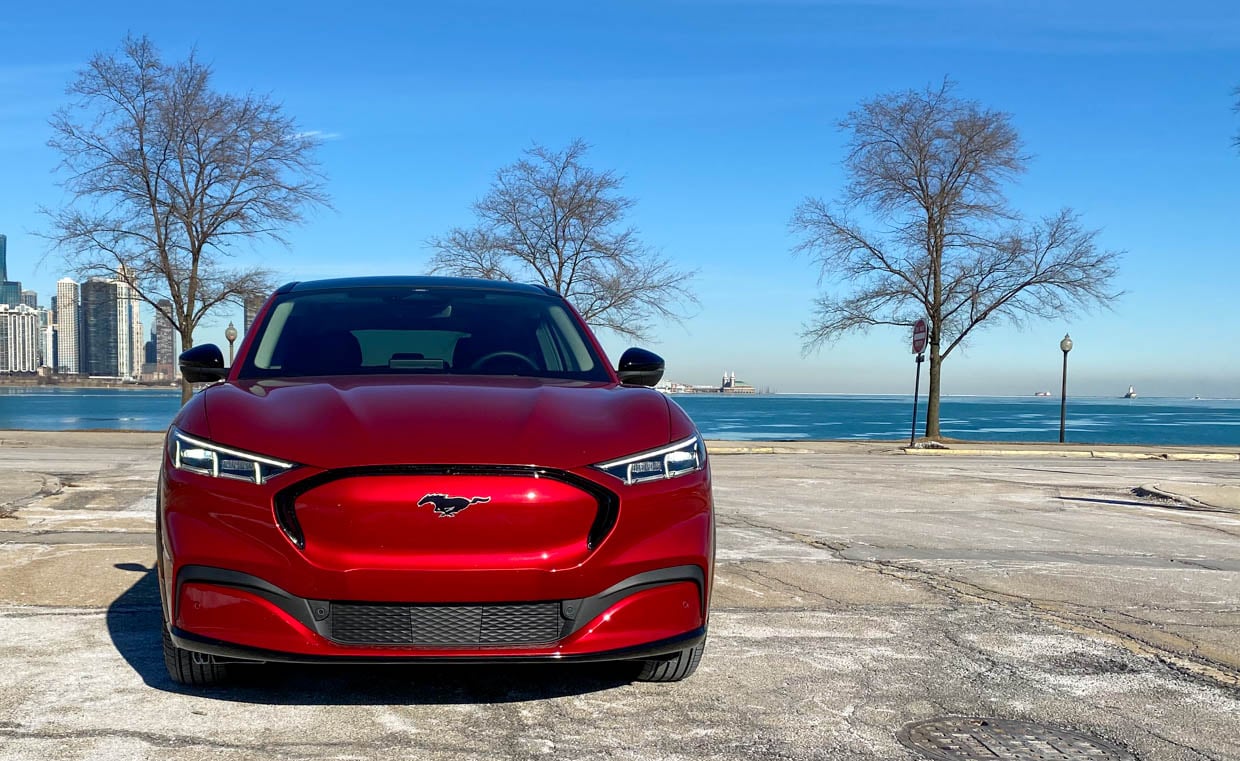 Charging up the Mach-E is easy. It's compatible with Level 1 and Level 2 AC chargers, as well as DC Fast Chargers up to 150kW. We used an Electrify America DC charger at a nearby mall, and it took us 90 minutes to go from a 20% charge to an 80% charge. Keep in mind that we had the Mach-E on a bitterly-cold week, with daytime temperatures in the 20s (Farenheit). This can affect charging times as well as driving range. The Mach-E AWD with the extended-range battery is rated at 270 miles, but we ended up only getting about 200 miles of range on a charge - in part thanks to losing some energy while parked outside at night. That all said, if you decide to buy any electric car, having your own Level 2 charger and a warm garage is the best bet for maximizing range. There's also a California Route 1 Edition that combines the extended-range battery with rear-wheel drive, which increases range to 300 miles at the expense of performance.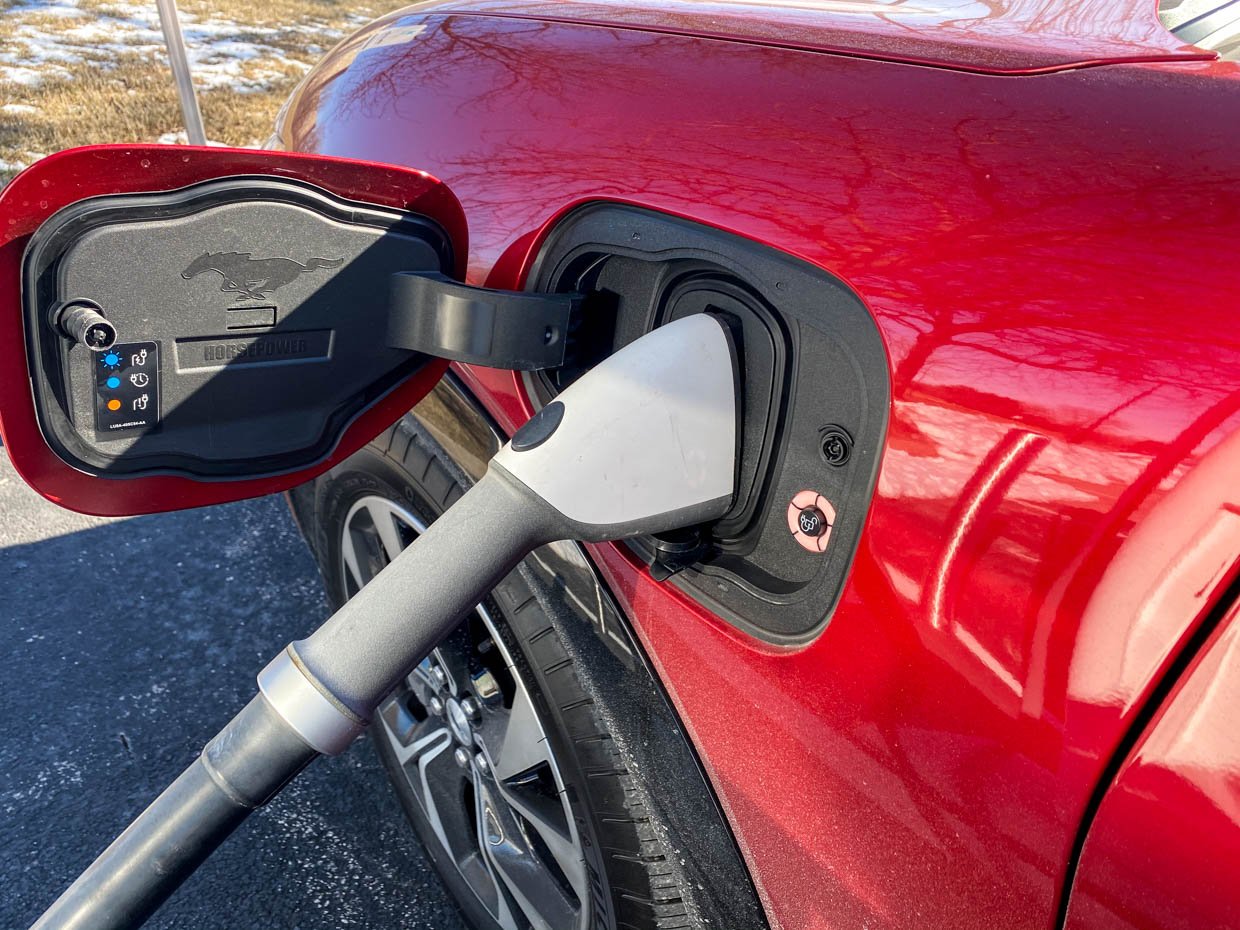 Before we move to the interior of the Mach-E, we'd like to point out the unusual way its doors open. Rather than a traditional handle, or ones that retract into the body, Ford went with a pushbutton that pops the door open electromechanically. There's a little handle you can grab to pull open the front door, while the rear doors open enough on their own that you don't need one. Our passengers were confused at first, but once you realize how the buttons work, it's kind of a nifty design.
The inside of the Mach-E is a relatively spartan and modern environment. No matter which trim level you go with, you get seats covered in perforated ActiveX - a synthetic material that's more durable and stain-resistant than leather, and still looks like the real thing. We found the seats to be quite comfortable and supportive. Since there's no need for a transmission tunnel, the center console has lots of storage space, including a double-decker tray in front, and an easy-access storage area under the center armrest. A 10-speaker B&O audio system offers up crisp and natural sound.
Gone is the wall of buttons and knobs found on most vehicles. Instead, there's a 15.5" touchscreen that sits vertically in the center of the dash. The only tactile control comes in the form of a volume knob that protrudes from the bottom of the display. Running the latest version of Ford's Sync software (Sync 4A), the interface is responsive and intuitive, and provides quick access to music, navigation, vehicle settings, climate controls, and even a digital owner's manual. The nav system is loaded with details on local charging stations, and can route you to the nearest one. We also love the one-two punch of wireless charging and wireless Apple CarPlay. The excellent FordPass mobile app can check charging status, schedule climate pre-conditioning so the cabin is comfortable when you get in, and even lets you use your phone as a car key.
There's plenty of room in the back seat of the Mach-E - more than you might expect from a crossover. Tall people will have no trouble with leg and knee room, and headroom is good other than a slight slope to the roofline at the back. Our Premium model came with a panoramic glass roof which covers the entire passenger cabin. Oddly, there's no retractable sunshade, and instead it relies on polarization to keep the sun from scorching seats on warmer days.
Cargo space is plentiful in back - with the seats folded, you get 59.7 cubic feet of uninterrupted space for carrying large objects. That drops to 29.7 cubic feet with the rear seats in use. Premium and higher trims get a power liftgate that can be opened with a wag of your foot if you don't have a hand free to push the button.
Lest we forget, the lack of an engine up front means bonus cargo space. The front trunk (aka "frunk") on the Mach-E gives you another 4.7 cubic feet of room, and is perfect for hauling groceries, shopping bags, backpacks, and other smaller items. A sturdy plastic divider makes it easy to keep stuff from jostling around up there too.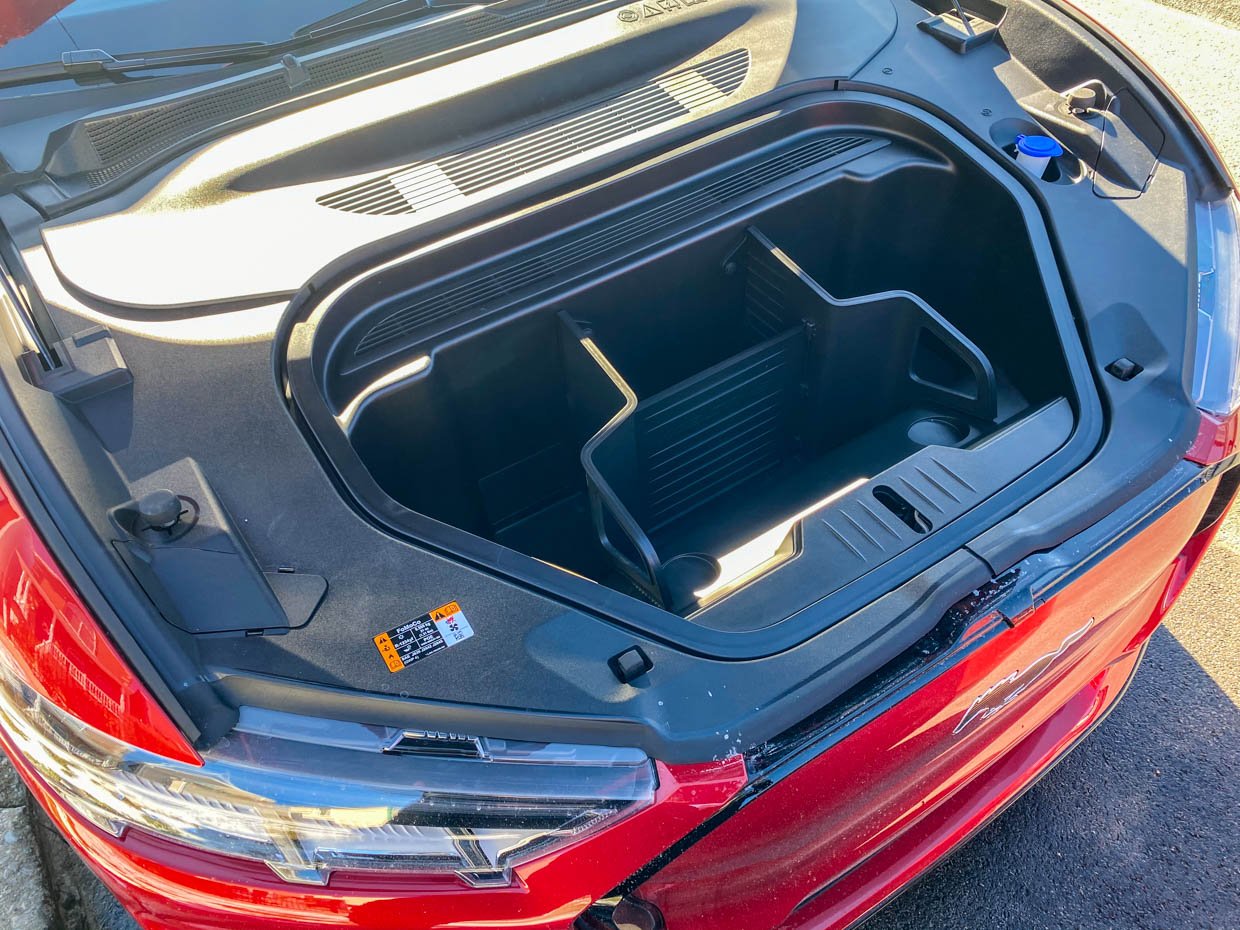 The question we get asked about the Mach-E all the time is "but is it a real Mustang?" If your sole expectation for a Mustang is a rear-wheel drive V8 muscle car, then no. But if you can roll with the idea that the Mustang brand can be associated with another high-performance Ford with bold and sporty looks, well sure then, it's a Mustang. Whatever you think of its name, the Mach-E is an excellent vehicle. It's quick as a whip, handles beautifully, is spacious, comfortable, and modern. And it does it all with zero emissions, and not a drip of gasoline.