Supreme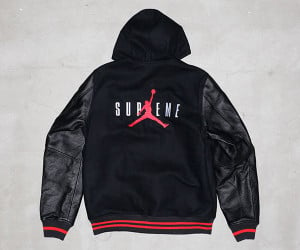 We think Supreme made a mess of the Air Jordan 5, but the hooded varsity jacket and coaches jackets that are in the accompanying collection are undeniably noice. They should be up anytime soon on Supreme's online shop. Get a better look on their Instagram page.
Supreme goes all-in on paisley with its winter collaboration with The North Face. The collection features parkas, sleeping bags, mule slippers, gloves and suitcases in black, red or blue paisley print. Goes on sale 11/20.
Supreme maybe one of New York City's most famous current residents, but once upon a time a show about nothing repped the Big Apple. Stugazi mashes up past and present with this sticker. A reverse mashup would be equally dope.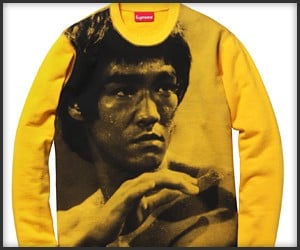 Never Miss a Post! Get the Latest Awesomer Posts in Your E-mail Box Every Day!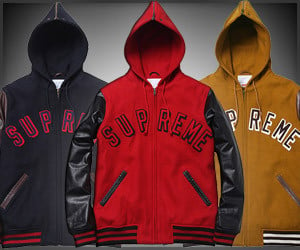 Stay frosty when the cold weather comes with these hooded varsity jackets. Available in four colors, it has a wool body and leather sleeves. The hood can be unzipped and flattened.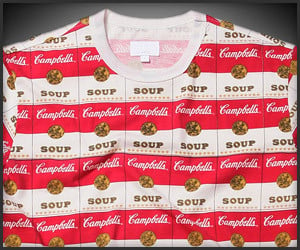 New York counter-culture fashion outfit Supreme teamed up with Campbell's to make a line of t-shirts, caps and Vans shoes plastered with the soup company's iconic red and white can.
Use Arrow Keys ← → for Faster Navigation | Keyboard Shortcuts: OnOff