Lexus Ultimate U.S. Open Road Trip
california | cars | golf | lexus | travel | July 2, 2019
Words by Gigi Leonard / Images by Gigi Leonard and Michael Troutman
What's more exciting than a road trip to the U.S. Open in Pebble Beach? A road trip with Lexus packed with awesome cars, sights, and golf courses along the way. We knew that we would have a great time on this weeklong odyssey cruising the California coast line, but nothing could prepare us for the glorious world of Lexus hospitality.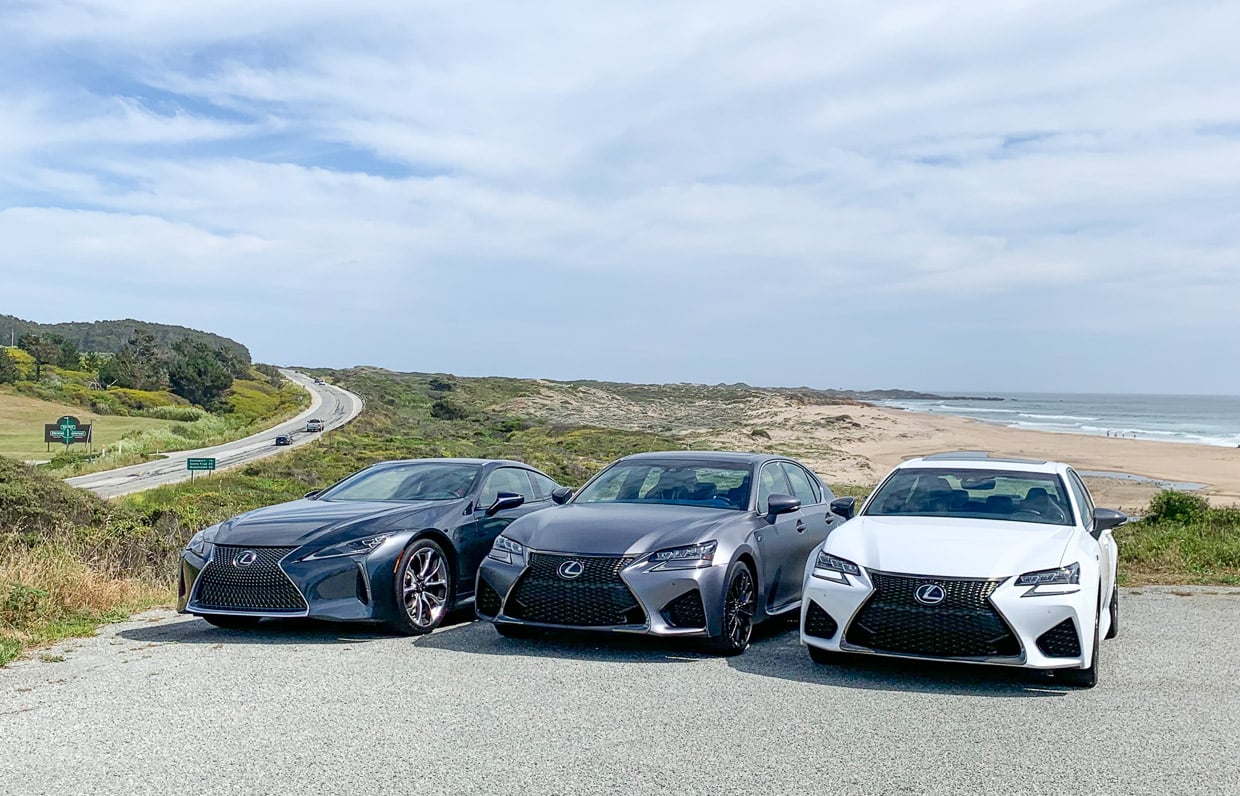 Our journey began with an easy flight from Chicago to San Francisco, followed by a private car whisking us to Cavallo Point, a former army base set inside Golden Gate National Park that has been converted to a luxurious LEED Gold certified lodge.
Nestled at the foot of the Golden Gate Bridge in Sausalito, we had spectacular views of the bridge and bay, a convivial dinner with fine wines, and a surprise swag bag filled with golfing essentials when we returned to a spacious room to enjoy a good night's sleep before the actual driving began.
After a leisurely breakfast, we spilled out onto the sidewalk with eager anticipation. Which Lexus would we each be driving to the Ocean Course at Half Moon Bay?
I had my fingers crossed for the super sexy matte grey GS F - and I got my wish. This car has everything you could want in touring and performance, while still having enough room to comfortably seat four adults.
After a short drive we arrived at the golf course. There is something about golf holes along a big body of water that feeds the creativity. Our leisurely round included a caddy and impressive views of the ocean on Arthur Hills Scottish links style course. This was a fair test of your skills provided you can manage your putting efficiently.
We climbed back into our cars and our journey continued down the most iconic road in California - Highway One. It was hard not to gawk at the ocean below behind the wheel of my powerful and highly comfortable Lexus steed.
After an unhurried ride down the coast we meandered onto the exclusive 17 Mile Drive (closed for the Open). Then, after passing hundreds of Monterey Pines, we arrived at our home base - the astonishing Inn at Spanish Bay, a plump and pristine jewel set against the rugged pacific coastline.
Upon arrival, a concierge escorted me to my room, and when she opened the curtains I almost cried like a girl at the sheer beauty of the view. I said almost. But seriously I didn't want to leave my room. It was sleek and modern without being pretentious, and had all the amenities you could possibly ask for, or not even know you wanted.
A short ride took us to the Montrio Bistro where carnivorous delights mingled with adult beverages awaited us. Then back to the room for a good night's sleep on a mattress that felt like a cloud. Another big day was coming up.
I woke up with butterflies in my tummy on day 2. It was track day! I put my most comfy closed-toe shoes and long pants on, and after an awesome breakfast at the Inn, the group made its way to WeatherTech Raceway Laguna Seca, a bucket list racetrack owned by Monterey County. This renowned jewel is a 2.238 mile road track with a twist - literally. Turns 8 and 8a begin the famed Corkscrew, a 450' length of track that drops ten stories in elevation. Fantastic! And we got to drive these cars on it!
The first car I took on the track was the sculptural and sexy LC 500. This guy has a 10-speed transmission that's been tweaked for even smoother shifts than before, an adaptive variable suspension, and razor-sharp steering that's been retuned and enhanced for 2019. And that is what I felt on the course. The 471 hp coupe packs the same 5.0-liter V8 as the GS F, but it's a tad zippier around the track thanks to its lighter weight, and has a whole other sleek personality. Like its brethren in the Lexus performance family, it's streamlined, responsive, and precise.
Next up was the 2019 GS F. After a day behind behind its wheel on the road, I already knew the GS F would hug those turns, as does the fact that it's the official pace car of the racetrack. It did not disappoint. This powerful sedan felt intuitive and balanced on the asphalt, and I felt completely in control - even taking a variety of turns and straightaways at high rates of speed. The torque vectoring differential offers a track option to devour curves at higher speeds.
The last car I took around the circuit was the exceptional 2020 RC F Track Edition for some hot laps with a professional driver. They're only making 50 of these this year.
It's a bigger, badder version of the standard RC F, weighing 176 pounds less for a big upgrade in power-to-weight ratio. It's smooth like butter and slips through the wind like nothing. 0-60 in 3.96 seconds.
Enough activity yet? No? Let's hit the road again, this time as passengers in the luxe and fantastic LS 500. Along the way, we enjoy a variety of massage programs in the rear seats to work out the kinks from the morning at the track.
Tehama is a private club adorning the rolling hills of Carmel Valley. The Jay Morrish design offers the hardest greens on the Monterey peninsula and relentless elevation changes. That doesn't really matter when you're surrounded by sweeping views of the valley, the chill of the marine layer coming in from the ocean, and all kinds of wildlife who are pleased to share the course with you. This astounding place is comprised of 2,200 acres, 80% of which are to remain untouched.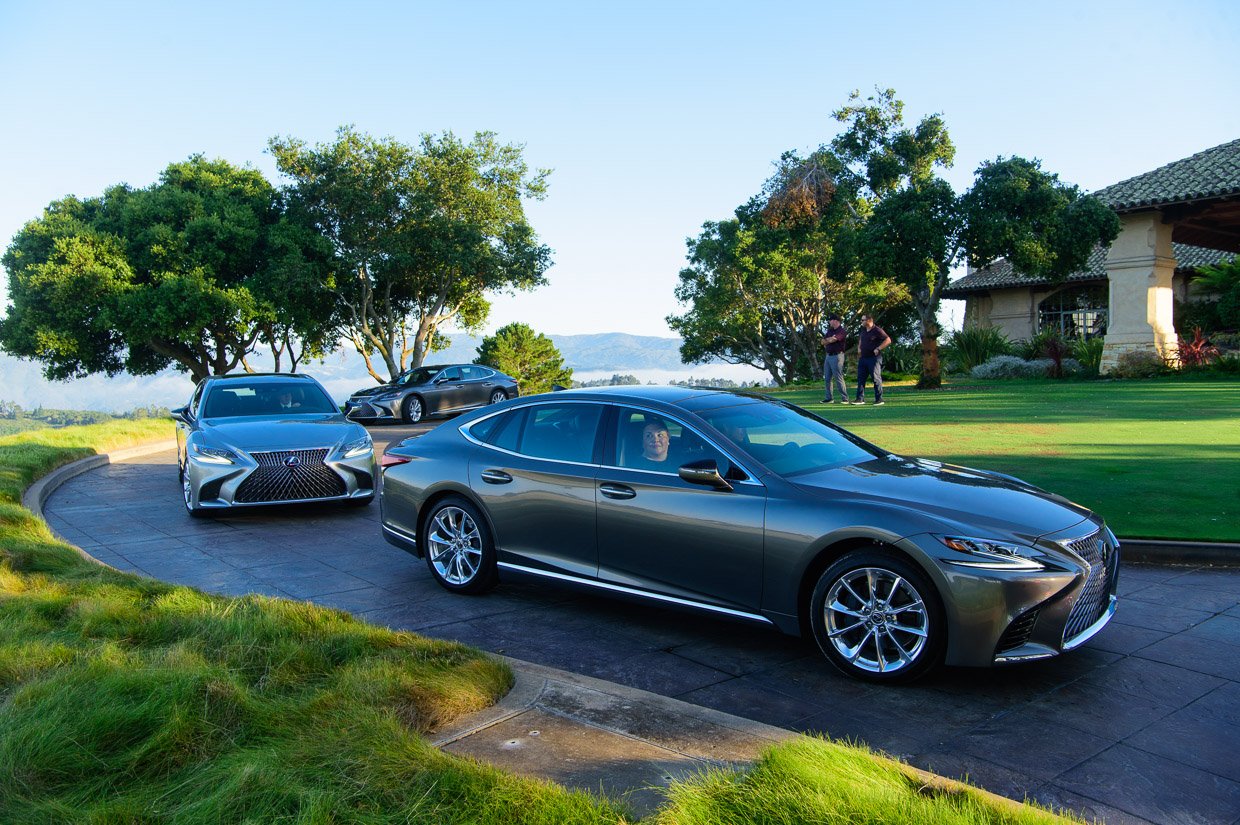 As an added bonus we were treated to a private wedge clinic with the one and only Wesley Bryan, social media star, 2017 RBC heritage winner, and charming Lexus ambassador. All I could think is if having a 58, a 54, and a 50 degree wedge is the key to success, I need to get to the golf shop now.
After the pointers and 18 holes, we headed back to Spanish Bay and enjoyed cocktails on the lively patio and casual dinner at Sticks, adjacent to the inn.
Free day with no schedule to keep. Does that sound awesome? This was the 4th day of the trip and being able to take in the scenery at my own pace was perfect. Meandering all around the grounds at the U.S. Open, it was great to have a home base at the Lexus hospitality tent at Pebble Beach.
We got lots of opportunities to chill out, eat snacks, enjoy a beverage and get close to all our favorite players. Some had larger following than others, but the fan energy was universally positive and excited.
People say that Pebble Beach is one of the toughest tests in golf. It was great to see all the pro players at this magical place before the cut for the final rounds. I even caught a glimpse of the Big Cat himself - or at least his backside.
Robert Trent Jones Jr.'s Poppy Hills is the only course of the seven in Pebble Beach that plays exclusively in the forest. It's a glorious forest which my West Coast friends have lovingly referred to as "Pinehurst West" - and you know what? They are absolutely right. It was my favorite course to play of the week - very player-friendly. I especially enjoyed the natural setting and the wide tree-lined fairways.
After our round in the forest, we had free time at the Open, so I decided to check out the Performance Experience that Lexus offers to fans. Among the autograph sessions and hole in one contests, they also offered an RC F driving simulator. I didn't have the heart to tell these guys that I had the real thing on the real track earlier in the week.
On the last shuttle ride back to Spanish Bay, I already knew I wasn't ready to leave. Spending the last night having a great dinner with my new friends I made during the week at a cozy spot in Carmel made that realization a little less harsh.
Lexus likes to incorporate a Japanese term called "omotenashi" into everything they do. Omotenashi is all about offering the best hospitality without the expectation of a reward. It's a broad concept that, like many other things in Japanese culture, is deep rooted and honest. After spending a week with these folks, it's easy to see why, so here's to you, Lexus, with gratitude.