Ford Mustang GT: 10 Things We Love
ford | ford mustang | sports cars | December 16, 2018
We recently spent a week behind the wheel of a shiny new Lightning Blue Ford Mustang GT Coupe Premium, and we loved every minute of it. Now, we present 10 reasons Ford's muscle car is better than ever, especially in its potent V8 version.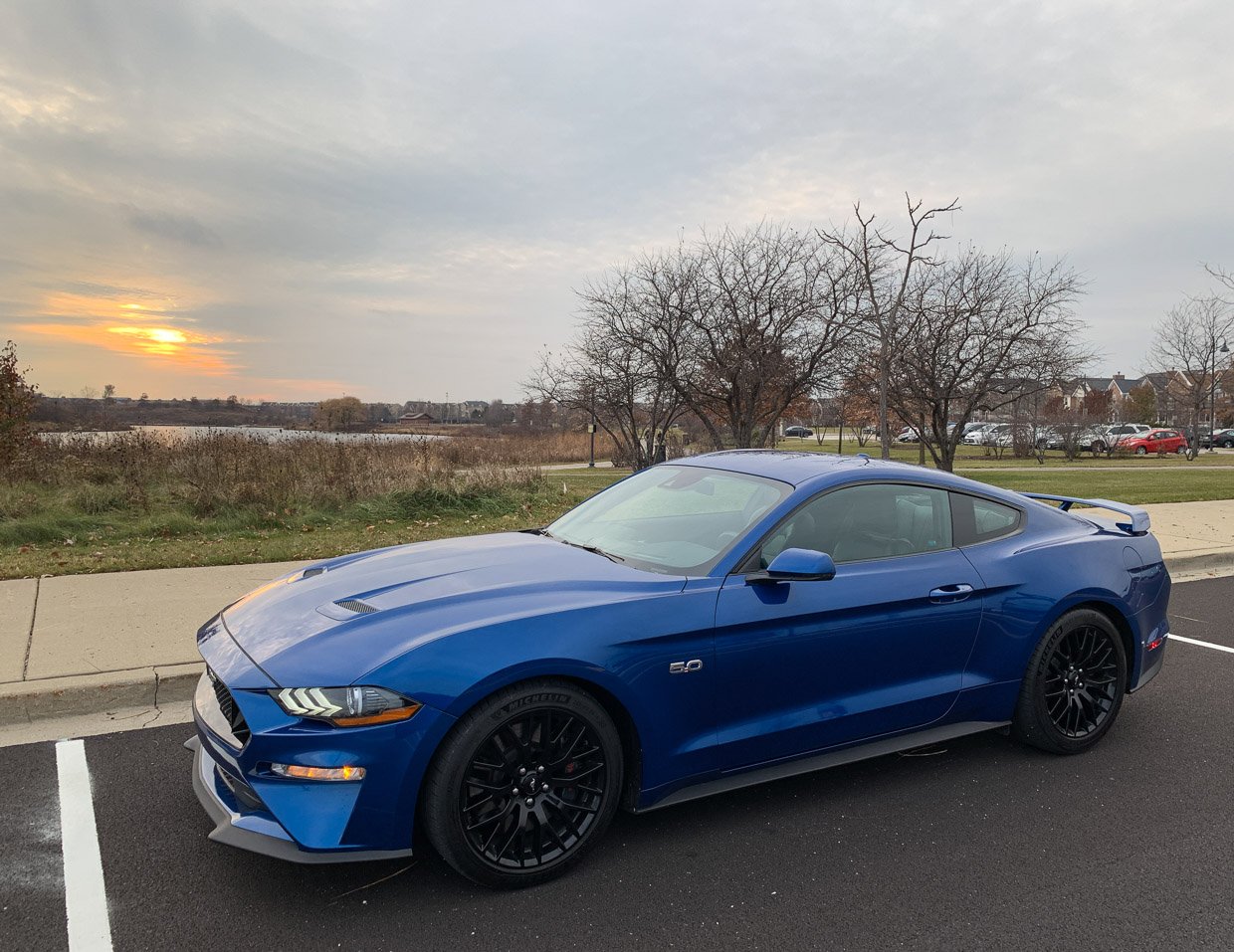 1) The engine. The 5.0 liter, 3rd-generation Coyote V8 is a monster, offering up 460 horsepower, and 420 lb-ft. of torque. It provides a tremendous amount of pull, and all the thrills you'd expect from one of America's great muscle cars, including a sub-4 second 0-to-60 time.
2) The Fastback. From a styling perspective, the Mustang is still the best looking of the big three's sports coupes. Its dynamic fastback profile pays tribute to the original 1960's Mustang, but its wide stance makes it more athletic and muscular than ever.
3) The tech. The 12" digital instrument cluster offers up tons of info, including an easy to read tachometer for shifting, configurable gauges, and looks slick doing it. The latest generation Ford Sync offers a fast and intuitive user interface for navigation and media playback, and has Apple CarPlay and Android Auto support built right in.
4) The sound. While the V8 offers up a deep and throaty exhaust note, it's the quad-tipped active-valve performance exhaust that really sings. It offers adjustable settings including bone-shaking Sport and Track modes, along with the ability to quiet down when you don't want to wake the neighbors.
5) The details. From the distinctive triple bar LED running lights to the iconic horse galloping across the grille and illuminating the ground at night, the Mustang is loaded with lots of little touches that set it apart, while paying tribute the the car's rich history.
6) The 10-speed. Yes, Mustang purists will probably slap us for recommending an automatic, but this one is just that good. It shifts faster than any human can, can skip gears and keep revs high when downshifting for maximum power, and offers paddle shifters for those times when you want to take control. And if you absolutely must have a 3-pedal setup, the 6-speed manual is no slouch with goodies like line-lock, rev-matching downshift, and launch control.
7) The tires. When it comes to performance tires, there are none better than the Michelin Pilot Sport 4S. Wrapped around the GT's 19" Ebony black rims, these multi-compound tires offer incredible amounts of grip for quick launches, stick like glue in the corners, and are way more capable on wet roads than other Summer tires we've tried.
8) The trunk. Yes, this may seem like an odd one to call out in a sports coupe, but the Mustang fastback's 13.5 cubic foot trunk is noteworthy, offering way more space than you'd expect from a sports car, with more than enough room for groceries, luggage, and even golf clubs, so you can actually enjoy yourself when you get to your road trip destination.
9) The handling. Long gone are the days of solid rear axles and imprecise cornering. With a proper independent rear suspension, electrically-assisted power steering, a limited-slip axle, and Magne-ride adaptive damping, today's Mustangs go where you point them, and won't let you down.
10) The heritage. There's something to be said about a car that has continuously been in production for over 50 years. From its earliest days, the Mustang has been a true object of desire for gearheads. And with the exception of a few dark days back in the 70s and 80s, it has continued to evolve in terms of performance, technology, and driving dynamics while still maintaining its core values.