Shinola
Made by Shinola for Filson, this 43mm watch features the iconic anti-forest fire mascot Smokey Bear. It also comes with a bandana, postcards based on Smokey Bear posters and a book about the mascot's origin. Limited to 1000 units.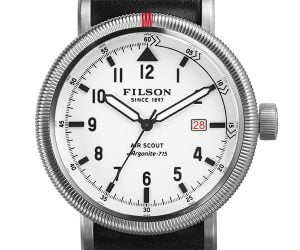 Inspired by the aircraft flown by US Forest Service smokejumpers, the Air Scout features a cool coin-edge bezel, and a bright C-1 Lumi-Nova dial and hands that glow for up to 15 hours. Includes leather and nylon straps and a wooden display box. Limited to just 350 pieces.
Filson and Shinola knocked it out of the park once again. The Dutch Harbor is a diving watch inspired by '50s classics. It's water resistant up to 990ft, has a rotating bezel and is available in several dial and bezel colors as well as steel, leather and nylon bands.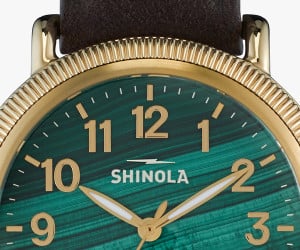 A special variant of Shinola's 38mm Runwell Coin Edge watches. The Stone Dial collection features five watches with geniune mineral dials – malachite, Tiger's eye or turqoise – paired with sterling silver or gold PVD cases.
Never Miss a Post! Get the Latest Awesomer Posts in Your E-mail Box Every Day!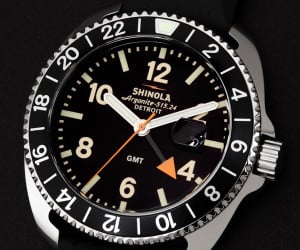 The first travel watch from Detroit watchmaker Shinola. The Rambler is a 44mm watch with a 24-hour hand and a rotating ring bezel. It has a stainless steel case, sapphire crystal cover and leather straps.
Filson's new watch collection are handmade by Detroit watchmaker Shinola. Choose from two handsome styles – the Mackinaw and the Journeyman – with different dial colors and straps as well as GMT and Chronograph variants.
Use Arrow Keys ← → for Faster Navigation | Keyboard Shortcuts: OnOff