Parachutes
Looking out the window and seeing grey skies and wintery temps? Even if you aren't, you can still appreciate this short film of two guys paragliding in a variety of sunny places. (Thanks Michael!)
Igor Kuser was practicing spiral landings with a parachute. Someone told him to practice doing it over a lake. Now he knows why. Fortunately he only got knocked out for a few seconds and is okay.
Basejumping tends to make us lightheaded or anxious but something about CJ's fetal position, barrel roll style makes the idea of plummeting off a cliff in Norway not seem so bad.
Hold on to your shorts for a beautiful, death-defying flight through the mountains of Stryn, Norway. For the first minute or so, we had no idea how or where these guys were going to land.
Never Miss a Post! Get the Latest Awesomer Posts in Your E-mail Box Every Day!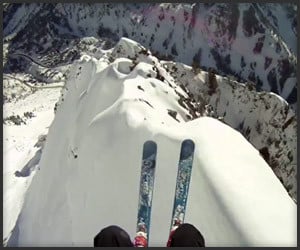 If you ever wonder what it feels like to fly, this video makes it easier; Mount Superior in Utah is the spectacular setting for an inspired run down the mountain on skis – with parachutes attached.
Use Arrow Keys ← → for Faster Navigation | Keyboard Shortcuts: OnOff