Obey
Available only this season, these comfy plimsolls were made by Generic Surplus for Obey. They have a breathable mesh cotton upper and rubber cup sole. The perfect kicks for spring and summer.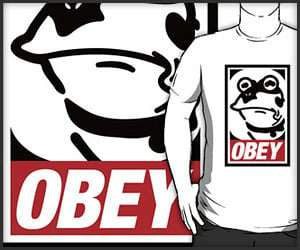 Designed for geeks with a love for both Shepard Fairey and Futurama, this T-shirt made us laugh, right up until the hypnotic toad's eyeballs lured us into a deep trance and told us to buy it.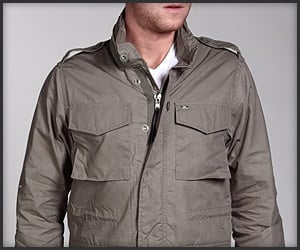 Obey's Iggy Jacket brings a military staple to Spring with light weight dry-way poplin; shoulder epaulets and a metal badge complete the M-65 look, but it also sports a hidden zip hood.
Compared to the tee, Obey's Make Art Not War is a more appropriate medium for Al Rockoff's iconic DoH photo; it's styled like an M65 field jacket with Rockoff's print in the interior.
Never Miss a Post! Get the Latest Awesomer Posts in Your E-mail Box Every Day!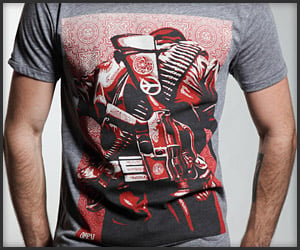 Obey's Duality of Humanity is now available in t-shirt form; it's a collaboration with famed Vietnam War and Khmer Rouge photojournalist Al Rockoff and based on an actual photo.
Decked out with epaulettes, OBEY's Garcia Jacket mixes the utility of a military jacket with cold weather-friendly elements; it sports a fleece sweatshirt lining and sherpa-lined hood.
OBEY pitches its hat into the legendary Wayfarer ring with their Cool Mother F-er sunglasses which come with a logo and laser etch artwork; choose from brown or violet.
It's largely an exercise in brand loyalty, but Another Round Flask is a must for OBEY fans; this pocketable curved flask is laser etched with a Sanskrit-ized logo and Taj Mahal graphic.
Use Arrow Keys ← → for Faster Navigation | Keyboard Shortcuts: OnOff