Amplifiers
Pluginz teamed up with Marshall to produce a series of officially-licensed wall-mount key racks which look like the fronts of their famed amplifiers. Like their other Jack Racks, your keys hang from 1/4″ audio plugs, but these are embellished with the Marshall "M" logo.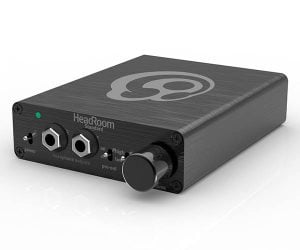 Designed to produce the absolute best sound quality in a compact headphone amp, HeadRoom's audiophile gadget packs best-in-class technology, and is focused on pristine, clean sound, rather than bells and whistles. Drops 10/16, with pre-orders available now.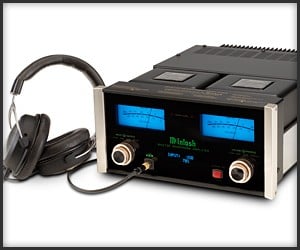 The MHA100 amplifier works with practically any headphone model, and its crossfeed can deliver a speaker-like soundstage. It can also power speakers, which makes its $4,500 price tag a tad easier to swallow. More here.
Line 6's AmpliFi is a solid state guitar amp and a Bluetooth speaker. Use the AmpliFi Remote iOS app to access nearly 200 tones and effects. You can chain up to eight effects and save and share your configurations. Available in 75W or 150W.
The Vamp Verza amplifier might be an audiophile's best friend. It can be used on mobile devices as well as PCs, and can also be used as a USB sound card. It has optical out, USB and micro-USB ports.
Spinning Hat's squared-off ceramic classic guitar amp mug is perfect for rockers, roadies and air guitarists alike – and this one even goes to 11. Rock out with your coffee out!
Mateusz Główka's stainless steel and aluminum tube amplifier is a thing of beauty. Components that cause interference are even isolated into their own compartments. Too bad it's just one-of-a-kind.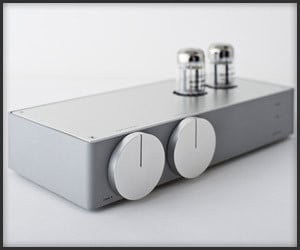 It's been a while since we've seen anything as fracking minimal gorgeous and cool as the Elekit Tube Amp, a vacuum tube hybrid stereo amplifier designed by Koichi Futatsumata for EK Japan.
The Amphony microFidelity 100 may be tiny, but its sound is mighty. The digital T-amp cranks out 20WPC stereo or 50W mono with a 115dB S/N ratio. Not bad for something you can pocket.
Renowned UK amp maker Orange has taken their iconic case design and put a computer inside the box. It's also a high-powered amplified speaker and has inputs for instruments and media players.
Deals in The Awesomer Shop
From Around the Web
Use Arrow Keys ← → for Faster Navigation | Keyboard Shortcuts: OnOff