Awesome Gold
Show them you mean business with Cosmic Firefly's gold-tone money clip, accented with detailed engraved scrollwork and an awesome shiny octopus emblem.
These flashy playing cards come from Japan's IDEA International, and are made from spill-resistant plastic. Don't share this with Donald Trump or he might buy out the entire inventory for his casinos.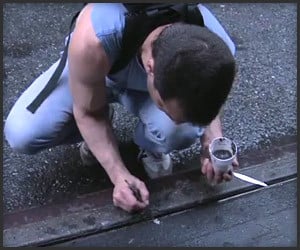 Where do you go for the gold? California? Alaska? The Olympics? How about the gritty sidewalks of NYC's diamond district? Raffi Stepanian has been cashing in with a butter knife for 27 years now.
Gresso's Luxor World Time Gold phone offers an 18K gold body, two-sided sapphire crystal screen, Italian leather on the rear panel and six independent Swiss clockwork mechanisms.
Stylish DJs who want a little flash while mixing beats might like these gold colored HDJ-1000 headphones from Pioneer; they've got a frequency range of 5Hz to 30kHz and impendance of 36Ω.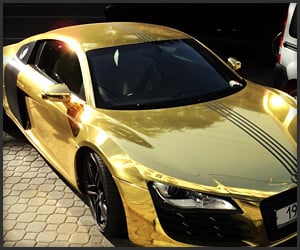 Did you like the stealthy Audi R8 Valkyrie? Looking for something flashier? Then you'll love this one, spotted in Moscow, Russia: an R8 wrapped in gold. Our eyes are burning from the shine.
Perfect for the upcoming Wii remake of GoldenEye, dreamGEAR's dual-trigger light gun for the Wii-mote controller really turns you into The Man with the Golden Gun. License to kill not included.
File under flashy: this 24K plated and crystal bicycle from Aurumania is handbuilt in limited edition and costs $103K. For you matchety-match types, there's a 24K plated bike rack too.
Abu Dhabi's Emirates Palace has redefined luxury by adding a gold-dispensing machine. The ATM-style kiosk monitors the daily gold price and offers small 10g bars or customized coins.
The case customizers over at Computer Choppers are at it again. This time, they've managed to dip an entire Xbox 360 in shiny 24-karat gold. For truly conspicuous consumers only.
With Ikepod watches you can pass the time just watching it go by. Designed by Ikepod co-founder Marc Newson, the latest collection includes an hourglass with gold-plated nanoballs.