Pioneer: The Art of the Speaker
audio | factories | making | speakers | August 28, 2017
We recently were given the unique opportunity to fly to Japan to visit Tohoku Pioneer Corporation's factory. We learned how they design, engineer, and build some of the world's best sounding speakers, from affordable car speakers to high-end audiophile equipment.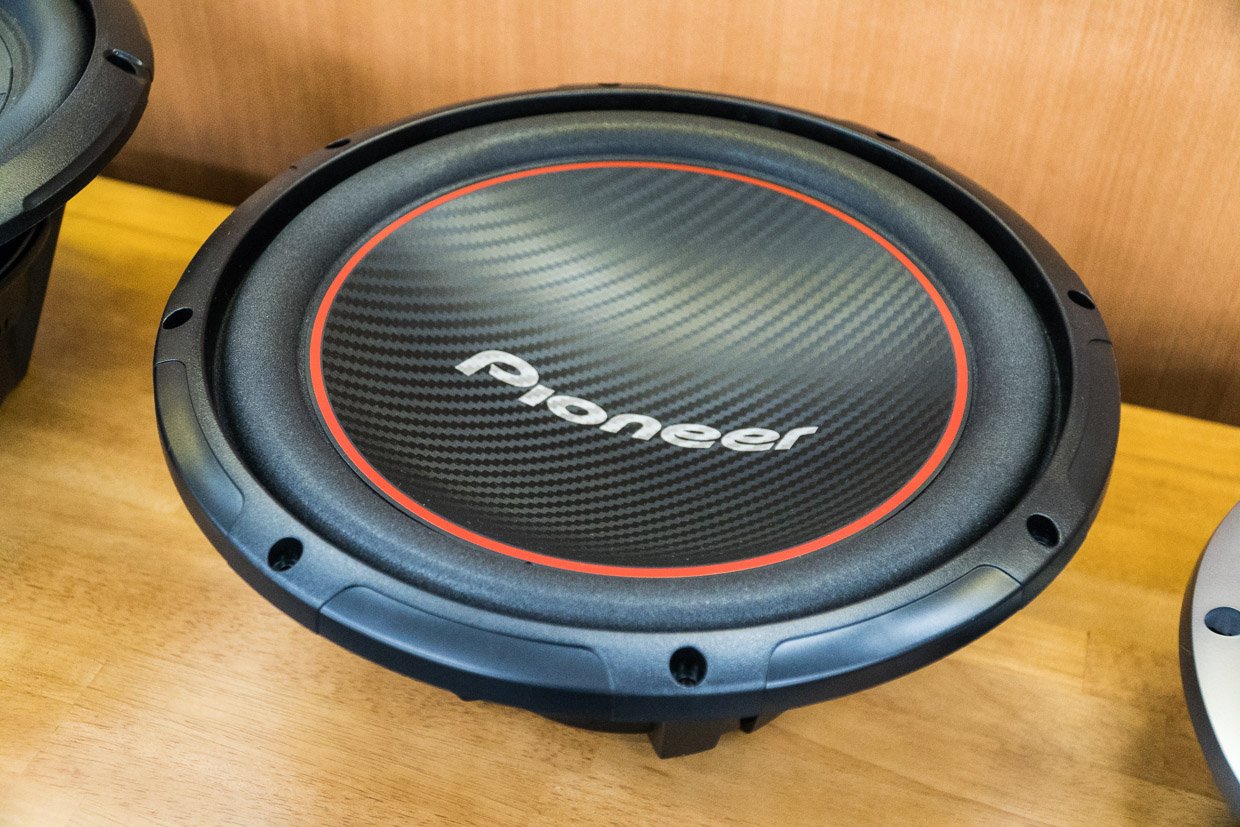 The Tohoku Pioneer Corporation was established in 1966, and is headquartered in Tendo, in Yamagata Prefecture, Japan. In addition to making speakers, Tohoku Pioneer makes small OLED displays, mechanisms for AV gear, and factory automation systems

Yamagata is also home to 70% of Japan's cherry production, as well as many other delicious fruit, like apples, grapes, and watermelon.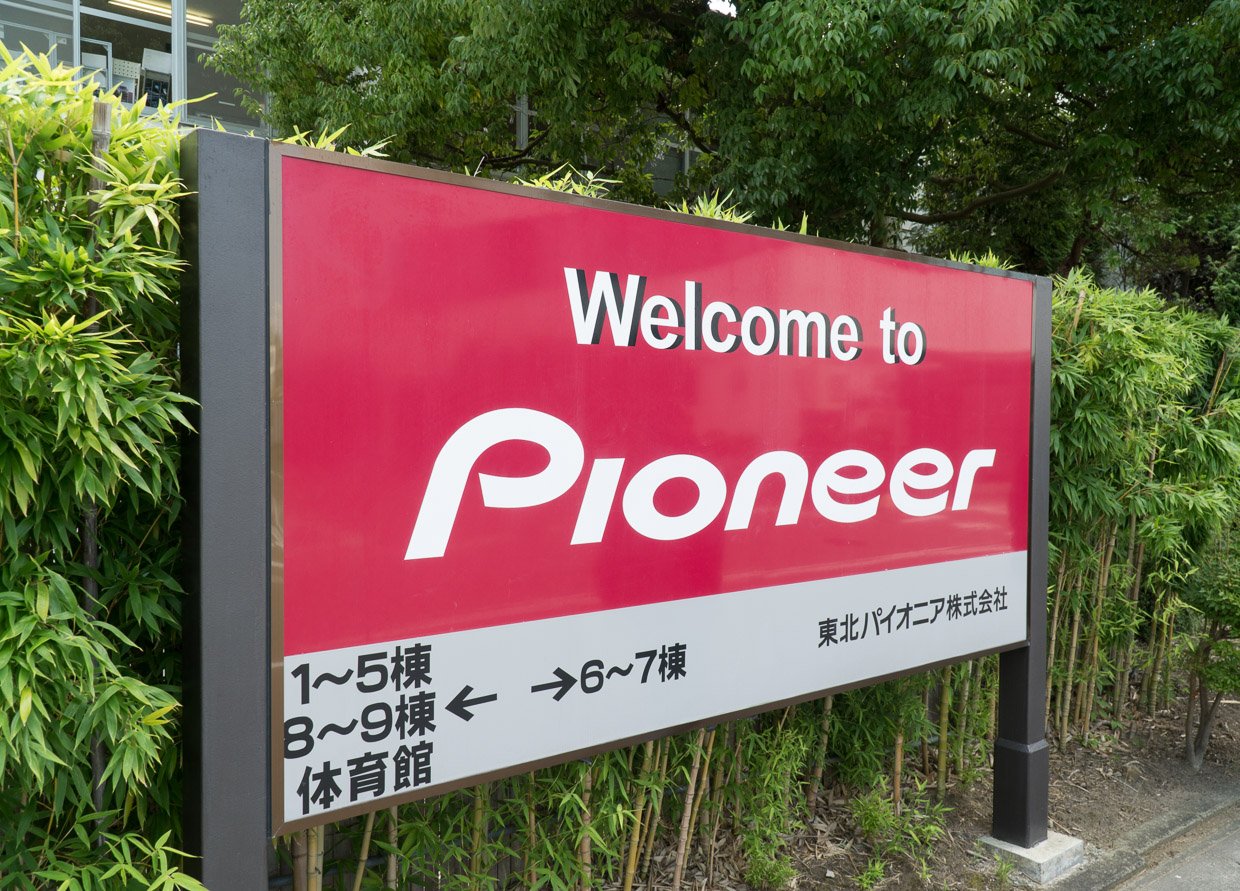 Before kicking off our factory tour, we learned about the common components of a dynamic driver speaker: the voice coil, magnet, top and bottom plates, spider, basket, cone, and surround. Yes, there's a spider in every speaker.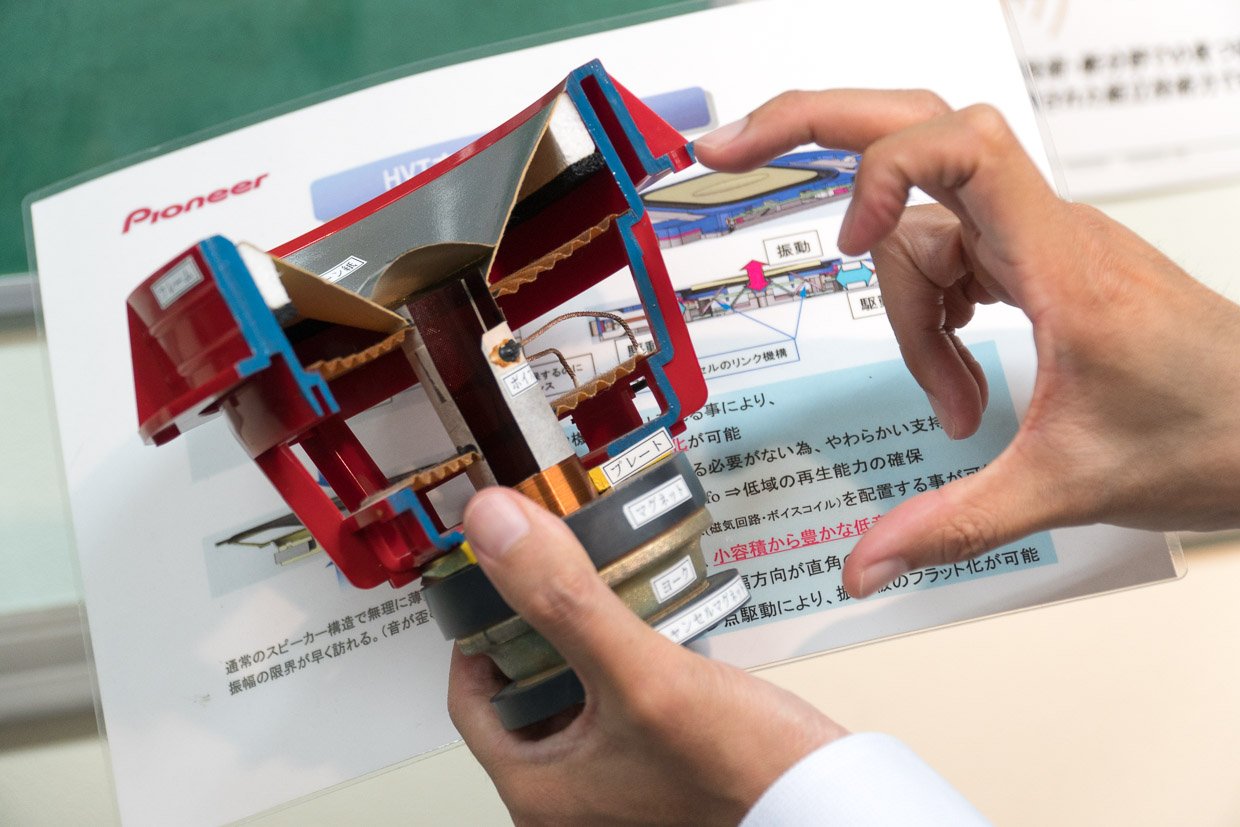 Pioneer produces a wide variety of speakers, from premium aftermarket car audio, to new car speakers for automotive manufacturers, to high-end home and studio speakers. The company applies the same engineering smarts that go into its $80,000 audiophile speakers to its $150 car speakers. The big difference comes in the build process and materials used.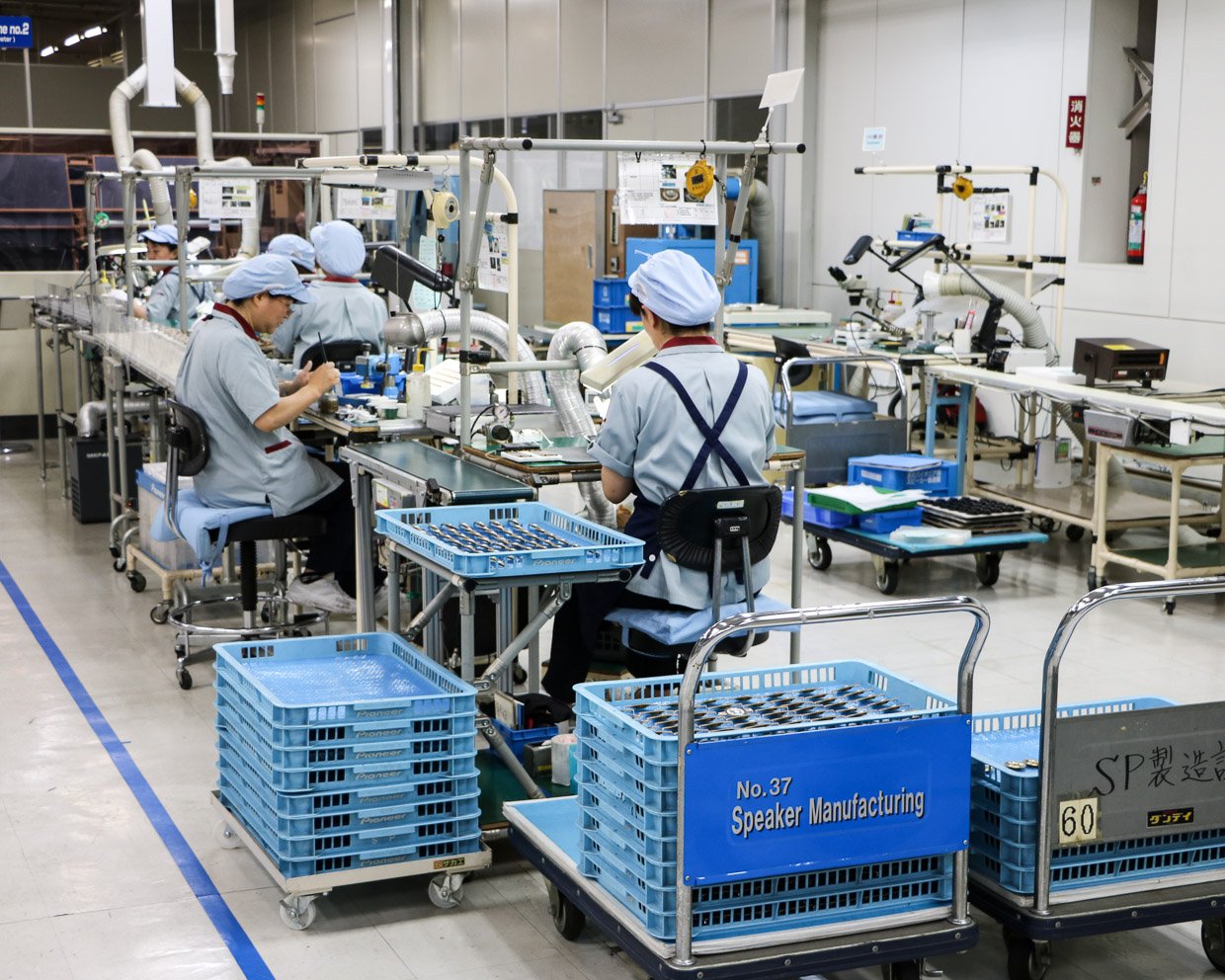 Assembly of speakers is a complex and precise art which requires each component to be placed and attached meticulously. The slightest imperfection can dramatically impact sound quality.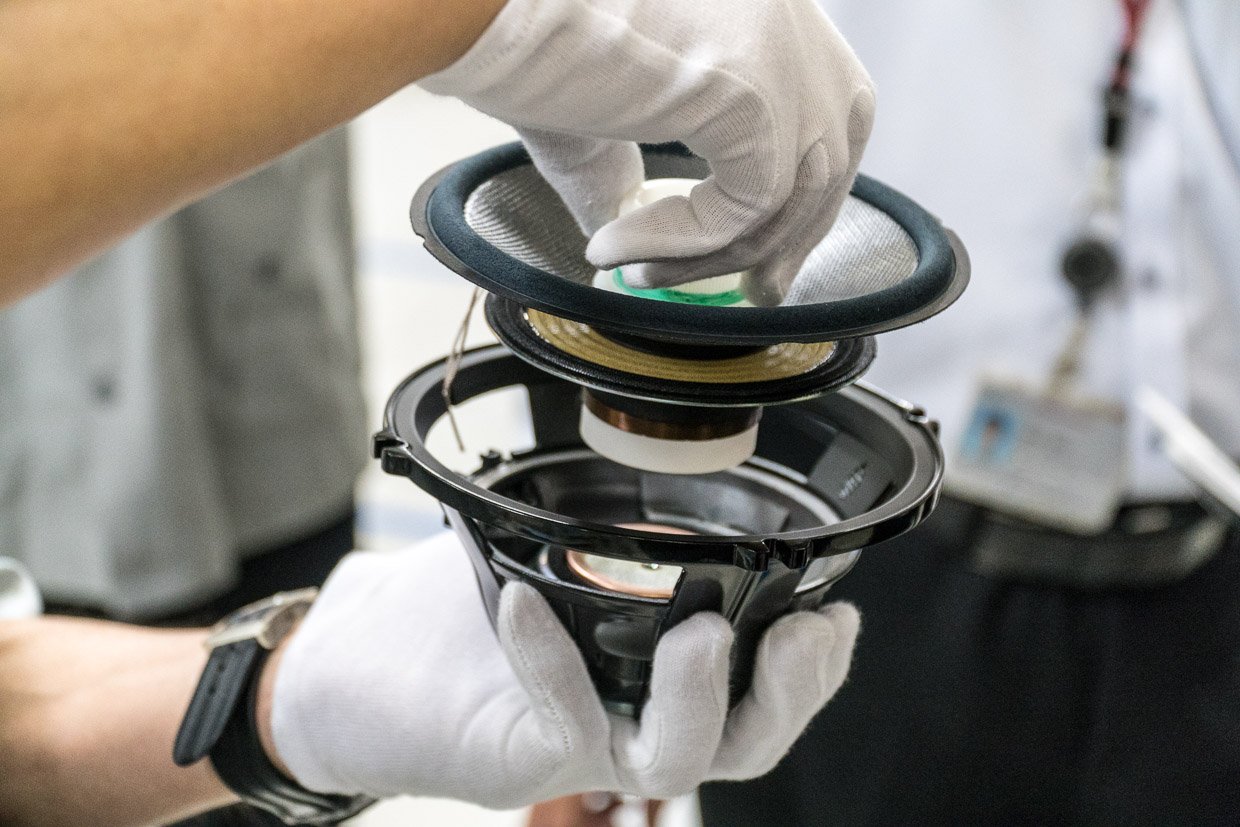 Each speaker component is layered together using a combination of special jigs and careful hand placement. As the elements come together, they're glued in place. Glues are less likely to cause unwanted vibrations than nuts and bolts.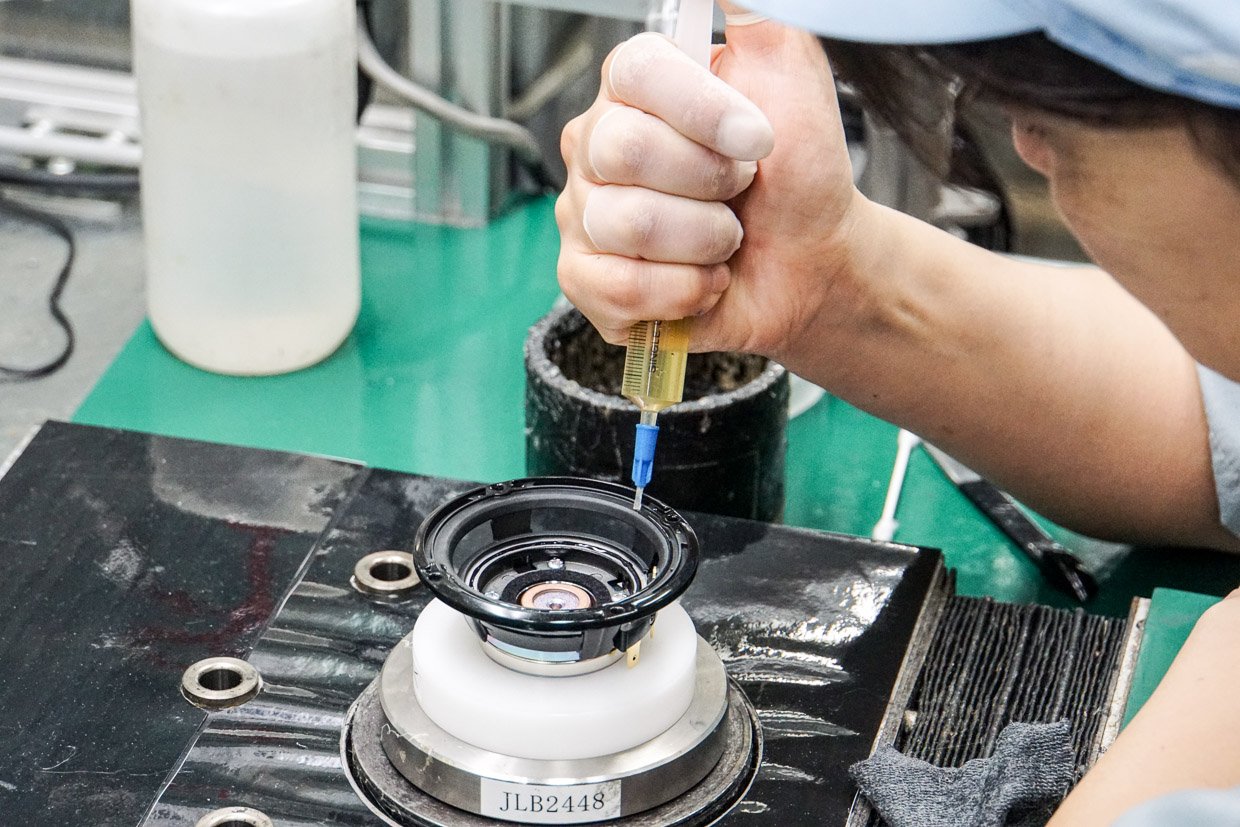 Speakers are made from a combination of metal, paper composites, rubber, and plastics. Joining each layer together requires the use of special adhesives, often with different consistencies. Knowing how each glue will flow and applying it precisely is critical to quality.
The process of making speakers is a painstaking one, and requires great attention to detail. Each employee in the Pioneer speaker factory is a master at their craft.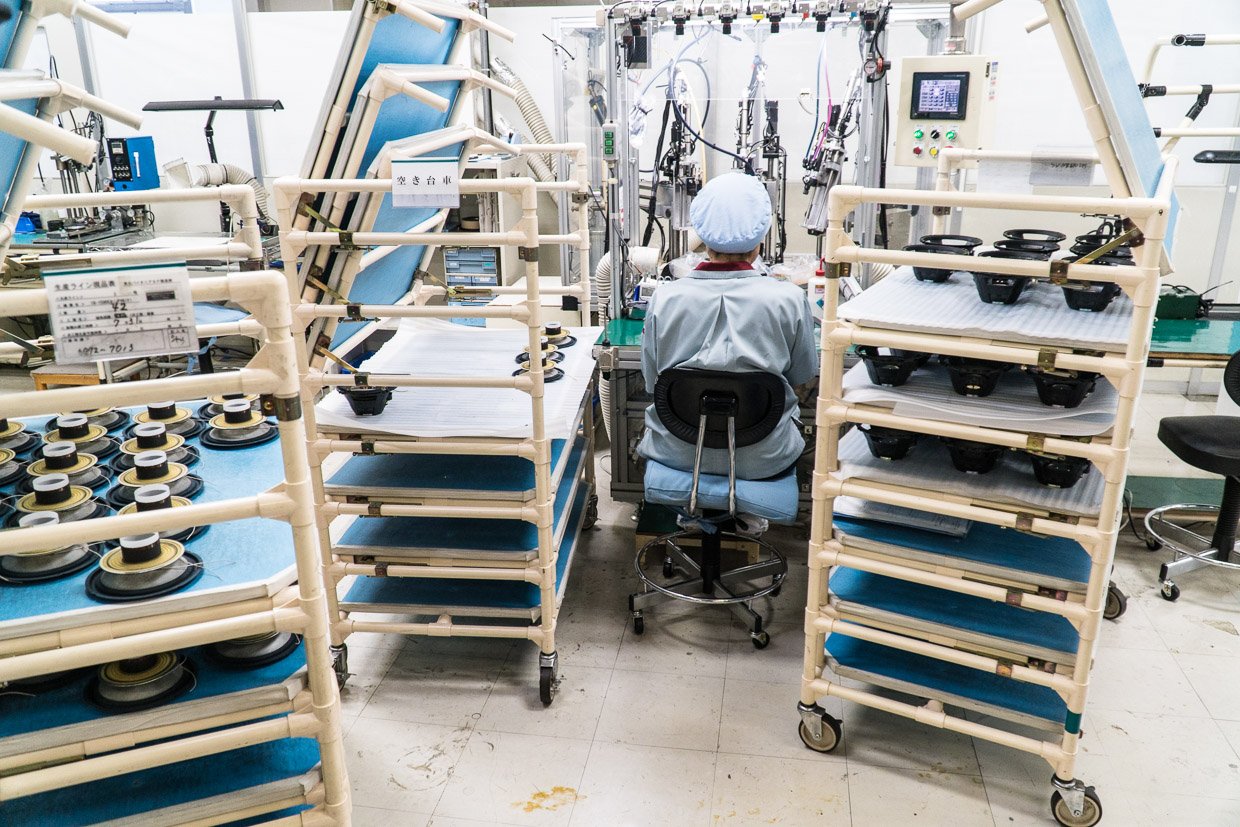 Speaker wiring is also am exacting job, requiring careful placement of the voice coil, soldering hair-thin wires, then delicately gluing them in place to the speaker cone.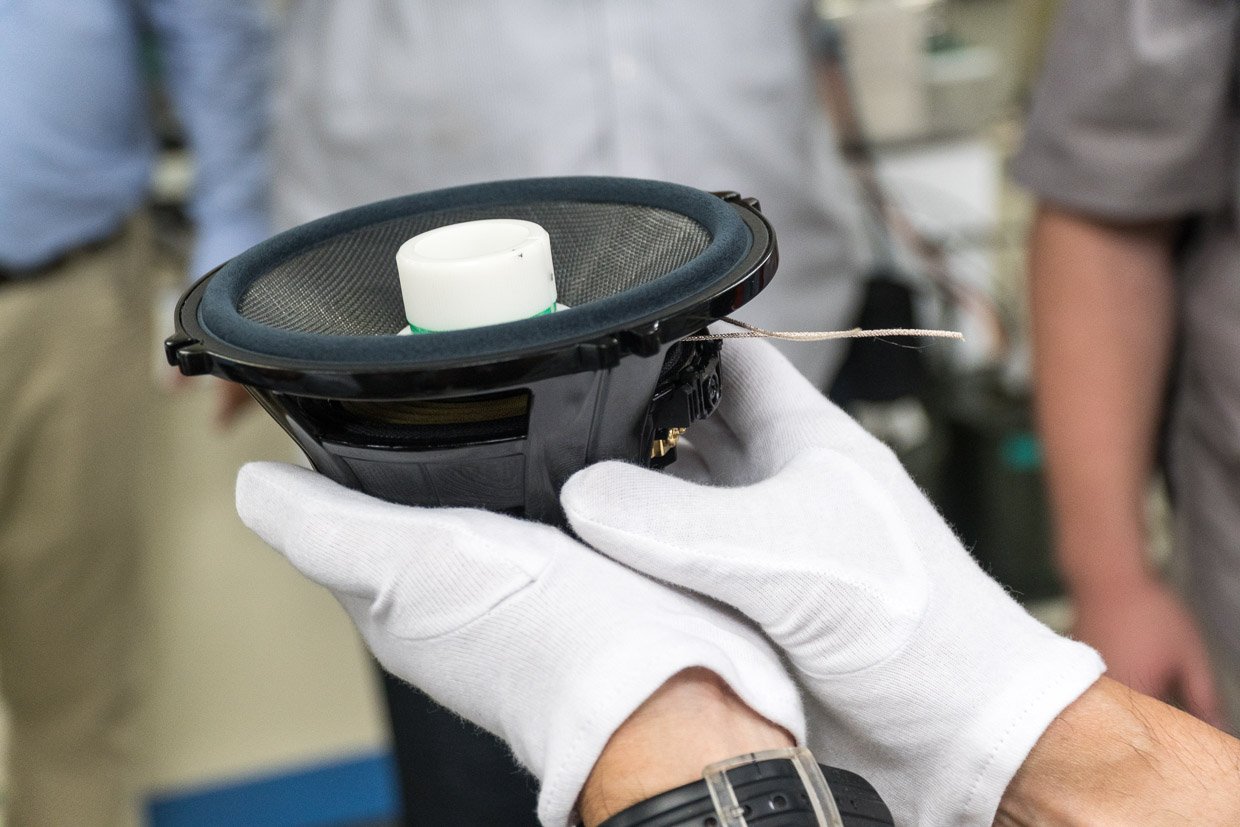 In addition to manufacturing speakers, Tohoku Pioneer designs and engineers the company's latest speakers. Engineers use special anechoic and echo chambers to test and refine the sonic properties of drivers to ensure the best quality sound and minimize distortion.

Since the speakers are designed and engineered in-house, they can continually refine and make iterative improvements before they go into production.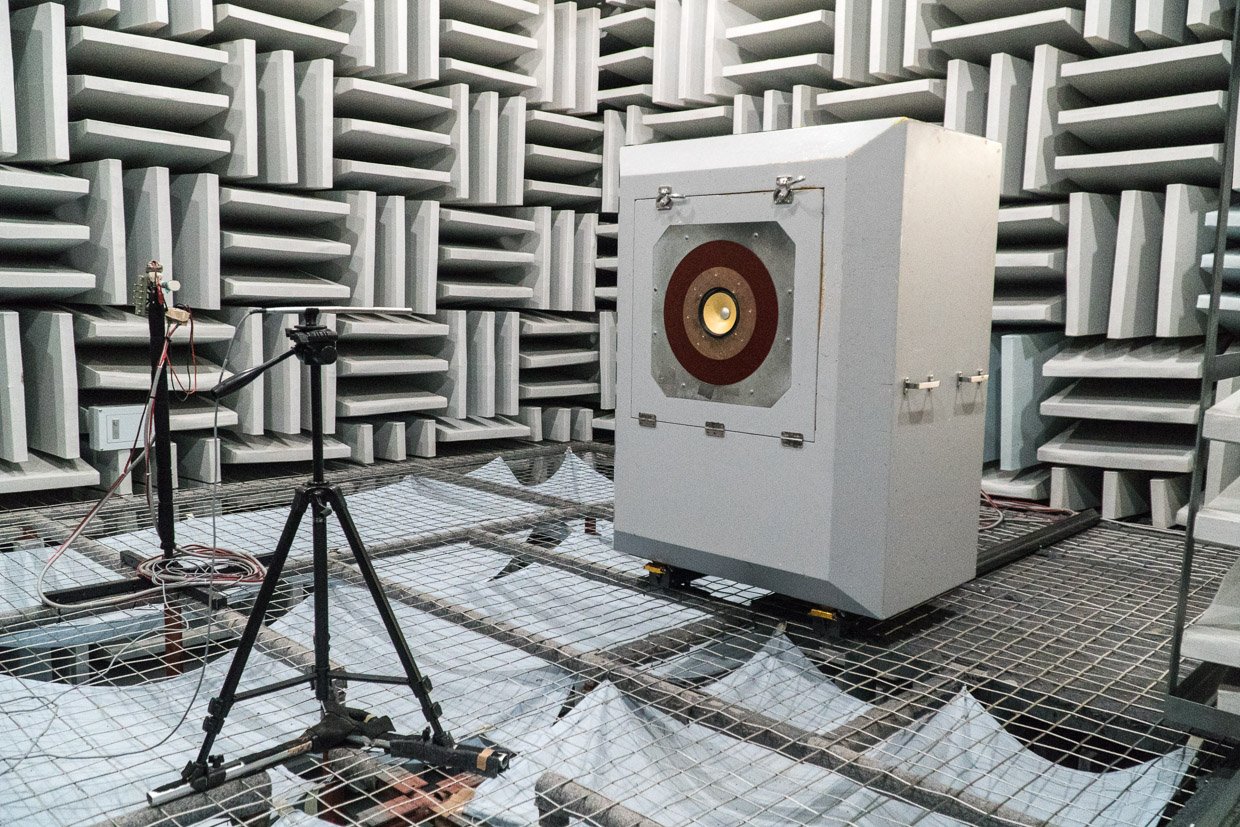 Speakers are subjected to a variety of environmental tests both during development and production to ensure they can handle the extremes they might encounter in a buyer's vehicle or other location. Some of the testing equipment can simulate up to 20 years of usage in just 3 to 4 days.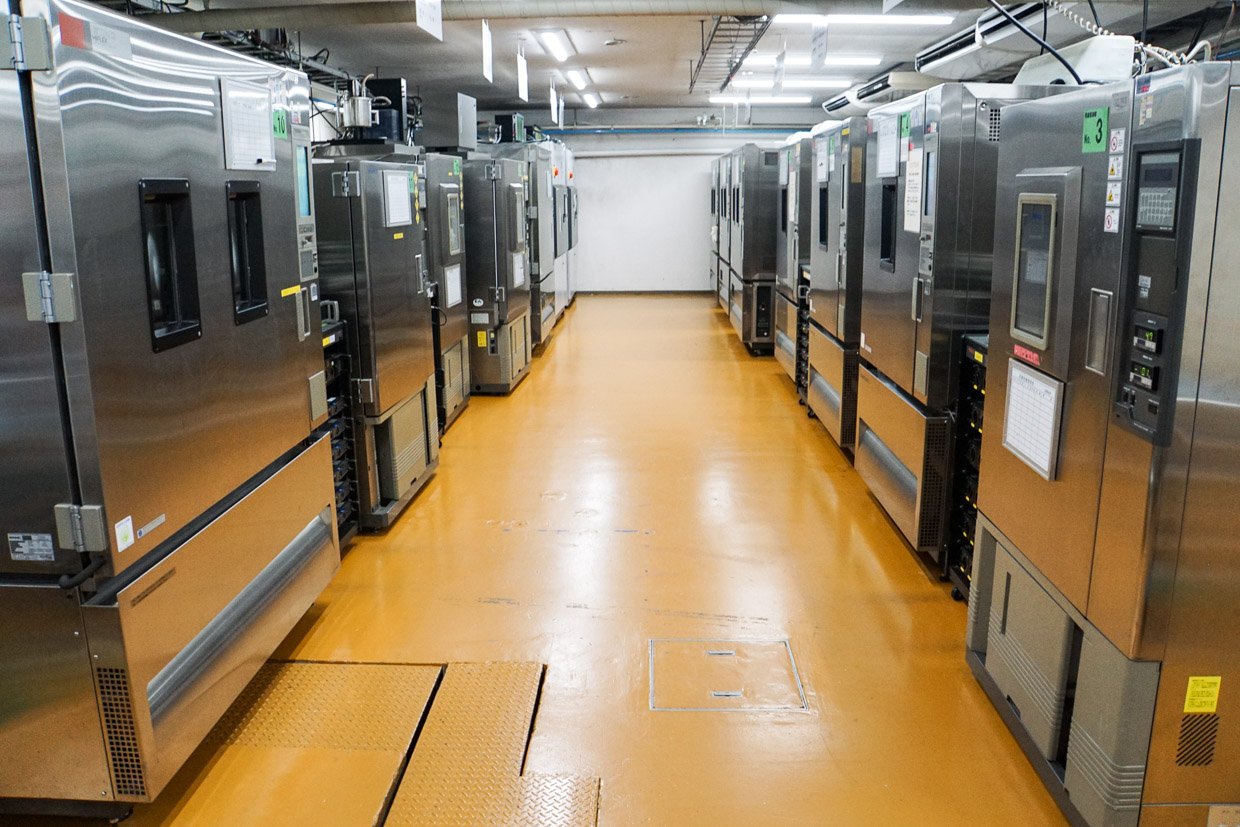 The vibration machine vigorously shakes speakers in all directions while being played to see how they perform and last with the shocks of driving over bumpy terrain, or thrashing against waves in a boat.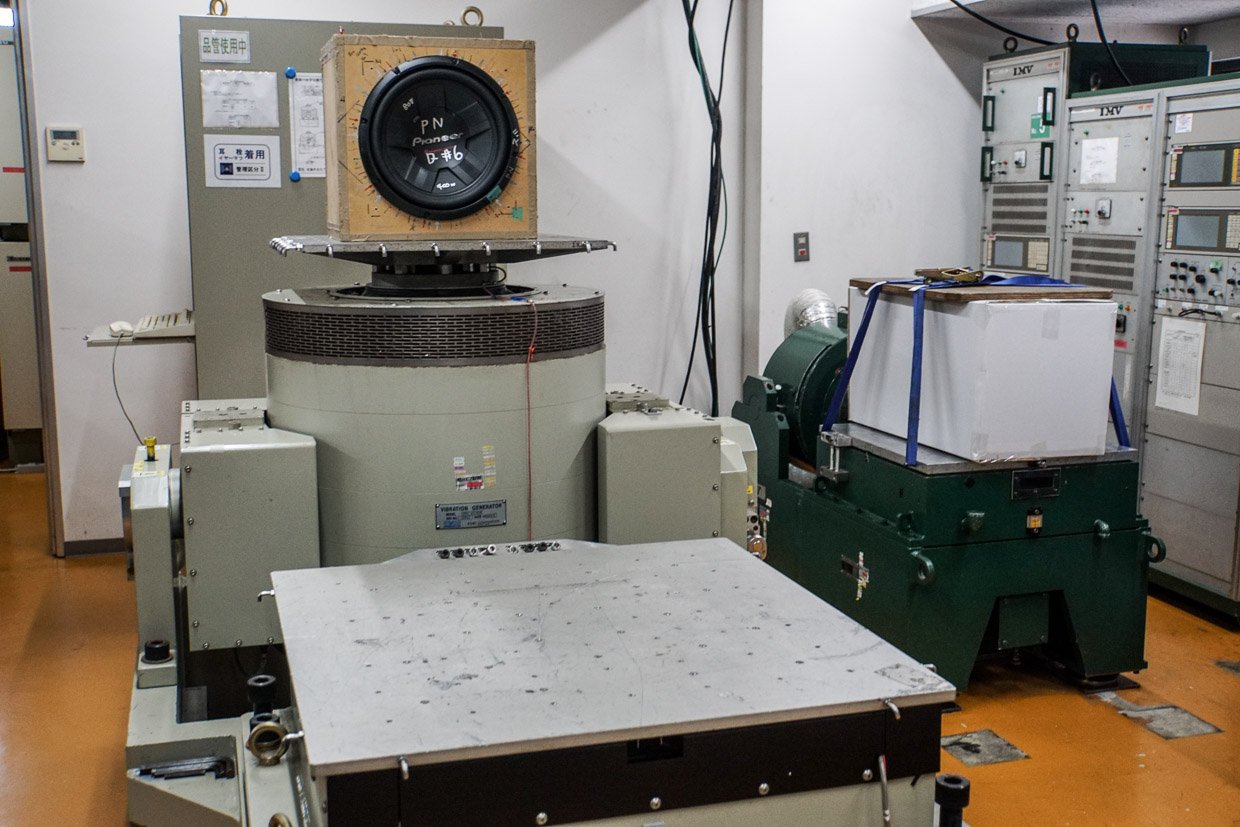 Other durability and sound tests include water and salt water spray, as well as ultraviolet rays, extreme heat, humidity, and cold weather. Remember, your car speakers need to work equally well after sitting in the scorching sun under your front windshield as they do when it's below zero in the depths of winter.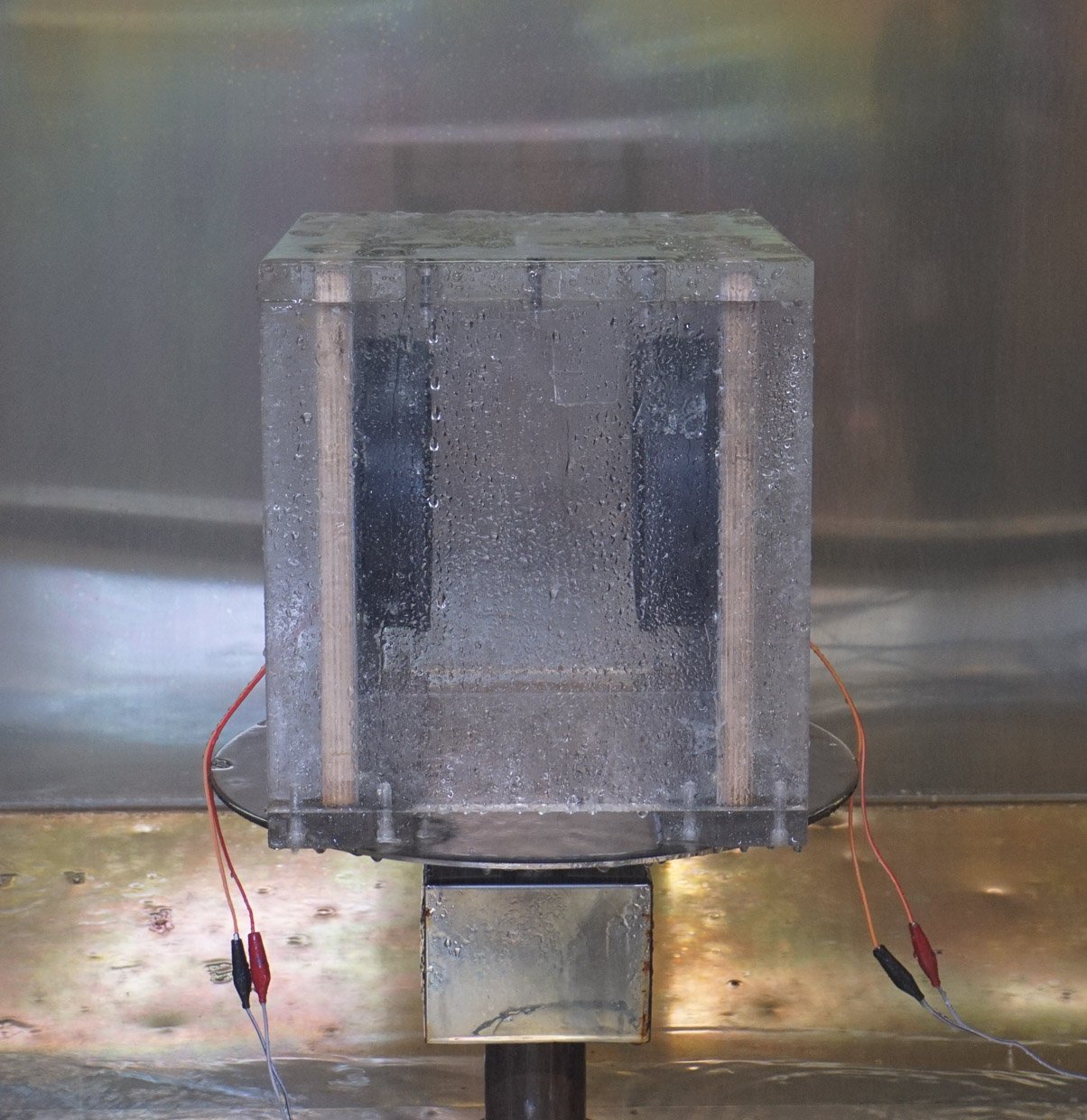 The end result of Tohoku Pioneer's precision engineering and attention to detail in manufacturing are amazing sounding speakers with great dynamic range and minimal distortion, and will continue to sound great for years to come.

Many thanks to Tohoku Pioneer for the rare opportunity to go behind the scenes at their Yamagata offices and factory. If you're interested in getting your hands on some Pioneer speakers for your car or home, be sure to check out the Pioneer Electronics website.