Driven: 2019 Hyundai Veloster N
2019 | hyundai | sports cars | October 13, 2019
We've always loved the sporty and playful looks of the Hyundai Veloster. Now its performance lives up to its looks thanks to a powerful 250 or 275hp twin-turbo engine, track-tuned suspension, a limited-slip diff, and more. After a week with this bad boy, we're convinced it's the most fun you can have with a new car for under $30K.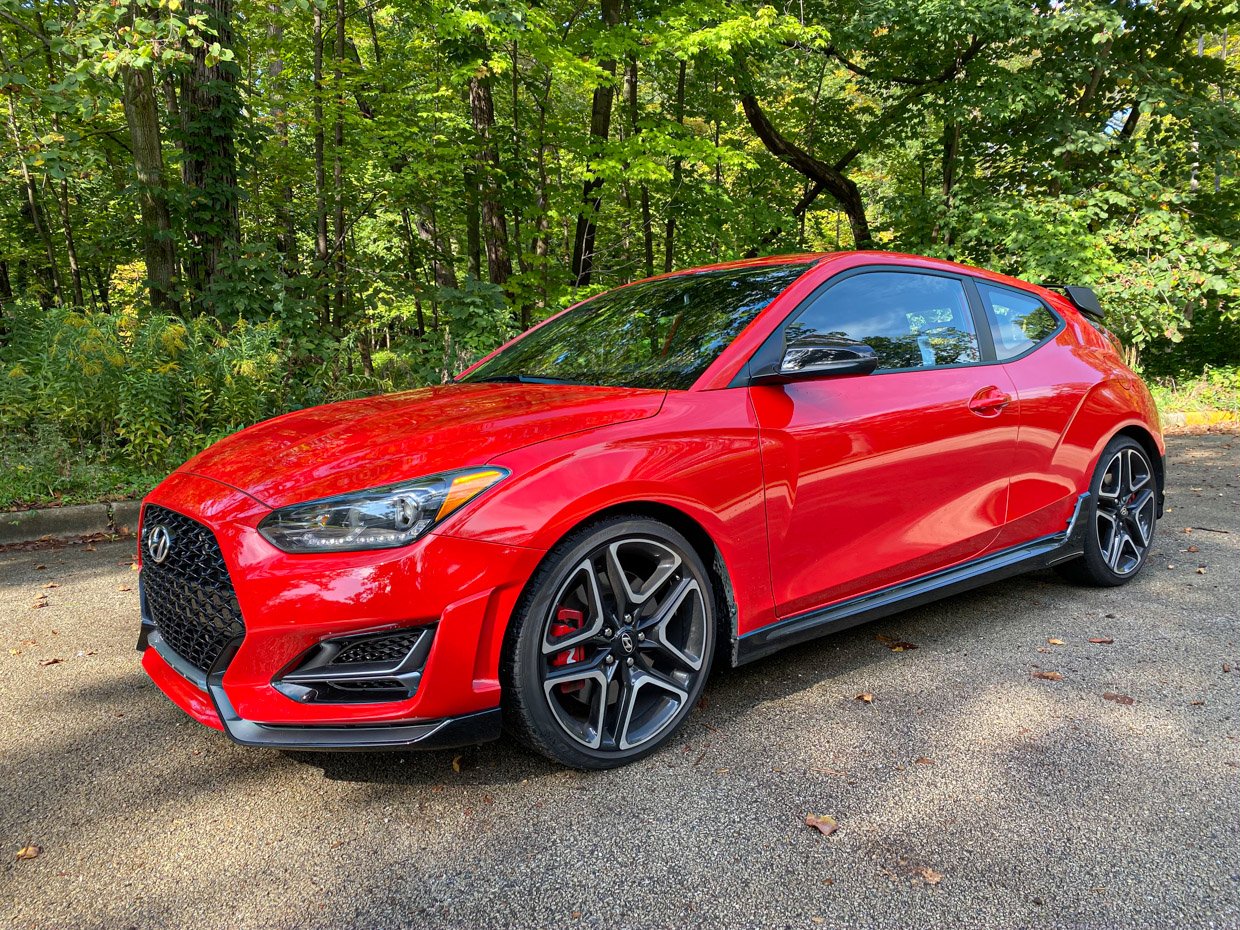 The little "N" badge on the hex-weave grille offers just a small clue that this is no ordinary Hyundai. Sure, the black trim and bold aerodynamic accents mean business too, but it's the mechanical components of this car that are truly special.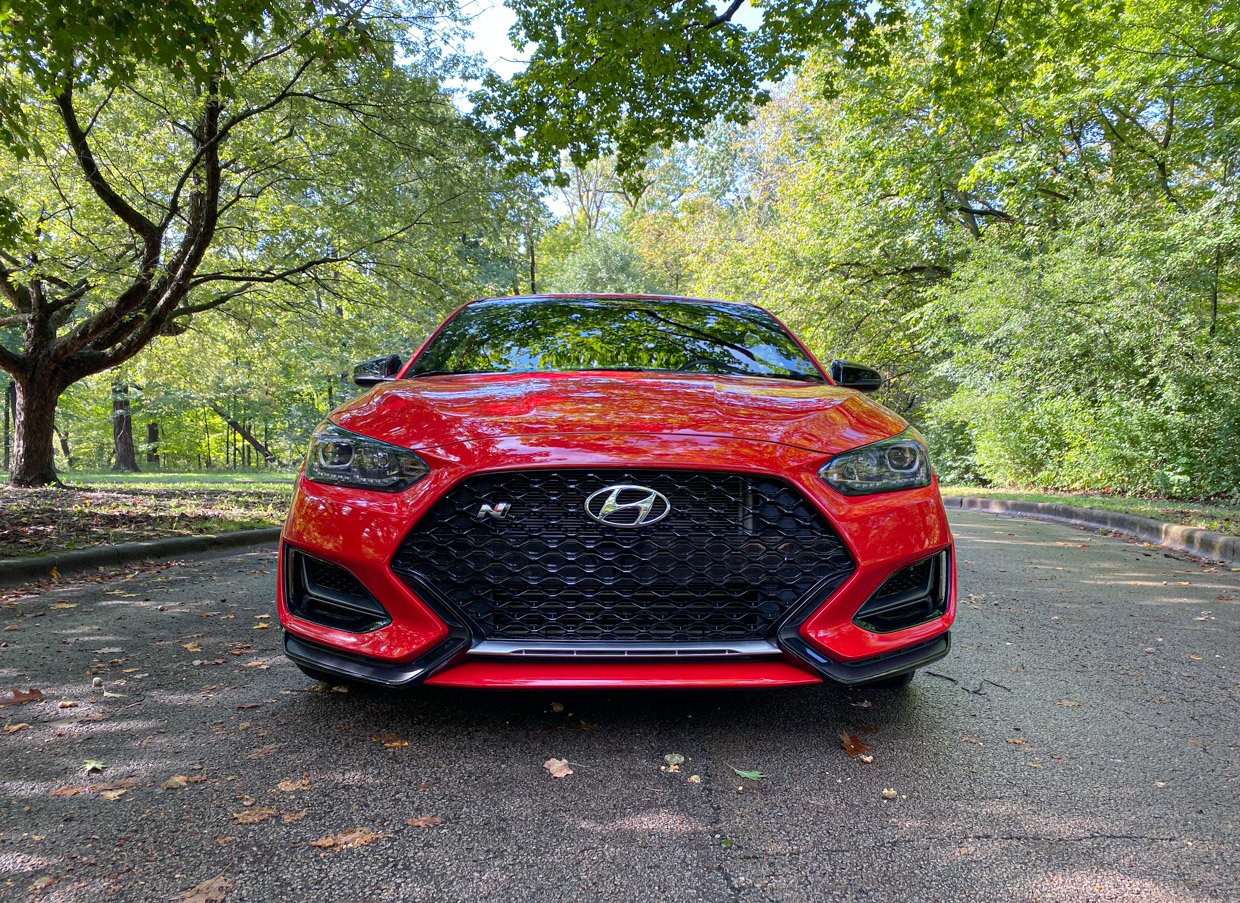 Under the hood is where the magic begins, with a 2.0-liter 4-cylinder engine that uses a twin-scroll turbocharger to make 250hp or 275hp (with the Performance Package). It offers up really impressive thrust off the line, and can hit 60 mph in just about 5 seconds. You'll need to warm up your left foot though - the Veloster N only comes with a 6-speed manual transmission. We're no heel-toe pros here, so we were thankful to enable the rev-matching feature to automatically blip the throttle and keep shifts properly sorted.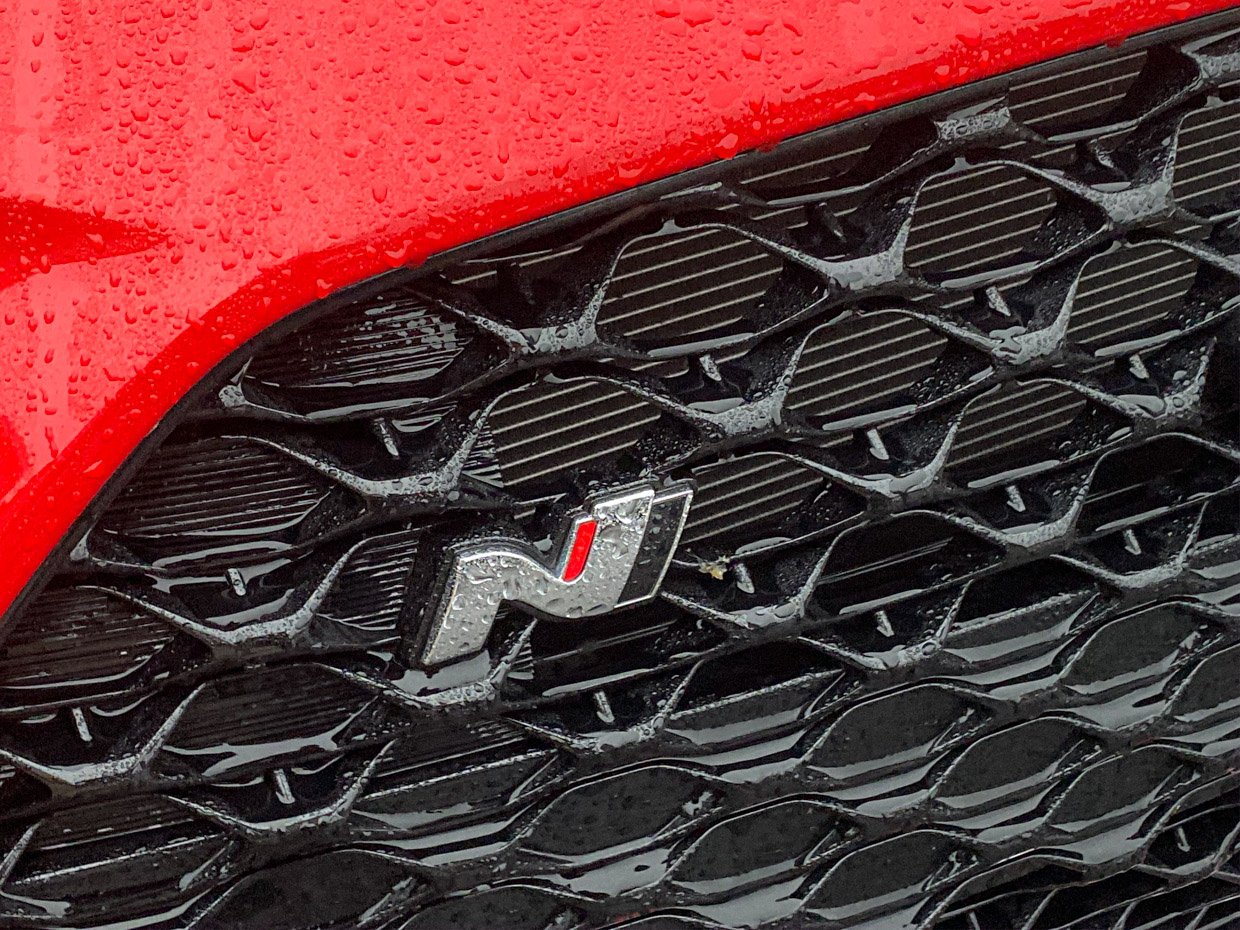 Straight line speed is only the beginning, though. The Veloster N is an corner-carving beast, and a fantastic autocross car. We spent some time earlier in the year with one on the Road America go kart track, and it was crazy fun powering through every twist and turn. The sport-tuned electric power steering offers up excellent feedback, and the electronically-controlled limited-slip differential cuts down on understeer, and helps it feel much more nimble that a typical front-wheel drive car.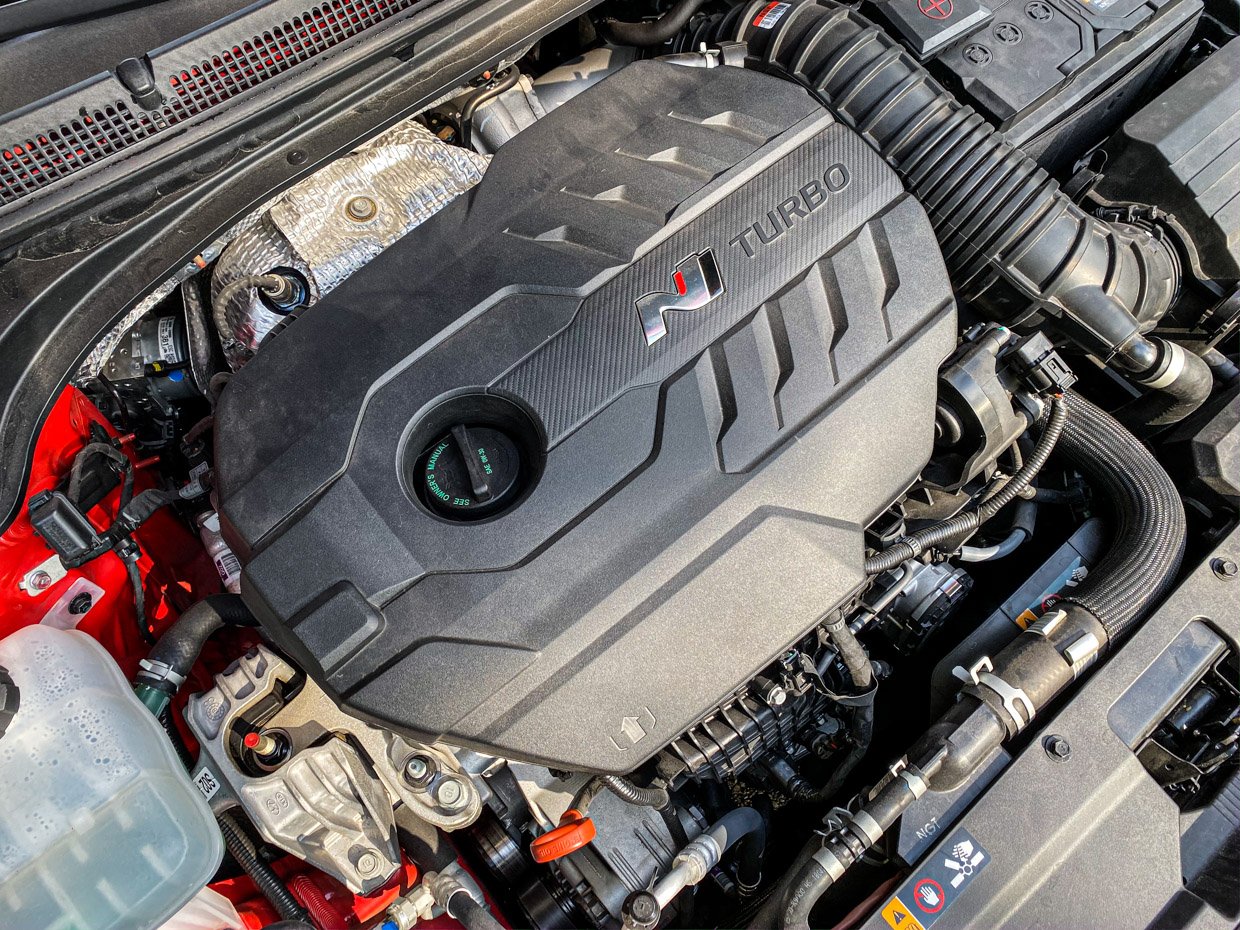 Riding on Pirelli P Zero summer tires and oversize 19" alloy rims, it grips great - especially on warm, sunny days. And the adaptive damping suspension is downright excellent. You'll want to keep it in "Normal" mode if you're dealing with potholes, but in "Sport+" mode, the amount of road feedback and ride stiffness is pretty incredible.
Speaking of driving modes, the Veloster N lets you tweak steering, throttle, transmission, suspension, exhaust, traction control, and differential settings through its touchscreen interface. Or if you simply want the most aggressive tuning, flick the "N" mode switch on the steering wheel.

We really love this car's exhaust note. It's got a deep note on startup, some fantastic burbles as you shift through the gears, and makes lots of amusing snaps, crackles, and snarls as you accelerate and decelerate.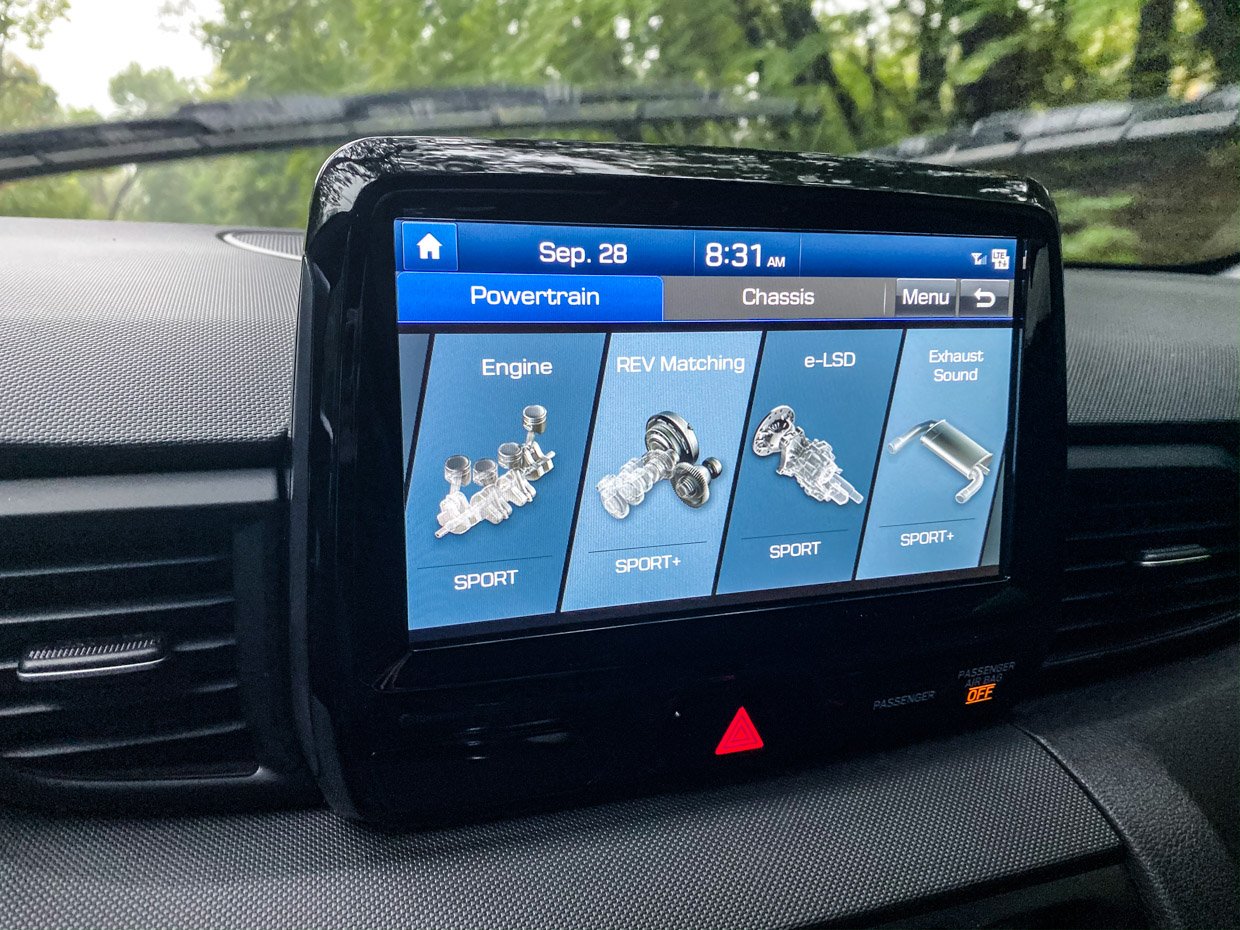 The interior of the Veloster N is a good reflection of the car's value pricing. It's not the fanciest place, but it's comfortable and modern, with body-hugging bolstered sport seats, a leather-trimmed steering wheel, and leather shift boot. It also packs technologies like push-button start, a color-coded shift timing indicator, an 8" touchscreen with support for Apple CarPlay and Android Auto, and rocks an 8-speaker Infinity sound system.
What amazes us most about the Veloster N is just how good it is for the price. Here in the States, can get into the standard 250hp model for as little as $27,400, or grab the performance package for $29,500, and that gives you 275hp, the limited-slip diff, 19" wheels, larger brake rotors, and the variable exhaust system. We've not driven the standard model, but the performance variant is a joy to drive.
The Veloster N is the first car to wear the "N" badge, and knocks it out of the park, offering up a ride that's incredibly entertaining, has great driving dynamics, and packing all the value we've come to know from Hyundai. We're hoping to see more Hyundai vehicles getting the "N" performance treatment in the not-too-distant future. We're thinking maybe a Kona N or a Sonata N.