Winter Driving with Nissan AWD
driving | ice | nissan | snow | March 13, 2019
We spent a couple of chilly winter days North of Montreal, Canada covering hundreds of miles of snow- and ice-covered roads in the new 2019 Nissan Altima AWD and Murano AWD. On our arrival to the Mecaglisse ice circuit, we got to drive the insane snow-tracked Altima-TE.
As we headed from Montreal towards the idyllic Mont-Tremblant ski area, we quickly encountered roads covered with a plentiful coating of white stuff, a perfect challenge for the latest Altima, which can now be equipped with an all-wheel drivetrain. As is the case in all truly snowy situations, we recommend pairing your car with good winter tires, and our vehicle came with Michelin Pilot Alpin rubber for optimal traction.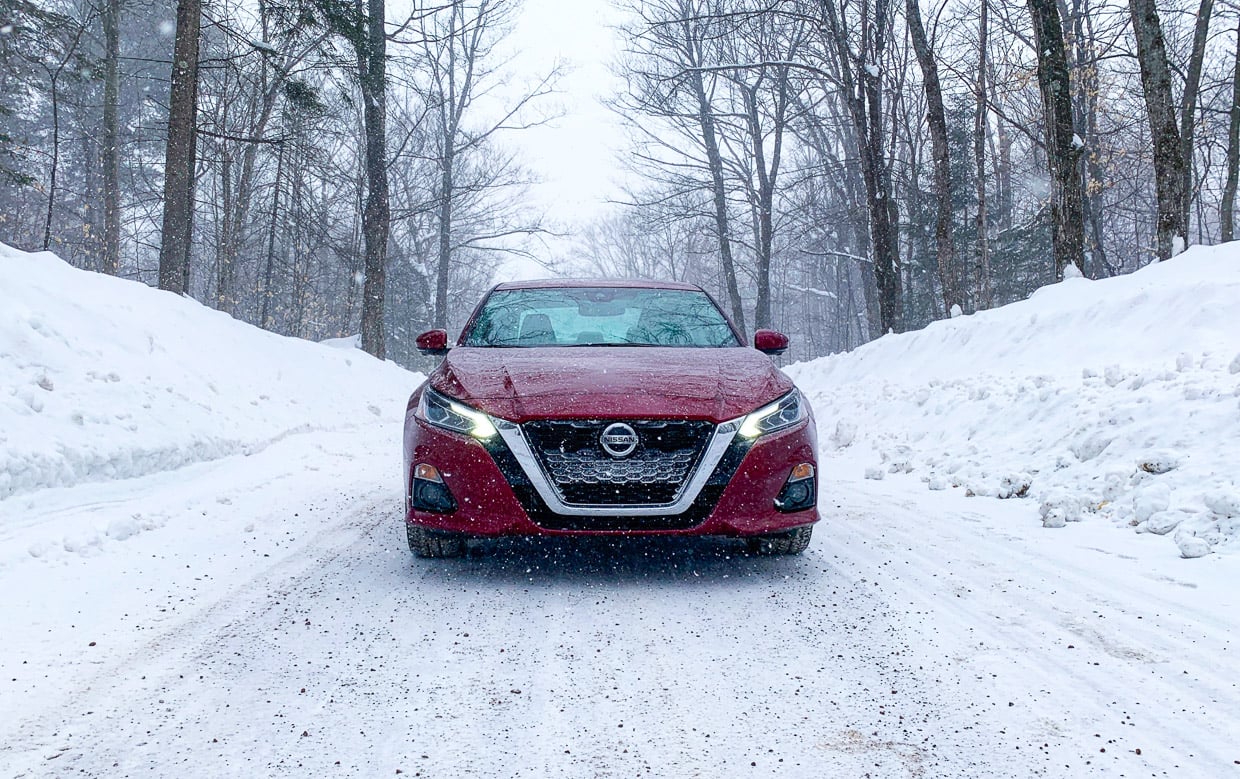 The country roads were not in great shape, but the new Altima's smooth and stable ride, nimble suspension, and and predictable handling instilled great confidence, despite the challenging driving conditions. Our ride was made just that much more pleasant thanks to the comfy seats, and quiet cabin.
For 2019, the Altima features an all-new design with dynamic looks from every angle. From its sharp new "V" grille up front, to its sleek side profile and sporty rear, it borrows plenty from its big brother Maxima, and that's a good thing.
Our primary destination was the Mecaglisse, a year-round race circuit about 90 minutes from Montreal (by highway). During warm weather months, the track runs asphalt and rally schools, and open track days. In the harsh winters of The Great White North, they turn the place into a playground for snow and ice driving, and for learning winter driving techniques.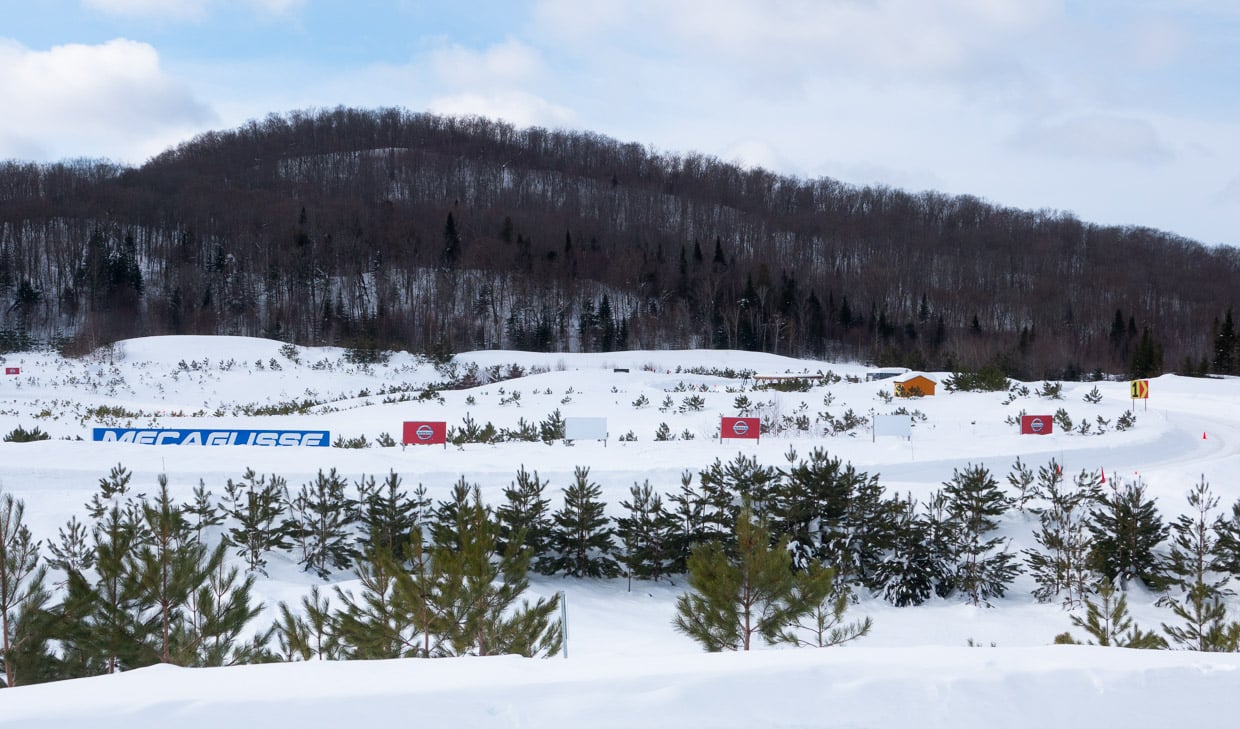 On arrival to the track, we were greeted with two over-the-top winter vehicles built by Nissan, the Altima-TE, based on the same AWD Altima we drove to the track, along with the Rogue Warrior, a snow-conquering Rogue SUV. Both vehicles are equipped with snowmobile-inspired caterpillar tracks, which let them slice through deep snow like butter. We would later get a chance to drive the Altima-TE, and what surprised us most is just how much it drives like a regular car, though it's quite a bit noisier when running on packed snow than on powder.
After spending hours on the road with the Altima, driving the car on an ice track proved a surprisingly simple affair. Of course, we were helped by studded tires, but the all-wheel drive system's smarts and suspension's well-tamed body roll meant for a ride across the slippery stuff that was predictable and sharp. Like any track day, we know we could have gone faster with a few more laps under our belt.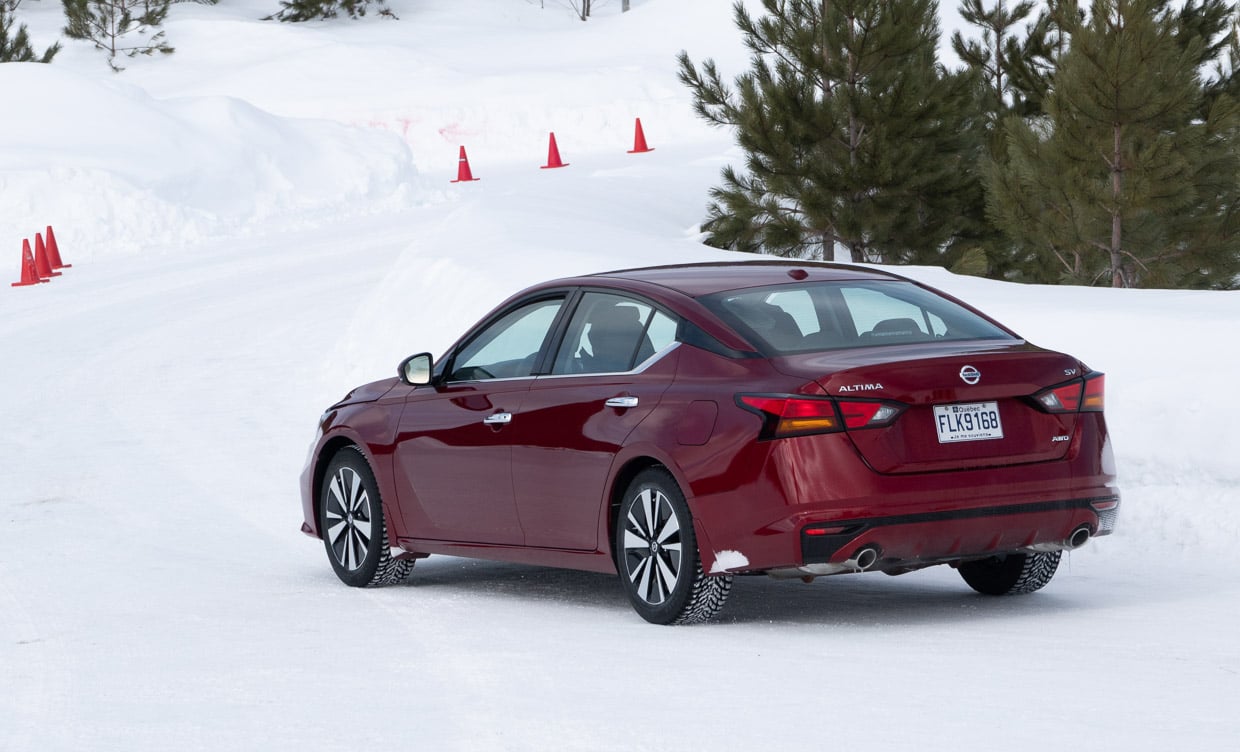 We also took some time getting to know the new Murano on the ice and on the road. While its weight and higher center of gravity mean it's a bit less nimble on the slippery stuff than the Altima, it rarely broke loose on us, and is a solid family ride that punches above its weight class in luxury and comfort.
While Nissan's snow-tracked custom cars were certainly a novelty, what impressed us most was just how well the new Altima AWD behaves when facing wintry conditions. The addition of an all-wheel drive variant of the popular mid-size sedan means buyers in colder climates now have another great vehicle to consider.