Viking Octantis Expedition Ship
cruises | exploration | viking | March 3, 2022
Words by Vic Arkoff
To explore the ends of the earth in comfort and style, Viking sets a new standard for expedition ships with the launch of the Viking Octantis. The star of Viking's first Antarctic season of expedition voyages is luxuriously appointed, equipped with science labs, and built to take on weather extremes.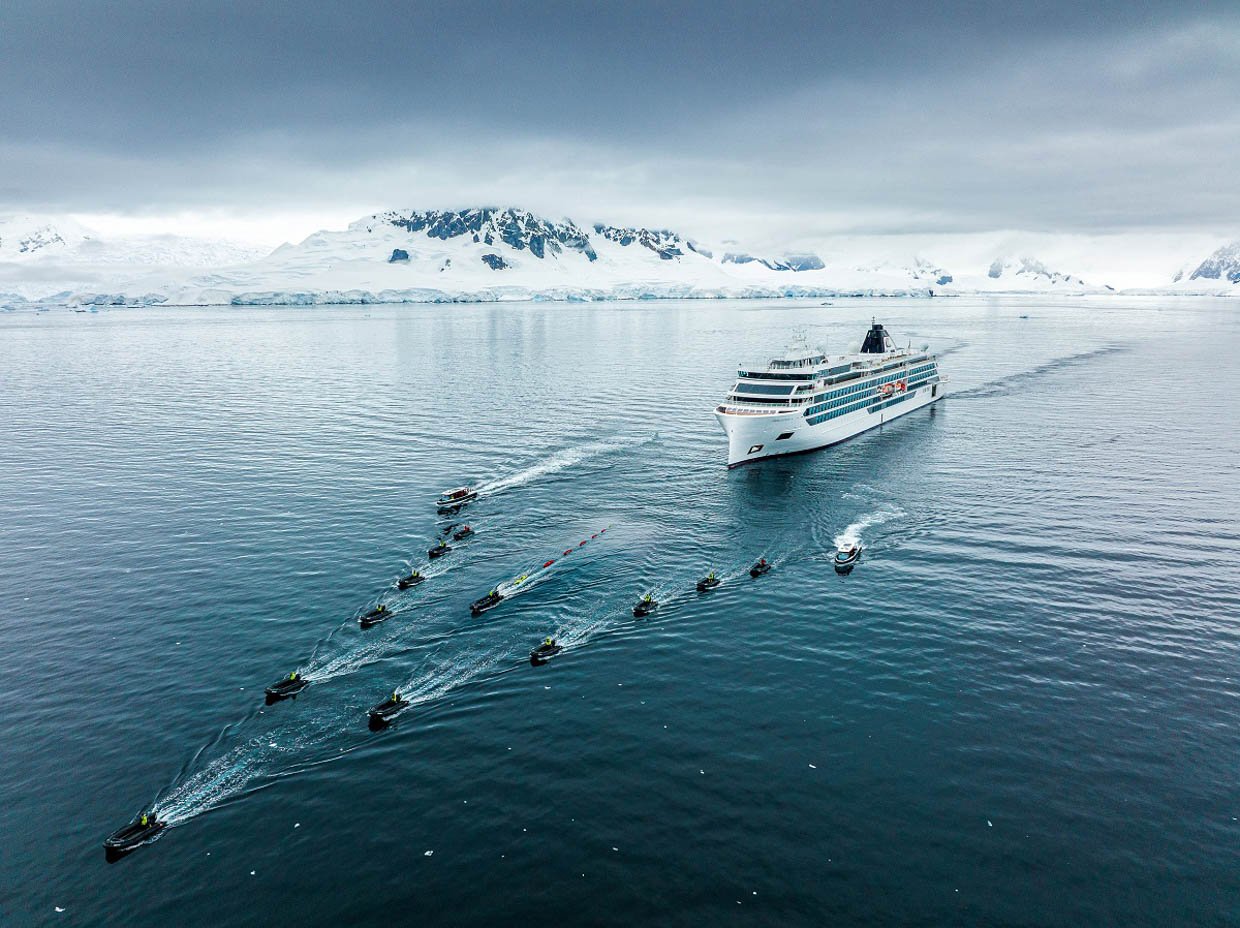 The Octantis recently crossed the Antarctic Circle in Viking's southernmost journey in its 25-year history. The new Polar Class Viking Octantis hosts 378 guests in 189 staterooms. The vessels are purpose-built for expeditions with more indoor and outdoor viewing areas than any other expedition vessel.
Innovative onboard public spaces include The Aula, a panoramic auditorium inspired by the University of Oslo's famed ceremonial hall, the former venue for the Nobel Peace Prize ceremony. Used for lectures, daily briefings, documentaries and films, the venue features a 4k laser-projected screen that retracts to expose floor-to-ceiling windows and 270° views.
The Hangar is an industry-first in-ship marina providing ease of embarkation and disembarkation of Special Operations Boats and other equipment while sheltered from the elements.
Expedition Central is the hub for the expedition team to consult with guests on their expedition activities and destinations on a one-on-one basis, aided by 3D printed maps, digital screens, and a spatial data visualization chart table.
Developed in partnership with the University of Cambridge and Akvaplan-Niva, the Science Lab facility supports wet/dry research activities by onboard scientists. Guests have supervised access and can participate in select studies.
The Living Room's library is curated by acclaimed London bookshop Heywood Hill and Cambridge University's Scott Polar Research Institute.
A first for polar expedition vessels, all staterooms on board Viking's expedition ships feature a Nordic Balcony, a sunroom that converts into an al fresco viewing platform with an observation shelf to stabilize binoculars or a camera. Every stateroom also has a drying closet to dry and store clothing and expedition gear.
Viking's expedition ships were designed by the same team behind the award-winning Viking Longships and ocean ships, including SMC Design of London and Richard Riviere of Rottet Studio of Los Angeles. Together they won "Design Studio Team of the Year" in the 2021 Cruise Ship Interior Awards for their work on Viking's expedition ships.