TRD All the Things
2020 | toyota | trd | September 9, 2019
Toyota Racing Division aka TRD already makes some great trucks. Now they're expanding their lineup with tricked-out versions of Toyota's everyday sedans. We spent a day testing out the first ever Avalon TRD and Camry TRD, and were impressed not just with their aggressive styling, but with their sporty handling.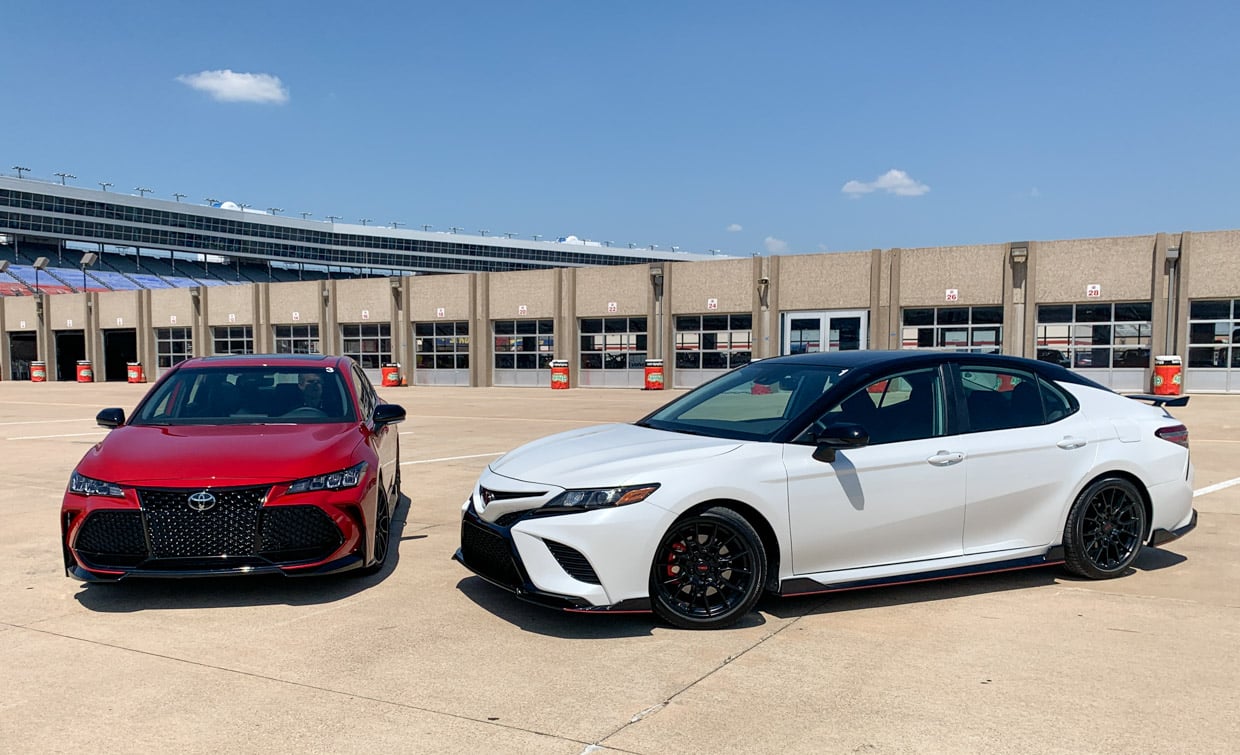 The Camry and Avalon TRD models get a variety of upgrades which are apparent from the exterior, most notably special black grilles and aero elements including a front splitter, rear diffuser, trunk lid spoiler, and side aero skirts, which are accented by a red pinstripe, red brake calipers, and red TRD badging.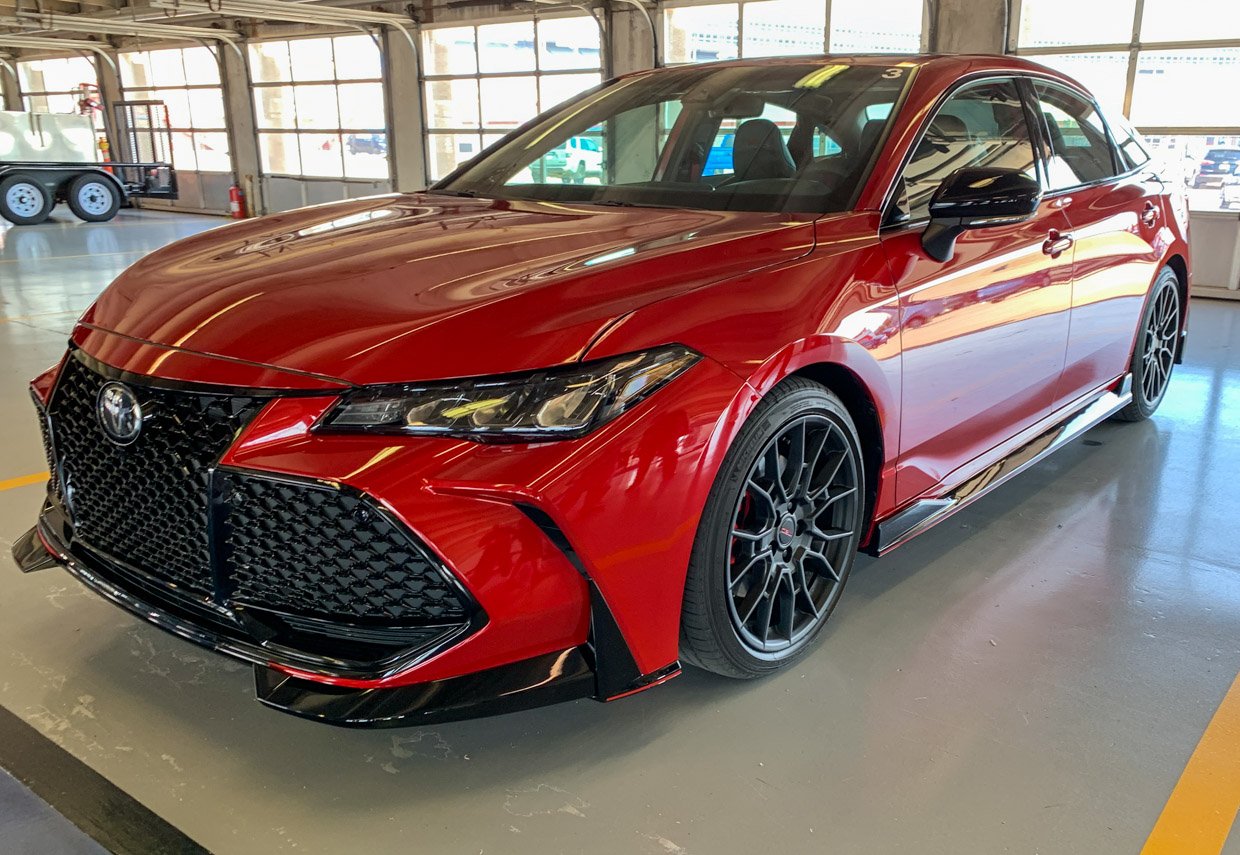 While Avalon TRD models come only in solid colors, every Camry TRD gets a black roof, which we've thought looked awesome since Toyota first showed it on the Camry XSE in 2018.
Each TRD sedan comes equipped with a 3.5-liter V6 engine that cranks out 301 horsepower and 267 lb-ft. of torque. A smooth-shifting 8-speed automatic sends power exclusively to the front wheels, while paddle shifters provide a bit more driver engagement when you shift into sport mode. Toyota hasn't released 0-to-60 times, but they're likely to be comparable to the other V6 models, which do the feat in just under 6 seconds.
Both the Camry TRD and Avalon TRD have undergone suspension changes, including a 15mm (0.6") reduction in ride height, unique coil springs, and more stiffly tuned shock absorbers than other models.
The dual catback exhaust system produces a much throatier sound than the stock V6 exhaust, and we were even able to get a little burble out of it under hard acceleration in low gears. The shiny stainless steel exhaust tips look great too.
There's no question the grille on current-gen Avalon is huge, but we think it looks its best in all black, which is the only way it comes on the Avalon TRD.
Combined with extra underbody bracing and stiffer sway bars, the suspension improvements offered up a flatter, more predictable ride with less roll when we compared the TRD models to the Camry XSE and Avalon Limited around the autocross course. The Camry TRD also trades the ability to fold its rear seats for extra bracing, and has no sunroof, which gives it added chassis stiffness.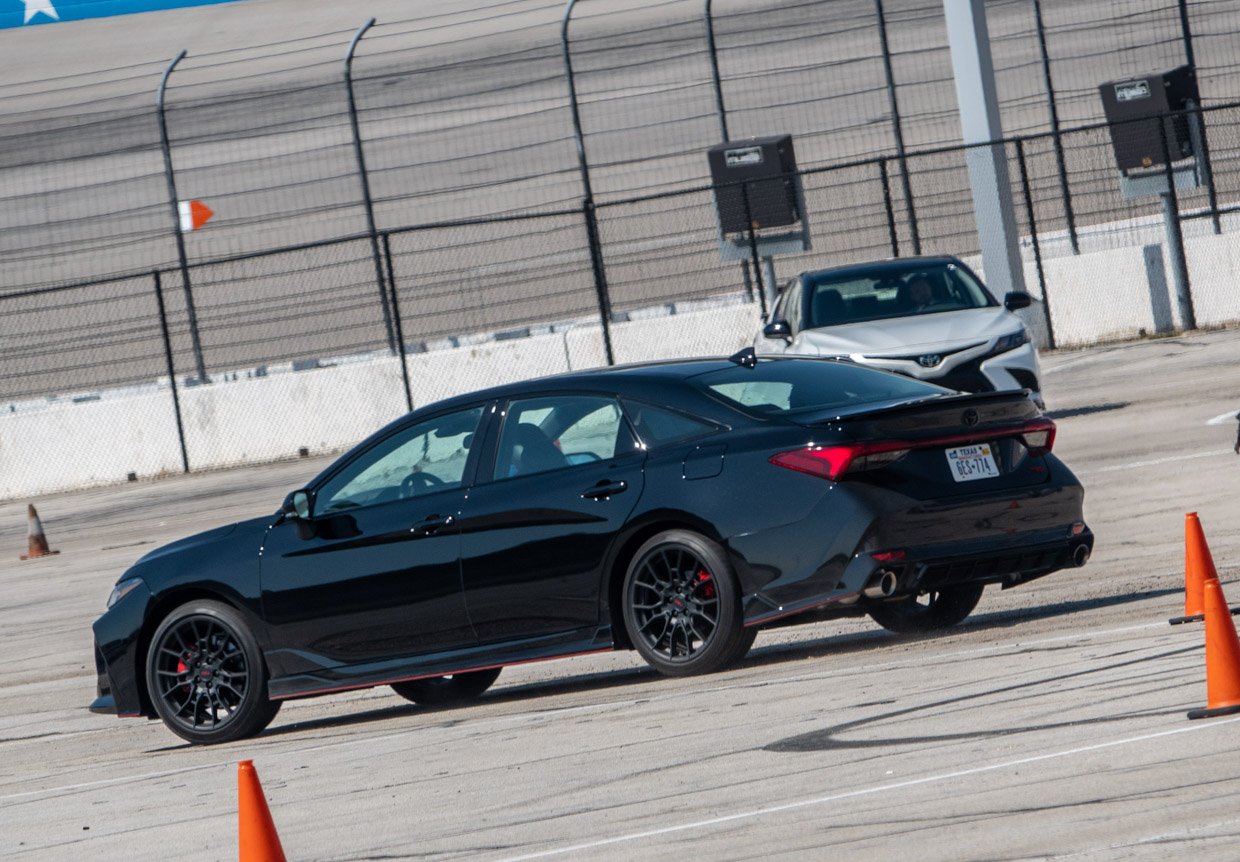 The matte black TRD wheels not only look awesome, but their open pattern improves brake cooling, and they weigh substantially less than Toyota's other 19" rims, reducing unsprung mass. The Avalon's wheels come wrapped in Michelin all-season tires, while the Camry TRD's wheels are shod in Bridgestone Potenza summer tires, which provided the best grip and cornering response on the autocross.
Braking performance is also upgraded on TRD models, with 12.9" rotors and dual-piston calipers in front for quicker stopping. In addition to the hardware change, pedal feedback is more direct and sporty in its tuning.
One of the more entertaining perspectives of the Camry TRD shows off its rear wing, which has a very distinctive stairstep design, and is decidedly bolder than the one found on the Avalon TRD. We're not sure how much downforce it really adds, but it definitely sets the car apart and makes a statement.
The TRD models are also the first sedans in the lineup to get Active Cornering Assist, a torque vectoring-by-braking system which really helps to cut down on understeer.
Even with the stiffer suspension and lowered ride height, we found both cars offered great ride comfort on the road too. With a little less weight and length to shoulder, the Camry felt more dynamic than the Avalon on the street, while the Avalon is more elegant and refined.
Inside, the TRD styling continues with comfy SofTex sport seats in black with red accents, TRD logo headrests, and red seatbelts which are a nice touch. The Camry TRD gets horizontally-striped fabric inserts, while the more upscale Avalon TRD gets ultrasuede with a single red vertical stripe.
We're excited to see Toyota extending the TRD line to more of its vehicles. The name has already come to symbolize the ultimate incarnations of the Tacoma, Tundra, 4Runner, and 86, and now we can add Camry and Avalon to the list. Here's hoping we get more TRD models in the near future. We'd love to see a RAV4 TRD, a Corolla Hatch TRD, and a Supra GR TRD at some point.