Ford Mustang Shelby GT500 Track Day
ford | ford mustang | sports cars | track | July 17, 2020
Words by Paul Strauss / Images by Paul Strauss & Lincoln Hill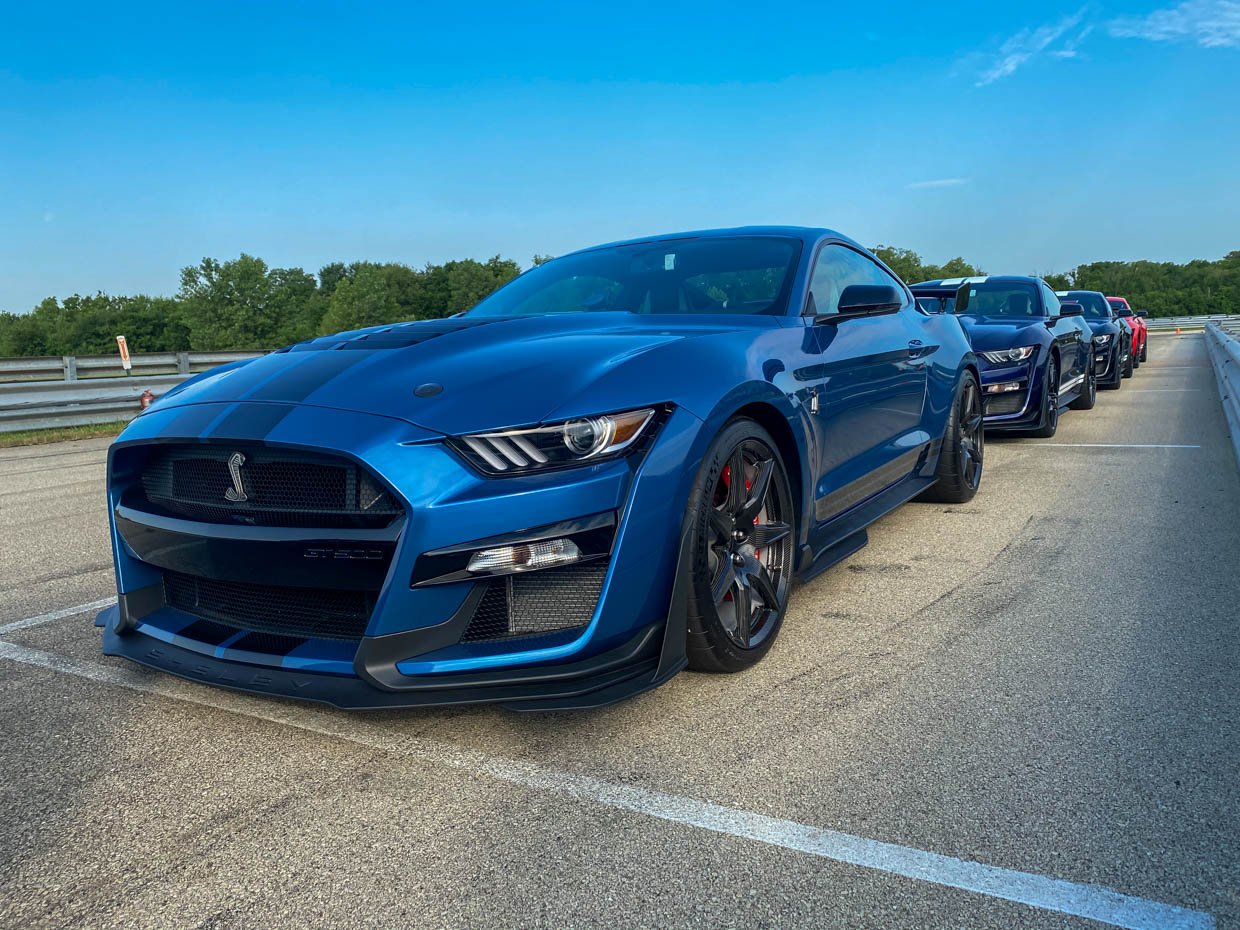 Ford Performance has been touring to a handful of venues around the country, offering die-hard Mustang enthusiasts, prospective buyers, and media a chance to learn about and drive these powerful and precision engineered machines. In addition to the GT500, the traveling exposition includes other Mustang models, and displays that get visitors up-close and personal with key components of the GT500, like its engine, brakes, wheels, aerodynamics, and more.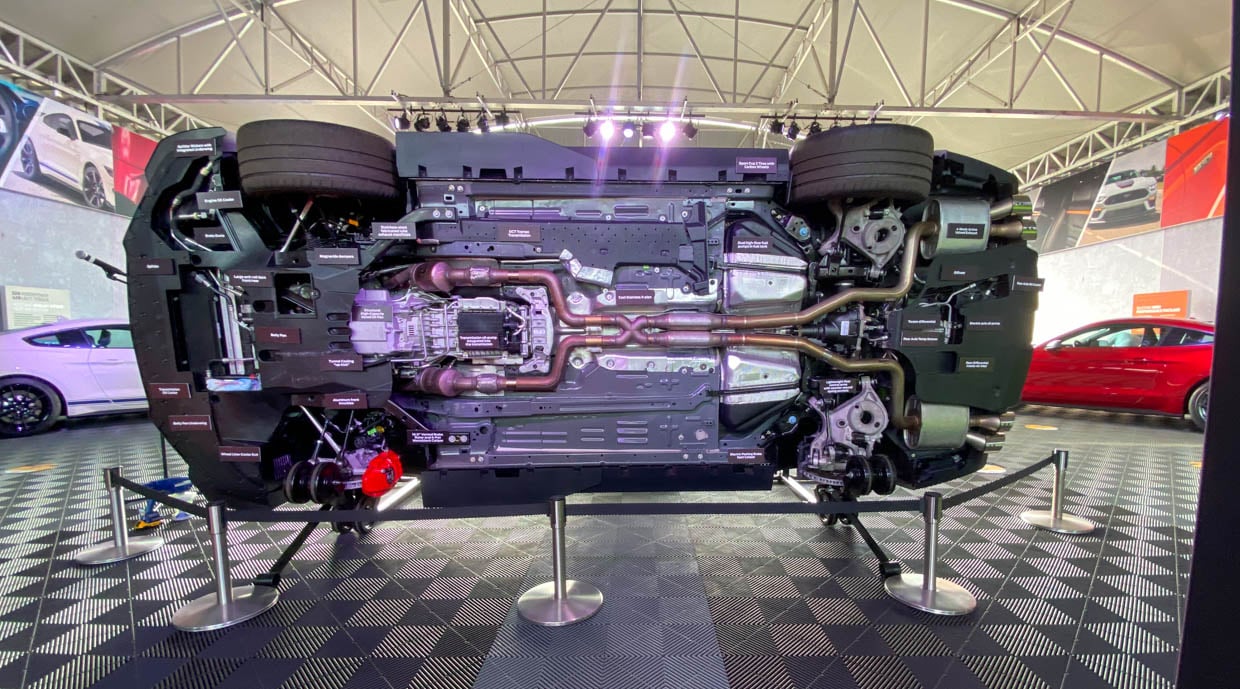 We've always loved the side profile of Mustangs, and the GT500 builds upon the pony car's classic fastback styling with side skirts, front splitters, a rear diffuser, and a big rear wing spoiler. An optional Gurney flap adds even more downforce. 20" exposed carbon fiber wheels by Carbon Revolution are part of the car's $18,500 Track Package, which also includes Michelin Sport Cup 2 tires, carbon fiber on the instrument panel, Recaro leather trimmed sport seats, and also removes the rear seat to cut weight. There's also a GT4-style carbon fiber track wing, which helps to produce up to 550 pounds of rear downforce when cruising along at speeds up to 180 mph.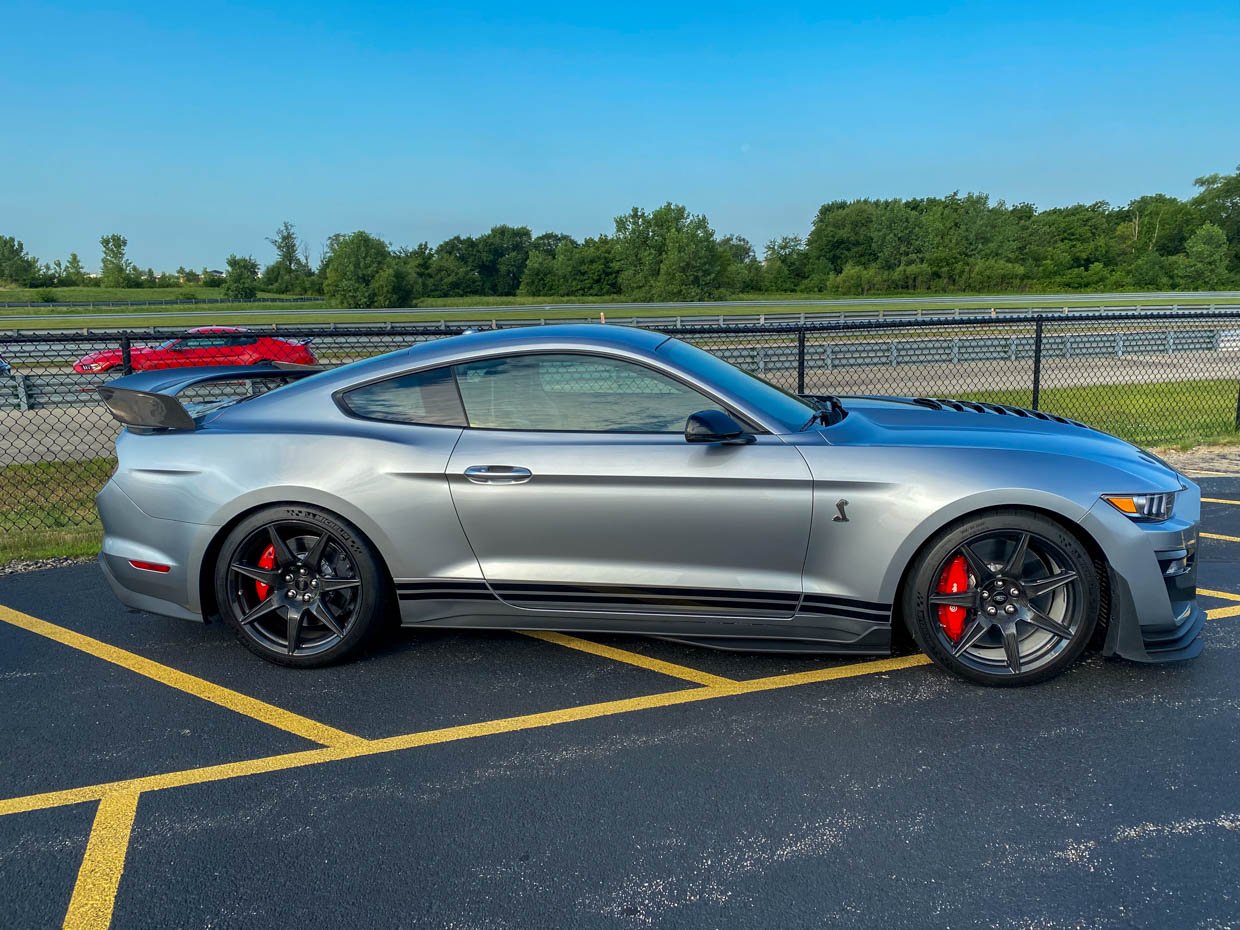 With a car this powerful, cooling and airflow is critical, and the GT500 delivers. Six heat exchangers ensure the engine, supercharger, engine oil, and transmission are kept cool, while an extra high-temperature radiator helps pull heat away. There's also a rear heat exchanger to keep the rear differential happy. The louvered six-vent hood helps with airflow while also reducing front-end lift.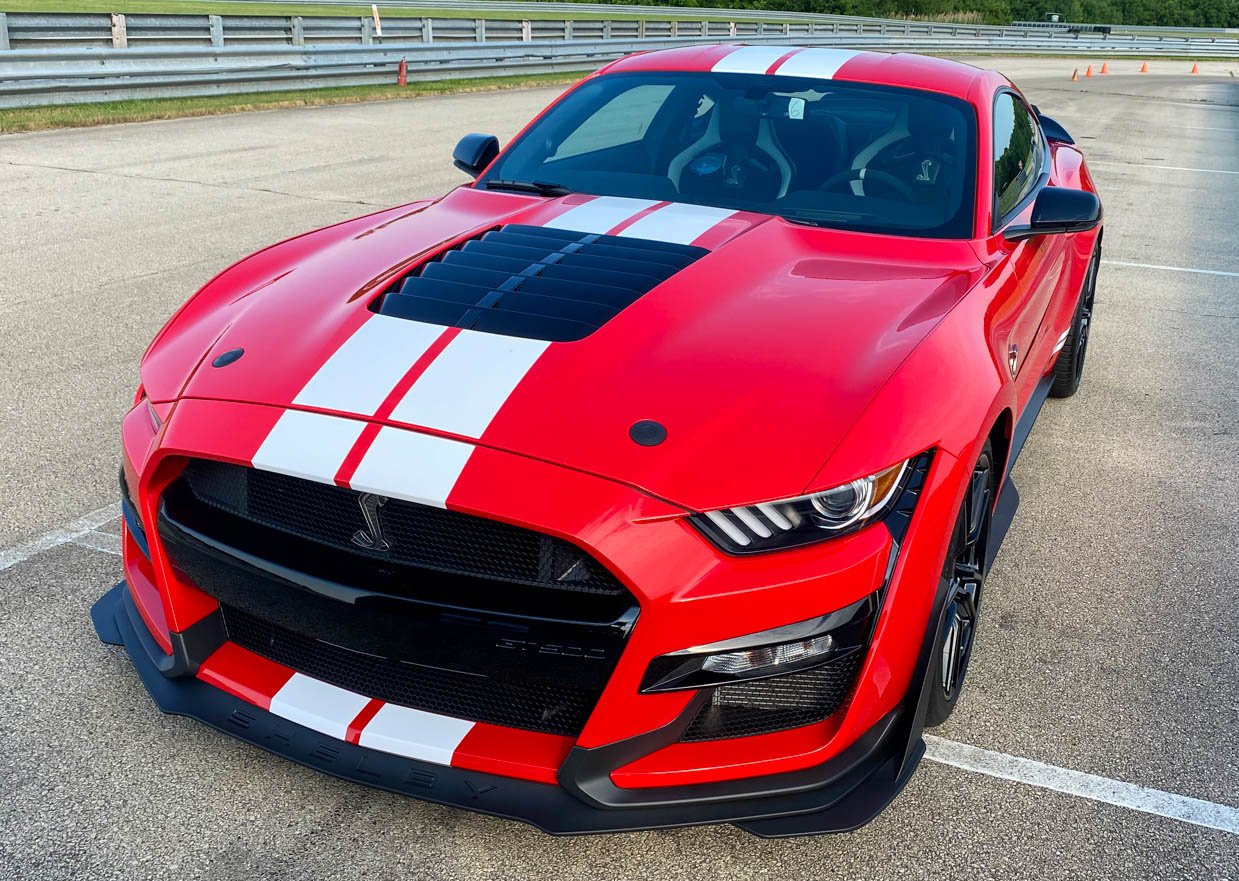 At the heart of this monster is a 5.2-liter V8 engine, fed with a massive 2.65-liter Eaton supercharger. To put that in perspective, the displacement of the entire engine in the 300hp, 4-cylinder EcoBoost Mustang is only 2.3 liters. Each GT500 engine is handbuilt with the autograph of its builder stamped into a plaque just beneath the Shelby snake on its supercharger.
After learning all about the GT500 and its specs, we headed out to Autobahn's challenging South course. The 2.1 mile-long road course is loaded with technical challenges through its 15 turns, and also has a 1850 foot-long straight, providing the perfect opportunity to put the pedal down hard.
Ford provided visitors with a track safety briefing, as well as safety gear including helmets and HANS devices. And being in the midst of a pandemic, they also offered up face masks, hand sanitizer, and made sure that every car and helmet was thoroughly disinfected prior to each use.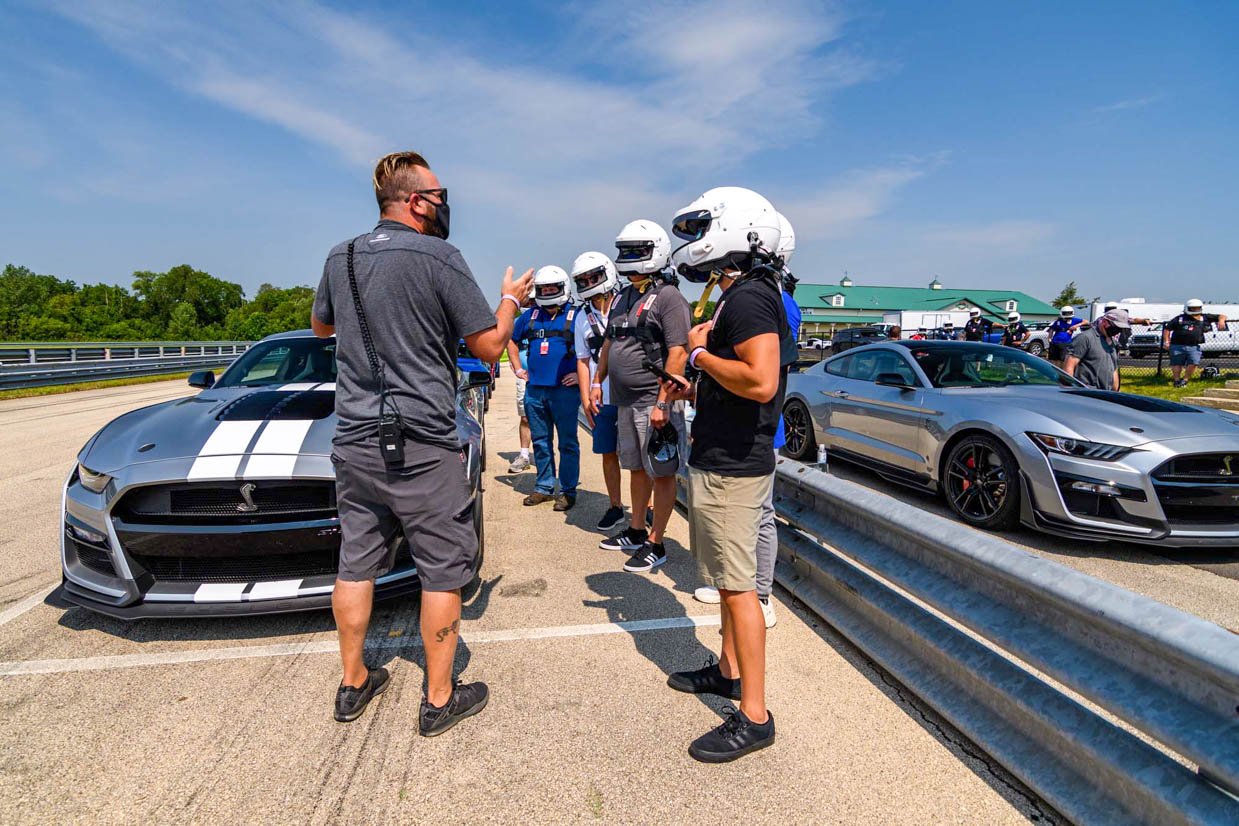 As we headed out on the track, the GT500 let out a mighty roar, with an almost brutish amount of torque heading to the back wheels. Thanks to the sticky Sport Cup 2s, the Mustang gripped impressively off the line as we aimed keep up with the pro driver who would lead us on our laps around the track, guiding us to the proper racing line.
The 7-speed dual-clutch automatic did a great job holding gears as we entered corners, and despite the temptation to use the paddle shifters, this gearbox is way smarter and faster than any human. Between the lightweight wheels, an updated electric power steering unit, lightweight coil springs, and MagneRide active suspension, we were truly impressed with how flat and well behaved the GT500 was through the corners. Muscle cars aren't supposed to be this good on a road circuit, but this one is. Sure, it's a little more of a handful than the GT350 thanks its 230+ horsepower advantage, but we always felt firmly in control as we rounded the bends.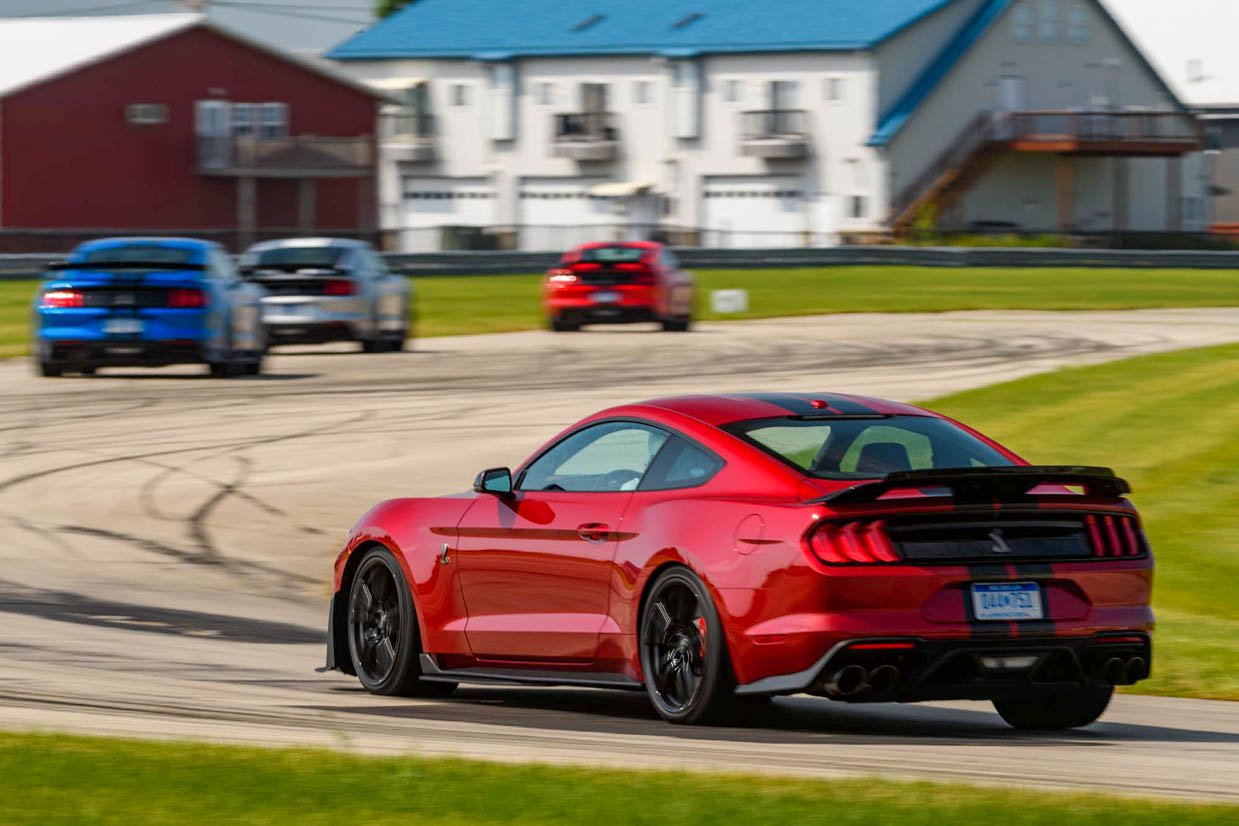 While we didn't get a chance to take the GT500 out on a drag strip, heading down the back straight, we quickly were into the triple digits, and with a pro driver behind the wheel, we saw the speedo hit 140mph before the hard right at the end of our 0.35 mile runway. Thankfully, the car's massive brake rotors were there to slow us down quickly and assuredly.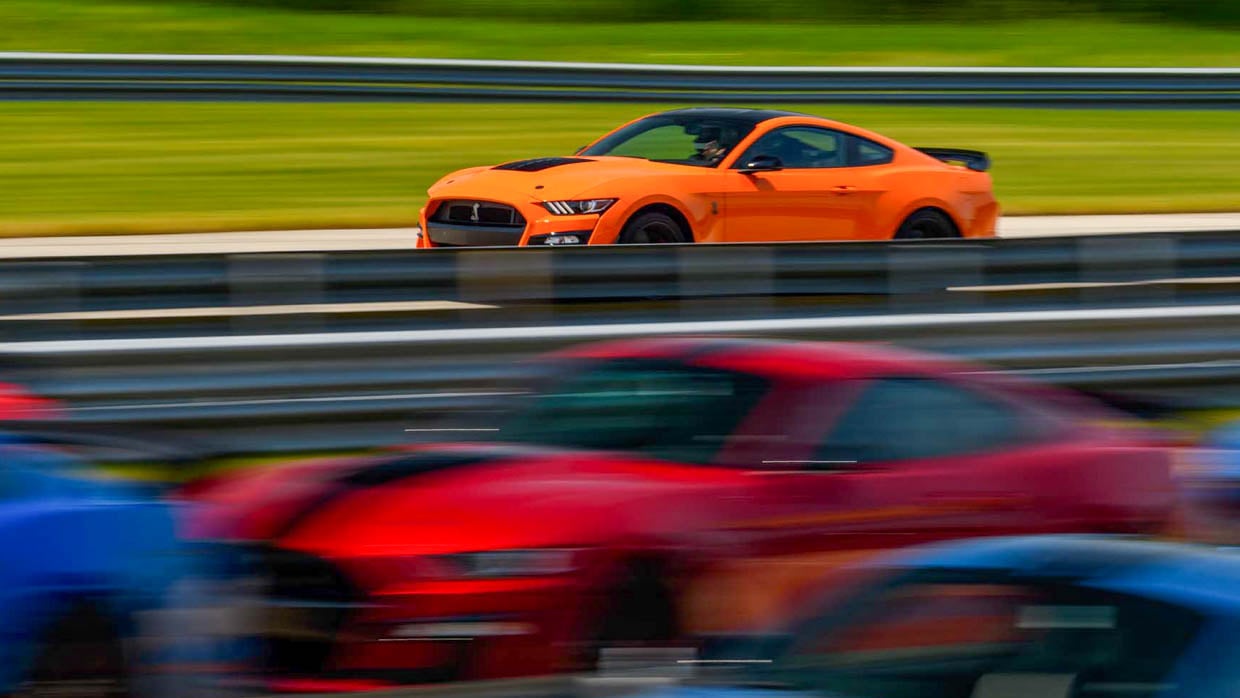 Carroll Shelby's original 1967 GT500 might have been a straight-line monster, but in 2020, advances in vehicle technology, performance, and engineering mean the modern GT500 can have its cake and eat it too. Despite having 760hp under its hood, it's easier to drive than one might think, and it's one of the few cars out there that can perform just as admirably on a drag strip or a road course.