Track Day: FIAT Abarth
abarth | driving | fiat | October 10, 2018
Words and Images by Paul Strauss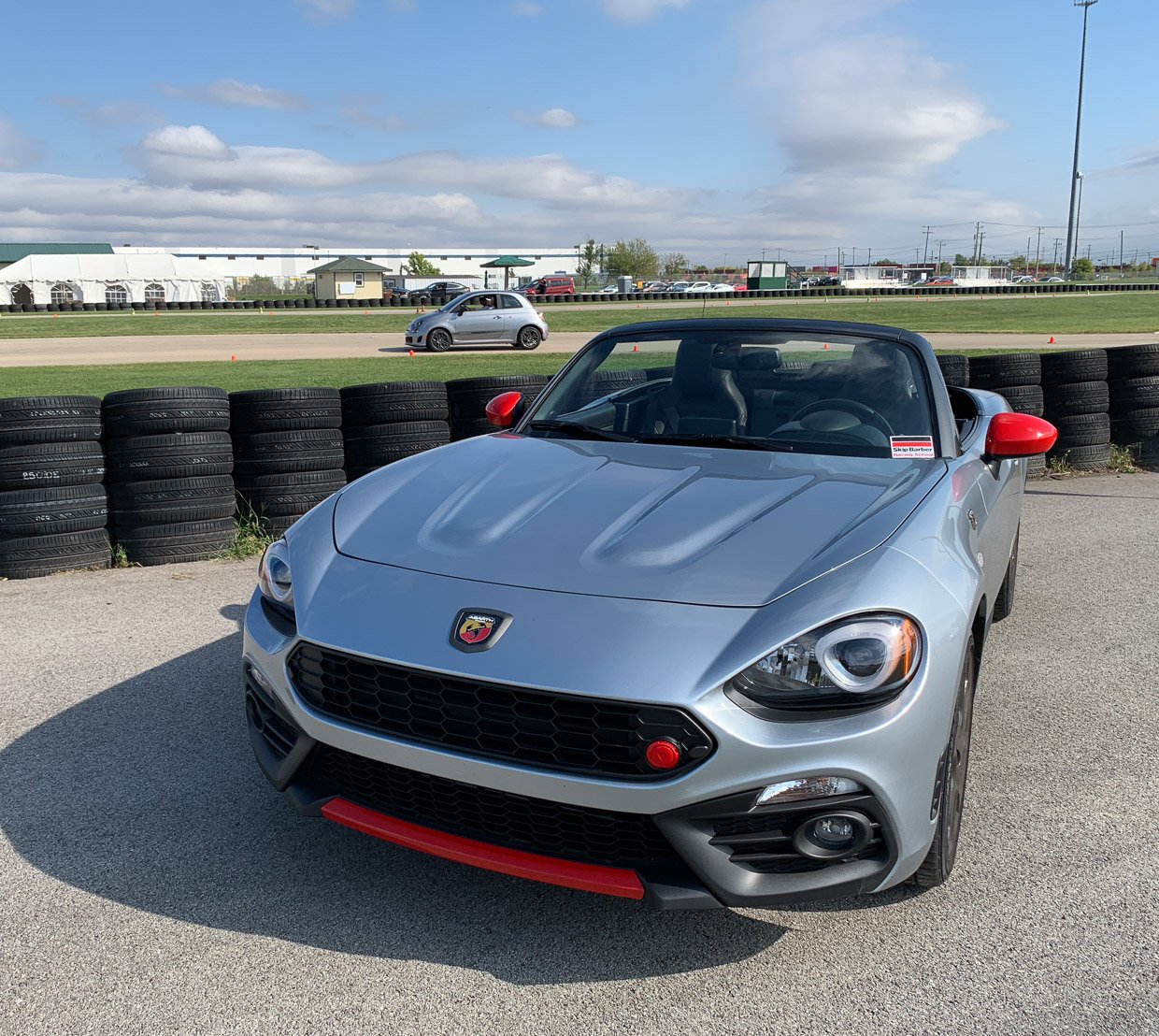 Abarth has been the performance and racing branch of Italian automaker FIAT for many decades. The brand is known for taking what are playful daily drivers and transforming them into something just a little more bonkers. Their iconic scorpion logo hints at the added sting beneath the hood of each of their cars.
The 2019 FIAT 124 Spider Abarth is a wicked little beast. The most potent of the 124 family makes 164 hp and 184 lb-ft. of torque, and is best enjoyed with the six-speed manual gearbox. It packs a mechanical limited-slip differential, Bilstein sport suspension, and various other handling refinements. When paired with the new Record Monza exhaust system, it makes quite the howl as it climbs toward the redline. We love the look of the matte black hood option, paired up with the Veleno package, which adds red mirror caps, red front diffuser trim, and a red tow hook.
The FIAT 500 is a fun little car in its basic form, but in Abarth trim, it's a whole other animal. The snaps and crackles of its sport exhaust belie its diminutive stature, and its 160 hp sport-tuned 1.4-liter turbo engine gives it way more gusto. It also rocks a performance suspension, a limited-slip differential, and sporty 16" aluminum wheels with red brake calipers peeking out between their spokes. Starting with 2019, every FIAT 500 comes with a turbocharged engine, even the $16,245 entry-level 500 Pop.
Also on hand for the day's festivities was a very special 124 Spider Rally car - tricked out with a crazy powerful 300 horsepower engine, stripped down to the bare essentials, and fitted with racing seats and a roll cage. After performing some contortionist moves to squeeze inside the roll cage, we took a couple of hot laps in the right seat of this monster and enjoyed a crazy fast and loud drifting session around the circuit.
After a classroom session with our lead trainer from Skip Barber, we headed out to the track, donning helmets and racing suits for an unforgettable day. We started out on the Autobahn's 1.5-mile North road course, where we spent the better part of the morning practicing the track lead-follow style behind a professional driving instructor. This was anything but a slow crawl, and our instructors pushed us to go as fast as we could comfortably drive.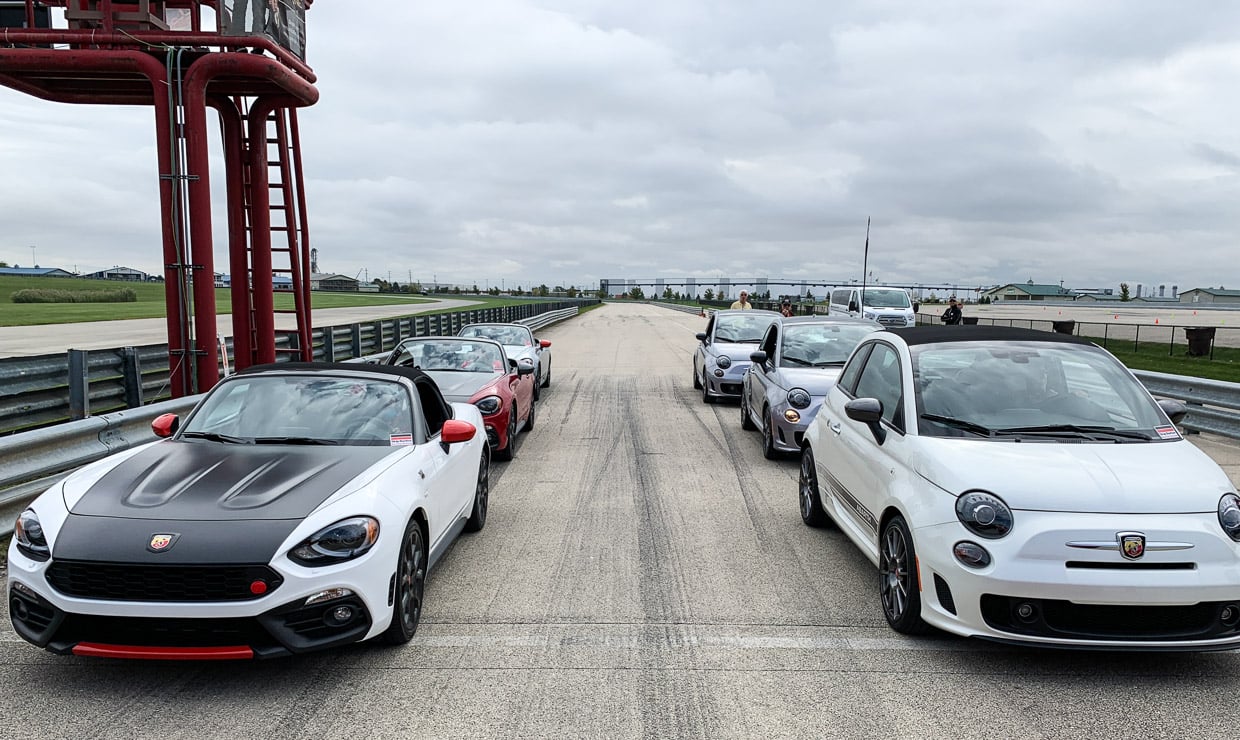 While most of the cars on the track were decked out in white, red, or grey, this little 500 Abarth stood out from the crowd with its beautiful Laser Blue Metallic paint. Naturally, it was the first car we jumped into because we like shiny objects.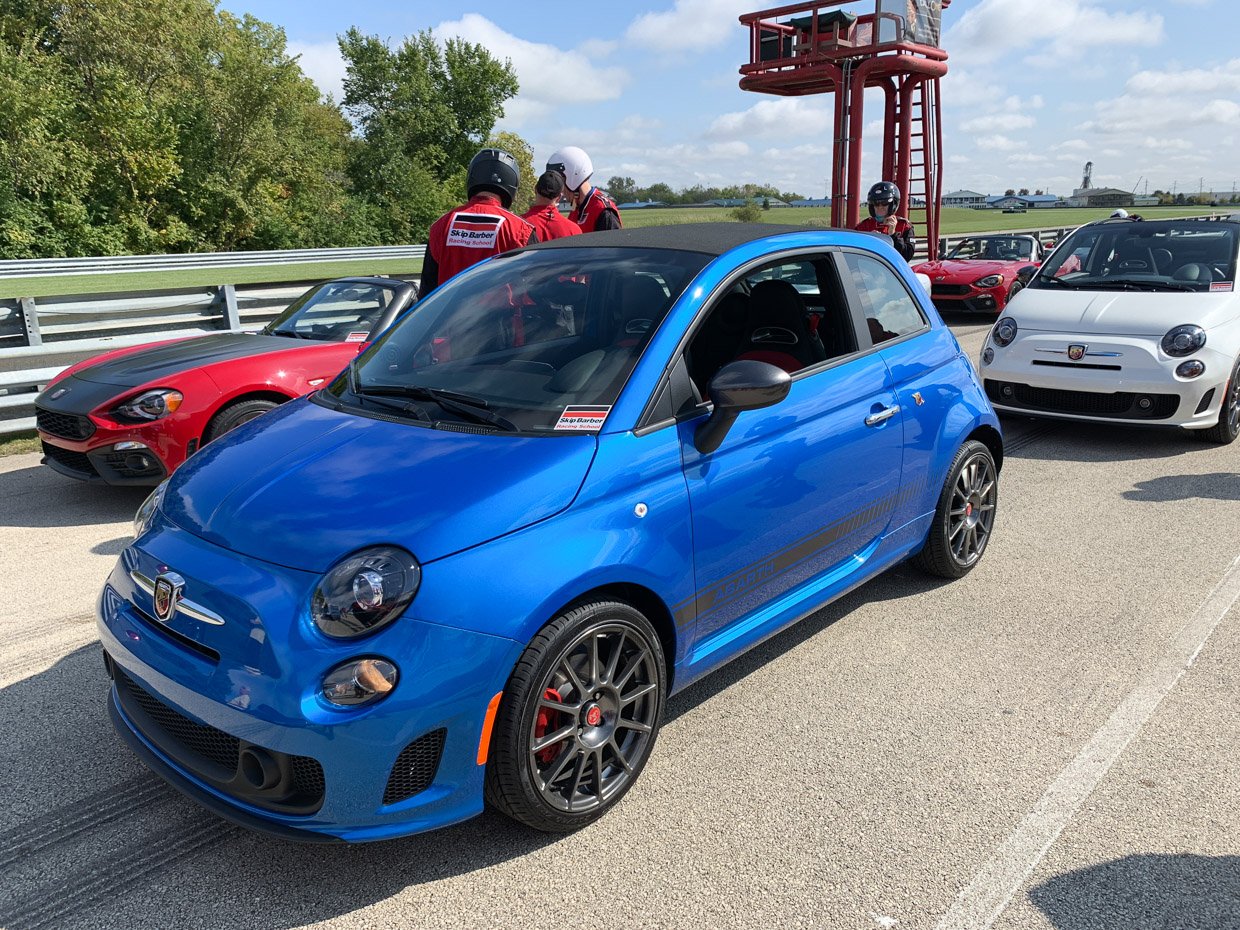 We bounced between the 124 and 500 Abarths to learn track techniques like finding the optimal driving line, trail braking, and for those with nimble enough feet, heel-toe shifting. We also took the opportunity to understand the handling differences between the more torquey, rear-wheel drive 124, and the front-wheel drive 500. The 124 Spider Abarth was clearly the faster car around the circuit, but both cars were a blast to drive. After all, when it comes to a twisty road course, it's always more fun to drive a slow car fast than a fast car slow.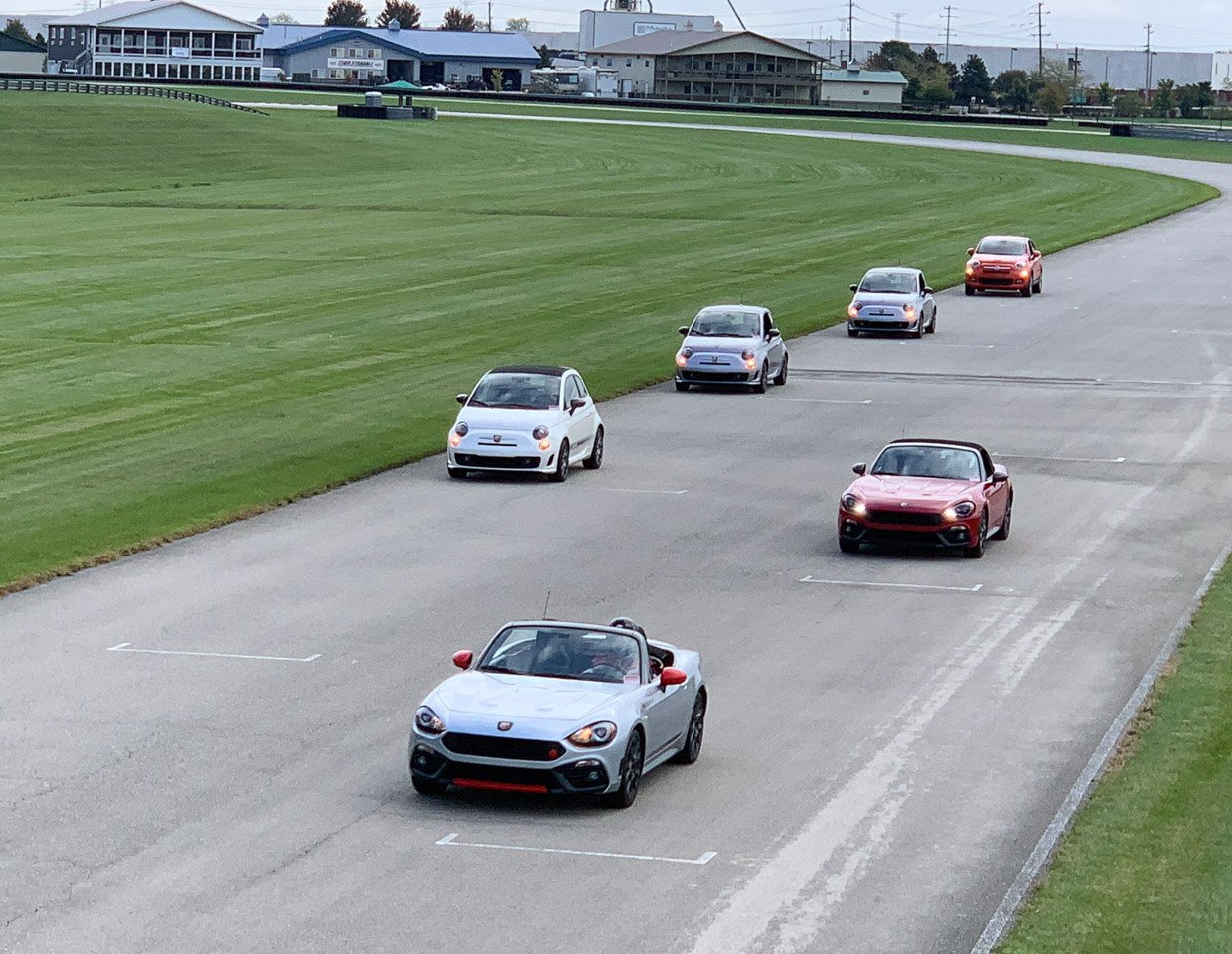 After our time on the main track, we headed to the autocross course, where we got some quality time riding with a pro driver in the right seat, offering pointers. Lap after lap, our times improved, thanks to the immediate feedback on where to apex, when to brake, and how to best negotiate the hairpin turns and sharp angles of this short course.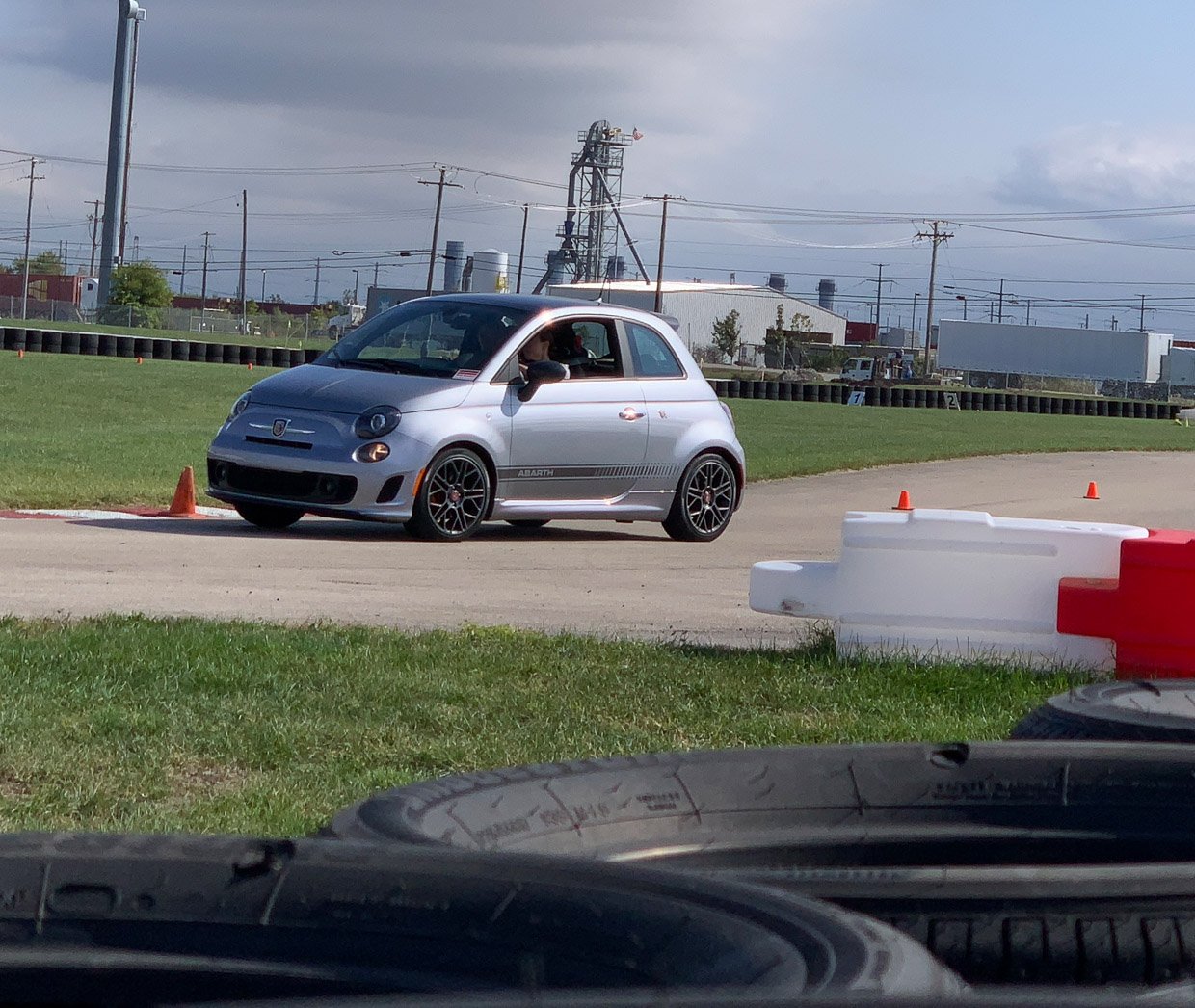 While the 124 Spider had the power advantage on the big track, the 500's size and agility evened the playing field on the autocross. Autocross driving is one of our favorite weekend activities, as it can be done in a small space, and it doesn't require powerful cars to enjoy it. It's all about steering, braking, and effective car control.
Our final stop for the day was an impromptu skid pad, where we did our best to learn how to save ourselves when a car starts to lose traction. The 124 Spider did everything in its power to maintain grip as we spun around the circle but as we gunned it, physics took over and the car would spin. The challenge was to ignore our instincts, and steer into the skid, come off the throttle, get the clutch in, then quickly recover. It's a humbling experience trying to control a car when its spinning, especially when our temptation was to go sideways and powerslide.
Both the 124 Spider Abarth and the 500 Abarth are exciting little cars, each with a very distinctive personality. If we had to choose just one, we'd go with the 124, as we're in love with its styling and performance advantages, but the 500 is a mean little machine that's perfect for zipping through the urban jungle too.

We want to thank FIAT and Skip Barber Racing School for a fun-filled and surprisingly educational day a the track. We learned about driving dynamics, track safety, improved our cornering and braking skills, and while we're still not experts at skid recovery, we're headed in the right direction.