Polaris Ranger XP Kinetic
2023 | off-road | polaris | reviews | utvs | August 18, 2022
Words by Harvey Briggs
Road America may be famous for its 4-mile road course, but tucked away at the eastern edge of the complex is a gnarly off-road park that's been used to test the mettle of everything from Wranglers and Broncos to Raptors. Last week, we ran those trails in something very different, the 2023 Polaris Ranger XP Kinetic.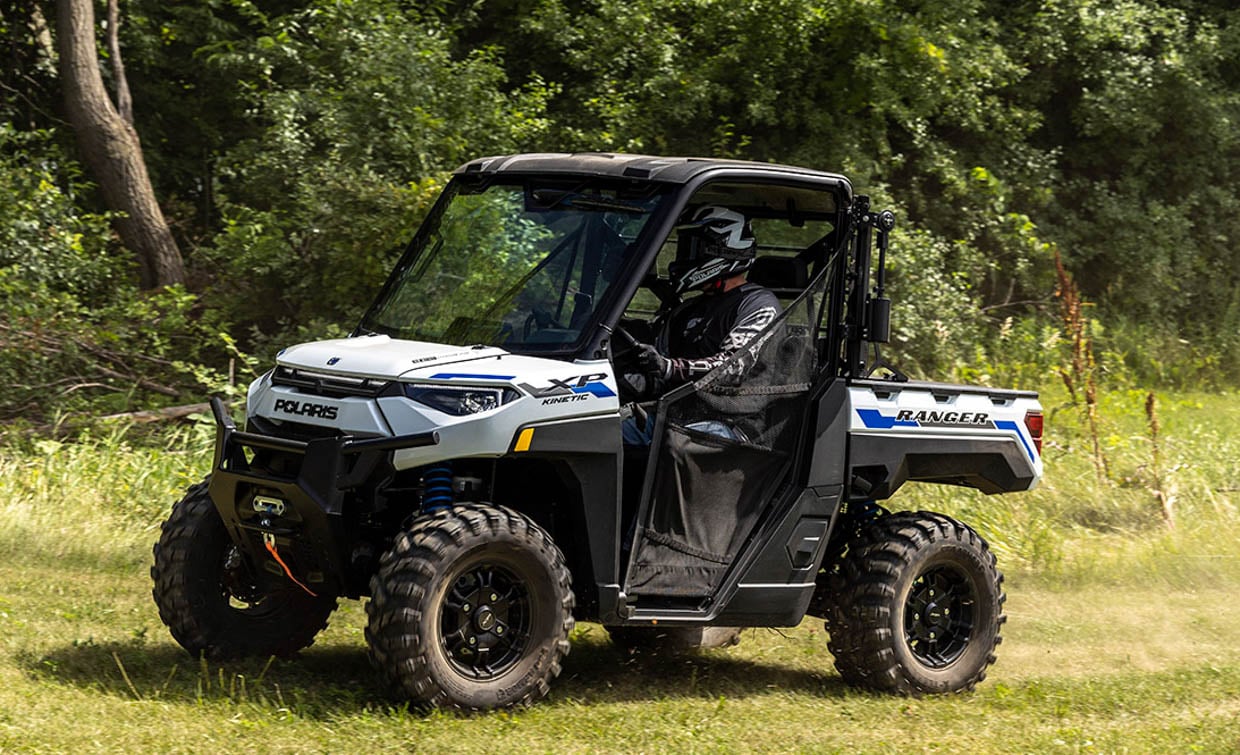 The XP Kinetic is a battery-electric off-road utility vehicle adapted from the gas-powered Ranger XP. It starts by replacing the 1000cc gas engine and fuel tank with an electric motor sourced from Zero motorcycles and either a 14.9 kWh or 29.8 kWh battery pack depending on whether you choose Premium or Ultimate trim. The benefits of this transformation are both obvious and surprisingly thrilling.
With the standard battery, its range is about 45 miles. The big battery ups that to 80 miles. That range presumes moderate use, not standing on the throttle 100% of the time. With 140 lb.-ft. of torque on tap; however, if you do send it, Ranger XP Kinetic is remarkably quick. In 4-wheel drive, the Pro Armor X-Terrain off-road tires dig in and rocket the 3-seat UTV forward with enough force to toss your helmet back against the headrest. In rear-wheel drive, a stab of the throttle spins the tires madly, and you can enter controlled slides with ease.
Ranger XP Kinetic has three-across seating with standard vinyl on the Premium model and weatherproof leather on the Ultimate that allows you to clean the interior with a hose or moderate pressure washer. A single shift lever allows you to move from park to neutral, low, then high. Reverse is accessed through a toggle switch on the top of the shifter. You move between 2-wheel drive and 4-wheel drive via a switch on the center console. Above that, you'll find a waterproof, 7-inch screen that displays the estimated remaining range, battery state of charge, vehicle information, and GPS off-road tracking with over 1,000,000 miles of verified trail maps. You can even drop a waypoint on your charging location to let you know how far you can go before turning back to charge up.
New for 2023 is Ride Command+, a vehicle telemetry system that connects to your smartphone via the Ride Command app. This adds significant capabilities, including vehicle diagnostic alerts, bump alerts to let you know if someone has moved your vehicle, vehicle health updates, and ride tracking. This feature keeps a detailed record of your ride that you can share on social media or with other riders with the app. If you're riding in a group, you can keep tabs on others riders and see where they are on the trail. On our ride, one of the group members hit a large boulder at high speed, damaging his front suspension and the Group Ride feature allowed us to double back and find him easily.
Changing the powertrain afforded a significant update in the front-end styling of the Ranger. With no need for a radiator to cool the engine, gone is the massive black grill and in its place is a smoother, more contemporary face with all LED lighting illuminating the trails ahead. In addition, there's an accent light that runs between the headlamps, which doubles as a state of charge indicator. When the XP Kinetic is plugged in, the light fills in, so the more light you see, the more charge is in the battery.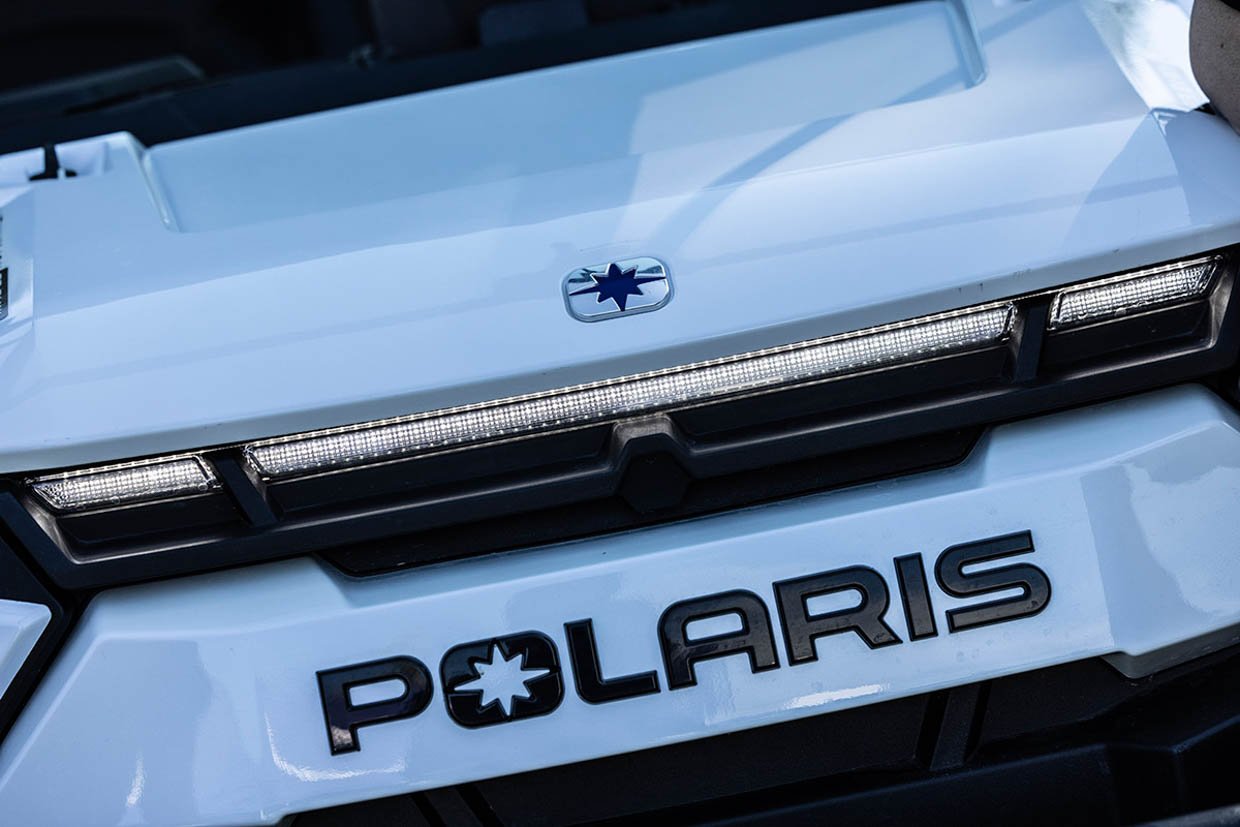 There's a large bash plate up front, and a winch is standard, so you can help your friends who don't have all your torque and capability get out of sticky situations. Underneath, there's a full skid plate to protect the battery and motor, though you'd have to be pretty aggressive to need it given the 14-inches of ground clearance and 10-inches of suspension travel.
On the trail, Ranger XP Kinetic proved to be more fun and more capable than its gas-powered brethren, thanks to the instant-on torque. We intentionally stopped halfway up the steepest hill on our trail, which was covered with loose dirt and rocks. Even with the XP Kinetic in high gear, we just eased on the throttle, and the power came on smoothly, allowing me to finish the climb without any drama. The XP Kinetic's center of gravity is also lower than that of the standard Ranger, thanks to the weight of the batteries. This really comes into play in high-speed corners and side hills, where the vehicle feels planted at almost any speed.
The added torque also adds capacity to towing and payload. The XP Kinetic can pull up to 1,500 pounds and carry 1,250 pounds in its 3-foot by 5.5-foot box. Inside the box, you'll also find a 110-volt outlet that can power tools, radios, lights, or other accessories you want to use on the trail or at the campsite.
One of the things we liked best about the Ranger Kinetic XP is how quiet it is. There's a slight electric whine from the motor, and occasionally the cooling fan for the power controller kicks on. Even with that, it's easy for the driver and passenger to talk at a normal level. The near-silent operation has other benefits as well. Deer hunters can get from camp to their blind with minimal disturbance of wildlife. And there are no fumes to linger about to alert deer walking into the area to your presence.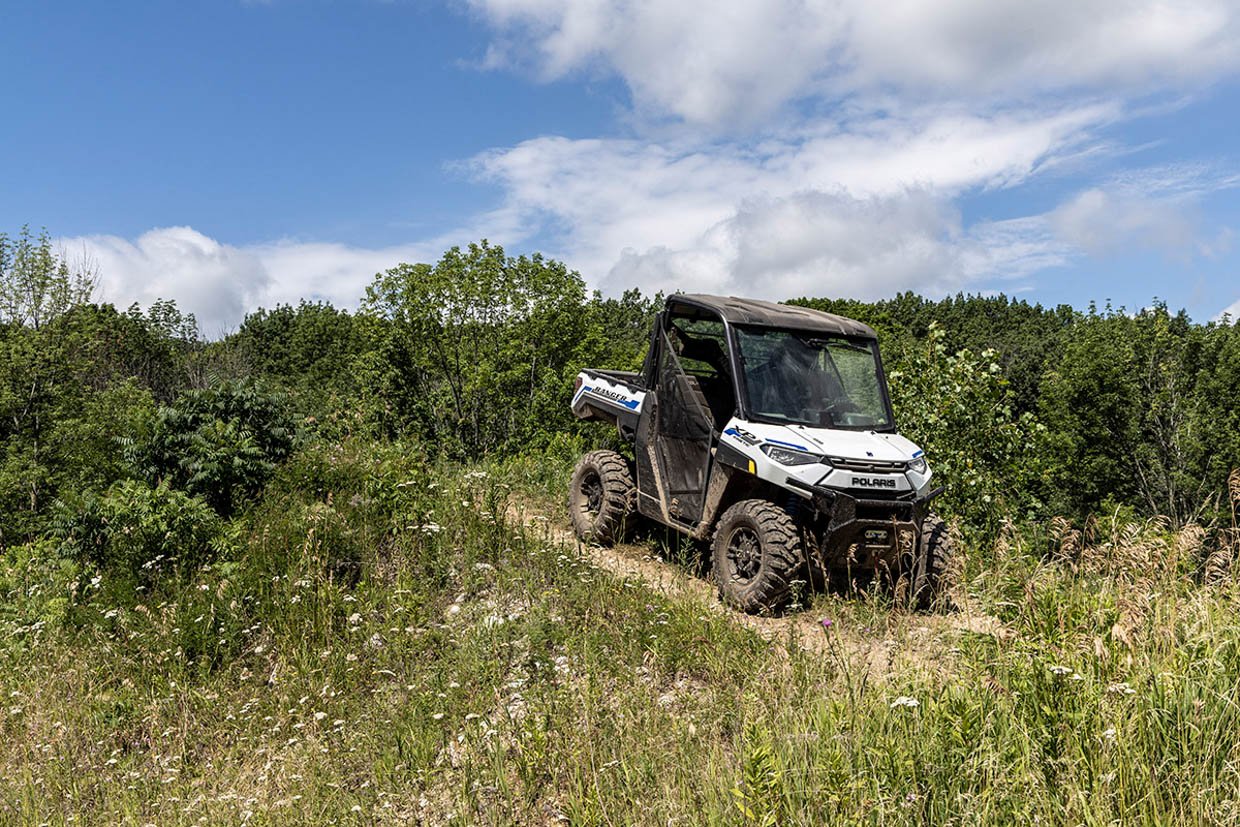 For ranchers, the XP Kinetic is easier on skittish cattle or horses and can be operated inside a barn. For those out riding fences or doing work on the ranch making frequent stops to drop off hay or check on their herd, the battery uses very little power when stopped because the accessories are driven off a 12-volt battery that is charged when the vehicle is plugged in.
Speaking of charging, Ranger XP Kinetic comes with a standard 3-volt charge system which you can upgrade to 9-volts for faster charging. It can be plugged into a J-1779 level 2 charger or standard 110-volt outlet. Polaris has a deal with EV charging company, Qmerit to help owners add level 2 charging to their garage or outbuilding. This is highly recommended since it takes just 5 hours to go from 0% charge to 100%.
The Polaris Ranger XP Kinetic XP starts at $24,999 for the Premium Model. The Ultimate starts at $29,999. Add a few packages and options to that, like a plow and a heater/defroster, and you can quickly push the sticker well past $35,000. That's a bit of a premium for the privilege of silent running, not having to haul fuel cans back to the ranch or deal with fumes. But if you can afford it, it's definitely worth it.