Patron x St. Germain Floral Margaritas
cocktails | flowers | tequila | February 22, 2022
Words by Vic Arkoff
Did you know that "margarita" actually means "daisy" in Spanish? Patron Tequila and St. Germain teamed up with artist and floral visionary, Maurice Harris, to create a bouquet of fresh takes on the classic cocktail. The floral secret ingredient is St. Germain liqueur, made with 1,000 handpicked elderflower blossoms.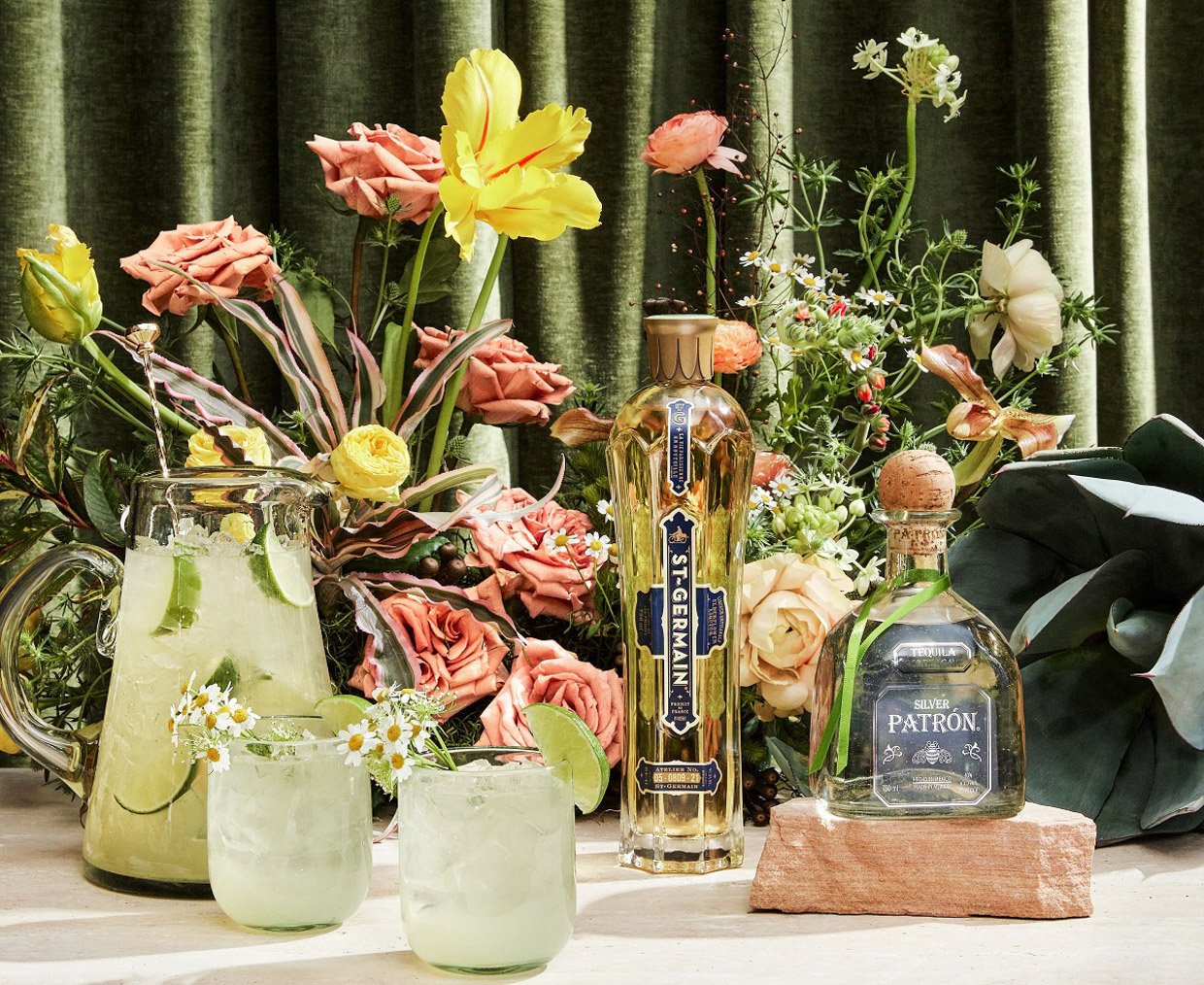 One of Maurice Harris' three original cocktails is the Patron St. Rita, an elegant variation on the beloved classic, elevated by a dash of St. Germain for a bright elderflower twist. St. Germain accentuates the drink's base of Patron Silver Tequila, offering its signature smooth and sweet taste with a light pepper finish.

Patron St. Rita
1 oz. St. Germain
1 ½ oz. Patron Silver Tequila
¾ oz. fresh lime juice
Method: Add all ingredients into a shaker and shake. Pour over fresh ice in a rocks glass. Optional salt rim.

To crown Harris' Piña Gardenrita, the floral designer arranges a mini bundle of mint, lemon verbena, sage, and chamomile blooms, while the What's The Tea, Rosarita cocktail is adorned with a single rose stem wrapped in a lime peel, playing off the drink's red hues.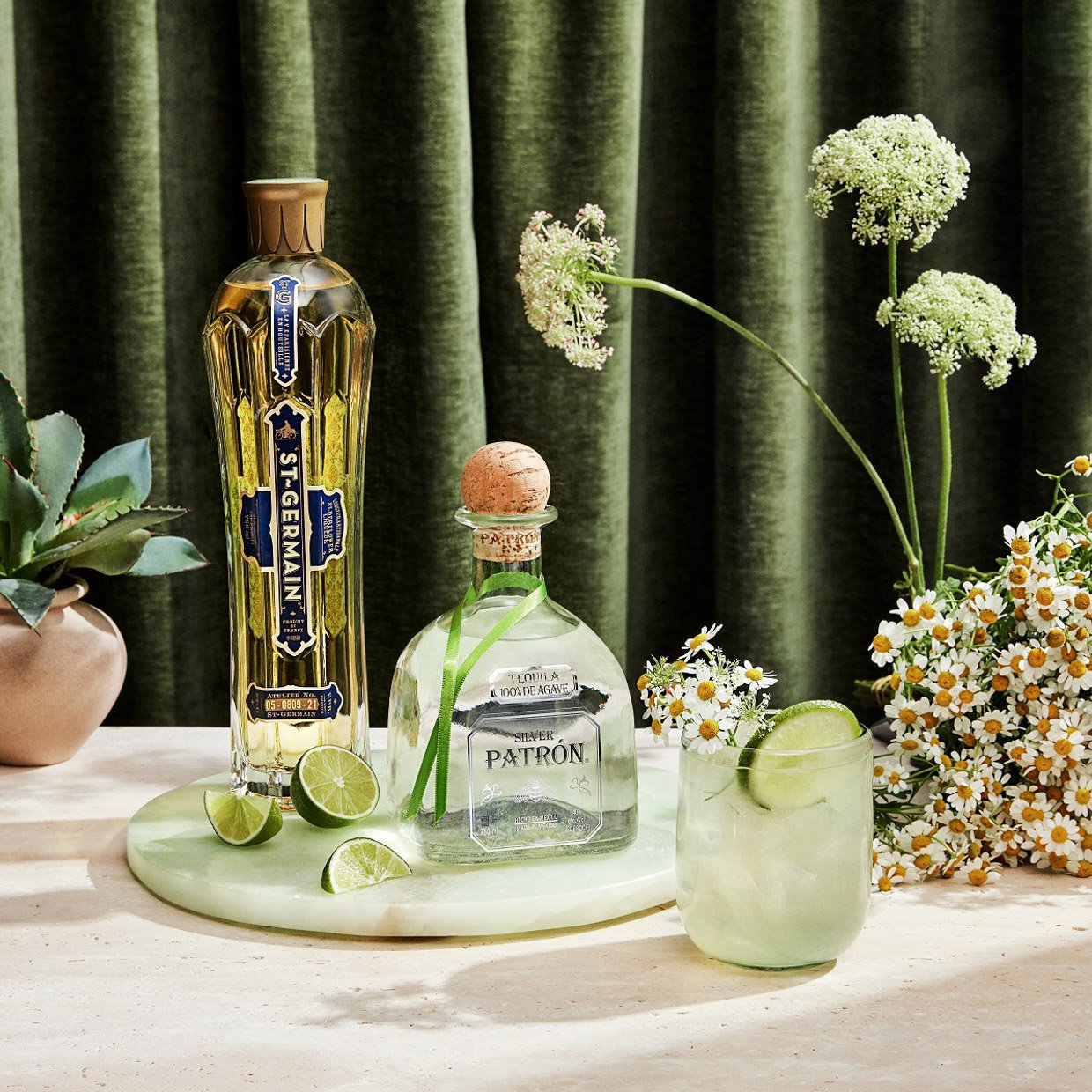 Piña Gardenrita
Piña Gardenrita heroes PATRÓN Reposado for a smooth taste and a hint of oak flavor, complemented by orgeat, fresh lime juice, charred pineapple juice and pineapple mint, elevated with a dash of St. Germain for a balanced, versatile, and refined character. A mini bundle of mint, lemon verbena, sage, and chamomile blooms crowns the concoction for an herbal inspired-floral twist.

1.5 oz. Patron Reposado Tequila
.5 oz. orgeat
.75 oz. lime juice
.5 oz. St. Germain
.75 oz. charred pineapple juice
7-8 leaves of Pineapple mint
Pinch of salt

Method: Shake all ingredients with cubed ice quickly, just 4-5 seconds. Fine strain over crushed ice in a rocks or collins glass. Garnish with large sprig of pineapple mint and lemon verbena, and a wedge of charred pineapple if desired.

Charred Pineapple Instructions: Cut whole pineapple into spears, omitting the tough center piece. Grill on open flame or in grill pan for five minutes, flip and char the opposite side for five minutes. Remove from heat, blend, and strain the juice.
What's The Tea, Rosarita
1 oz. Patron Silver Tequila
1 oz. St. Germain
.75 oz. hibiscus tea
.75 oz. beet juice
.50 oz freshly squeezed lime juice

Method: Fill a cocktail shaker with ice Add all ingredients and shake well. Strain into a chilled coupe and top with salted Rose Air (optional).

Salted Rose Air
4 oz. water
2 oz. fresh lime juice
1 ½ tsp. Sucro
1/12 tsp. Maldon salt
½ tsp. Rose water

Method: Combine all ingredients in a large bowl. Using an immersion blender or hand blender, mix until bubbles form. Carefully spoon on top of the drink.