Le Creuset Bread Oven
bread | cooking | le creuset | May 25, 2022
Words by Vic Arkoff
Iconic cookware company Le Creuset makes bread-making consistent and beautiful with the innovative Le Creuset Bread Oven. Crafted from enameled cast iron for better heat distribution, the purpose-built domed lid circulates steam, while the low-profile base produces a crispy crust branded with Le Creuset's three hallmark rings for bakery-quality results at home.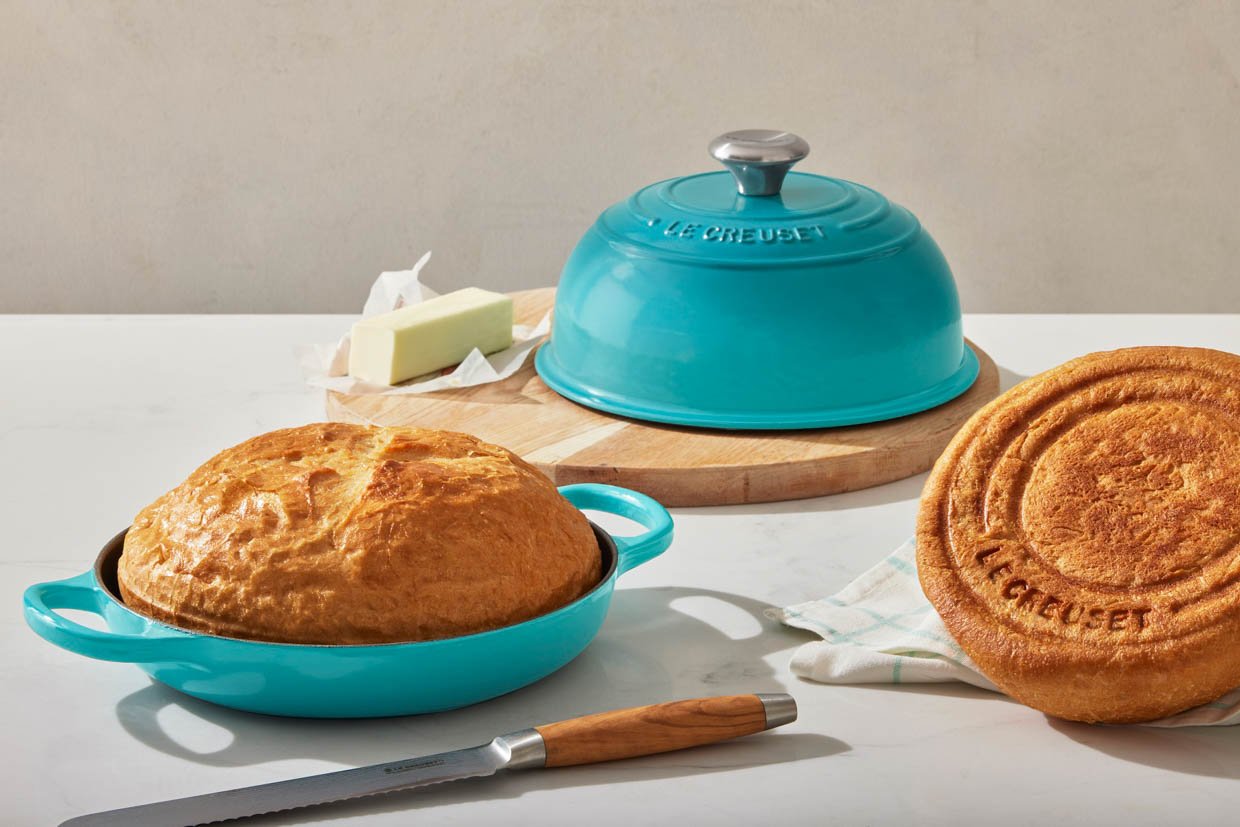 Designed like a cloche specifically for bread baking, the two-piece bread oven works with all cooktops and is oven safe up to 500º F. The colorful porcelain enamel finishes require no seasoning, minimize sticking, and resist chipping, and the matte black interior enamel is easy to clean.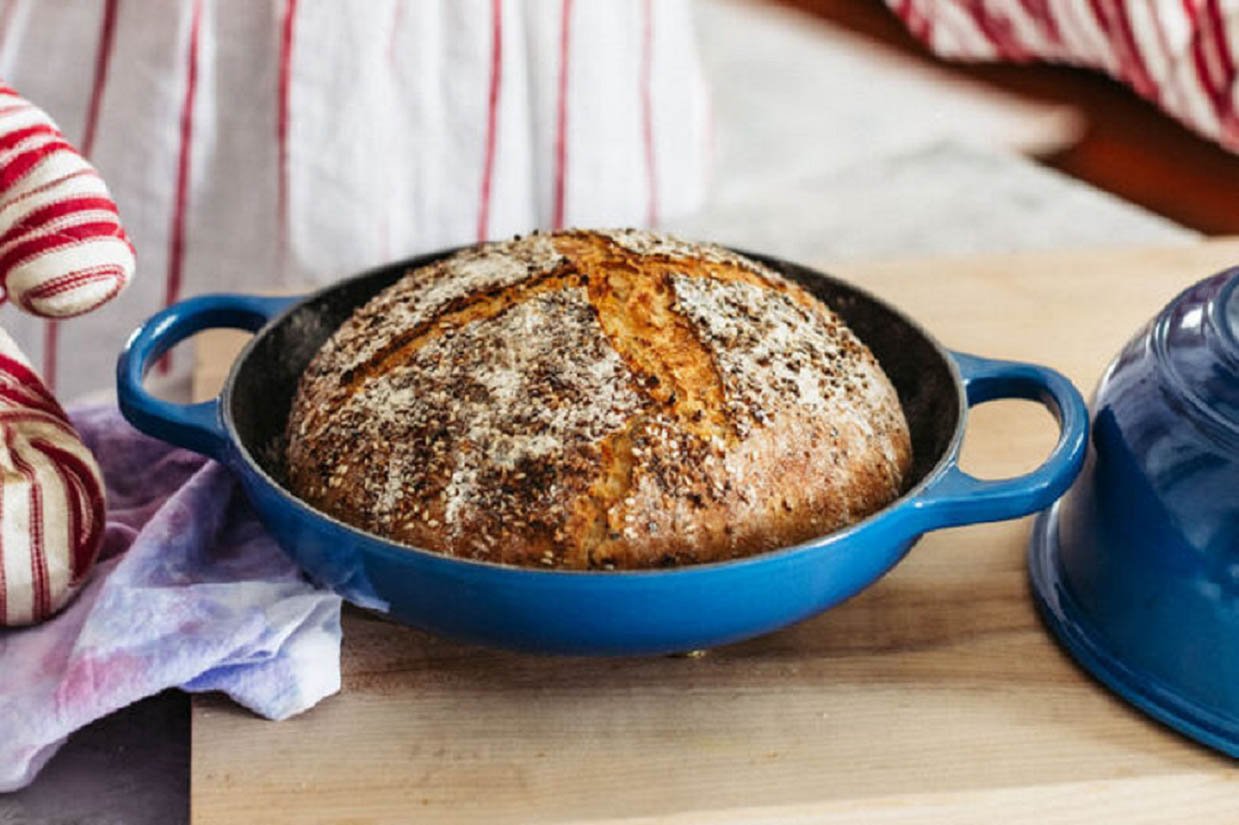 Created just for the Le Creuset Bread Oven, this perfectly sized recipe for Easiest Everything Rye Bread by Joy Wilson (aka, Joy the Baker) results in a delicious 9-inch round loaf that tastes like everyone's favorite bagel

Easiest Everything Rye Bread
INGREDIENTS
3 cups bread flour
1 cup medium rye flour
¼ cup nonfat dry milk powder
1 ½ teaspoons sea salt
¾ teaspoons instant yeast
1 ½ cups (340 grams) lukewarm water (or 1 cup lukewarm pickle juice for an extra flavorful loaf)
1 tablespoon olive oil
2 tablespoons Everything Bagel seasoning, plus more for topping

METHOD: In a large bowl, whisk together bread flour, rye flour, milk powder, salt, and instant yeast. Add the water and olive oil. Use a wooden spoon or stiff plastic spatula to mix the dough together. Stir in the everything seasoning until thoroughly combined. The dough will be very sticky. Mix for 2-3 minutes longer. Scrape down the sides of the bowl, cover with plastic wrap and let rest at room temperature for 8-12 hours.

To bake the bread, use a plastic bench scraper to gently turn the dough out onto a lightly floured counter. Lightly flour the top of the dough and knead and fold the dough over itself for 12-16 turns, into a bouncy, firm, slightly tacky dough ball.

To top the loaf with Everything seasoning, sprinkle a clean flour sack towel with Everything Bagel seasoning and place the dough round, top side into the seasoning on the towel to pick up the seasoning. Remove from the towel and place top side down on the lightly floured counter.

Shake out the flour sack towel and generously sprinkle flour over the towel. Shake off excess and place the towel into a small bowl to line (a six cup Pyrex bowl is the perfect size). Lightly sprinkle the towel with more flour. Place the dough ball in the bowl, seam side up, seasoning side down. Cover gently with the edges of the towel and allow to rest at room temperature for 1 to 1 ½ hours.

About 20 minutes before baking, place a rack in the center of the oven and preheat oven to 450°F. The dough will be puffed and risen and have almost doubled in size.