Driven: 2020 Land Rover Defender 110 Launch Edition
land rover | reviews | suvs | December 23, 2020
Words and Images by Paul Strauss
The Land Rover Defender is known for its impressive off-road capabilities and ability to go places few other vehicles dare to tread. But the latest model is so much more, offering comfort and technology that transform it into a splendid luxury SUV for the other 364 days of the year that you're not hitting the trails.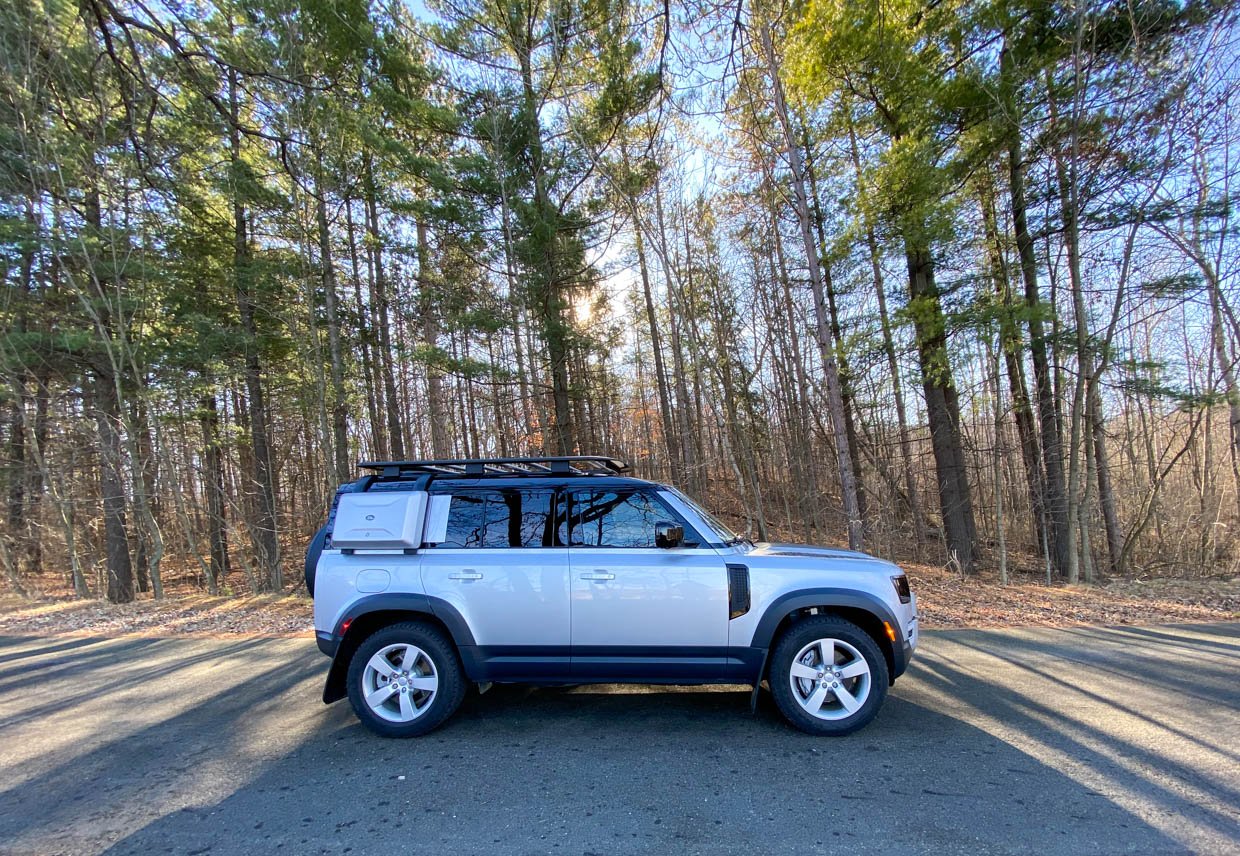 With a rich heritage of off-roading that dates back more than 70 years, the Defender name comes with a certain expectation of capability. The modern Defender takes to dirt, mud, rocks, and rugged terrain with the best of them. It has permanent 4-wheel-drive, along with modern tech like an adaptive air suspension, and a sophisticated terrain management system that can help the SUV negotiate the most challenging environments. Combined with unibody construction, a lightweight aluminum body, and a fully-independent suspension, it soaks up bumps like they're nothing, which is just as valuable on the trails as it is on everyday obstacles like potholes and speed bumps.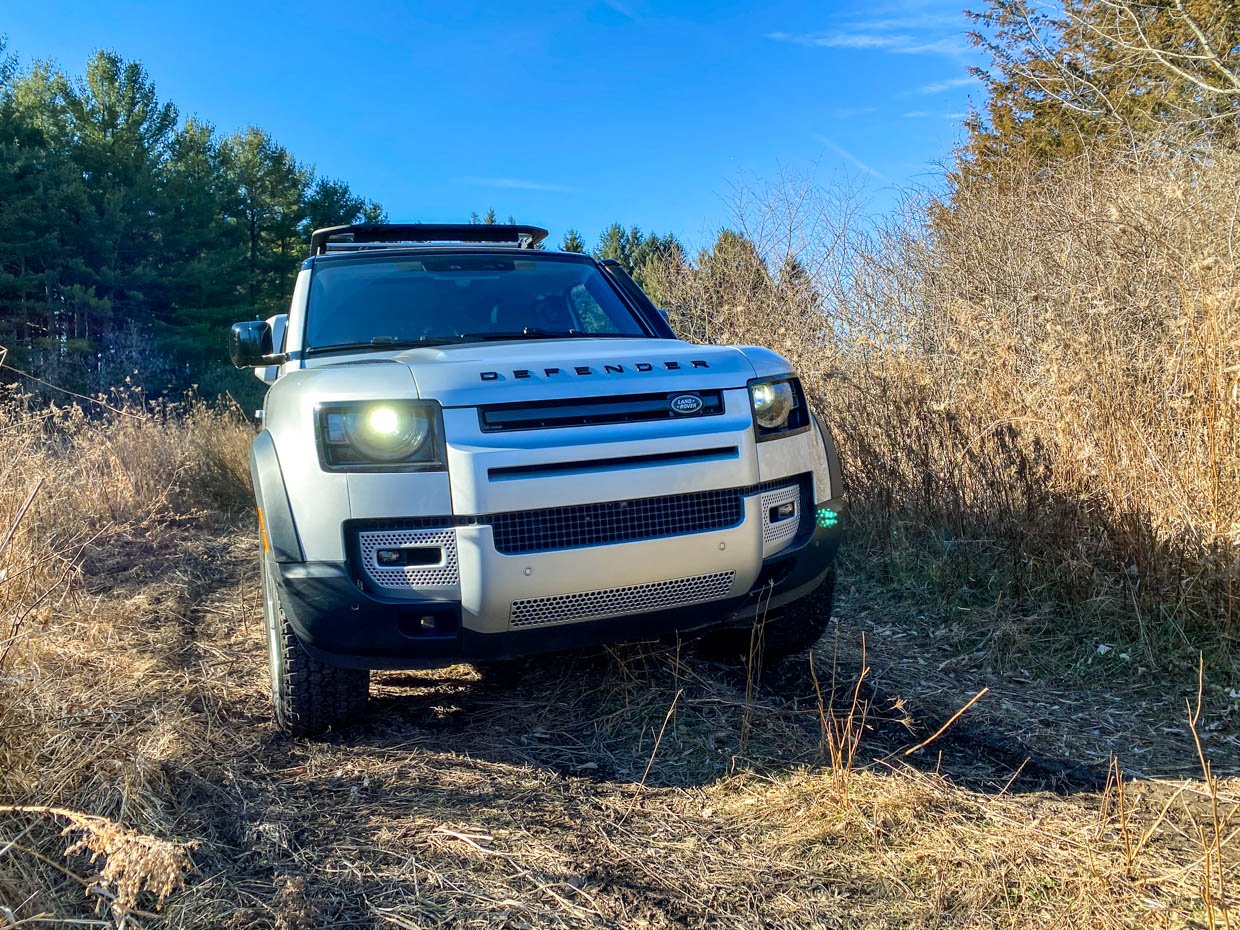 Equipped with a turbocharged 3.0-liter inline-6 engine and a 48-volt electric boost system, the Defender's top-of-the-line power plant is impressive in both torque and acceleration. Despite our premium 4-door model weighing in at more than 5,000 pounds, it zoomed from 0 to 60 mph in just 5.8 seconds. Power for the I6 is rated at 395 horsepower and 406 lb-ft. of torque, which really comes in handy if you need to pull yourself out of the mud, or if you're pulling a trailer - the Defender can tow up to 8201 pounds. Working in concert with a ZF 8-speed automatic transmission, the SUV shifts quickly and predictably. We were also impressed with just how quiet and refined the Defender's ride is. Despite its boxy shape, it's suprisingly quiet on the highway up to about 75 mph, other than a little wind noise from the roof rack.
In addition to smoothing out the ride, the Defender's air suspension has some tricks up its sleeves. It can lift the SUV up to 2.9" inches for negotiating rocky trails or for loading cargo. it can also lower by 1.2" to make it easier to step into the cabin. While its default ground clearance is 8.5" for comfortable everyday driving, it maxes out at 11.5" in off-road mode.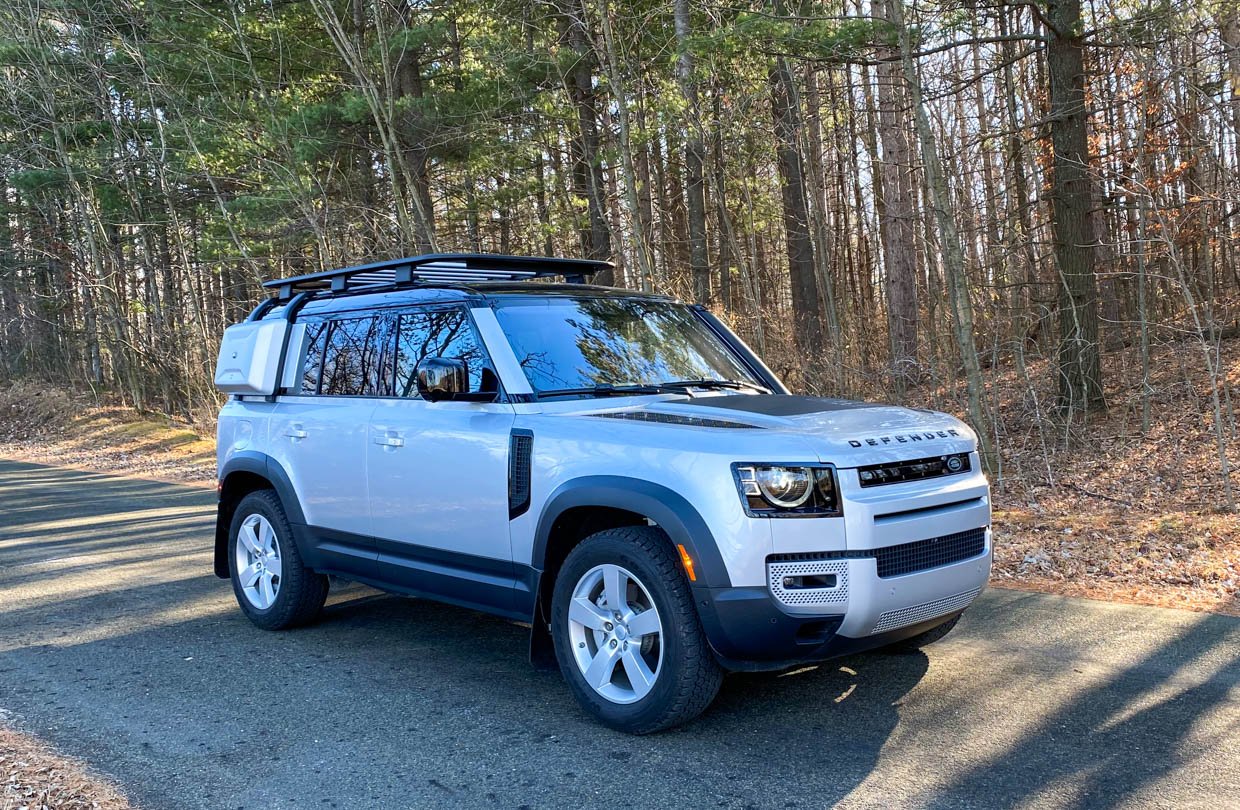 The Defender is also one damned fine looking vehicle. The LED headlights and daytime-running lights have a really distinctive look, and the overall design is one of substance and rugged confidence. Throughout our week with the Land Rover, we received numerous complements and had lots of gawkers checking out the handsome off-roader.
Our tricked-out Defender was done up in the exclusive First Edition trim, and equipped with the Explorer Pack, which includes a sturdy roof rack, raised air intake, wheel arch protection, a spare wheel cover, mud flaps, and a locking, side-mounted gear box which is great for storing muddy gear or tools for quick access from outside of the vehicle. The black "110" hood decal and slick diamond-textured hood plates help round out the front end of the Defender.
The cabin of the Defender 110 is designed for both comfort and utility, incorporating a mix of premium materials like grained leather seats with woven textile facings. Finishes throughout the cabin are easy to clean in the event you get it muddy, though we highly recommend the factory weatherproof floor mats. The center console has a refrigerated compartment for keeping drinks or snacks cool, because there's nothing worse than a melted candy bar on a hot summer day. The front seats are quite comfortable whether on a long road trip or on rocky terrain, and offer heat and 12-way power adjustability.
There's plenty of storage including a floating center console, along with a slip-resistant tray that runs width-wise across much of the dashboard, providing space for sunglasses, toll passes, phones, or other small items. There's even a USB charging port in the tray for front-right passengers. We also love how Land Rover's designers chose to incorporate a structural magnesium alloy crossbeam into the dashboard, embossing it with a "DEFENDER" logo, then finishing it with a powdercoat.
Technology abounds in the latest Defender. In addition to the 12.3" widescreen digital instrument panel behind the steering wheel, and an available color heads-up display, the 10" center touchscreen display provides access to all kinds of useful functionality. There are everyday conveniences like Android Auto and Apple CarPlay, along with interfaces for monitoring conditions off-road. The 4x4i Info screen displays the SUV's pitch, roll, bearing, wheel spin, suspension travel, and altitude, as well as the current setting of the locking center differential. Another screen works in concert with sensors to show the depth of water relative to the Defender, which has an impressive 35.4" maximum wading depth. We didn't get to cross any rivers, but we've been told that the Land Rover automatically drags its brakes after wading to help clean them and improve braking response after leaving the water. Nifty!
There are lots of cameras on board for both on-and-off-road visibility. Surround view cameras make it easy to enter and exit tight parking spaces, while front and side mounted cameras help you negotiate tricky trails and place your tires in just the right spot if you don't have a human spotter to help guide your way from outside. Aa digital rearview mirror improves visibility behind the Defender, removing any obstructions from rear seat passengers or cargo. It also provides a wider angle perspective than a normal mirror. In addition, the side mirrors have indicators to show if a vehicle is in your blind spot, and the backup camera alerts to any cross-traffic while reversing.
The Defender 110 can be equipped with several different seating configurations, offering 5, 6, or 7 seats. The second row offers great legroom and plenty of comfort for 2 or 3 adults. It has a pair of USB charging ports and a 12-volt socket. An optional third row folds flat into the cargo area, and provides enough room for two kids. They also get a USB outlet and 12-volt socket back there. There's also an option for a front-row jumpseat that replaces the center console. It's a tribute to Defenders of yore, but not the most practical addition, so we prefer the center console. That said, if you go for the 2-door Defender 90 when it comes out in 2021, that third seat could come in handy.
Around back, the Defender has a full-size spare tire that mounts on its traditional swing-out rear door. Keep in mind that you'll need a little extra room behind the SUV when parking if you need access to the cargo area.
Speaking of cargo space, there's a good amount in the back of the Defender 110. Depending on the seating configuration, you're looking at 34.0 to 34.6 cubic feet behind the second row and 69.0 to 78.8 cubic feet behind the first row of seats. If you've opted for the third row, there's 10.7 cubic feet behind that. There are lots of easily cleaned surfaces, again reinforcing the idea that you might actually put muddy or dirty gear back here.
We absolutely loved our week behind the wheel of the new Defender 110, and were really sad when Land Rover came to take the keys away. It's a fantastic vehicle, not just for its all-terrain abilities, but because it's a great everyday family SUV. Most off-road vehicles sacrifice comfort, noise, and highway driving for capability, but that's not the case here. Land Rover recognizes that most people who buy these vehicles won't be living off-road, and will spend most of their time on the tarmac, shuttling their kids to the soccer field, picking up groceries, and running errands at the hardware store. That's what makes this Defender so damned good. It's a totally livable daily driver that can also conquer the world's most challenging terrain.