Driven: 2023 Kia Sportage Hybrid SX-Prestige
2023 | crossovers | kia | reviews | suvs
The top-of-the-line Kia Sportage Hybrid offers a bold, modern design and a zippy little turbocharged engine and motor combo. It's a fun and functional crossover with plenty of personality and looks especially slick in a Shadow Matte Gray finish, rolling on 18″ dark grey alloy wheels.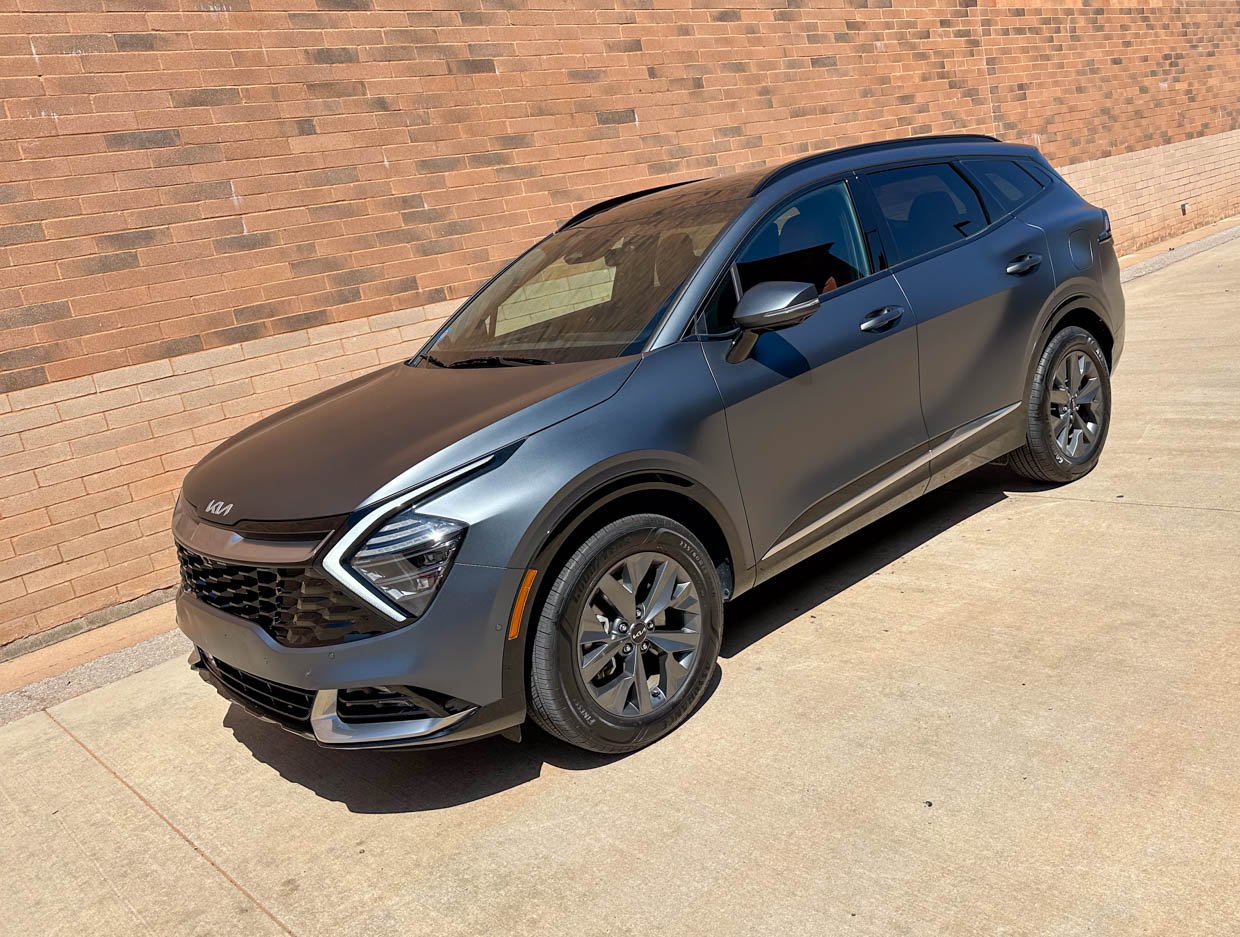 The front of the 2023 Sportage SX-Prestige features a distinctive black faceted grille surrounded by boomerang-shaped LED running lights and bright LED projector beam headlights. Under the hood, you'll find a 1.6-liter 4-cylinder engine integrated with a 44-kW electric motor. Combined, these produce 227 horsepower and 258 lb-ft. of torque, sending that power to the wheels via a 6-speed automatic transmission. This setup results in a satisfying amount of passing power and good traction in bad weather, thanks to Kia's active all-wheel drive system. And since it's a hybrid, you can expect excellent fuel economy with 38 MPG in city and highway driving.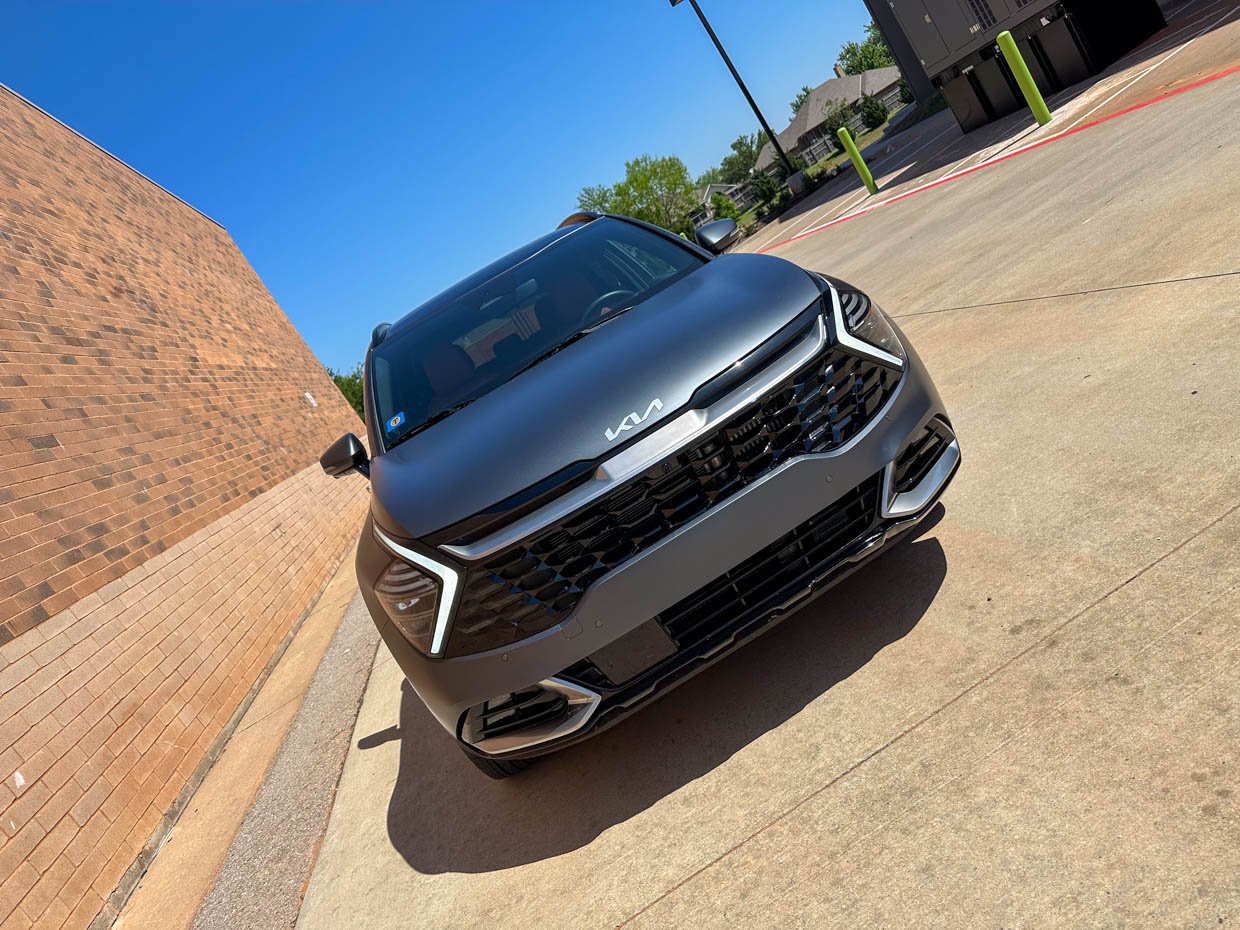 The Sportage Hybrid feels quicker than its reported 0 to 60 time of 7.0 seconds. Its compact size and lack of turbo lag definitely help it feel zippy. Its overall handling is smooth, and the suspension does a good job of softening bumps in the road. The power steering system feels connected to the road, though the Sportage does exhibit a small amount of body roll when cornering or changing lanes at speed. Its cabin is reasonably quiet for a vehicle in its class and does a good job insulating from vibrations.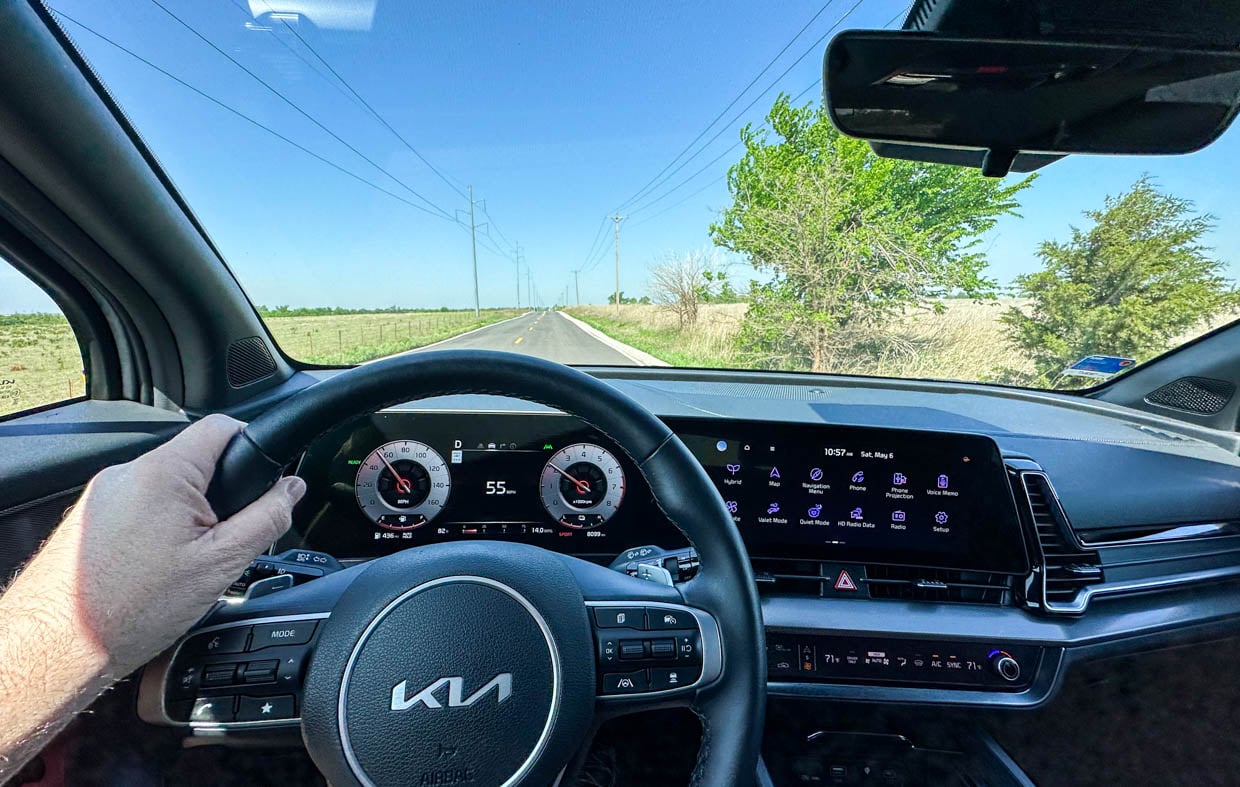 The matte finish paint adds drama to the SX Prestige model's smoothly sculpted body, while black accents contribute to its sporty look. Keep in mind that matte paint requires handwashing, and running it through a conventional car wash could cause damage. This trim level also gets roof rails, a panoramic sunroof, a smart power tailgate, rain-sensing wipers, and a heated windshield and washer nozzles for wintertime.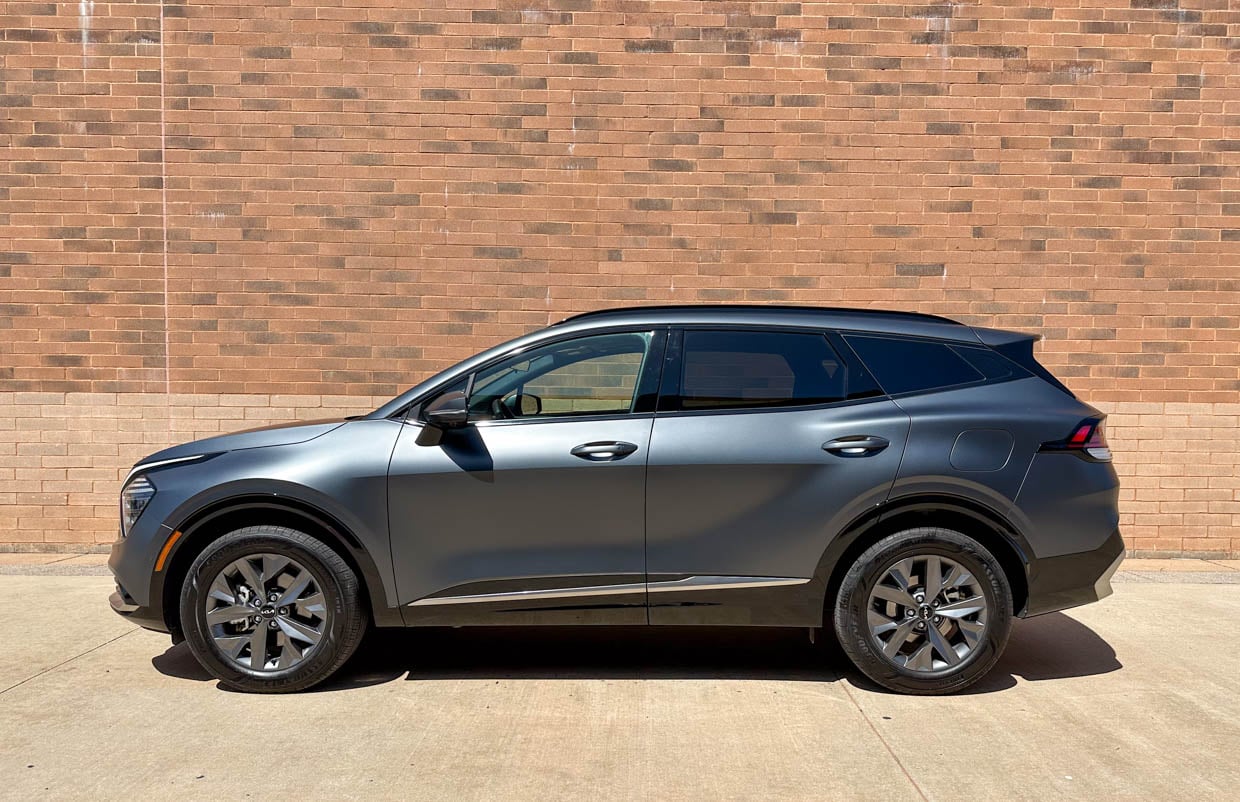 The dashboard of the Sportage features dual 12.3" displays, which are subtly curved toward the driver for visibility. The digital instrument panel is clean and easy to read and offers faux analog gauges and contextual displays for navigation, vehicle safety systems, and more. Like other vehicles in the Kia/Hyundai/Genesis family, the multimedia system is fast and intuitive. As with most new cars, it offers Android Auto and Apple CarPlay support, though these still require a wired connection. Oddly, the base model Sportage with the 8" display and no navigation, offers wireless connectivity.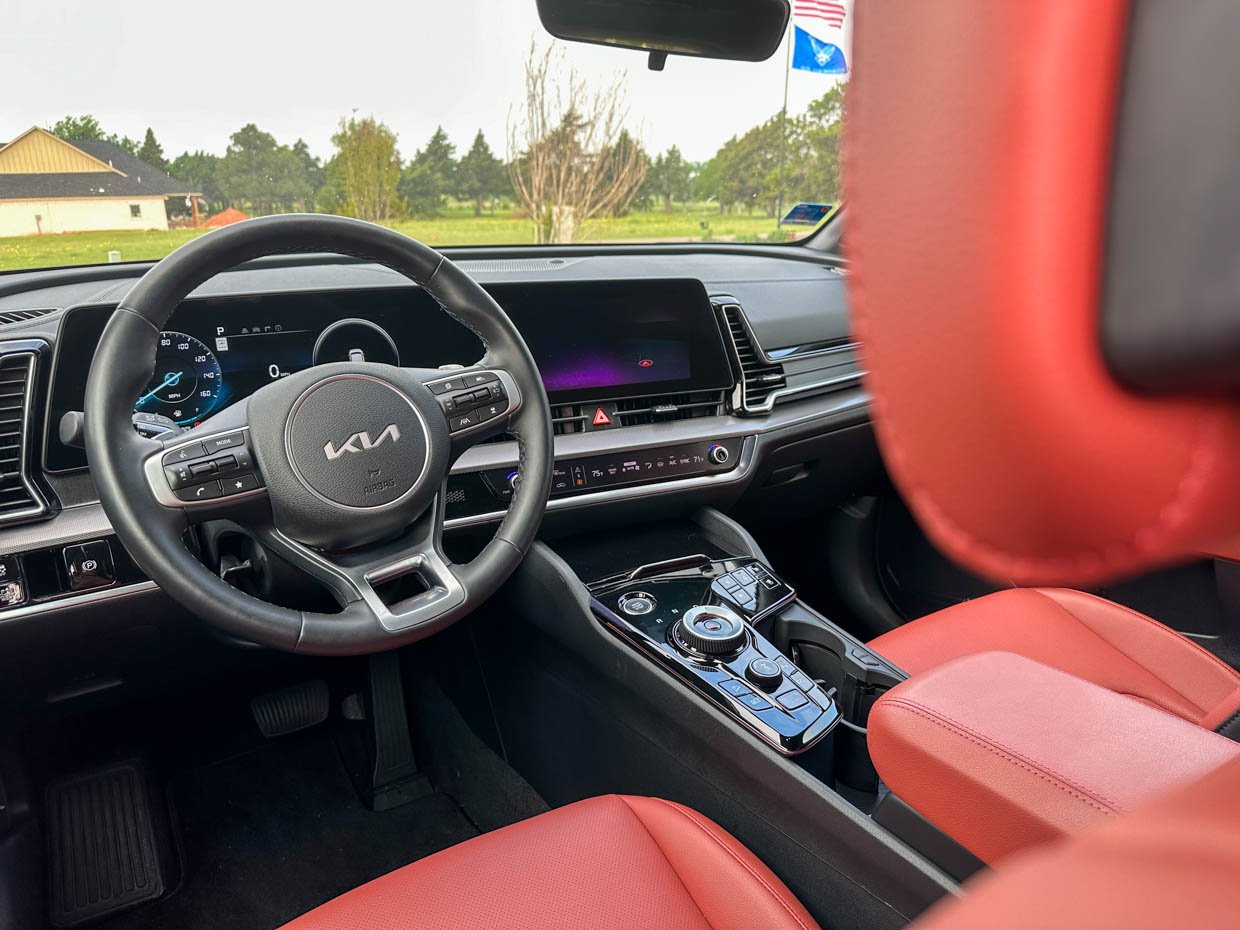 Our loaner Sportage came with the Carmine Red interior package, reinforcing the crossover's sporty branding. The seats are covered with convincingly realistic-looking synthetic leather and offer both heat and ventilation. They provide good support overall, with a nice amount of side bolstering. The driver's and passenger seats are power-adjustable, and there's a memory feature for saving two different settings for the driver's seat.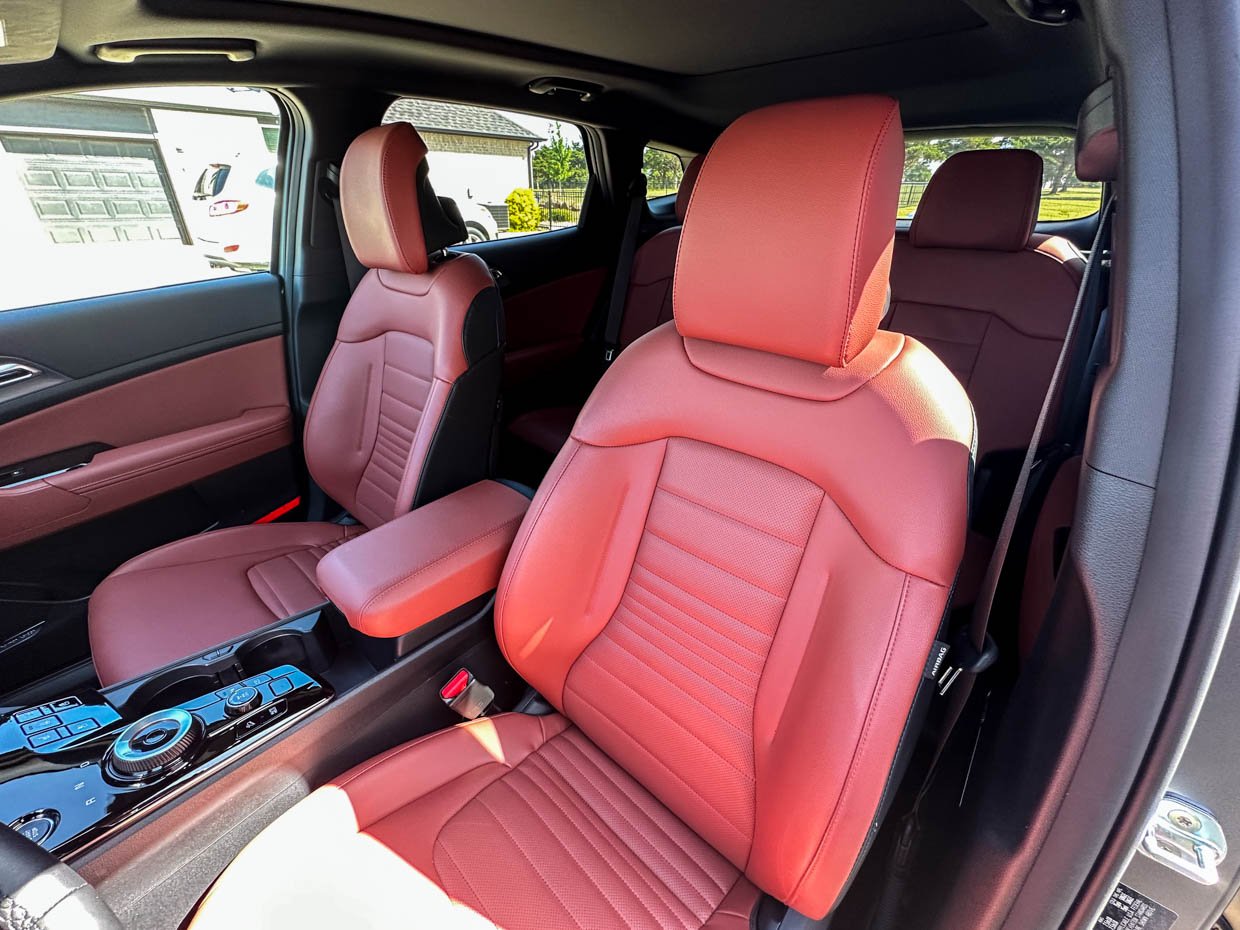 The materials in the SX-Prestige trim cabin have a look of quality, and fit and finish is excellent throughout, with no squeaks, rattles, or unwanted gaps. We appreciate the material Kia's interior designers selected for the door panels and dashboard, which have a sleek technical look without pretending to be carbon fiber.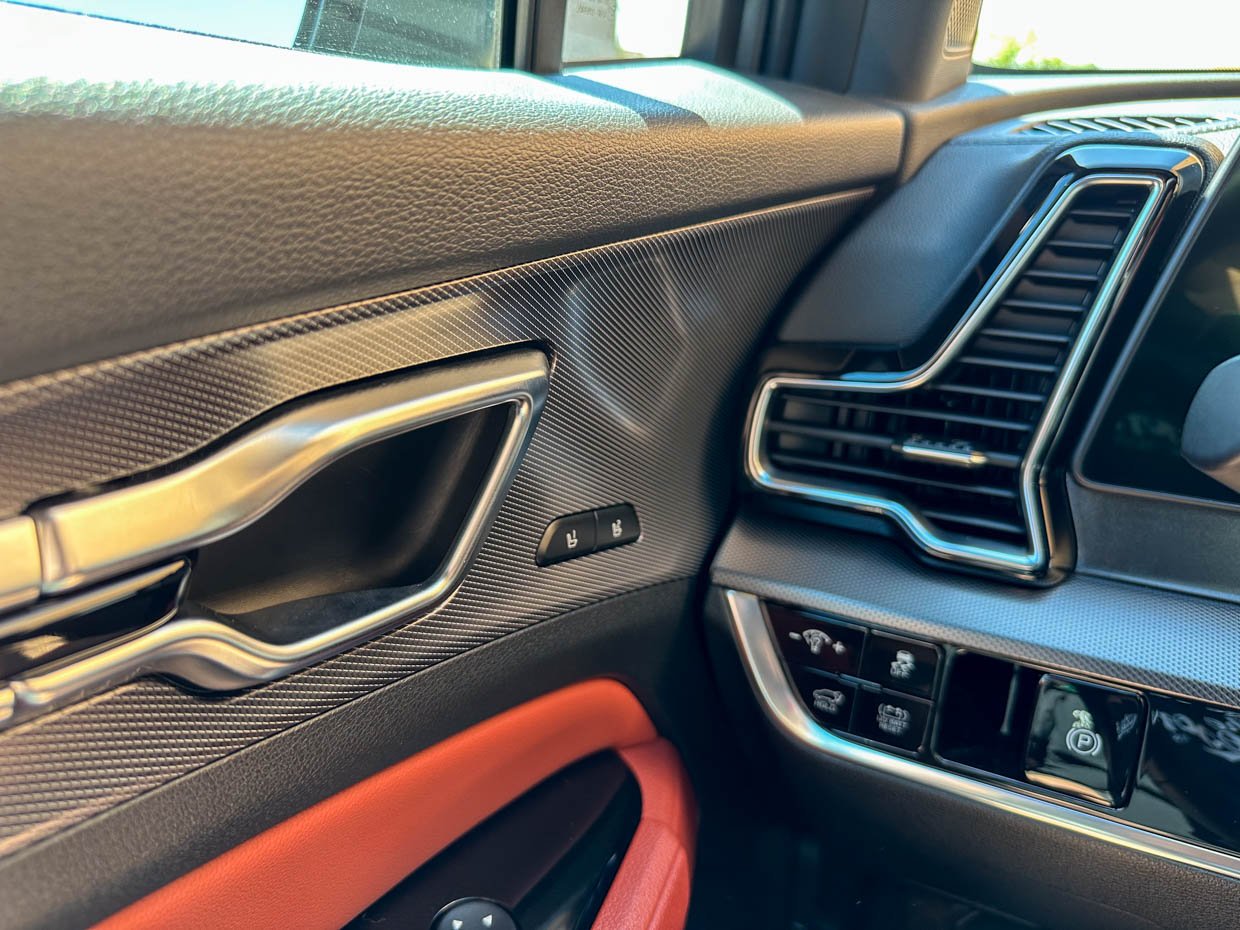 There's a laundry list of technology to be found here as well, including an excellent surround-view camera system that places a virtual Sportage into the picture to help with parking. Other tech capabilities include adaptive cruise control that can come to a complete stop and resume in traffic, a blind-spot video monitor that appears on the instrument panel, land-keep assist, driver attention warning, and various collision avoidance features. One system can even tell you when it's safe to exit your vehicle when parallel parking. We also enjoyed listening to the 400-watt Harman Kardon audio system, which offers crisp and punchy sound from its eight speakers.
Rear seat space isn't always great in small crossovers, but Kia did an excellent job with the Sportage, offering enough legroom and headroom for long trips for taller passengers. The second-row seats can also recline and fold in a 60/40 split for cargo-carrying versatility. USB-C ports are installed on both front-row seatbacks, providing easy charging access in the back.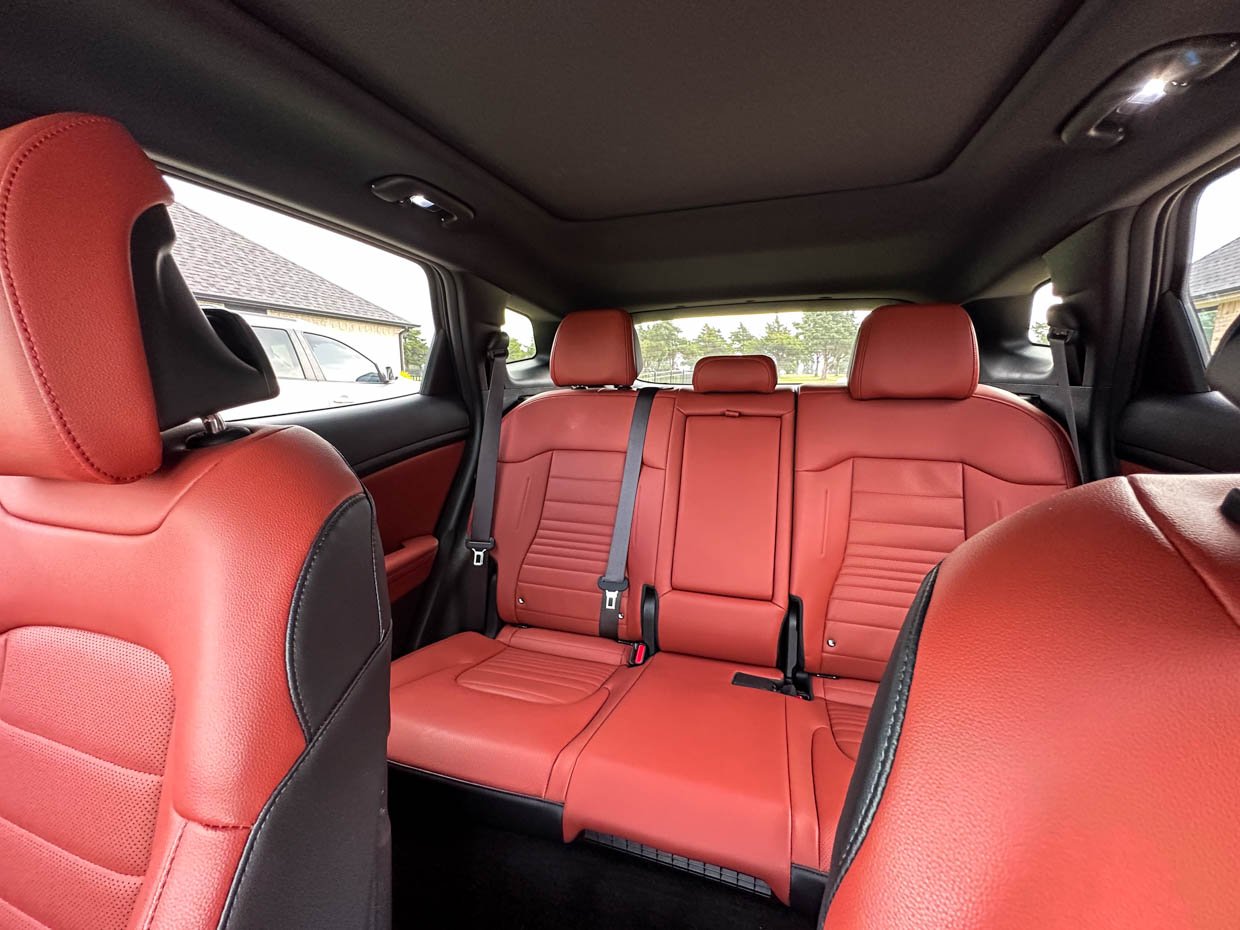 Cargo space is exceptional for a small crossover, with an impressive 39.6 cubic feet with both rows of seats occupied and 74.1 cubic feet with the second row folded. It's tall enough to carry objects up to 33" tall, and there's 41" between the wheel wells. The big news is that it'll hold items up to 74.5" long when the seats are down. The seats fold completely flat, though our photo doesn't show them clicked into that position. Putting the seats down can be done in front of the seats or inside the cargo area. This trim level includes a smart power liftgate which you can open just by standing behind the vehicle with your keyfob in your pocket. This is really handy when you're carrying packages.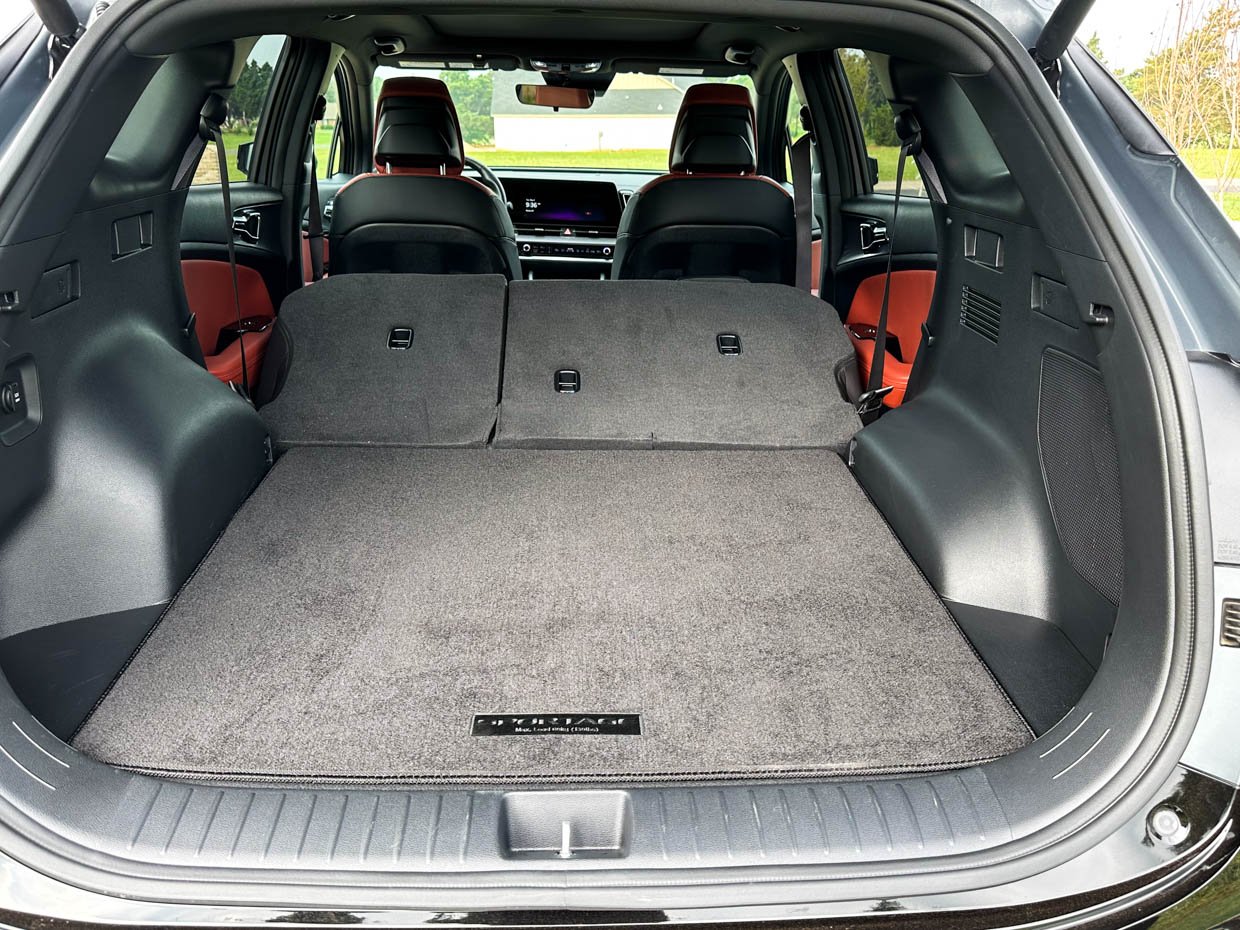 Over the years, we've driven a number of Kias, and the Sportage is one of our favorite models thanks to its size and versatility. In its current generation, it looks better and is more full-featured than ever. The hybrid model is an especially good choice thanks to its perky powertrain and excellent fuel economy. It also is a real head-turner in matte paint. The SX Prestige model we drove starts at $36,190 and has a total sticker price of $38,530, including freight and handling fees. The least expensive Sportage Hybrid is the LX, which starts at $27,490, while a more expensive plug-in hybrid is available starting at $38,690.