Driven: 2023 Genesis G90
genesis | reviews | sedans | March 19, 2023
Words and Images by Paul Strauss
When it comes to luxury and performance vehicles, Genesis has been knocking it out of the park since it first came on the scene. Sitting at the pinnacle of the Genesis line is the G90, an exquisite, comfortable, and powerful full-size sedan packed with impressive features that put it on-par or above its pricier European competitors.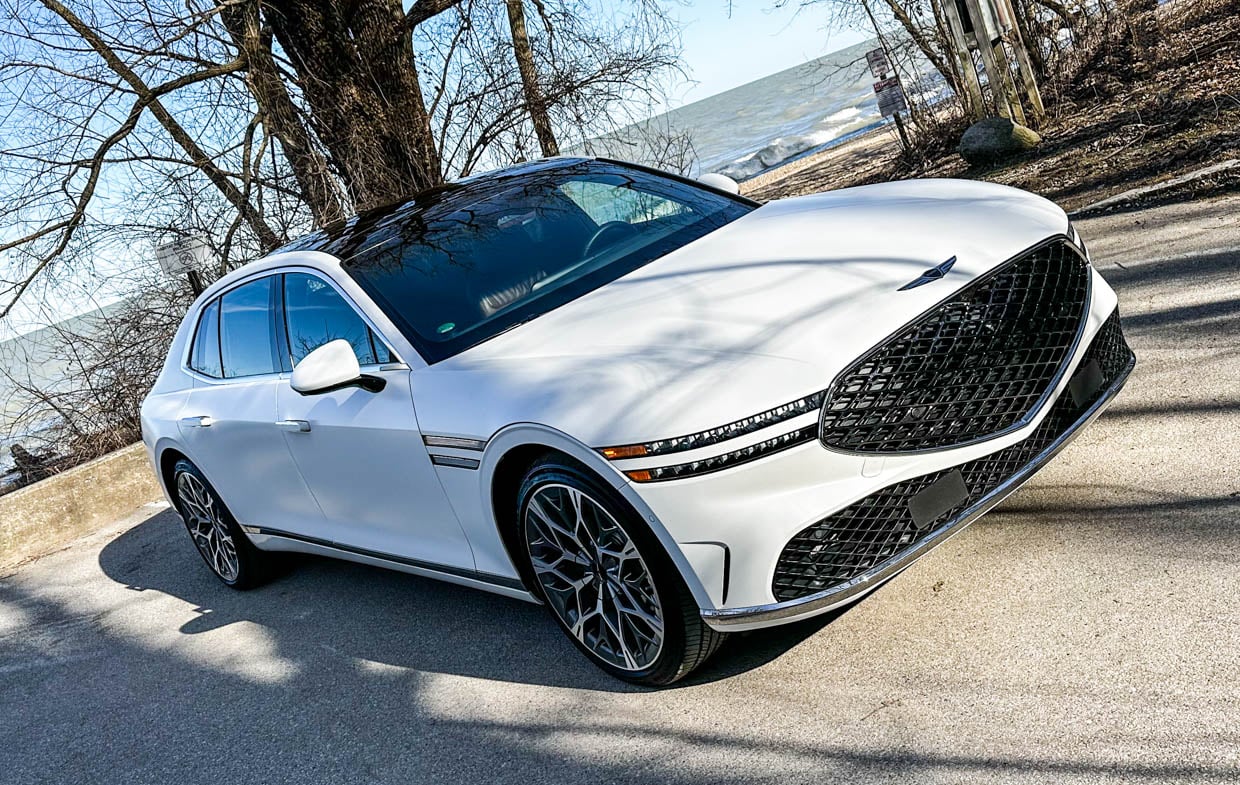 With its smoothly sculpted body, aerodynamic lines, and accents like flush-folding door handles, the G90 is a beautiful and substantial car. Dual bar side accent lights create a distinctive impression from the side and echo the design of the slimline LED headlights up front. Measuring 207.7" long, 76" wide, and 58.7" high with a 125.2" wheelbase, it's longer, wider, and lower than its predecessor. Our review vehicle came painted in a striking finish called Verbier Matte White, the only option added to our top-of-the-line G90.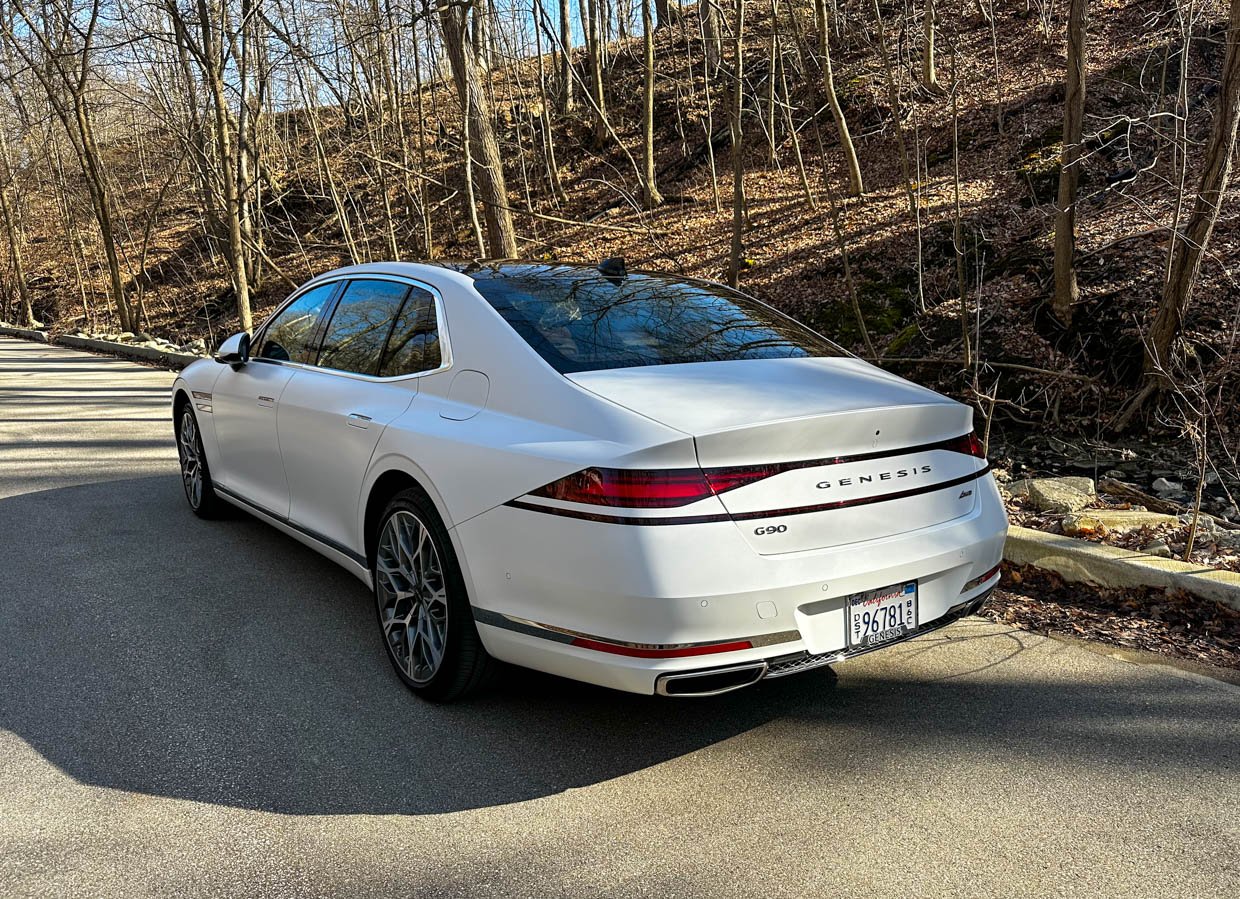 The G90 comes in two powertrain configurations, both with a 3.5-liter V6 twin-turbo engine. The 3.5T model produces an ample 375 horsepower and 391 lb-ft. of torque. The 3.5 T E-Supercharger model we drove bumps that up to 409 horsepower and 405 lb-ft. of torque thanks to a 48-volt electric booster that launches this loaded executive sedan from 0-to-60 mph in 5 seconds flat. Its acceleration is smooth and quiet, though if you prefer a bit more grunt, an adjustable audio enhancement brings more engine sound into the cabin. The 8-speed automatic transmission shifts like butter, and the all-wheel drivetrain provides confidence in slippery conditions.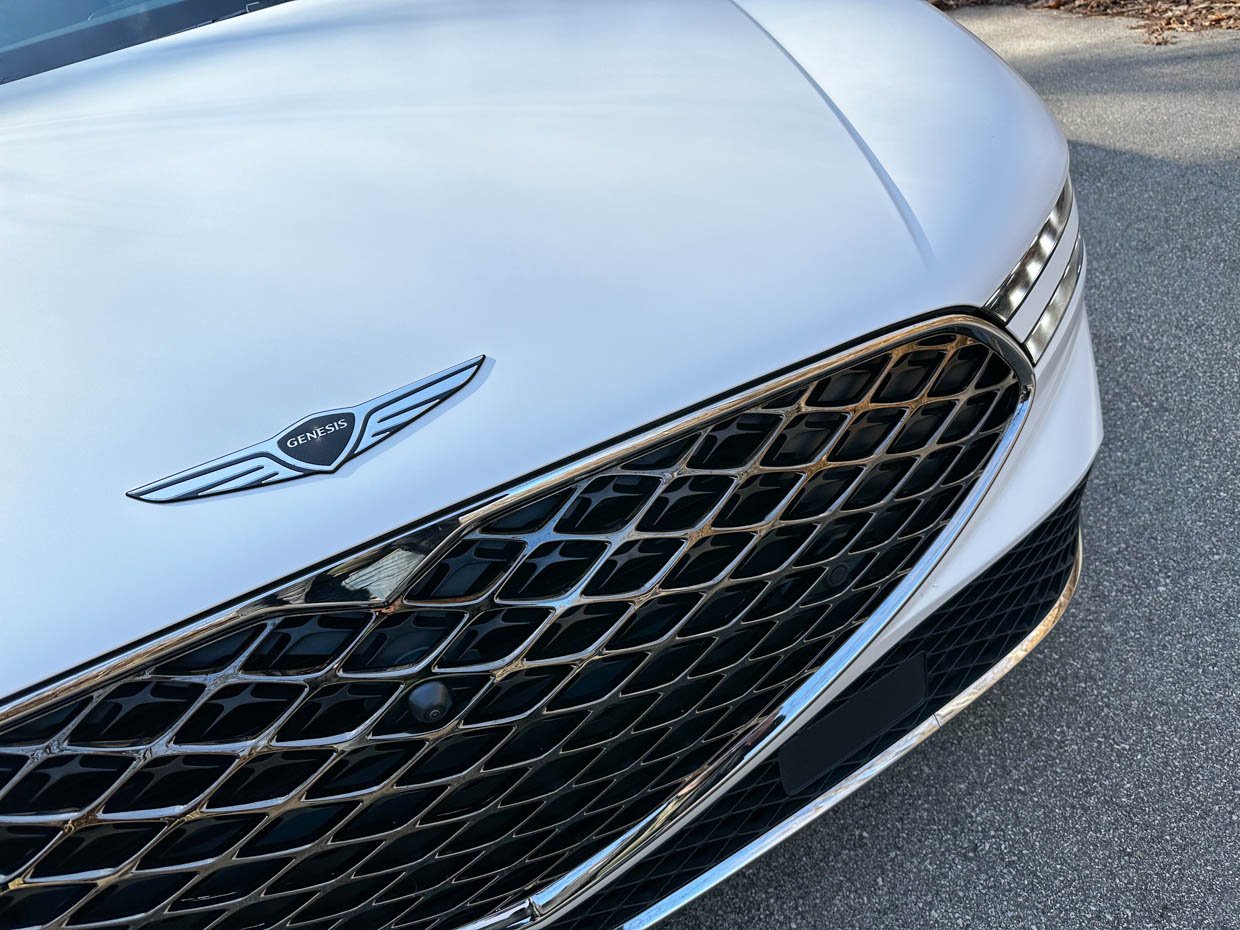 The G90's rear-wheel steering improves cornering and helps reduce the lengthy sedan's overall turning radius. A multi-chamber air suspension provides a cushioned yet responsive ride. The E-Supercharged model rolls on gorgeous 21" alloy wheels with a two-tone snowflake design. Its all-season Michelin Primacy Tour tires are optimized for performance and handling, though we had a minor run-in with an urban road hazard that punctured both of our right-side tires. But that allowed us to experience Genesis Roadside Assistance, which offered excellent, fast service - answering our call in less than 30 seconds and sending a flatbed tow truck within an hour. They even sent us a code for a Lyft ride to take us home while the tires were replaced at the dealership.
Highway driving in the G90 is a pleasure, made even better by the latest iteration of Genesis' Highway Drive Assist capability, HDA II. This technology maintains speed and a safe driving distance and keeps you centered in your lane. It's one of the best implementations of lane centering we've experienced, seamlessly accepting human input without fighting against your movements. It also leverages GPS data to slow down when approaching corners and can execute lane changes when it's safe to do so. Everything you need to know is displayed on a crisp, color head-up display which even shows the positions of other cars and alerts you visually to vehicles in your blind spots.
Inside, you'll find premium materials and high-end build quality throughout. Our car's interior was bathed in rich Bordeaux Nappa leather, with no stitch out of place. That's accented by a uniquely patterned material that resembles forged carbon fiber but is made from a composite of sustainable woods and repurposed newspapers. There's real aluminum trim on the dashboard, doors, and center console, and not a single bit of plastic is visible in the cabin. Information is displayed on an all-digital instrument cluster, which sits side-by-side with a 12.3" touchscreen that provides intuitive access to climate, navigation, seating, media, and vehicle controls. An elegantly knurled knob offers a secondary input method for the infotainment system.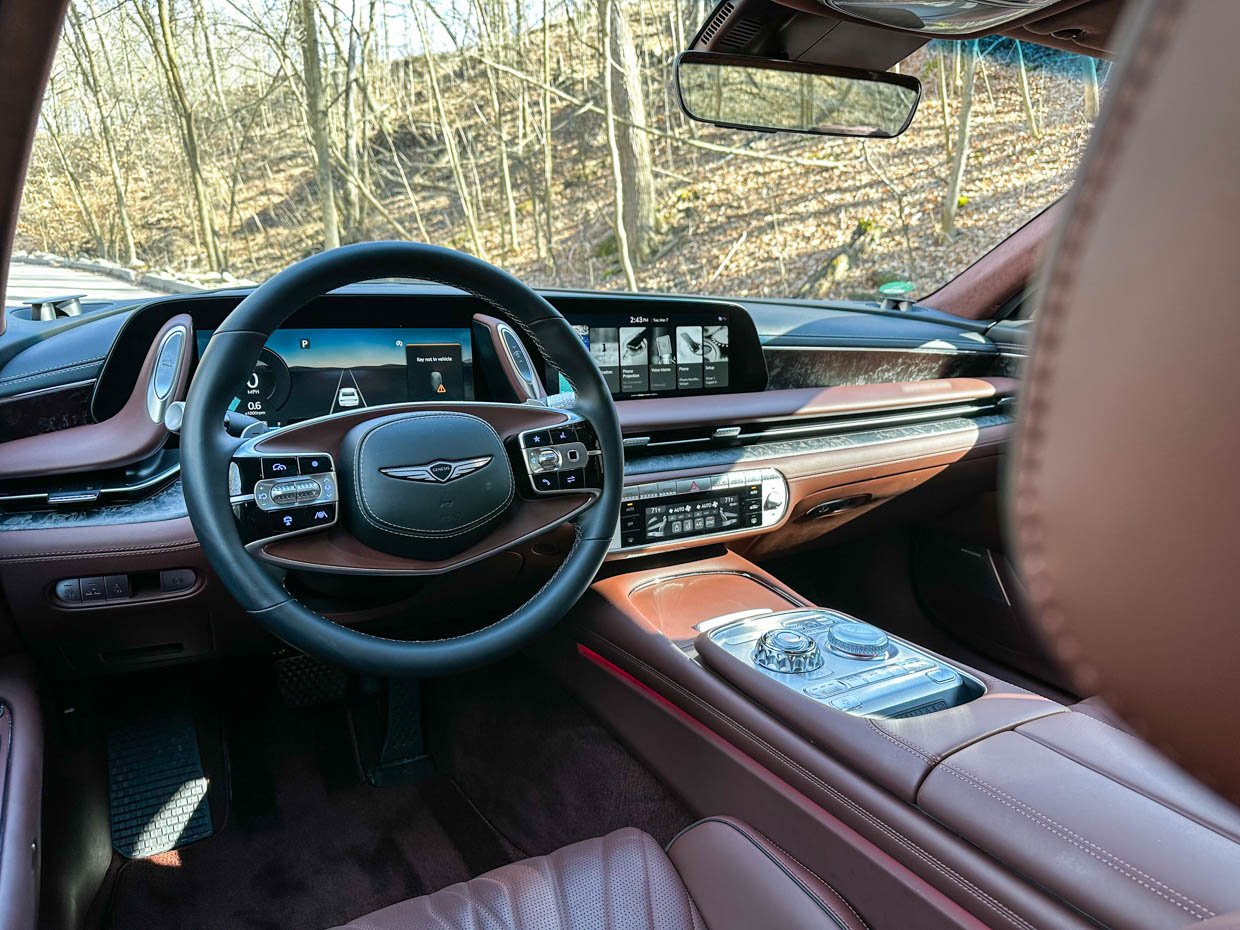 The 26-speaker Bang & Olufsen audio system sounds fantastic from every seat in the G90. It lets you fine-tune its sound equalization and dynamics and can simulate locations like the Boston Symphony Hall, a home audio setup, and a reference recording studio. One nifty feature of the sound system is that it pipes navigation directions solely through the driver's headrest so passengers can continue to enjoy music without distraction while the driver clearly hears where they need to turn next.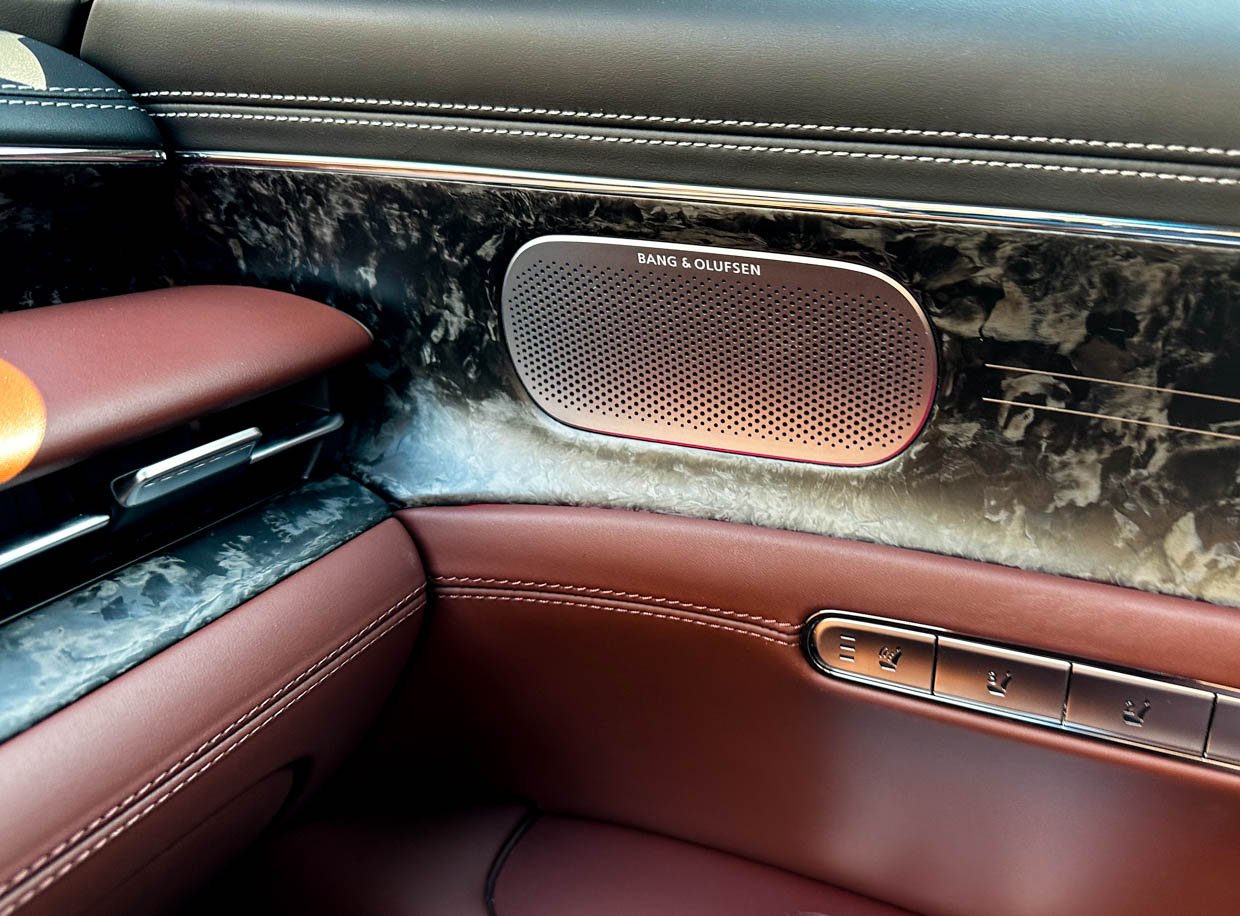 In the quest for the ultimate sanctuary on wheels, Genesis lets you select from four cabin mood presets, including "Vitality," "Delight," "Care," and "Comfort," which combine a selection of ambient lighting, sounds, fragrance, window shades, and massage. Inside the glove compartment is a spot to insert two pods, which inject one of several scents into the cabin. They have names like "The Driver's Awakening" and "My Favorite Place," each producing an equally vague fragrance. We found the effect to be a bit too subtle, even with the output set to high.
Both the front and rear seats in the E-Supercharger model can recline and have a multi-mode massage function that can help soothe tension in your upper and lower back as well as your derriere. The seat heaters and ventilation are some of the best we've experienced, with penetrating heat on ice-cold days and a soothing chill on hot ones. The driver's seat can also automatically adjust for optimal posture. If you're seated in the right rear seat, and nobody is sitting in front of you, you can remotely push the front seat all the way forward, lean back, and extend your footrest for ultimate comfort.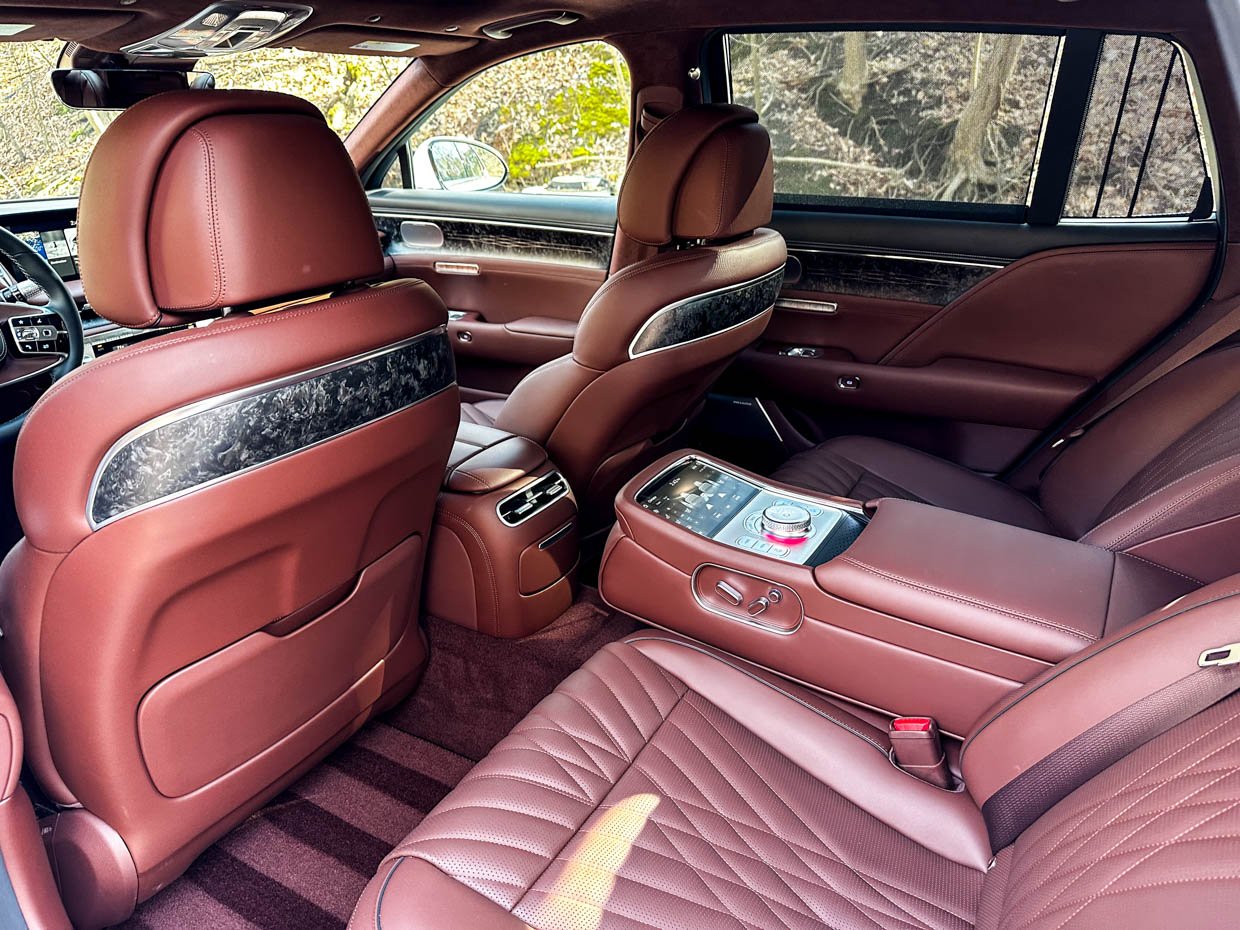 Rear seat passengers also get independent climate and media controls and the ability to raise and lower shades on the side and rear windows. Every door on the G90 has a power-assist feature that can electromechanically open or close the door with the press of a button. It took a little getting used to this feature because the doors only open up 7" when you push the button, and there's a bit of artificial resistance if you attempt to open or close the doors by hand. But doors that close themselves are precisely the kind of over-the-top feature you expect on a super-luxe car, so that's why they're here.
Between the G70, G80, GV70, GV80, and now the G90, every Genesis vehicle we've driven has impressed. While each Genesis is upscale, the G90 gives European luxury cars like the Mercedes S-Class and BMW 7-series a run for their money. While the G90 requires a sizeable bank balance, it offers tremendous value compared to its six-figure competition. The G90 3.5T is priced at $88,400, and the 3.5T E-Supercharger model is $98,700 before a $1,095 freight charge. And those prices include every standard feature for their respective trim, with the only options being upgraded paint and a $45 first aid kit. To top it off, Genesis vehicles offer a 10-year/100,000-mile powertrain warranty, three years or 36,000-mile complimentary maintenance, and a service valet benefit that picks up your car, provides a loaner, and returns yours when you need it serviced.