Driven: 2022 Genesis G70 3.3T AWD
genesis | July 19, 2021
Words and Images by Paul Strauss
We spent a week behind the wheel of the latest version of the Genesis G70. For 2022, the already stellar luxury sedan has a smooth and sophisticated new look, with a bold shield-shaped grille surrounded by dual-blade LED headlights. The Sport Advanced model we drove looks awesome riding on 19″ black alloy rims.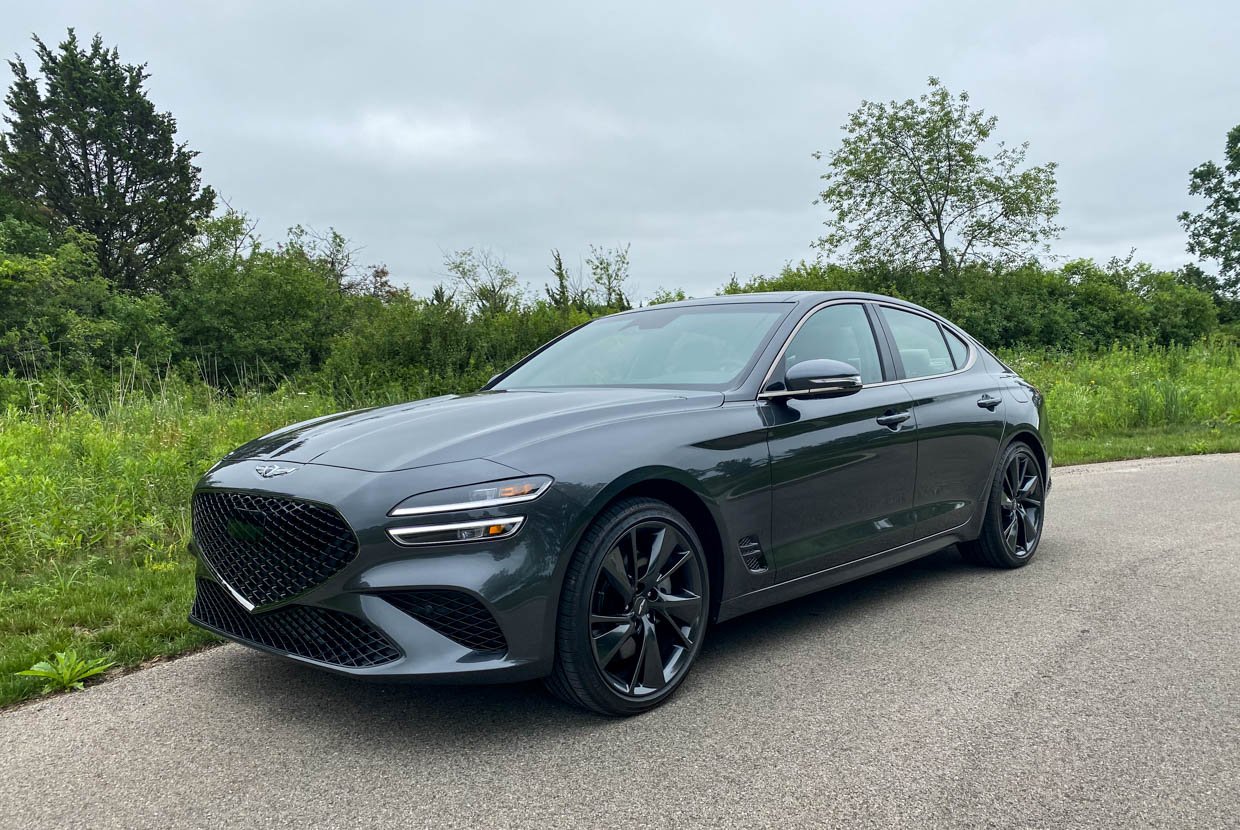 The G70 can be equipped with either a 2.0-liter turbocharged 4-cylinder engine that makes 252 horsepower or a 3.3-liter turbocharged 6-cylinder engine that cranks out 365 horsepower and 376 lb-ft. of torque. Both engines are paired with an 8-speed automatic transmission along with paddle shifters. Prior model years offered a 6-speed manual option, but Genesis has discontinued that for 2022. It comes in both rear-wheel drive and all-wheel drive versions. Equipped with the more powerful engine and AWD, the G70 is lightning quick off the line, turning in a 0-to-60 time of 4.5 seconds. The transmission shifts quickly and predictably and is especially satisfying in the way it holds lower gears into corners when in Sport and Sport+ modes. There's no detectable turbo lag either.
Ride quality is excellent and what you'd expect from a high-end luxury car. MacPherson struts up front, and a multi-link rear suspension help give the G70 a ride that's comfortable while still providing a dynamic feel. Its brakes offer confident and smooth stopping power that can keep up with its powerful drivetrain.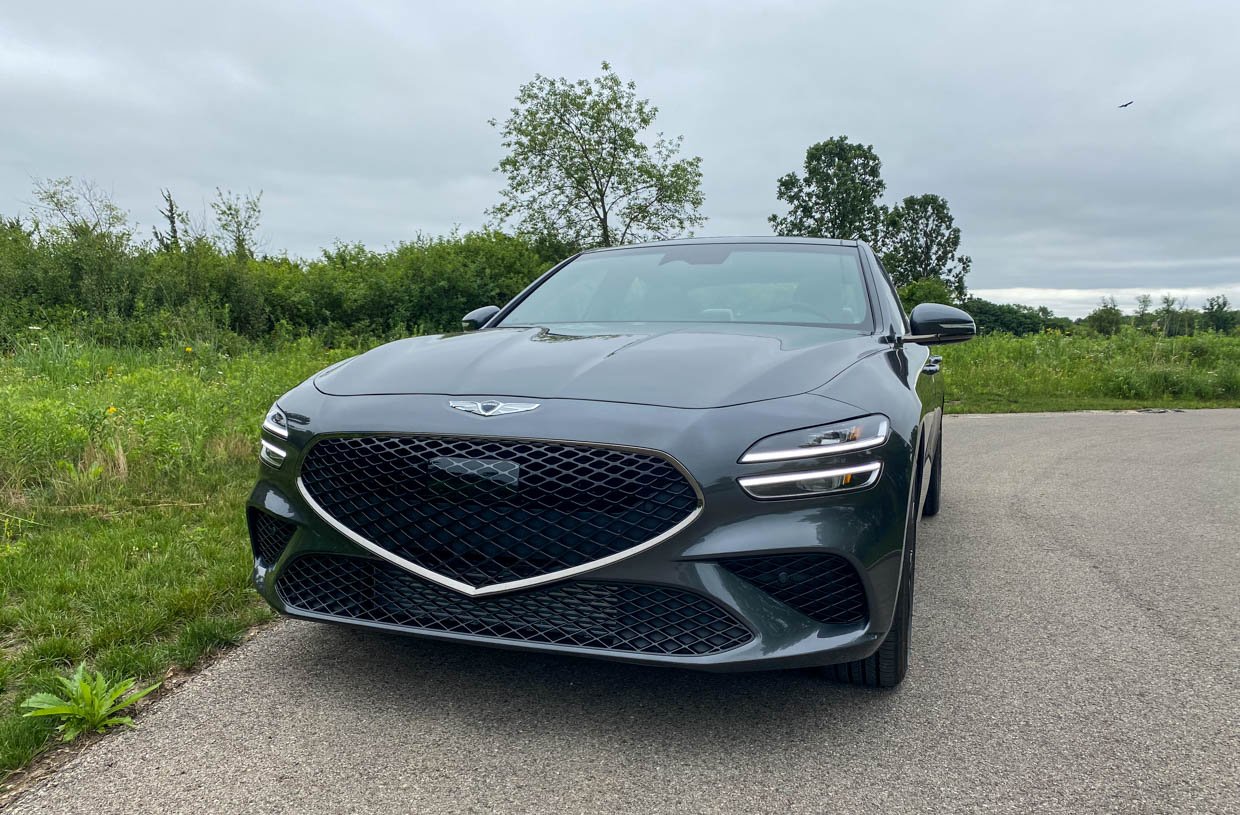 The dual exhaust system has unique oval ports and variable valving, which amps up the sound in Sport and Sport+ modes, though the cabin is so well insulated that the exhaust note has to be electronically enhanced through the car's speakers. The amount of enhancement is adjustable in the vehicle settings, so you can decide how much or little exhaust note you hear.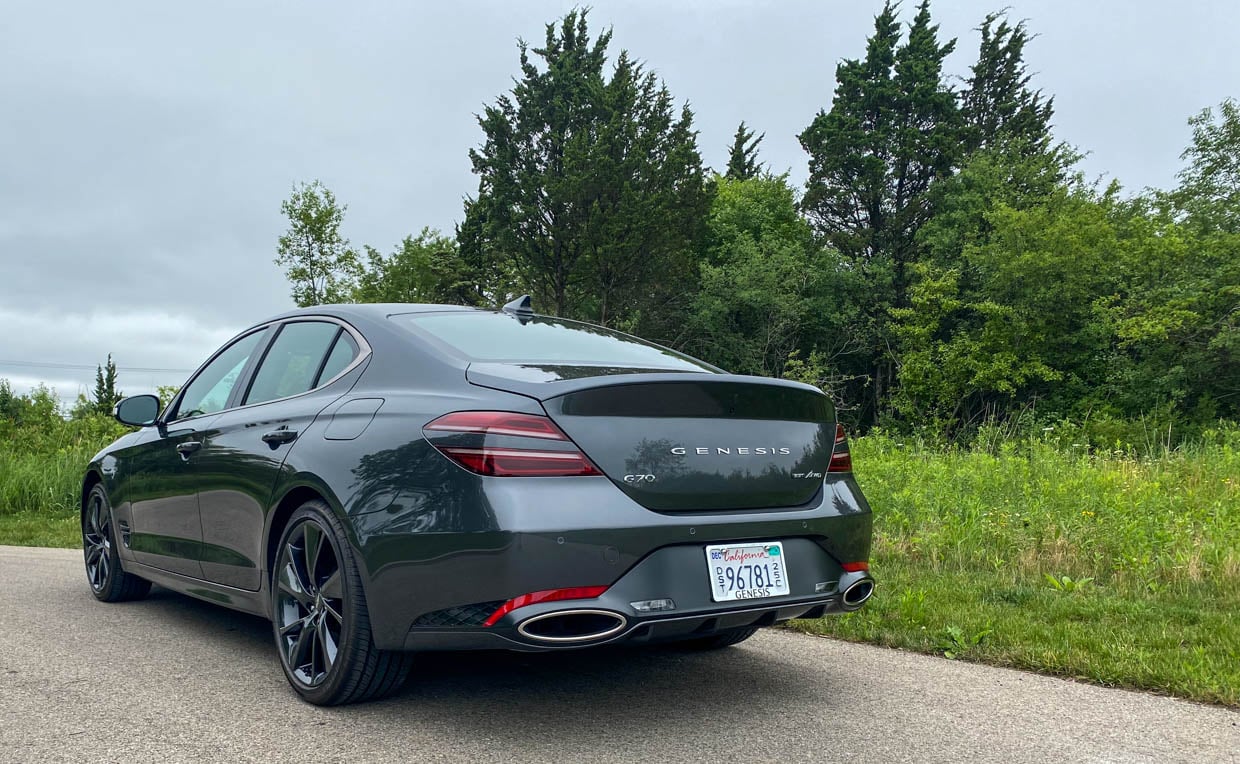 The updated interior of the G70 is even more refined, with premium leather surfaces on the seats, dashboard, center console, and armrests. The Sport Advanced trim brings with it real aluminum trim, as well aluminum sport pedals. Even the dead pedal gets this treatment, which is a nice touch. The front seats have both heating and ventilation, and both have 12-way power adjustments. The driver's side seat bolsters automatically hug your body when you switch into Sport or Sport+ modes in anticipation of taking curves with vigor. Rear seat passengers don't have it quite so good - legroom back there is incredibly tight, so it's a space best reserved for kids.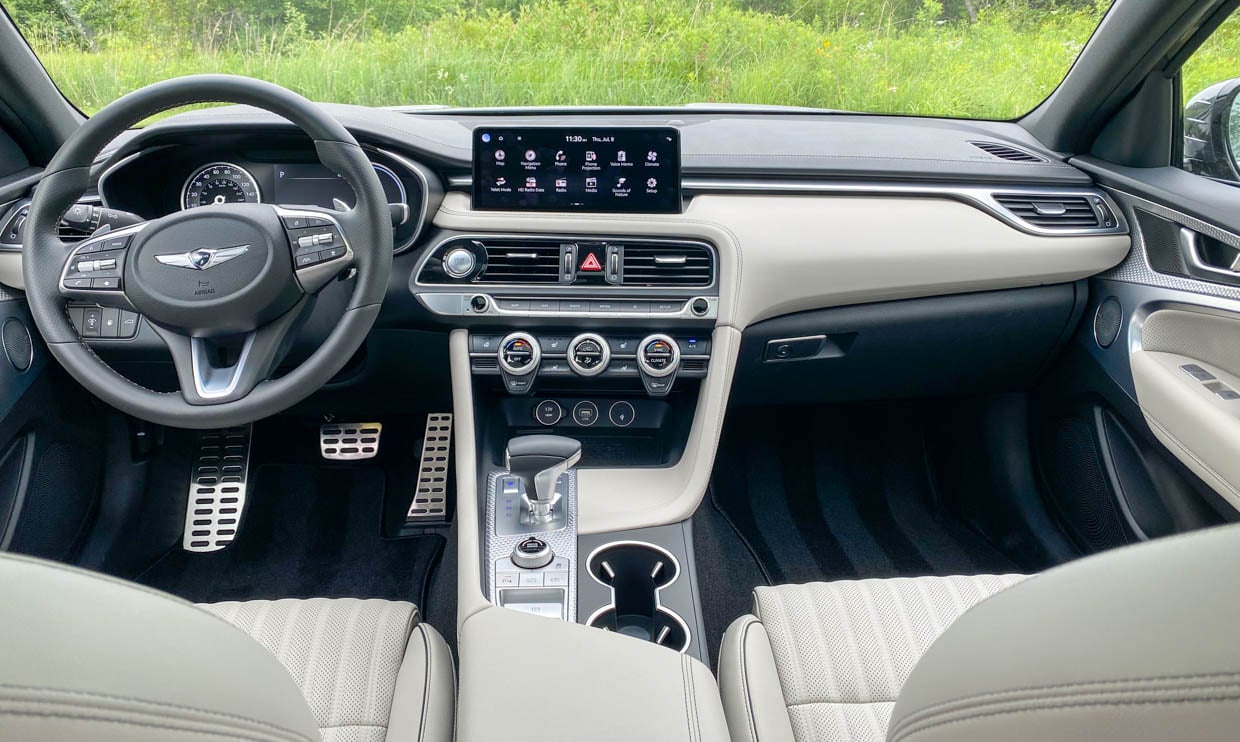 The detailing and materials throughout the cabin look fantastic, and we love the high-end look of the perforated metal grilles on the 15-speaker Lexicon audio system. The speakers offer clean and crisp sound without distortion at higher volumes. It doesn't produce the deep, thumping bass of some car audio systems, but audiophiles will enjoy its neutral, studio-quality sound characteristics.
Genesis loads the G70 with safety and convenience technology. There's a 10.25" touchscreen front and center, which provides access to navigation, media, climate, and vehicle controls. The infotainment system is responsive and intuitive and has both Apple CarPlay and Android Auto integrations. A Qi-compatible charging tray lets you juice up your smartphone without wires. Full-speed adaptive cruise control and lane-centering features work in concert to make highway drives more pleasant, and the cruise control is smart enough to slow down when approaching a curve in the road, thanks to GPS integration. There are also blind spot and rear-cross traffic alerts, both with collision-avoidance tech. Even the trunk is smart, opening automatically when you approach it with the key fob in your pocket.
When it comes to luxury performance sedans, the Genesis G70 offers tremendous value. The fully-loaded car seen here sells for $50,045, including freight and handling, and you can get into the 2.0L RWD model for as little as $37,525. Add to that an exceptional 5-year/60,000-mile basic warranty, a 10-year/100,000-mile powertrain warranty, and 3-year/36,000-mile complimentary scheduled maintenance, and you won't do better in the luxury segment.
When it came out in 2019, the G70 received numerous well-deserved accolades, including the North American Car of the Year award. The 2022 G70 offers everything the first G70 did, with an even more appealing and refined design outside and in.