Driven: 2021 Genesis G80 3.5T
2021 | cars | genesis | reviews | November 29, 2020
Words and Images by Paul Strauss
Luxury automaker Genesis continues to step up their game with the 2021 G80. Their mid-size executive sedan is new from top to bottom, with even more sophisticated styling, top-notch materials, powerful drivetrains, deluxe materials, and tech for days. This elegant and comfy ride made us feel like royalty behind the wheel.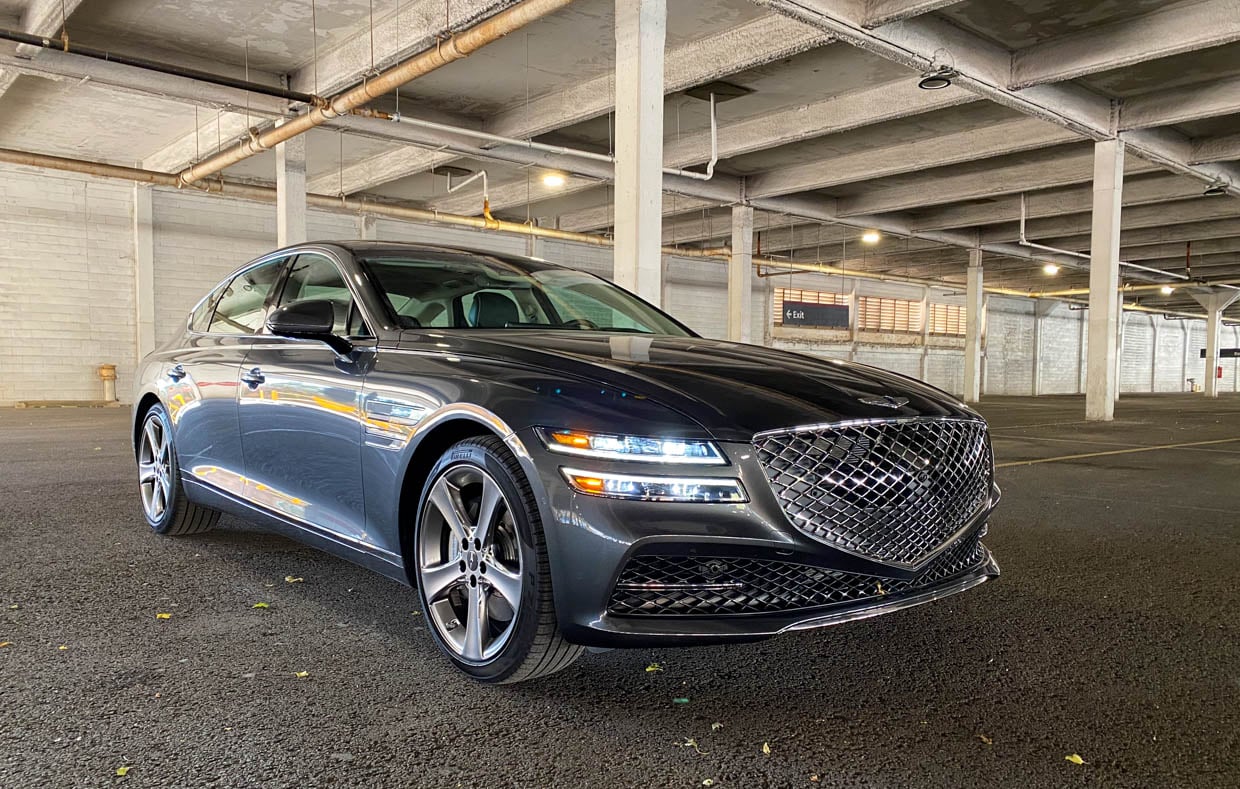 The G80 is one handsome and substantial car, with a long wheelbase, athletic proportions, and a coupe-like roofline. Its vast, diamond-shaped grille is imposing and distinctive, flanked by dramatic, double-decker quad LED headlights. Genesis went all-in on the mesh pattern, extending it to the bottom of the car, which not only looks good but helps to conceal some of the car's many sensors. We're not sure how the front of the G80 would look with a license plate, though. If you can get away without one, that would be our suggestion.
There are two engines available for 2021 - a 2.5-liter, turbocharged inline-4 that makes 300 hp and 311 lb-ft. of torque, and a 3.5-liter turbo V6 that cranks out 375 hp and 391 lb-ft. of torque, replacing the heavy old V8. Mated to a smooth-shifting 8-speed automatic transmission, the V6 in our all-wheel drive test car produced gobs of power, launching our very well-equipped G80 Prestige from a standstill to 60 mph in 5 seconds flat. We noted a small amount of turbo lag in Comfort mode, but it's not as noticeable in Sport mode. Fuel economy isn't exactly spectacular with the V6 - we averaged about 15 mpg in the city, though that jumped to 24 mpg on the highway.
The new G80 is equally as bold from its backside, with dual-bar taillamps that echo the front of the car, custom chrome exhaust ports, and an elongated name badge across the center of the trunk. It's a very Porsche-like look, and that's just fine with us. The power trunk lid also can automatically open when you approach with the key fob in your pocket, which is really nice when you're carrying suitcases or grocery bags and don't have a free hand.
Thanks to a redesigned platform, the 2021 G80 handles better than ever. It weighs about 255 pounds less than the outgoing car now that it has an aluminum hood, doors, and tailgate. The sedan offered up equally smooth rides on city streets, country roads, and highways. The electronically-controlled suspension can even adjust firmness before you hit that speed bump using a front-facing camera and GPS data that can anticipate road conditions ahead. The adaptive suspension firms up a bit in Sport mode, but the G80 errs on the side of comfort over sportiness when it comes to its ride quality.
The interior of the G80 is about as pleasant of a place as we've been. In Prestige trim, the seats are covered in sumptuous Nappa leather and stitched with a unique, scalloped pattern that's echoed in the design of the doors. Soft-touch surfaces are everywhere, from the leather-covered dash to the soft micro-suede headliner. There's open-pore wood on the dash, doors, and center console, adding to the elegance of the cabin. The front seats are extremely comfortable with heat and ventilation. The driver also gets a power seat bolster (which tightens up in Sport mode), an adjustable leg extension, and Ergo-motion, which offers various massage settings. Sadly, the passenger doesn't get to enjoy a massage as they might in some other ultra-luxe cars.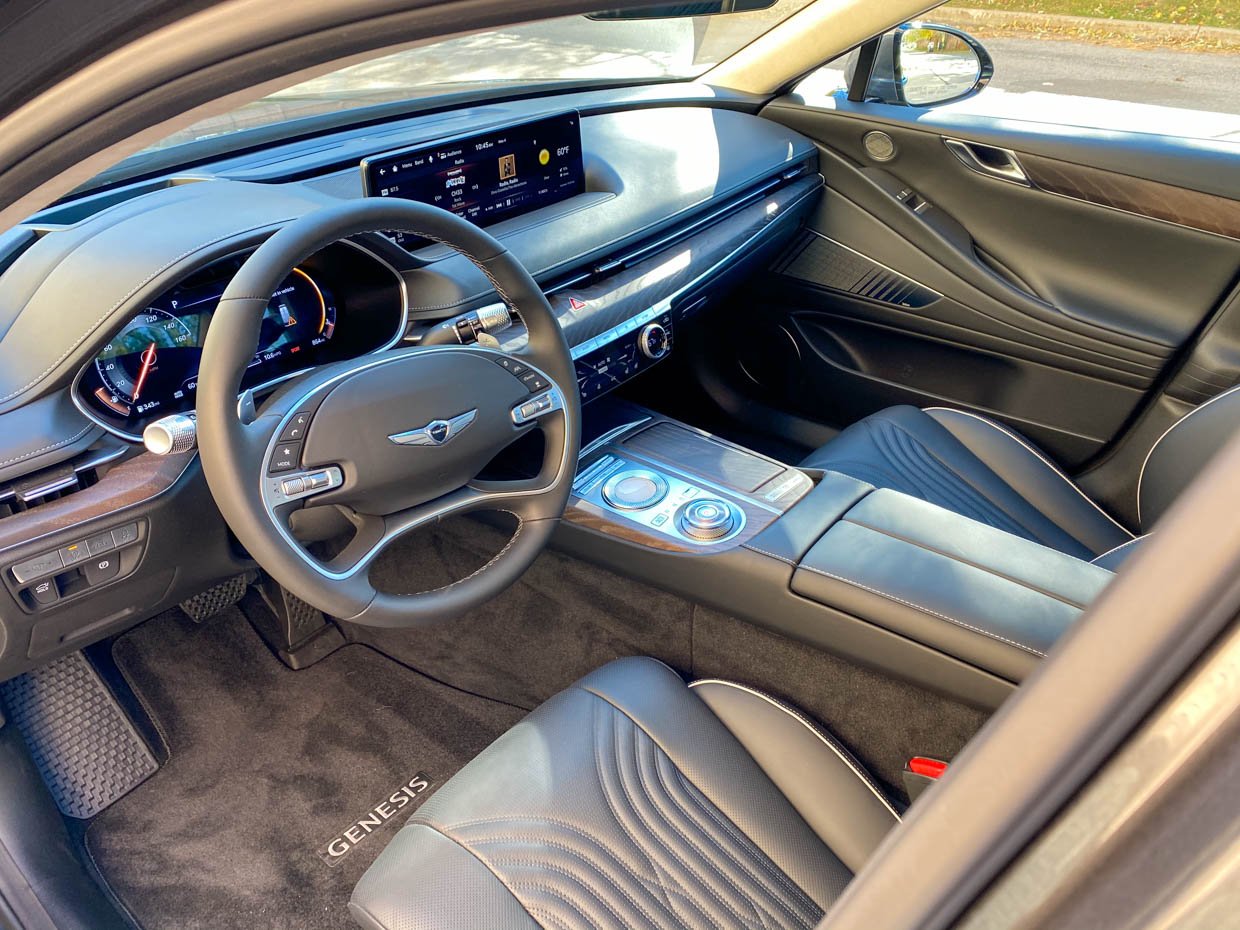 The G80's dash can be equipped with two crisp, high-definition screens - a 12.3" digital information cluster with a subtle 3D depth effect, along with a 14.5" touchscreen center display. There's also a heads-up display that can show a variety of contextual information. There's just the right mix of tactile virtual controls in the center stack, which includes a scroll wheel and touchpad as alternative inputs to the touchscreen. There are numerous safety and convenience technologies on display here as well, including surround-view cameras, highway driving assist, which all but drives the car for you on the highway, various collision-avoidance systems, and even video of your blind spot that displays in the instrument cluster when your turn signal is on. There's also a remote smart parking feature which lets you pull the G80 in and out of crowded parking lots using the key fob, though to be honest, we can park our own car, thank you very much.
In an "executive" sedan, the back seat is equally important as the front seat. There are ample comforts back here as well. The seats are heated, there's a large armrest with storage and a separate climate control zone for rear seat passengers. Plus, the front-right seat can be moved forward and folded down to allow the back-right passenger an almost infinite amount of legroom.
Our car was also equipped with the 21-speaker Lexicon sound system, which kicks out plenty of volume, immersing the cabin in clean, distortion-free audio. The perforated metal speaker grilles add to the upscale look of the interior as well. You can't see it in the photos here, but there's also a large panoramic moonroof overhead, as well as a power rear shade and manual side shades to keep the back seat nice and cool when it's sunny out.
Since Genesis launched as a standalone luxury brand back in 2017, they've done an excellent job creating a distinctive style for their vehicles, offering designs and features that can go toe-to-toe with European luxury cars from brands like Mercedes-Benz and BMW. But Genesis also has stuck to its roots in terms of delivering exceptional value relative to its competition. The 2021 G80 2.5T RWD starts at just $47,700, while the completely tricked-out G80 3.5T AWD Prestige that we drove starts at $67,650. Genesis also offers an exceptional 10-year/100,000-mile powertrain warranty, along with 3-year/36,000 mile complimentary maintenance, which makes the package just that much more attractive.