Driven: 2020 Nissan 370Z Nismo
nissan | reviews | sports cars | January 24, 2021
Words and Images by Paul Strauss
Nissan is just about to release an new 7th-generation Z, so we figured we'd take its predecessor, the 370Z, for one final ride. Tricked out in the Nismo trim, this 350hp, V6-powered 2-seater is still a blast to drive, loaded with performance upgrades, and as attention-grabbing as ever with its sweet red accents.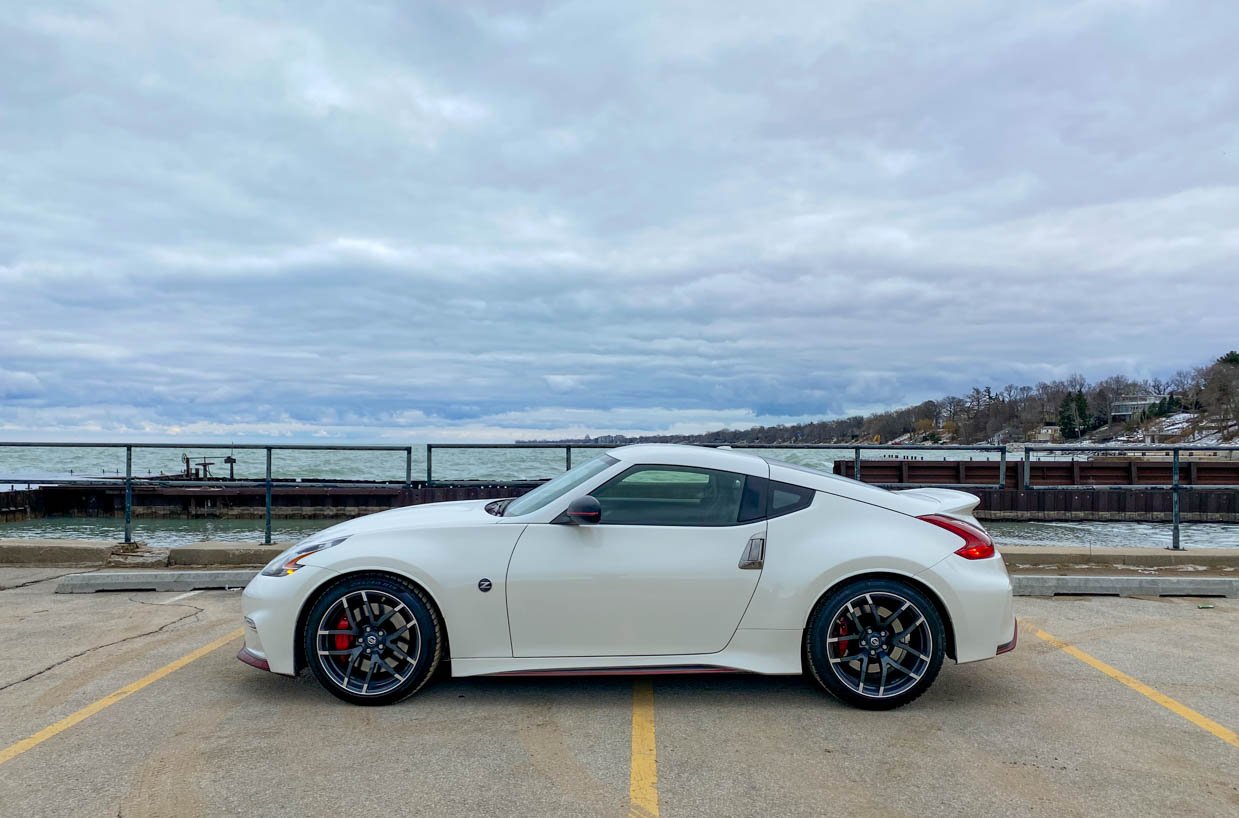 Providing the grunt beneath the hood of the 370Z is a 3.7-liter V6 engine that redlines at 7400 rpm and sends 276 lb-ft. of torque to the rear wheels. Acceleration is direct, immediate, and free of lag, and the Nismo's free-flow dual exhaust boosts high-end torque and emits a beautiful growl. The Z's low center of gravity and performance-tuned suspension helps with handling and provides a very connected road feel. Nissan also puts additional reinforcements and vibration dampers in the Nismo model, which further helps with predictability and precision. Of course, with a powerful rear-wheel drivetrain, and no limited-slip diff, the 370Z can be a little tail-happy - which spells drifting fun but not necessarily the fastest time around a track.
While the 370Z can be equipped with a seven-speed automatic transmission, the 6-speed manual is more fun and engaging for the driver. It offers the perfect amount of clutch pedal resistance for smooth and predictable shifts, though we'd love more pronounced positioning from its somewhat vague gear shifter. It's easy to drive on the street, though, which is where most 370Zs spend their time, even in this track-inspired Nismo trim.
We've always loved the sporty and aggressive coupe styling of the Z. Despite its age, we still had people giving us thumbs-ups as we drove by. The Nismo trim shows off even more with its black-and-red front spoiler, side sills, and rear diffuser. We love the look of the matte aluminum door handles too. Riding on staggered 19" alloys with a two-tone 10-spoke design, the tires have plenty of meat on them to provide plentiful grip when accelerating and cornering. Winter weather meant we didn't get to test out the stock Dunlop SP Sport Maxx GT600 summer performance tires, though. The big 14" front disc brakes and 13.8" rears stop on a dime and are painted in a sporty red, naturally.
The dash and switchgear in the 370Z isn't exactly modern, with its mix of analog gauges and orange digital displays. Still, it's functional, putting the tachometer front and center and offering a handy indicator to show what gear you're currently in. The Nismo's Alcantara and leather steering wheel feels good and grippy, and we dig the red angle indicator, which is a nice nod to race cars. Still, we're looking forward to seeing how Nissan modernizes the interior of the new Z.
The red Alcantara and black leather on the Nismo's seats looks fantastic, as does the contrasting charcoal grey microsuede and red stitching on the door panels.
The Recaro sport bucket seats provide great back support and side bolstering to keep you in place when cornering and feature prominent Nismo badging. Despite their aggressive shape, they're surprisingly comfortable on long road trips too.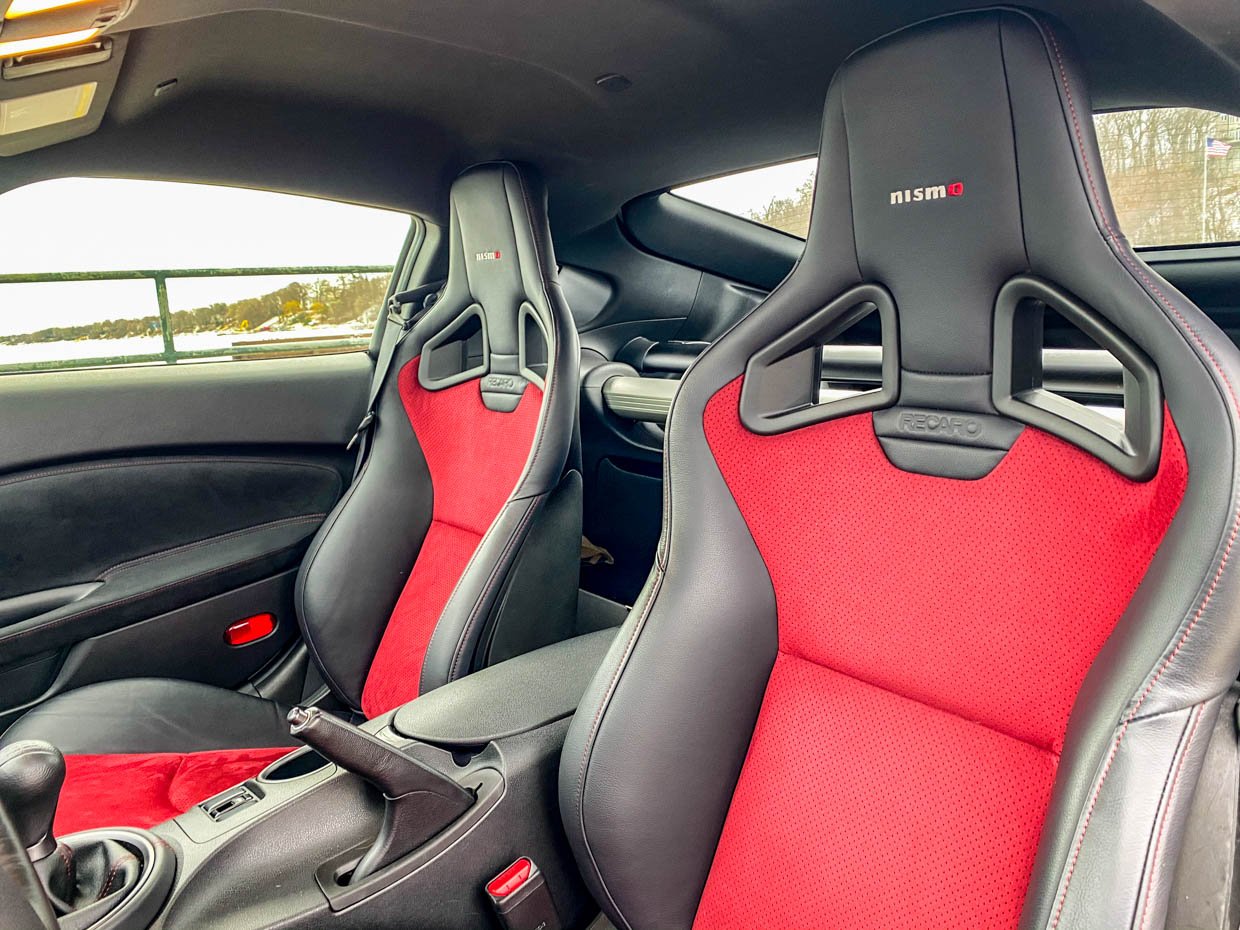 With a heritage going back to 1969, Nissan's Z cars have been a staple of 2-seat fun for everyday people who can't afford fancy supercars. The 370Z has been largely unchanged since it arrived in 2009, so it's definitely due for its redesign. But it's still an entertaining car to drive, with eye-catching good looks, lots of power, and fun handling characteristics. We'll miss you, 370Z, but we can't wait to see what's in store for your successor.