Driven: 2019 Slingshot SLR
motorcycles | polaris | tricycles | September 23, 2019
Thanks to the guys at The Brand Amp and iMotorsports, we got to spend a week living with the Polaris Slingshot SLR as our daily driver. This fast, agile, and kind of bonkers open-air 2-seater is a blast to drive, and is definitely the most fun you can have on three wheels.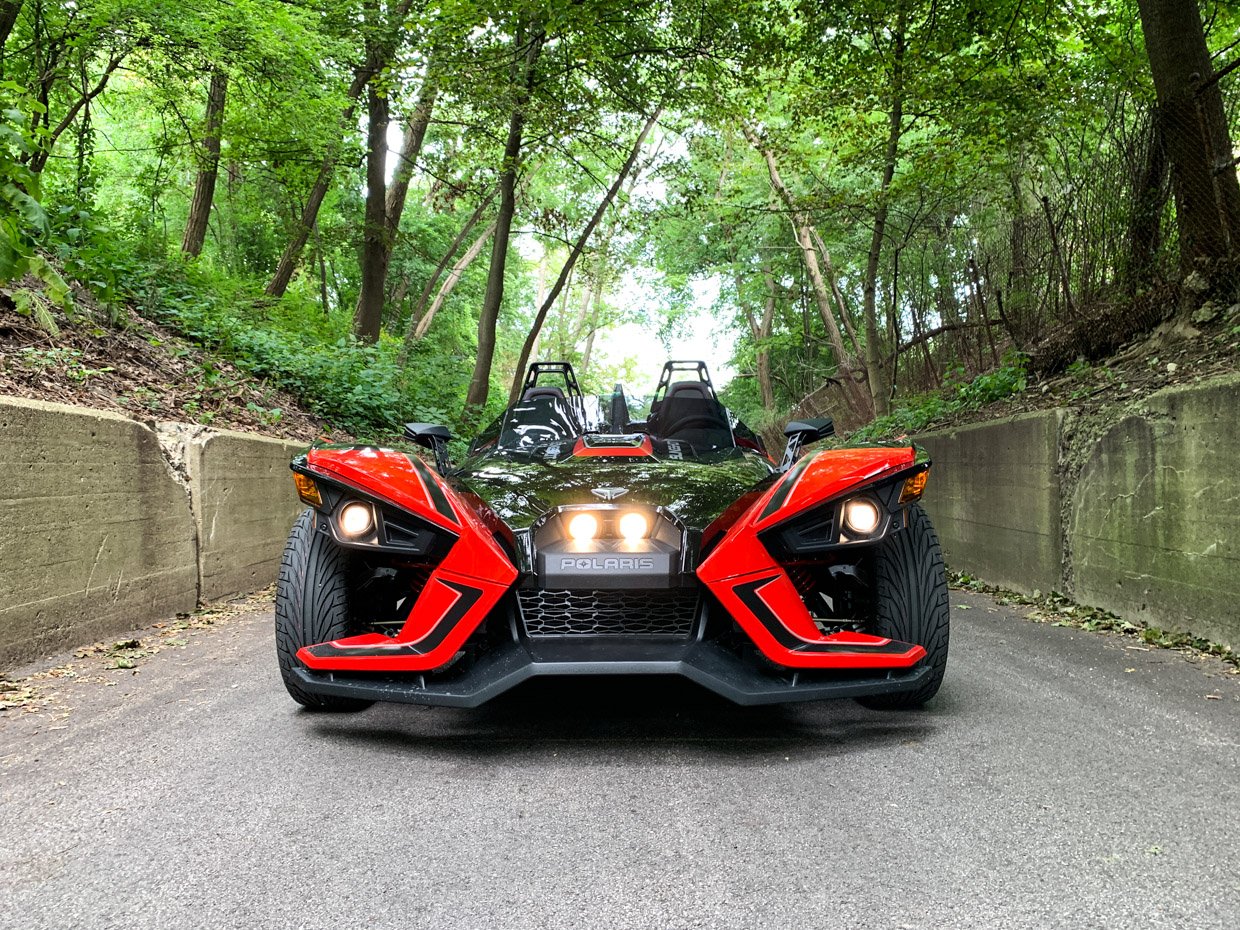 Now, the Slingshot isn't a replacement for your car or primary means of transportation. It's first and foremost a weekend plaything, offering dramatic, angular looks, and nimble driving dynamics. It has an excellent power-to-weight ratio too, making it feel more like a motorcycle than a car at times.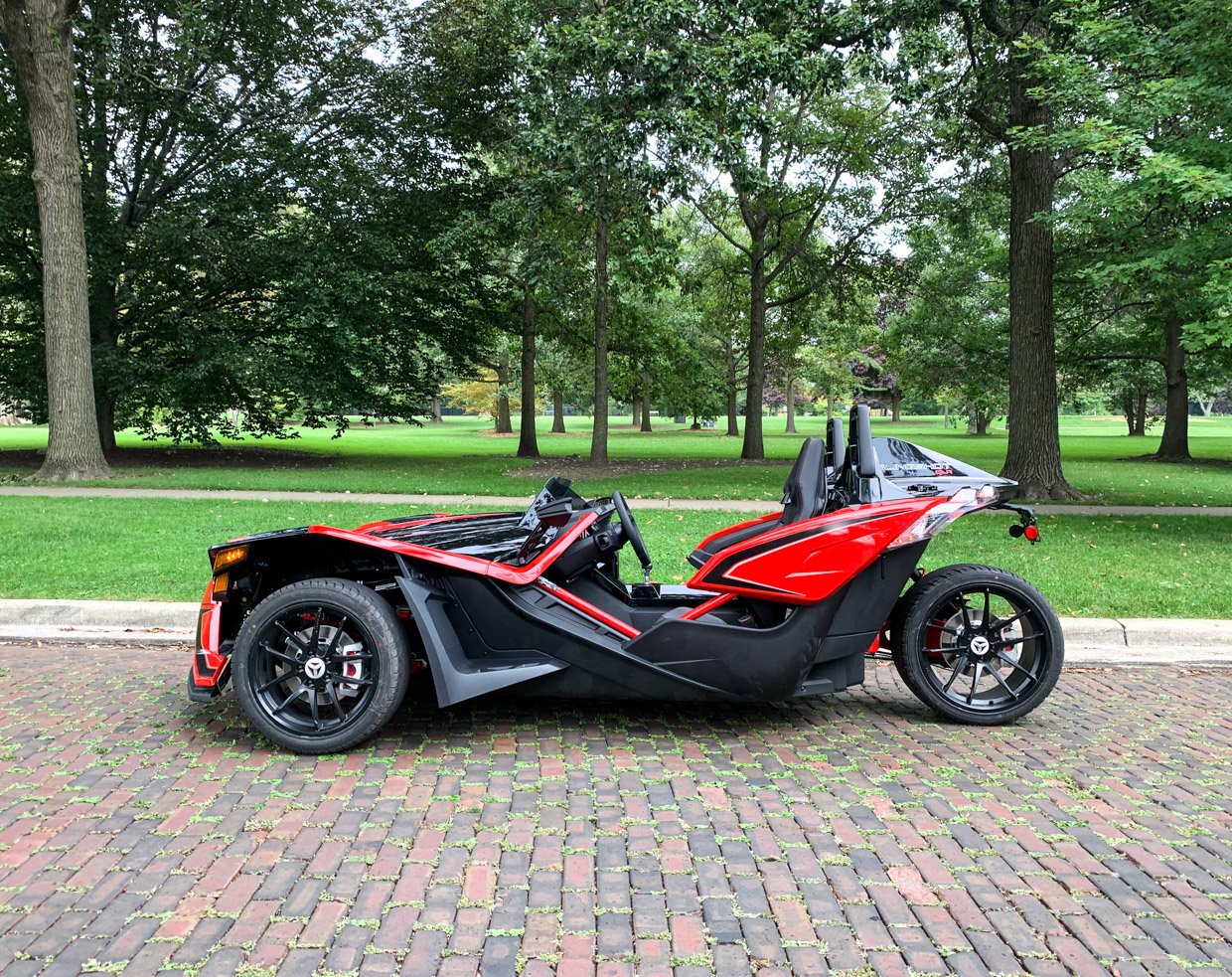 The dramatic styling of the 3-wheeler certainly drew stares as we drove it up the lakefront North of Chicago. To test its cornering abilities, we took it through the twisty and turny ravines of Sheridan Road, one of the better places in the area to enjoy the Slingshot's entertaining, corner-hugging thrill ride.

Helmets are a must when riding the Slingshot. It's an open-air vehicle, and doesn't have all the safety features you'd find in a regular car. That said, it does have a sturdy tubular steel frame, seat belts, and oversize roll bars to protect occupants.
The three-wheeler sends 100% of its power to a single real wheel via a carbon fiber-reinforced drive belt. An easy-going 5-speed manual gearbox is the only transmission available, further adding to its engaging driving experience. Up front you'll find 18" x 7.5" forged aluminum wheels, while in the back, there's a big old 20" x 11" wheel. With electronic stability control and traction control systems, it's extremely easy to drive too. If you've driven a car with a manual transmission, you can drive a Slingshot.
Under the hood of the Slingshot, you'll find a 2.4-liter GM EcoTec engine that makes 173 horsepower and 166 lb-ft. of torque on 91 octane pump gas. But it's way faster than those stats might lead you to believe, since it weighs just 1749 pounds - nearly 600 pounds less than a Mazda Miata. With swift appllication of the clutch and shifter, 0 to 60 mph happens in as little as 4.8 seconds.
The Slingshot SLR gets some nice upgrades compared to the base S and mid-grade SL models. Among the features are a tinted wind deflector, Sparco steering wheel and shift knob, two-tone paint, two-piece composite brake rotors, and a wider 305mm rear tire for a larger contact patch and added grip. It's also got a 7" multitouch display with turn-by-turn navigation, and a 100-watt Rockford Fosgate audio system, though we struggled to see the point of an audio system in a vehicle where you're always wearing a helmet, and wind noise is a constant factor. We preferred to listen to the Slingshot's raspy exhaust note anyhow.
The interior of the Slingshot is suprisingly comfortable - especially with the SLR's bolstered sport seats, which offer great support - especially during hard cornering. The seats slide, tilt, and there's a tilt steering wheel, so you can customize things for your ideal driving position. Entering and exiting the Slingshot is much easier than you might think too. Simply stand with both feet on the floor tray, then lower yourself into the bucket seat. Reverse the process to exit.
One great thing about the Slingshot is that its interior is waterproof. So in the event you get caught in a downpour as we did one night, nothing inside will get ruined. That's not to say that it's fun to drive while you're getting rained on in the dark, but at least you can get home without worrying about damage to electronics or materials. Polaris was smart enough to place the USB and 12V charging ports inside the voluminous, waterproof glovebox so you can keep your phone in there to charge or stream audio over Bluetooth.
There's not a ton of storage space, so you won't be taking a week-long vacation or carrying your golf clubs, but the Slingshot does have smartly-designed, storage cubbies behind each seat, perfect for storing a helmet or a backpack. They're also waterproof and lock with the car key. And yes, it even has cup holders.
So what did we think of the Polaris Slingshot after a week behind the wheel? Well, it's quite the entertaining way to get around town, and is certainly an attention magnet. It's fast, corners on a dime, and about as connected to the road as anything with more than two wheels.

That said, it's definitely a toy for the wealthy. You'd be hard-pressed to daily drive the wide-open $30,000 machine anywhere but Southern California, so it needs to be your second or third or fourth vehicle. Think of the Slingshot in the same way you'd think of a jet ski, a power boat, or an ATV, and then it makes way more sense. The Slingshot is a hoot to drive, and a truly unique form of vehicular entertainment.