Driven: 2019 Ford F-150 Raptor
4x4 | ford | ford raptor | off-road | pickup trucks | June 25, 2019
We managed to get our grubby little paws on the Ford Performance F-150 Raptor, and were blown away by just how good this truck is at everything. It hauls ass, handles any terrain, and offers a supremely comfortable ride on-road thanks to its new Fox suspension. Read on for our full take on this monster of a truck.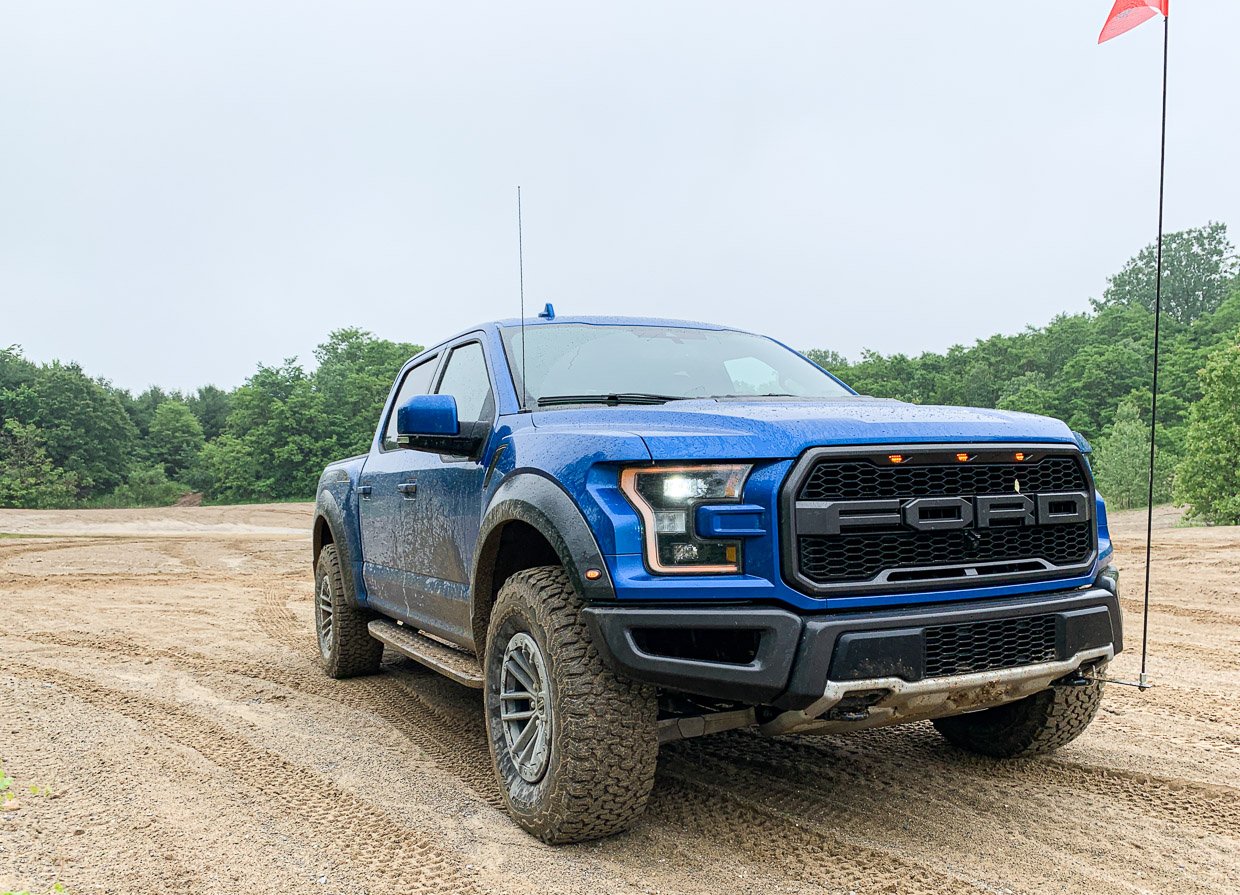 During our week with the Raptor, we spent plenty of time on city streets and highways, but eventually found our way out of Chicago, and put the beast it through its paces at Michigan's Bundy Hill Off-Road Park, a great little private facility which offers trails of all difficulty levels, and is friendly to ATVs, bikes, and 4x4 SUVs and trucks.
Under the hood, the Raptor packs a 3.5-liter EcoBoost V6 turbocharged engine that cranks out 450 horsepower and 510 lb-ft. of torque that works in concert with a quick-shifting 10-speed transmission. All that grunt is perfect for Baja-style off-road driving, but also great for on-ramps and passing cars on the highway, as well as towing payloads up to 8000 pounds in the SuperCrew version.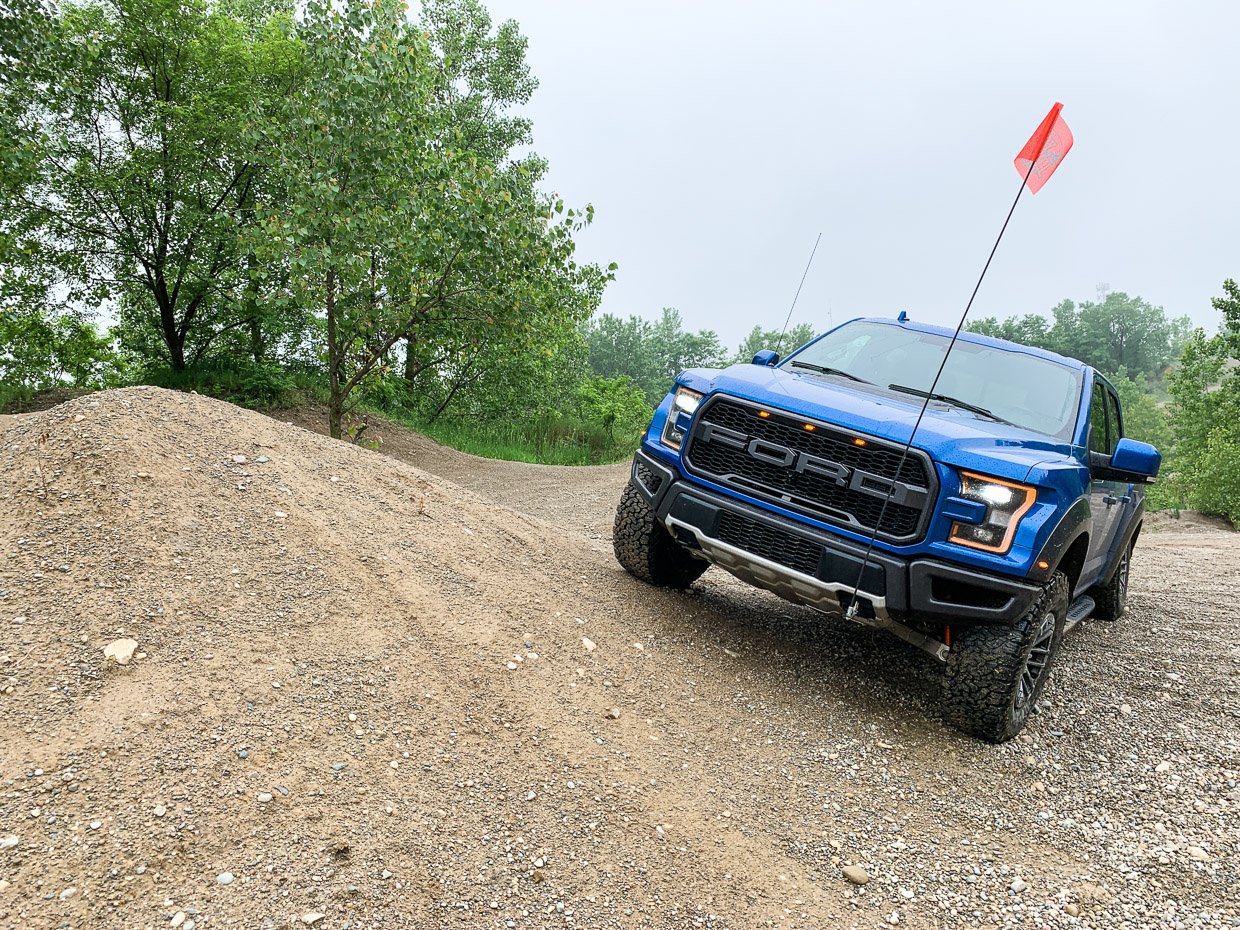 New for the 2019 model are Fox Racing 3.0 Live Valve internal bypass shocks which offer incredible agility off-road, and a comfortable ride on-road thanks to their ability to dynamically adjust to your driving. We were amazed just how the same shocks could go from negotiating rutted mud and gravel trails, to speeding over sandy whoopdeedoos, to driving smoothly on the highway on our way to and from the trails. In fact, the new Raptor is one of the smoothest riding trucks we've ever been in, and it won't punish you as a daily driver.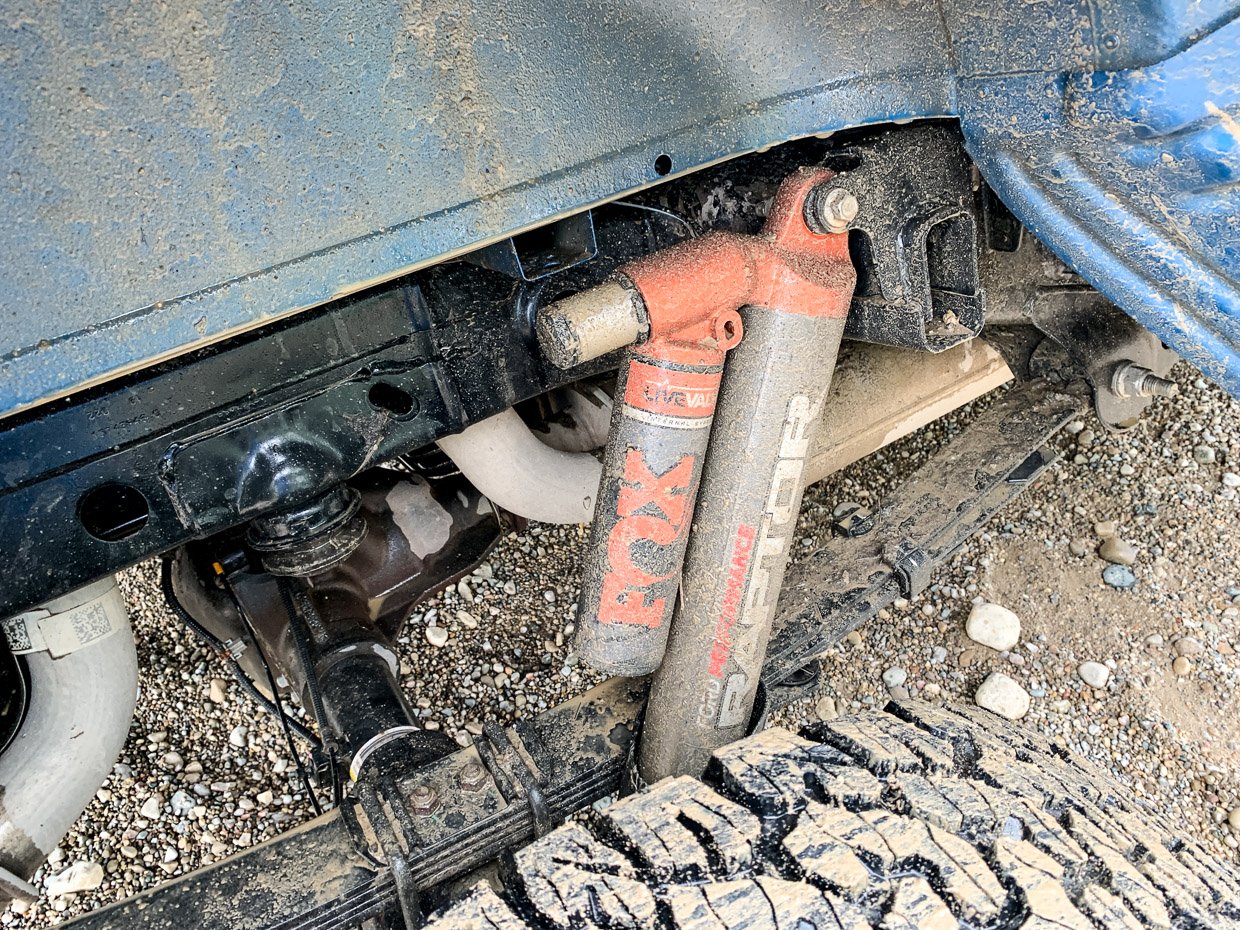 The Raptor has insane amounts of suspension travel too, with up to 13.9 inches of motion in the rear and 13 inches up front. In addition to absorbing enormous jolts, it means you can drive it over highly uneven surfaces while keeping all wheels on the ground for optimal traction.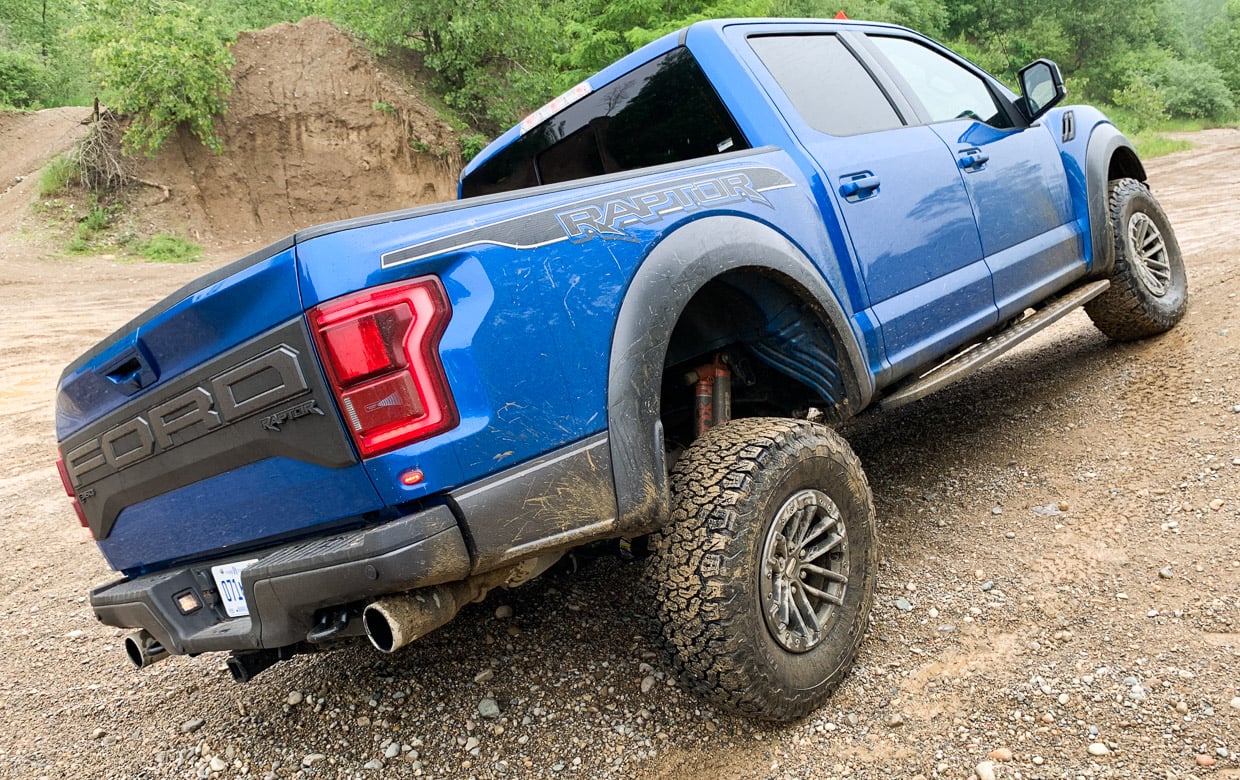 It also has a proper 2-speed transfer case so you can switch between rear-wheel drive, 4-wheel auto, 4-high, and 4-low modes, as well as the ability to lock its rear differential, providing the greatest versatility for different driving conditions.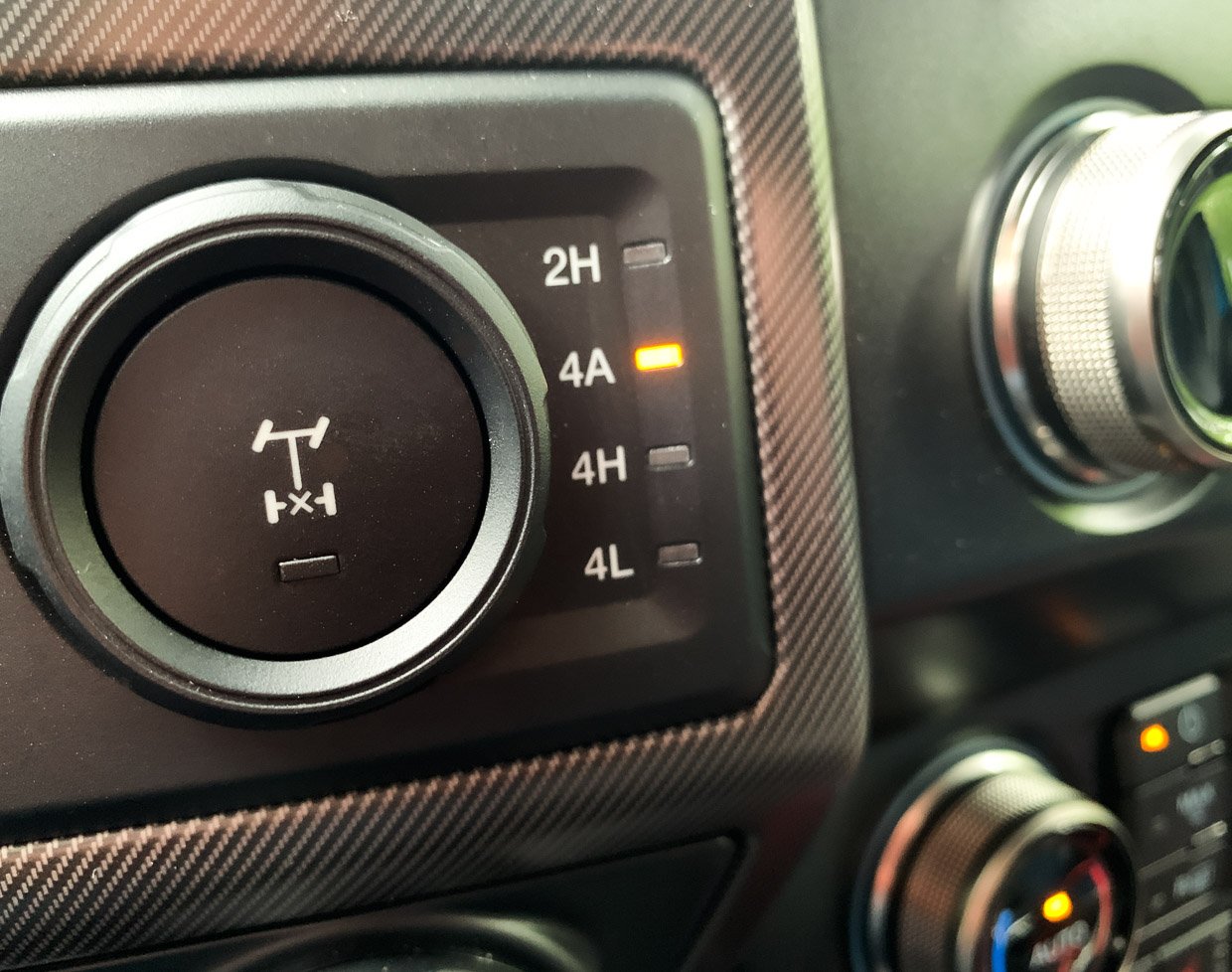 We couldn't resist taking full advantage of the puddles left behind by all the recent Midwest rains, and the Raptor seemed most at home when covered in mud. And if you dare to wade into deeper waters, this Ford can ford up to 32" of the wet stuff.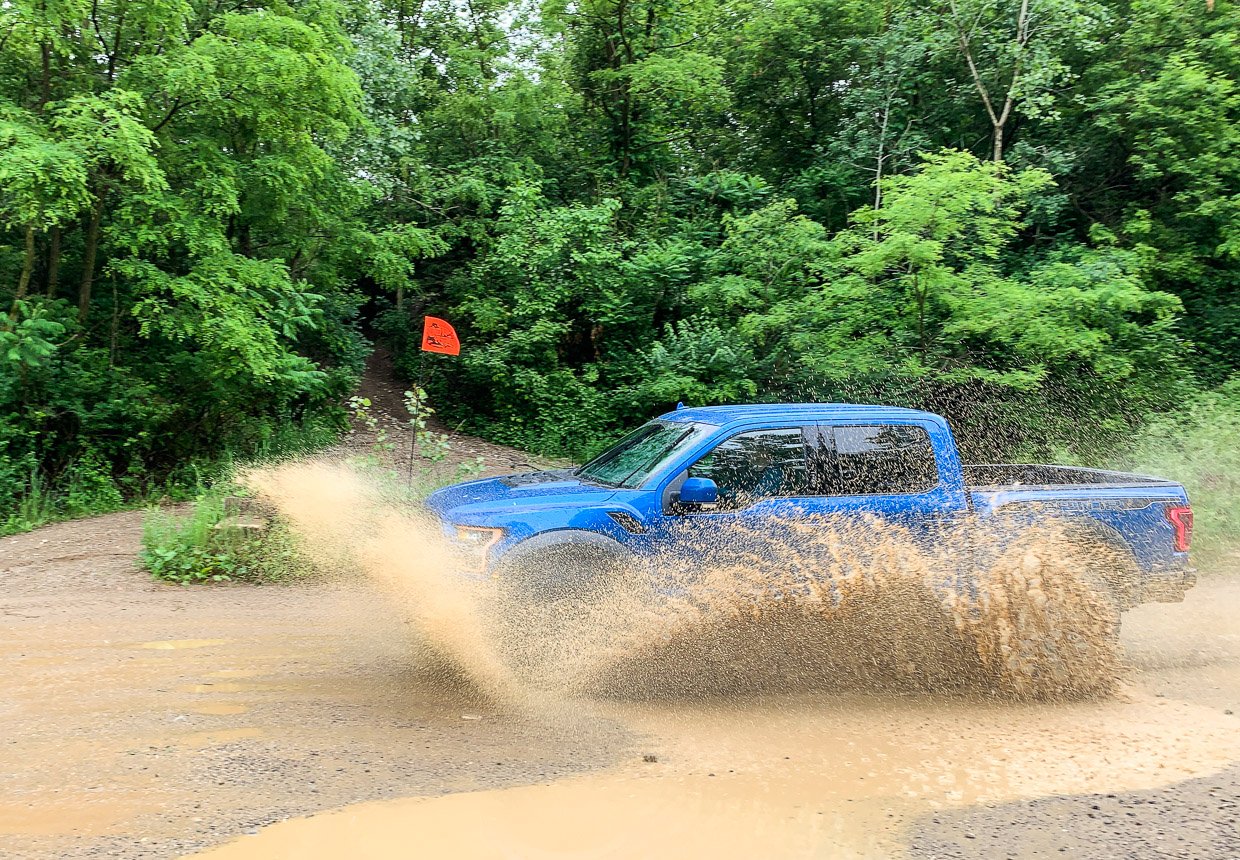 Of course, if you're going to drive over rocks and tree stumps, you need to protect your drivetrain from damage. Thankfully, the Raptor has heavy duty skid plates and unique underbody shielding to keep things safe down below.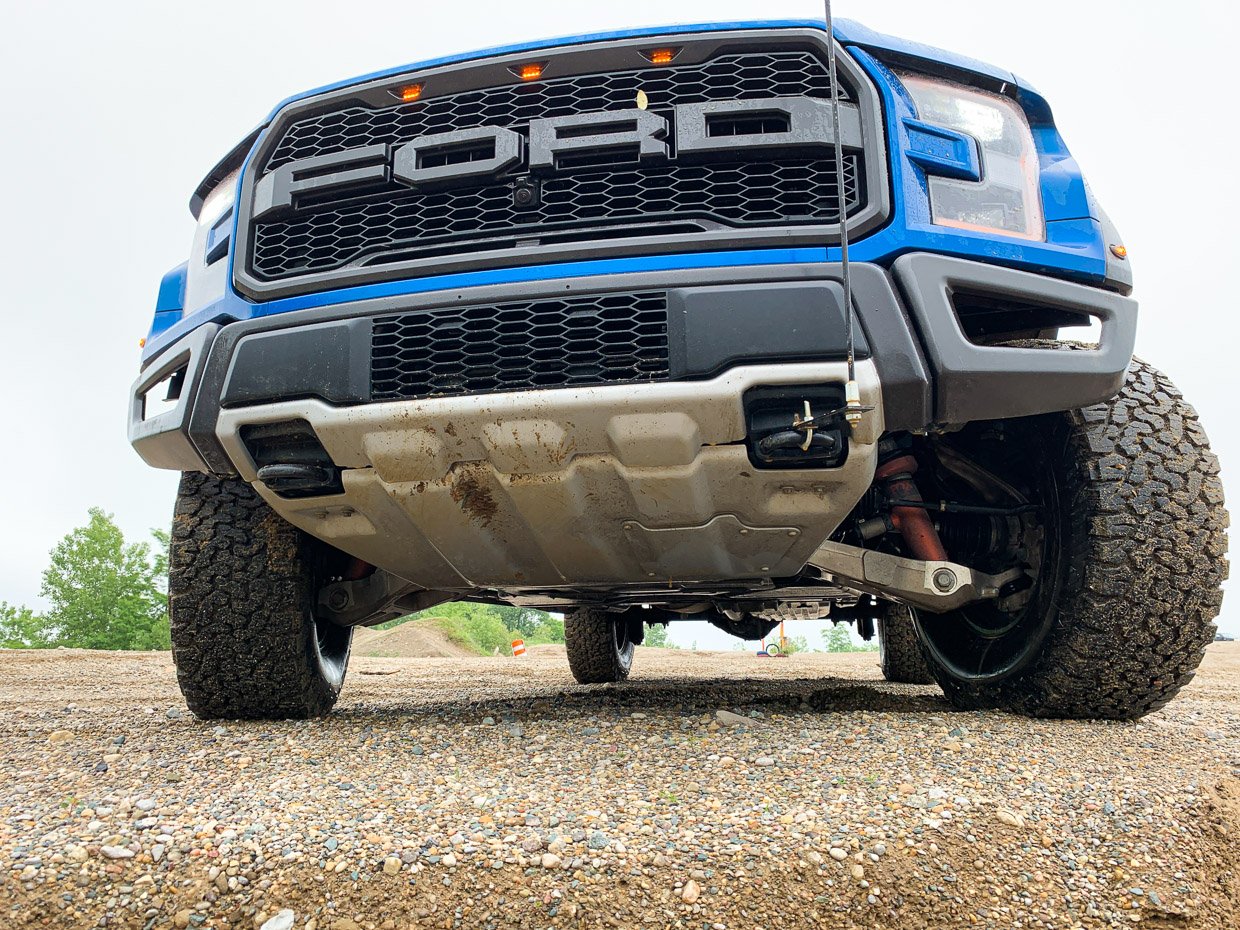 This time out, the Raptor has more terrain handling smarts than ever. Its multi-mode terrain management system does a great job ensuring torque is distributed appropriately for a variety of different conditions from mud and ruts, to crawling over rocks, to sporty street driving. Baja mode is especially fun for high speed off-road antics, sending more power to the rear wheels and letting the tail hang out as you powerslide through the dirt.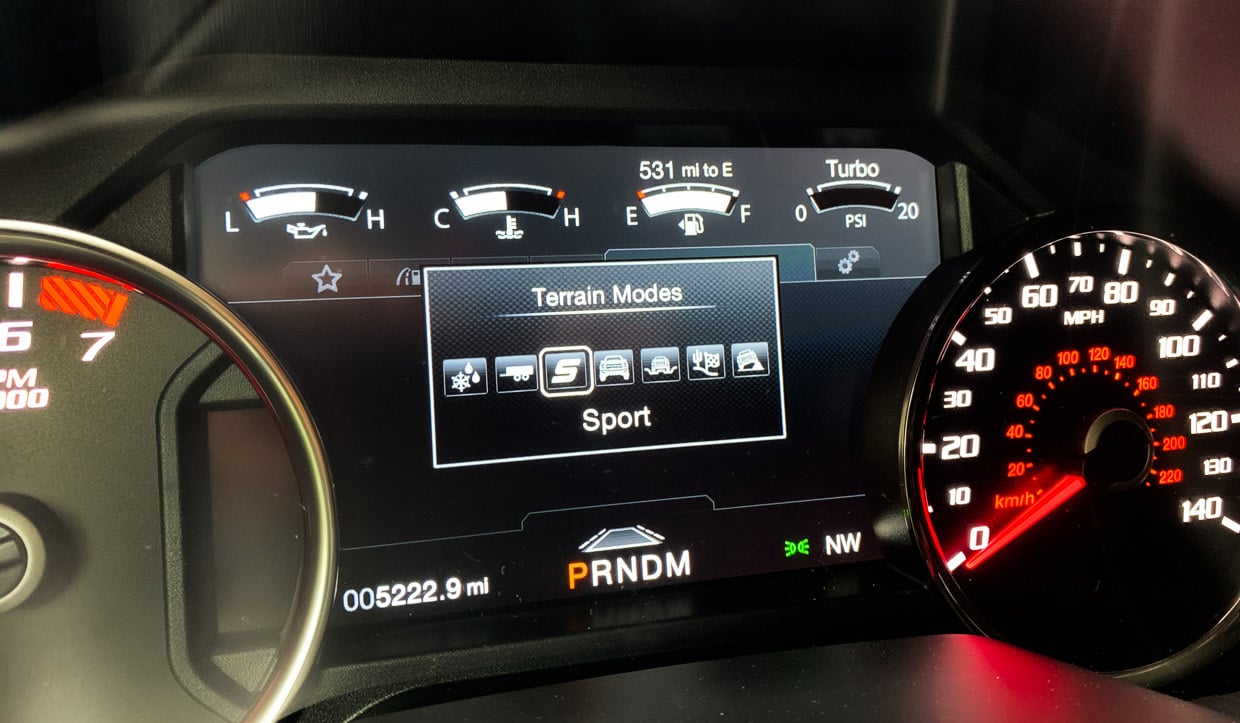 There's lots of other tech smarts here too, from the front-facing camera which makes it easy too see obstacles ahead, to Trail Control, which is basically an off-road cruise control system that lets you focus on steering while the truck manages throttle and braking - it's especially useful during slow uphill or downhill crawls. Tech geeks will also enjoy the Ford Sync 3 infotainment system, which has Apple CarPlay and Android Auto capabilities.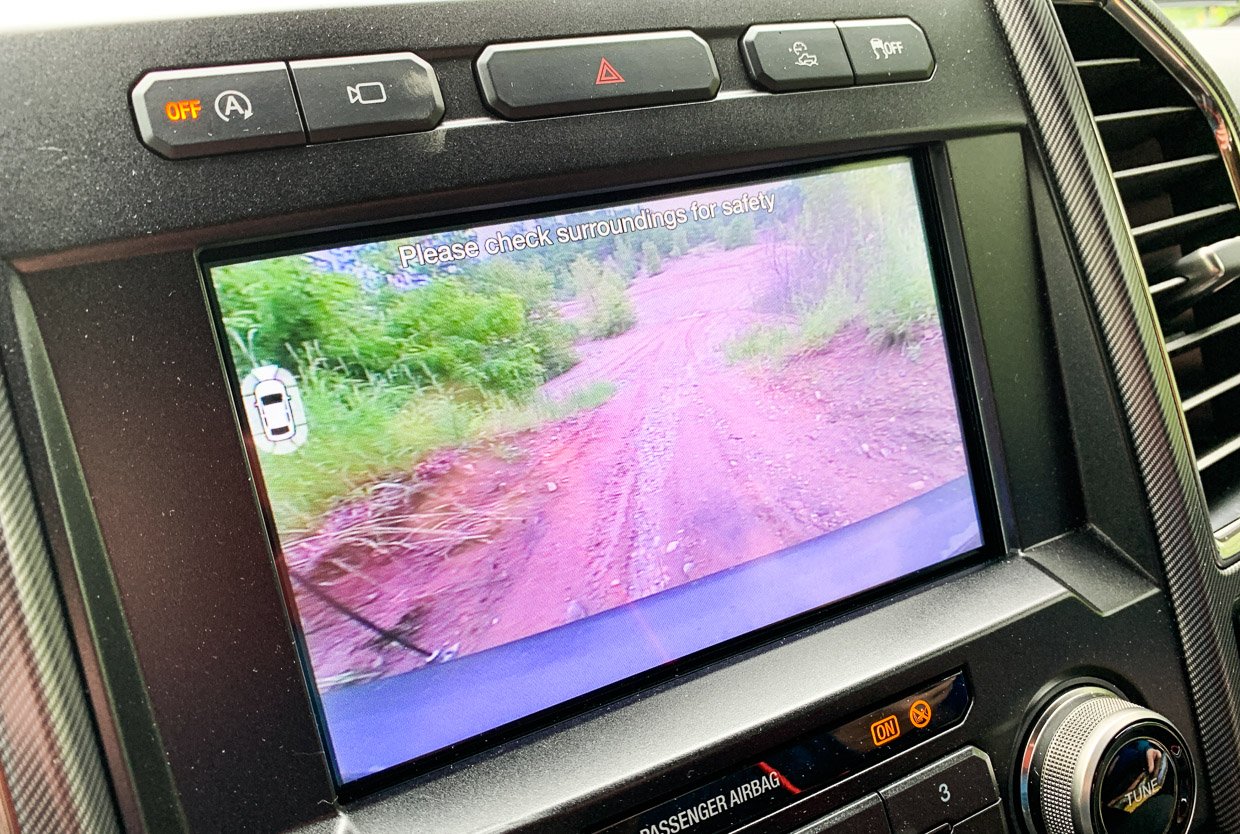 We were also really impressed with the BF Goodrich KO2 All-Terrain tires which come standard with the Raptor. We never got stuck, even in tricky stuff like loose sand and some really sloppy mud. They were also surprisingly quiet and comfortable on-road. The optional 17 x 8.5 forged beadlock wheels also make it safer to air down for driving in sand with far less risk of popping a tire off the rim.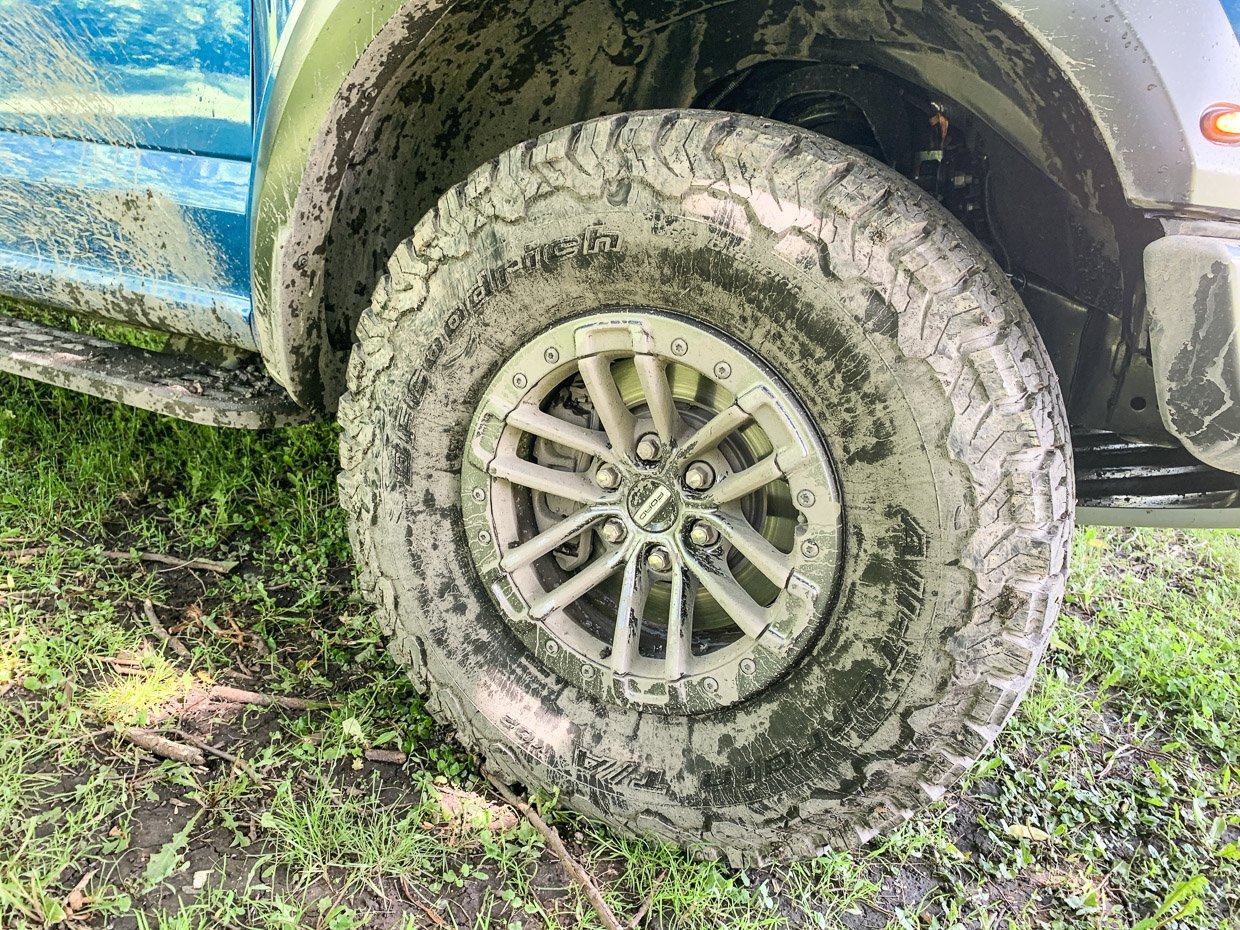 Climb up into the Raptor and you'll find its cabin is quite comfortable, with cushy and supportive Recaro seats with ample side bolstering. Though as much as we love the look of the Rhapsody Blue Alcantara, we question its longevity in a vehicle that's likely to see lots of mud and dirt inside. Sure, the Alcantara keeps you from sliding around in your seat, but it's not as easy to clean as leather or vinyl.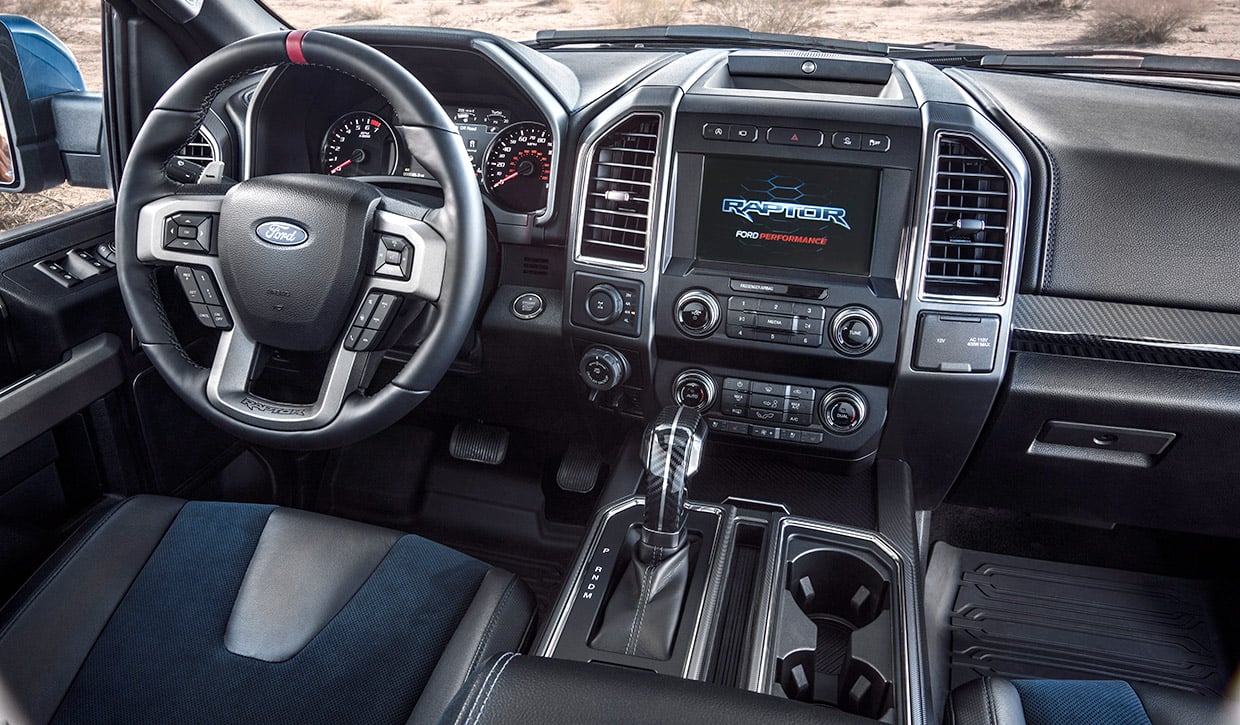 The back seat of the SuperCrew is especially spacious, making the Raptor a great vehicle for road tripping with your friends. It's got tons of legroom and headroom, and the seats fold up in a 60/40 configuration making room for luggage or other gear you don't want to carry in the bed.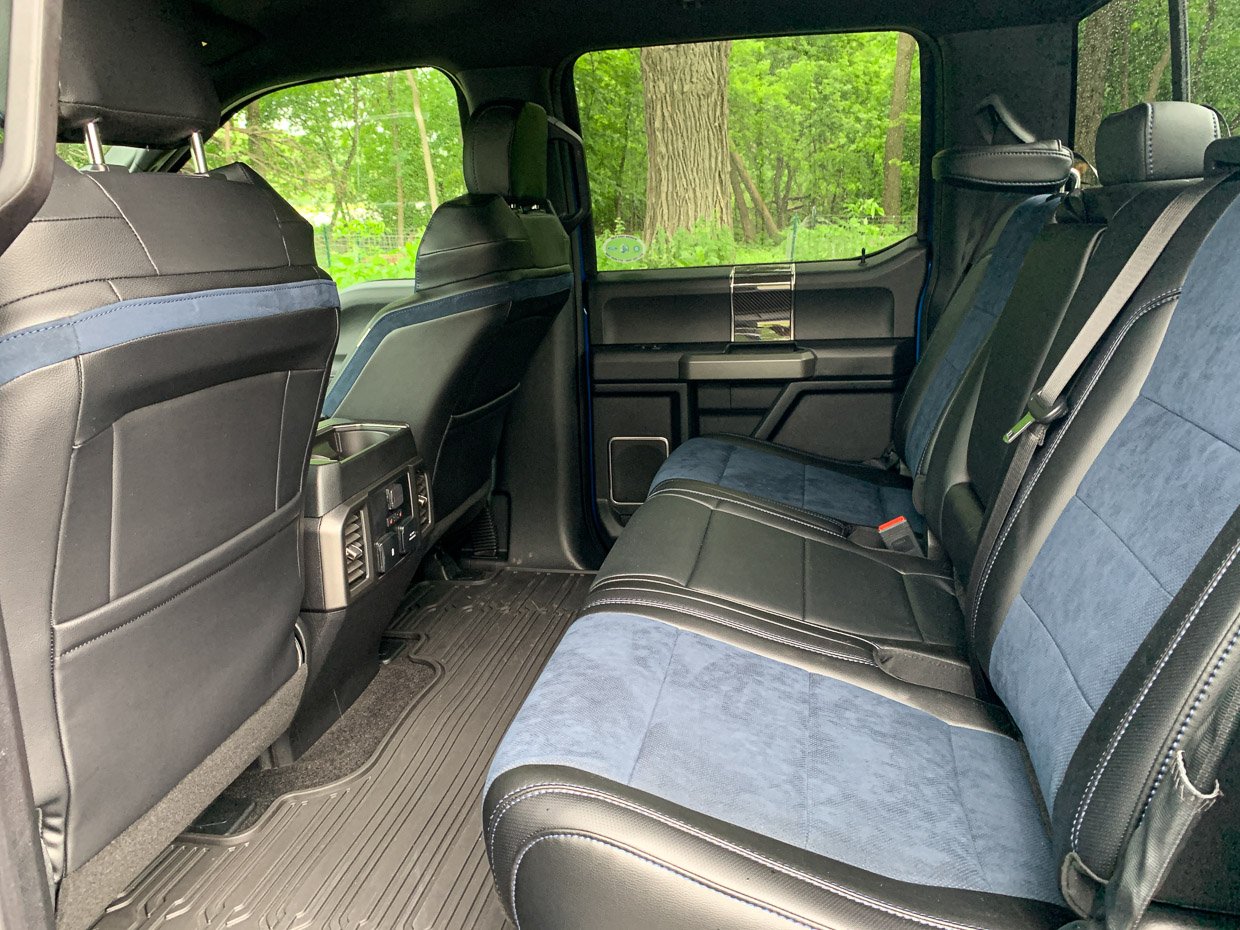 Suffice it to say that we had a blast in the 2019 Ford Raptor. It's incredibly fast for its size, has a fantastic suspension for any terrain, and is a shockingly comfortable road tripper too. Oh, and it's also a fully capable pickup truck with a bed in back. If we had room to park another vehicle in the garage here, the Raptor would be right at the top of our list.