Driven: 2023 Land Rover Defender 130
awd | land rover | land rover defender | off-road | suvs | February 16, 2023
Words and Images by Paul Strauss
The latest addition to the Defender family stretches the luxury off-roader by more than 13 inches to accommodate more passengers and cargo. Despite its increased length, the Defender 130 is still impressively capable off-road while offering the luxury and comfort we've come to expect from Land Rover.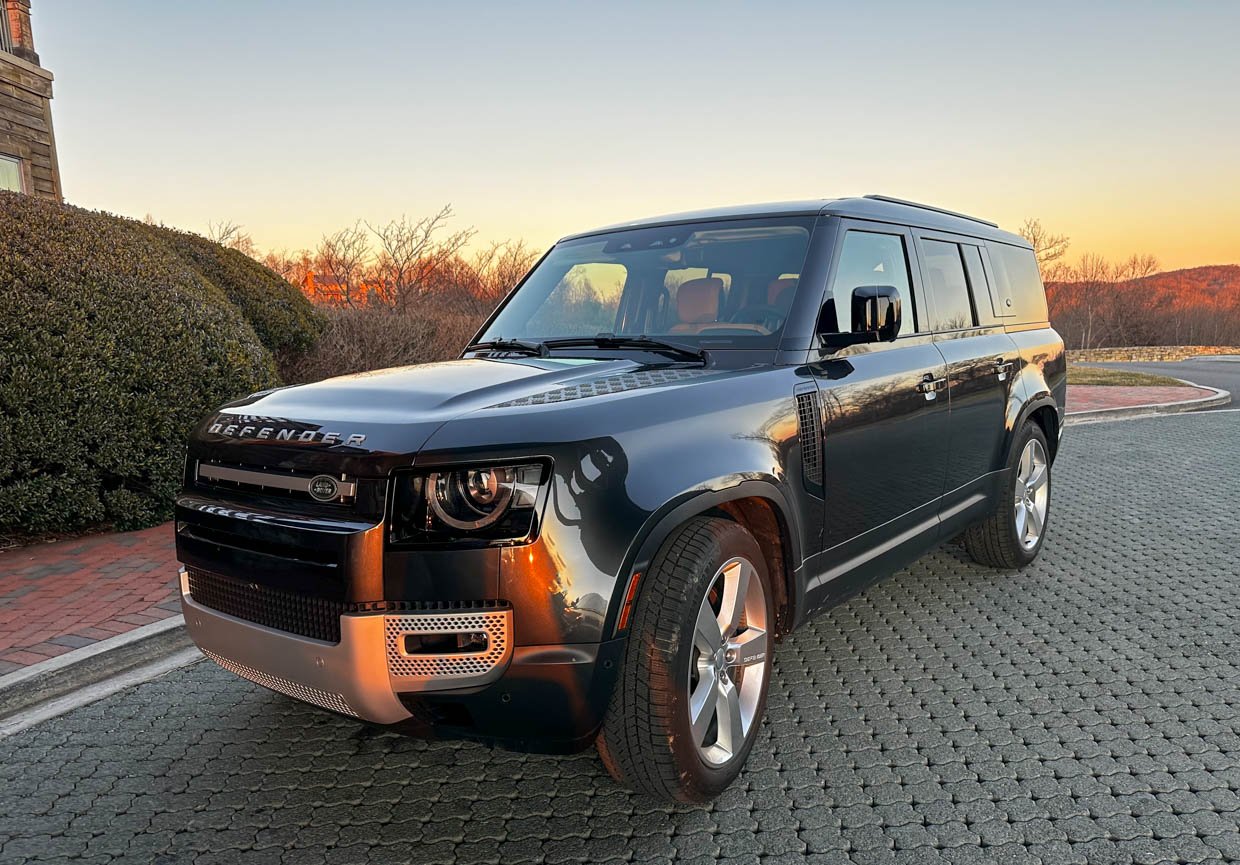 Measuring 211.7 inches long before adding the spare wheel on the back, it's the longest Defender ever made, accommodating up to eight adult passengers. Land Rover added all that space behind the rear wheels, retaining the same wheelbase as the 2-row Defender 110. Even with the added length, the Defender 130 retains the same 38º approach angle and 27.8º breakover angle as the 110, assuming you've got the air suspension in off-road mode. The longer rear end decreased the 130's departure angle from 40º to 28.5º, though.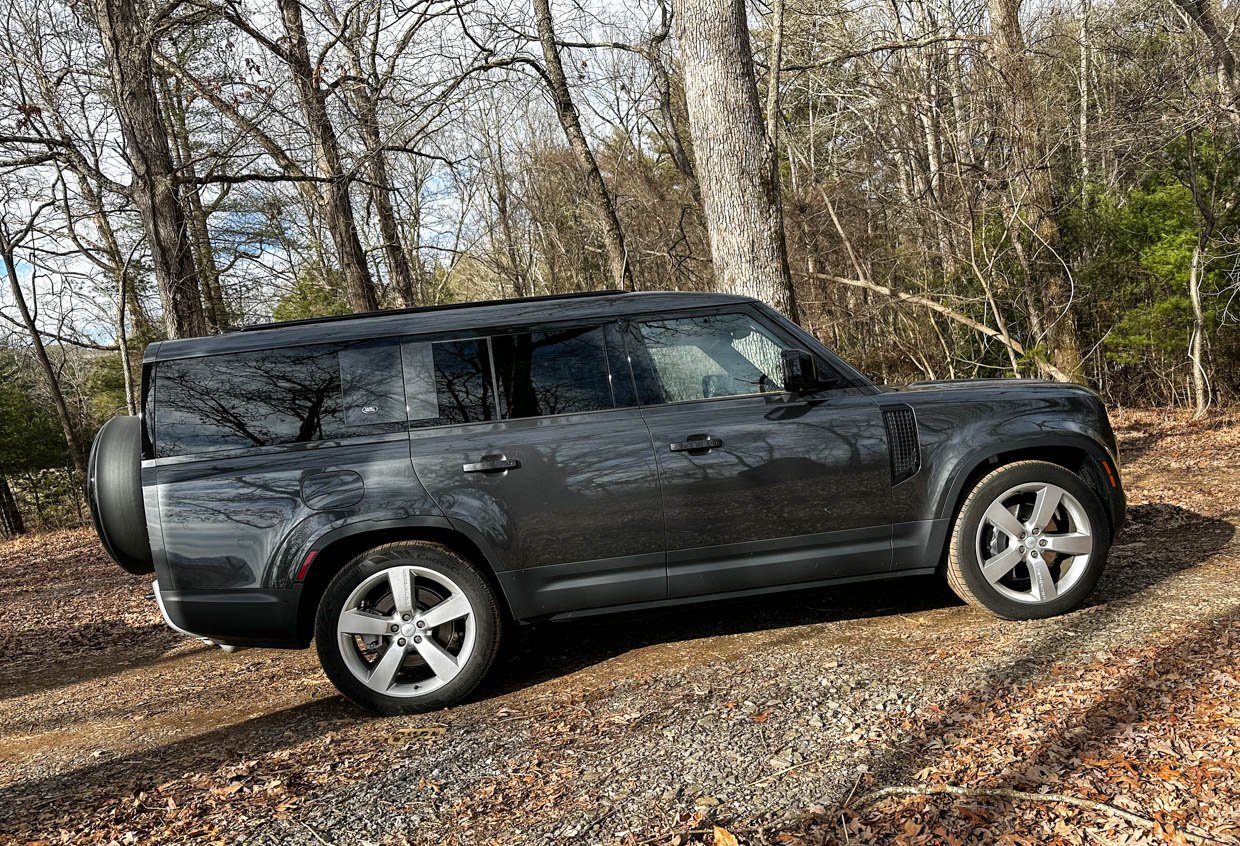 To put the Defender 130 through its paces, we headed into the woods of the Land Rover Experience Center in Asheville, North Carolina. Nestled deep in the woods of the Vanderbilt's famed Biltmore property, we found a sloppy mix of dirt, mud, and rocks, twisting and turning between the trees on the Experience Center's most challenging course. With the help of Land Rover's set-it-and-forget-it terrain management system, we spent the better part of the day in these rugged conditions without any of the five vehicles in our caravan getting stuck along the way. And we did it on the standard all-season tires that ship with the vehicle.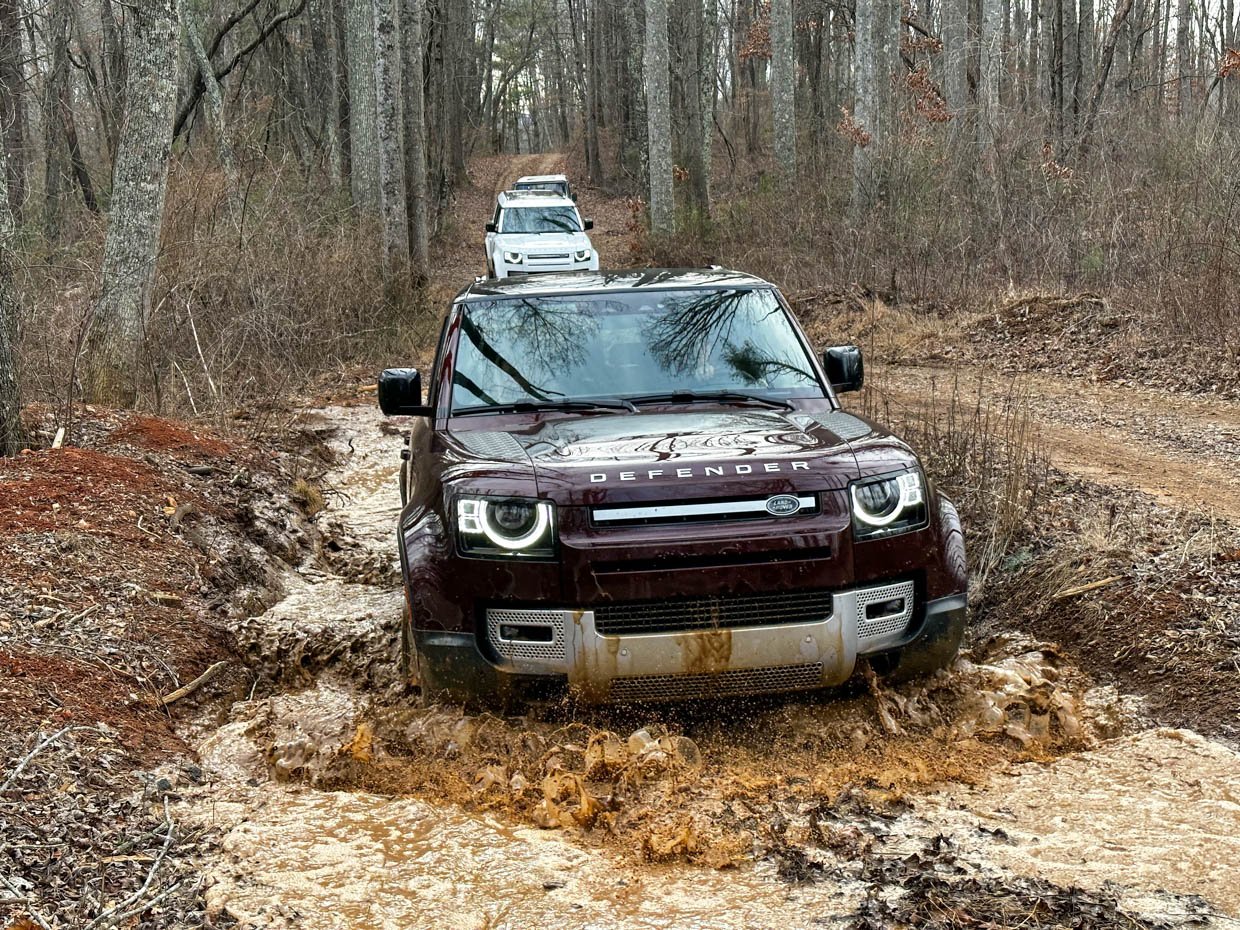 Under the watchful eye of Land Rover's expert off-roading team, we learned how to negotiate massive ruts, slippery rock surfaces, and steep downhill grades. At no point did we come close to scraping the muffler that's the lowest-hanging bit at the back of the elongated Defender 130. The electronic air suspension is certainly helpful when traversing uneven or rocky terrain, increasing ground clearance from a road-friendly 8.5 inches up to 11.54 inches. It'll wade water up to 35.4 inches deep and can even show you its depth on screen. Heading down steep grades is assisted by a hill descent control system that automatically regulates throttle and engine braking so you can focus on steering. Overall, we were impressed with the SUV's ability to handle obstacles, and its ample 5570+ pound curb weight helps contribute to its excellent off-road stability. However, we did notice a slight disconnect between steering wheel input and wheel position when riding through thick mud.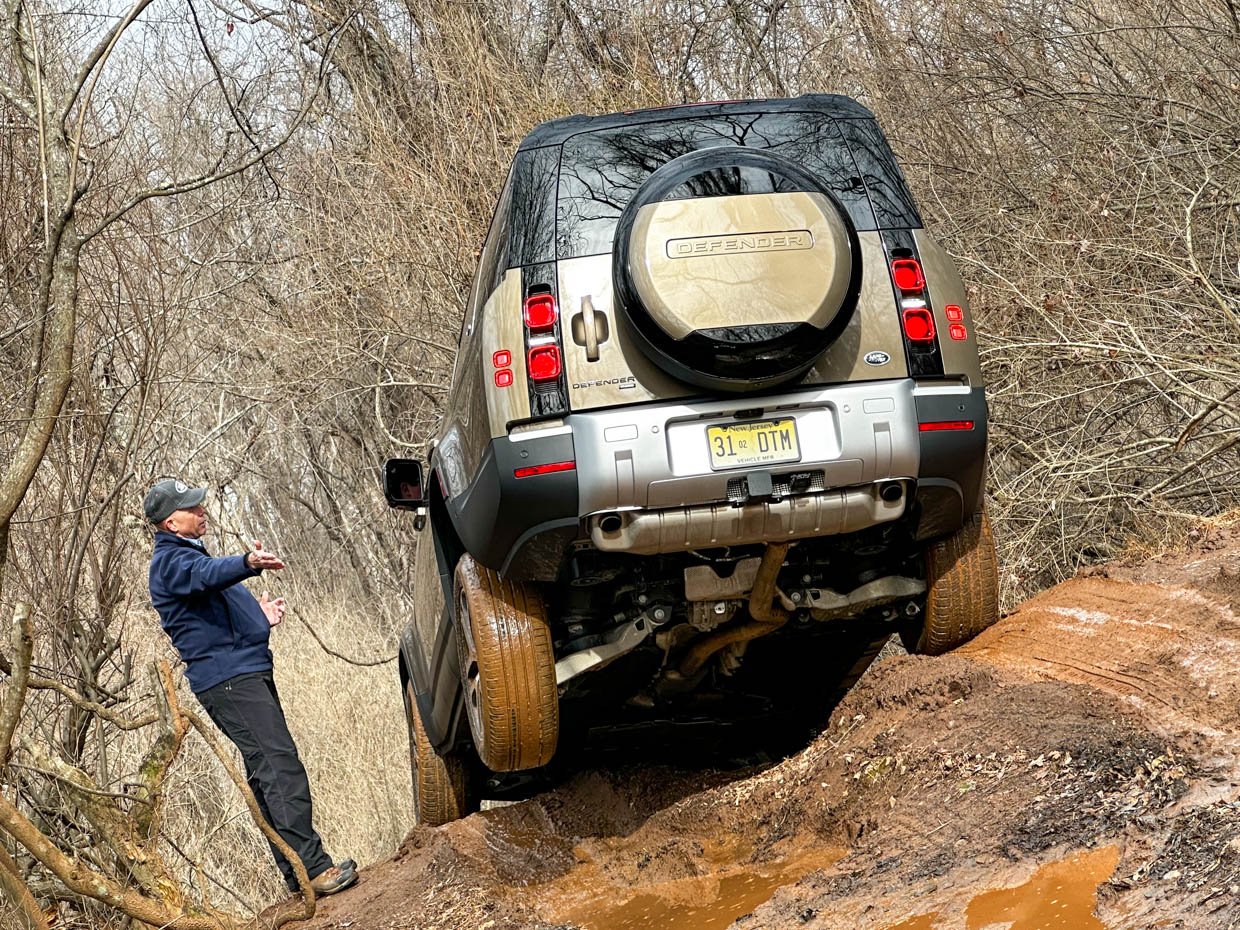 The front-facing camera system on the Defender 130 is invaluable in navigating uneven terrain. In off-road mode, it can display a low-angle view of what's lies ahead and the path surrounding your left and right tires. There's another mode that simulates what you might see if you could see through the hood with an overlay showing the trajectory of your wheels. Both of these views came in handy on our ride, helping with proper wheel placement that would otherwise be difficult or dangerous without a spotter.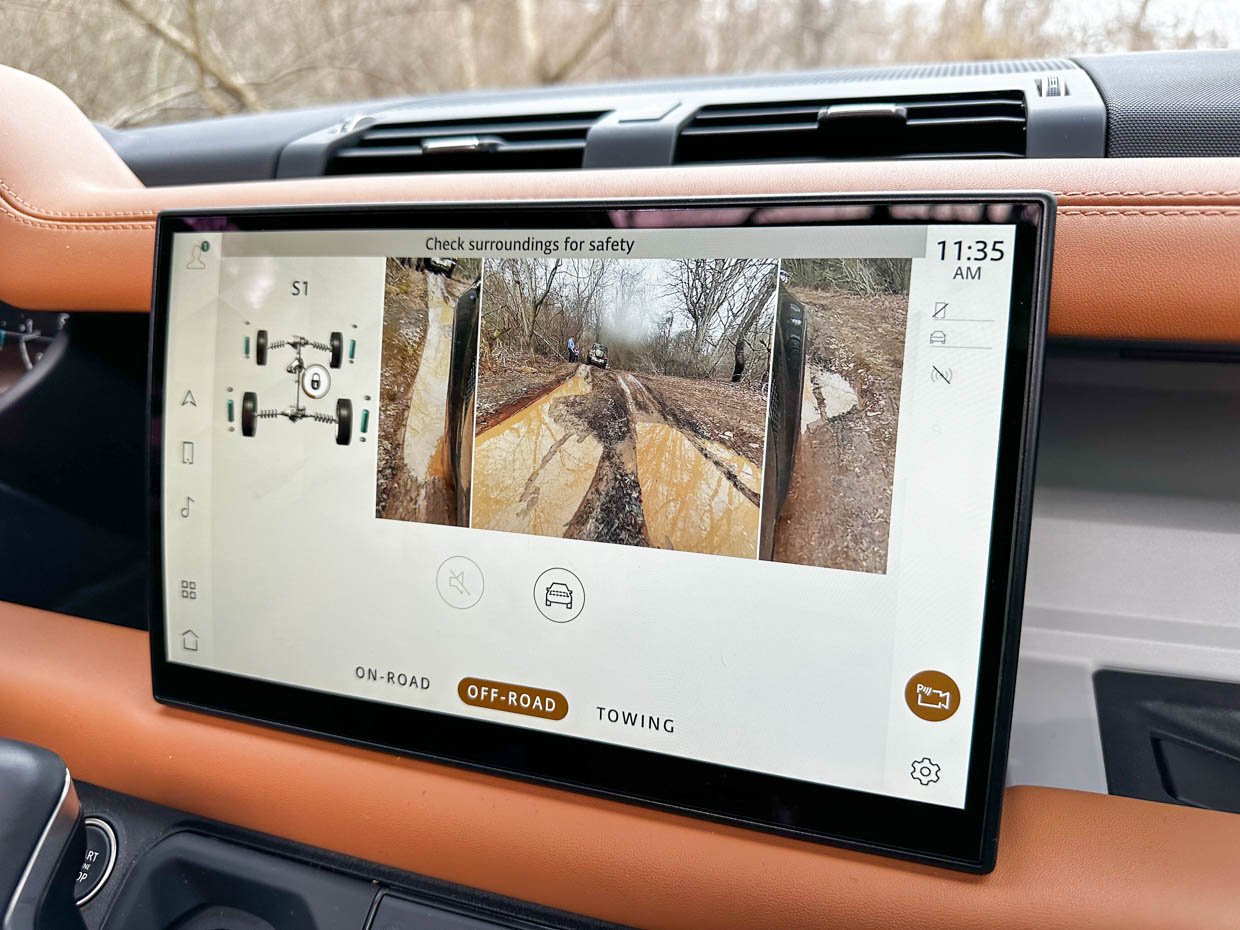 While the Land Rover folks might have you believe that everyone who owns a Defender spends vast amounts of time off-roading, the reality is that the majority of time will be spent driving on paved or gravel roads. We spent about six hours driving the Defender 130 on a mix of highways and twisty country roads, and it's incredibly comfortable in such everyday situations. We quickly forgot we were driving such a long vehicle. On-road, it's impressively quiet and smooth, with ample passing power thanks to the 3.0-liter I-6 engine and mild hybrid system that provide up to 395 horsepower and 406 lb-ft. of torque in the First Edition model, we drove. ZF's 8-speed automatic transmission is every bit as good here as we've come to expect.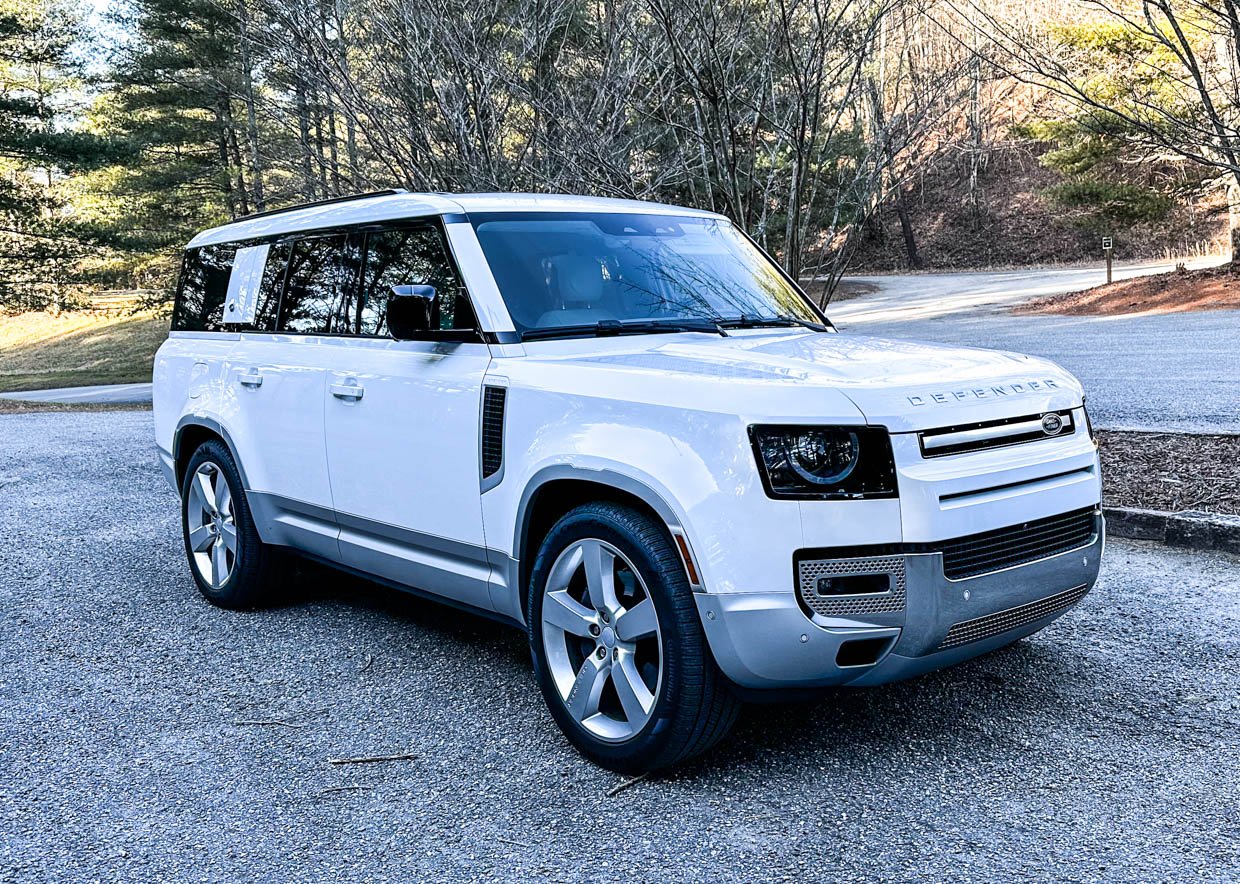 The interior of the Defender 130 is upscale while still being purposeful. It has a boxy and angular style befitting the Defender's heritage - thoroughly upgraded to suit modern expectations. Our First Edition was equipped with Vintage Tan Windsor leather on the seats, doors, and dash, accented by rough-cut walnut veneer. The painted metal elements on the steering wheel and dashboard serve as a reminder that this Defender is just as capable as it is refined. There's a ton of space in the floating center console, and the shelf built into the dashboard provides passengers with a place to put their phones or other small items.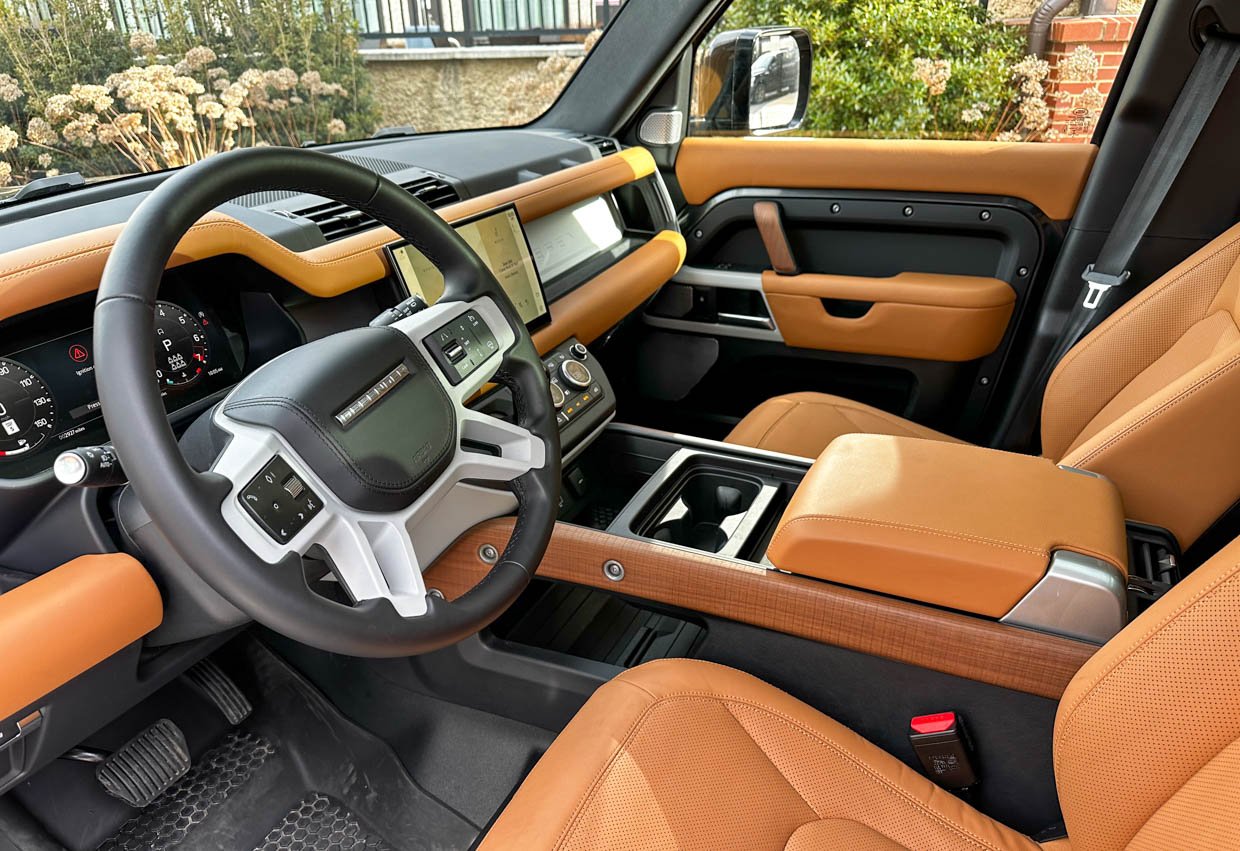 As we head into the second row, legroom and headroom are plentiful, and three adults can sit here comfortably. It's a bit more sparse back here than some luxury SUVs, but you get dual-zone climate control, heated seats, and the ability to recline. Rubber floormats and easy-to-clean plastics on the front seatbacks are thoughtful touches for those days when passengers join you for off-road adventures.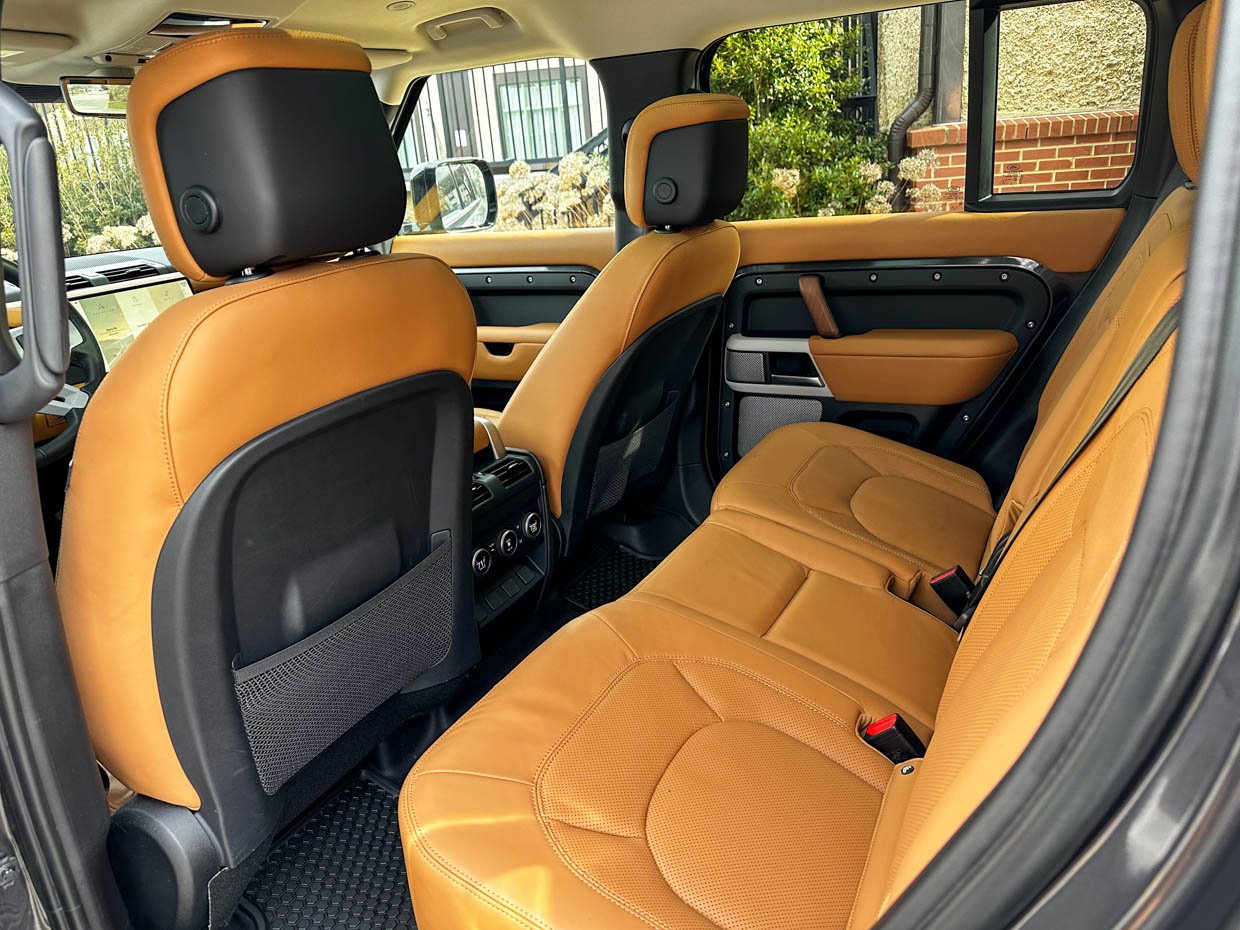 Accessing and exiting the third row requires a bit of contortion, but while you're seated, knee room and headroom are better than expected, and taller passengers could ride back there if needed. That said, third rows are almost always best for kids. The second and third rows can fold in a 40-20-40 split for maximum versatility in handling passengers and cargo. The third row is also available with heated seats - a nice touch.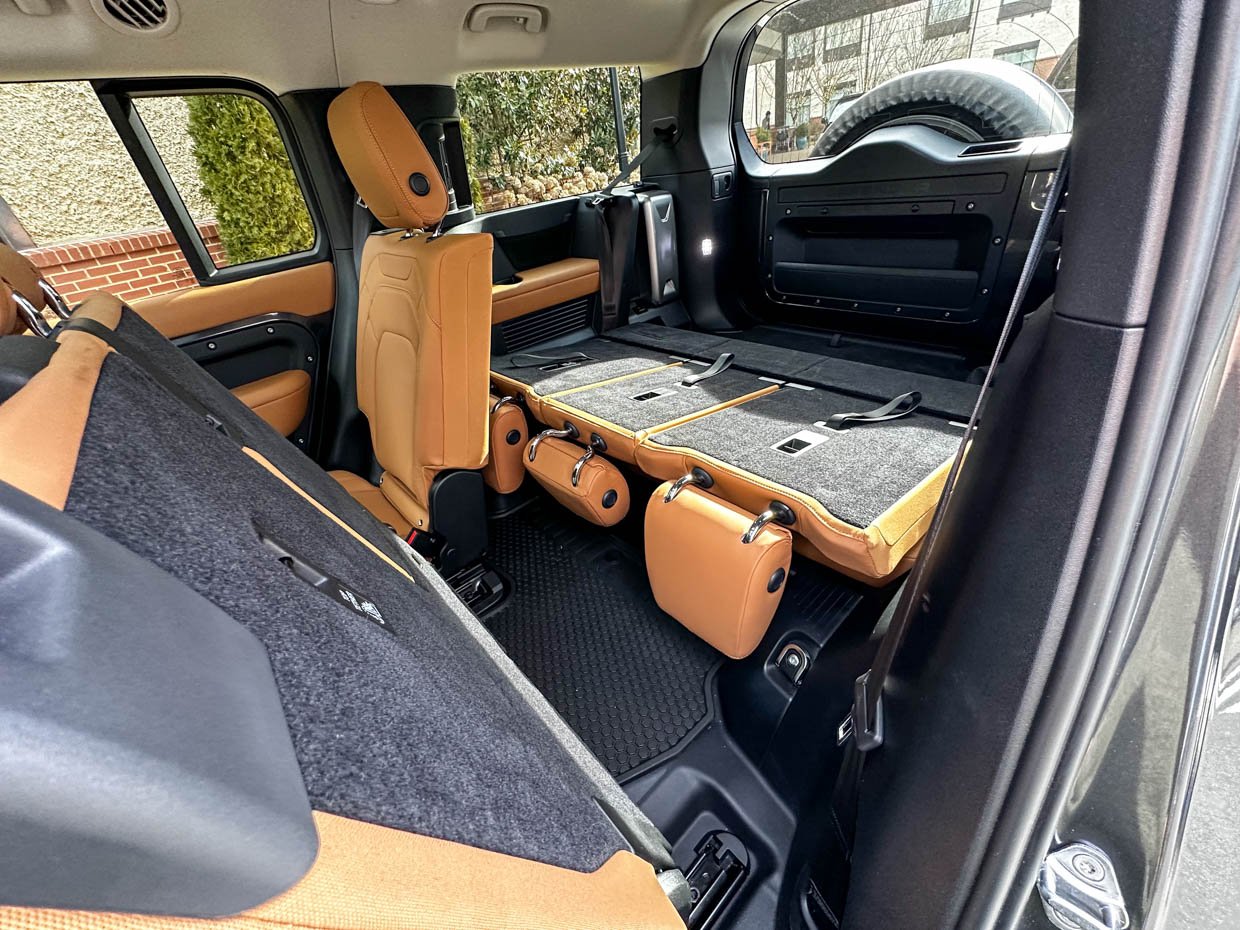 One of the main advantages of a three-row SUV is the added cargo space you get when carrying five or fewer passengers. With the third row folded, the Defender 130 offers 35.8 cubic feet of space, plenty of room for every passenger's luggage and outdoor gear. Fold both rows down, and that increases to 76.1 cubic feet. We wish the seats folded completely flat with the load floor; instead, they're a bit higher up, so carrying something like a TV set might require a bit of extra padding to keep it flat. With all seats in use, cargo volume drops to a car-like 15.3 cubic feet. Land Rover retained the classic swing-out rear door, which looks great but is something you'll need to keep in mind when loading and unloading inside a garage space.
We've driven all three models of the Land Rover Defender, from the 2-door 90, the mid-size 110, and now the 3-row 130. All three deftly balance the Defender's expected off-road capability with the upscale interior and comfort that buyers expect in a modern luxury vehicle. No other vehicle we've experienced can tout such a combination of capability and comfort. While the Defender 130 is less likely to see serious off-roading than the shorter models, it still impresses in rough and rugged conditions. The addition of the third row is a must-have for anyone with a larger family or who wants to go camping with a family of five and have enough room for all their gear. The base model Land Rover Defender 130 S starts at $68,000, with the First Edition we drove coming in at $84,000 base. With options, destination, and delivery, its sticker price came to $92,075.