Driven: 2023 Jeep Grand Wagoneer L
jeep | suvs | wagoneer | October 14, 2022
Words and Images by Paul Strauss
Measuring a garage-busting 226.7-inches-long, the Wagoneer L and Grand Wagoneer L are the long-wheelbase versions of an already big 3-row SUV. We loved the Grand Wagoneer Obsidian and are happy to report that the L model is just as comfortable and luxurious with added cargo space and new high-efficiency engine options.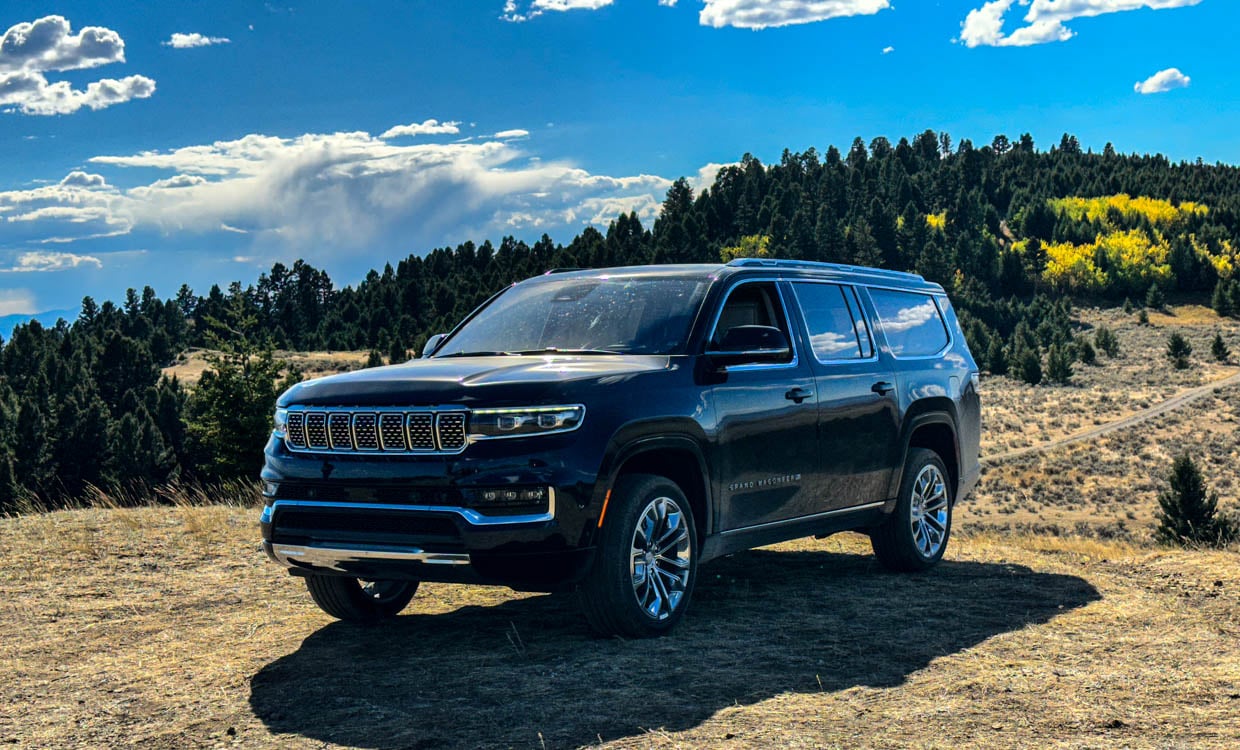 Like the standard-length Grand Wagoneer, the L model has quite a presence. It has a serious and imposing look from every angle, incorporating design elements inspired by the original 1962 Wagoneer, including Jeep's iconic 7-slot grille - here, those rings have precise, laser-etched details. Bright metal trim abounds, and our vehicle was even equipped with shiny chrome tow hooks.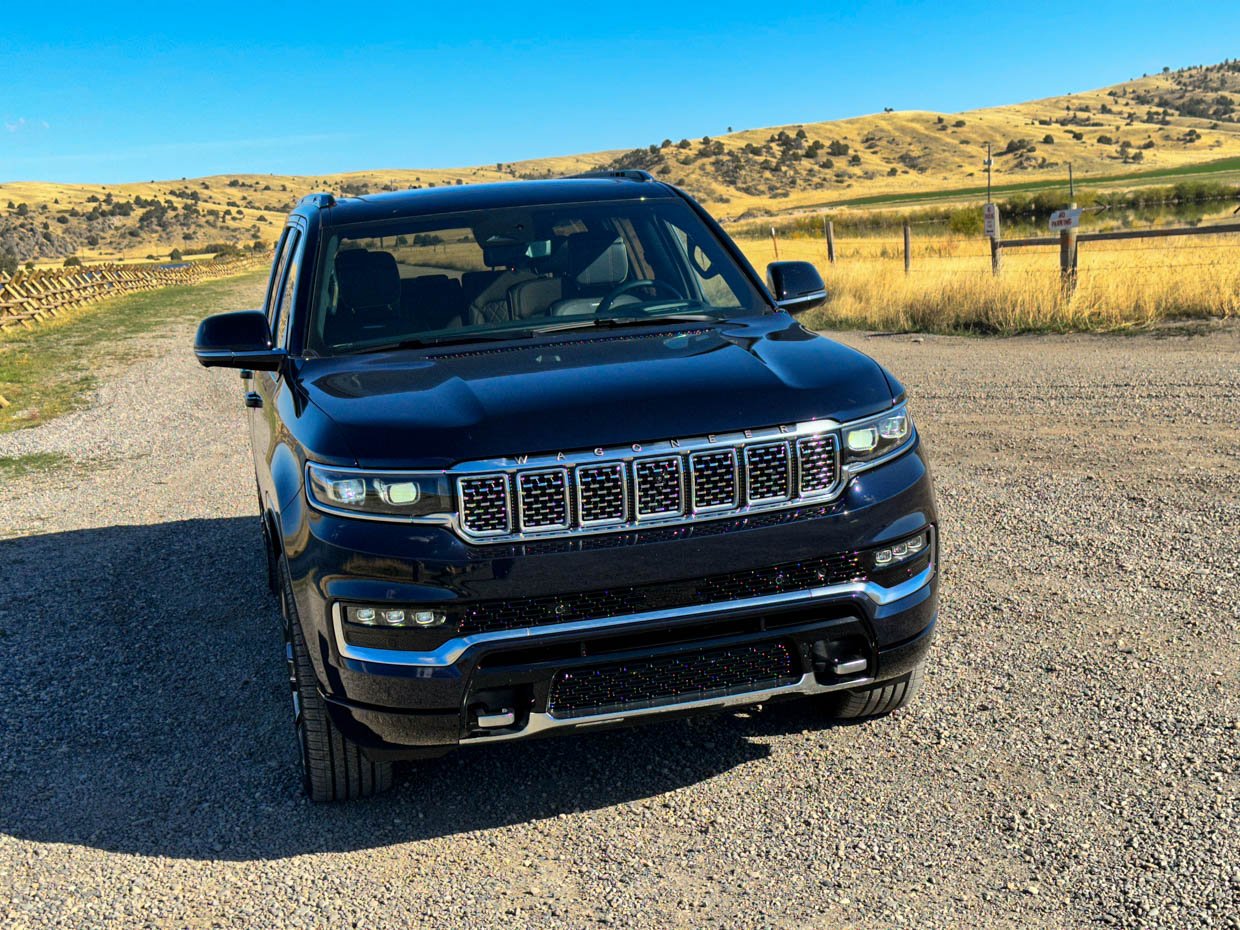 It's immediately apparent from the side view of the Grand Wagoneer L that it's quite a bit longer than the standard-wheelbase model. Jeep added 7 inches to the wheelbase, and 12 inches of overall length to the L. 100% of this extra length goes to the cargo area behind the third row. The SUV rolls on jumbo 20-inch or 22-inch aluminum wheels, which seem perfectly proportioned to a vehicle of this size. Surprisingly, it doesn't feel like you're driving a boat when you're behind the wheel, thanks to the well-tuned steering, suspension, and chassis design.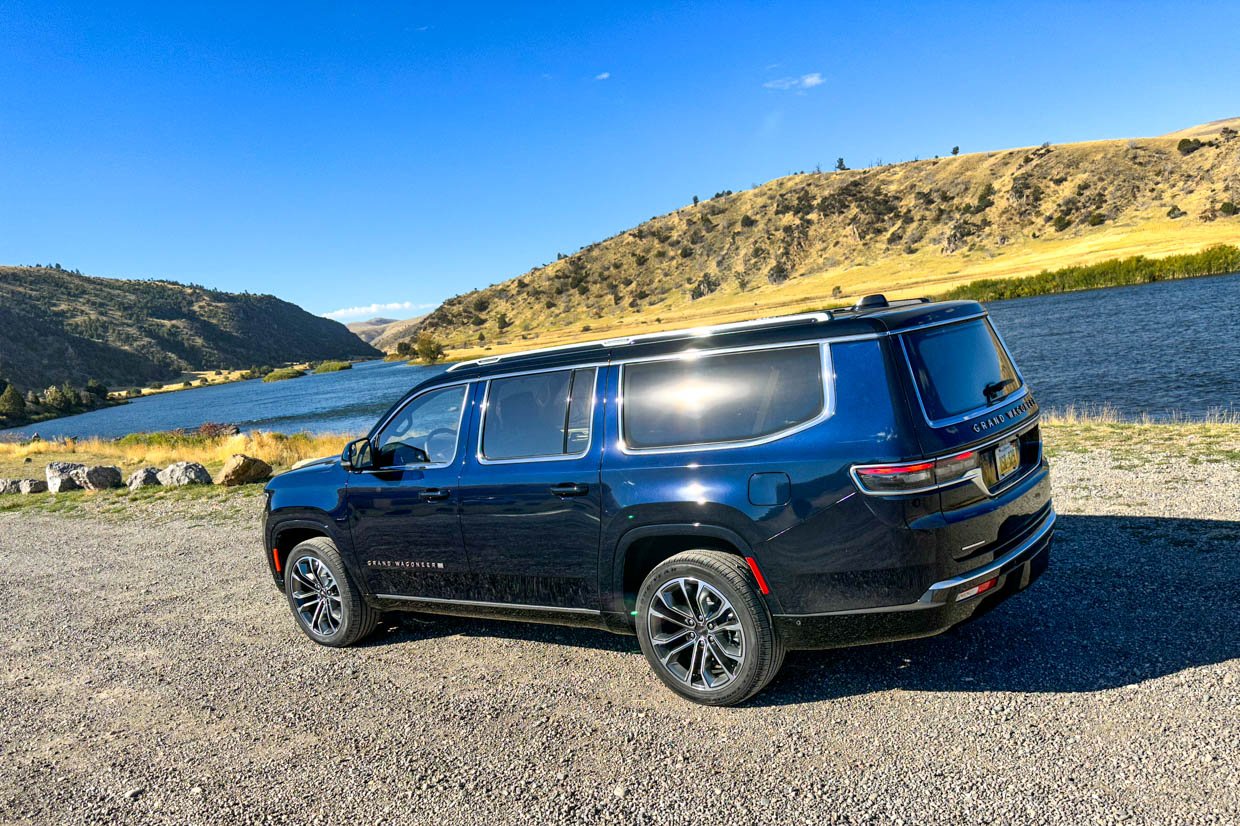 Beyond a stretched wheelbase, the Wagoneer and Grand Wagoneer L are notable for being the first vehicles to use the new Hurricane engine. This twin-turbo, inline-6-cylinder power plant comes in 420-horsepower and 510-horsepower versions. The high-output model comes standard on the Grand Wagoneer. Paired with a smooth-shifting 8-speed automatic transmission, this 6700+ pound SUV is surprisingly quick off the line and has excellent passing power. We thought we might miss the oomph of the Hemi V8 that came in last year's Grand Wagoneer, but we didn't. The turbo-6 spools up quick, and there's nary a drop of turbo lag that we could sense. Not only is it smaller than the V8, but it's also more fuel efficient and produces fewer emissions. With a 23 mpg highway rating and a massive 30.5-gallon fuel tank, you can drive more than 700 miles between fillups on road trips. It'll also tow up to 9750 pounds. Jeep parent Stellantis has an excellent new engine on their hands here, and we can't wait to see it in more vehicles.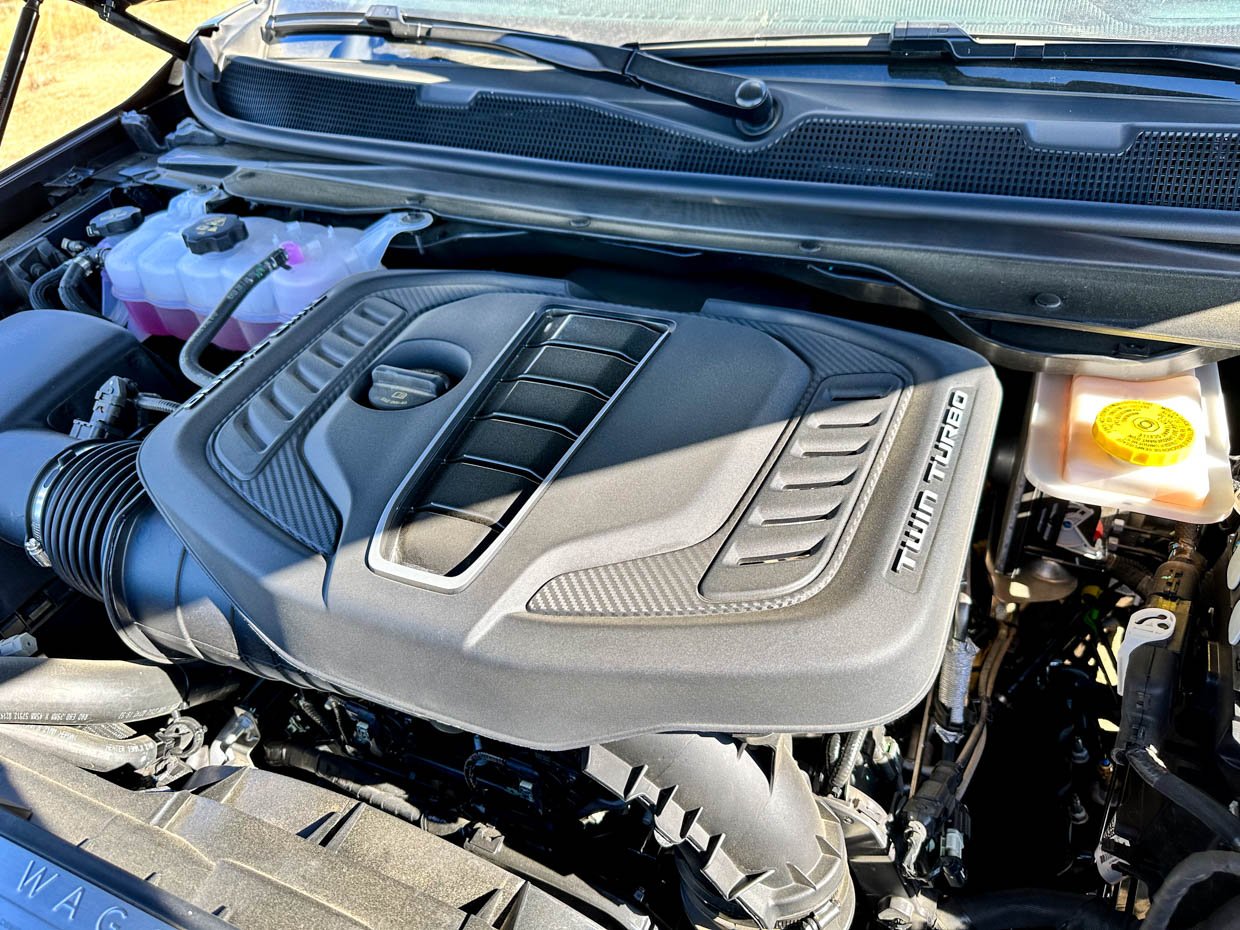 While it's unlikely that most buyers of this 6-figure, extra-long SUV with big wheels and shiny chrome will take it off-road, we were impressed with how well the Grand Wagoneer L handled on a variety of rough and rocky terrain. The adaptive air suspension does a fantastic job absorbing shocks while keeping the body level, and you still get a 2-speed transfer case and an electronic limited-slip rear differential for optimal traction on steep and uneven terrain. Hill descent control takes over the throttle and braking on steep hills so you can focus on steering.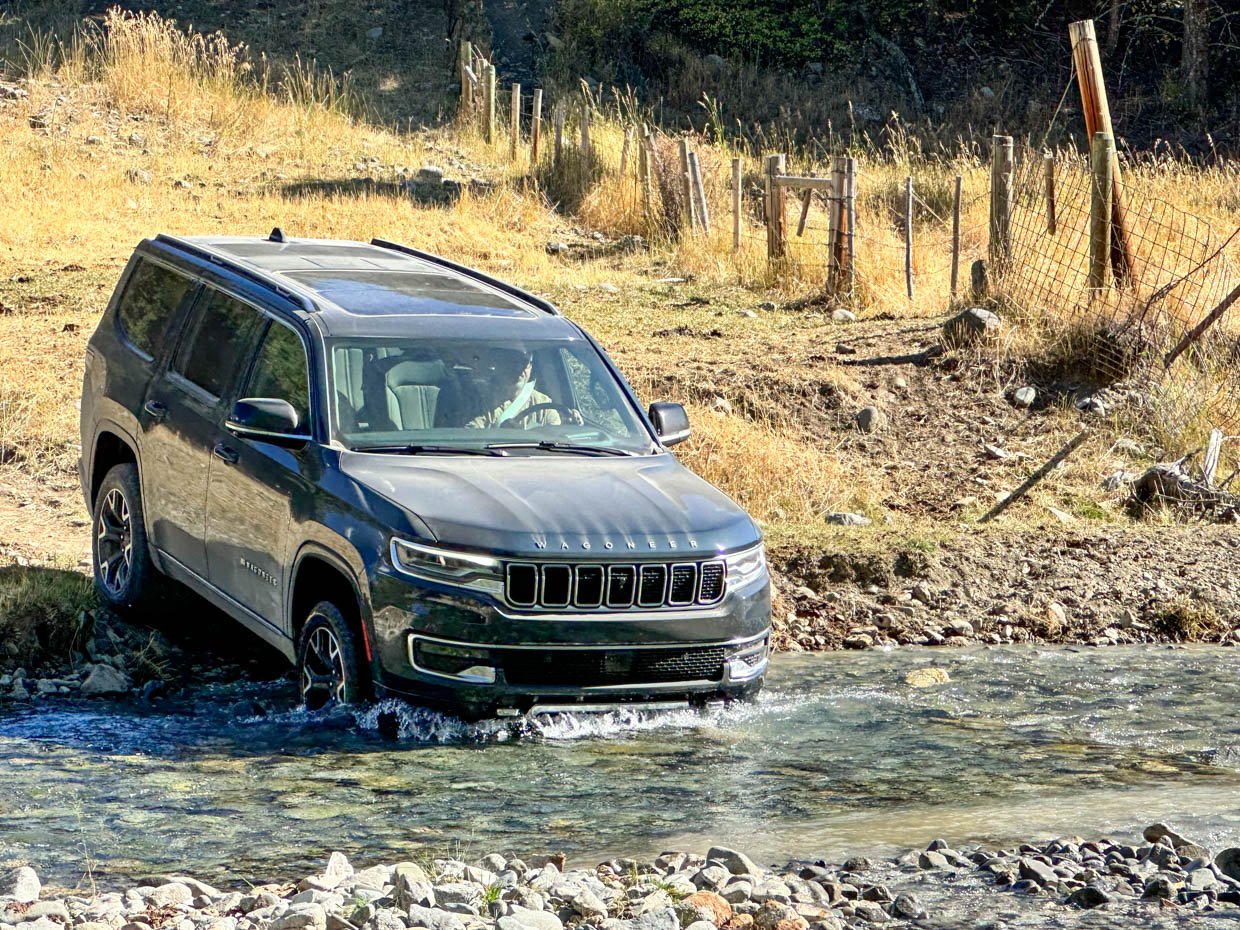 The interior of the Grand Wagoneer L is every bit as luxurious as its shorter brother. Every Wagoneer and Grand Wagoneer model gets leather seats, with the Grand models getting either Nappa or Palermo leather. The Series III has quilted accents on its seatbacks. There's real metal trim running across the wing-shaped dashboard, a design element that repeats itself on the 2-spoke, leather-wrapped steering wheel. The seats are extraordinarily comfortable and have more-than-anyone-asked-for 24-way adjustability for both the driver and front-seat passenger. There's heat and ventilation, along with a great massage feature. We kept that turned on as much as possible. Oh, and it's whisper quiet in here too, which makes listening to the 23-speaker McIntosh audio system that much more like sitting in a recording studio on wheels.
There's technology for days here too. There's a 12.3-inch digital instrument panel, a 12-inch touchscreen display for controlling media, navigation, and vehicle settings, a dedicated touchscreen for climate and seat controls, a digital rearview mirror, and a head-up display. The front-seat passenger even gets their own widescreen display that provides media, device projection, rear seat media controls, and the ability to answer texts or send a navigation destination to the center display. The crisp, 360-degree surround camera system is ideal for getting this beast in and out of parking spaces, and the adaptive cruise control with full-stop capability makes long highway drives even more pleasurable.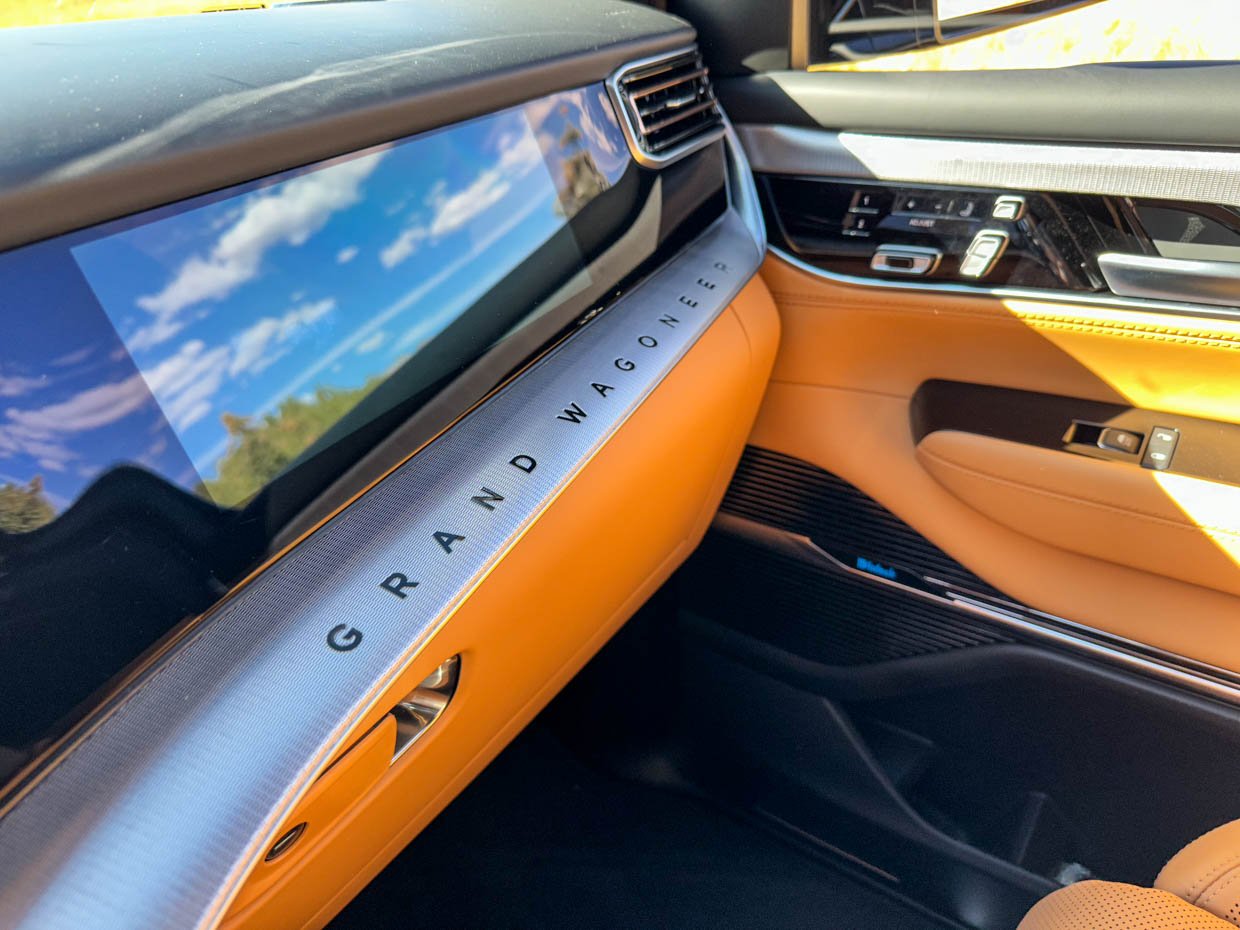 As you move into the second row, the captain's chairs are as comfortable as the front row, complete with heat and ventilation (but no massage). An optional dual-screen entertainment system lets passengers stream programming using Amazon Fire TV or connect a video source via HDMI, and each display can show different programming. The center armrest features its own touchscreen for controlling the climate independently from the front of the SUV. There are multiple USB ports and two 12-volt power outlets in the back of the center console. If you need space for eight passengers instead of seven, a 40/20/40 split center bench seat comes standard on all models besides the Series III.
But wait, there's more! The third row might not be quite as fancy as the second row, but it's got enough legroom and headroom for adult passengers. You still have to squeeze around the slide-forward second-row seats to get back there, but once you're in, it's a pretty comfortable place to be. The seats can recline, and there are USB charging ports, armrests, and cupholders for backseat riders too.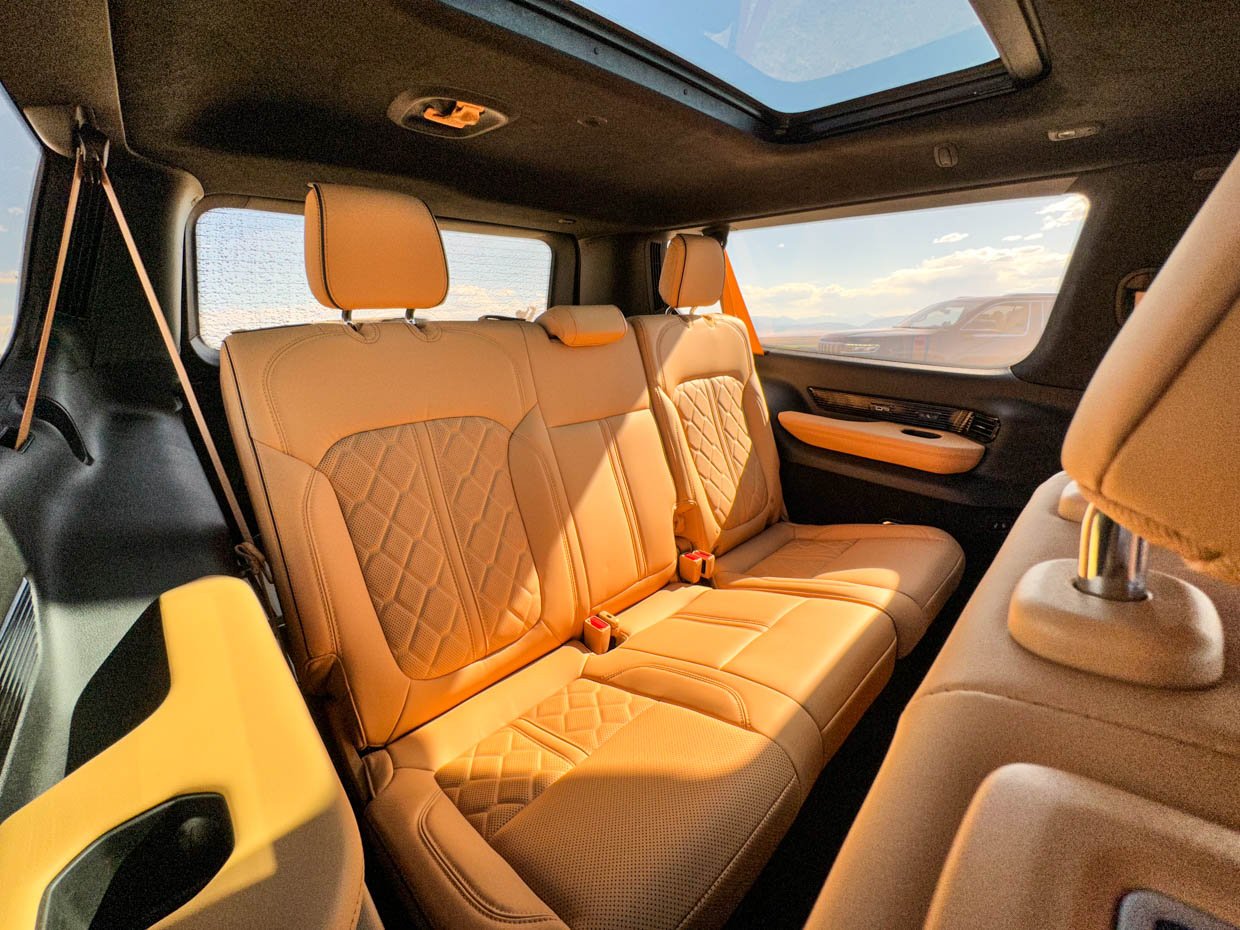 If you were wondering where that extra 12 inches went, it's all right here. The standard wheelbase Grand Wagoneers have 27.4 cubic feet of space behind the third row of seats. The Grand Wagoneer L has 44.2 cubic feet, so you have enough room for all of your passengers' luggage back there. With the third row folded, you get 88.8 cubic feet; with both rows folded, you get a cavernous 112.9 cubic feet. To put things in perspective, that's roughly the entire interior volume of a Jeep Renegade.
The Grand Wagoneer is one grand SUV indeed. Its design is one of substance, elegance, and timelessness, while its interior is as upscale as even the fanciest European luxury vehicles. It's a supremely cushy and comfortable road trip vehicle, even for a large family, and offers plenty of features to keep the kids entertained. The Hurricane engine is impressive in its power and efficiency and provides excellent driving range thanks to an enormous fuel tank. The added cargo space in the L model means you can carry a cabin full of passengers and all of their gear without worry. The 2023 Grand Wagoneer L starts at $92,140, with the Series III Obsidian starting at $112,635. Those prices are all $3,000 more than the equivalent standard-wheelbase models.