2022 Land Rover Defender Service Award Winners
awards | charity | land rover | off-road | suvs | February 12, 2023
Words by Paul Strauss / Images by Paul Strauss + Land Rover
The Land Rover Defender Service Awards celebrate non-profit organizations that make a meaningful impact on the world. The first-place winners of the 2022 awards each won a 2023 Land Rover Defender 130, custom spec'd and ready to help serve their missions. The Awesomer was on hand for the reveal of their shiny new rides.
For the 2022 awards, Land Rover received over 1350 nominations and 800 video submissions for US non-profit and Canadian charitable organizations. The entrants were divided into the categories of Veterans Outreach, Community Services, Animal Welfare, Search and Rescue, and Environmental and Conservation. After an initial selection process, voting opened to the public, and over 220,000 votes were cast to select the Defender Service Awards' five winners. In addition to a Defender 130, each category champ received a $25,000 cash prize courtesy of Chase. Second-place winners brought home $10,000, and all other finalists received a $5,000 donation for their organization.
The three-row Defender 130 has considerable space inside, transporting up to eight people and offering versatile cargo handling capabilities of up to 81.57 cubic feet with the seats folded down. The SUV packs a powerful supercharged Inline-6 engine beneath the hood and a sophisticated all-wheel-drive system that helps this Land Rover tackle even the roughest terrain. It can also safely ford water up to 35.4 inches. Each winning organization got to design its custom vehicle wrap and outfit its Defender with various accessories to help them achieve its missions. In all, the vehicles are valued at roughly $500,000, along with another $300,000 in cash awards from sponsors.
Taking home the top prize in the Veterans Outreach category was Patriot Service Dogs. Based out of Marion County, Florida, this amazing organization helps U.S. veterans facing difficulties from PTSD, brain injuries, physical disabilities, sexual abuse, and other challenges by providing highly-trained service dogs for companionship and personal assistance. Not only does the program help veterans, but it helps to rehabilitate inmates at Central Florida's Lowell Correctional Facility by teaching them to train the dogs for service. The dogs learn as many as 80 commands, and they've placed more than 55 animals to date. Patriot Service Dogs expects to use their Defender 130 to help transport dogs and bring them to their new homes. The Veterans Outreach category was sponsored by experiential marketing company Dentsu X.
The Community Service category was led by Mercy Chefs, an incredible organization that got its start in the aftermath of Hurricane Katrina. When founder Gary LeBlanc realized just how bad food service could be in disaster situations, he thought people deserved better quality food and sanitation and got to work. Mercy Chefs enlists the aid of top chefs and professionals in the food industry to deliver good meals to people in crisis. Since 2006, Mercy Chefs has been present at more than 190 disasters in 27 states and around the globe, serving more than 24 million meals. They also have helped countless individuals facing food insecurity. Mercy Chefs expects to use their Defender 130 to help scout difficult-to-reach locations before delivering meals. The Community Services category was sponsored by manufacturing automation company ei3.
Hailing from Ottowa, Ontario, the Sauvetage Bénévole Outaouais – Ottawa Volunteer Search and Rescue, or SBO–OVSAR for short, helps provide critical aid in Western Quebec and Eastern Ontario. Working with law enforcement and emergency services, the organization has more than 150 certified searchers and conducts search and rescue missions across 25,000 square miles of Canada. They help search for lost people in disasters and criminal investigations, as well as help with infrastructure checks and educating the public on what to do in a disaster or when lost outdoors. They even have a team of professionally-trained drone pilots who help cover more ground with their missions. Expect the SBO-OVSAR to use their off-road capable Defender 130 to take them to places that ordinary vehicles simply cannot reach. The Search and Rescue category was sponsored by rugged case and travel gear company Pelican.
Appalachian Bear Rescue (ABR) won the Animal Welfare category, taking home the prize for the vital work they do saving black bear cubs. Based in Townsend, Tennesee, the organization works with state and federal wildlife agencies to rescue injured and abandoned young bears, rehabilitate them, and return them to their natural habitat. Founded in 1996, the ABR has cared for more than 360 young bears from nine states. Their Defender 130 will help to tow and transport food, supplies, and equipment, as well as to reach rescue subjects. The Animal Welfare category was sponsored by indestructible dog toy company KONG. And yes, baby bears like to play with KONG toys too.
Wisconsin's Green Lake Association won the Environmental and Conservation category. Their mission: safeguarding the deepest natural inland lake in Wisconsin and sharing what they learn to help make cleaner and more sustainable lakes worldwide. At 235 feet deep and more than 17,000 years old, Green Lake and its aquatic habitats have been threatened by an excess of phosphorous and harmful algae blooms. Their association has worked tirelessly to reduce these issues and improve water quality to sustain aquatic life. One of their recent successes was their role in returning brook trout absent for more than 70 years to nearby streams. Until now, they've only had boats and personal vehicles for getting around, so their Defender 130 will play a critical role in accessing the lake and its surroundings and delivering supplies for their missions. The Environmental and Conservation category was sponsored by adventure and lifestyle publication Outside.
After the unveiling, all five winning organizations took their new Defenders through the woods and off-road at the Land Rover Experience Driving Center at the Biltmore in Asheville, North Carolina. It's a great place to learn to drive off-road and discover what these vehicles can do. Professional trail guides and off-roading experts help spot drivers and provide helpful guidance along the way. The winners also received training on the Defenders' terrain management system and learned how to safely operate a winch to help rescue themselves or other vehicles when stuck in the mud.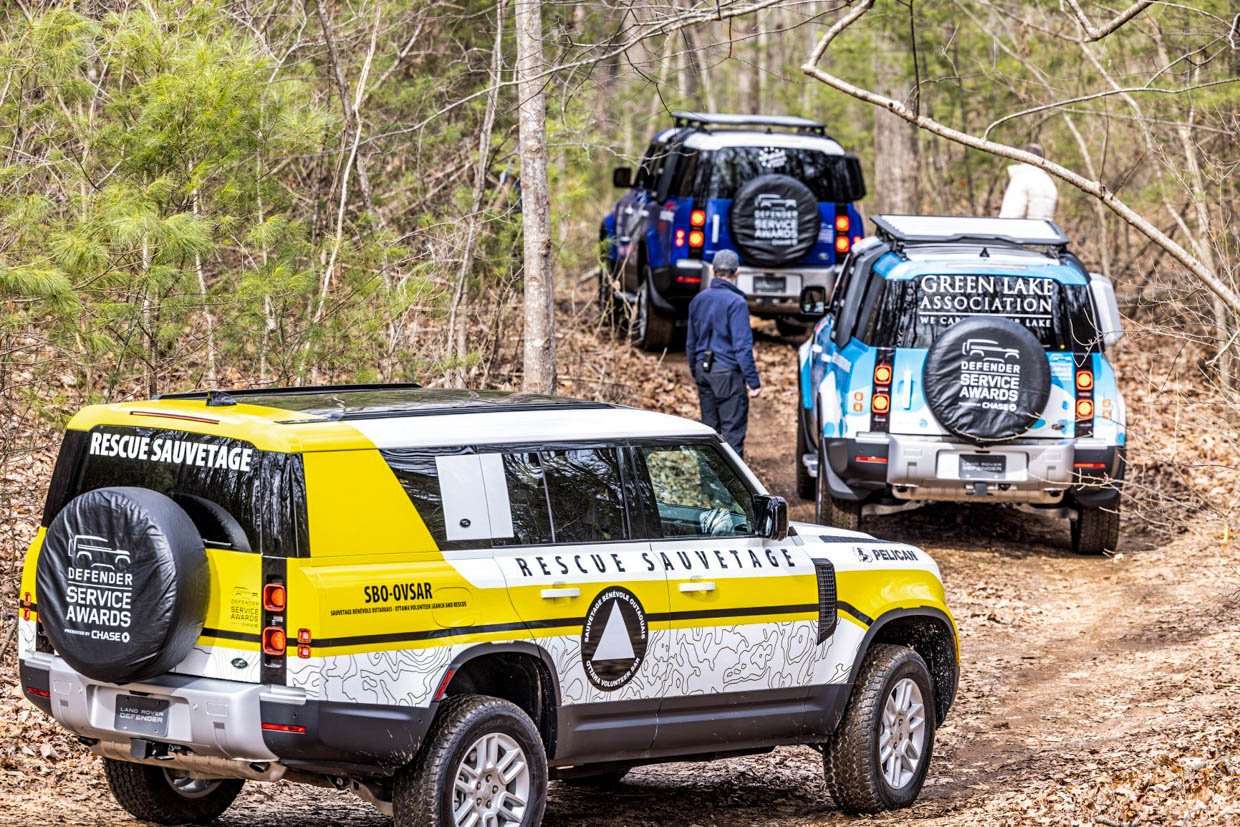 Capping off the festivities, Land Rover announced that the Defender Service Awards would return for 2023, offering another group of non-profits a chance to take home extraordinary prizes like the ones awarded for the past two years. Kudos to Land Rover, Chase, and all the other program sponsors for acknowledging and supporting these important organizations with vehicles and cash they can use to help achieve their missions.